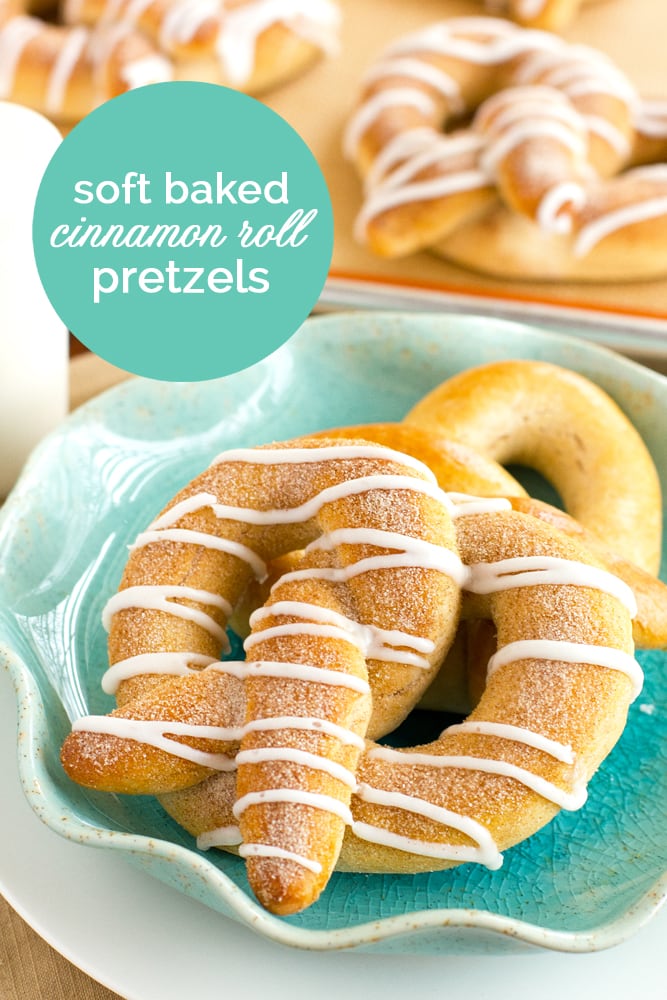 Hello Lil' Luna readers! It's me Natalie, from 
Life Made Simple
.  Today I'm sharing a version of one of my favorite soft baked pretzel recipes. Back when I was in middle school I helped run an after-school cafe. Several students, including me, would spend all day making treats and snacks to sell to help raise money for trips and competitions. I was usually in charge of making giant batches of soft baked pretzels. I got pretty quick at rolling, twisting, basting, and baking them! Now that I get to make them at home for my family, I like to get creative with what I put in them, on them or serve on the side of them. Since I was craving cinnamon rolls but didn't have the time to make them, I decided to make these!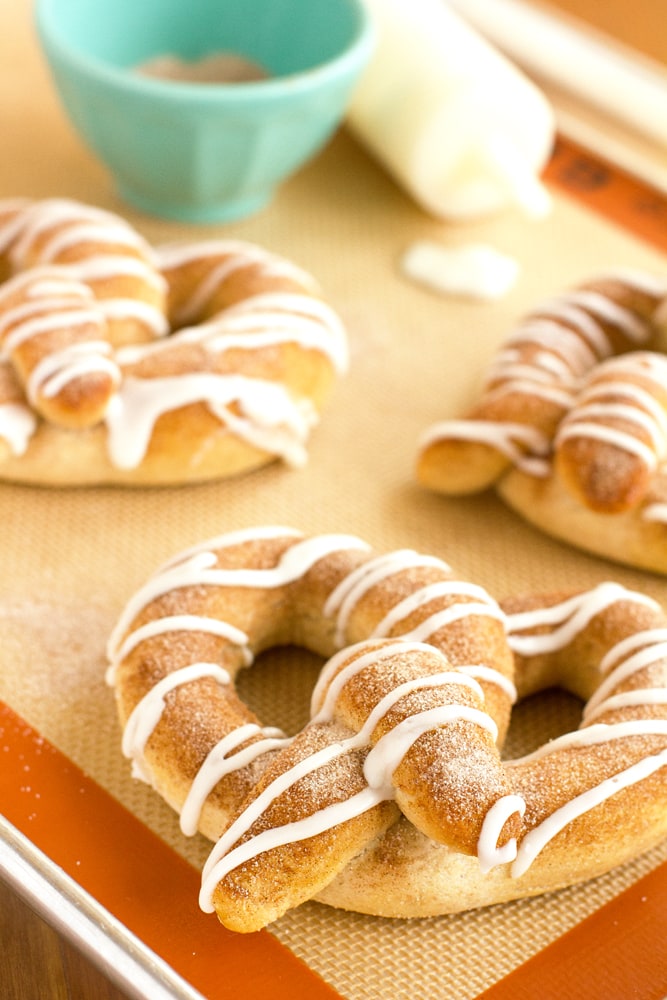 They're soft, buttery, sweet, and taste exactly like a cinnamon roll! I went easy on the drizzle of frosting, but don't be afraid to use more… I won't judge! I may or may not have dipped mine into the bowl of leftover frosting!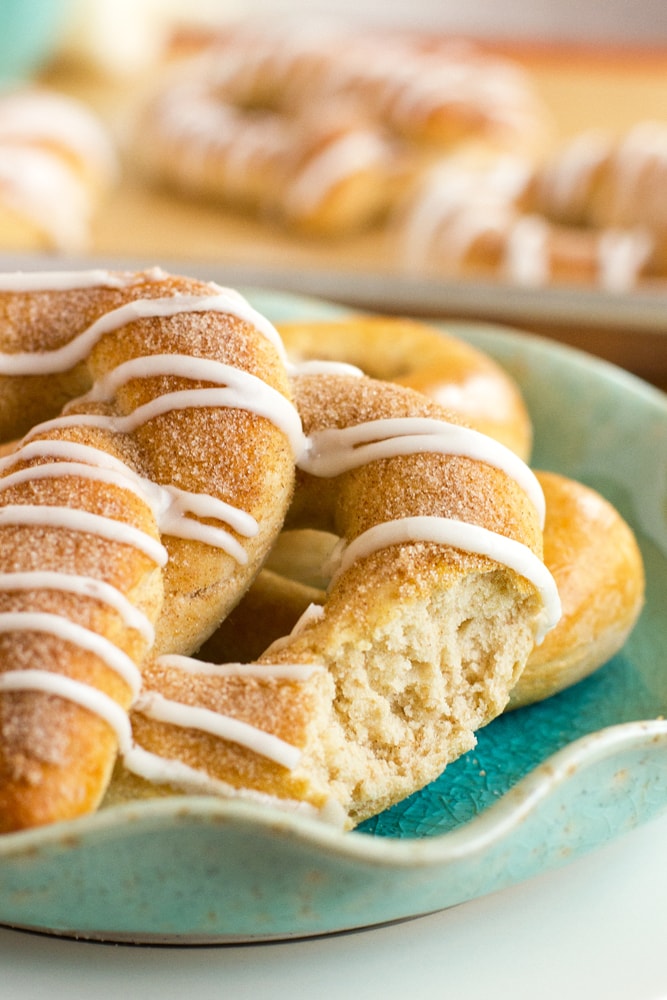 One of my favorite things about these pretzels is how quickly they come together. I'm talking ready to eat in under 30 minutes! You don't have to wait around for the dough to rise and they only take 12 minutes to bake. That's pretty good, right?! Way faster then making a batch of cinnamon rolls! To create a sweet dough, I added a little extra sugar to it, along with cinnamon and vanilla. Since I knew I was going to top these with a butter and cinnamon sugar combo, I brushed them with egg before baking them to give them a crisp outside, that way they didn't get soggy. Once I had sprinkled the cinnamon sugar on I mixed up a really easy frosting (or glaze) and drizzled it on over top. Let me tell you, they taste as good as they look- seriously delicious! I hope that the next time you're in need of a cinnamon roll fix, you'll give this recipe a try! Enjoy!
Soft Baked Cinnamon Roll Pretzels
Ingredients
2 c. all-purpose flour
2 tsp. sugar
¾ c. warm water
1 tsp. dry active yeast
¼ tsp. salt
½ tsp. ground cinnamon
½ tsp. vanilla extract
Wash:
1 egg, lightly beaten
Cinnamon sugar:
1 tbsp. melted butter (barely warm)
2 tbsp. sugar combined with 1 tsp. cinnamon, to sprinkle on top
Frosting/Glaze:
1 c. powdered sugar
1 tbsp. butter, melted
2-3 tbsp. milk
¼ tsp. vanilla extract
Instructions
Preheat oven to 425 degrees, line one baking sheet with parchment paper or a Silpat mat, set aside.
In the bowl of a stand mixer fitted with the paddle attachment, add warm water. Sprinkle yeast and allow to dissolve for 2-3 minutes. Add sugar and vanilla, mix for 15 seconds. With mixing speed on low add salt and cinnamon, then flour a half cup at a time. When all of the flour is gone, switch to the dough hook attachment (or place dough onto a lightly floured surface and knead for 4 minutes), mix on low for 4 minutes or until the dough is smooth and elastic.
Divide dough into 6 equal size pieces. Roll each ball into a long rope, about 18-22 inches in length. I like to wet my hands a bit for this if my dough isn't tacky. It helps! Take the ends of the "rope" and bring together to form a circle. Twist the ends together once and bring down to the bottom of the circle. Press ends into the dough so that they will stick. Place onto prepared baking sheets.
Using a pastry brush, coat each pretzel with egg wash. Place baking sheet into oven and bake for 12-15 minutes, turning half way through for even baking. Remove from oven and allow to cool on pan for 2-3 minutes before sprinkling cinnamon sugar over top.
To make frosting/glaze, combine all ingredients in a small bowl and whisk until combined. Add more milk to reach the desired consistency. Drizzle over top with a spoon or a pastry bag fitted with a small circular tip.
Note: For a healthier alternative, try substituting 1 c. of all-purpose flour for whole wheat flour.
Yield: 6 large pretzels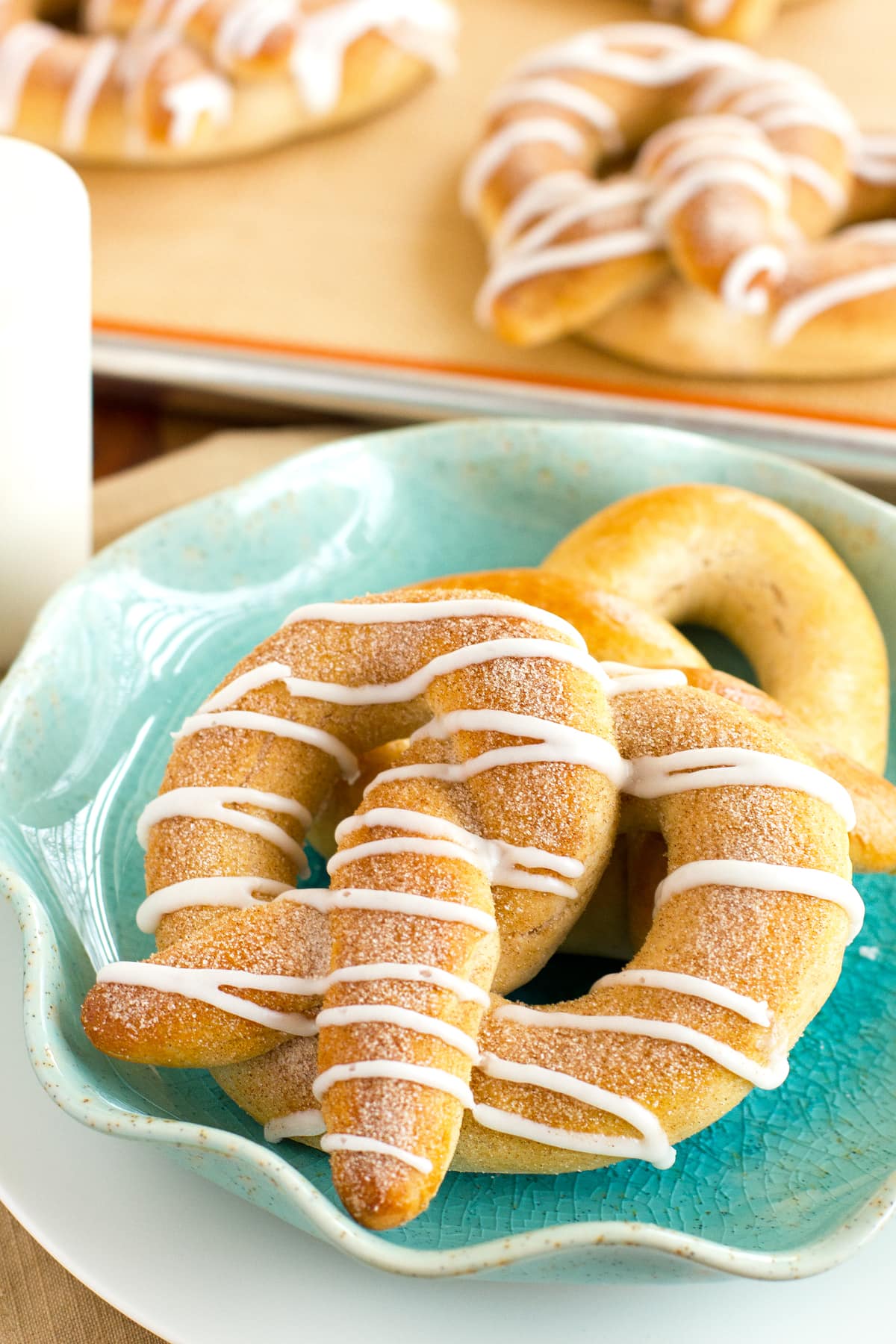 Thanks again Kristyn for having me!
You can find more recipes & craft ideas here:
Life Made Simple | Facebook | Pinterest | Twitter | Instagram
———————————-
MY OTHER RECIPES
For more delicious pretzel recipes, be sure to check out:
Sweet and Salty M&M Pretzel Bars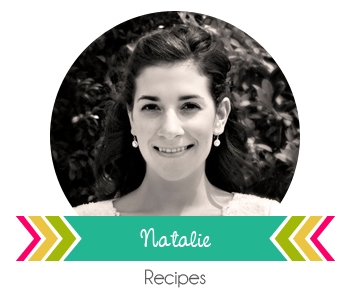 ———————————————-
OH. MY! That's all I can really say about this recipe! It looks so BEYOND delicious!
Thank you, Natalie! Can't wait to give it a try. 🙂
For more great recipes from her, be sure to head on over to Life Made Simple,
and for more information about her go HERE.
For more great recipes from her, be sure to check out:
Crispy Baked Sweet Potato Fries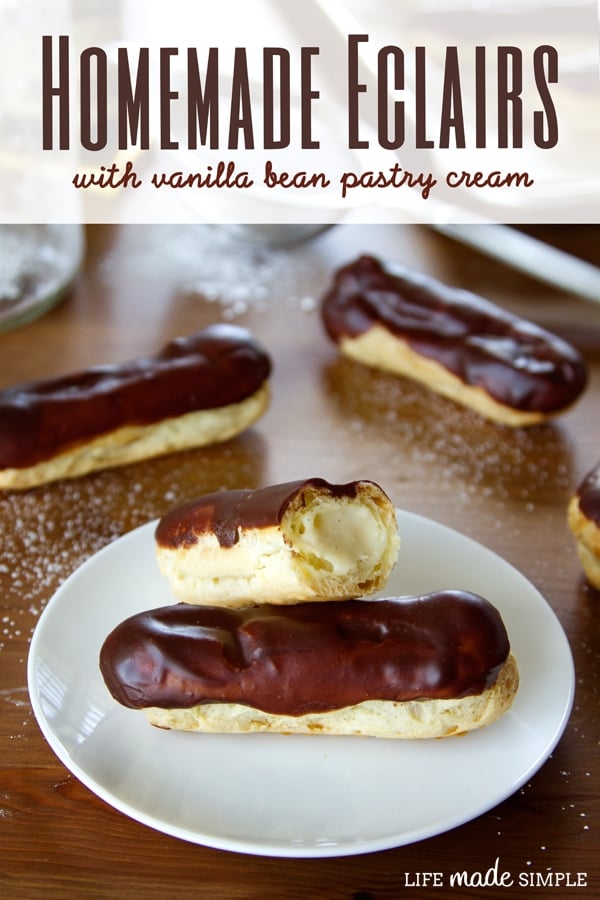 For all dessert recipes on Lil' Luna go HERE.
For all Lil' Luna recipes go HERE.
And get weekly emails with monthly freebies by signing up for the Lil' Luna newsletter. 🙂
For even more great ideas follow me on Facebook – Pinterest – Instagram – Twitter – Periscope.
ENJOY!