This simple White Bread is perfect for both the bread novice and pro baker. It's tender, delicious, and SO easy!
Our recipe for Homemade Bread has always been popular, but this White Bread recipe is so EASY with such few ingredients – it's a keeper! Italian Bread and No Knead Bread also have only 5 ingredients or fewer!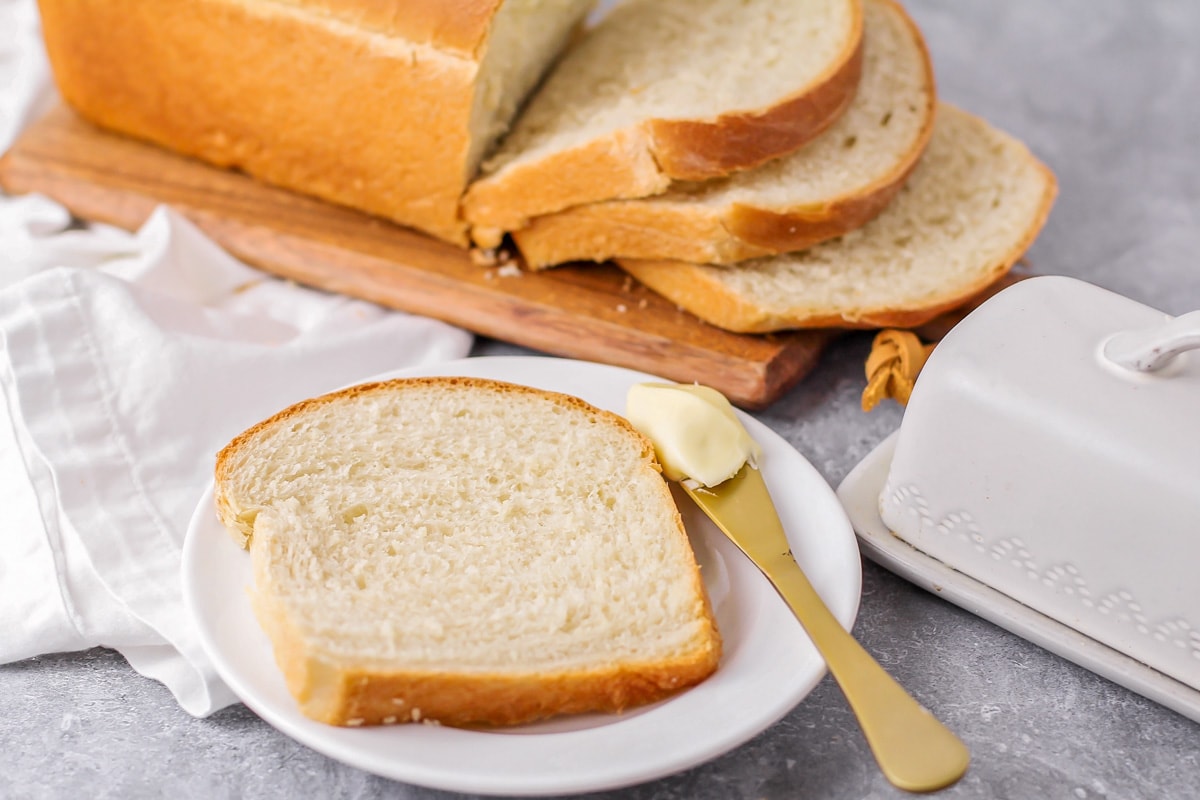 Just 5 Ingredients!
If you find yourself wanting to make bread, but are planning to only use what you have on hand, this White Bread is for you. Or maybe you're just craving the unbeatable taste of homemade bread for your sandwiches and toast!
Whatever the scenario, this easy White Bread is the answer to every situation! It only takes FIVE ingredients, and I bet you already have most of them on hand.
The 5 bread ingredients are:
Water is also technically on the list, but it almost doesn't count as an ingredient. That's it!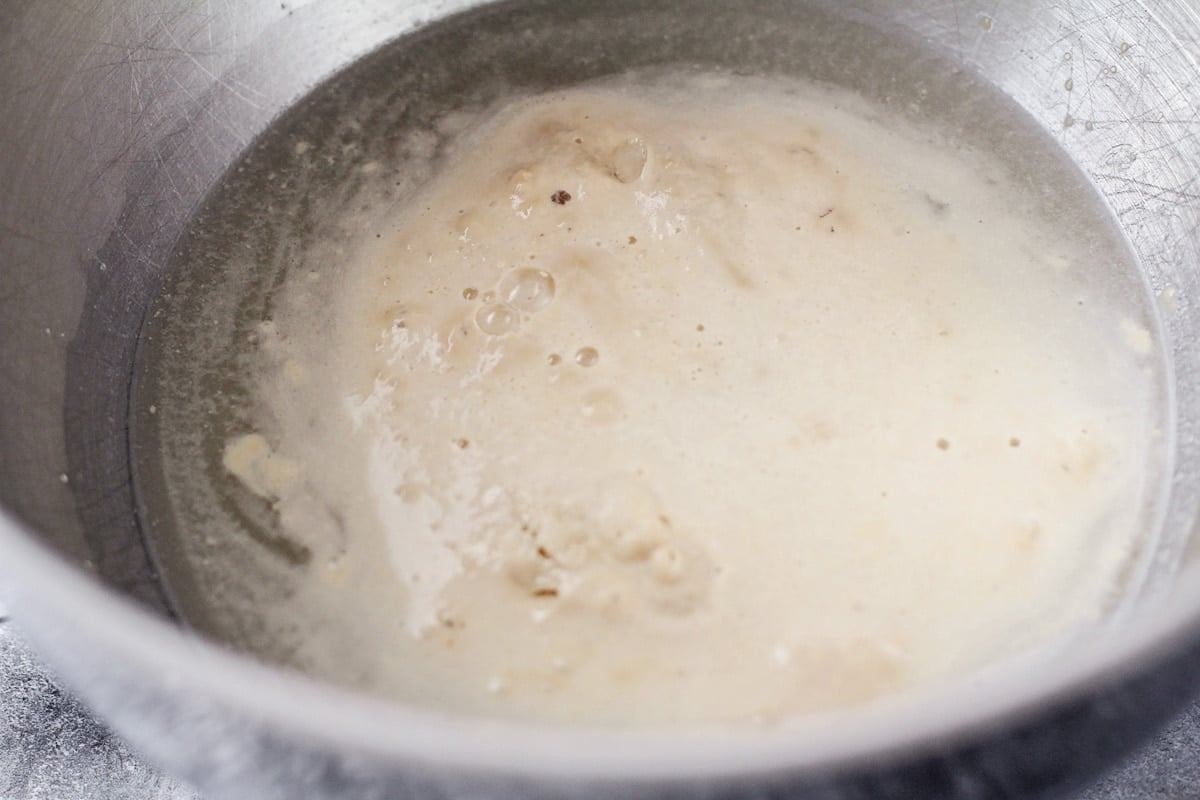 Cost-effective White bread
Is it worth the time and effort to make your own White Bread? Absolutely! The taste of Homemade Bread cannot be matched, and that alone is worth the effort to make it yourself.
Not to mention, you get to control exactly what bread ingredients you use and avoid the preservatives found in bagged grocery bread. It also costs less!
Here's the cost breakdown for 2 loaves of bread:
Great value active dry Yeast .29 cents
Great value Sugar .05 cents
Morton Salt .03 cents
Great value Canola Oil .07 cents
Great Value Bread flour .96 cents
Total cost for 2 loaves: $1.40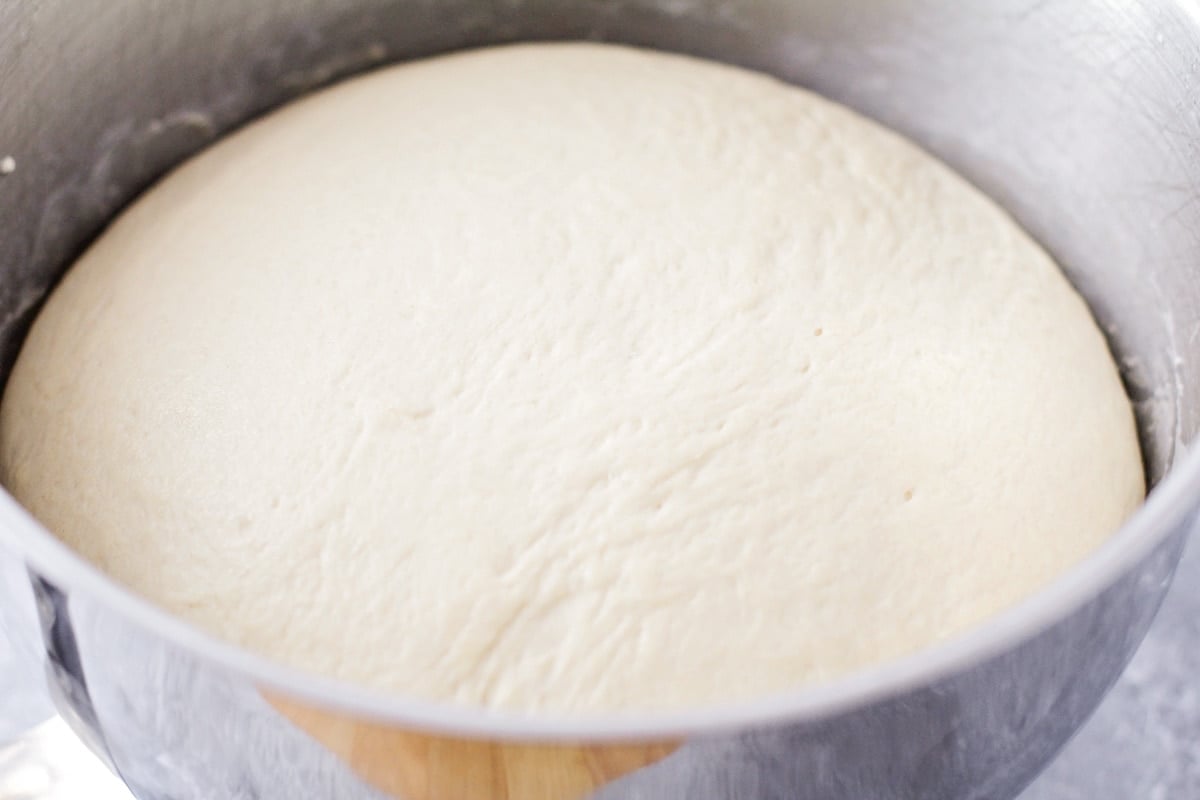 Simple White Bread Recipe
The process for making this White Bread recipe is pretty similar to any other homemade yeast bread, but making the dough is quicker and simpler because there are so few ingredients.
YEAST. In a large bowl, dissolve yeast and ½ teaspoon sugar in warm water. Let stand until bubbles form on the surface. Whisk together the remaining 3 tablespoons of sugar, salt, and 3 cups of flour.
DOUGH. Stir vegetable oil into the yeast mixture, then pour into the flour mixture and beat until smooth. Stir in enough remaining flour, ½ cup at a time, to form a soft dough.
Having the oil in the bread acts as a source of fat and keeps the bread moist for longer, rather than having it dry out quickly.
KNEAD. Turn dough onto a floured surface and knead until it is smooth and elastic, about 8-10 minutes. Place the kneaded dough in a greased bowl, turning once to grease the top.
FIRST RISE. Cover and let the dough rise in a warm place until it has doubled, about 1½ to 2 hours.
SHAPE. After it has doubled in size, punch the dough down using your fist. Turn the dough onto a lightly floured surface and divide it in half. Shape each into a loaf. Place in 2 greased 9×5-inch rectangle loaf pans.
SECOND RISE. Cover and let them rise until doubled, about 1 to 1½ hours.
BAKE. Bake at 375°F until golden brown and the bread sounds hollow when tapped, or has reached an internal temperature of 200°F, about 25 to 35 minutes. Remove from pans to a wire rack to cool.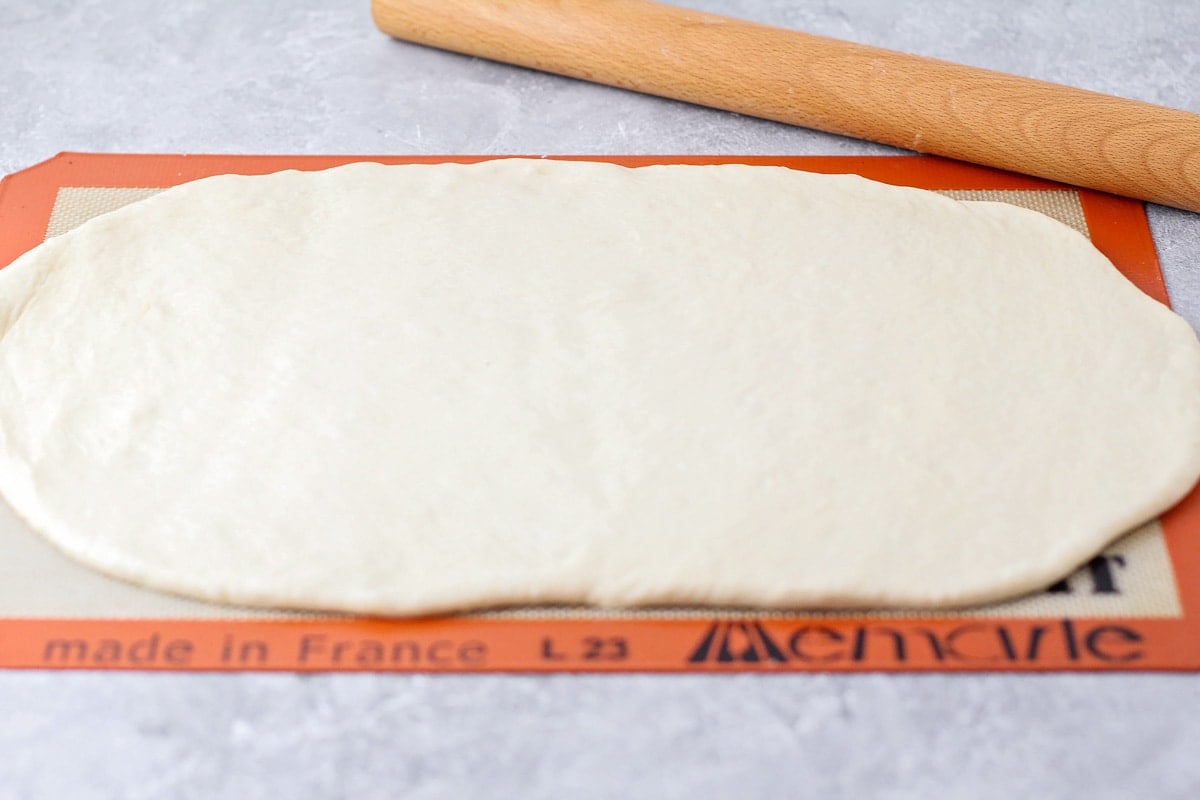 Kneading tips
Kneading helps activate the gluten and form microbubbles into the dough. These bubbles expand during the proof time. The more you knead the dough the tighter and more even the bread's inner crumb will be. This recipe requires a good amount of kneading.
Kneading by hand: once you have combined the ingredients to form the dough, knead for about 8-10 minutes. Fold the dough in half, press it together, and turn. Fold, press, and turn. Repeat until elastic.
Kneading with a stand mixer: use the dough hook and set the mixer to medium-high. You won't set a timer here, instead watch the dough until it starts to pull away from the sides. The dough will be a bit sticky and curl nicely around the dough hook.
Do not overwork your dough. Try to knead and shape your dough in about 1 minute. The danger is wanting to continually work your dough because you get into the rhythm of kneading. Avoid this temptation and be quick with your movements.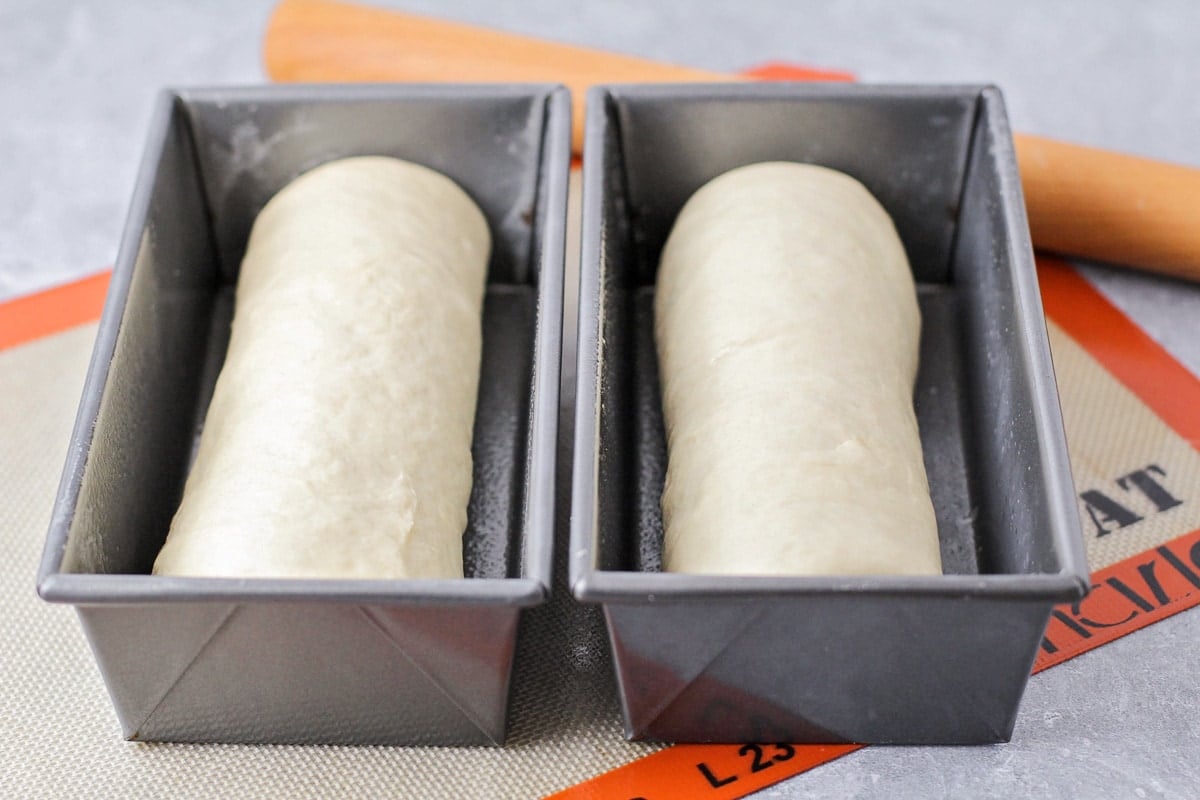 proofing musts
Proofing your dough can be tricky because things like oven temperature, air temperature, and weather can all affect the proof time.
To tell if the bread has been proofed just right, poke your finger into the top of the bread. If it:
Bounces back: keep proofing
Doesn't bounce back at all: it is over-proofed
Bounces back halfway: it's perfect
Yeast. I used active dry yeast for this White Bread which requires it to bloom in warm water before being mixed in with the rest of the ingredients.
The water should be between 100-110°F. If it's too cold the yeast won't bloom. If the water is too hot it will kill the yeast. Use your wrist to test the water, it should feel very warm but not hot.
Don't rush things! Let the yeast bloom and grow so that your bread will be light and fluffy rather than dense and heavy.
Use good yeast. Expired yeast won't yield the desired rise.
Use an equal amount of instant yeast or rapid-rise yeast. These two types of yeast do not need to be activated in warm water first.
Sugar. Adding sugar to the water along with the yeast will "feed" the yeast and help it activate. After 3-5 minutes the yeast should bubble and become fluffy. If the water is cloudy and flat, the yeast did not activate properly. Discard and start again.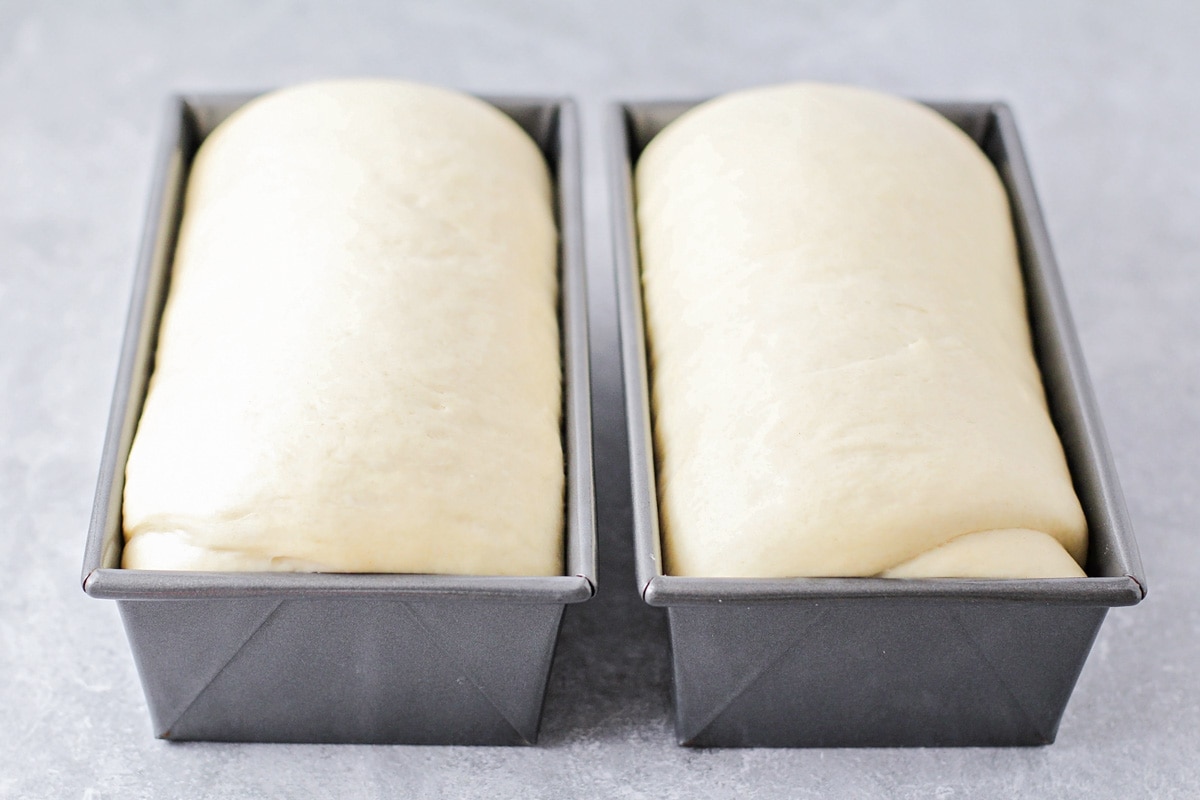 Speed up the proof time
This recipe instructs you to proof your dough until it doubles in size. Depending on the temperature of your kitchen this can take up to 2 hours.
A quicker proof time. Create a warmer environment and reduce the amount of time it takes to rise in a few different ways:
Preheat your oven to 200°F then turn it OFF. Place the dough in an oven-safe bowl and cover it with a warm damp tea towel. Stick it in the oven until the dough has doubled in size.
Heat up a bowl of water. Put the bowl of dough on top of the hot water bowl, making sure that the water doesn't touch the bowl of dough.
Heat up an electric heating pad and cover it with a towel. Place the bowl of dough on top.
Place the bowl of dough near a warmer area in your home such as a fireplace or warm slow cooker.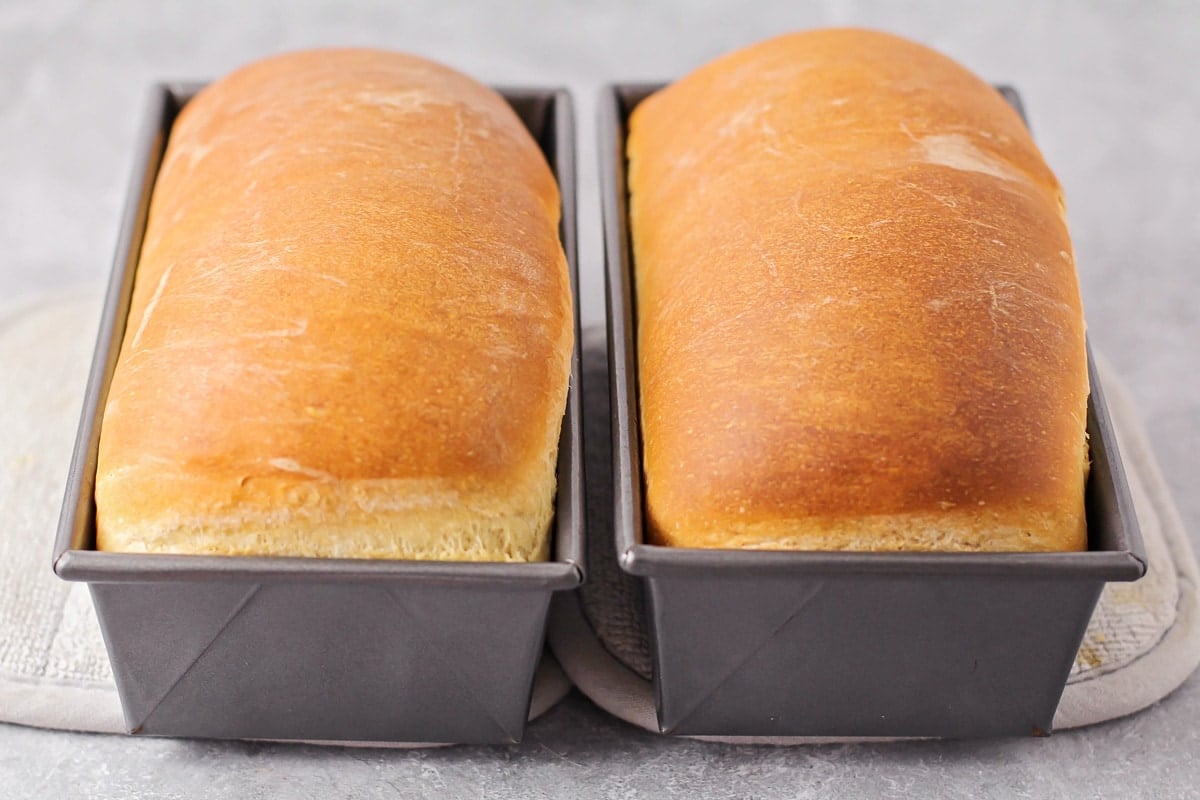 bread making Tips
Split bread. There are a few culprits that can cause split bread. Keep these in mind to help create the perfect loaf.
The dough is too wet: extra air pressure from the evaporating moisture will push outward causing it to burst.
The dough is too dry: the crust forms too quickly and the natural air being released can't escape, causing the crust to crack.
Air pockets: air pockets are created when you shape the dough. Shaping can cause loose dough.
Skin tension: as you shape the dough to place in the pan be careful the tension is not too tight. Tight tension will lead to thin skin which causes split bread.
Close the seam: not closing the seam or leaving it facing outside of the pan can cause it to open and split.
Best pan to use. The goal is to get a bread pan that bakes the bread evenly and consistently. Aluminized steel or ceramic pans are great options for this purpose!
Make this recipe healthier. You could include some ground flaxseed, or top it with rolled oats. I know this doesn't keep the 5 ingredient rule, but it never hurts to add some extra healthy goodies.
Bread Flour info
All-purpose flour. We prefer bread flour for this White Bread recipe because it makes the bread so soft. But, all-purpose flours work fine too.
Make whole wheat bread. Substitute your bread flour with whole wheat flour to make whole wheat bread.
Using Wheat Bread Flour: Whole Wheat bread still contains the bran and germ and has a higher nutritional value. It is typically denser and heavier than White Bread. If you are not used to consuming whole wheat it may cause GI issues at first.
If you wish to use whole wheat, I recommend finding a "whole white wheat bread flour". To begin, use ½ white bread flour and ½ wheat bread flour. Once your body has adjusted you can use whole wheat bread flour.
Make your own bread flour. This recipe uses bread flour which is what makes it so soft and chewy. Bread flour has a higher percentage of protein than all-purpose flour. This protein produces extra gluten strands which trap air and produces the perfect texture for bread.
Make your own bread flour:
Measure out 1 cup of all-purpose flour.
Remove 1½ teaspoons of the flour and replace it with 1½ teaspoons of vital wheat gluten.
Sift together.
Use this mixture whenever a recipe calls for bread flour. If you don't have bread flour and can't make your own substitution, use all-purpose flour. Just note that it won't have as chewy of a texture.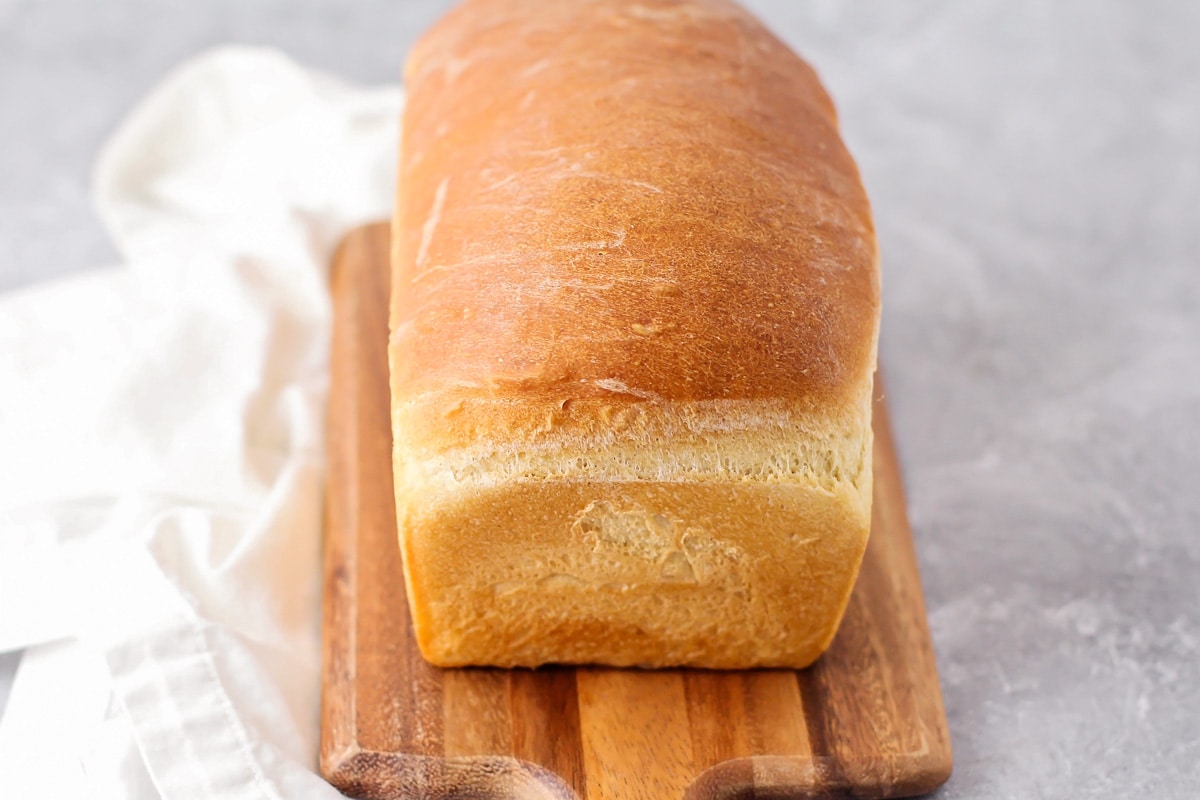 Storing Info
STORE. Because Homemade White Bread does not contain preservatives, it needs to be stored correctly to avoid drying out. Wrap the loaf in plastic wrap and then in foil.
Once you slice your bread, store it in an airtight plastic bag. Store for 3-4 days.
Do not store bread until it has completely cooled. Bread can be stored in the refrigerator for up to one week.
FREEZE. Slice the loaf or freeze it whole. Place the bread in a Ziploc bag or wrap it with plastic wrap then again with aluminum foil.
Freezing bread dough. Making up a batch or two of dough to freeze is so helpful. All you have to do later on is pull out the desired amount of dough, let it rise for a few hours, and bake.
Note that you will need to double the amount of active dry yeast you use to compensate for any yeast that will die in the freezer.
Complete steps 1-4 BUT do not let it rise a second time.
Instead, place the loaf pans in the freezer for several hours.
Once the dough is solid, remove them from the pans. Wrap tightly with plastic and again with aluminum foil.
Label and freeze for up to 6 months.
To bake. Unwrap and place the dough in a greased bread pan. Cover with an oiled piece of plastic wrap. Allow it to thaw for a few hours and then rise until it is about doubled in size. Bake according to recipe directions.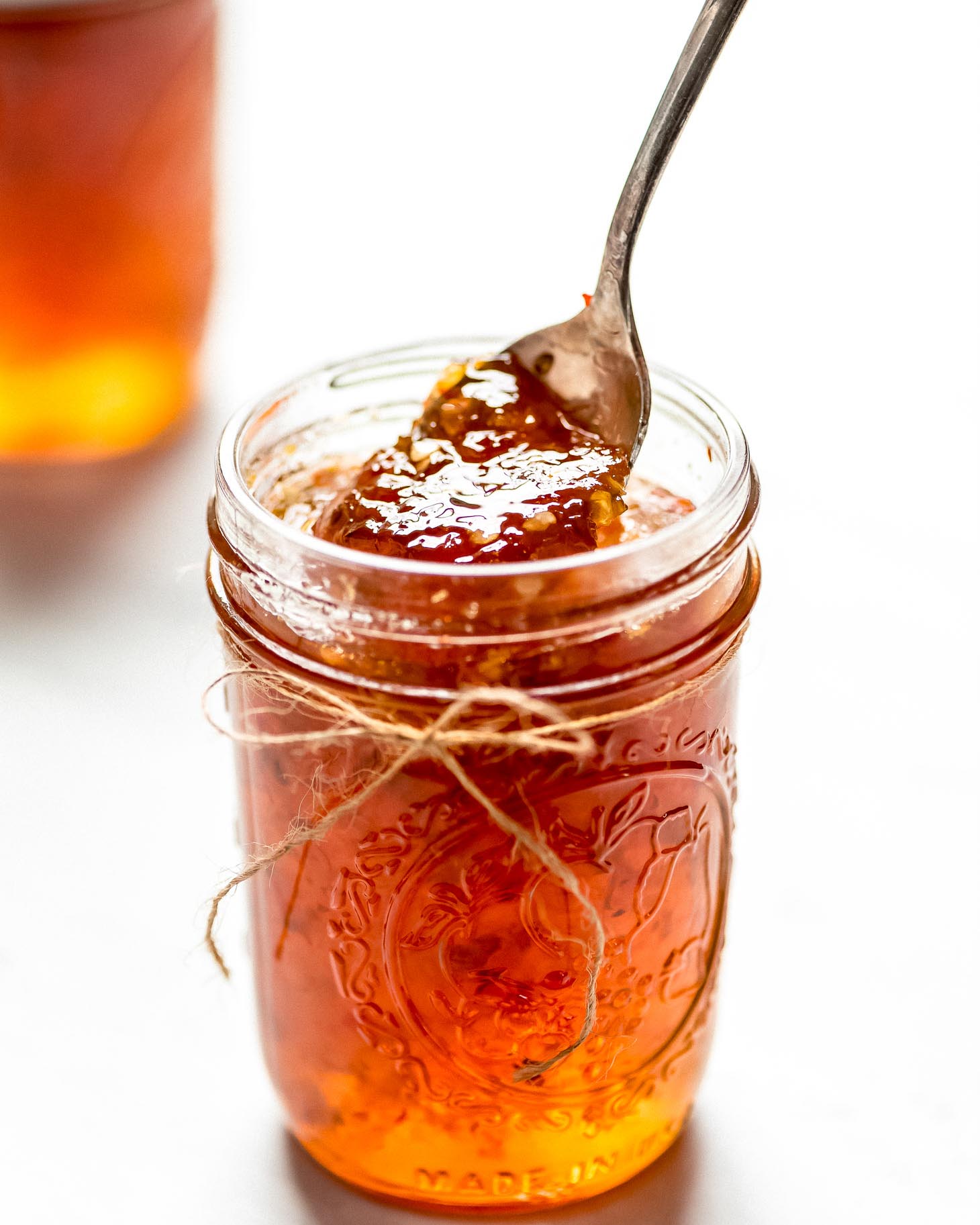 White Bread serving suggestions
This homemade bread recipe is delicious as is, but you can add flavor with different spreads and herbs.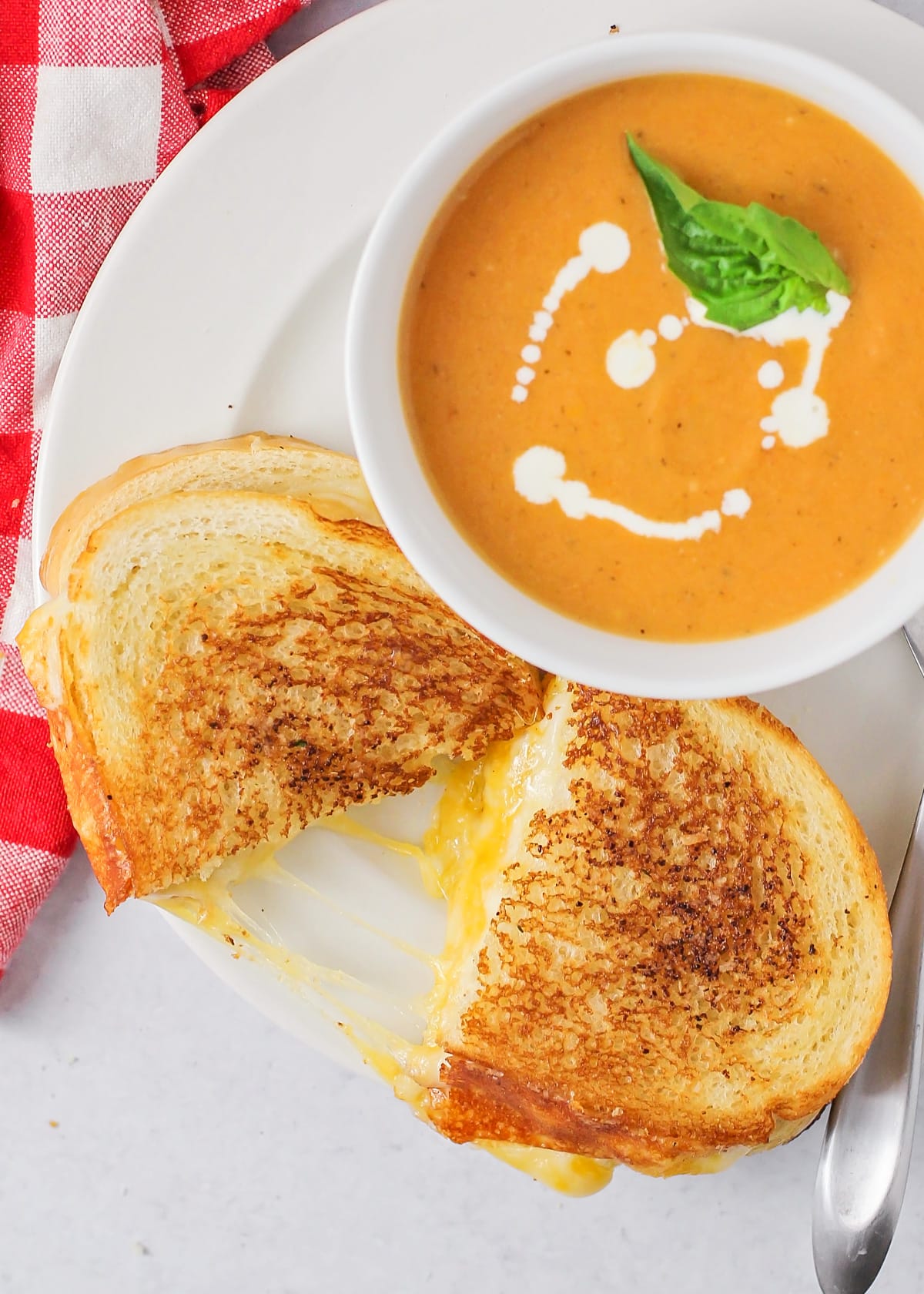 use homemade bread to make
Make breadcrumbs. If your White Bread accidentally gets too stale, easily make it into breadcrumbs. Take the stale bread and run it in the food processor until it is your desired texture. Store at room temperature for a month or in the fridge for 3 months.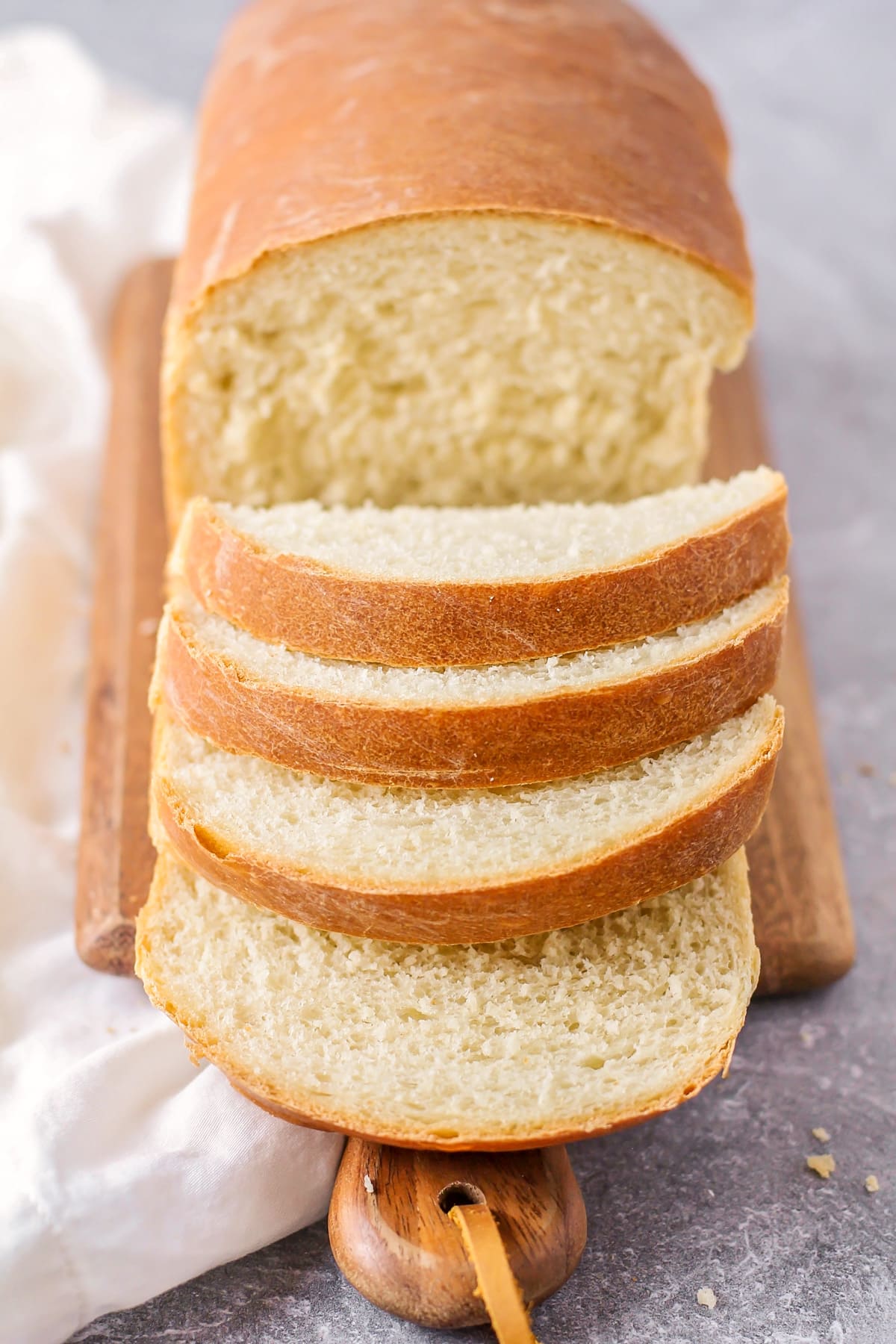 For more bread recipes, check out:
White Bread Recipe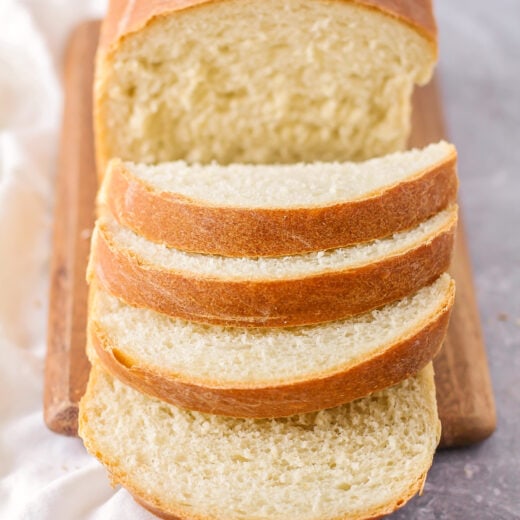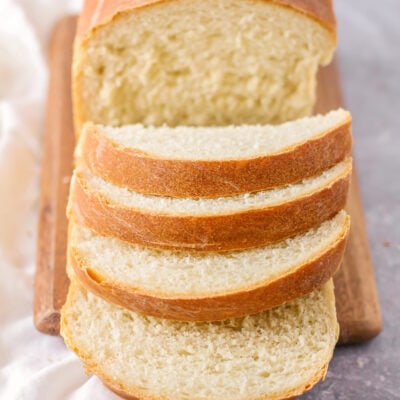 This simple White Bread is perfect for both the bread novice and pro baker. It's tender, delicious, and SO easy!
Ingredients
Instructions
In a large bowl, dissolve yeast and ½ teaspoon sugar in warm water; let stand until bubbles form on the surface.

In a large bowl, whisk together 3 cups flour, remaining 3 tablespoons sugar and salt.

Stir oil into yeast mixture, pour into flour mixture and mix until smooth. Stir in remaining flour ½ cup at a time to form a soft dough.

Turn dough onto a lightly floured surface and knead until smooth and elastic, 8–10 minutes. Place in a large, greased bowl, turning once to grease the top. Cover and let rise in a warm place until doubled in size, 1½–2 hours.

Punch dough down and place onto a lightly floured surface. Divide dough in half and shape each piece into a loaf.

Place in two greased 5-x-9-inch loaf pans. Cover and let rise in a warm place until doubled, 1–1½ hours.

When ready to bake, preheat the oven to 375 degrees F.

Bake loaves for 26–34 minutes, or until golden brown and bread has reached an internal temperature of 200 degrees F (bread should sound hollow when tapped).

Remove bread from pans and transfer to wire racks to cool. Brush tops with butter while warm.
Notes
Make Ahead: Place cooled (or baked) loaves in a large resealable plastic bag and store on the counter for 3–4 days. Store in the refrigerator for up to 1 week. This bread also freezes beautifully.  Use It Up: This homemade bread is perfect for making French Toast Bake, Breakfast Strata, French Toast, Monte Cristo Sandwiches and Homemade Croutons.