Egg salad is classic, simple, and only requires a handful of ingredients! Serve it as a side, or make it into an egg salad sandwich. Either way, it's perfect for feeding a crowd!
This is one of those easy recipes that is perfect for picnics, reunions, or just an easy lunch! We love chicken salad for the same reason as well as avocado egg salad!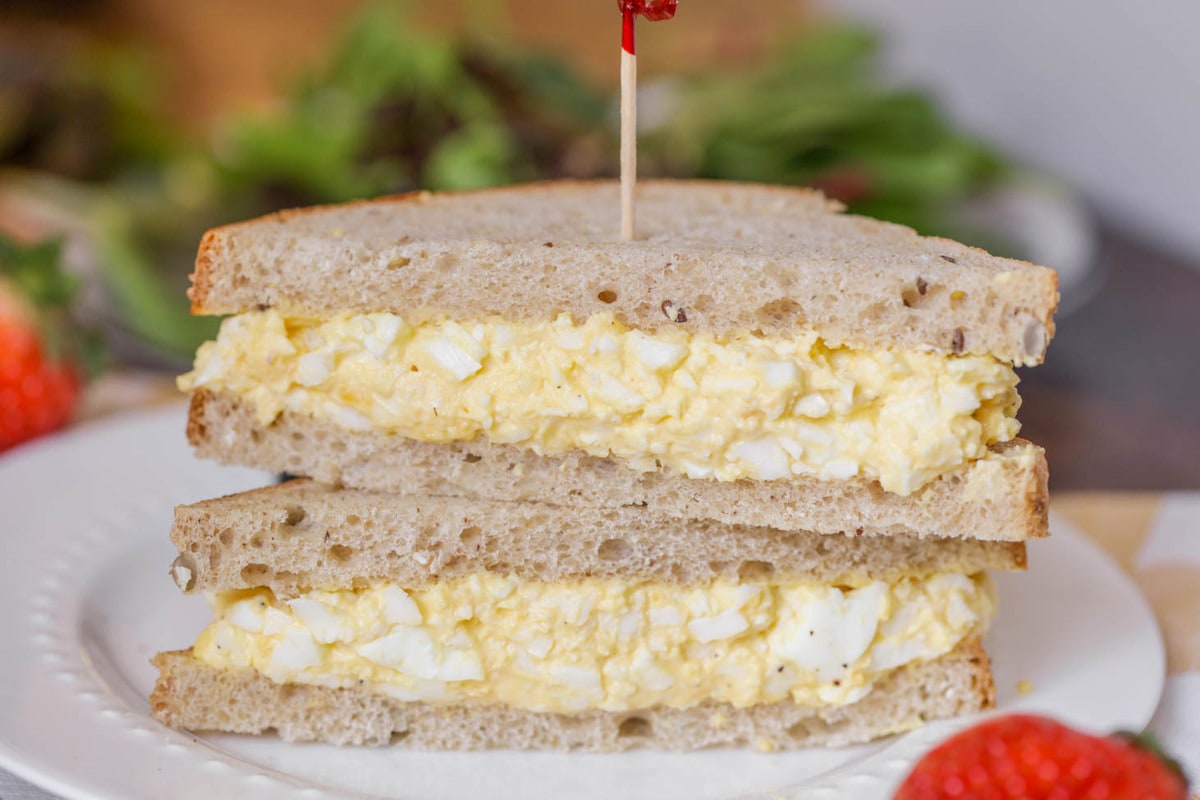 a family fav – Egg Salad Sandwich
Egg salad will never go out of style, in my opinion. It's a classic recipe that is always yummy and always hits the spot and has ALWAYS been a family favorite. It's not too plain, but just plain enough that everyone will enjoy it! Even for your pickiest eaters.
This recipe is also great for feeding large groups of people. You can double the recipe and serve it in a bowl, or on bread to make egg salad sandwiches.
This is the ultimate picnic food—in fact, I like to serve our egg salad on thick sliced bread with some fresh fruit on the side. It also makes a simple side dish that goes great with so many different foods—burgers, pulled pork sandwiches, grilled hot dogs, or french dip!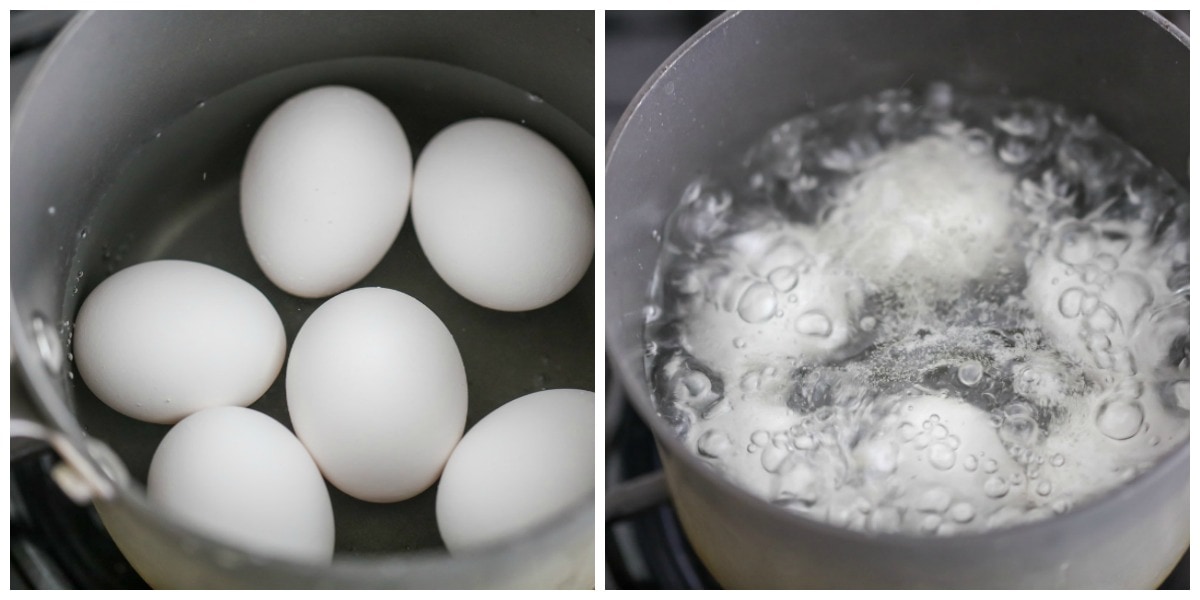 how to boil the eggs
Boiling eggs is so easy!
Do not be intimated by this easier-than-it-sounds cooking technique. It's as simple as placing the eggs into a pot of water, adding a little salt and oil, and bringing it to a boil.
Go to this post HERE for all of the simple details. You'll be a hard boiled egg pro, I promise! But, also not that you can make other ways. We recommend making them in the instant pot too (beyond easy!)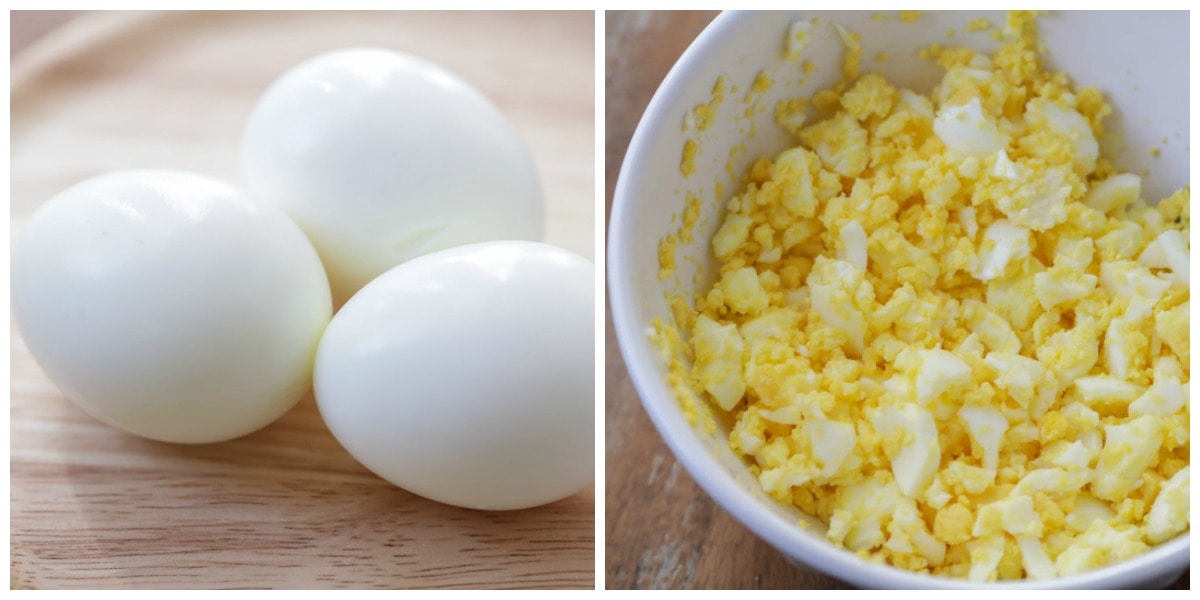 How to Make Egg Salad
After your eggs have boiled and cooled, shell them and place into a bowl. Grab a fork and gently chop up the eggs (Tip: use a pastry cutter or a stiff wire whisk to "chop'' the boiled eggs). Then mix in the mayo. Add salt and pepper to taste. If you want to add other herbs or spices, add them at this time.
Mayo Substitute: Besides the eggs, Mayo is the main ingredient in the recipe. Using a substitute will alter the flavor and texture. With that said, you can use:
Miracle Whip substitute at 1:1 ratio; season to taste

Greek Yogurt (the full fat kind) substitute at a 1:1 ratio; season to taste
Additional Ingredients
There are several different ingredients you could add for flavor, or to include some veggies or protein. Try any of these herbs, seasonings, or mix-ins!
Herbs/seasonings:
lemon juice
green onions
parsley
dijon mustard
curry powder
paprika
Mix-Ins:
diced pickles or relish

Celery, carrots, avocado, olives

Cubed chicken or ham, diced cooked shrimp, bacon bits

Diced tomato or cherry tomatoes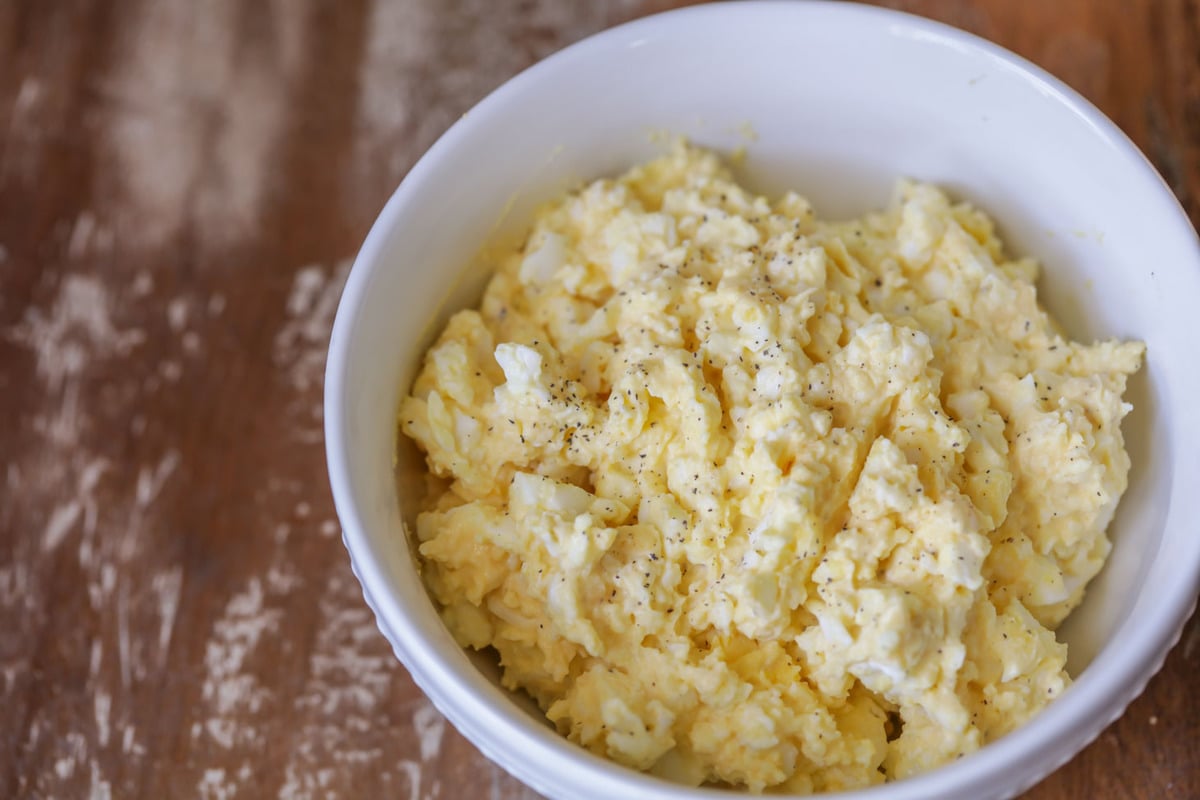 How to Serve + Store
You can serve this egg salad warm or you can put it in the fridge to serve it cold. Both ways are delicious, so you can't go wrong. The most common way we eat egg salad is on sandwich bread. One thing I like to do is to toast the bread first. Other items you can serve this on include:
Toasted bagels

Pita bread

Lettuce wrap

Tortilla chips

Croissant

Bun
How much egg salad to feed a crowd? This recipe makes about 4 servings, so it averages to 2 eggs per person. If you're making sandwiches, you'll definitely want to stick to about 2 per person. If you're just using it as a side, you can probably plan on less.
Leftovers
If you have any salad leftover, store it in an airtight container and keep it in the fridge. It will last 3 to 5 days in the fridge, so make the most out of those leftovers. Put the egg salad on toast, make sandwiches, or use as a yummy addition to your dinner.
Unfortunately, eggs and mayonnaise are two things that do not freeze well. So if you did freeze your egg salad, it wouldn't maintain its nice creamy texture after thawing so we do not recommend it.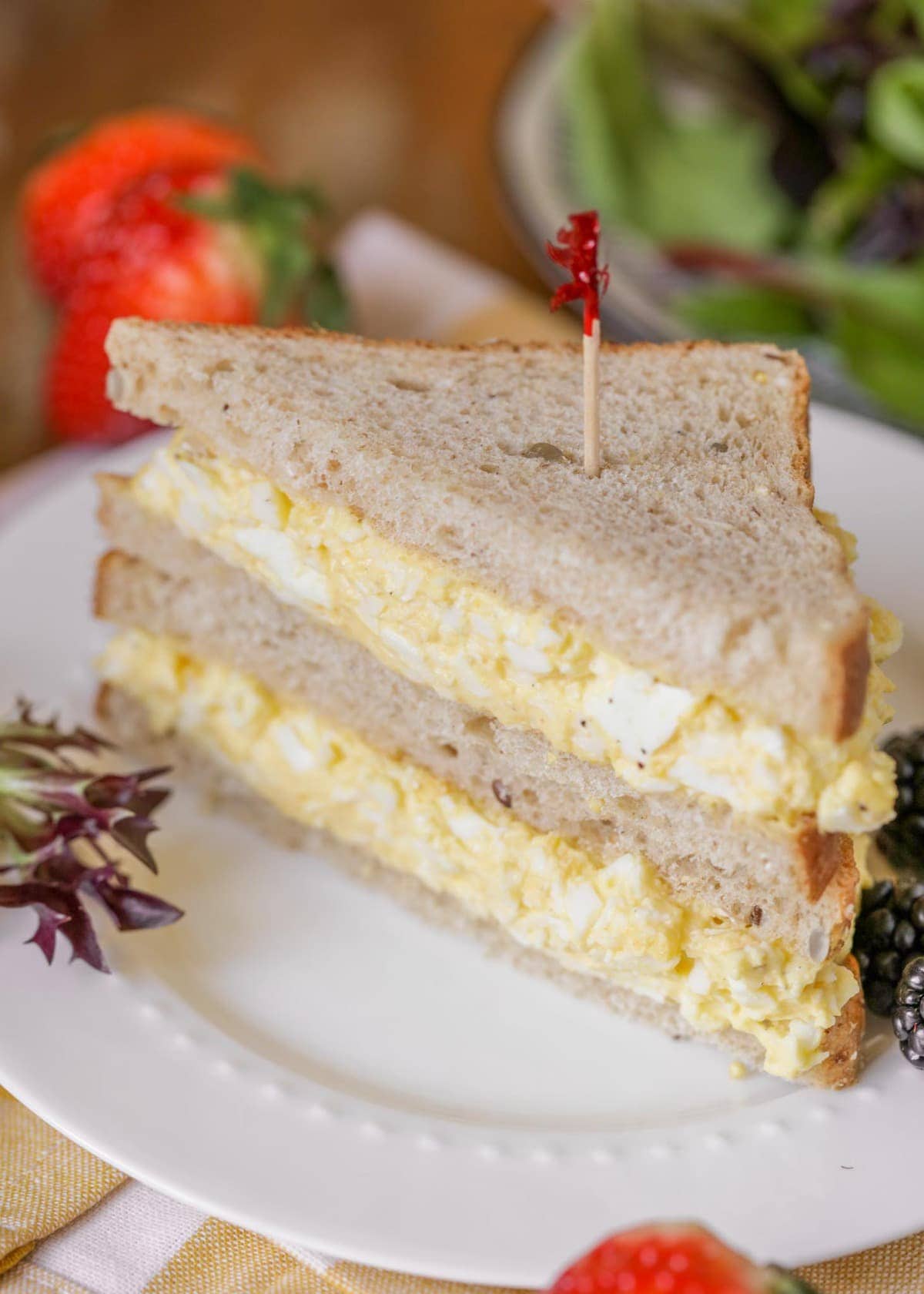 Be sure to try our recipe and let us know what you think. It's a keeper in our books and we hope you feel the same way!
Serve your egg salad with:
For more great "salad" recipes, try:
How to Make Egg Salad recipe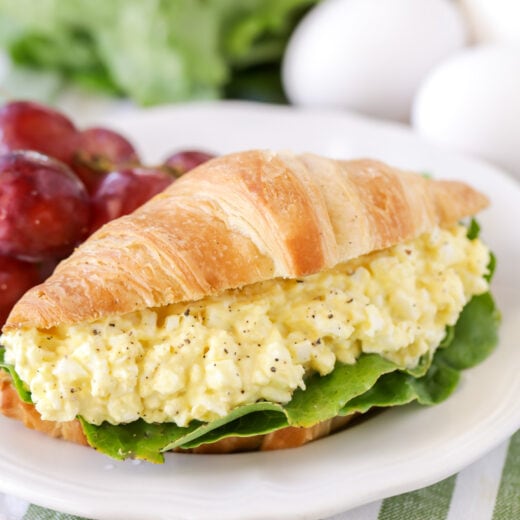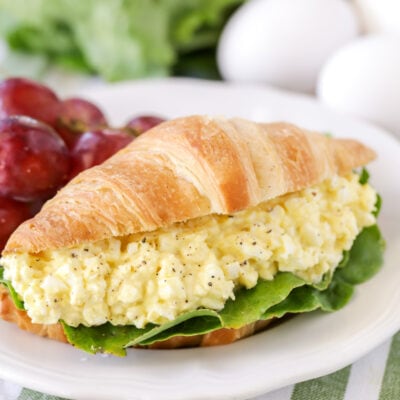 Gather a handful of ingredients and follow these simple steps on How to make Egg Salad for a deliciously classic side or tasty sandwich.
Ingredients
6

eggs

room temperature

water

pinch of salt

1

teaspoon

vegetable oil

1/3

cup

mayonnaise

salt and pepper to taste

to taste
Instructions
Carefully place eggs in a pot of cold water and cover completely by 1 inch or so. Add a pinch of salt and a tsp. of vegetable oil (this will make them easier to peel).

Bring water to a boil on medium heat. Once it has reached a boil, cover it and remove it from the heat. Let sit off of the heat for 10-12 minutes.

Dump hot water from the pot, fill it with cold water, and let cool for an additional few minutes.

Shell your eggs and place them in a bowl. Chop up with a fork and mix in mayo. Add salt and pepper. Serve warm, or place in the fridge to serve cold.