This delicious apple snickers salad has layers of granny smith apples, snickers, and caramel in a creamy topping made from cool whip, milk, and vanilla pudding mix.
Even though this is a dessert, it still kind of counts as a green salad, right? 😉 Layered desserts like this one, our candy bar trifle, and even banana pudding, are perfect for parties when you want a dessert to wow your guests!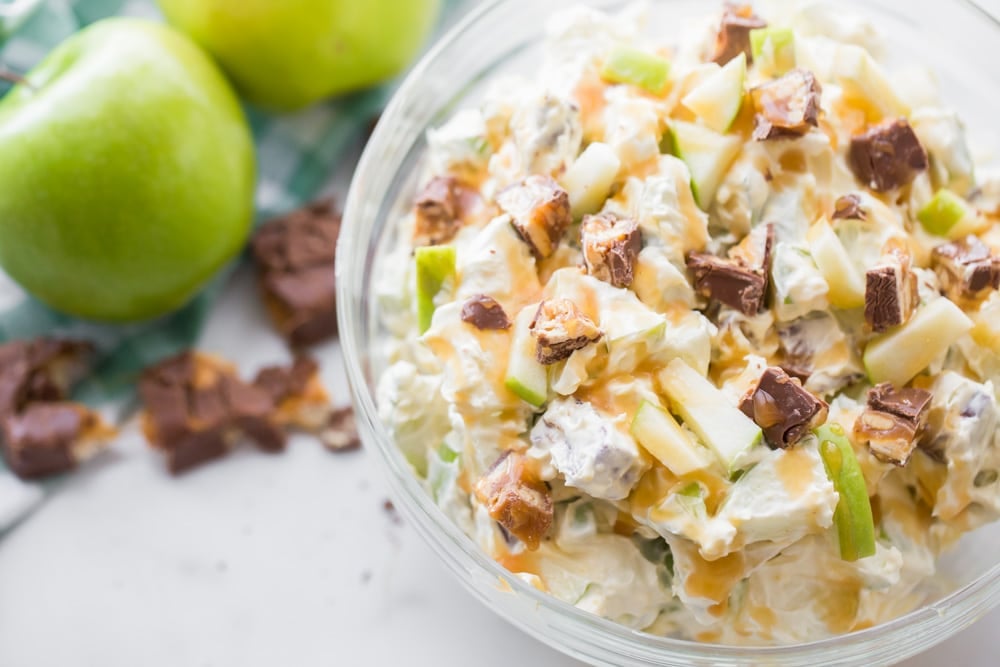 Have you ever had a Snickers Salad?
It's definitely not as healthy as a green salad, but I can promise you this Snicker Apple Salad tastes a lot better. 😉
And as you can see, that's because it's more of a dessert salad! And I'm telling you right now that you will LOVE it!! It's kinda like a big caramel apple covered in nuts and cream. Kind of hard NOT to like, if you ask us.
My sister made this not too long ago and the family officially declared it a new favorite. If you have yet to try this delicious recipe, I highly recommend it. It's perfect for family get togethers and barbecues in the summer, or even in the fall time to celebrate caramel apple weather.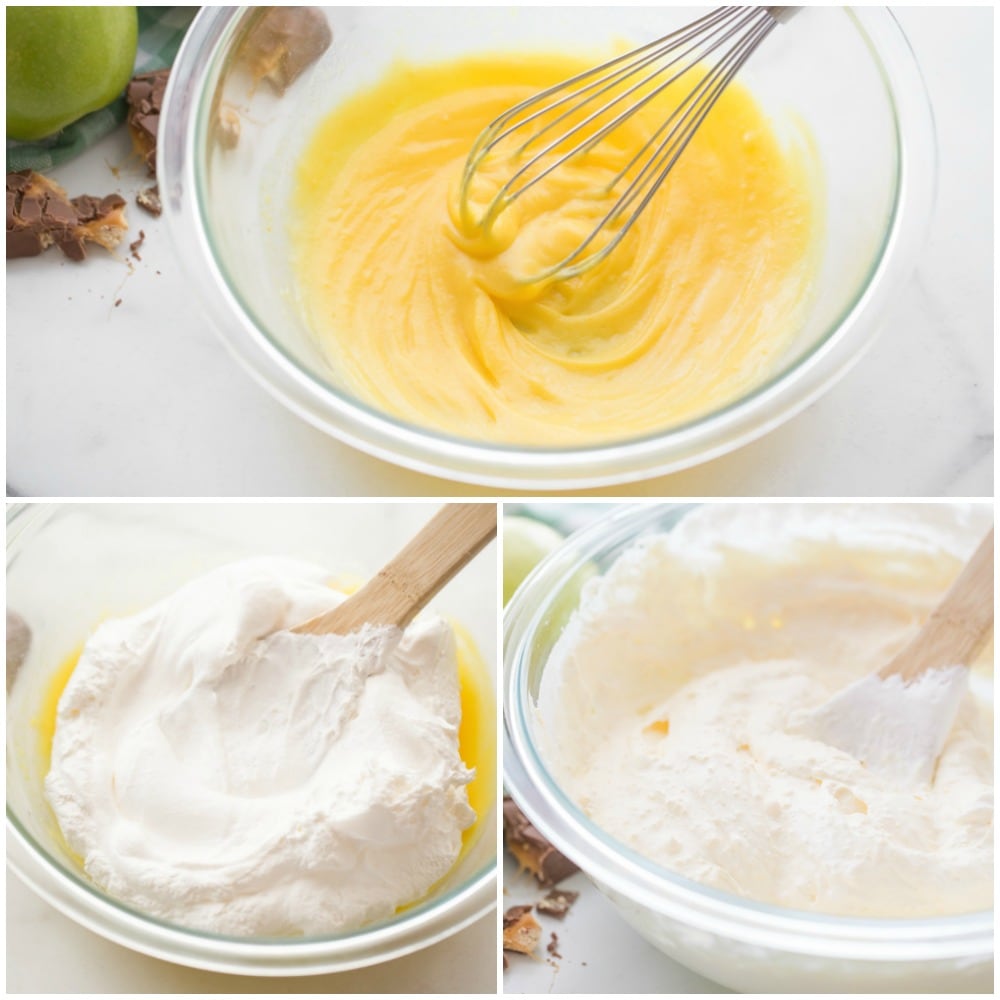 How to make snicker salad
Making this Snicker salad is as simple as chopping your apples and snickers bars and layering with the cool whip/pudding mix. It only takes a few minutes to put together!
Mix it up a bit: You can change the pudding flavor and use white chocolate or butterscotch. Try changing up the candy bar type and use milky way or twix. You can also add chocolate syrup to the top and sprinkle with chopped nuts. Be creative!
What are the best apples to use? It entirely depends on your preference. I like using a more tart apple to balance out the sweetness of the other ingredients. No matter if you prefer tart or sweet, be sure the apples you choose are firm and bruise free. Here's a guide to help you choose what apples you might like to try. 
Sweet: Gala, Fuji, Honeycrisp, Golden Delicious 

Tart: Granny Smith, Cortland, Melrose, Winesap 

Sweet and Tart: Jazz, Pink Lady, Jonagold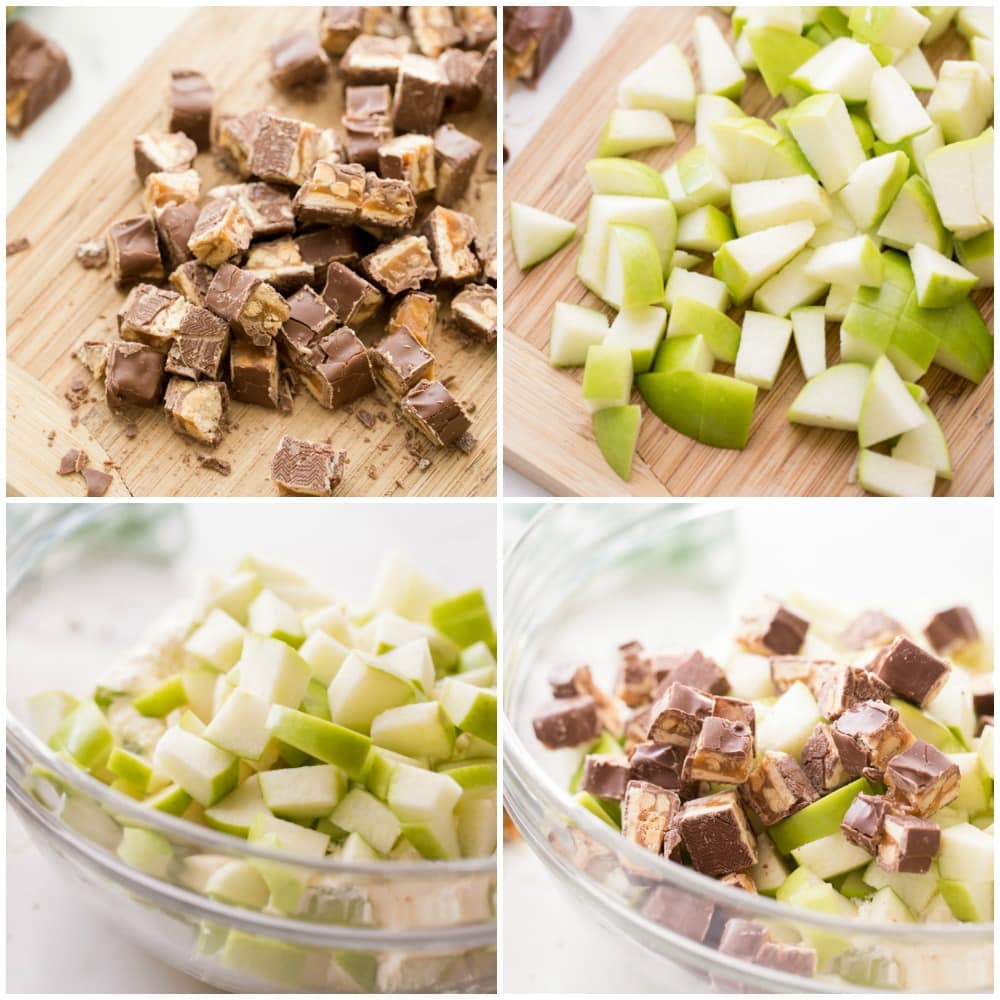 A great party treat!
I love putting my snicker salad in a glass trifle dish when I serve it at parties! It makes it look so pretty! Don't you think? If you're making it for a party, you might wonder if you can make it ahead, or what to do if there are any leftovers…
You can make this up to a day AHEAD OF TIME. If you are going to layer the ingredients you will want to treat the apples to keep them from browning. Here are a few way to do so: *some may alter the flavor of the apple
Lemon or lime juice: add 1 tablespoon of lemon juice to 1 cup of water. Soak the apple slices for 3-5 minutes, drain, rinse and pat dry.

Use Fresh Fruit or another ascorbic acid powder. This can usually be found in the food storage/canning section at the grocery store.

Soak in ginger ale for 3-5 minutes drain, rinse and pat dry.

Salt water: Mix 1-2 teaspoons of salt into 1 quart of water. Soak apples for 3-5 minutes, drain, rinse and pat dry. 

Using  a very sharp knife to cut the apples also helps. 
STORE leftovers covered in the fridge for 2-3 days.
You can't go wrong with snickers in your salad, right? I think not! We hope you enjoy this snickers salad as much as we did. 🙂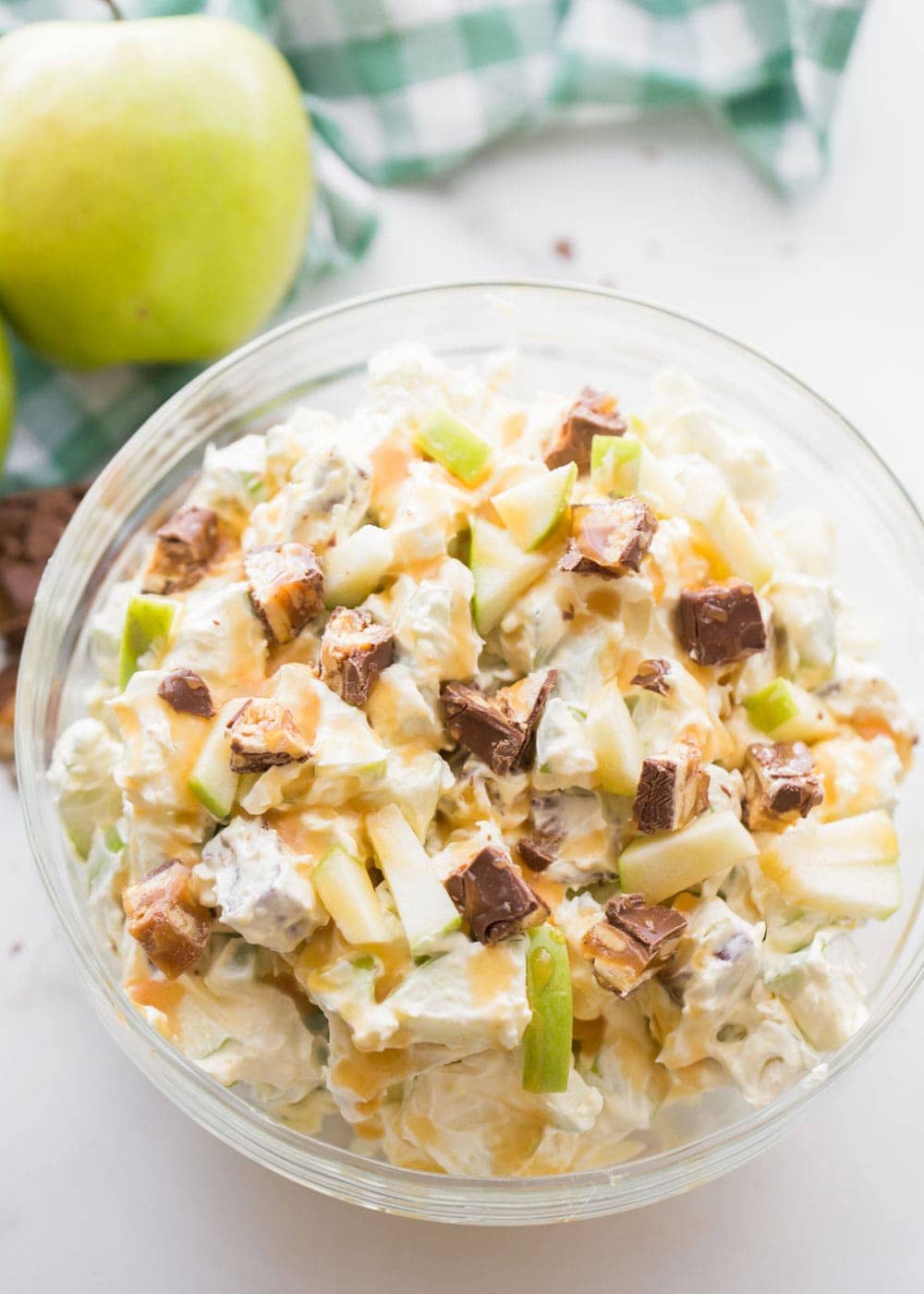 For more caramel apple recipes, check out:
Snicker Apple Salad Recipe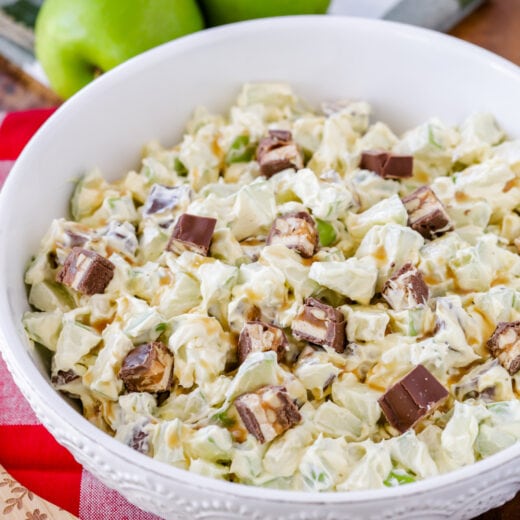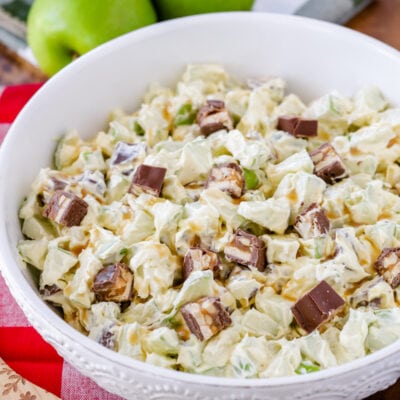 Delicious Apple Snickers Salad that is so good and so easy to make! Layers of apples, snickers, and caramel in a creamy topping made from cool whip, milk, and vanilla pudding mix.
Ingredients
4

large

green apples

4-5

snickers bars

8

oz

cool whip

1

small box

vanilla instant pudding

1/2

cup

milk

caramel
Instructions
Mix milk and pudding then fold in the cool whip.

Cut up apples and snickers and mix in. Top with caramel. Serve cold or layer and serve cold.