Making gorgeous gourmet caramel apples is easier than you think! With these tips and tricks, you will have beautiful (and DELICIOUS) homemade caramel apples in no time.
I know caramel apples are an especially popular dessert during the fall, but I crave caramel apples all year! I love the flavor so much, I have a dump cake, a fudge, and a dip that are all caramel apple flavored!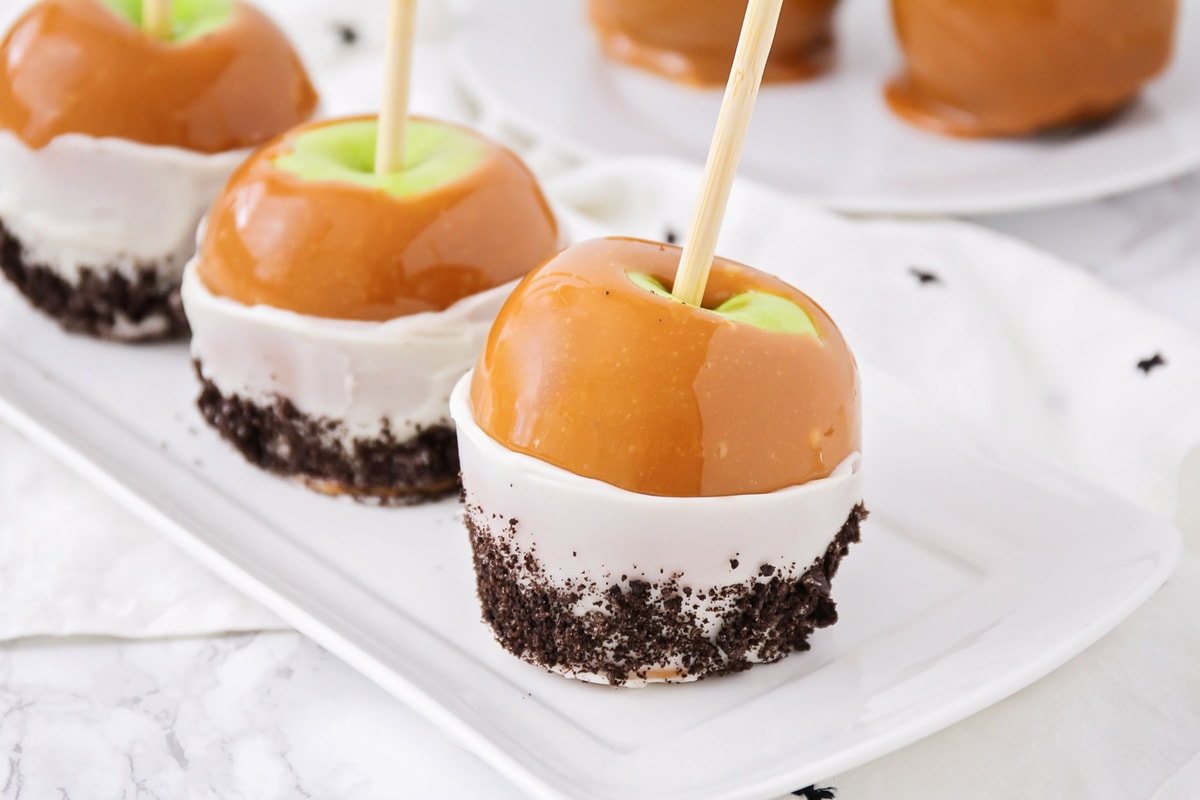 A favorite family treat
I LOVE (like super-duper LOVE) Caramel Apples!
They are heaven on earth for me! And every time we go somewhere like Disneyland or on vacation, they are pretty much a "MUST-PURCHASE" item (our all-time favorite is the Apple Pie Caramel Apple!). We usually buy one for the whole family to slice up and share, and I'm happy to say my love for caramel apples has officially been passed down to the kids.
Of course, I couldn't say no when they requested caramel apples for a Family Night Dessert last week. I've made them a ton in the past, but have never loved how they turned out. I did quite a bit of research and practicing, and have now come up with some great tips for Perfect Caramel Apples.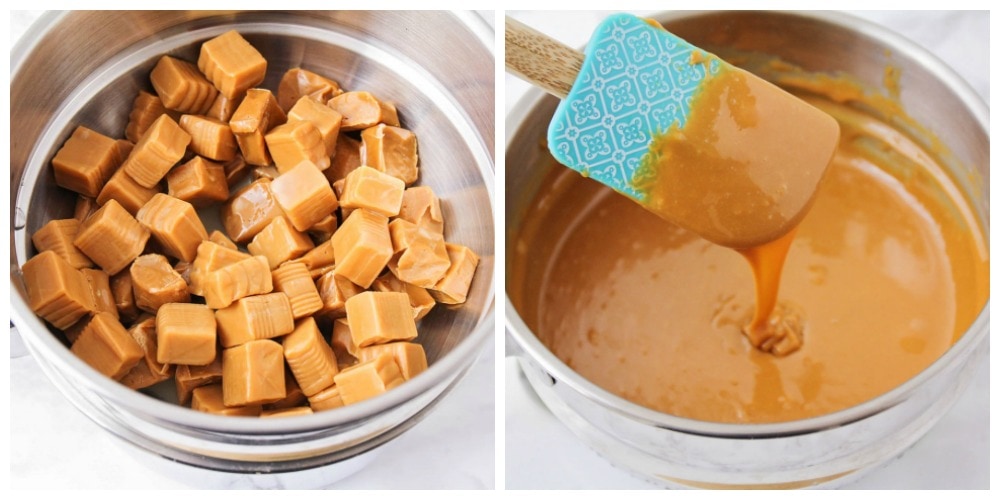 How to make caramel apples
PREP APPLES. Begin by washing your apples and letting them dry completely. This will help remove the wax that is on the apple skin allowing the caramel to stick on better.
Note: I purchased some smaller golden delicious apples from Walmart because the big ones are overwhelming (unless you are slicing them up). They were the perfect size for the kids (and for me) and worked out great!
ADD STICKS. Remove your stems and add your skewers or sucker sticks.
Note: Wilton has some AWESOME patterned lollipop sticks, and I've seen them at my local Walmart and Kroger/Fry's. They are so fun, sturdy, and totally do the trick. I stuck mine in about an inch or two. I also found the sticks in the different colors on Amazon if you can't find them at your local stores.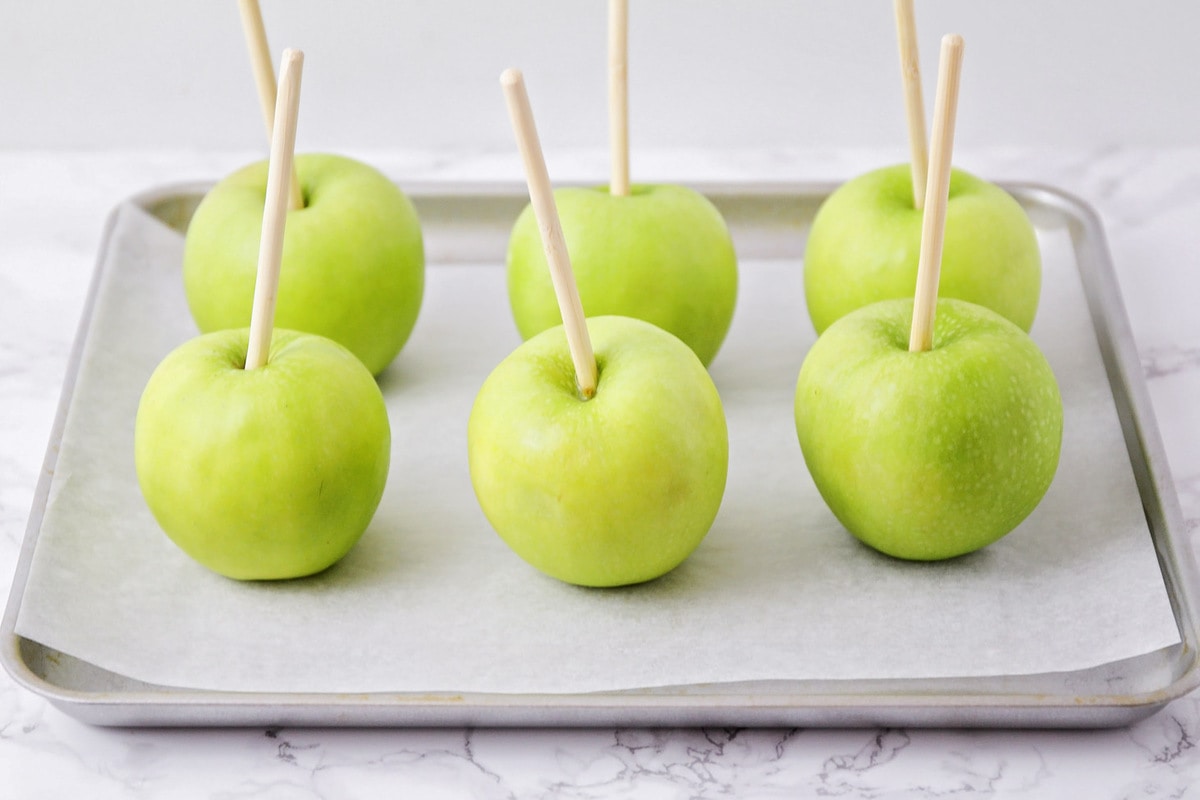 REFRIGERATE. I placed my apples on a cookie sheet lined with parchment paper and refrigerated for a few hours. This was the first time I had ever done that and I was so happy I did. Refrigerating them helps the caramel to cool quicker making less run off. Worked like a charm!
CARAMEL. You really can't go wrong with Brach's Milk Maid Caramels. Unwrap the caramels, place them in a saucepan with the water, and melt them on LOW heat, stirring them the entire time. I do this because I don't have a double boiler, but if you do have one, you can use that just as well!
Note: Even though I had lots of apples, I melted the caramels one bag at a time because I wanted to make sure it worked out and that the caramel stayed hot for the entire process. It starts to cool after awhile, so I was glad I did just one bag at a time.
COAT. Dip your cold apples in the melted caramel, and twist to coat all sides of the apple. Let the excess caramel drip off, and place back on the pan with parchment paper. Put in the fridge to let the caramel set.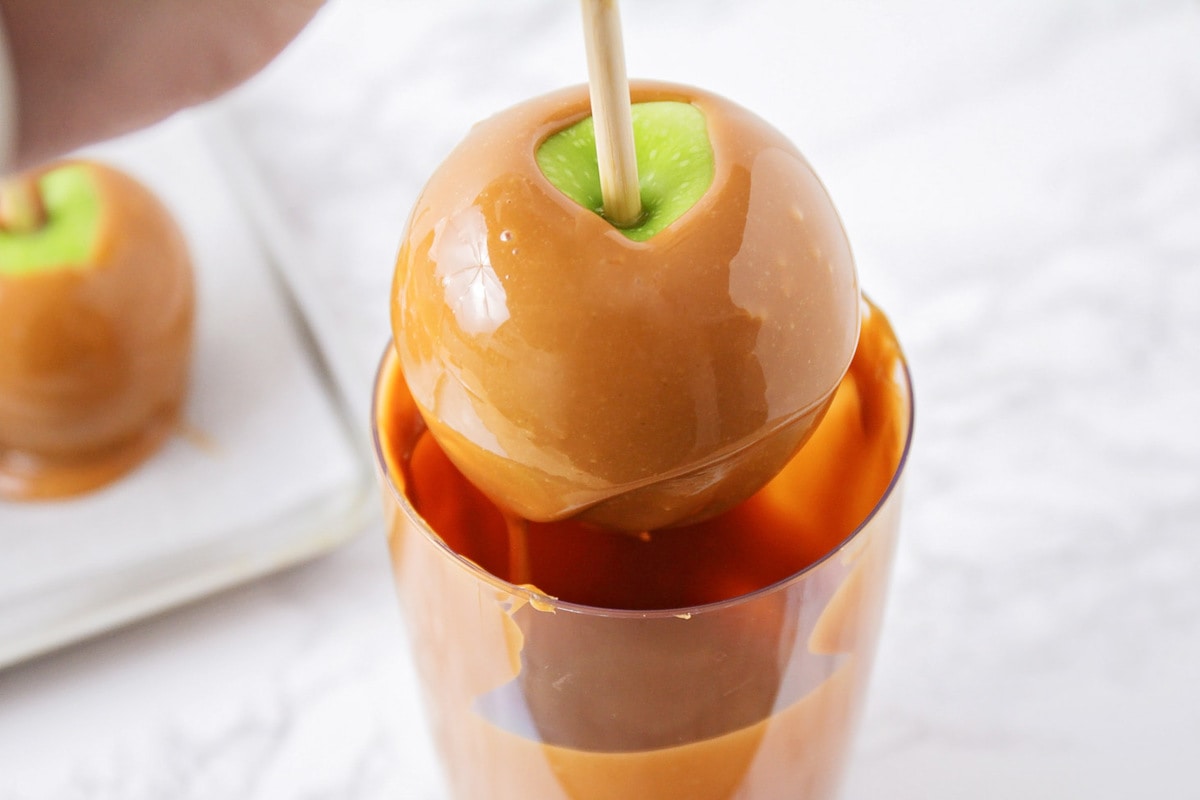 Optional toppings
Once the caramel is set, you can add some optional candy coating and toppings. Dip in the melted chocolate/candy coating, then in your toppings. Put them back in the fridge to set up. Make sure you take them out 30 minutes before serving, so they're at just the right temperature to eat!
Some topping ideas:
Sprinkles

Chopped nuts

Mini m&m's, mini Reeses, mini chocolate chips, or mini marshmallows

Shredded coconut

Crushed Cinnamon toast crunch, graham crackers, butterfingers, pretzels, Oreos

Candy corn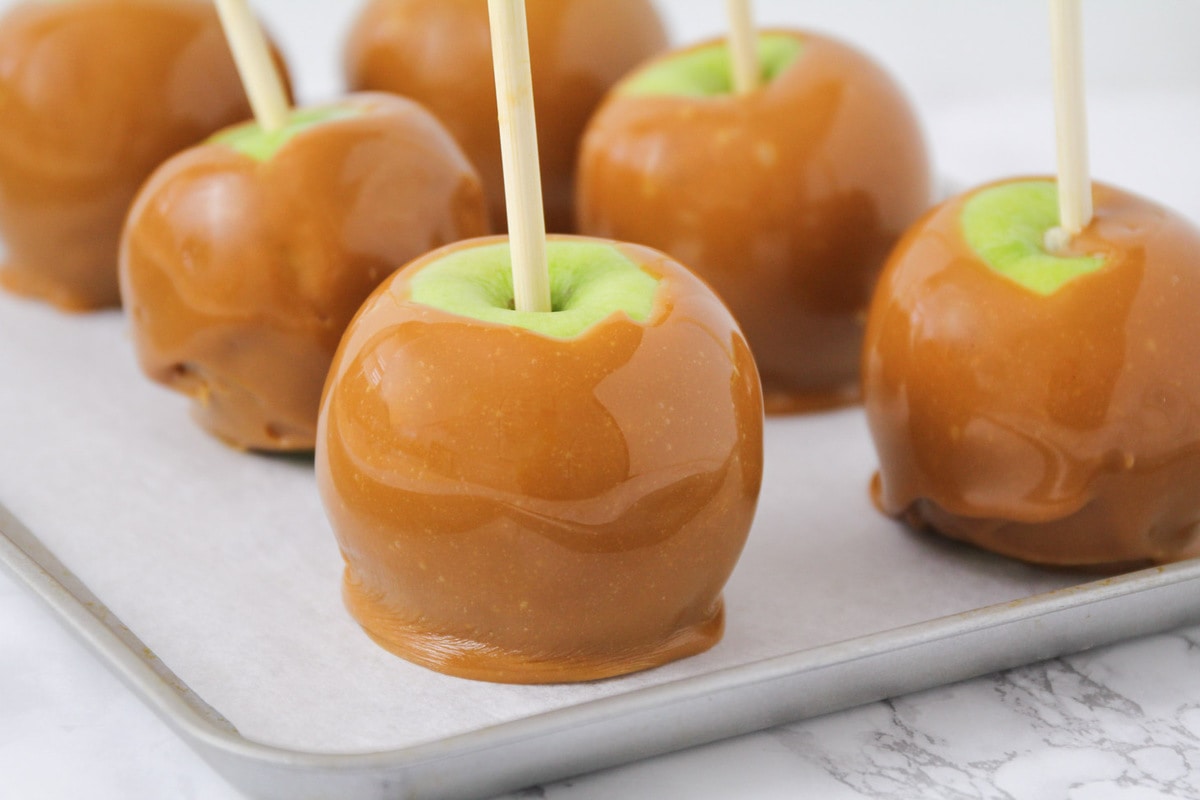 Frequently asked questions
What are the best apples for caramel apples? It entirely depends on your preference. No matter if you prefer tart or sweet, be sure the apples you choose are firm and bruise free. Here's a guide to help you choose what apples you might like:
Sweet: Gala, fuji, honeycrisp, empire, golden delicious,

Mildly Tart: McIntosh, Paula Red, Wealthy, rome beauty

Tart: Granny Smith, cortland, melrose, winesap

Sweet and Tart: Jazz, Pink Lady, jonagold
How do I make the caramel stay on the apples? If you're having trouble keeping the caramel on the apples, try the following:
Keep the caramel just hot enough to melt together, but not too hot that it slides right off.

Once you wash the wax off of the apple, use a fine grit sandpaper to rough up the skin, but do not break the skin. This will makes "grooves" for the caramel to cling to.

Make sure the apples are cold and dry.
What do I do with the "caramel foot"? After you've dipped the apple in caramel and put it in the refrigerator, you may notice that some of the caramel slid down and settled at the bottom of the apple creating a "caramel foot". To get rid of this, trim away larger pieces, then, using your fingers, gently smooth out the remainder of the caramel.
Storing your caramel apples
Countertop: Apples that have not been pierced with a stick can last at room temperature for about 7 days.

Refrigerator: Apples that have a stick should be kept in the fridge for up to 2 weeks. Use a container that will allow for airflow. Cut apples can be kept in an airtight container. Treat the apple slices with lemon juice or use a fresh fruit produce protector found at the grocery store to help keep them from browning.

Freezing caramel apples is not recommended.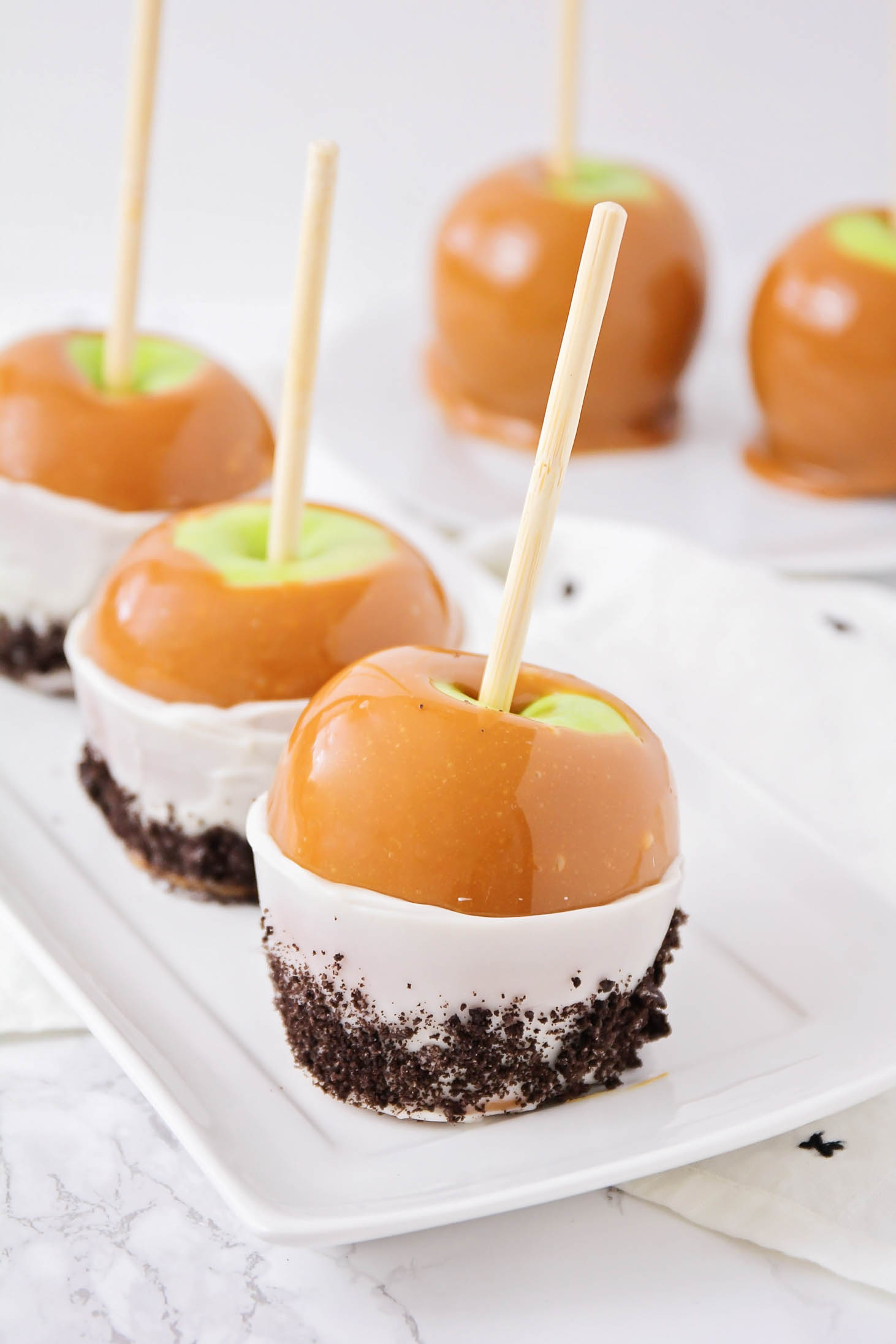 I'm happy to say that these apples were devoured so quickly and happily! You can obviously modify it to your liking (no chocolate, different candies, etc.) My kids have already asked for them again, and I can't wait to make them so more this fall.
For more caramel apple recipes, check out:
Caramel Apple Recipe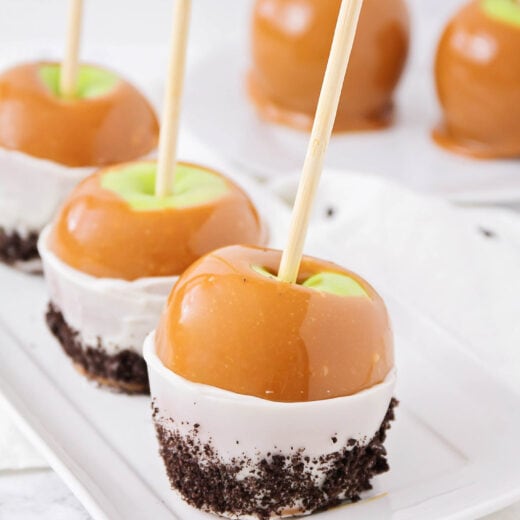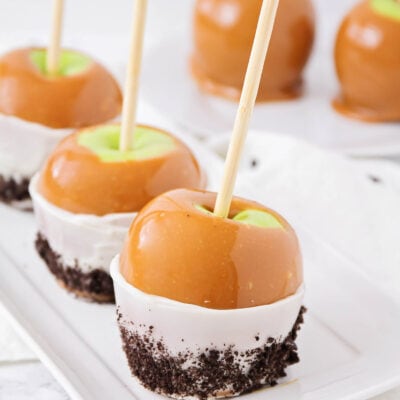 Making gorgeous gourmet caramel apples is easier than you think! With these tips and tricks, you will have beautiful (and DELICIOUS) Caramel Apples in no time. For a little extra, dip them in chocolate and your favorite candy bits!
Ingredients
6

skewers or popsicle sticks

6

apples

Granny Smith, Fuji or Honeycrisp

1

(11-ounce) bag

Brach's Milk Maid caramels, unwrapped

3

tablespoons

water

melted white chocolate candy coating

optional
Toppings
sprinkles, chopped nuts, crushed candy

optional
Instructions
Wash apples and let them dry completely. This will help remove the wax that is on the apple skin, allowing the caramel to stick better.

Remove apple stems and insert skewers or popsicle sticks 1–2 inches in.

Place apples on a parchment paper–lined baking sheet and refrigerate for 1–2 hours.

In the top of a double boiler or in a medium pot over low heat, combine caramels and water and cook, stirring the entire time, until caramel is fully melted and reaches about 240 degrees F, 12–14 minutes.

Working one at a time, hold an apple by the stick, tilt the pot at an angle and swirl apple in caramel to coat. Gently tap to let excess caramel drip off, then place apple back on parchment paper. Once all apples have been dipped, refrigerate again for 30 minutes.

Once caramel has set, you can enjoy your apples as they are, or you can dip in melted candy coating, sprinkle on any desired toppings, and let set at room temperature.

Store apples refrigerated, but remove from the refrigerator at least 30 minutes before serving.
Notes
Make Ahead: Covered and refrigerated, caramel apples will keep for up to 2 weeks.
Other Topping Ideas: The possibilities are endless—try topping these with mini M&M's, mini chocolate chips, mini marshmallows, shredded coconut, crushed Cinnamon Toast Crunch cereal, crushed graham crackers, crushed Butterfingers, or crushed Oreos.