This collection of easy dessert recipes for kids is full of fun and easy recipes your whole family will enjoy! Best of all they only require a few ingredients and can be whipped up in no time!
More Collections: Easy Recipes For Kids, Easy Cake Recipes, Easy Cookie Recipes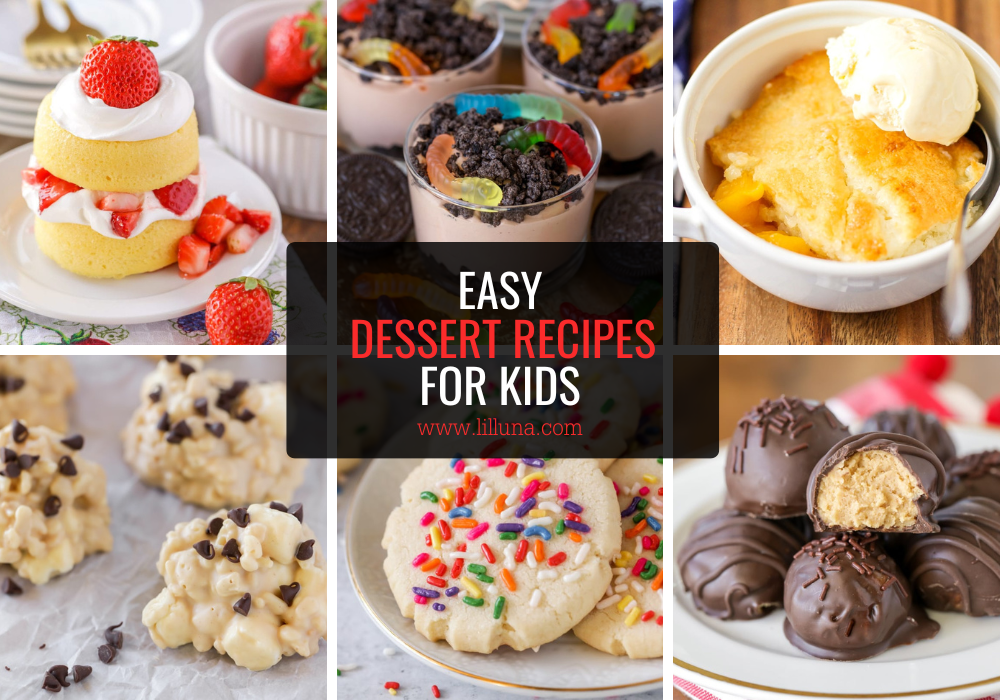 Baking With Kids!
My kids love to be in the kitchen! They love to get their hands dirty and be involved and I love to let them.
Cooking and baking are such great skills for kids to have. We have a great collection of easy kid recipes, I thought it would be fun to make one with just desserts!
I've hardly ever met a kid who doesn't like dessert, so really with any of the choices on this list you can't go wrong and I'm sure your kids will find several recipes that will become their new favorites!
Favorite Kid Desserts
What kinds of desserts do kids like best? Kids especially love desserts with fun colors and fun textures.
Colorful desserts like Birthday Cake Popcorn, Fruity Pebble Treats, and Cake Batter Milkshakes grab kids' attention right away.
Fun textures like our crunchy Haystack Cookies are also a big hit with kids. Just like most of their food choices kids tend to like simple desserts and if they are finger foods all the better!
Dipping is also always fun for kids and our Fruit Dip Recipe can be made in just a few minutes and enjoyed right away. This is also a good opportunity to make a healthier dessert by serving apple slices, strawberries, and sliced bananas to dip. Caramel Apple Nachos is another fun kid-friendly recipe that couldn't be easier for kids to make.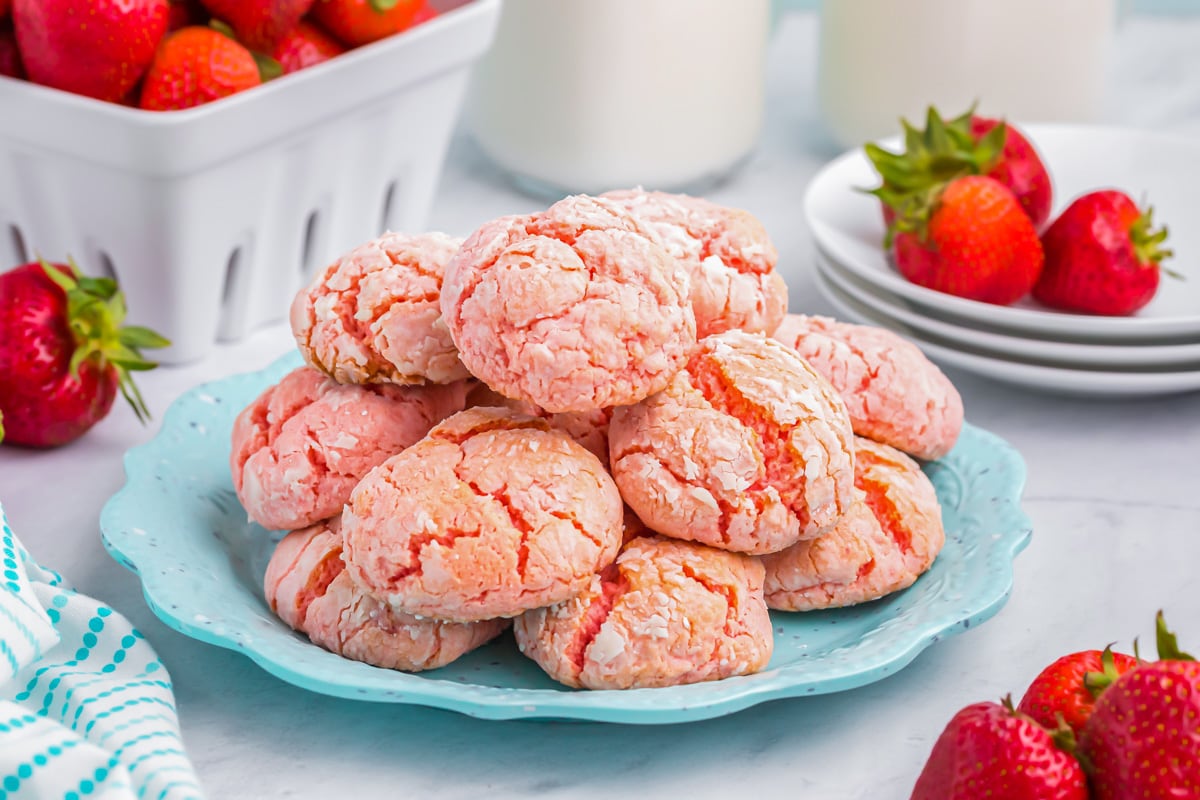 Best Age for Baking
Every child is different and you know your kids best, but once kids learn to read and can start practicing some basic measuring skills, they are ready to learn how to bake on their own.
Toddlers. Having said that, even little toddlers can help with simple tasks such as:
adding in pre-measured ingredients
stirring a bowl of batter
shaking sprinkles of cinnamon on top of a treat
We also recommend using a kitchen helper stool to help your little ones work safely beside you as they learn to bake. A regular step stool also comes in handy for older kids who can't quite reach the counter yet.
Safety for all ages. No matter the age it is important to teach kids kitchen safety:
the proper handling and use of knives
good handwashing practices
oven safety measures
These are skills that will really serve them well as they grow into more mature bakers.
Kids really love being involved in the baking process and even tasks as simple as cracking eggs, turning on a mixer, and scooping cookie dough onto a baking pan are fun and rewarding for them.
No-bake treats are often some of the best for kids to start out with and they usually only require a few ingredients to put together.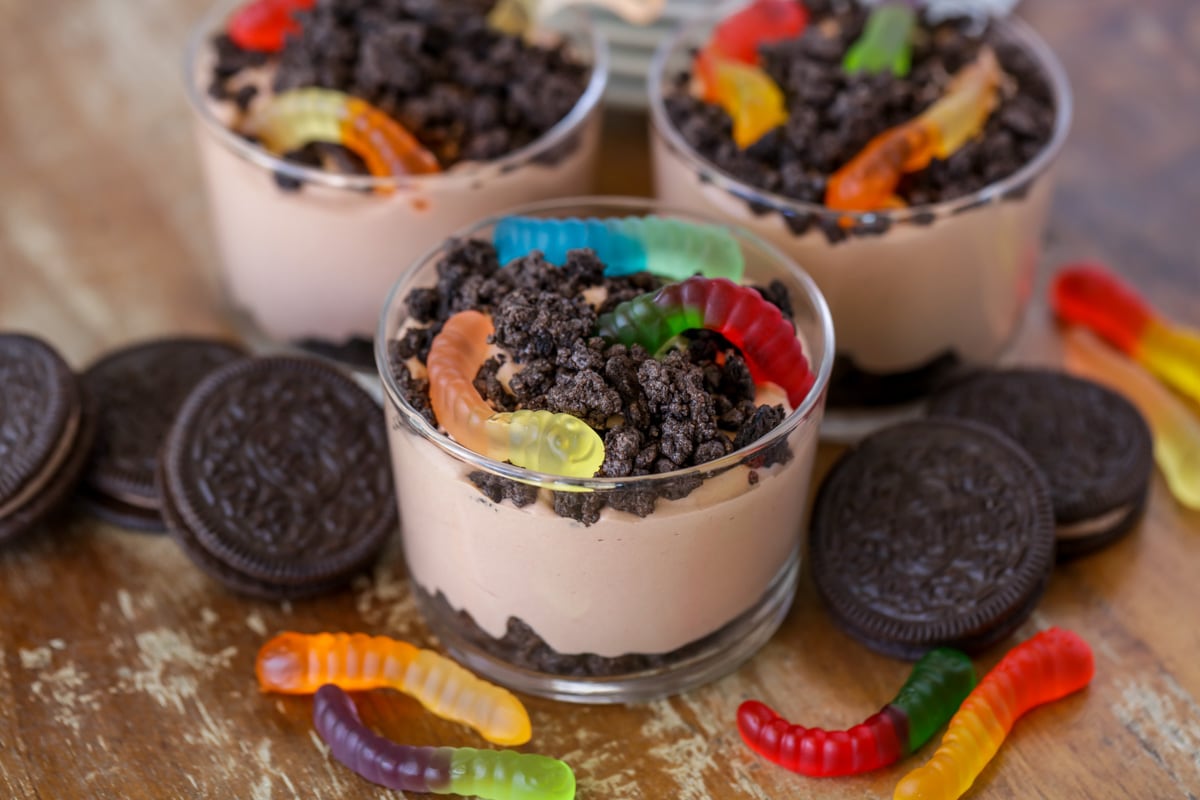 Fun Desserts for Kids
It's fun for kids to make treats that have only a few ingredients and are ready to enjoy right away like Rice Krispie Treats and Butterscotch Cornflake Cookies.
Kids also love to get involved with hands-on activities like crushing up cookies for our Sand Pudding Cups or adding sprinkles to top cookies or milkshakes.
Even some of the littlest chefs can help put the strawberries and cake pieces on the skewers to make Strawberry Shortcake Kabobs and older kids can help drizzle the melted vanilla candy coating over the top.
Adding the gummy worms to our Dirt Cake With Worms treat would be such a fun task for toddlers to help out with. One-bowl recipes like our Avalanche Cookies are some of the very best to begin with when kids are making a dessert on their own. Not only are they usually pretty easy, but there is also a lot less to clean up after!
Starting out with simple, uncomplicated recipes like the ones in this collection are your best bet for having fun in the kitchen with your kids and you will see their confidence grow with each recipe they make!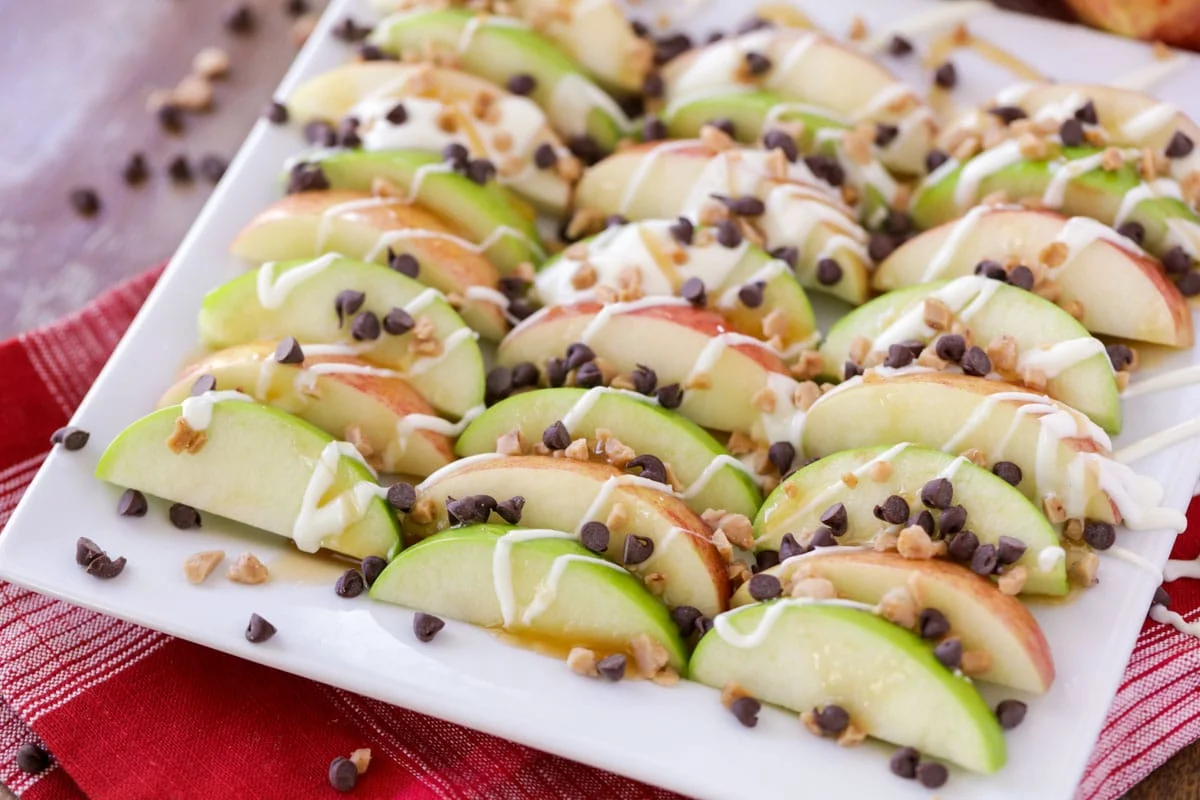 ---
Easy Baking Recipes for Kids
These simple recipes are perfect for getting little hands involved! Kids of all ages will love baking up these easy dessert recipes.
Rice Krispie Treats
Gooey Rice Krispie Treats are made in minutes. This classic recipe is so scrumptious you can't eat just one!!
3 Ingredient Sugar Cookies
Quick, easy and delicious sugar cookies made with just 3 ingredients – butter, sugar and flour.
3 Ingredient Peanut Butter Cookies
Quick, easy and delicious 3 ingredient peanut butter cookies. They take just minutes to throw together and are so easy the kids can make them!
Haystack Cookies
4 ingredient haystack cookies whip up in minutes for a quick and easy peanut butter no bake treat that will be gone in minutes!!
Butterscotch CornFlake Cookies
The kids LOVE making these no bake butterscotch cookies – they're simple, quick and yummy! Cornflakes mixed with melted peanut butter, chocolate chips, and butterscotch chips.
Apple Brickle Dip REcipe
This 5-Ingredient apple brickle dip recipe takes minutes to make and is so delicious! Plus, it uses common ingredients. The addition of Heath Toffee Bits makes it even better!
Fruit Dip
This easy fruit dip is one of the best fruit dip recipes you will ever try. It whips up in no time, and ALWAYS vanishes in minutes!
Puppy Chow
Whether you call it Puppy Chow or Muddy Buddies, you'll love this recipe! It's so easy to make and includes Chex cereal, powdered sugar, & yummy melted peanut butter and chocolate chips!!
Pumpkin Dump Cake
Simple and delicious pumpkin dump cake preps in minutes. With all of these earthy flavors, it's perfect all fall long!
Peach Dump Cake
Three ingredient peach dump cake is quick, simple, and utterly tasty. It is warm, gooey, and perfectly peachy!!
Easy Peach Cobbler
EASY homemade peach cobbler takes minutes to prep and is buttery and delicious. This is our FAVORITE peach dessert!
Dirt Cake with Worms
Creepy crawly dirt cake with worms whips up in a flash and is always a big hit with the kids. It's disgustingly delicious!
Chocolate Rice Krispie Treats
Chocolate Rice Krispie treats are a tasty twist on a beloved classic. Ready in 10 minutes, this dessert is perfect for any occasion!
No Bake Cookies
Deliciously chewy no bake cookies are made in minutes! These simple, yummy cookies will become a go-to treat.
Churro Popcorn
Melt-in-your-mouth cinnamon + sugar churro popcorn is a simple and sweet treat that only takes 15 minutes to whip up!!
Peanut Butter Balls
Simple peanut butter balls are perfect for every peanut butter-chocolate lover. These decadent bites are SO easy to whip up!
Fruity Pebble Treats
Fruity Pebble treats are gooey and sweet. These rainbow goodies are a fun twist on the traditional marshmallow treats!
Oreo Fluff
Easy Oreo fluff is a creamy and tasty no-bake dessert filled with crushed Oreos and whipped topping. It only requires 5 ingredients and 10 minutes to make!
Grey Stuff
Disney World's "Grey Stuff" recipe!! It's so easy to make and so delicious. Tastes just like the recipe from the Be Our Guest restaurant. So smooth and made with vanilla and chocolate instant pudding mix, milk, cool whip, and Oreos and topped with sprinkles!!
Easy Strawberry Shortcake
Easy strawberry shortcake is one of the easiest desserts you'll ever make!! It's light, refreshing and perfect for summer.
Strawberry Shortcake Kabobs
Strawberry shortcake kabobs are a simple version of a classic. Fluffy cake and strawberries are drizzled in melted vanilla candy coating!
Avalanche Cookies
Crispy crunchy cookies filled with peanut butter, marshmallows, and chocolate chips! These are no-bake and such a fun recipe to try with kids.
Sand Pudding Cups
Crumbly and creamy sand pudding cups are a tasty beach inspired treat. Enjoy a quick and easy sandy escape perfect for sharing!!
Popcorn Bars
Popcorn bars are delicious bars made from popcorn, marshmallows, peanuts and M&Ms. Everybody loves this yummy treat!
pudding milkshake
Thick and creamy pudding milkshake is rich, delicious and only takes 5 minutes to whip up. It is one of our favorite treats!
Cake Batter milkshake
This easy soda shop style cake batter milkshake is perfect for celebrations and enjoying on a hot summer day!
Watermelon Juice
Delicious and refreshing watermelon juice – a favorite drink in the summer time! Made with watermelon & strawberries!
Strawberry Cake Mix Cookies
Strawberry cake mix cookies use 5 ingredients to make one chewy, delicious cookie! They are a favorite go-to cookie.
3 Ingredient Banana Bread
Easy, quick and delicious banana bread made with only 3 ingredients – overripe bananas, eggs and yellow cake mix. Add a 4th ingredient – chocolate chips – if you love them!
Cherry CHeesecake Cupcakes
Cherry cheesecake cupcakes are a bite-sized cheesecake treat. They're sweet, tart, and ultra simple to make!
Birthday Cake Popcorn
Birthday cake popcorn – this sweet and salty gooey treat has a delicious cake batter flavor that is SO addicting! You can't go wrong with white cake mix, vanilla extract, marshmallows, butter, and popcorn!!
Cream Cheese Mints
Adorable cream cheese mints are the best little treat. They are melt-in-your-mouth sweet and incredibly delicious!
Caramel Apple Nachos
Caramel apple nachos taste just like a caramel apple, but simpler to make! Topped with white chocolate, caramel sauce, mini chocolate chips and toffee bits they are irresistible! They are an easy treat perfect for movie nights and get togethers.
Chocolate Dipped Cookies
Simple chocolate dipped cookies are literally melt-in-your-mouth delicious! With only 3 ingredients, they're perfect any time of the year.
Funfetti Cake Mix Cookies
Quick and easy Funfetti Cake Mix Cookies are festive and fun, perfect for a birthday party or celebration!
---
Desserts kids will love to make and eat!
We hope you enjoy this list of fun, easy, and delicious dessert recipes to make with your kids! Let us know which ones are your favorites!
More Collections: Disney Recipes, Dinner Ideas For Kids, Dessert Bar Recipes
---