The kitchen is the heart of our home and with these easy recipes for kids our whole family can get involved in preparing meals together. Your kids are sure to take pride in the yummy food they help to cook and will love to eat!
More Collections: Dinner Ideas For Kids, 3 Ingredient Recipes, Easy Dessert Recipes For Kids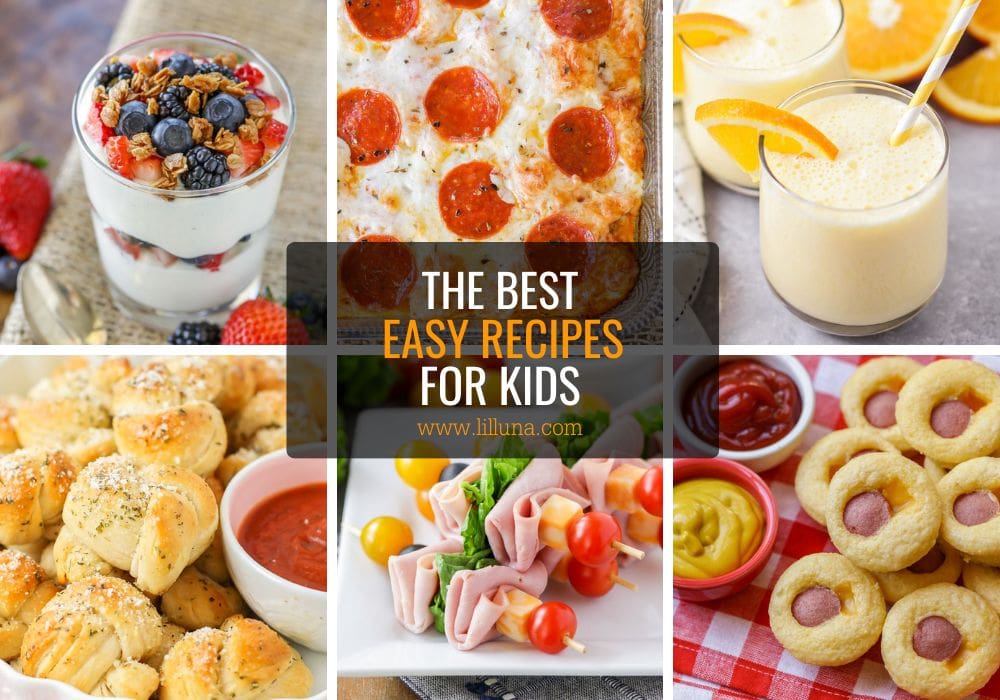 Kid Friendly Recipes
One of our favorite things to do is be in the kitchen together. We love to cook, and of course, we love to eat together!
My kids also love to help out. They love to get their hands dirty (and the kitchen) and help make everything from breakfast to dinner to desserts and after-school snacks.
All kids can help regardless of age. Whether it be simply stirring, or completing a recipe from start to finish. We've rounded up several easy recipes for kids to get your kids helping out in the kitchen!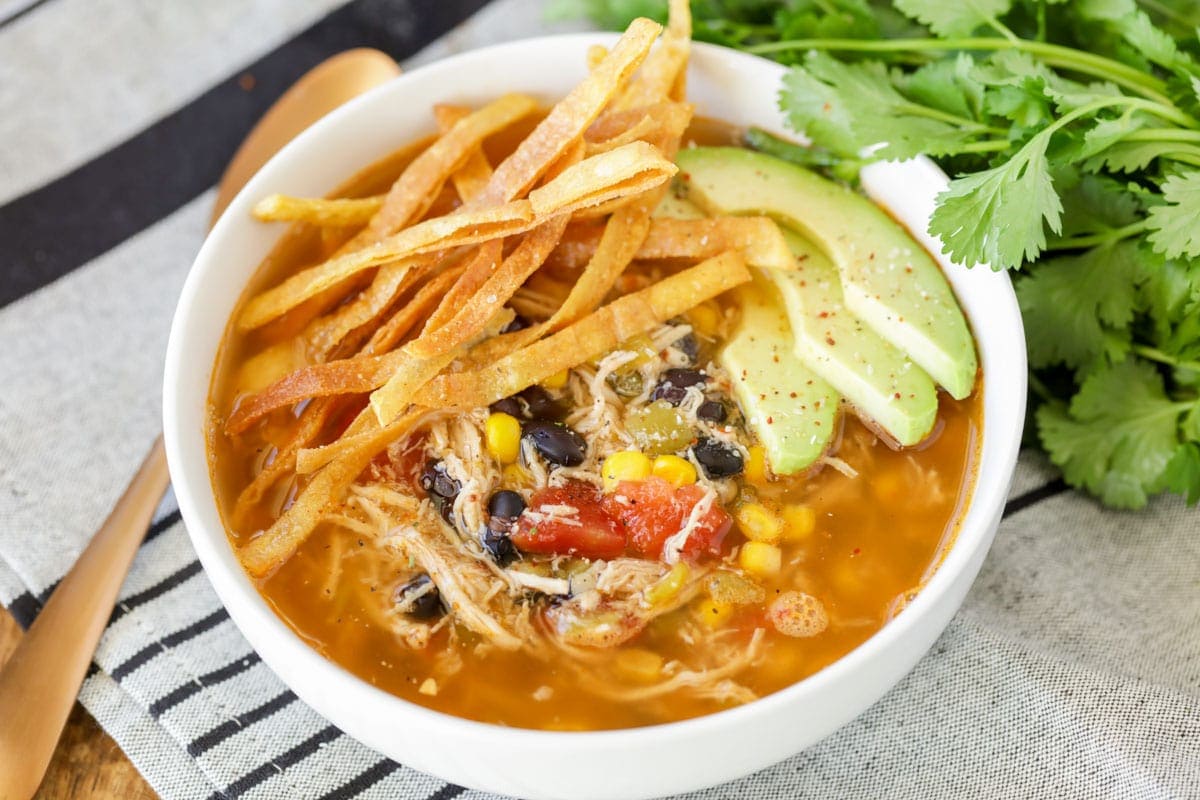 Where to Start
We've included some fantastic beginner, kid-friendly recipes in this round-up for you to start making with your kiddos. It's always best to start cooking alongside your kids, making sure they are comfortable and safe with any new techniques before you feel confident letting them make a meal from start to finish on their own.
Few ingredients. Some of the best recipes to start out with are those with few ingredients such as Toad In The Hole, Bean Dip, and 3 Ingredient Banana Bread.
No bake. It is also a good idea to begin with recipes that don't require an oven such as Yogurt Parfaits, Flatout Monster Sandwiches, and Fruit Kabobs. Once your child begins to gain confidence in the kitchen they will be able to move on to recipes that require more time and skill.
Cooking with your kids is a great bonding experience and will give your child a great sense of pride in the meals they are able to make!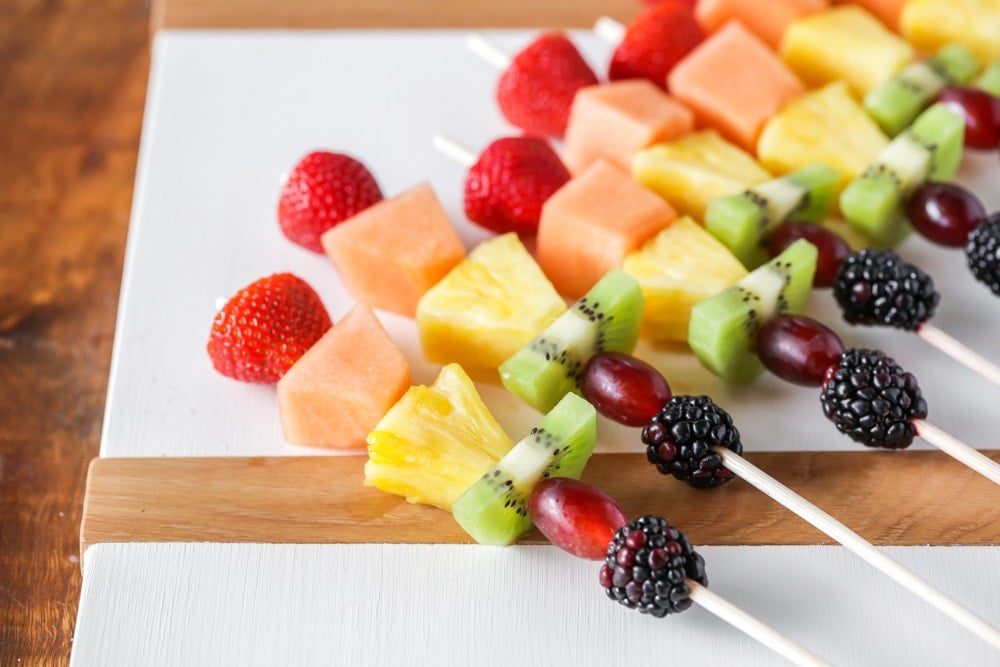 Recipes for Picky Eaters
One of the best ways to satisfy a picky eater is to make mealtime fun.
Finger foods like Hot Dog Nuggets and Pizza Muffins are always a hit, especially when they can be dipped in ketchup or Ranch dressing.
Foods that are served on a skewer like our Lunch Kabobs or have a fun appearance like Pigs in a Blanket are also big hits with picky eaters.
Favorites. It's also a good idea to stick with some tried and true kid favorites like Crock Pot Mac and Cheese and Cheese Quesadillas and gradually add in some new vegetables each time you serve them.
Picky eaters are also much more likely to try foods that they helped to prepare so making meals with your kids is definitely a win!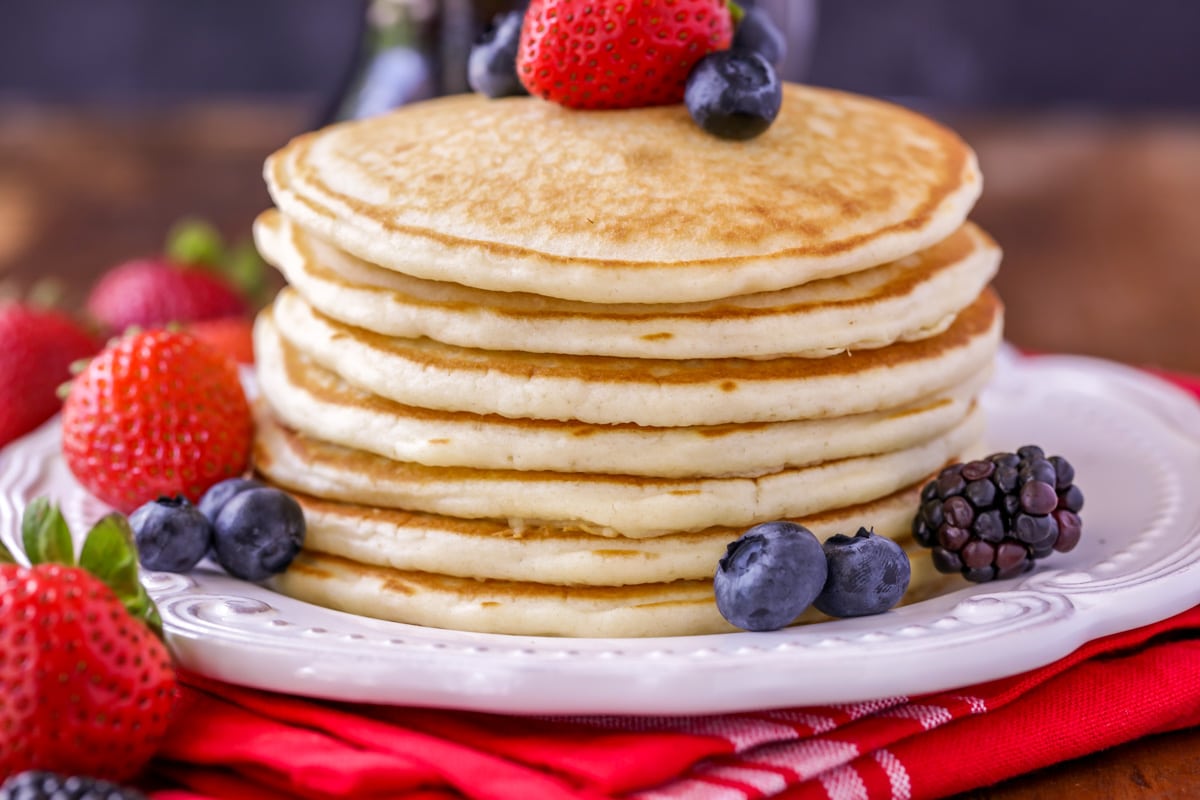 Age Appropriate Cooking
Toddlers as young as 2 years old can begin to help out in the kitchen with mealtimes. Little kids can help wash produce, stir food, press the button on the blender, and add in pre-measured ingredients. We recommend using a kitchen helper stool to allow young children to work safely beside you.
Older kids can begin to learn skills such as cracking eggs, working an electric mixer or blender, breading chicken, and basic knife skills with a small knife. A regular step stool can be helpful for them to be at a safe height for working at the kitchen counter.
You know your child best and can begin with very basic techniques and let them gain confidence and work up to more complicated cooking skills. It is always important to teach and reinforce food safety and kitchen safety.
Kids can learn to use different cutting boards for meat and veggies and to cook meats to proper temperatures.
Good handwashing techniques are also very important to learn from a young age.
Basic kitchen safety such as turning pot handles away from you, tying back long hair, using oven mitts, knowing how to properly extinguish a grease fire, and knife safety skills are also important to teach and go over repeatedly.
Feeling comfortable in the kitchen will really help to build your child's self-esteem and hopefully begin a love of cooking starting at a young age.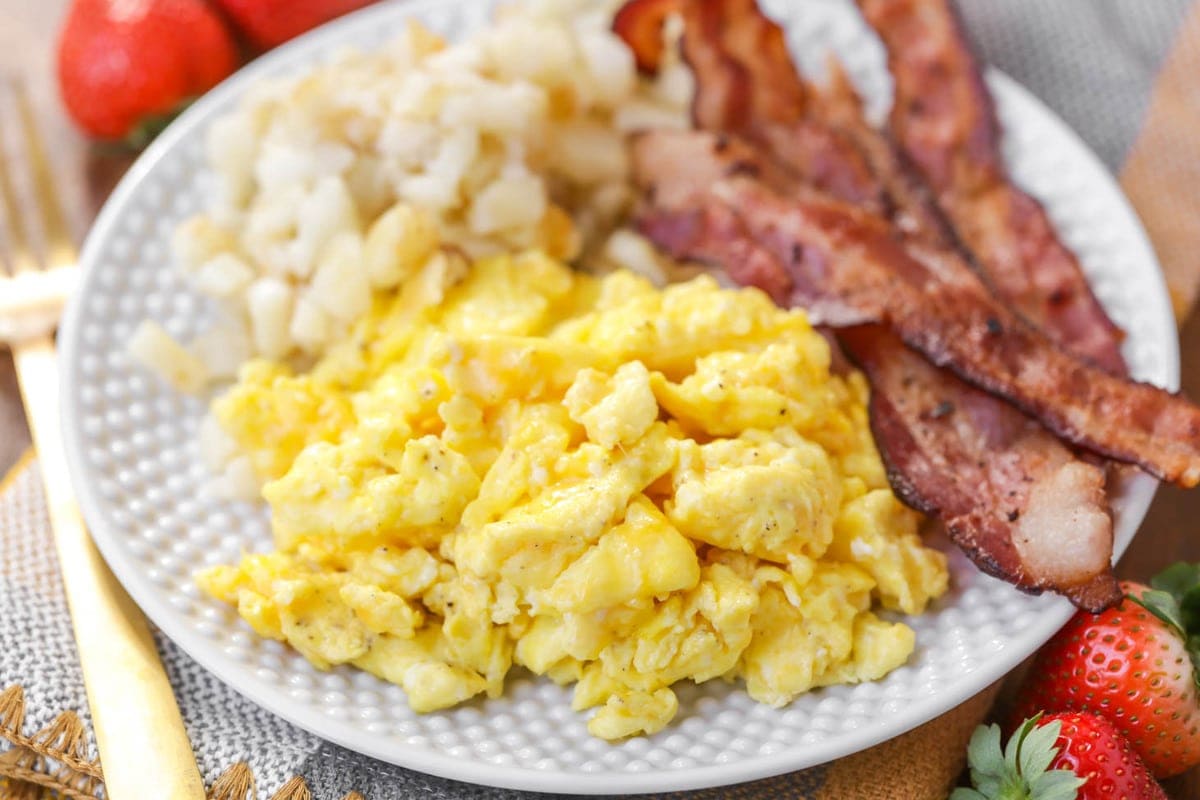 Start Compiling Recipes
What should kids 10 years old and up know how to cook? This will really depend on what age your child started cooking and how comfortable they have become in the kitchen over the years.
However, if they are just starting out in the kitchen do not fear – at this age, they should be able to master basic techniques pretty quickly and should be pretty confident cooks in no time.
Some of the best types of recipes for kids to make at this age to cook completely on their own are Pancakes, Scrambled Eggs, Cheese Crisps, and making simple drinks such as an Orange Julius.
Once they become confident using a frying pan, blender, and baking in the oven, the possibilities for recipes they can cook alone will be endless!
---
Breakfast
These breakfast recipes are so simple to make and only require a few ingredients. They are also kid favorites that are sure to be on repeat at your house!
Orange Julius
Refreshing & simple Orange Julius takes a minute to make and tastes just like the real thing. It is a favorite family treat!
Easy Pancakes
For delicious homemade pancakes, this easy pancake recipe is the perfect base for your favorite toppings and variations!
oven french toast
Sweet & filling oven french toast is perfectly spiced and can feed a crowd! This "eggy bread" is a family favorite.
Toad In The Hole
Toad in a hole is toasted bread with an egg cooked into the middle. It's a simple breakfast classic, perfect for any morning.
Yogurt Parfaits
Fresh & creamy yogurt parfaits are filled with fresh fruit and topped with crunchy granola. They are perfect for breakfast or dessert!
Scrambled Eggs
Easy and delicious scrambled eggs never go out of style! This recipe is fluffy, flavorful and absolutely perfect every time.
Energy Bites
These delicious energy bites are filled with healthy ingredients that give you a little boost—including peanut butter, oats, coconut flakes, and flaxseed.
Cheesy Breakfast Casserole
This easy savory cheesy breakfast casserole is perfect for any morning or special holiday occasion. It is perfect for making ahead!
French Toast Bake
This super delicious overnight french toast bake recipe takes french toast to a whole new level! Pieces of sourdough bread covered in an egg mixture, topped with cinnamon sugar, and baked to perfection! This easy french toast casserole is the ultimate holiday or weekend breakfast!!
---
Sides + Appetizers
Our kids love to nibble and these recipes are always a surefire hit! They are easy enough to serve with your favorite main dish or even on their own.
Sweet Salsa Verde
Sweet salsa verde – a delicious salsa recipe that is sweet and takes just minutes to make. Ingredients include tomatillos, jalapenos, sugar, & cilantro.
Best Salsa Recipe
This is such an EASY and delicious homemade salsa recipe! All you have to do is throw all the ingredients into your blender, and blend!
Bean Dip
With sour cream, cream cheese, Mexican cheese, refried beans, and salsa, this delicious bean dip is perfect to eat with chips, tacos, or any Mexican dish!
Fry Sauce
Tangy and sweet fry sauce is the only dipping sauce you'll ever need for your fries, burgers, and nuggets!
Bacon Wrapped Smokies
Just 3 ingredients to make candied bacon wrapped smokies. They are the ultimate appetizer and always the first to disappear!
Jiffy COrn Pudding
Jiffy Corn Pudding is creamy, buttery, and sweet! The perfect side dish to any dinner, it's comfort food at its finest.
BBQ Meatballs
Sweet + savory BBQ meatballs are saucy and delicious with a bit of tanginess. With only 5 minutes of prep they are a breeze to make!
Slow COoker Creamed Corn
Dinner wouldn't be complete without rich, flavorful slow cooker creamed corn! It's creamy, buttery, and cheesy – a holiday favorite!
Fruit Kabobs
Colorful fruit kabobs are the best appetizer or side for any occasion! Load up your favorite fruits and get snacking.
Crockpot Meatballs
Sweet + savory crockpot meatballs are packed with flavor, and perfect for parties. They are SO easy, yet SO tasty!
---
Breads
Bread is always so fun to make and these recipes will be ready to enjoy before you know it. They are the perfect recipes to start out with for a beginner cook.
3 Ingredient Banana Bread
Easy, quick and delicious banana bread made with only 3 ingredients – overripe bananas, eggs and yellow cake mix. Add a 4th ingredient – chocolate chips – if you love them!
Easy Yeast Rolls
These easy yeast rolls can be made in under an hour with just 4 ingredients! With how quick and simple they are, they will become your new go-to dinner rolls.
Garlic Knots
Buttery-soft homemade garlic knots whip up in under 20 minutes and make a perfect side for pizza, pasta, or salads!
Cheesy Garlic Bread
This is by far our favorite garlic bread recipe. It takes minutes to put together and is SO cheesy and delicious. It's the perfect side dish for any meal, but especially for pasta and Italian dishes!
---
DINNER
From pizza casserole to corn dog muffins, these fun and easy dinner recipes for kids are perfect and are our family favorites. They are so quick to put together that you will be able to enjoy them in no time!
Cilantro Lime Rice
This recipe tastes just like Cafe Rio and Chipotle cilantro lime rice! It's a simple and delicious rice perfect for a salad, burrito, or taco. Now you can make this delicious lime rice from home!
Pizza Casserole
Quick and delicious easy pizza casserole – prepped in 5 minutes and only requires 5 ingredients. We call that a dinner win!
Cheese Crisp
A cheese crisp is a crunchy open-face quesadilla that is an Arizona favorite!! They are quick, easy, and perfectly dippable.
Cheese Quesadilla
Look no further for the best cheese quesadillas! They are everything you want in a queso-filled golden brown slice of heaven.
Chicken Tortilla Soup
The BEST slow cooker chicken tortilla soup is filled with chunks of chicken, beans & corn. It is easy to make and full of flavor!
Taco Soup
Taco Soup is one of the EASIEST dinner recipes of all time! Just dump, simmer, and enjoy in under 20 minutes!
Lunch Kabobs
Kid-friendly lunch kabobs are filled with savory meats and fresh veggies. They're perfect for parties, BBQs, Lunches and more!
Hot Dog Nuggets
Hot dog nuggets only require TWO ingredients and make a perfect for lunch, dinner or even a party appetizer! Kids and adults alike will love these little bites.
Pizza Muffins
These cheesy and delicious pizza muffins make for the perfect appetizer. They're filled with melty mozzarella, and topped with a yummy garlic butter, more cheese, and mini pepperonis.
Corn Dog Muffins
Mini corn dog muffins are yummy and kid friendly. These tasty bite-size snacks are ready in under 20 minutes!
Pigs In A Blanket
A yummy lunch, dinner, or snack idea for the whole family! Homemade pigs in a blanket with delicious crescent dough and a sprinkling of sesame seeds on top!
crispy chicken tenders
Chicken tenders are one of our go-to weeknight meals around here. They are simple, always tasty, and my kids love 'em!
Homemade Chicken Nuggets
We've always loved chicken nuggets, and this fried version is a family favorite. Delicious, golden and crispy – these nuggets are even better than the restaurants!
Hamburger Tater Tot Casserole
Hearty & delicious hamburger tater tot casserole is layered with flavors everyone will love! It is kid friendly, easy, and freezes perfectly!
Flatout Monster Sandwich
Fun and delicious flatout monster sandwiches filled with your favorite meats, cheese and veggies are a hit with the entire family!!
Cheeseburger Casserole
Hearty cheeseburger casserole is filled with ground beef and pasta, and oozing with cheese! It really is everything but the bun.
Crock Pot Mac And Cheese
Everyone loves a good slow cooker recipe, and this crock pot mac and cheese is so simple, cheesy, and delicious!
---
Recipes perfect for kids to make!
There are so many easy and delicious recipes on this list perfect for the beginner cook! Your kids are sure to gain more and more confidence in the kitchen as they try out these fun recipes!
More Collections: 5 Ingredient Recipes, Easy Pasta Recipes, Easy Dinner Ideas