Whether your pantry is looking empty, or you just need something simple, these 3 ingredient recipes will surely come in handy! This collection contains simple recipes for breakfast, dinner, side dishes, and treats.
More Collections: 5 Ingredient Recipes, Pantry Staple Recipes, Quick Dinner Ideas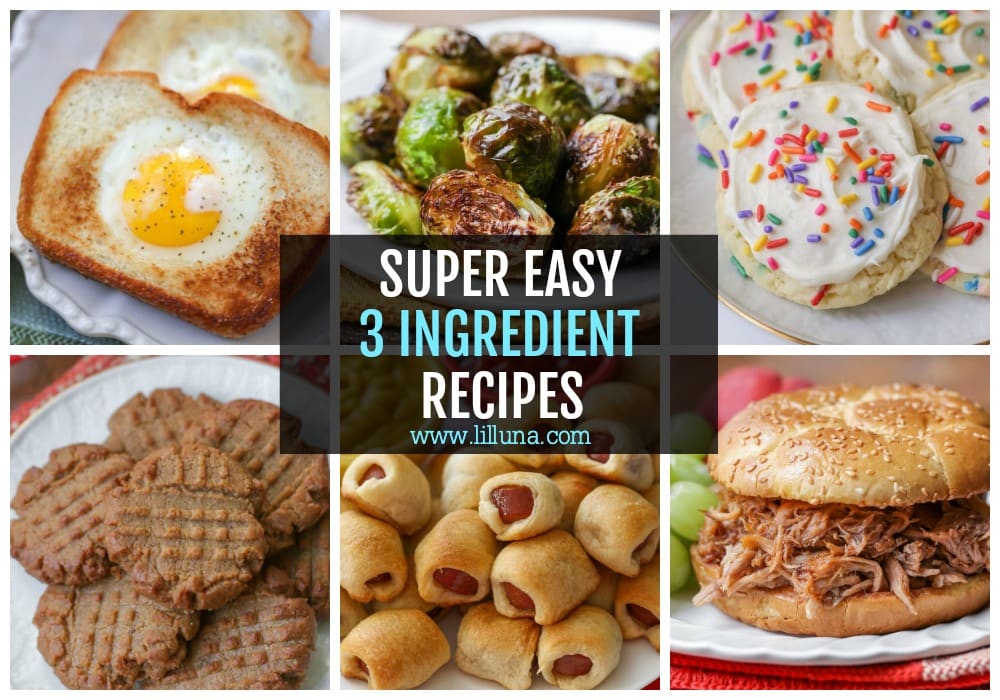 EMPTY PANTRY WOES
"Mom, I'm hungry"
"What's for dinner?"
"Can I have a snack?"
"What are we having for lunch?"
These are phrases that happen ALL DAY LONG and can drive even the most seasoned parent bonkers. Even worse is when you go to the pantry and find there is not a lot in there.
Take a deep breath, because we've got you covered! These easy recipes have 3 ingredients or less, saving you time, sanity, and a trip to the grocery store!!
These 3 ingredient recipes aren't just for dinner, but breakfast, side dishes, and desserts as well!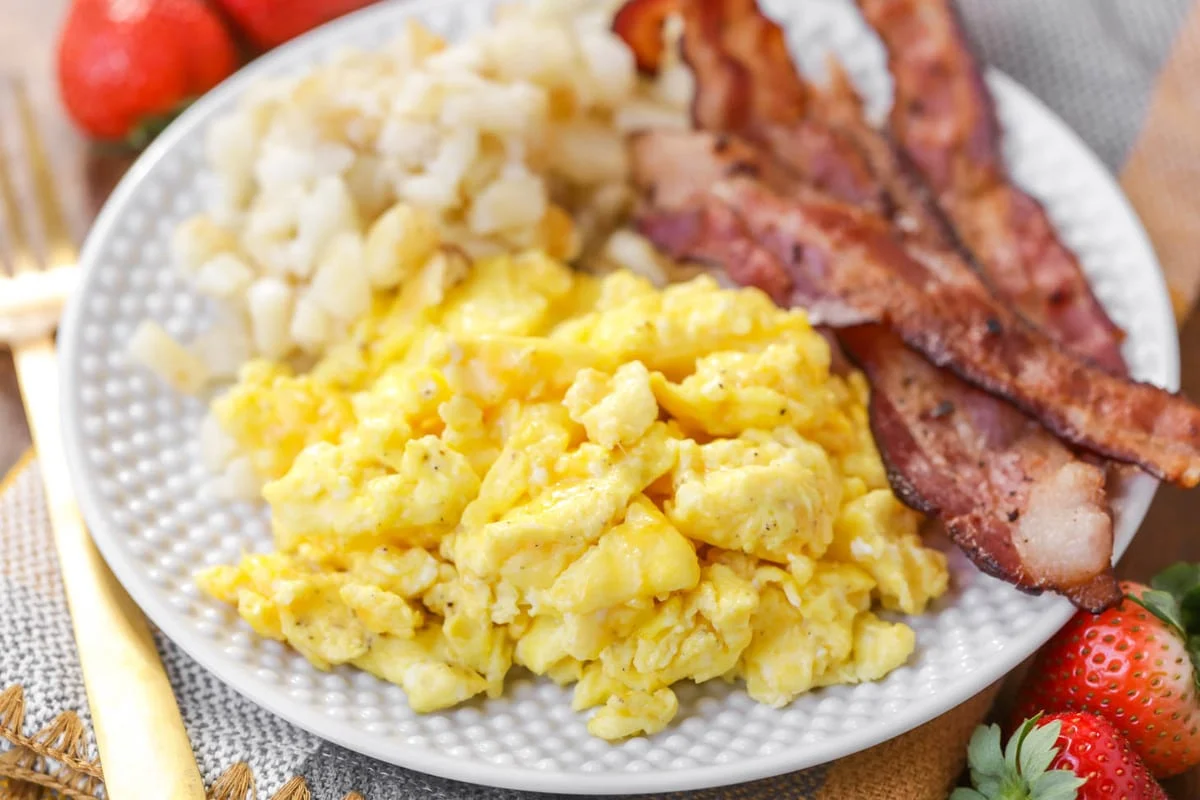 Why We Love 3 Ingredient Recipes
With only 1-3 ingredients, even those with bare cupboards should be able to scrounge up enough items to whip up something delicious!
Here are some of the reasons I love these simple 3 ingredient meals:
Store well. Many of these recipes also store well. Often I will double the recipe so I can put the extra in the freezer to have on hand for another day.
See the individual posts for more storage information as well as other recipe tips.
Variation. Another aspect that I like about these recipes is how different seasonings and cooking methods can change even the most basic of ingredients into a completely different dish; for example, a simple potato can be baked, fried, roasted, or mashed.
Meat. Shredded meats like beef, chicken, or pork, are other great basic/versatile ingredients. If you make shredded meat, you can use some of it in tacos, add it to a soup or casserole, mix it with BBQ sauce to put on a bun, and more.
Mix and match. Sometimes you need a simple meal because you're in a hurry. Other times you may be due to go grocery shopping and currently have limited ingredients. In either case, take a look at what you do have available then mix and match.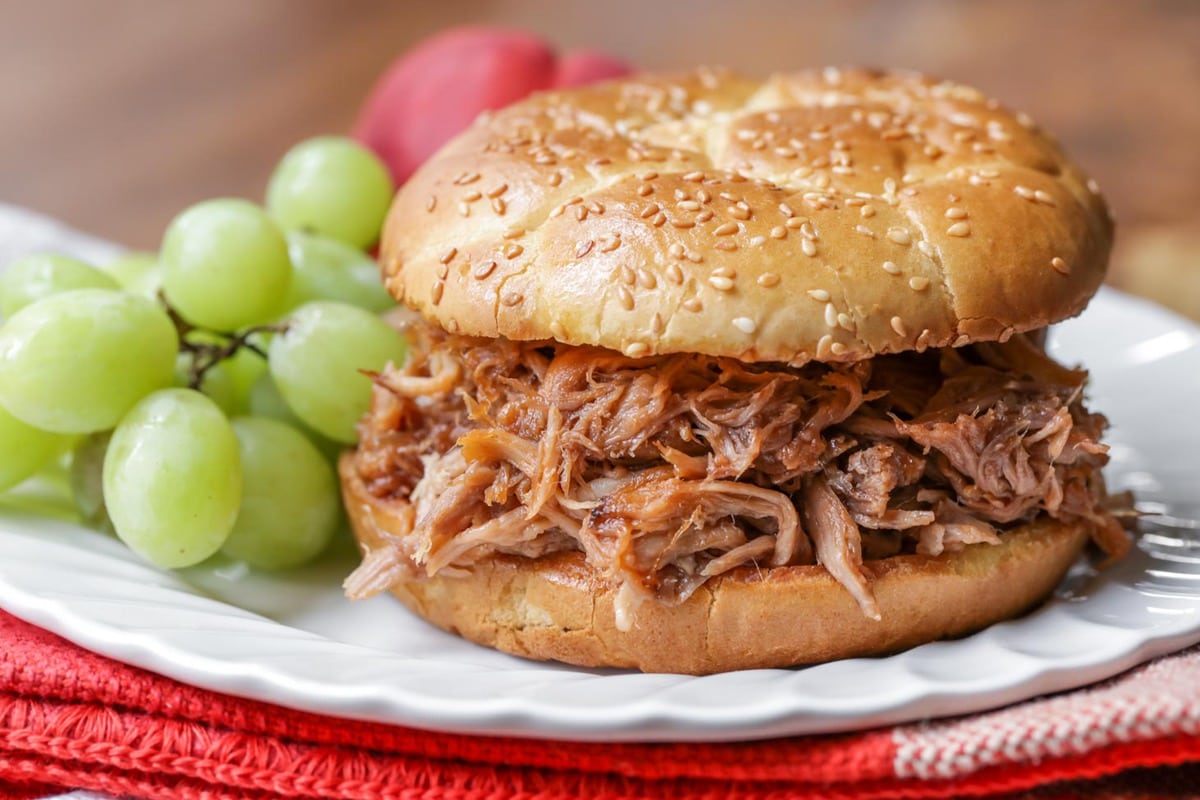 What Can I Make with What I Have on Hand?
Knowing what you have on hand will also help as you look through our easy three ingredient recipes.
Look at all the supplies you have on hand and be creative. I think you'll be surprised at how many options you have with just a few ingredients.
Fry some pork chops and serve them with rice and asparagus.
Cook up some sausage and eggs and wrap them in a tortilla.
Season a can of cream of mushroom soup, brown some ground sausage in a skillet, and serve it over egg noodles.
Create a salad with leafy greens, grilled chicken breasts, and chopped nuts.
Maybe you have yogurt and can create a parfait with fruit, either fresh or canned, and granola.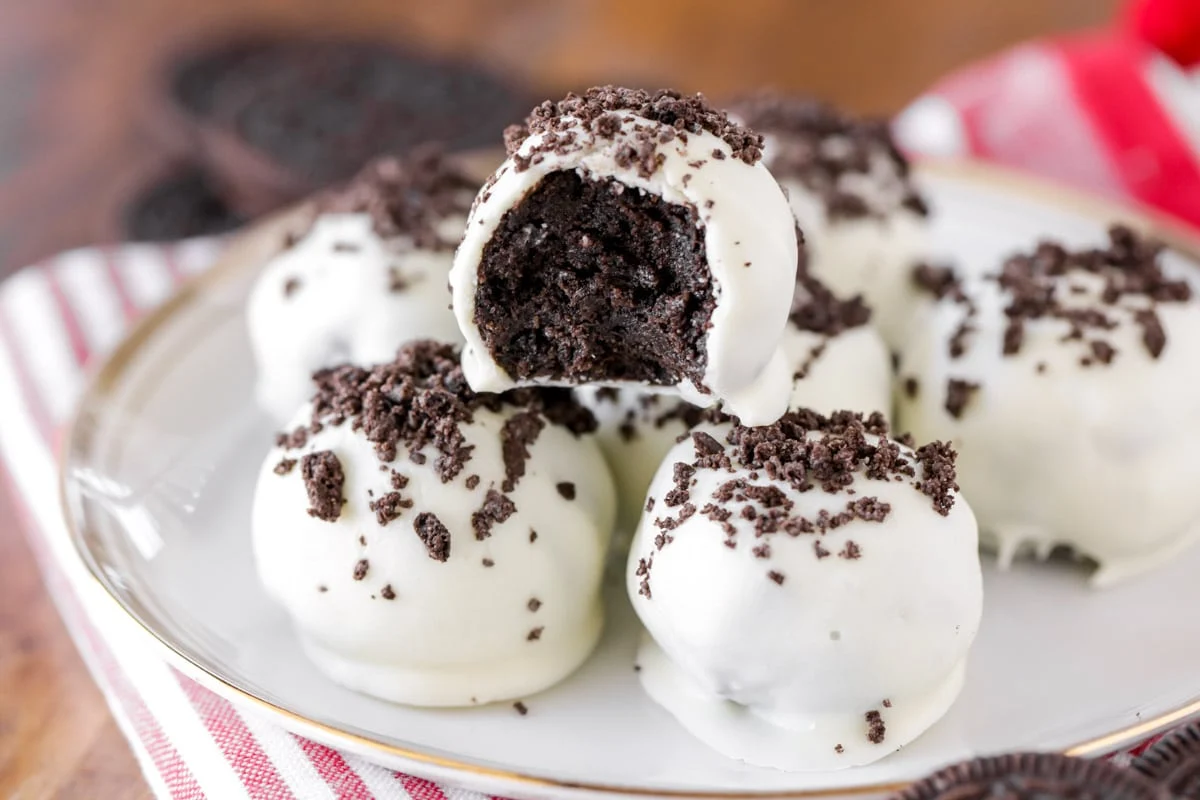 Using What You Have
Find a protein. Look in the fridge, freezer, and even the pantry for canned protein. Some common proteins include chicken, beef, pork, deli ham, fish, beans, and eggs.
Find a carbohydrate. Pasta, rice, bread, rolls, and beans.
Find produce. Fruits and veggies from the counter, pantry, fridge, or freezer.
Use spices. Salt, pepper, garlic, parsley, cinnamon, vanilla, Italian seasoning, and packets of dinner mixes.
Look in the pantry. Canned soups, premade sauces, and honey.
Find fat and dairy. Milk, cheese, yogurt, and olive oil.
Disclaimer: Some recipes may include more than 3 ingredients. Either the extra ingredients are optional and are not required in making a completed dish, or they are kitchen staples like salt and oil.
---
3 Ingredient Breakfast Recipes
Eggs and potatoes are great breakfast staples to have on hand for recipes like this. You'd be surprised at how many ways you can prepare an egg. Either by the cooking method or by dressing it up by pairing it with seasonings or other ingredients!
Check out some of our favorite breakfast recipes that only need 3 ingredients:
Sausage Cream Cheese Casserole
Sausage cream cheese casserole is filled with a savory sausage and cream cheese center. It's the perfect breakfast recipe!
How To Make Hash Browns
A breakfast just isn't complete without a delicious side of golden hash browns! Never made them? Read this post for the easy how-to!
Toad In The Hole
Toad in a hole is toast with an egg cooked into the middle. It's a simple breakfast classic perfect for any morning.
Scrambled Eggs
Easy and delicious scrambled eggs never go out of style! This recipe is fluffy, flavorful and absolutely perfect every time.
Breakfast Potatoes
Crispy breakfast potatoes are seasoned to perfection. Look no further for a breakfast potato recipe because this one has everything you need!
---
3 ingredient dinners
I know it sounds unbelievable, but it IS possible to prepare a dinner with only 3 items (give or take a few pantry staples like oil or seasoning).
Every single one of these recipes is substantial enough that it will fill your family's bellies, and they taste great too! Be sure to let us know any other meals you love to make that only take a few ingredients so we can give them a go!
Hot Dog Nuggets
Hot dog nuggets only require TWO ingredients and make a perfect for lunch, dinner or even a party appetizer! Kids and adults alike will love these little bites.
Slow Cooker Kalua Pork
This slow cooker kalua pork is a classic Hawaiian favorite made easily in your slow cooker with just a few ingredients. Eat it on it's own, or in tacos or sliders.
Cheesy Baked Ravioli
Easy cheesy baked ravioli – a quick, simple and delicious dinner recipe that the whole family loves! It's so cheesy and so tasty!
Tostadas
Open face tostadas topped with all of your favorite Mexican ingredients! These tasty tostadas are a frequent meal in this house!
Grape Jelly Meatballs
Delicious 3-ingredient grape jelly meatballs. They take just minutes to prep and are the perfect dinner or appetizer for any party or get together.
Chicken Tacos
Restaurant-style chicken tacos are filled with ingredients like shredded chicken, cheese, lettuce, and tomatoes, all inside a fried corn tortilla.
Pulled Pork
This delicious and easy pulled pork recipe is one that is made in the slow cooker and takes just minutes to prep!
Pigs in a Blanket
A yummy lunch, dinner, or snack idea for the whole family! Homemade pigs in a blanket with delicious crescent dough and a sprinkling of sesame seeds on top!
Dr. Pepper Ribs
Pork ribs cooked in Dr. Pepper, grilled to perfection, and smothered in BBQ Sauce. These Dr. Pepper ribs are fall off the bone delicious!
Cheese Quesadilla
Look no further for the best cheese quesadillas! They are everything you want in a queso-filled golden brown slice of heaven.
Bacon Wrapped Smokies
Just 3 ingredients to make candied bacon wrapped smokies – lit'l smokies, bacon, and brown sugar. They are the ultimate appetizer and always the first to disappear!
---
3 Ingredient Side Dishes
I've already mentioned it before, but potatoes are a great staple to have on hand! Especially for side dishes.
There are a few different sides in this list made from potatoes and they don't require more than a little oil and some salt. In fact, most of these side dishes are made from vegetables with the addition of oil and a little seasoning. Super simple!
Deviled Eggs
Nothing better than a smooth deviled egg appetizer! You'll be surprised with how easy these are to make. Tons of flavor, super delicious and perfect for parties and holidays.
Roasted Green Beans
Roasted green beans are the easiest and most delicious healthy side dish that goes perfect with any dinner. Plus, they're quick and great for holiday meals too.
Parmesan Crusted Zucchini
Delicious and healthy baked parmesan zucchini. These spears are crusted in parmesan cheese and baked to perfection, making them a great side dish for any meal. 
Caramelized Brussel Sprouts
Fabulously sweet and a little crispy, these caramelized brussel sprouts are one of our favorite side dishes! Even your pickiest eater will enjoy this recipe.
Perfect Baked Potato Recipe
With crispy, seasoned skin, a tender inside, and all the best toppings – baked potatoes are a reliable dinner choice, and great for feeding a crowd!
Easy Peel Hard Boiled Eggs
How to boil the perfect egg – this simple tutorial shows you how to get the perfect hard boiled eggs that are easy to peel and have no gray rings!
Oven Roasted Red Potatoes
Oven roasted red potatoes are the perfect addition to any dinner! This crispy, seasoned side dish will add flavor and color to your meal.
Baked French Fries
Baked French Fries are a healthy twist on a crunchy comfort food. They are still packed with flavor and will satiate all of the fried potato cravings.
Roasted Brussel Sprouts
Oven roasted brussel sprouts have a perfectly crispy outside, and a melt-in-your-mouth center. With only 5 minutes of prep time, you'll want to make this delicious and healthy side dish every night!
Crock Pot Baked Potatoes
The crock pot takes all the guess work out of baked potatoes. Simply prep and wrap your potatoes, throw them in the crock pot, and they come out perfectly ready to be topped with all your favorite fixings!
---
3 Ingredient Desserts
Even if your pantry is looking a little bare, that doesn't mean you should have to go without a treat!
Here are a few of our favorite desserts that pride themselves on using just 3 ingredients. And believe me, they really do taste good despite their simplicity!!
Frozen Hot Chocolate
Frozen hot chocolate only takes 3 ingredients and a few minutes to make! Top it off with whipped cream and chocolate curls for a real treat.
Easy Shortbread Cookies
What's not to love about these delicious and buttery shortbread cookies that just melt in your mouth? It only takes a small handful of common ingredients!
Peach Dump Cake
3 ingredients peach dump cake is quick, simple, and utterly tasty. It is warm, gooey, and perfectly peachy!!
3 Ingredient Peanut Butter Cookies
Quick, easy and delicious 3 ingredient peanut butter cookies. They take just minutes to throw together and are so easy the kids can make them!
Oreo Truffles
These easy Oreo truffles – AKA Oreo cheesecake balls – are a delicious, no-bake treat. With only 3 ingredients – they're perfect for any occasion!
Funfetti Cookies
Soft and chewy Funfetti cookies are quick, simple and a kid-favorite! They are the perfect little treat to satisfy your sweet tooth.
Homemade Applesauce
Homemade applesauce with no sugar added is delicious and simple. Whether chunky or smooth, it's a guaranteed hit with the entire family.
Peach Cobbler with Cake Mix
EASY peach cobbler with cake mix takes 5 minutes to prep and uses pantry stable ingredients! It's a perfect summertime dessert.
Easy Strawberry Shortcake
Easy strawberry shortcake is one of the easiest desserts you'll ever make!! It's light, refreshing and perfect for summer.
Dole Whip
Make Disney's Dole Whip Recipe from home with only 3 ingredients! It's cool, creamy, and filled with refreshing pineapple flavor.
lucky charms treats
Ooey Gooey Lucky Charms treats that are just like Rice Krispies but with everyone's favorite marshmallow-filled cereal! These are quick, simple and loved by all!
3 ingredient sugar cookies
Quick, easy and delicious sugar cookies made with just 3 ingredients – butter, sugar and flour.
3 ingredient banana bread
Easy, quick and delicious banana bread made with only 3 ingredients – overripe bananas, eggs and yellow cake mix. Add a 4th ingredient – chocolate chips – if you love them!
---
Recipes with only 3 ingredients!
Using just 3 ingredients to whip up a fantastic recipe sounds too good to be true, but you will be pleasantly surprised at just how easy and delicious these dishes are! You'll want to try them all!
More Collections: Easy Breakfast Ideas, Easy Dinner Ideas, Easy Appetizers