This easy blueberry dump cake is made with only 3 ingredients! With a layer of juicy blueberry pie filling and a buttery topping, it's perfect with a scoop of vanilla ice cream.
If you love blueberry desserts, then this blueberry dump cake is the perfect summer recipe. It's way easier than making a blueberry cobbler or blueberry pie, and you end up with a juicy blueberry dessert that your whole family will love.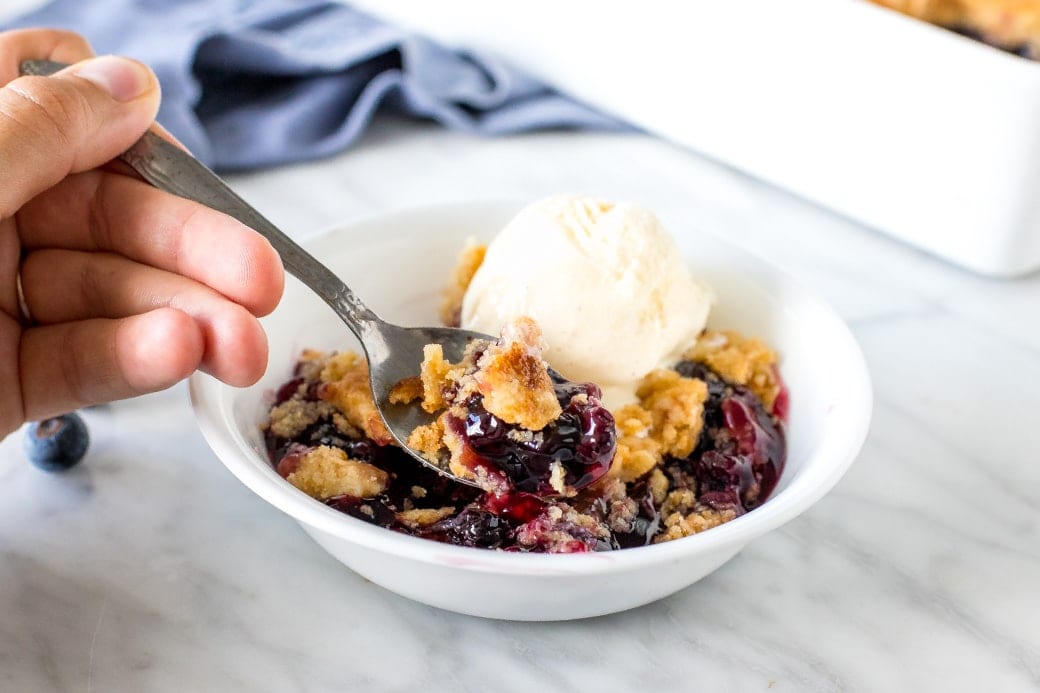 Only 3 Ingredients!
If you've never made a dump cake before, they're super easy. It's called a dump cake because you simply "dump" everything into the same pan that you bake the cake in. They have a fruit filling layer on the bottom, and a buttery cake/crumble layer on top. They're super similar to a fruit crisp or cobbler.
I've made several dump cakes in the past, but today's is a blueberry version, which is a favorite for BBQs and potlucks because I don't think anyone can say no to a delicious berry dessert! And definitely not when it's topped with a cold scoop of vanilla ice cream. 😉
Its simple, quick and only required 3 ingredients!
How to Make blueberry dump cake
For this recipe, you only need 3 ingredients:
two 21-oz cans of blueberry pie filling
one 15-18 oz vanilla cake mix – I like to use the golden yellow variety for an extra buttery flavor
¾ cup unsalted butter
PREP. Preheat the oven to 350° F. Get out a 9×13 inch pan, and lightly spray it with non-stick cooking spray.
(Note: You could use a ceramic or a metal pan for this recipe. I typically use a ceramic pan because I find that the blueberry layer is less likely to stick/bake onto the pan.)
ASSEMBLE. Pour the blueberry pie filling into the pan. Then, sprinkle your cake mix on top. Note that you don't need to prepare the cake mix according to the package, just sprinkle the dry cake mix on top. Cut the butter into little pieces and place on top of the cake mix.
You don't need to perfectly cover the cake mix with butter, because the butter will melt and ooze as the cake bakes to cover more of the pan.
BAKE. Bake for about 1 hour at 350° F.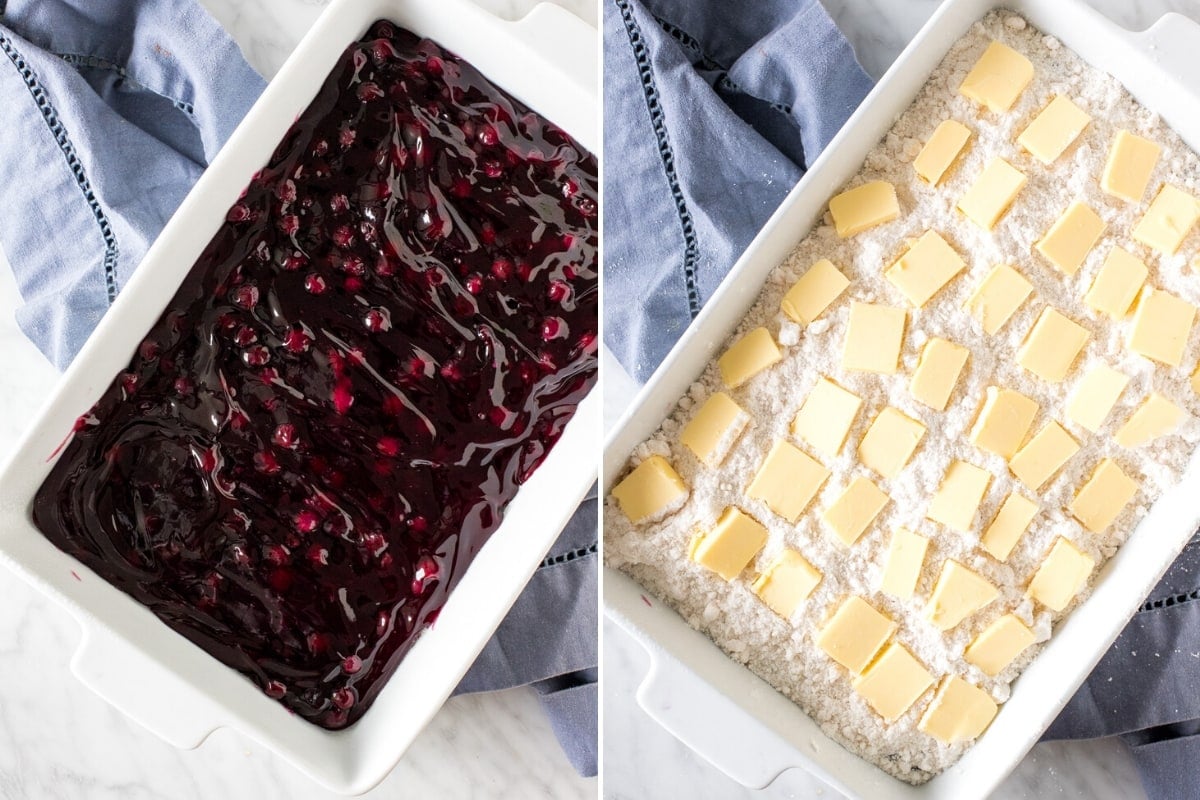 What if I want to Use Fresh Berries?
I love it when fresh berries are in season. So if you'd like to make this recipe with fresh berries instead, you'll essentially make your own blueberry pie filling. In a large bowl, stir together:
8 cups fresh berries
½ cup white sugar
2 tablespoons cornstarch
2 tablespoons freshly squeezed lemon juice
1 teaspoon vanilla extract
Once the berries are evenly coated, spoon the mixture into the greased pan and continue with the recipe as directed – sprinkling the cake mix on top, and then proceed with the recipe as directed.
I love to serve this blueberry dump cake with fresh whipped cream, or warm with a scoop of ice cream. You could easily substitute the blueberry pie filling with cherry or really any type of pie filling for an easy, seasonal treat!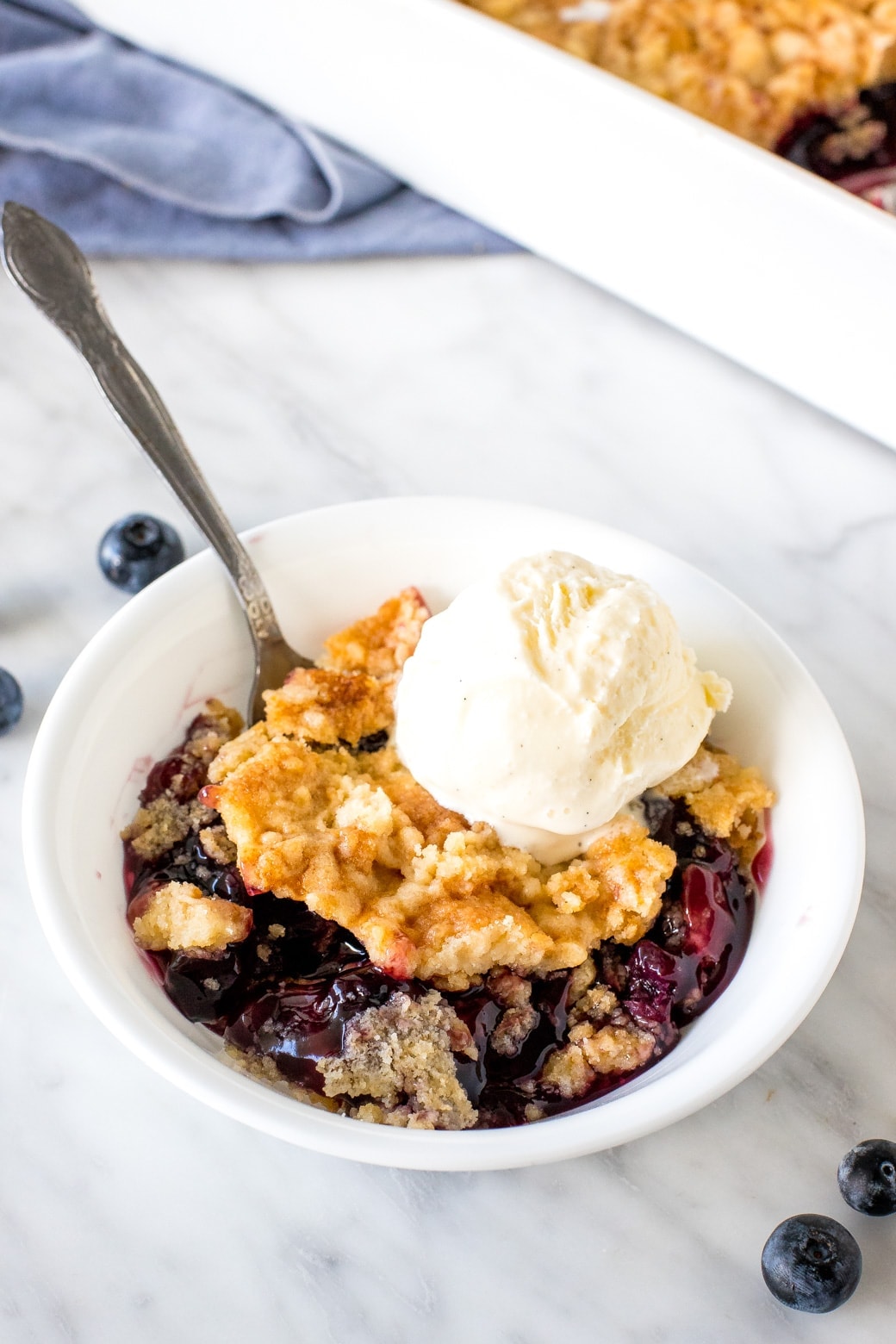 Additional recipe tips
Variations: You can use just about any pie filling you like to make this 3 ingredient dump cake! Just substitute one of the following flavors for the blueberry pie filling, and follow the instructions exactly the same.
Blackberry
Peach
Cherry
Apple
You can also switch the flavor of the cake mix! A popular combination is chocolate cake mix with cherry pie filling—Chocolate Cherry!.
Store & Reheat: Keep any leftovers in an air-tight container, or in the original cake pan covered tightly with plastic wrap, in the fridge for up to 3-4 days. Reheat individual portions in the microwave if you want to enjoy it warm.
For more dump cake recipes, be sure to try:
Blueberry Dump Cake Recipe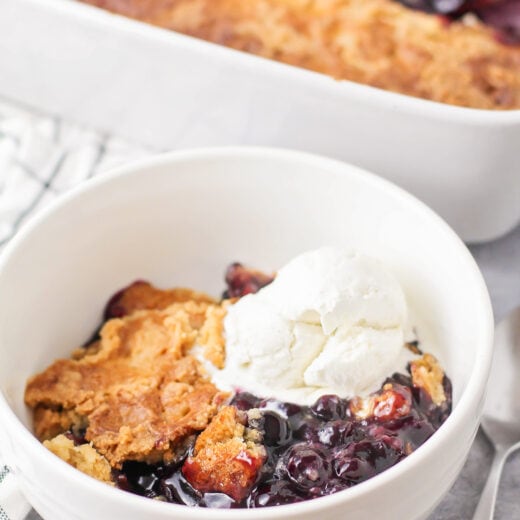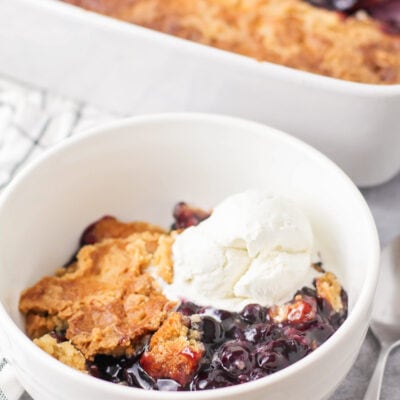 Easy blueberry dump cake has a buttery topping and bright fruit filling. It's perfect with vanilla ice cream.
Ingredients
2

(21-ounce) cans

blueberry pie filling

1

(15-18-ounce) box

vanilla cake mix

⅔

cup

unsalted butter
Instructions
Preheat the oven to 350°F and lightly grease a 9×13-inch pan.

Pour/spoon both cans of blueberry pie filling into the pan and spread the top smooth.

Sprinkle the cake mix on top.

Cut the butter into small pieces and place them on top of the cake mix, so that the majority of the cake mix is covered.

Bake in the preheated oven for about 60 minutes, or until the top starts to look golden brown.

Serve warm with a scoop of ice cream or whipped cream.
Notes
Store leftovers covered in the fridge. This dessert is best served warm.