You can never have too much cake, right?! It's better to have too much, than too little. You're in good hands with any of these delicious Cakes That Feed a Crowd!
More Collections: Cupcake Recipes, Cheesecake Recipes, Pies/Tarts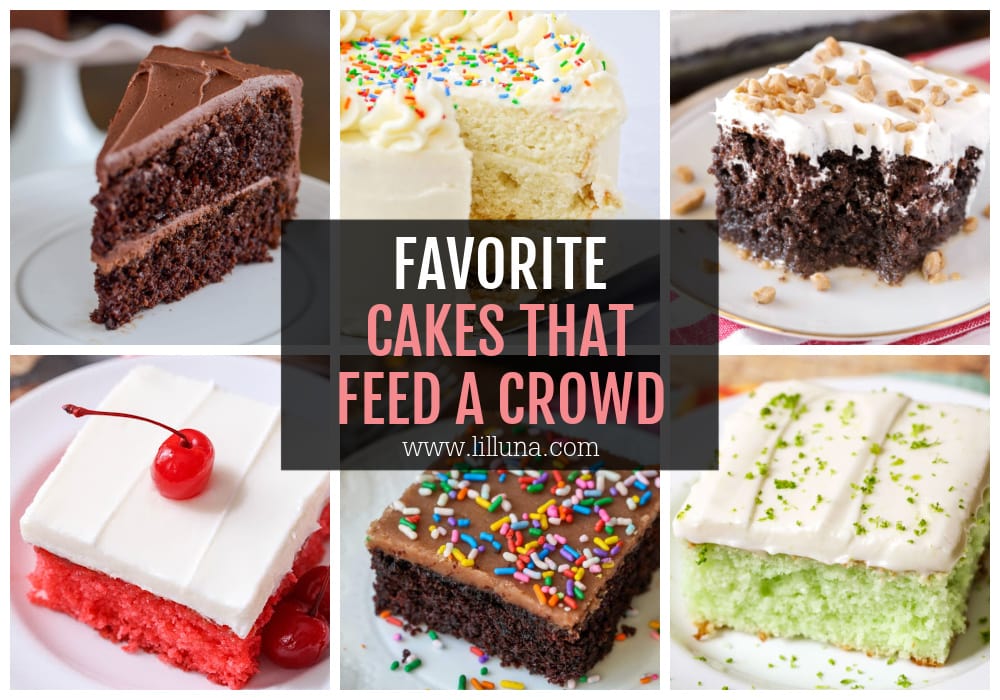 Cakes that Get the Job Done!
Family reunions, birthday parties, graduation, girls camp – these are just a few of the celebrations I've needed to feed dessert to a big crowd! It's always handy to have a few go-to recipes that will work for the occasion.
Sheet cakes are notorious for feeding a crowd, but layered rounds also get the job done. I've included plenty of serving, cutting, and storing tips that will make the entire process easier.
Whether chocolate or fruit-y, there is a tasty cake that feeds a crowd for your next big party! So, as they say, "let them eat cake!"
All about sheet cakes
I think sheet cakes are the most common cake served for large amounts of people.
Full sheet cakes: generally made using 18"x24"x2", 18"x26"x2" and 16"x24"x3" pans.
Half sheet cake: half sizes are baked in 12"x16x3", 12"x18"x2", 18"x13"x1" and 11"x15"x2"" pans.
Quarter sheet cakes: the most common sheet cakes. They are baked in 9"x13"x2", 13"x9.5"x1" and 13"x8"x3" sized pans.
Combining Quarters: Since most home kitchens don't have an oven large enough for a full sheet cake, you can create your own by combining quarter sheet cakes.
Whether you are making a single layer, or a double layer:
Half sheet cake: bake two of the same cakes and place them side by side on a large cake board to create a half size sheet cake.
Full sheet cake: Use four fully baked quarter cakes to create a full size sheet cake.
Once you have all the sections lined up next to each other, frost as if it was one large cake.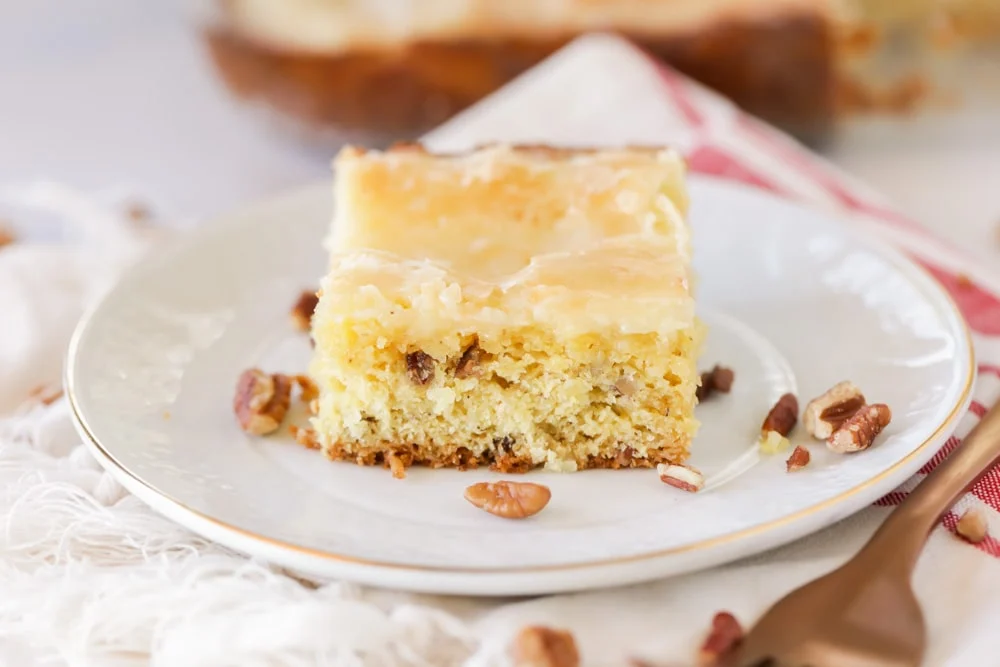 Calculating the servings
I found this really awesome formula on how to calculate the amount of servings that the different pans will yield.
Number of servings = Pan Area ÷ Area of a Slice of Cake
Pan area: First calculate the pan area by multiplying the length of the pan by the width of the pan for example 18"x24" pan= 432"squared.
Area of a Slice of cake: Decide the size you want each slice of cake to be. (It's important to note that generally a wedding size serving of cake is 1"x2" and a party size serving of cake is 1.5"x2"). Find the area by multiplying the length of the slice by the width of the slice. For example the area of a 1.5"x 2" slice= 3"squared
So the Pan Area is 432"squared and the Area of a Slice of Cake is 3"squared.
Now divide: 432÷3=144 slices
Round cake serving size: A standard size round cake pan is 8 or 9 inches. You can actually get quite a few servings from this size. Of course, the slice sizes may vary a bit depending on who is cutting.
In general, here is what other pan sizes can provide for cakes between 3-6 inches in height:
6″ yields 12 party servings and 12 wedding servings
8″ yields 20 party servings and 24 wedding servings
9" yields 24 party servings and 32 wedding servings
10" yields 28 party servings and 28 wedding servings
12" yields 20 party servings and 24 wedding servings
Square/sheet cake serving size: Use the following information to determine what the more common cake pans can yield. Square/sheet cakes that are between 3-6 inches in height can serve:
6″ yields 12 party servings and 18 wedding servings 
8″ yields 20 party servings and 32 wedding servings 
10″ yields 30 party servings and 50 wedding servings 
12″ yields 48 party servings and 72 wedding servings 
7×11 yields 24 party servings and 32 wedding servings
9×13 yields 36 party servings and 50 wedding servings
11×15 yields 54 party servings and 74 wedding servings
12×18 yields 72 party servings and 98 wedding servings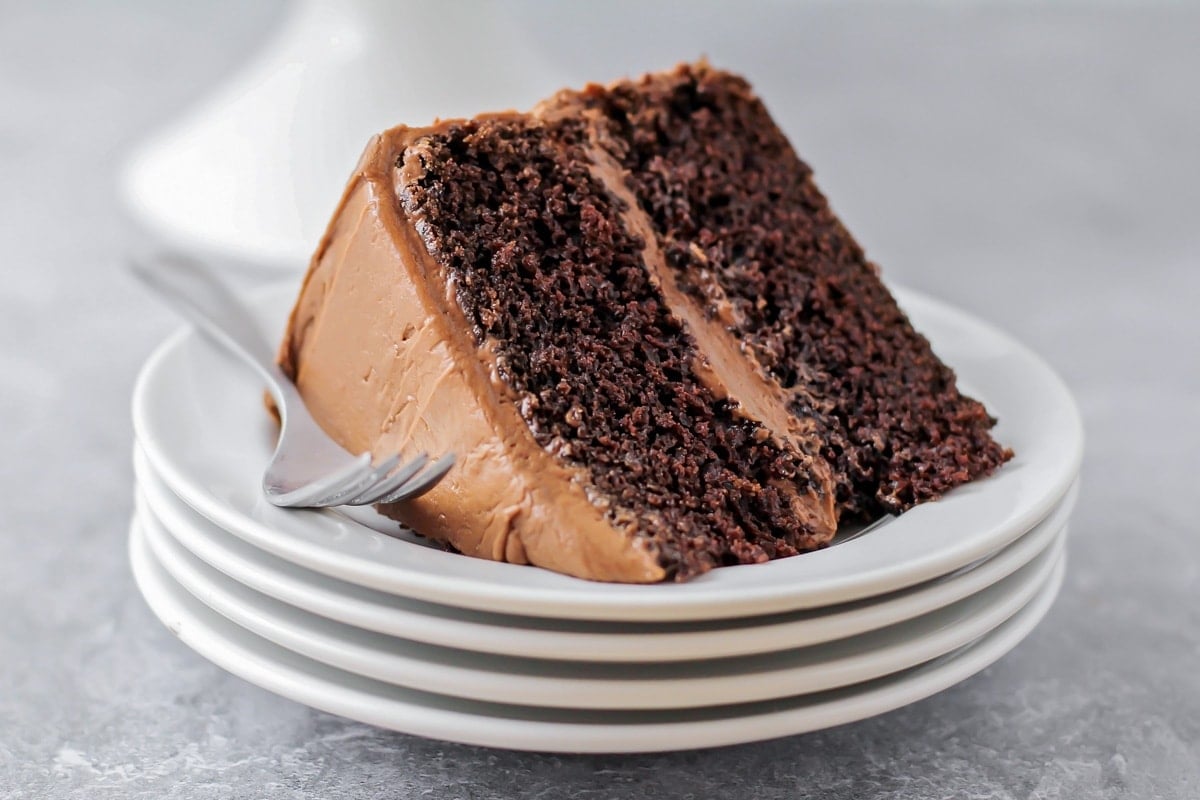 Cutting the Cake
The way you cut your cake depends on the shape and size. Since squares and rounds are the most common shapes, I've included brief tips for each of them.
Tips for cutting any cake:
Lining the cake pans with parchment paper can help keep the cake from sticking to the pan, making it easier to slice and serve.
Most cakes can be cut with a smooth edge slicing knife. However, more delicate cakes like angel food cake, or pound cake, need a slicing knife with a serrated edge.
Clean the blade of the knife after each cut. You can even heat the blade in a tall cup of hot water and wipe it clean. This helps the blade slice right through the cake.
To make even cuts, use bakers twine or unflavored dental floss to make cutting lines on top of the cake before slicing.
Placing your cake in a grip mat can keep it from sliding around.
Cutting square or sheet cakes. Use a sharp knife to make a 2 inch thick horizontal cut. Then cut that piece vertically into 1½ – 2 inch slices. Serve the pieces, then cut the next section in the same manner.
By only cutting what will be immediately served, you can save the rest of the cake from drying out.
Cutting round cakes. Round cakes are a little trickier to cut than square cakes. They can be be cut into wedge slices, squares, or both.
Cakes that are 8 inches and less can be cut into wedges.
Cakes 9 inches and larger require a few extra steps. Place the tip of your blade 2 inches away from the edge and cut a circle, then cut that circular strip into 1½ – 2 inch wide pieces. Repeat. Once the center part of the cake reaches about 6 inches in diameter, slice it into wedges.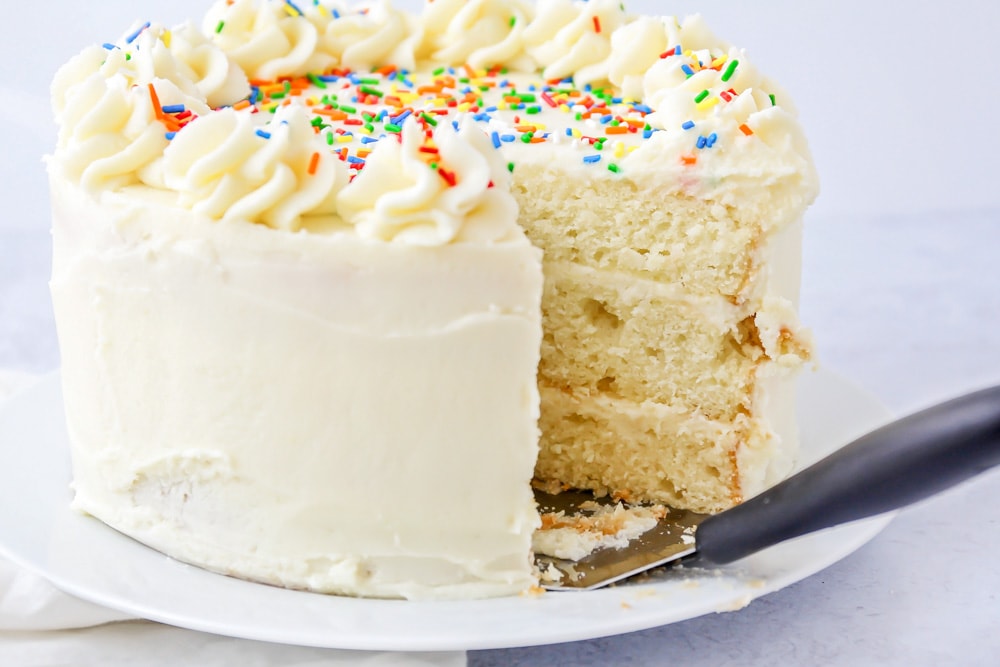 General Cake Baking Tips
Measuring flour. Scooping packs the flour too tightly, and you can end up with more than what is called for, leading to a dry cake. Spoon the four into the measuring cup and level it off.
Don't over bake! Insert a toothpick into the center of the cake. If it comes out clean, the cake is done. If the outside of the cake is cooking faster than the inside, tent a piece of tin foil over the top to keep it from getting too crisp on the outside.
Cake flour. Some recipes will specifically call for cake flour. It is more fine than all purpose flour, and is a wonderful ingredient for soft cakes. 
Room temperature ingredients. Unless otherwise noted, use room temperature ingredients. They incorporate better and create a fluffy batter. 
Over mixing can cause too much air to get trapped in the batter, as well as over develop the gluten found in flour, which leads to a tougher cake. Most recipes ask you to mix until just combined for this reason.
No peeking. It can be tempting to open the oven door to check the cake, but this can actually cause the cake to sink. I would recommend the only time this is acceptable is when you are nearing the end of the suggested bake time.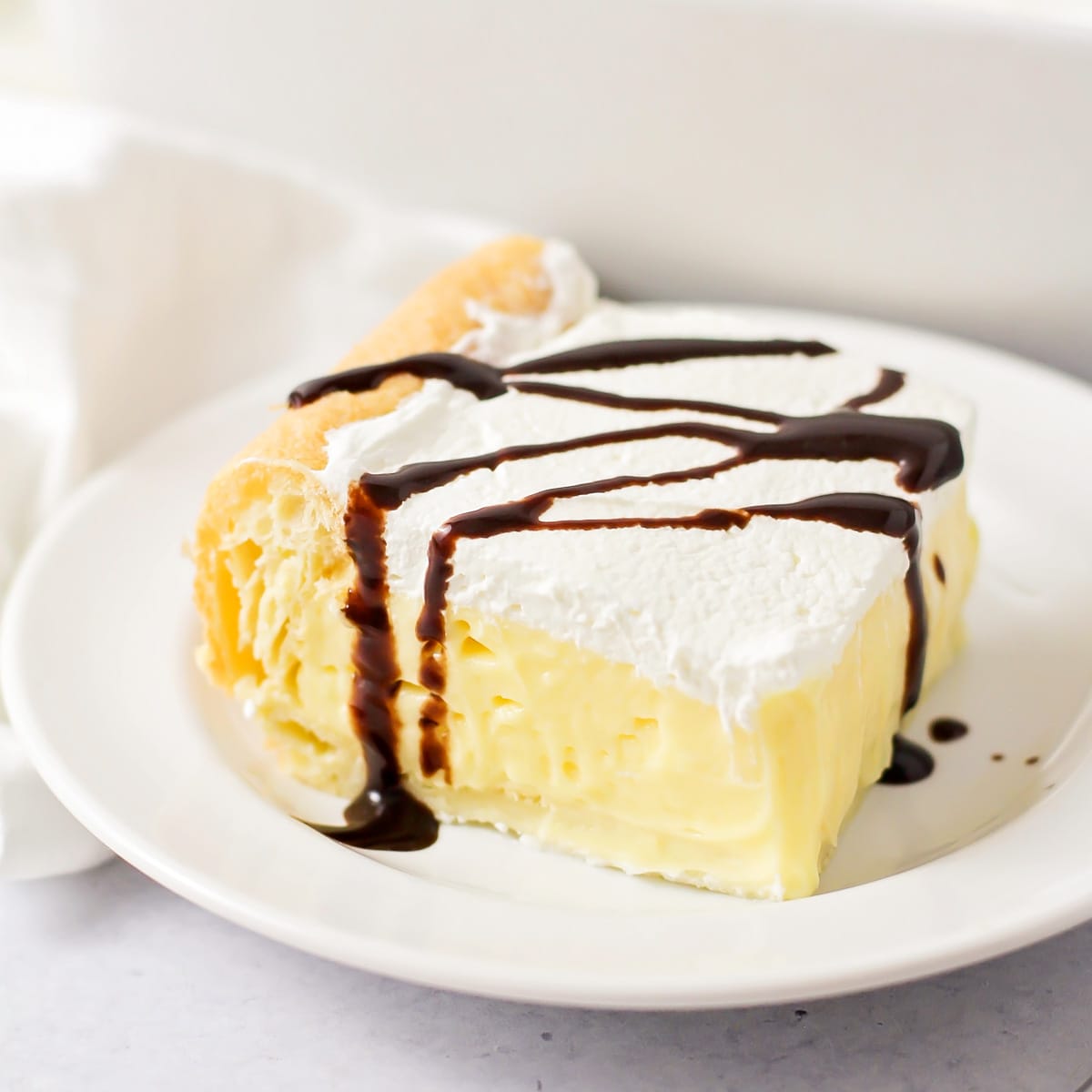 Storing info
STORE. You can store cake in various ways depending what ingredients are used, and how far ahead of time you're making the cake.
Unfrosted cakes should be wrapped in an airtight container and stored at room temperature for about 5 days. For longer storage, wrap the cake with plastic and again with foil.
Frosted cakes can be stored in a cake keeper at room temperature for 5 days. If you don't have one, simply place a large bowl over the cake. This will help keep airflow low, and dust off the cake. Covering the cake will also ensure nothing accidentally smears the frosting.
STORE leftover cake. The open, cut areas need to be covered to keep from going stale. Simply spread more frosting over the exposed cake, or press plastic wrap over it. Store in a cake keeper at room temperature for 3-4 days.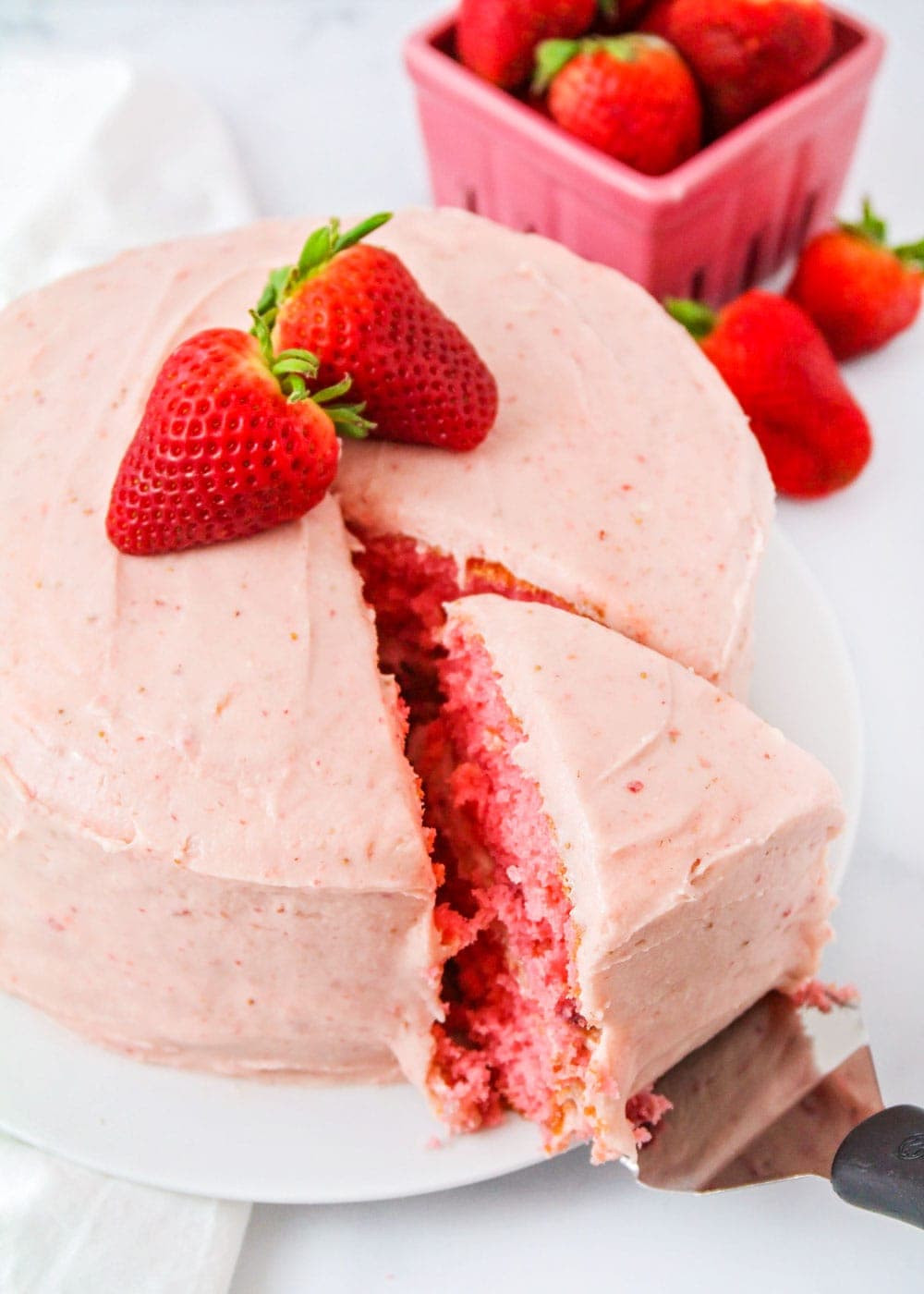 the perfect "icing on the cake":
---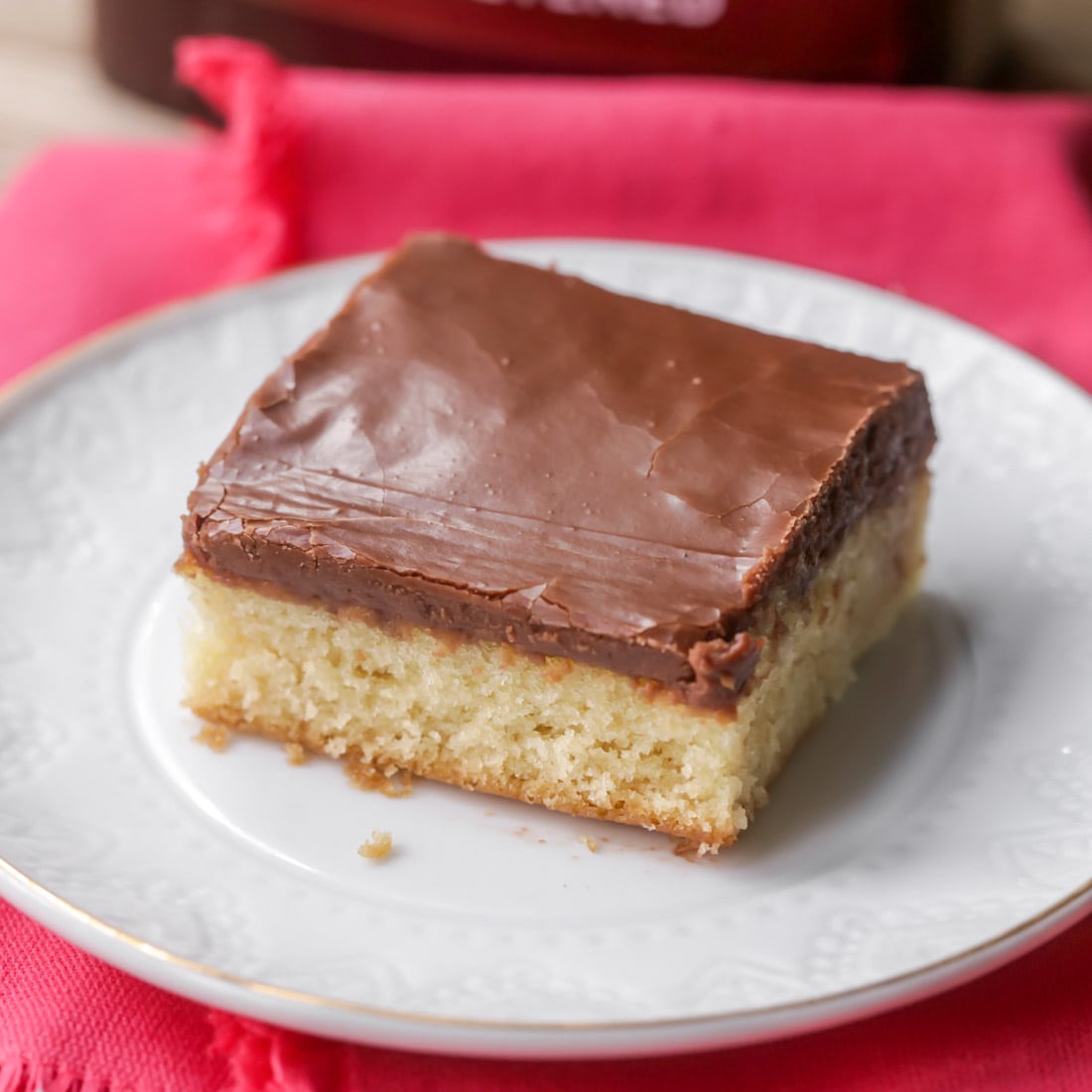 Best Cakes For a Crowd
The two types of cakes that are best for feeding crowds in my opinion are sheet cakes and layered cakes! This list contains both.
The recipes in this list are either half or quarter sheets. Check the servings sizes in the recipes, and double/quadruple accordingly.
Layered cakes are also awesome for feeding a group. You can usually get at least 12 slices, since they're taller than regular cake!
White Sheet Cake With Chocolate Frosting – This White Sheet Cake with Chocolate Frosting is easy to make, melts in your mouth, and is always a crowd pleaser!
Lemon Buttermilk Cake – Lemon Buttermilk Cake is baked with a lemon zest and topped with a delicious lemony glaze. It is refreshing with the perfect amount of sweetness!
Chocolate Sheet Cake – Our favorite chocolate sheet cake recipe, covered in sprinkles. It's simple, moist, delicious and serves a lot making it our go-to party dessert – perfect with ice cream.
Lime Sheet Cake – Perfectly moist lime cake, topped with a homemade lime buttercream frosting, and sprinkled with lime zest! Just the right balance of citrus and sweet in this yummy sheet cake. It's easy, refreshing, and great for feeding a crowd!
Easy Carrot Cake – This Carrot Cake is super moist, packed with big carrot cake flavor & slathered with tangy cream cheese frosting. Made as a sheet cake, it's super easy and perfect for Easter!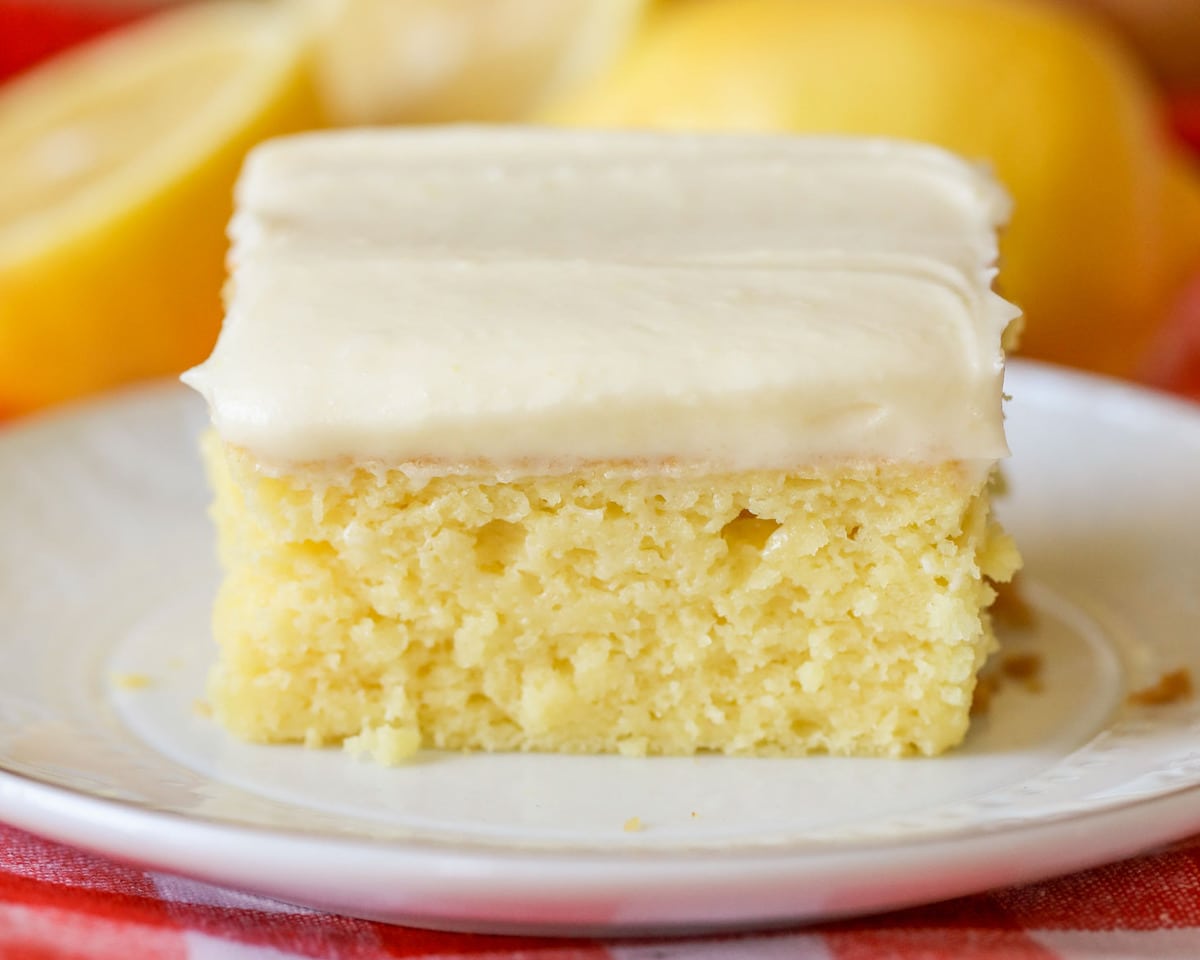 Lemon Sheet Cake – This super moist and delicious Lemon Sheet Cake recipe topped off with a tasty lemon buttercream frosting is our new favorite dessert, and it's perfect for feeding a crowd!
Better Than Anything Cake – Quick and Easy Better than Anything Cake is a sweet cake filled with caramel and topped with cool whip and toffee bits!
Jello Poke Cake – Cake with Jello drizzles poked throughout, and topped with a smooth layer of whipped cream! this light and cool Jello Poke Cake recipe is always a crowd favorite.
Moist Sour Cream Chocolate Cake – This sour cream chocolate cake is moist, fudgy, completely delicious and so easy to make. It's the perfect old-fashioned chocolate cake recipe that everyone will love and enjoy at every party! Serve it alone or with ice cream and you're sure to get rave reviews.
Pumpkin Cake With Cream Cheese Frosting – This moist pumpkin cake with cream cheese frosting is filled with brown sugar, spices & all your favorite fall flavors. Then topped with cream cheese frosting – it is by far the BEST pumpkin cake recipe! Best of all, it's so easy and comes together in about 45 minutes.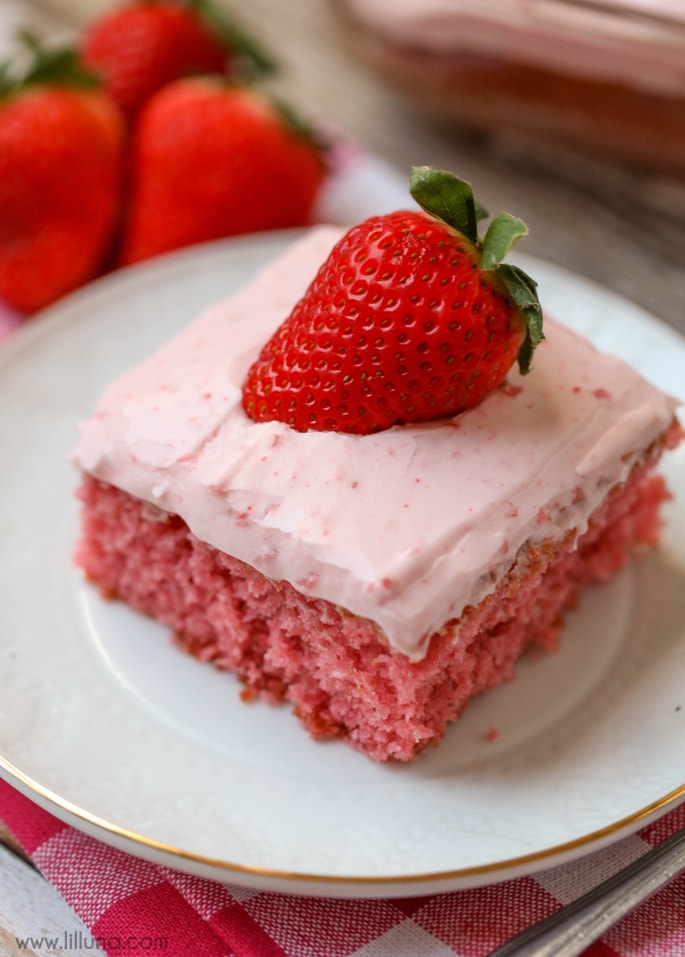 Strawberry Sheet Cake – This strawberry sheet cake is especially tasty made with fresh pureed strawberries and topped with an amazing homemade strawberry frosting!
Neiman Marcus Cake – Neiman Marcus Cake – if you've ever had this before, you know how INCREDIBLE the pecan and coconut crust is, with a gooey cream cheese batter layer on top! AMAZING!!
Cherry Sheet Cake – Moist Cherry Sheet Cake is topped with a homemade almond buttercream frosting. It is easy and SO delicious!!
White Texas Sheet Cake – This white sheet cake is moist, and is topped with an amazing frosting with hints of almond throughout. It also feeds a ton, making it great for parties and get together.
Chocolate Zucchini Cake – YUMMY Chocolate Zucchini Cake – so good! Moist and delicious and you'd never know it had grated zucchini in it! Also, has a smooth chocolatey frosting.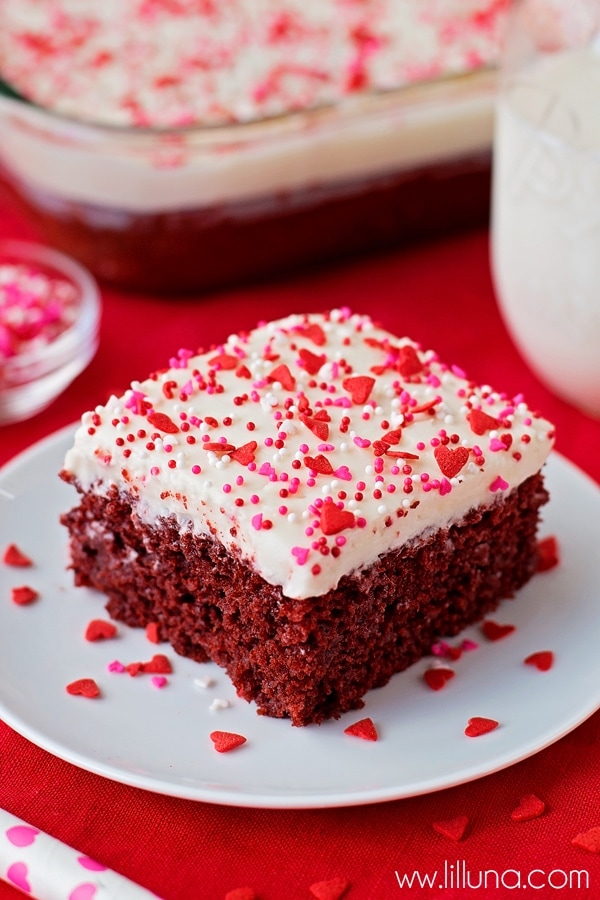 Red Velvet Poke Cake – Delicious Red Velvet Poke Cake with homemade Cream Cheese Frosting is oh so moist and velvety. It's perfectly sweet for any occasion.
Mississippi Mud Cake – This Mississippi Mud Cake is a delicious homemade chocolate cake, topped with melted marshmallows and warm chocolate frosting.
Zucchini Cake With Cream Cheese Frosting – This zucchini cake is moist, filled with spices, and topped with a homemade cream cheese frosting. It's the perfect way use up zucchini!
Coconut Cake – This Coconut Cake is made from scratch, and topped with a scrumptious cream cheese frosting that is so addicting. The toasted coconut topping gives it an incredible flavor, making it a dessert to enjoy all year long!
Strawberry Butter Cake – Quick and Easy Better than Anything Cake is a sweet cake filled with caramel and topped with cool whip and toffee bits!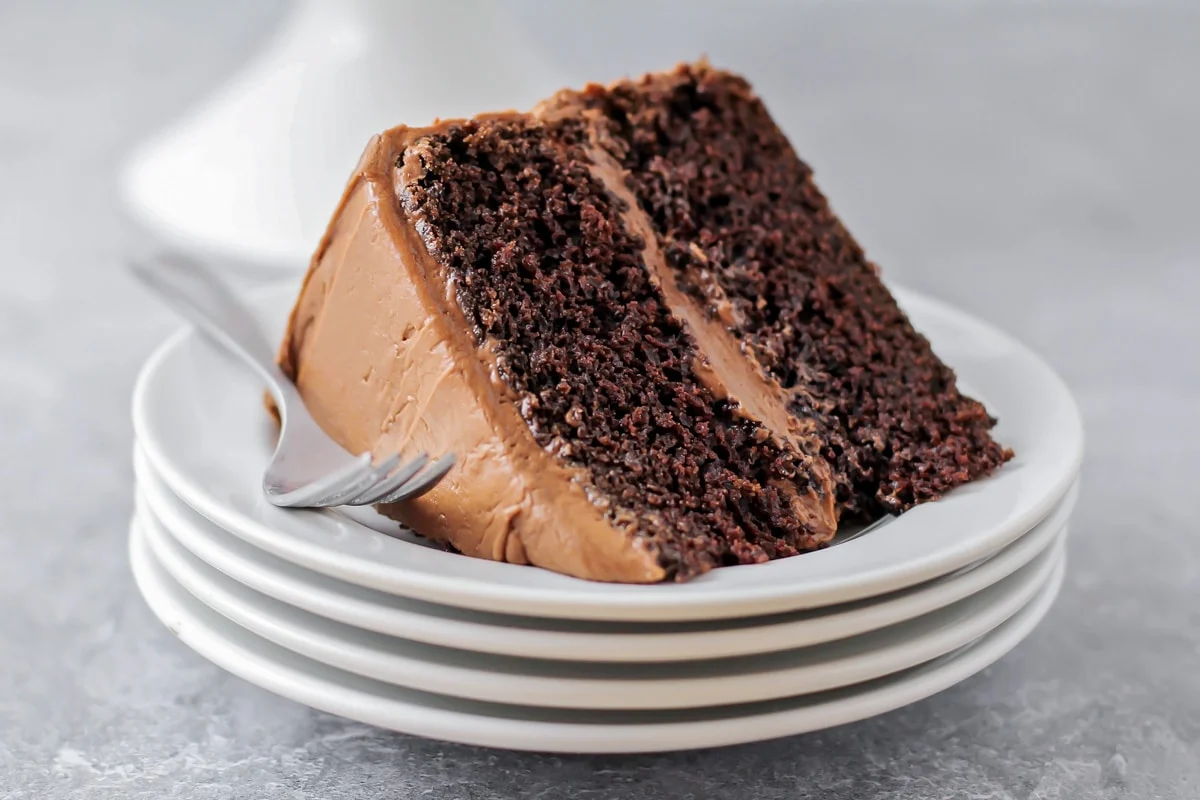 Easy Chocolate Cake – This deliciously Easy Chocolate Cake is topped with homemade chocolate frosting. This 2-layer cake is simple and decadent!
Root Beer Float Ice Cream Cake – Root Beer Float Ice Cream Cake is just like a cold and frosty mug of root beer and ice cream, only in cake form!!
Strawberries And Cream Angel Food Cake – Strawberries and Cream Angel Food Cake – a sweet and delicious dessert filled with a creamy layer and topped with strawberries. It's so simple and so delicious!
Strawberry Cake – Sweet strawberry cake is so beautiful and really delicious! If you like strawberries, you will love the strong strawberry flavor in this moist and fluffy cake.
Vanilla Cake – There is nothing more classic than a rich vanilla cake. This vanilla cake recipe is light, fluffy and great to make for any occasion!
German Chocolate Cake – Homemade German Chocolate Cake is always a favorite. Two layers of tender chocolate cake topped with a decadent coconut pecan frosting. What's not to love?
---
the complete list
Here are the picture cards for all of the scrumptious Cakes That Feed A Crowd.
With so many crowd pleasing recipes on this list – you can't go wrong choosing the perfect dessert for your next get together!
Be sure to check out all of our Cake Recipes!
more collections: Cakes with Fruit , Holiday Cakes, Dessert Bar Recipes