Layers of soft cake filled with homemade custard and topped with chocolate ganache. This dessert has such a great flavor and is always a hit with the whole family.
One of our favorite desserts is this delicious Boston Cream Pie. With custard and ganache, you can't go wrong with this recipe. Be sure to check out our Boston Cream Poke Cake for another version that is just as delicious.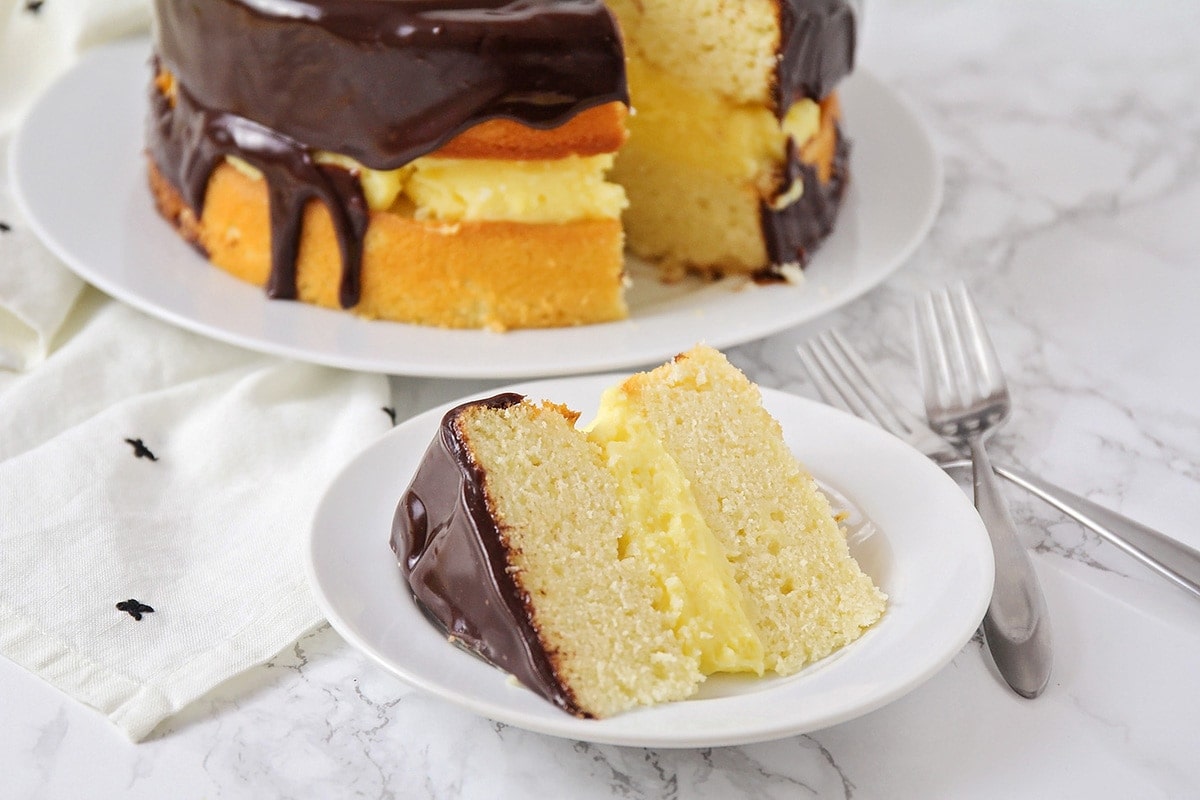 Custard + Chocolate = Delish
Hello again! It's Alicia from The Baker Upstairs, and I have the most fabulous dessert to share with you today! This Boston cream pie is a decadent and delicious dessert that is sure to wow everyone at the table.
It has layers of tender cake sandwiched with rich homemade custard, all topped with a luscious chocolate ganache. It's completely delicious!
This year I wanted to try a new recipe for the hubby's birthday and came up with this amazing Boston Cream Pie (similar to our Boston cream poke cake). Just to ward off any confusion, it is definitely a cake, and not a pie! The dessert is most likely called a pie because it was originally baked in pie tins, not cake pans.
The finished product was perfectly delicious, and my husband said it was one of his favorite birthday cakes ever.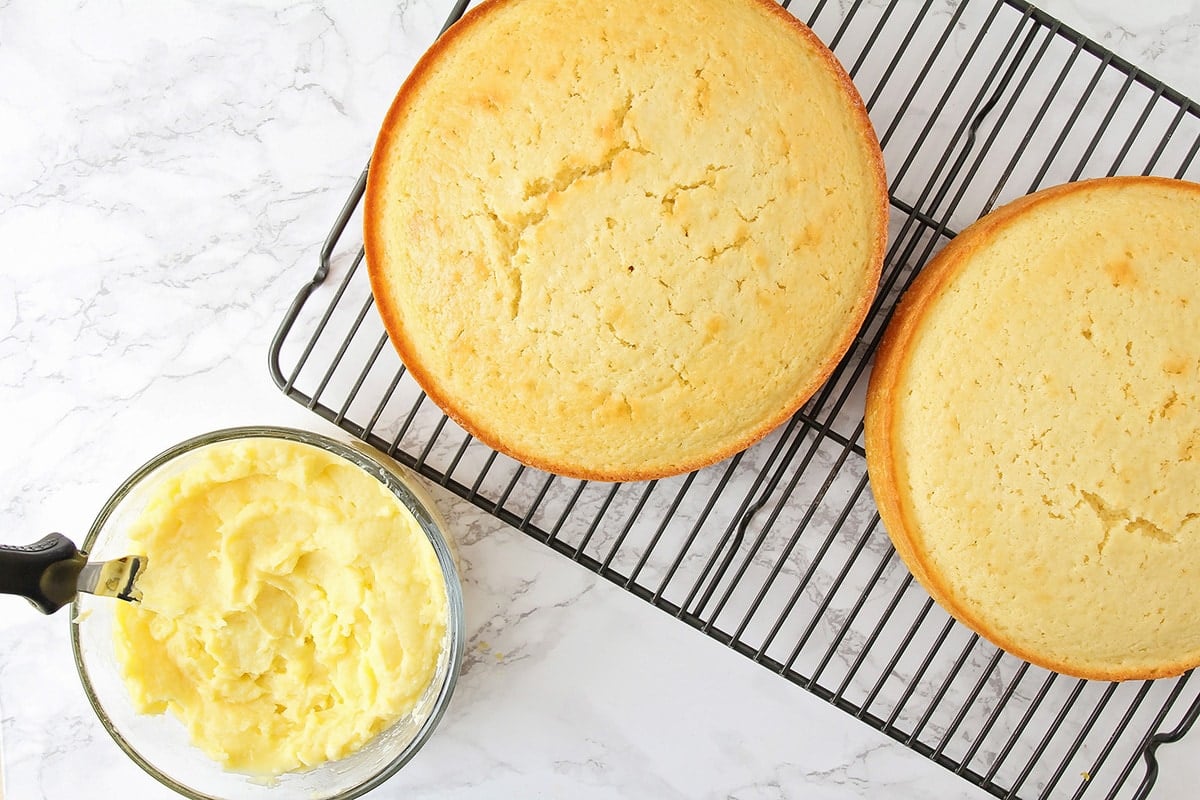 How to Make Boston Cream Pie
CUSTARD. The first step is to make the homemade custard. It's surprisingly simple to make, and it tastes way better than any store-bought pudding or custard! It has just a few simple ingredients, and only takes about 20 minutes to make.Once you've mixed up the custard, it needs to chill completely in the fridge before you can assemble the cake.
CAKE. While the custard is cooling, bake your cake layers. You can make the cake from scratch, or use a store-bought cake mix. Either will work just fine! Let the cake layers cool completely, and then you're ready to assemble the cake.
LEVEL. To assemble the cake, place one of your cake rounds flat side down on a serving plate, then level it with a serrated knife or a cake leveler. Leveling the cake layers will add stability, so your finished cake doesn't topple over.
SPREAD CUSTARD. Next, spread the custard in an even layer over the cake round. It will be a little firmer after it has chilled, but it should still be spreadable. Finally, top the Boston Cream pie cake with the other cake round, flat side up.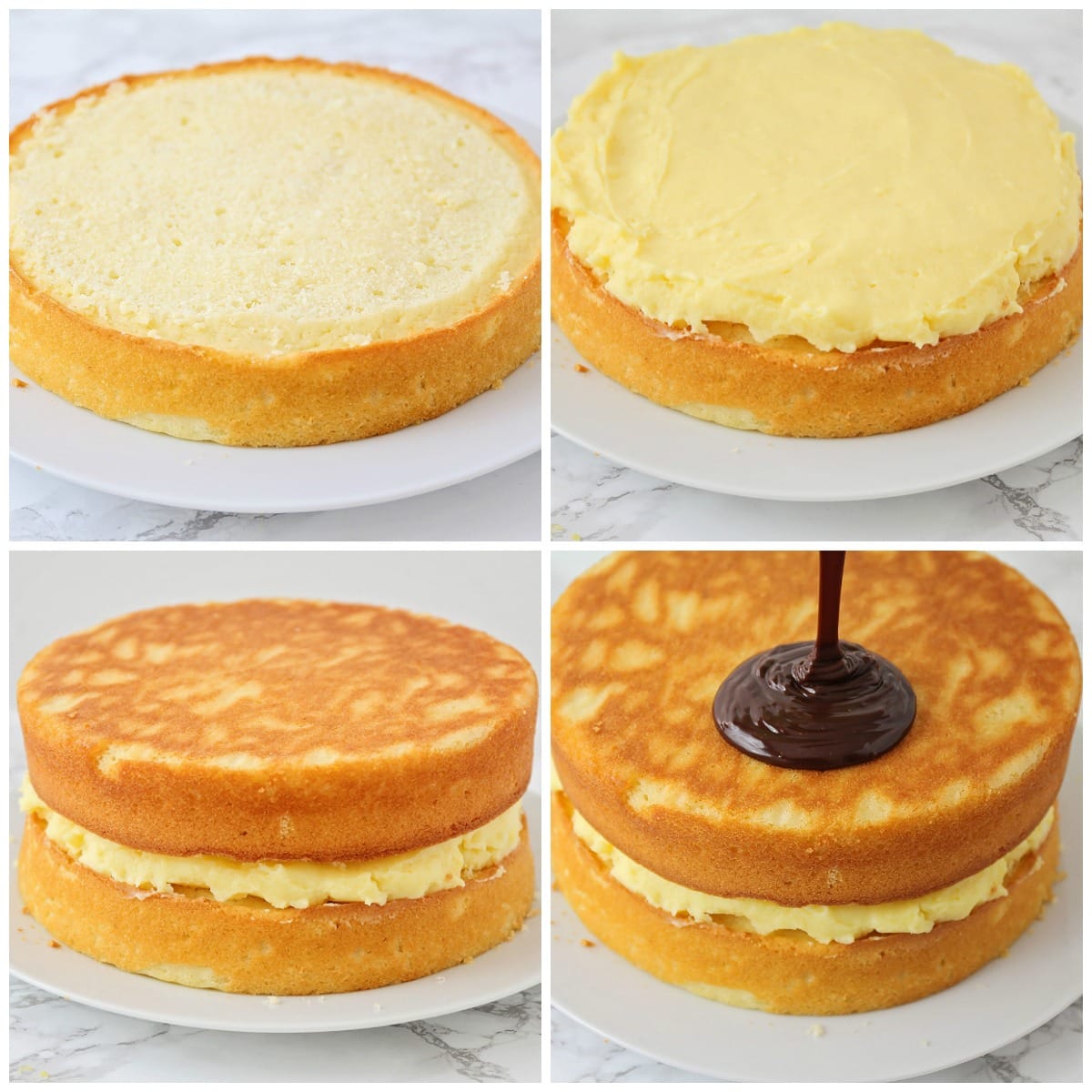 Ganache Topping
Once the Boston cream cake is assembled, you'll make a simple chocolate ganache to go over the top. There are only two ingredients – heavy cream and semi-sweet chocolate chips.
Pour the ganache over the top of the cake, then spread it evenly. It's totally okay for it to drip down the sides of the cake. I think it adds to the charm!
Let the cake stand for 30-60 minutes, until the ganache has thickened and set. I love the gorgeous shine on the chocolate ganache!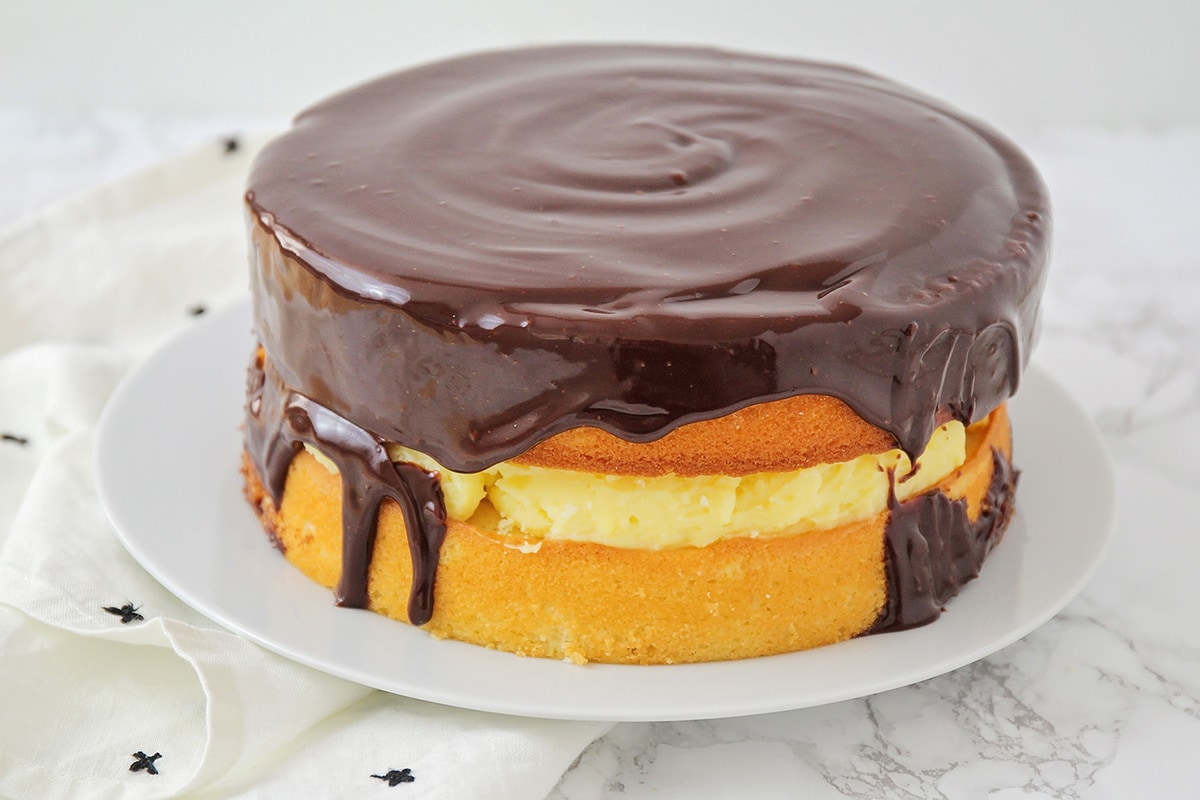 IF (and that's a big if) you have leftovers
How long does this cake last? How to store? IF you have leftovers, and it probably won't happen, we recommend storing this cake in the fridge for 3 to 4 days. Just cover loosely with foil or plastic wrap.
How to make ahead? Freeze? The cake for this recipe can be made ahead of time and frozen for up to a month in advance. The custard can also be made ahead but only 24 hours in advance. If the cake is assembled, it can also be frozen but note that the custard will be more water-y because it calls for cornstarch.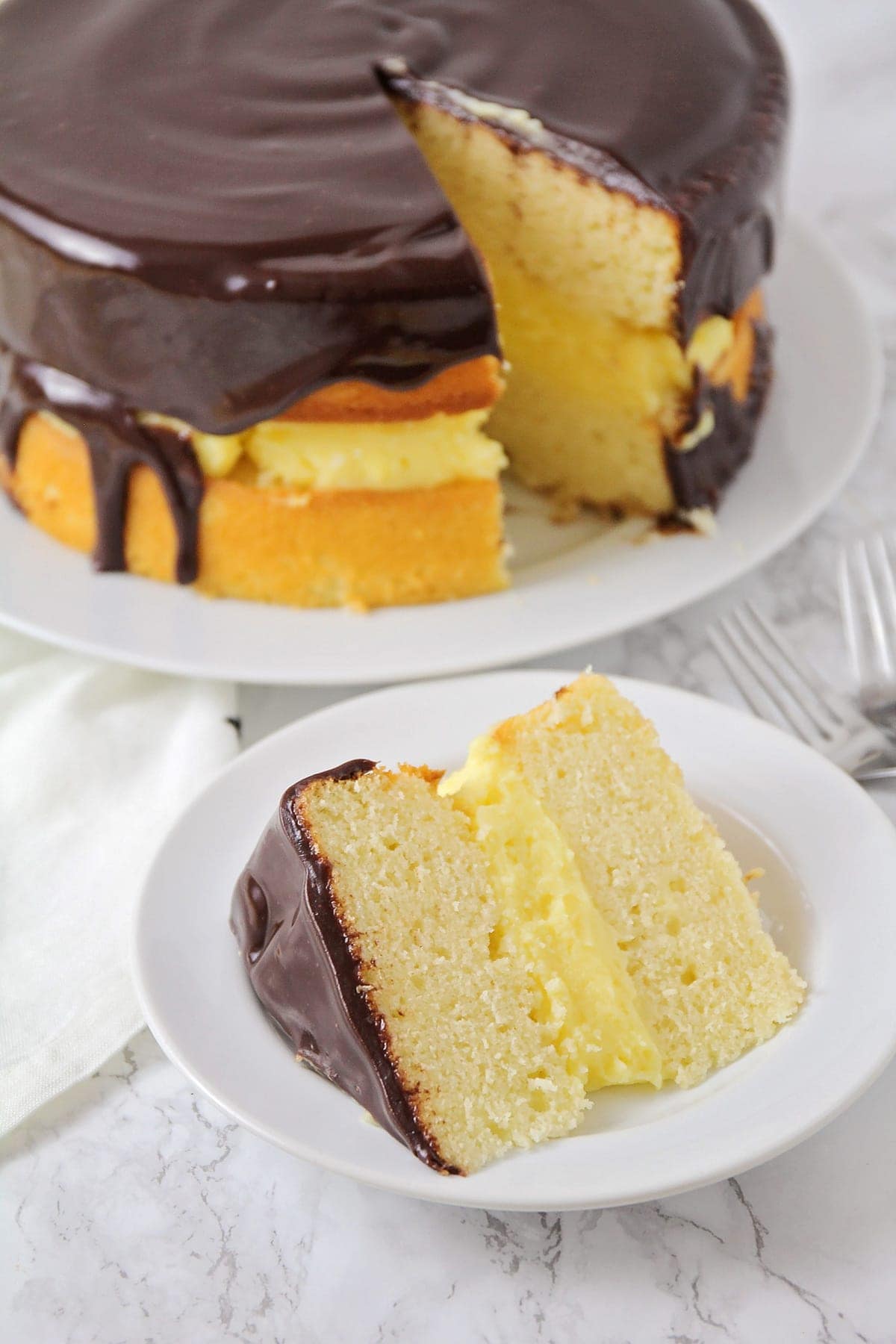 This Boston cream pie has the most delicious combination of flavors and textures. I love the light and tender cake, the velvety smooth custard, and the chocolatey ganache. It's perfect for any special occasion!
For more pies and cakes, check out:
Other Delicious Desserts:
Boston Cream Pie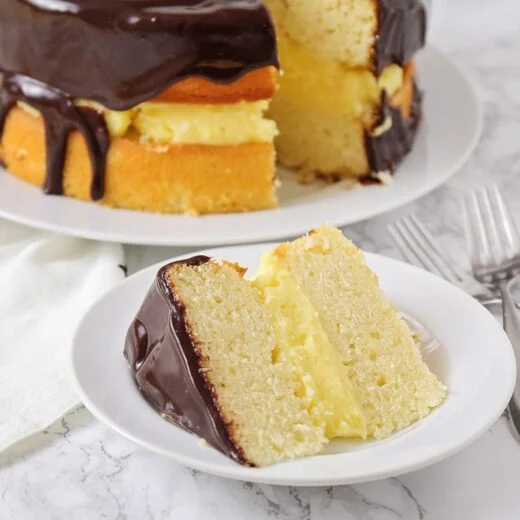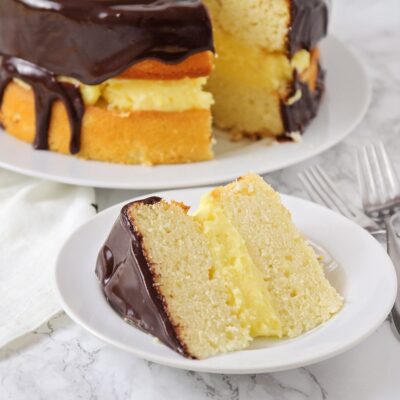 Layers of soft cake filled with homemade custard and topped with chocolate ganache. This dessert has such a great flavor and is always a hit with the whole family.
Ingredients
2

8-inch white or yellow cake rounds

baked and cooled
for the custard:
for the ganache:
3/4

cup

heavy whipping cream

1

cup

semi-sweet chocolate chips
Instructions
To make the custard, in a medium sauce pan, whisk together the eggs, sugar, corn starch and salt until well combined and no lumps remain. Then whisk in the milk until well combined. Heat the mixture over medium-high heat for 2 to 4 minutes, or until thickened. Remove from heat and whisk in the vanilla. Add the pieces of butter, and stir until completely melted and smooth. Pour the custard into a bowl, cover with plastic wrap, and refrigerate until completely chilled.

To assemble the cake, level the cake rounds using a serrated knife or cake leveler. Place one of the cake rounds on a serving plate, and gently spread the cooled custard evenly over the cake layer. Add the remaining cake layer on top.

To make the ganache, add the chocolate chips to a medium bowl. Add the heavy whipping cream to a microwave safe bowl or measuring cup, and heat one minute on high, or until boiling. Pour the whipping cream over the chocolate chips and let stand for one minute. Using a fork, stir the ganache until it is smooth and the chocolate has melted completely. Pour the ganache over the cake, spreading evenly. Let stand 30-60 minutes, until the ganache has cooled and set.