Homemade German Chocolate Cake is always a favorite. Two layers of tender chocolate cake topped with a decadent coconut pecan frosting. What's not to love?
This classic, delicious cake is an all-time favorite dessert! Soft, moist cake topped with a delicious frosting – it's right up there with our classic chocolate cake and flourless chocolate cake.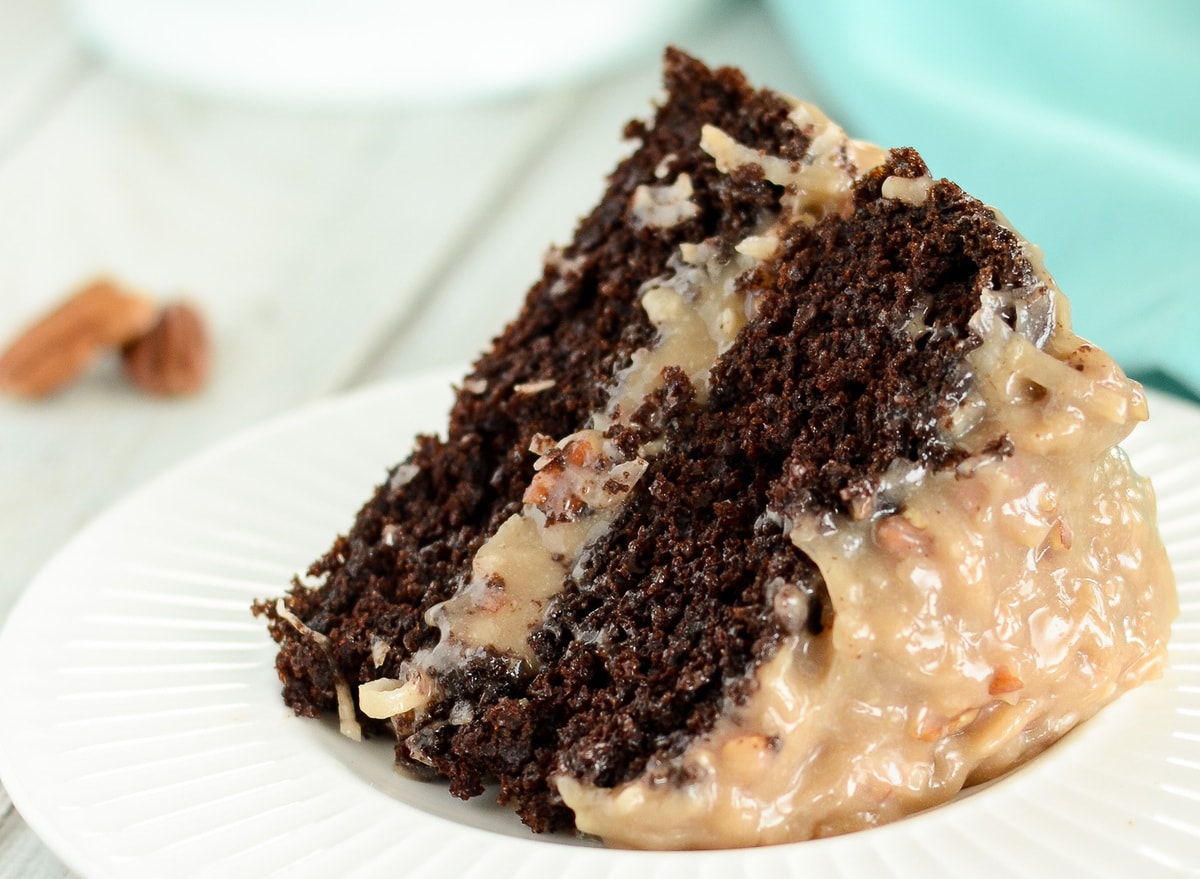 birthday must-have
Growing up my mom would often make me a German chocolate cake for my birthday – because it was my favorite dessert.
The ooey-gooey coconut pecan frosting just gets me every time. Truth be told, I could just eat it by the spoonful, but it's even better when it's paired with chocolate cake!
I've tried some versions that have chocolate frosting around the outside of the cake, but that's a little overboard in my opinion. The cake is plenty sweet with all that delicious frosting. However, if you do want to add chocolate frosting to yours, go for it!
No matter how you have it – no one can deny how great it is!
Why is it called German chocolate cake? Believe it or not, but it was not brought to American by German immigrants.
American baker, Samuel German, developed a type of dark baking chocolate for the Baker's Chocolate Company. The brand name of the product, Baker's German's Sweet Chocolate, was named in honor of him. And that is where the cake's name comes from.

How to make it
CAKE. I prefer to use a chocolate cake made from scratch, but you can use a boxed cake mix if you prefer.
Just prepare the cake as directed on the box in two 9 inch round pans and let the two layers cool completely before frosting (be sure to use room temp ingredients).
FROSTING. To make the frosting, combine evaporated milk, sugar, and egg yolks in a heavy saucepan. Whisk till smooth, then add a cube of butter. Cook and stir over medium heat till thick.
Add your vanilla, flaked coconut and chopped pecans. Toasting the pecans first is tasty, but not required. Stir till well combined, then cool completely. (Frosting will continue to thicken as it cools.)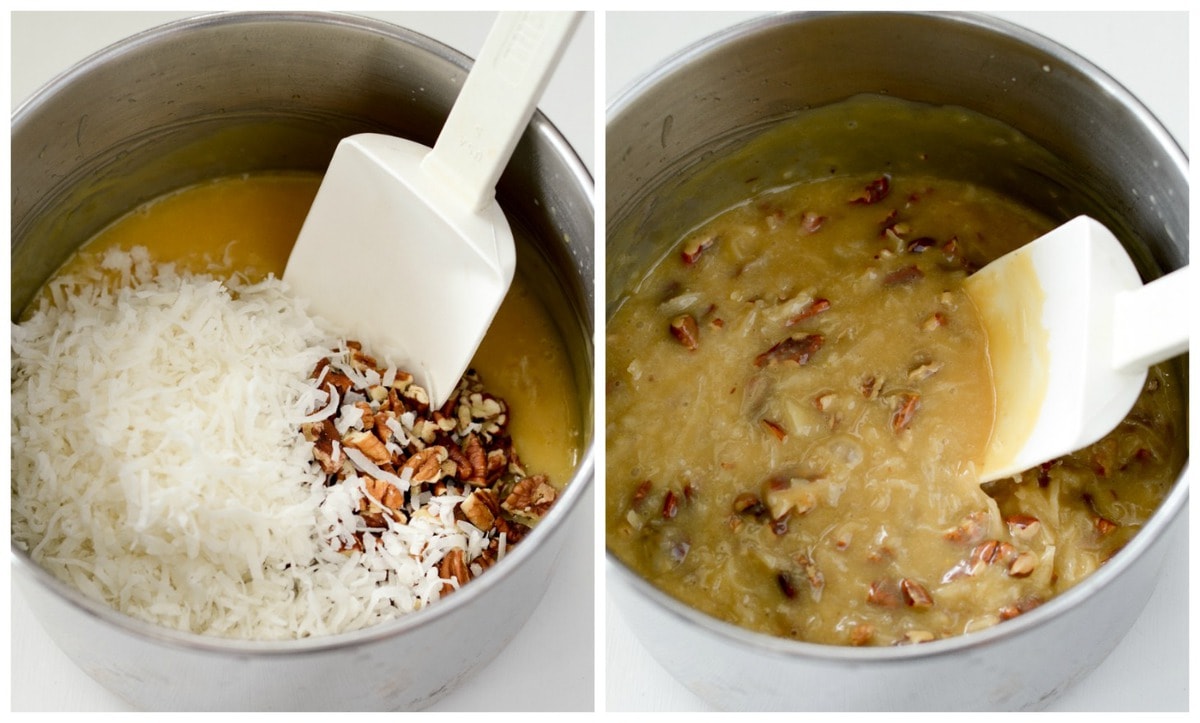 Frosting + Storing
After both your cake and frosting are cool, place one layer of cake on a plate stand and spread half of the frosting to the edges of the cake. Add the remaining layer of cake, then spread the rest of the frosting on top. Serve immediately or cover.
How to store? This cake keeps really well, and will last for 2-3 days at room temperature if you cover it tightly. A large cake dome works the best. It is actually even more moist the second day because the yummy coconut pecan frosting soaks into the cake. Seriously delicious!
It can also be refrigerated for 4-6 days.
Can it be made in advance? Yes! As mentioned above, we actually love it better the second day after the frosting has soaked in a bit.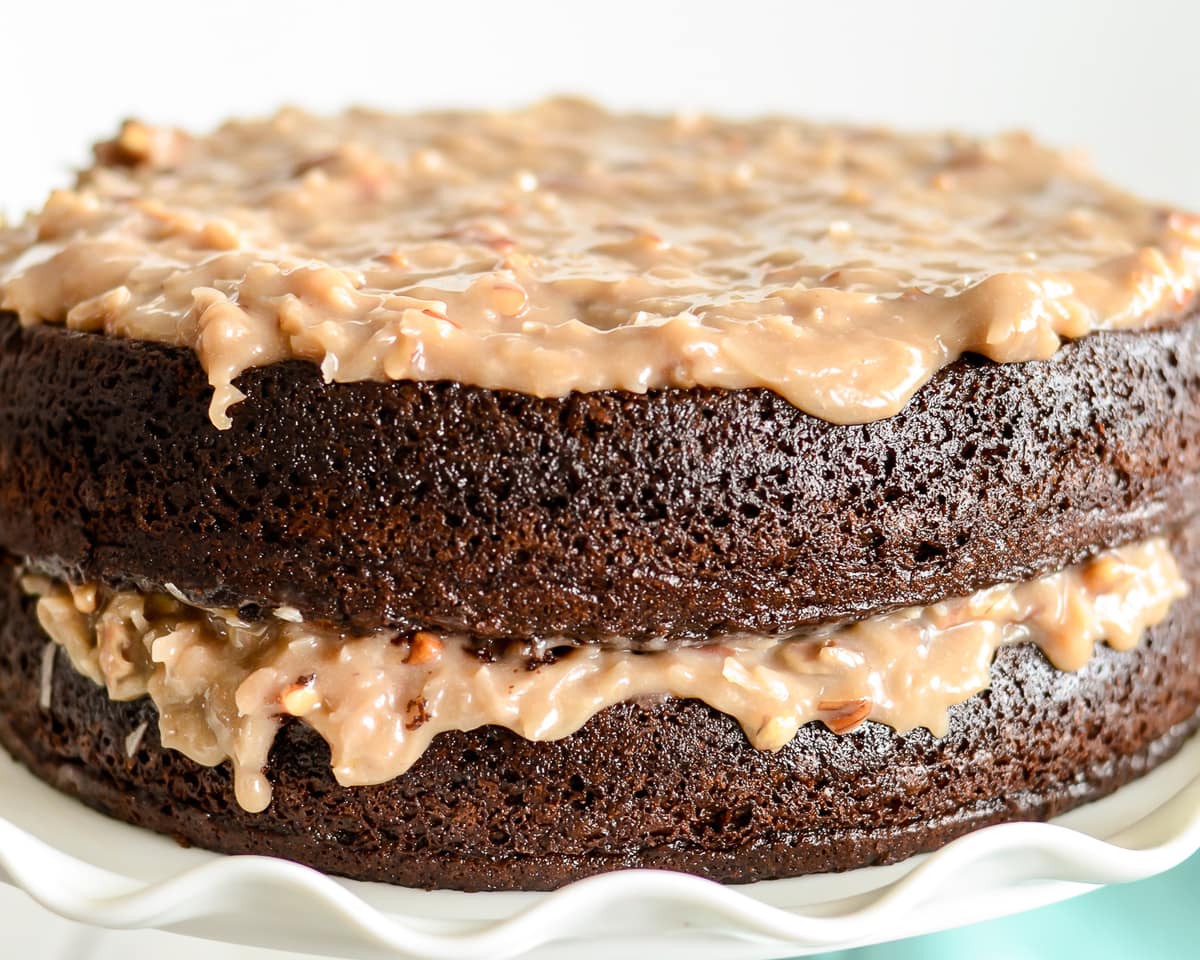 Changing it Up
This cake can be made with a variety of frostings, but what's classic for this dessert is the coconut pecan frosting. As mentioned, you can add chocolate frosting too, but we love just as it is. Other ways to make this treat, include:
CUPCAKES. Just follow box directions or batter to cupcake liners to be ¾ full and bake for 16-19 minutes at 350.
SHEET CAKE. Spread batter into a greased 9×13 dish and bake for 25-35 minutes (or until top springs back to the touch or a toothpick comes out clean). Then frost.
MORE LAYERS. Just split the batter into more round pans if you are wanting to add another layer. You may need to increase the frosting too.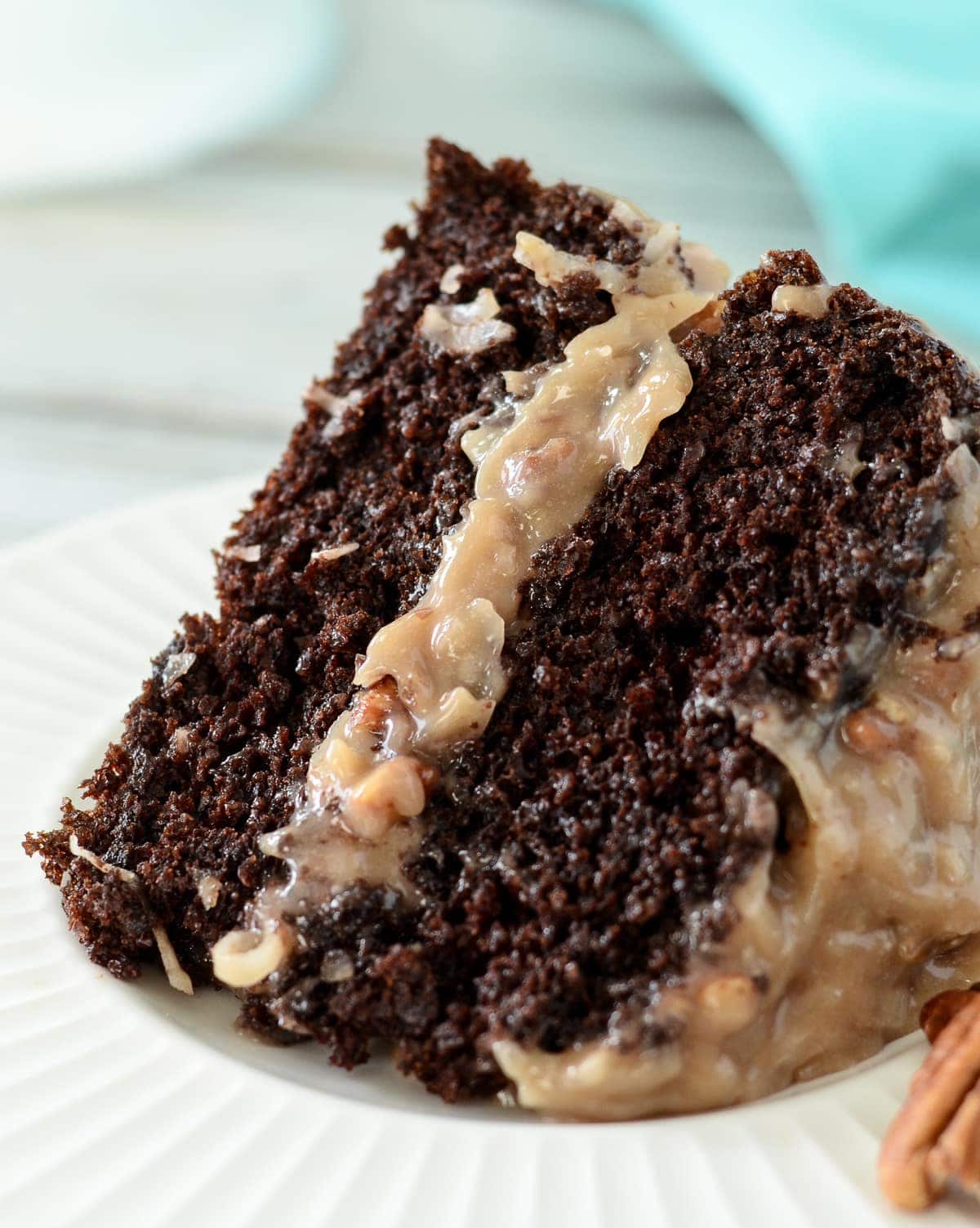 We hope you love this classic dessert as much as we do! It's so flavorful and perfect for any get together or holiday.
For more yummy treats, check out:
German Chocolate Cake Recipe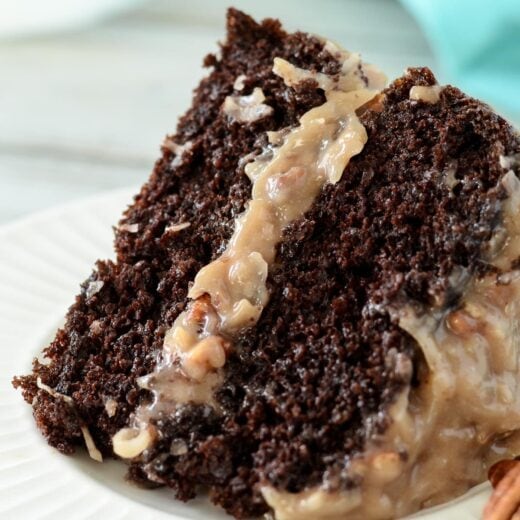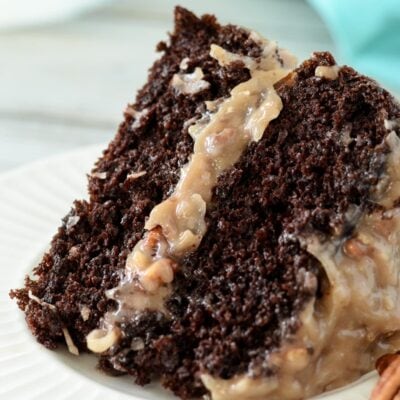 Homemade German Chocolate Cake is always a favorite. Two layers of tender chocolate cake topped with a decadent coconut pecan frosting. What's not to love?
Ingredients
Frosting
1

cup

evaporated milk

3

egg yolks

1

cup

sugar

1/2

cup

butter

1/2

tsp

vanilla extract

1 1/2

cups

sweetened flaked coconut

1

cup

chopped pecans
Instructions
Preheat oven to 350°. Spray two 9" round cake pans with non-stick spray. Place a piece of parchment paper in the bottom of each pan. Spray parchment.

Whisk together flour, sugar, cocoa, baking soda, baking powder, and salt in a large mixing bowl.

Add the milk, eggs, vanilla extract, and oil. Beat with a hand mixer till well combined. Slowly pour in the boiling water and beat till smooth.

Divide batter between two pans. Bake at 350° for 35-40 minutes or until toothpick inserted in center comes out clean.

Cool for 8-10 minutes, then invert onto cooling racks. Cool completely.

Spread half of the frosting onto one of the cakes. Add the second layer, then spread the remaining frosting on top.
Coconut Pecan Frosting
Whisk together milk, egg yolks, and sugar in a heavy saucepan. Add the butter. Cook and stir over medium heat till thickened, about 10-12 minutes.

Let cool for about 10 minutes, then stir in the vanilla, coconut, and pecans. Cool completely before frosting cake.