Don't miss a thing – Sign up for the Lil' Luna Newsletter today!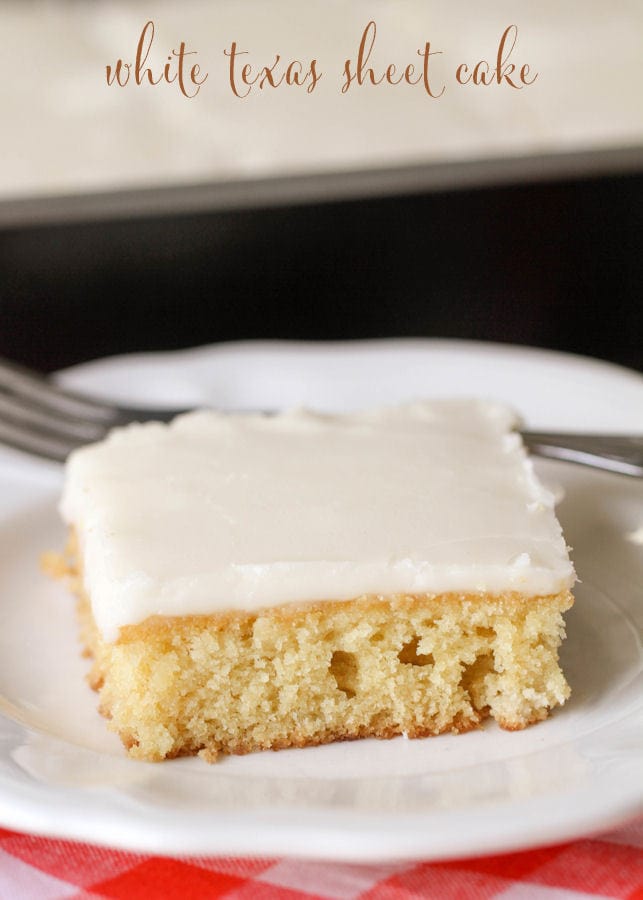 Today I wanted to share with you my CURRENT favorite dessert – White Texas Sheet Cake!
I'm a huge fan of ALMOND EXTRACT, (I put it in most of my desserts even if it doesn't call for it) and this dessert has it in the cake AND the frosting!
I also tend to like WHITE versions of desserts (vanilla more so than chocolate, that is)….
Blondies vs. Brownies
White Sheetcake vs. Regular Sheetcake
White Chocolate Molten Lava Cake vs. Milk Chocolate Molten Lava Cake
(this is a dessert at Chili's – if you have not had it, you HAVE to have it!)
Oh yeah, and this dessert has lots of BUTTER, and being a Paula Deen fan, we all know that EVERYTHING tastes better with BUTTER!
Bottom line – I just love this dessert, and I hope you do too. 🙂
Here is the White Texas Sheet Cake recipe…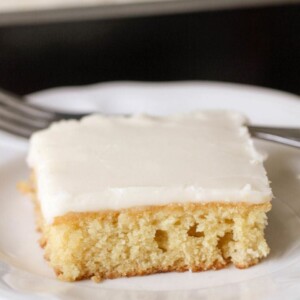 White Texas Sheet Cake Recipe
Our favorite cake recipe - White Texas Sheet Cake. It's so moist and has almond extract making it taste AMAZING!
Ingredients
1

cup

butter

1

cup

water

2

cups

flour

1

tsp

baking soda

1

tsp

salt

2

cups

sugar

2

eggs

beaten

1/2

cup

sour cream

1/2

cup

butter

1/4

cup

milk

4 1/2

cups

powdered sugar

1/2

tsp

almond extract

1/2

cup

walnuts

chopped (optional)
Instructions
Bring 1 cup butter and 1 cup water to a boil in a saucepan.

Remove from heat and whisk in flour, baking soda, salt, sugar, eggs, sour cream and almond extract until smooth.

Pour into a greased 15×10 baking pan. Bake at 375 degrees for 20-22 minutes or until a toothpick inserted in center comes out clean. Cool in pan on a wire rack for 20 minutes.

While cake is cooling, make frosting.

Combine butter and milk in a saucepan; cook over low heat until butter melts. Bring to a boil over medium heat.

Remove from heat and add powdered sugar and almond extract; beat at medium speed with an electric mixer until spreading consistency. Stir in walnuts (optional).

Spread frosting on top of cake.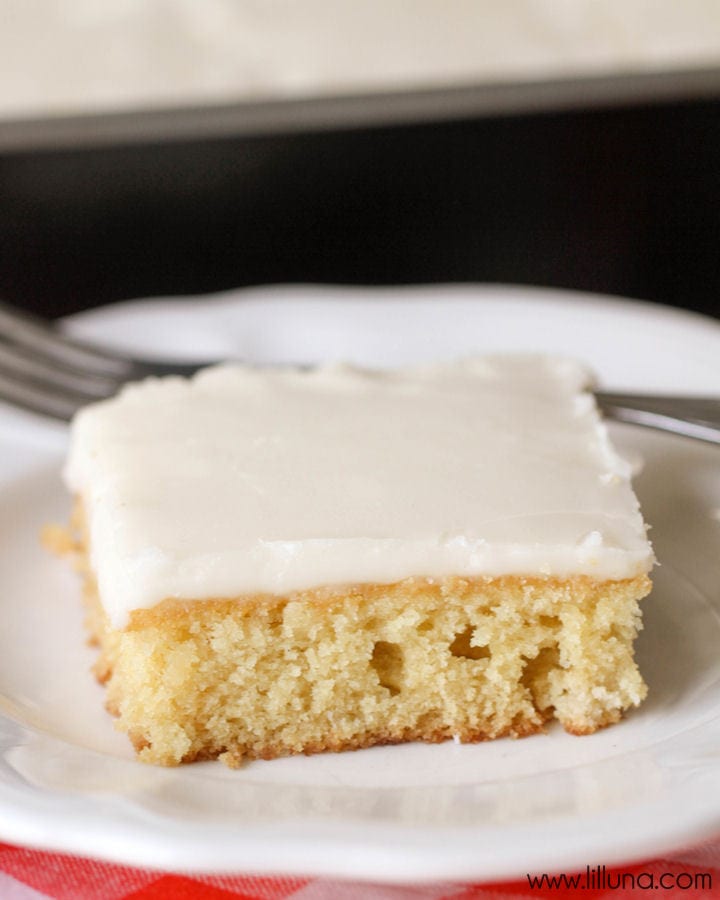 So stinkin' YUMMY!
I promise you won't be disappointed if you try this. 🙂
For my other favorite sheet cake recipes check out:
ENJOY!