Delicious chocolate lava cakes that are delicious, decadent and made with just 6 ingredients. Perfect for company or a date night in, these cakes are made in just 30 minutes!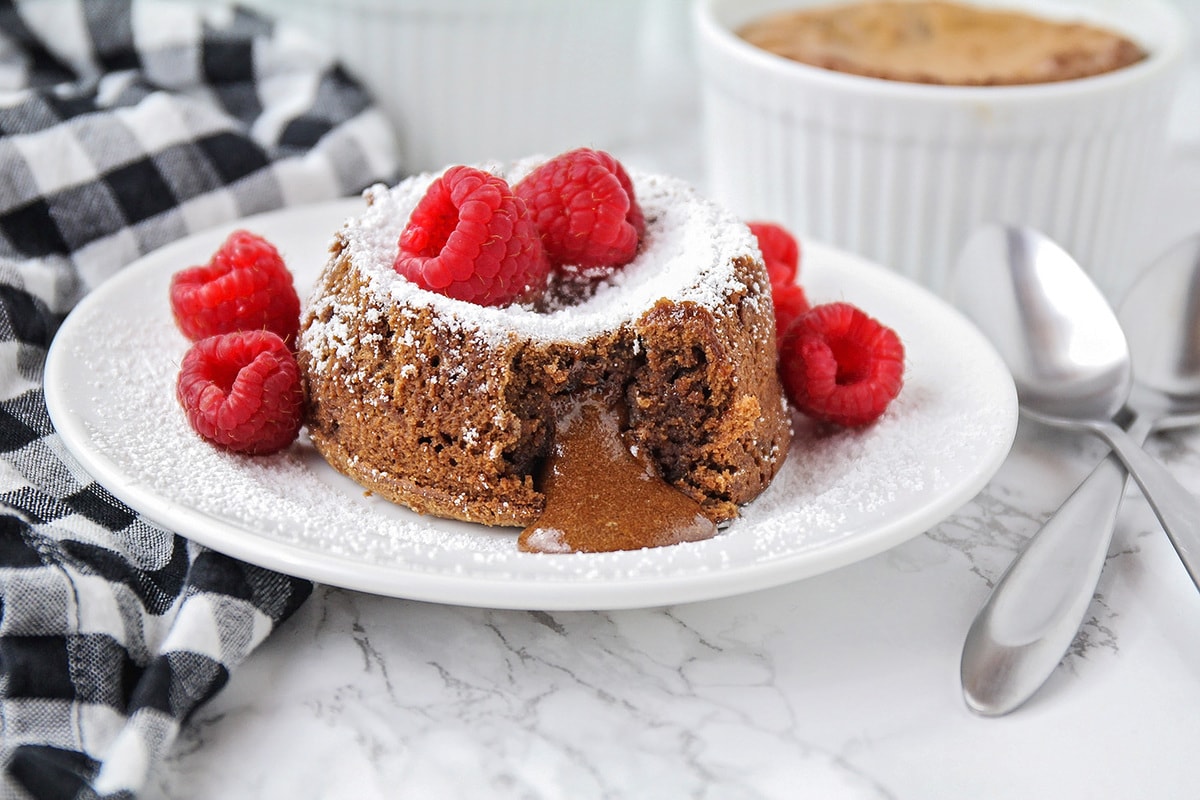 Molten Lava Cake
Hello again! It's Alicia from The Baker Upstairs, and I have a fantastic dessert recipe to share with you today. This chocolate molten lava cake is one of my favorite desserts! It's easy to make, totally decadent and delicious, and ready to eat in about thirty minutes. It's a chocolate lover's dream!
Between work, household responsibilities, church and after school activities, it's rare for my husband and I to get a night out, especially one without our kids in tow. One of my favorite ways to have couple time at home is to send the kids to bed a little early, and make a delicious dessert for just the two of us. We laugh and talk and remember old stories together, and it's a simple and sweet way to unwind after a busy day.
These chocolate lava cakes are absolutely perfect for a date night at home! They're quick to make, and have just six ingredients (which I nearly always have on hand). My husband absolutely loves them, and they make an ordinary night in extra special!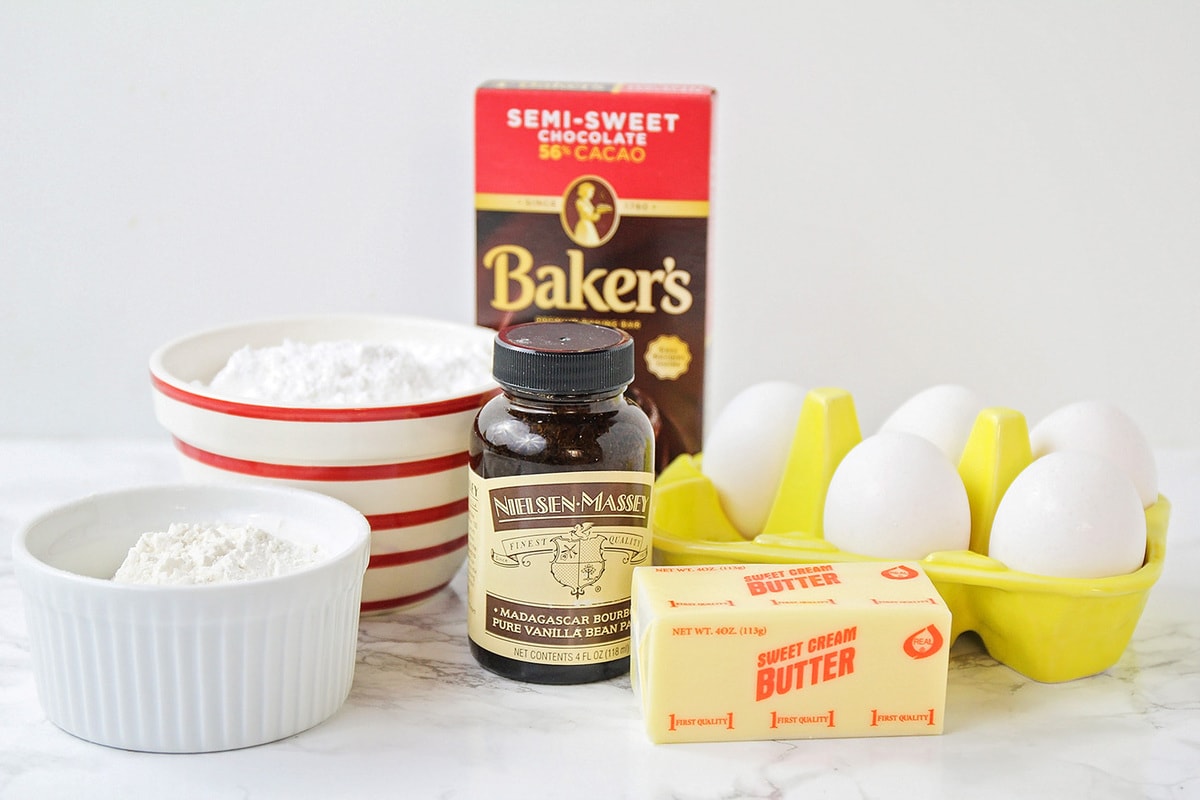 How to Make Lava Cake
As I mentioned, there are just 6 ingredients needed for this recipe, including:
butter
semi-sweet chocolate
powdered sugar
eggs
vanilla
flour
You begin by making the batter, which is so simple that you don't even need a mixer!
Start by melting the chocolate and butter together in the microwave, then add the powdered sugar. The mixture will be thick, almost like frosting.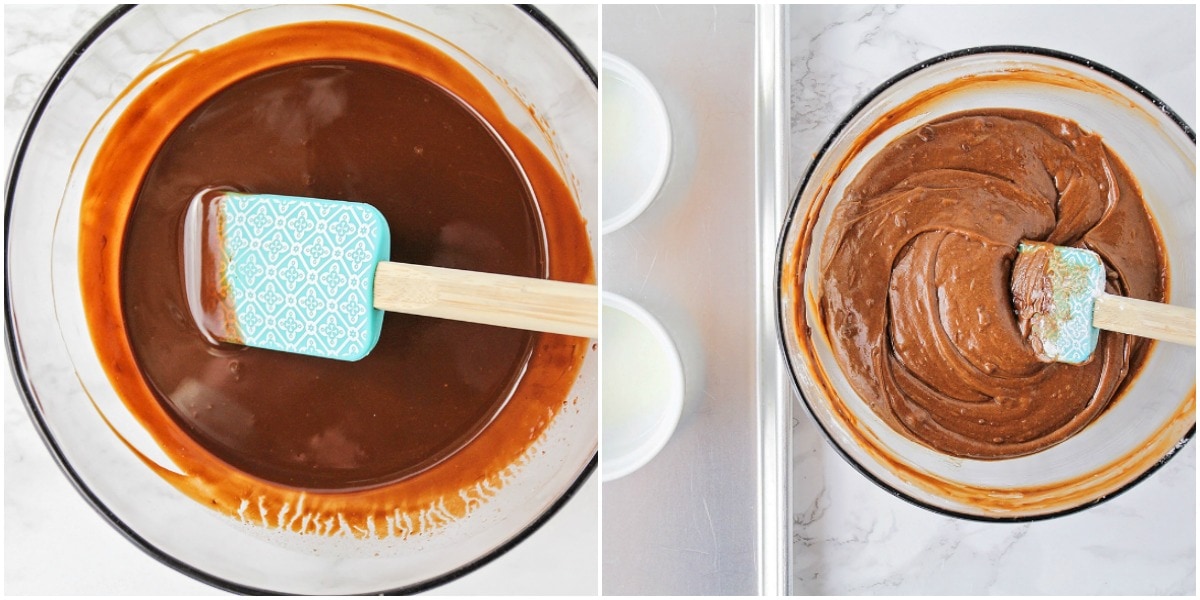 Next you'll add the eggs, egg yolks, and vanilla, and mix until smooth. Last, add the flour to the mixture, and mix until it is well combined and there are no lumps.
Divide it between four greased ramekins, and you're ready to bake!
Do you have to make lava cake in ramekins?
We highly recommend it! It helps give it that perfect cake shape and helps to bake it mostly and allow for the outside to bake well and the center to stay molten.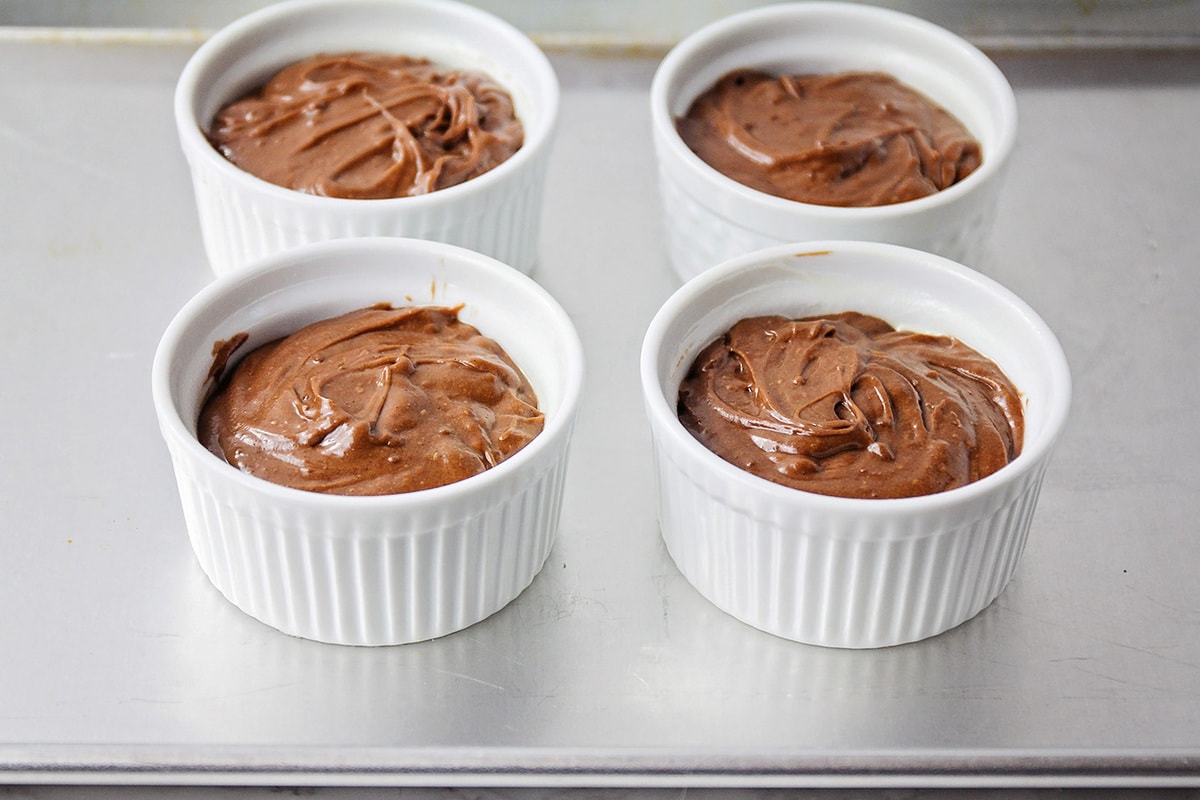 The cakes will puff up in the oven, but flatten slightly or even sink a little as they cool. It's a good idea to let them sit for 5-10 minutes so the molten middles can thicken slightly, and cool down.
These chocolate lava cakes are definitely best when they're warm and gooey, but if you want to make them in advance, you can just reheat them in the microwave for a minute or so, until the middles are melty again.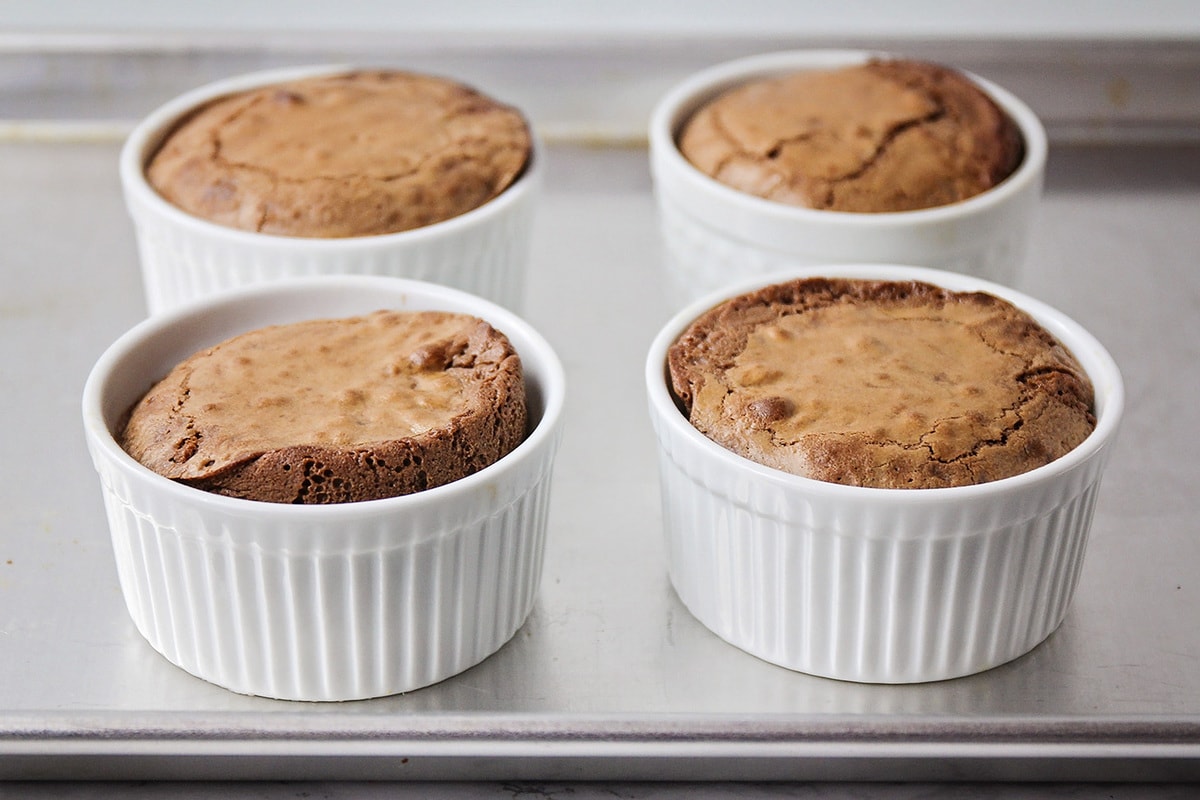 How to store lava cake?
If wanting to make the batter in advance, this can store in the fridge for up to 3 days before baking. Once baked, you can place in an air-tight container and keep in the fridge for up to 5 or 6 days.
Can you reheat lava cake?
Of course. Just place on a plate and reheat in the microwave for 30 – 45 seconds. If cake is frozen, reheat in 30 second bursts until heated through.
what to serve with molten lava cake?
My favorite way to eat this chocolate lava cake is sprinkled with powdered sugar and topped with fresh berries (strawberries, raspberries and blackberries are our favorites).
My husband loves it with vanilla ice cream on the side. You can also serve it with just powdered sugar and some lemon or orange zest. However you serve it, it's sure to be a hit.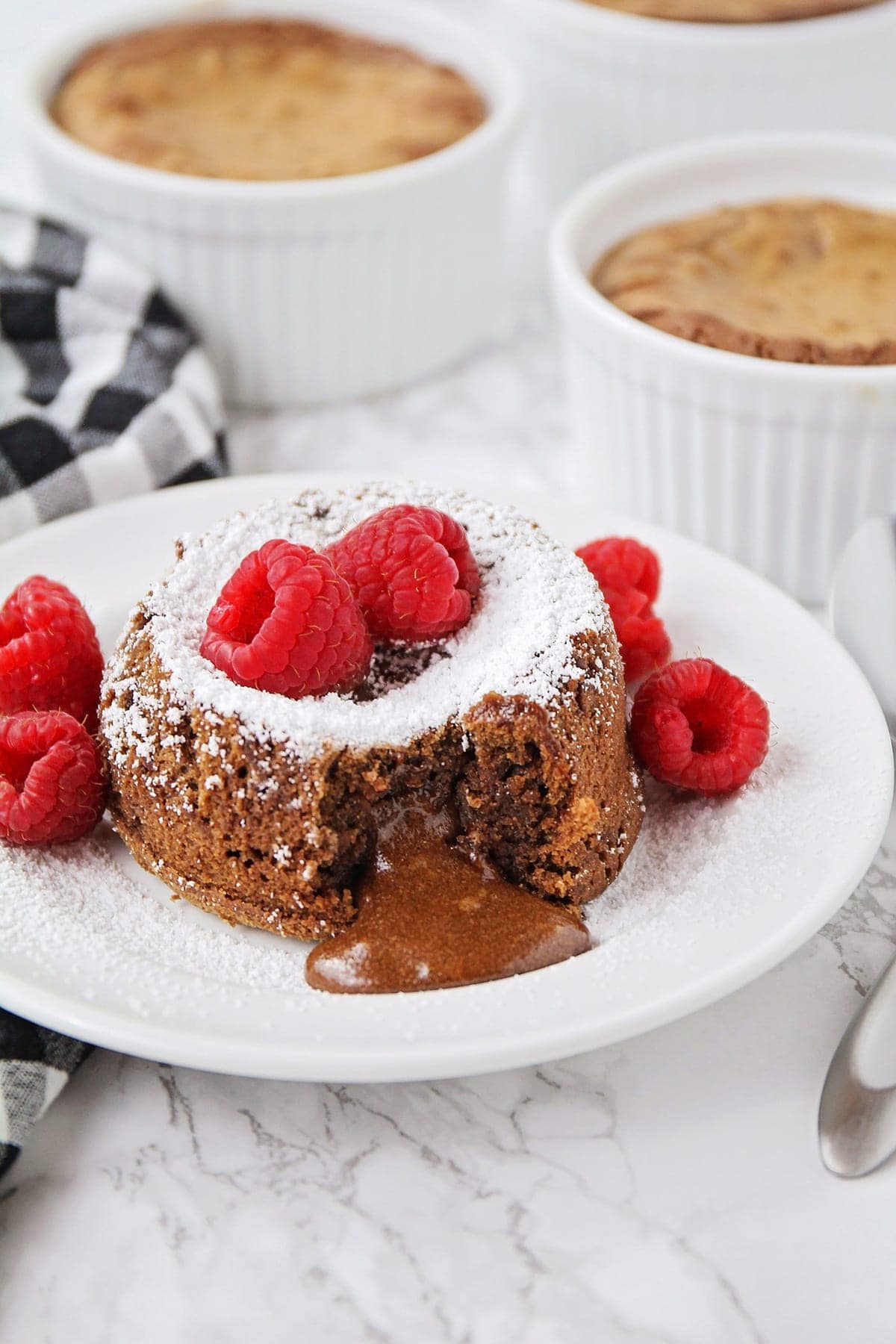 So delicious and perfect for company or date night in!
For more chocolate desserts, check out: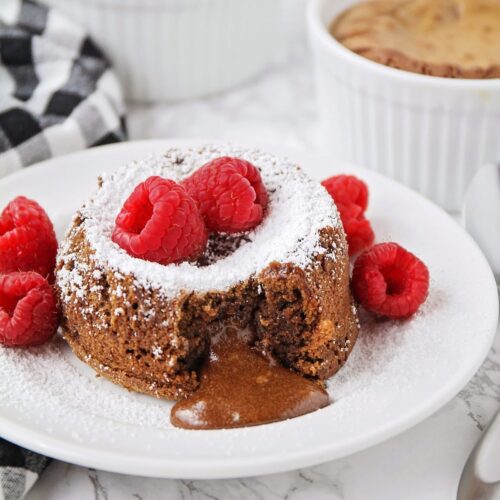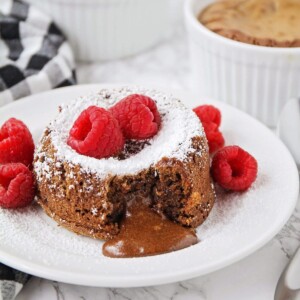 Chocolate Lava Cake Recipe
Delicious chocolate lava cakes that are delicious, decadent and made with just 6 ingredients. Perfect for company or a date night in, these cakes are made in just 30 minutes!
Ingredients
1/2

cup

butter

4

ounces

semisweet chocolate

chopped

1 1/4

cups

powdered sugar

2

whole eggs

3

egg yolks

1

teaspoon

vanilla

1/2

cup

flour
Instructions
Preheat the oven to 425. Spray four 6 ounce ramekins with cooking spray and place on a baking sheet.

Add the butter and chocolate to a microwave safe bowl. Microwave on high for one minute, or until the butter is melted. Remove the bowl from the microwave and stir until the chocolate is completely melted.

Add the powdered sugar and stir until combined, then add the eggs, egg yolks, and vanilla, and stir until smooth. Add the flour, and stir until combined. Divide the batter evenly between the ramekins.

Bake 13 minutes, then remove from the oven and let stand 5-10 minutes. Run a plastic knife around the edge of each cake to release it from the ramekin, then invert onto a plate.

Dust with powdered sugar and serve warm.