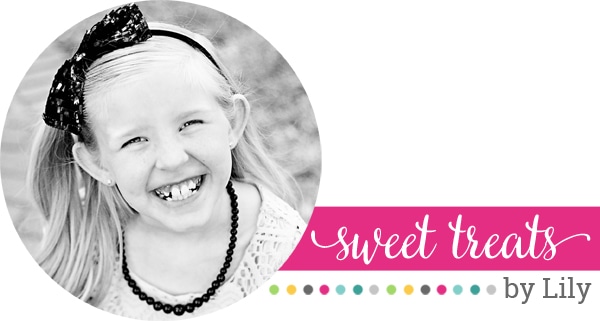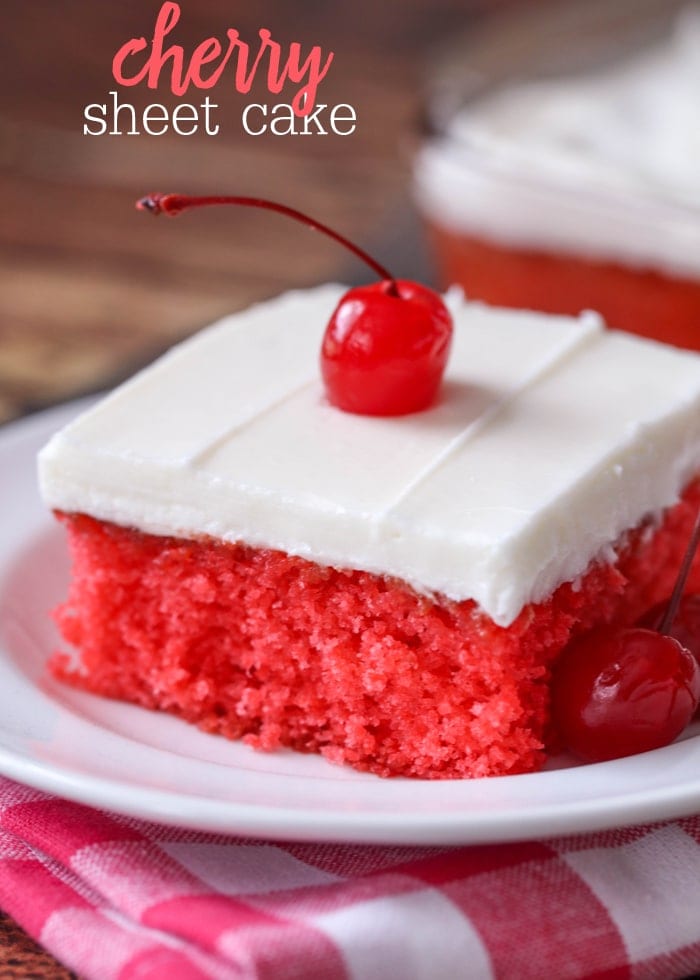 Hey guys! I mean, girls. 😉
It's me, Lily!
Have you seen the new Star Wars movie? The Force Awakens? I have – two weeks ago actually. It is AWESOME!! I love it so much I made a shape poem all about BB8. He's the new droid in the movie. My favorite person in the movie is Rey. She's a scavenger from Jakku who realizes she has the force. She's kind of the main character. The movie is PG-13, and I can't watch those movies until I'm older, so my parents rented it on VidAngel which edits the movie and takes out all the bad words and violet parts, so your kids can watch it. I also read the book of the movie so I knew when they took out a violent part. 😉 I think you'll love it!
Speaking of things you'll love, I think you'll REALLY like this Cherry Sheet Cake. My favorite part is all of it because I love cherries. I really like the frosting because my mom put in her favorite ingredient: almond extract!! We also put in love which makes it really good. 😀 We have tried a lot of fruity cakes recently, but this one has to be my favorite. My second favorite is Fruit Pizza – it's so good!! If you love cherries, then you gotta try this dessert. It's AMAZING!
Here's the recipe:

Cherry Sheet Cake
Ingredients
1 package white cake mix
3 eggs
¾ cup oil
½ cup water
3 oz. cherry instant JELL-O
1 - 10-12 ounce jar (drained) of maraschino cherries
Almond Buttercream Frosting:
¼ cup butter, softened
4 ounces cream cheese, softened
2 teaspoon almond extract
3 cups powdered sugar
2-3 TB milk
Instructions
Preheat oven to 350.
Begin by adding your cherries to a blender or food processor and blending.
Mix cake mix, eggs, oil and water in a large bowl until well blended. Add JELL-O mix and pureed cherries. Mix well.
Pour into a greased 9x13 pan.
Bake for 30 minutes.
Let cake cool.
While cake is cooling make frosting by creaming together the butter and cream cheese. Add powdered sugar, almond extract, and milk - blend well. Frost cake. ENJOY!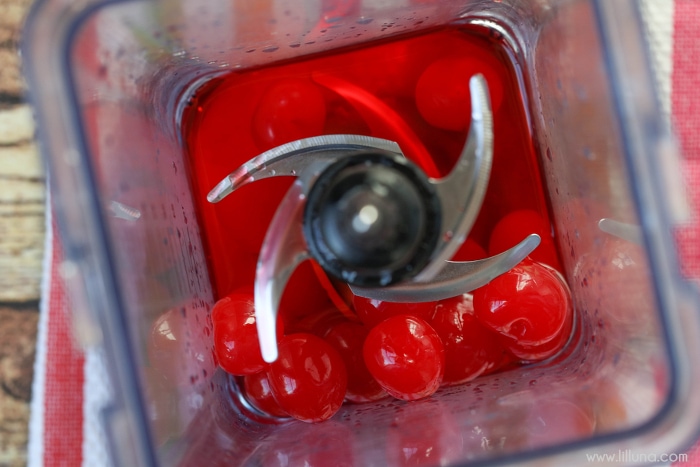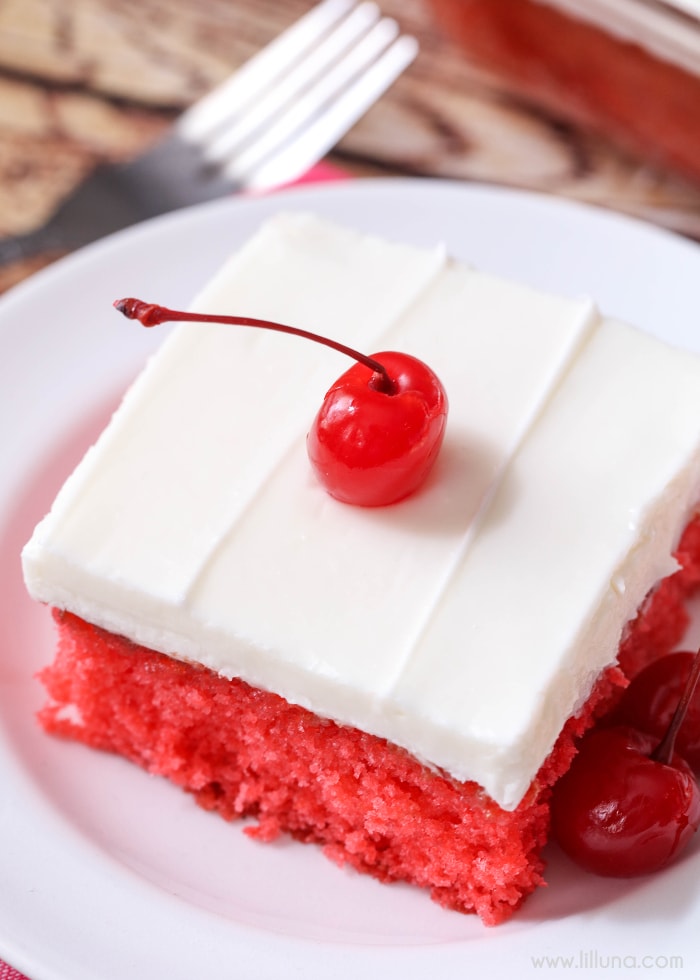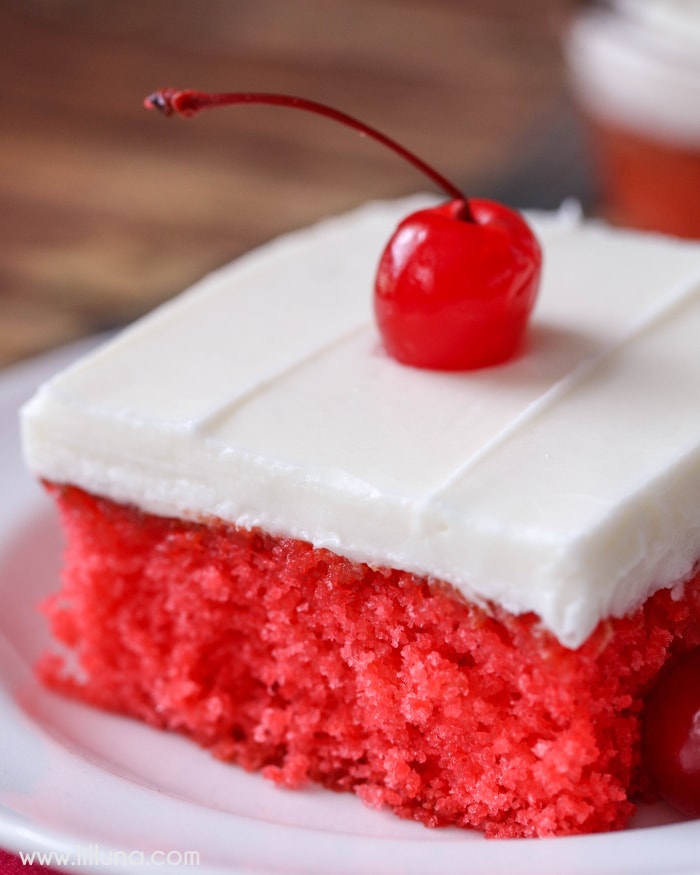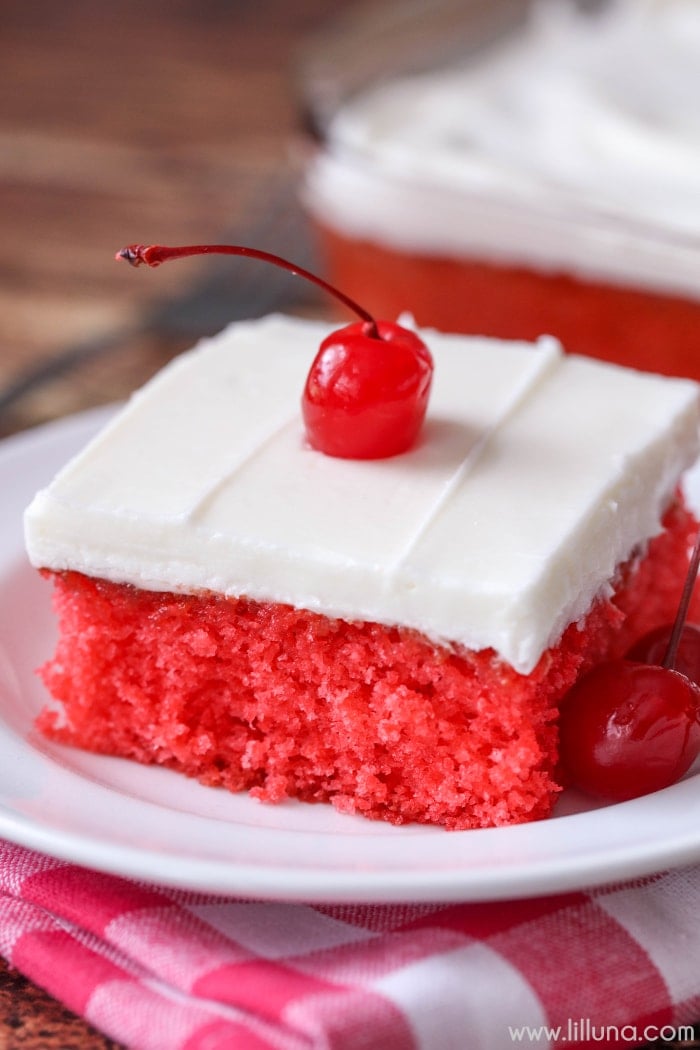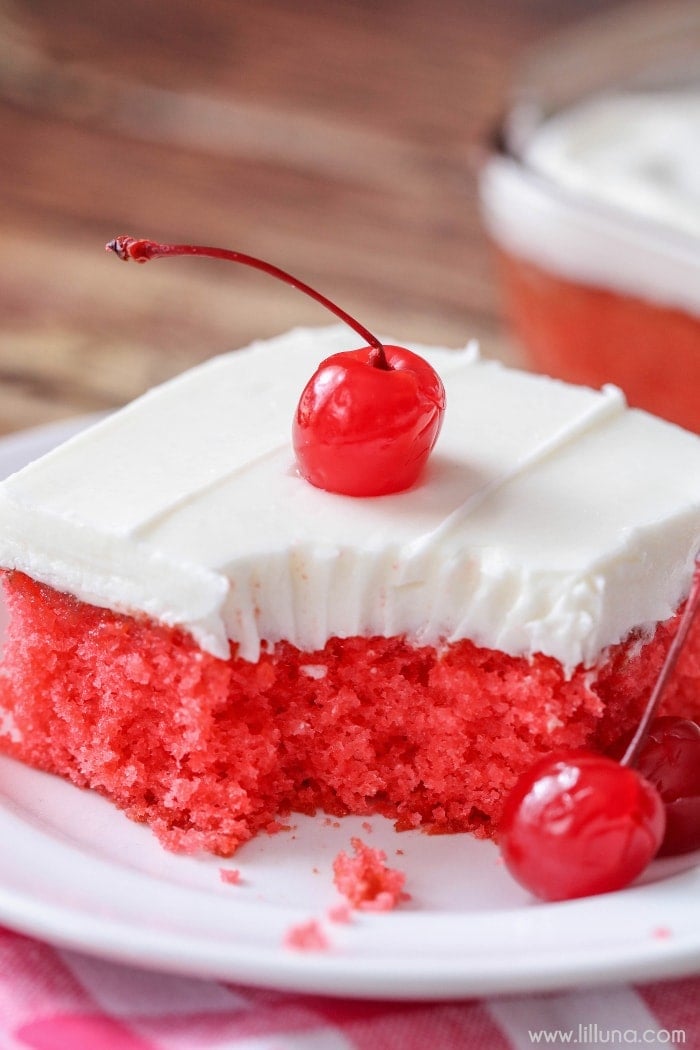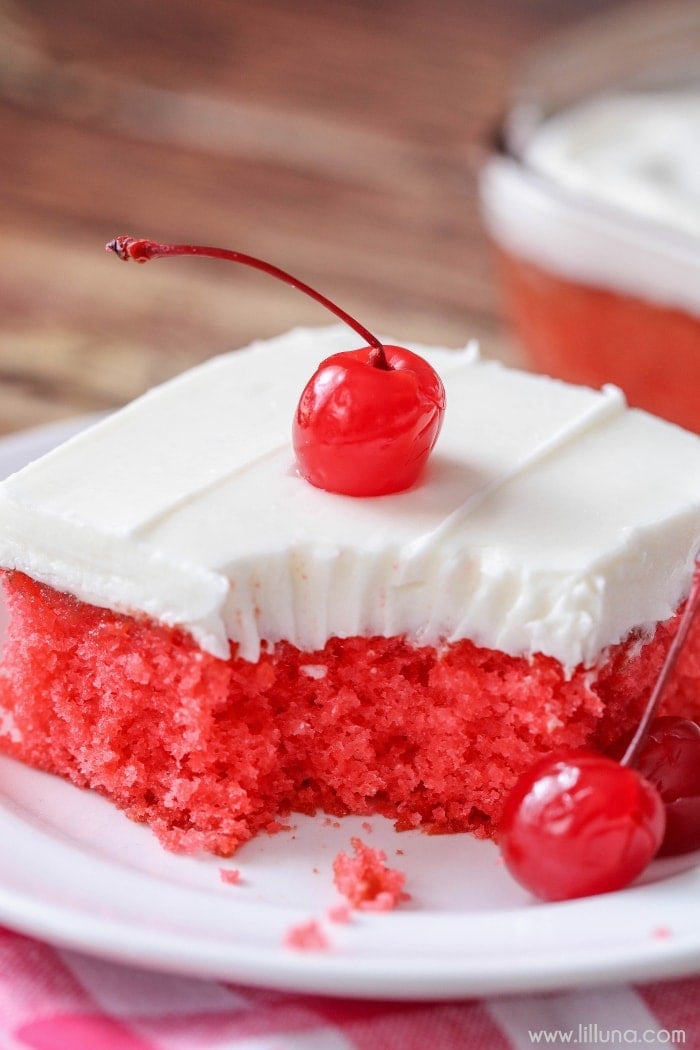 YUMMY!
MY OTHER RECIPES
I hope you can come back again soon for more yummy treats from me.
Love, Lily
——————————————
For more cherry recipes, check out: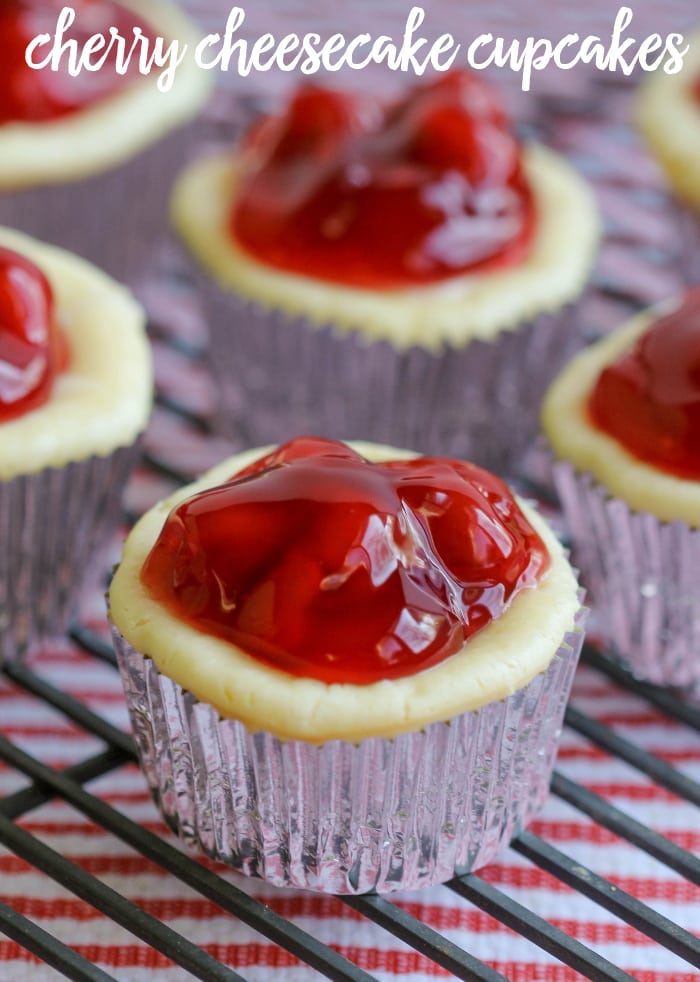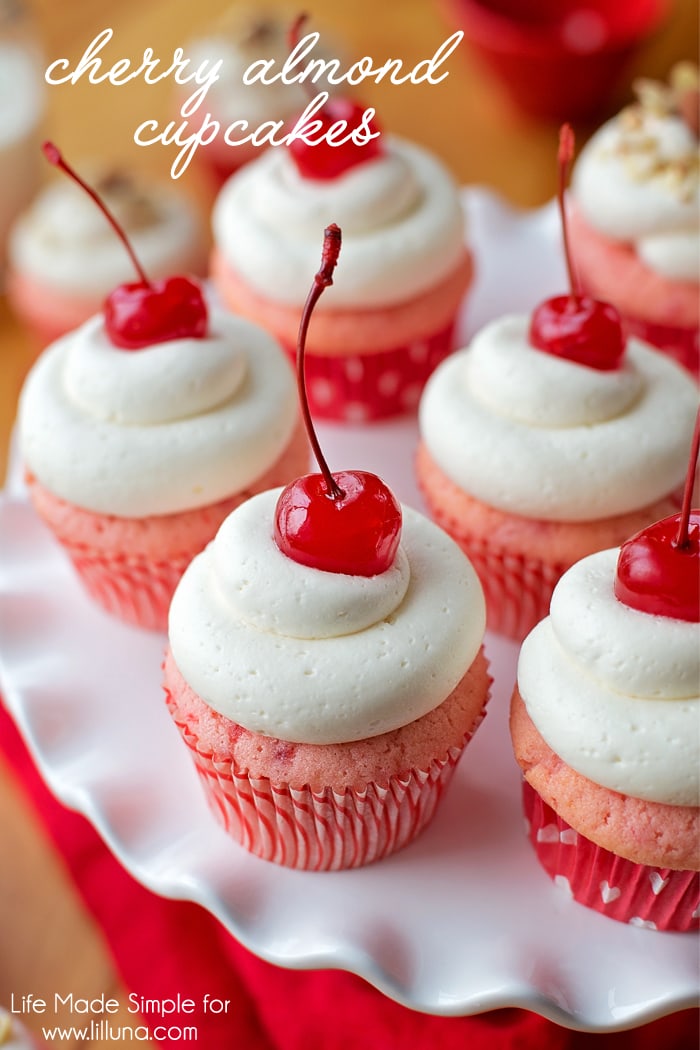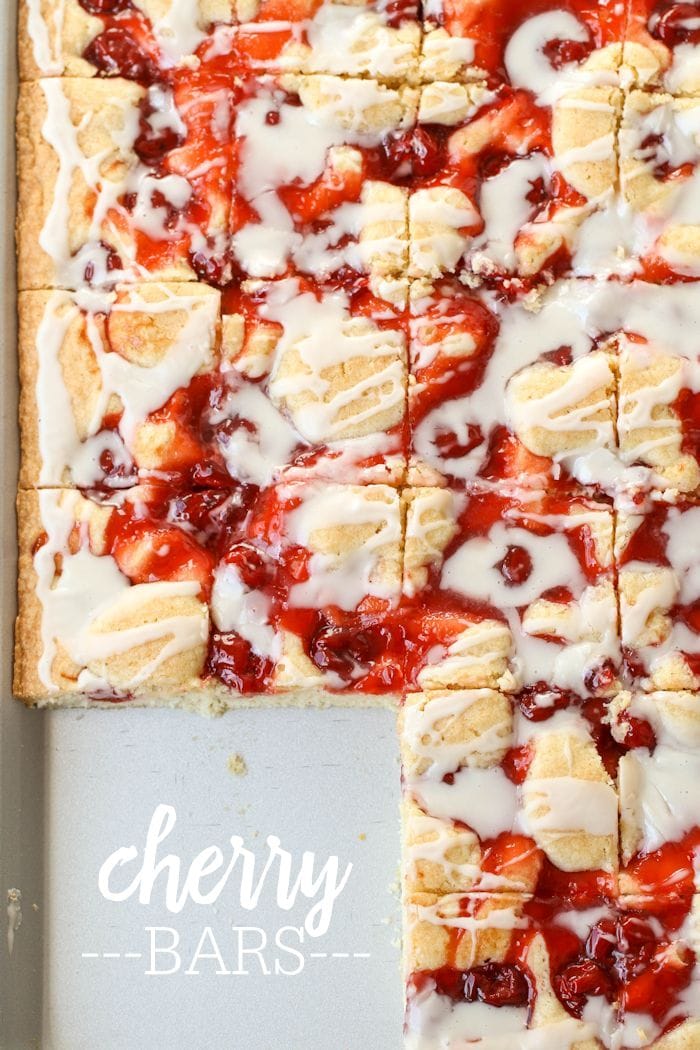 Hope you have a great time making this. I hope your kids love it just as much as we do!!
For all Sweet Treats by me go HERE.
For all Dessert recipes go HERE.
And get weekly emails with monthly freebies by signing up for the Lil' Luna newsletter. 🙂
For even more great ideas follow my mom on Facebook – Pinterest – Instagram – Twitter – Periscope – Snapchat.
Love, Lily!