I LOVE baking! The creativity and fun that comes with baking is just so exciting to me! You can take a cupcake and make it a million different ways with a million different varieties of ingredients. The possibilities really are endless. I love all the Yummy Cupcakes Kristyn has, like the Follow the Rainbow cupcakes and the Raspberry Lemonade Cupcakes. Drooooooling!
Today's cupcake recipe is not complicated and oh so delicious. If you love cheesecake, you will love these little bites of cheesecake heaven. You know by now that I'm a big chocolate lover. Sometimes a slice of plain cheesecake is just a bit blah for me. These cupcakes however are the perfect amount of a yummy, you just cant go wrong!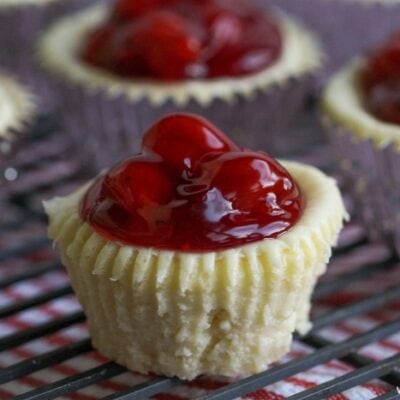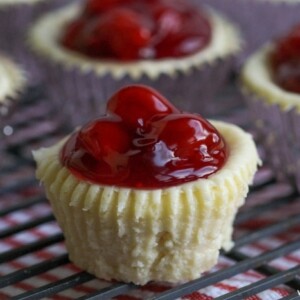 Cherry Cheesecake Cupcakes Recipe
Simple and DELICIOUS Cherry Cheesecake Cupcakes - a great dessert perfect for any occasion! Bites size treats made with sour cream, sugar, vanilla, cream cheese, and eggs topped with delicious cherry pie filling!!
Ingredients
24

oz

cream cheese

softened

1 1/2

cups

sugar

divided

1 1/2

tsp

vanilla extract

divided

5

eggs

1

cup

sour cream

1 1/2

cups

cherry pie filling
Instructions
In a large bowl, beat cream cheese, 1 cup sugar and 1 tsp vanilla until smooth. Add eggs, one at a time, beating after each addition. Spoon into foil-lined muffin cups

Bake for 25-30 minutes at 300°. Toothpick inserted in the center should come out clean. Cool for at least 5 minutes.

In a small bowl, combine sour cream and remaining sugar and vanilla until smooth. Spoon on top of cupcakes. Bake for an additional 6-8 minutes, until set. Cool for 10 minutes before moving to wire racks to cool.

Top with pie filling. ENJOY! Store in the refrigerator.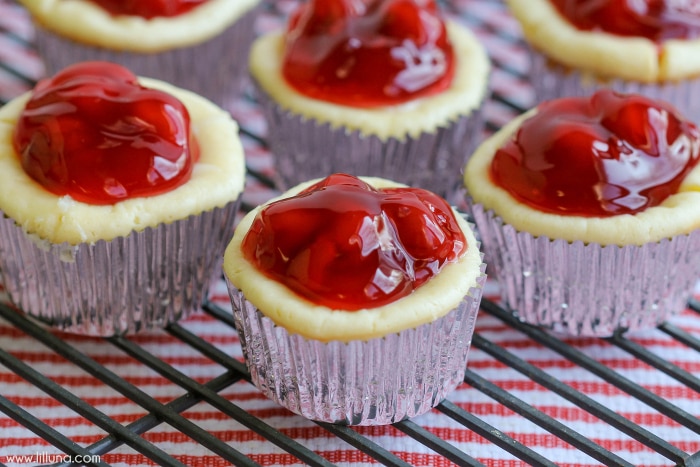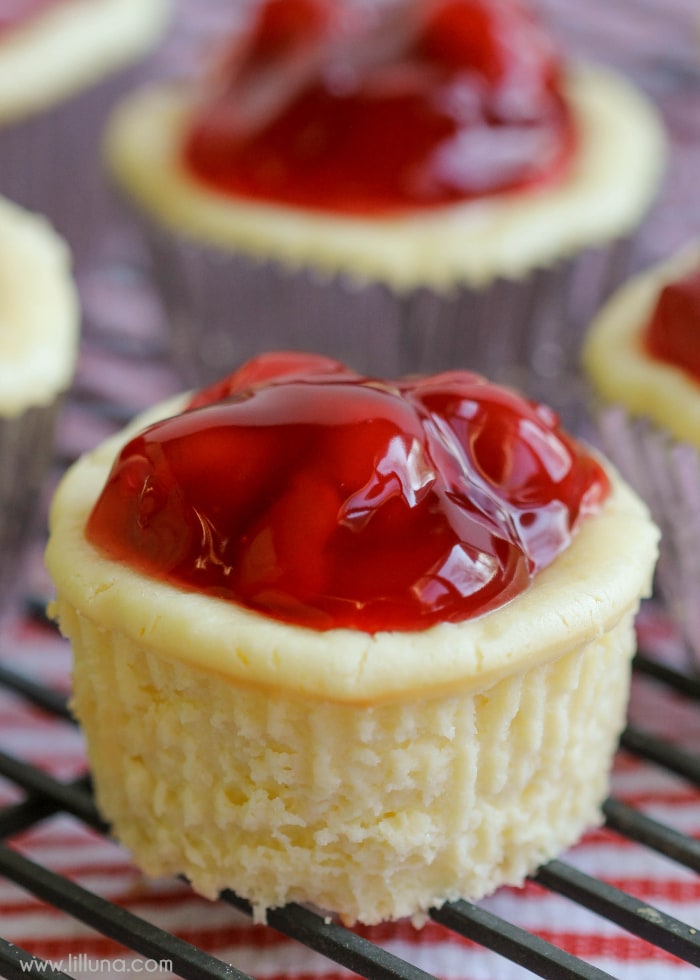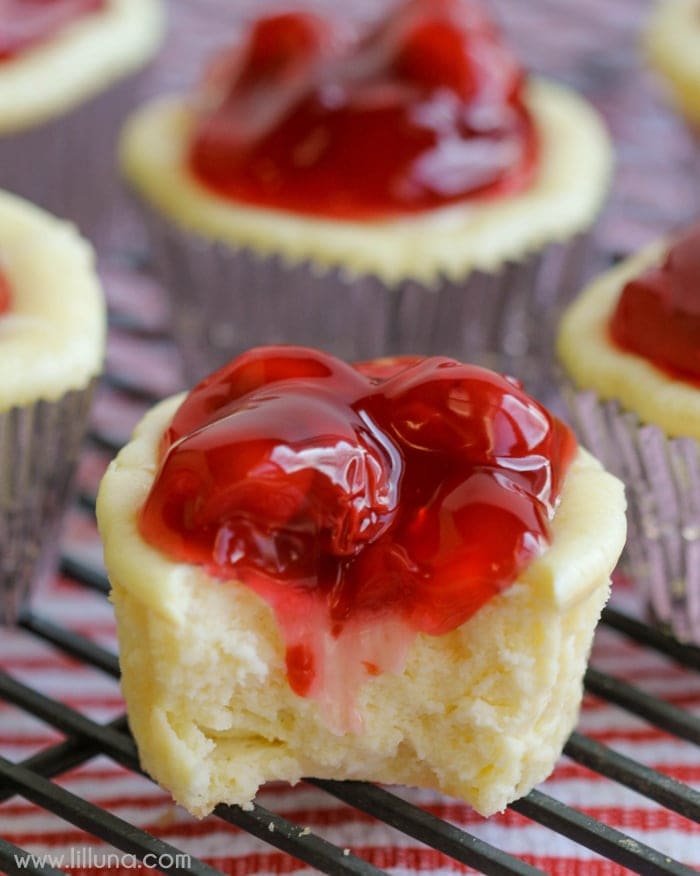 My mom made these this time around (she's the bomb). Next time I'm going to try them out and I think I'll add a graham cracker crust to the bottom. She suggested using Almond extract next time too which I think is a great idea! If you're feeling brave, try making them with these changes and let us know how they turned out. Good luck and as always, ENJOY!
DIFFICULTY: Simple
HOW MANY DOES IT FEED: 18
ANY CHANGES MADE: we decided to try this as is
ANY SUGGESTIONS FOR NEXT TIME: Next time, we're going to use almond extract in place of the vanilla. We also might add a graham cracker crust. Yum!
For more great cheesecake recipes check out: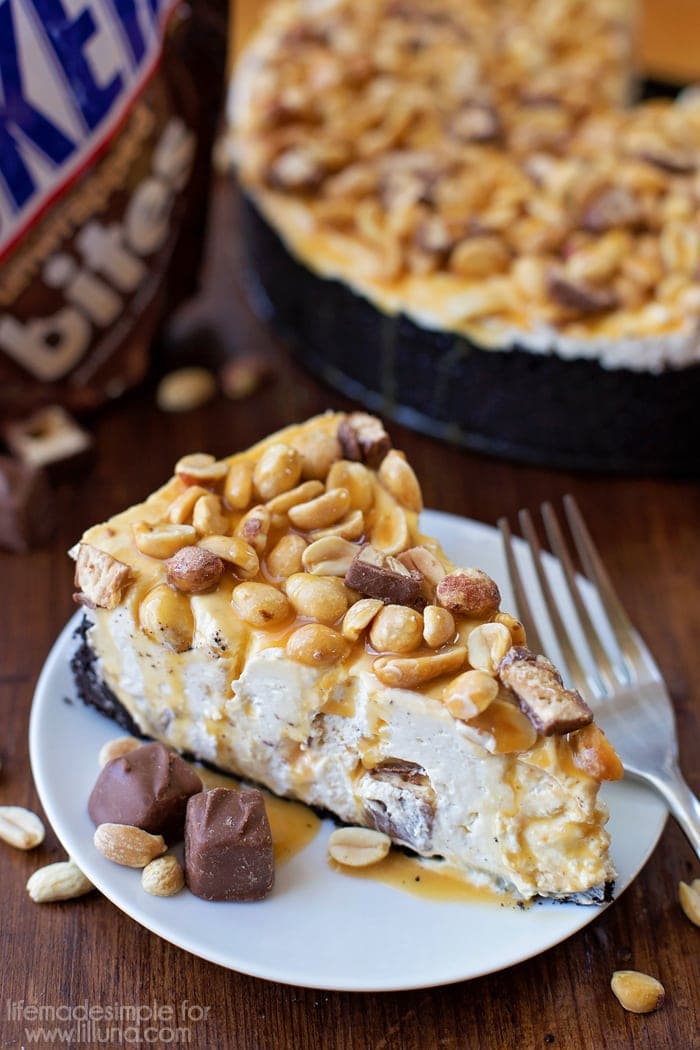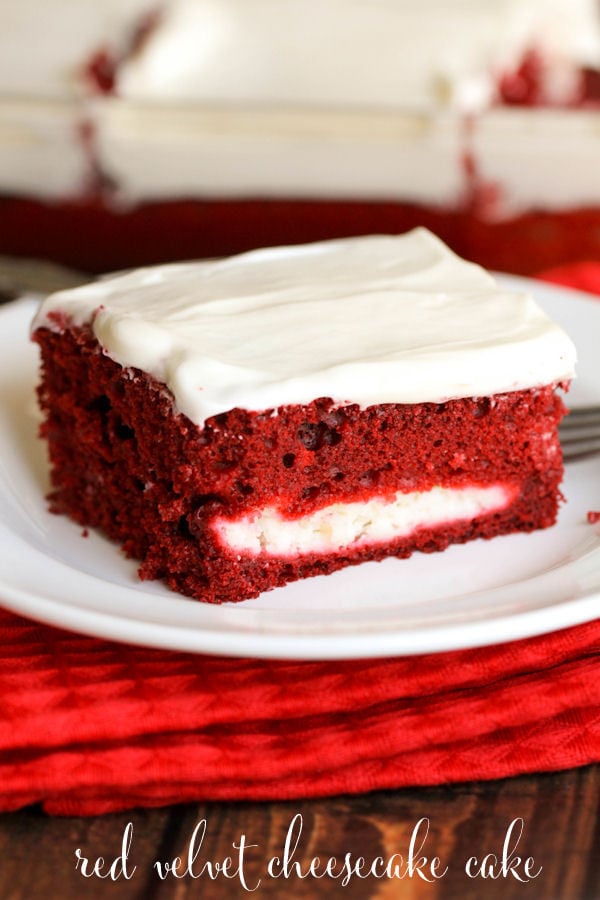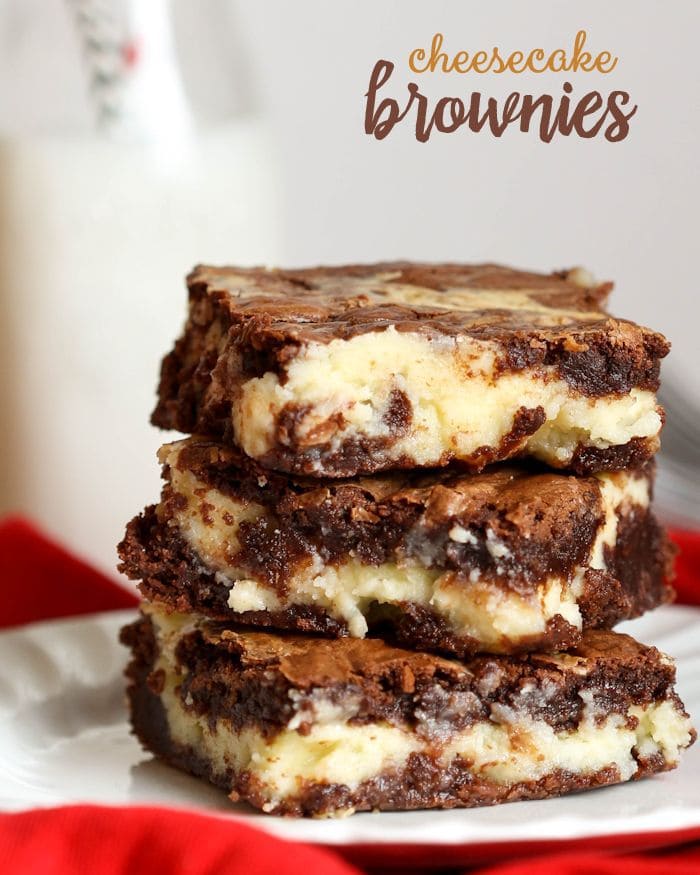 For all dessert recipes, go HERE.
For all recipes, go HERE.
And get weekly emails with monthly freebies by signing up for the Lil' Luna newsletter. 🙂
For even more great ideas follow Kristyn on Facebook – Pinterest – Instagram – Twitter – Periscope.
ENJOY!
Pictures for this recipe were taken by our sister, Tara.