Whether you fill them with a fruit puree, dice up a fruit topping, or infuse the flavor with Jell-O, these cakes with fruit pack a punch! Enjoy this collection of sweet and fruity cakes!
More Collections: Easy Cake Recipes, Holiday Cakes, Chocolate Cakes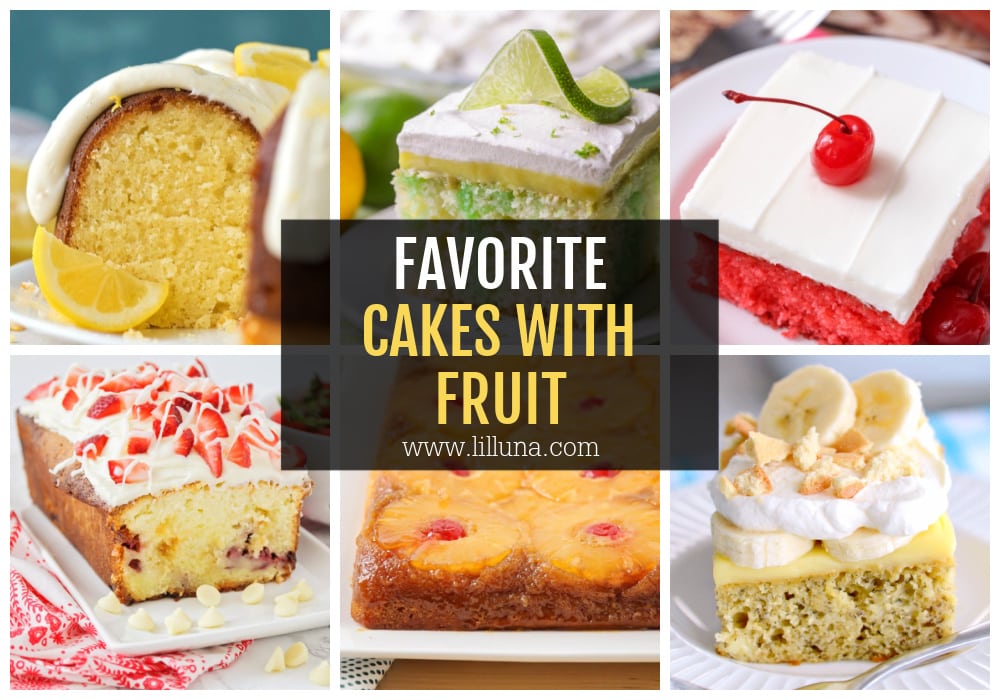 Flavorful and Fruity Cakes
Fruit is a great way to lighten up any dessert, and spongy cakes are the perfect pairing!
Cakes with fruit are musts in the spring and summer, but these sweet treats are great for any time of the year.
Below in this collection, you'll find several recipes that are fruit flavored, topped with fruit, or filled with fruit! From fresh berries to bananas, and lemons to pineapples, there's a fruit cake recipe for every fruit lover.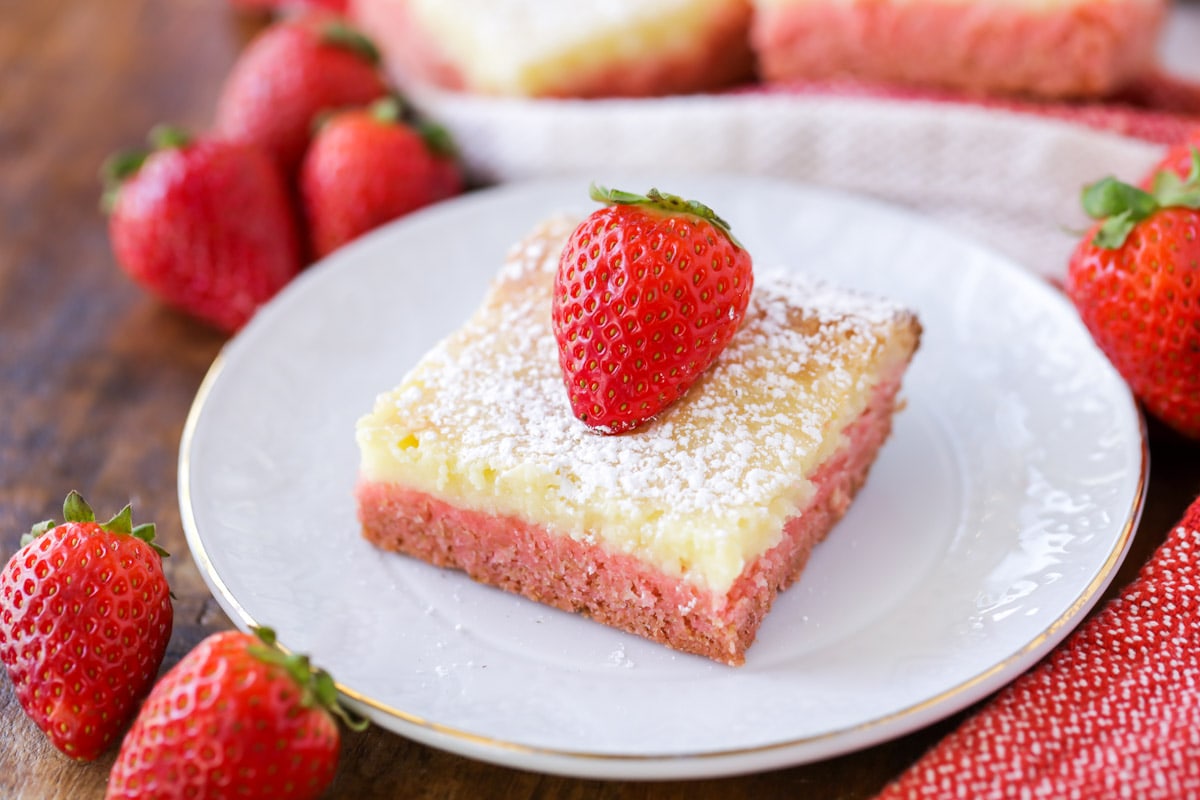 Using Seasonal Fruit
Fruit in season will be perfectly ripe and is usually sold at a lower price than when not in season. If you can't grow your own fruit at home, then the next best thing is your local farmers' market.
In general, here's a list of fruits available in each season:
Spring. Apricots, cherries, honeydew, jackfruit, mango, lychee, oranges, pineapple, rhubarb, strawberries, peaches, plums, bananas, kiwi, rhubarb, and lemons.
Summer. Banana, pears, berries, melons, grapes, cherry, figs, citrus fruits, lychee, stone fruit, mangoes, pineapple, passion fruit, apples, nectarines, apricots, peaches, and plums.
Autumn. Asian pear, cactus pear, gooseberries, grapes, huckleberries, passion fruit, pineapple, apples, persimmons, pomegranate, pumpkin, apple, apricots, and peaches.
Winter. Apples, pomegranate, bananas, cranberry, lemon, lime, orange, clementine, grapefruit, dates, kiwi, pears, red currents, cactus pear, and persimmons.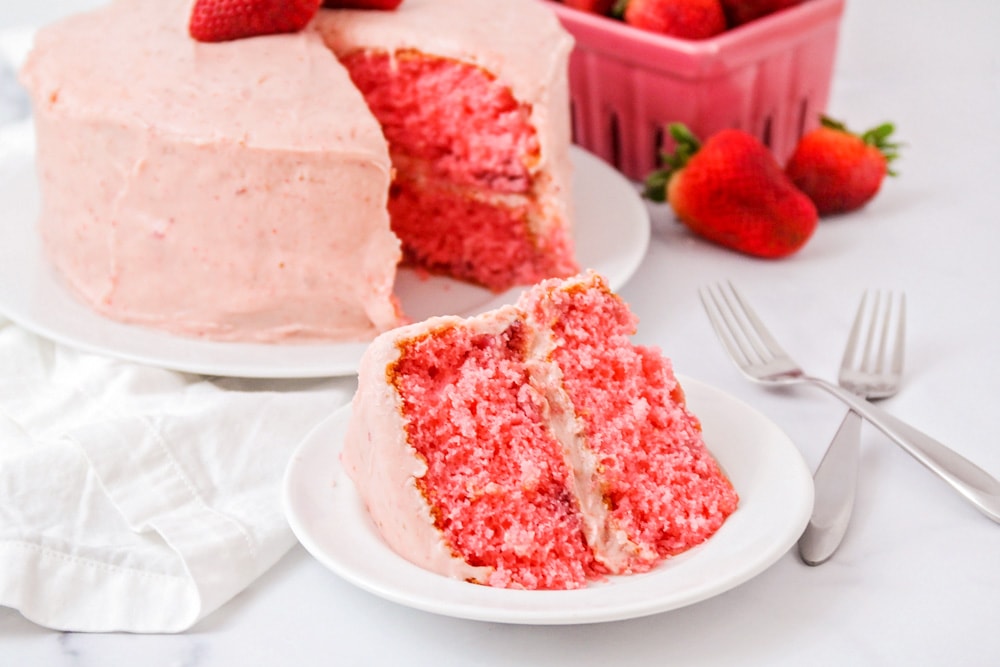 tips for using fruit in cakes
Whether you are baking the fruit or simply using fruit as a garnish, here are a few tips to keep in mind.
Frozen fruit. Most recipes call for fresh fruit, but sometimes frozen fruit is what is available. Most often frozen fruit can be used, just be sure to thaw the fruit and drain the extra liquid, or you will end up with a mushy and wet dessert.
Fresh fruit. Especially when sliced, it can yield juices that may soak into the cake. Adding cream frosting onto a cake before topping can help keep the cake from getting soggy.
Cutting fruit. Prepare and cut the fruit so that it is uniform in size and shape, especially when baking so that the dessert bakes evenly with a uniform texture.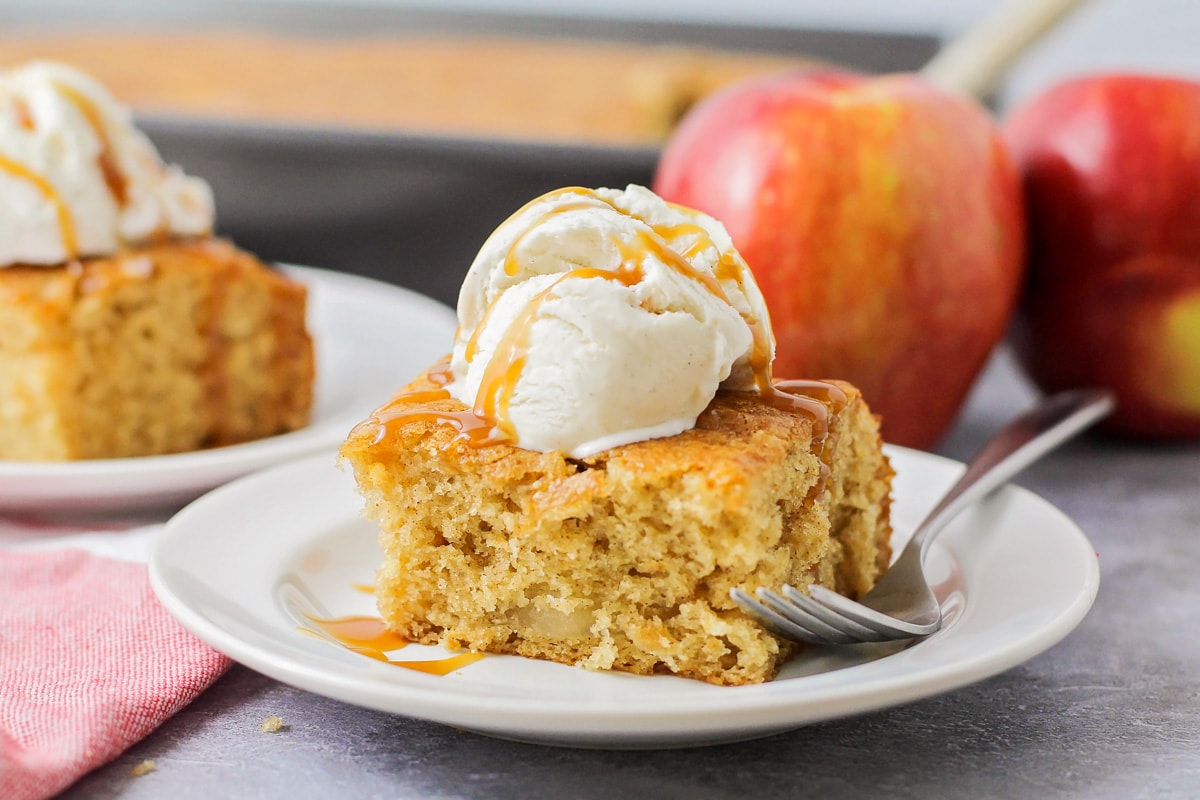 Wait to add. Since fruit often weeps after a period of time, wait to add the fruit topping to the cake as close to the serving time as possible.
Treat fruit. Treat fresh-cut fruit with Fruit Fresh Powder, or dip it in diluted lemon juice. These treatments help keep the fruit from discoloring.
How to keep fruit from sinking in batter. If you are making a cake that calls for adding fruit to the batter, I suggest you lightly toss the fruit in all-purpose flour, or even a spoon full of the dry cake powder before you fold it into the cake batter. The thin coat of flour will help keep the fruit from sinking to the bottom.
Adding fruit to classic recipes. Sponge cake and Angel Food Cake often display a beautiful fruit topping. Classic Chocolate Cake or Vanilla is perfect for adding fresh fruit in between the cake layers.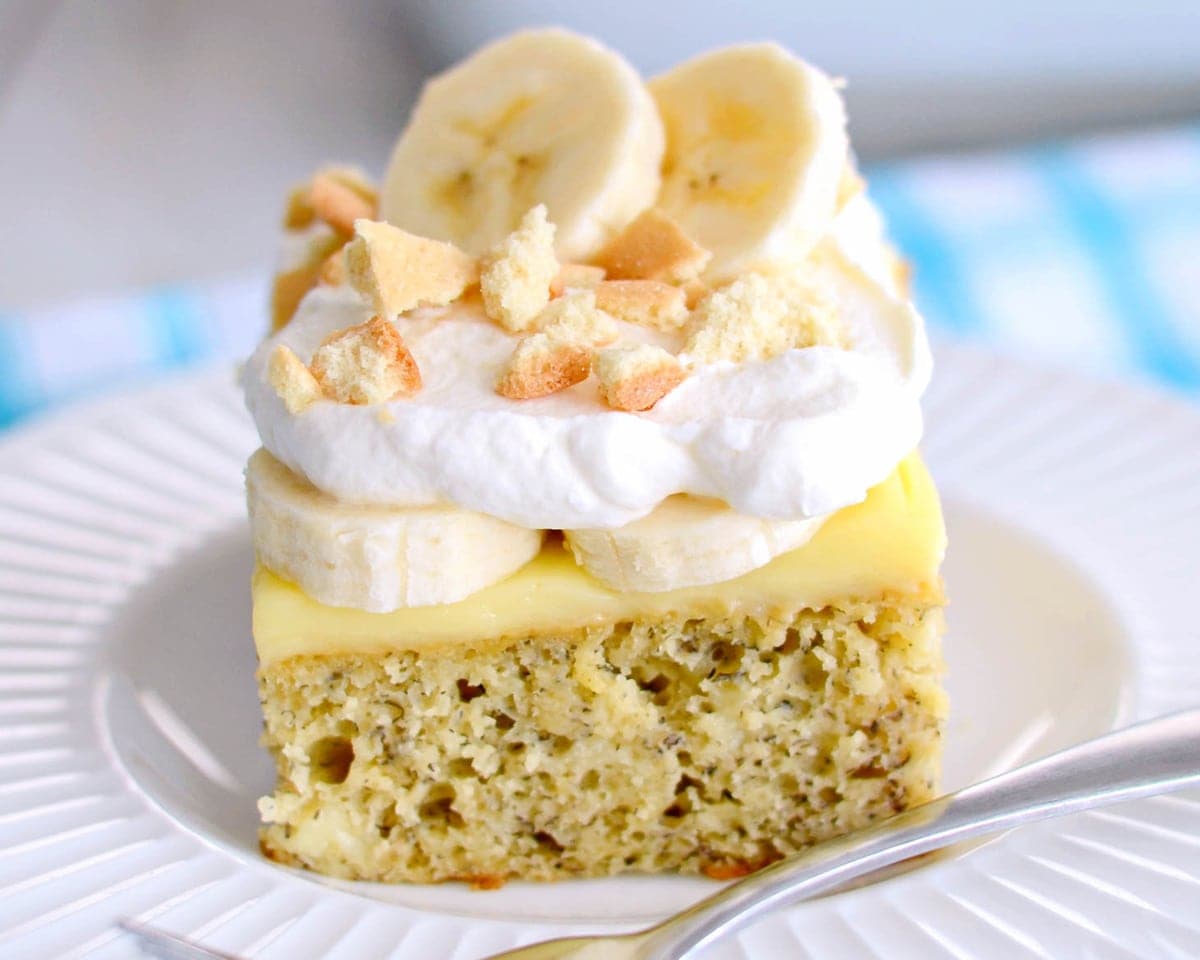 tips for topping cakes with fruit
Coat with preserves. If your fruit is layered in a way that it completely covers the top of the cake, you can brush a thin layer of warm fruit preserves on top. Not only does it give the fruit a nice sheen, but it helps keep the fruits from drying out.
Individually brush the fruits with the preserves before placing them on the cake.
Warm apricot jam works well for yellow fruits.
Warm red currant preserves work well to brush over red fruits.
Neutral flavored glaze can also work. This glaze is often found in the produce section at the market.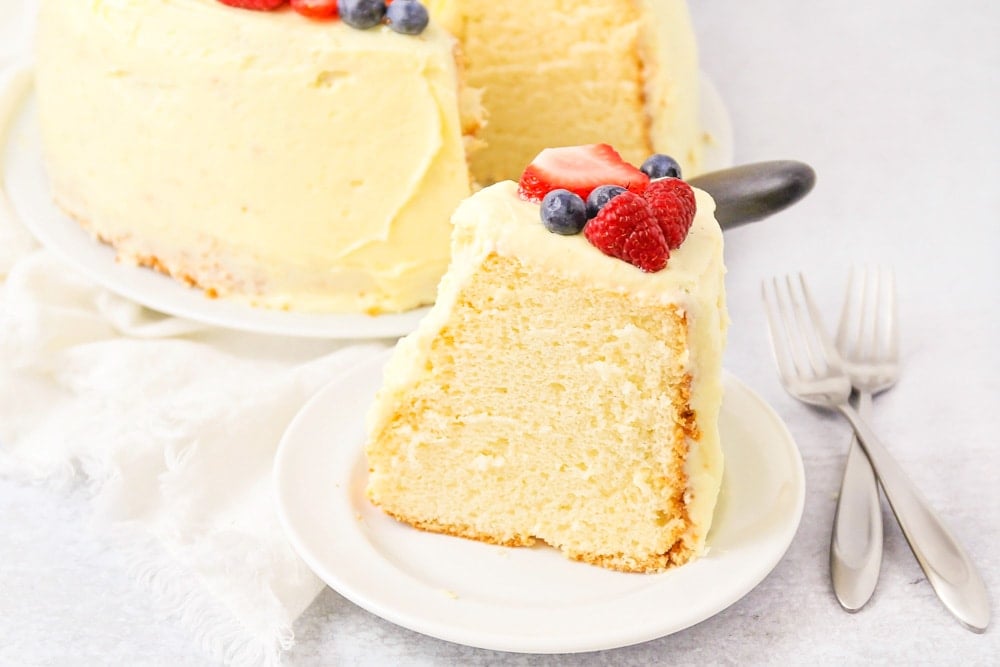 Frosted appearance. Another beautiful way to present fruit is to give it a frosted appearance. This would be perfect for Christmas fruit cakes, or for a special occasion.
This works best for uncut fruits such as grapes, whole strawberries, blueberries, raspberries, etc.
In a bowl add the egg white from a pasteurized egg and beat.
Sift extra fine powdered sugar into a separate bowl.
Dip the fruit into the egg white and then into the sugar
Place the fruit on parchment paper to dry.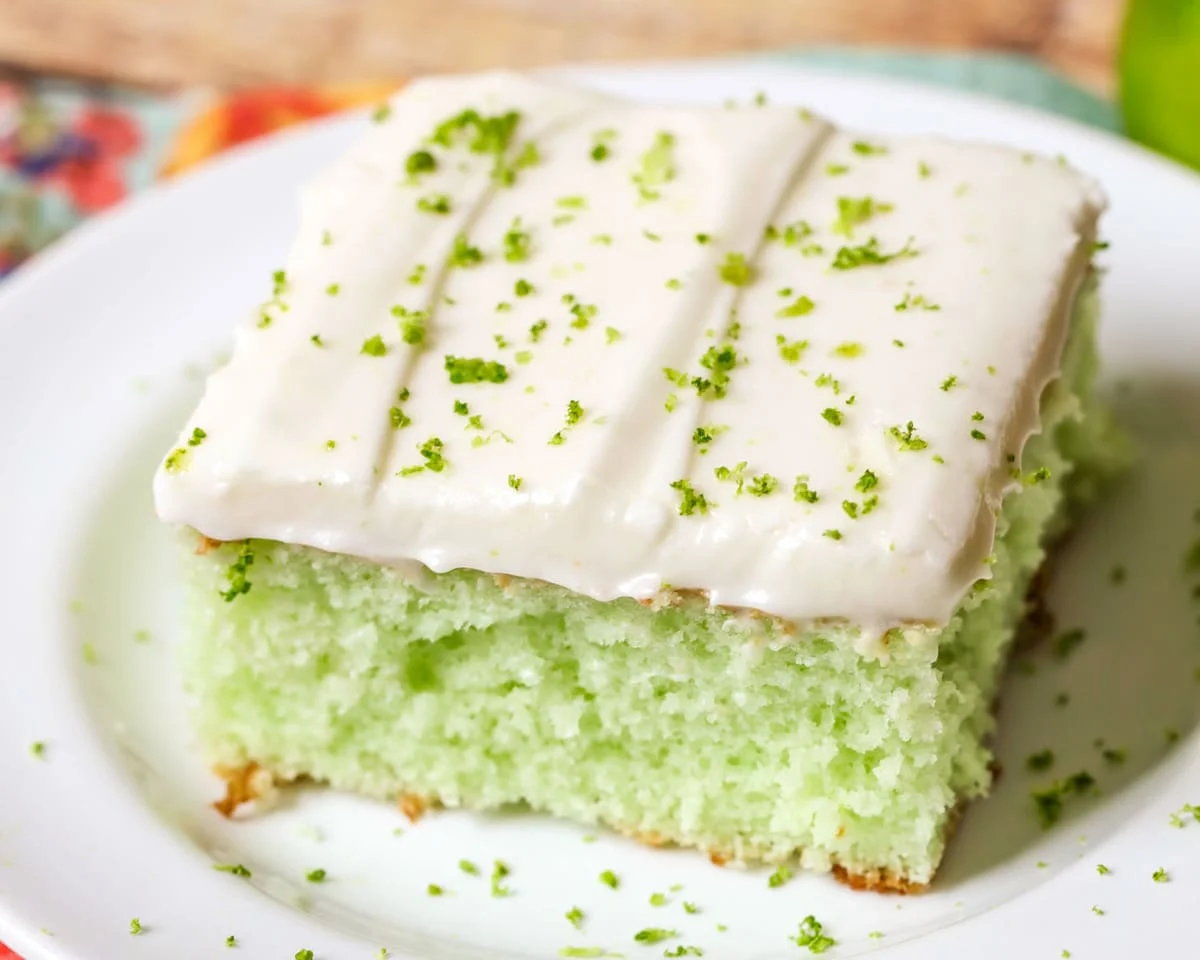 Storing Cakes with Fruit
ROOM TEMPERATURE. If the fruit topping is cooked and doesn't include eggs, then you can safely store the cake at room temperature for up to 2 days.
CHILL. Cakes with fresh fruit on top or a fruity-filled middle should always be stored in the refrigerator. It may be prudent to remove the fruit topping before storing it.
Never FREEZE cake with a fresh fruit topping. If it is possible remove the fruit and warp the cake with plastic wrap and again with foil before freezing. See the individual recipe for specific storage instructions.
---
Best Cakes with Fruit
There's something here for everyone regardless of what your fruit of choice is—lemon, lime, strawberry, blueberry, even pineapple and banana! We've got you covered!
Coconut Cake
This Coconut Cake is made from scratch, and topped with a scrumptious cream cheese frosting that is so addicting. The toasted coconut topping gives it an incredible flavor, making it a dessert to enjoy all year long!
Pineapple Upside Down Cake
Pineapple upside down cake is a classic dessert that is so soft and moist, filled with the perfect amount of pineapple flavor!
Lemon Buttermilk Cake
Lemon Cake is baked with a lemon zest and topped with a delicious lemony glaze. It is refreshing with the perfect amount of sweetness!
Lemon Bundt Cake
This is the most delicious and moist Lemon Bundt Cake recipe! It is covered in a sweet lemon glaze and topped off with an amazing cream cheese frosting with lemon zest, making it irresistible.
Strawberry Pound Cake
Strawberry Pound Cake, with fresh strawberries and a beautiful white glaze, will be your perfect solution for the spring and summer dessert season.
Apple Cake
This Easy Apple Cake is extra moist and filled with cinnamon and apples. Top it off with ice cream and caramel sauce for the perfect fall treat!
Strawberry Sheet Cake
This strawberry sheet cake is especially tasty made with fresh pureed strawberries and topped with an amazing homemade strawberry frosting!
Key Lime Cake
This super easy key lime cake is bursting with fresh lime flavor and topped with whipped cream. It's a delicious summer cake recipe, and if you love key lime pie – then definitely give this recipe a try.
Lemon Sheet Cake
This super moist and delicious Lemon Sheet Cake recipe topped off with a tasty lemon buttercream frosting is our new favorite dessert, and it's perfect for feeding a crowd!
Strawberry Cake
Sweet strawberry cake is so beautiful and really delicious! If you like strawberries, you will love the strong strawberry flavor in this moist and fluffy cake.
Cherry Dump Cake
Everyone loves a good Dump Cake recipe! This one is filled with cherry pie filling, crushed pineapples and is topped with cake mix, walnuts and butter!
Lime Sheet Cake
Perfectly moist lime cake, topped with a homemade lime buttercream frosting, and sprinkled with lime zest! Just the right balance of citrus and sweet in this yummy sheet cake. It's easy, refreshing, and great for feeding a crowd!
Strawberries And Cream Angel Food Cake
Strawberries and Cream Angel Food Cake – a sweet and delicious dessert filled with a creamy layer and topped with strawberries. It's so simple and so delicious!
Strawberry Butter Cake
Easy layered Strawberry Butter Cake whips up with only 5 minutes of prep. It's a family favorite that can be enjoyed all year long!
Banana Pudding Poke Cake
This Banana Pudding Poke Cake has all the flavors of banana cream pie, just in cake form. With layers of banana cake, pudding, cream, bananas, and vanilla wafers, it's sure to be a hit!
Lemon Lime Poke Cake
Lemon Lime Poke Cake is full of lime flavor, topped with creamy lemon pudding and topped with whipped cream and zest!
Easy Berry Ice Box Cake
Easy Berry Icebox Cake is simple, light and full of fresh summer berries. It'll disappear in seconds at your next get together!
Cherry Sheet Cake
Moist Cherry Sheet Cake is topped with a homemade almond buttercream frosting. It is easy and SO delicious!!
Easy Peach Dump Cake
3 ingredients Peach Dump Cake is quick, simple, and utterly tasty. It is warm, gooey, and perfectly peachy!!
Blueberry Dump Cake
This easy blueberry dump cake is made with only 3 ingredients! With a layer of juicy blueberry pie filling and a buttery topping, it's perfect with a scoop of vanilla ice cream.
Angel Food Cake
This easy angel food cake is a must-try. It's tender and light as air, with the perfect amount of sweetness and perfect to enjoy all year long.
Jello Poke Cake
Cake with jello drizzles poked throughout, and topped with a smooth layer of whipped cream! This light and cool Jello Poke Cake recipe is always a crowd favorite.
Angel Food Cupcakes
Fluffy and light Angel food cupcakes are the tastiest dessert—especially with a pineapple flavored whipped topping. Perfect for showers, family dinners, or a girls night with friends!
Chiffon Cake
Chiffon cake is moist and airy-like sponge cake with delicate flavor. our version is light and is topped with a citrusy frosting with berries.
Strawberry Shortcake Poke Cake
This Strawberry Shortcake Poke Cake is the perfect cool and refreshing dessert. Yellow cake with strawberry gelatin poked throughout, topped with a delicious whipped topping and fresh strawberries – everyone loves this strawberry poke cake!
---
The best cakes with fruit
We hope you enjoy trying some of these delicious cakes with fruit. They are sure to make any occasion extra special! Be sure to check out all of our Cake Recipes!
And for more collections: Cakes That Feed a Crowd, Cheesecake Recipes, Cupcake Recipes