Strawberry Pound Cake, with fresh strawberries and a beautiful white glaze, will be your perfect solution for the spring and summer dessert season.
This pound cake is filled with strawberries and white chocolate and topped with glaze making it a great summer dessert. If you love strawberries, we also recommend trying our fresh strawberry cupcakes and strawberry sheet cake.

perfect for strawberry season
Vera here from OMG Chocolate Desserts! What's the first thing that comes to mind when you think of spring and summer desserts? For me, there's no doubt… STRAWBERRIES!
Maybe the tasty Strawberry Pound Cake with fresh strawberries will be the answer to your question. One thing is certain—you won't regret trying it!!!
This cake is a beautiful treat, with vibrant and colorful pieces of strawberry throughout the cake. As for the taste, I will tell you without any exaggeration, this is the best pound cake I have ever tried! Strawberries and glaze made this pound cake moist and refreshing at the same time.
We couldn't stop at just one piece!

ingredients in strawberry pound cake
A true pound cake uses a pound each of flour, sugar, butter and eggs. That's an easy recipe to remember! This recipe is a little bit different from a "true" pound cake, but it's made very similarly and has the same moist consistency. Here's an explanation of the effect some of the ingredients have on the cake.
Cake Flour. Pound cake made with all-purpose flour tends to be more dense and moist than a pound cake made with cake flour. Because this specific recipe already has so many dense ingredients (heavy cream, butter, marscapone cheese), the cake flour helps to lighten it up and balance the consistency.
Heavy Cream. When heavy cream is added, it helps to create that velvety smooth, moist texture on the inside.
Mascarpone Cheese. Mascarpone cheese is essentially an Italian cream cheese. It's made from whole cream and has a higher fat content giving it a richer and creamier texture than American cream cheese. This adds to the dense cake crumb, and rich flavor in this recipe.
Browned Butter. You have to be careful not to over-cook it, but perfectly browned butter has the most amazing "nutty" flavor. When you add the browned butter into the cut line in the cake batter, it helps to moisten the cake as it cooks, and does add some flavor.

Recipe troubleshooting
Why is my cake heavy and gooey? When you over-mix a cake, the gluten develops too much. This means the cake will rise beautifully, but disappointment sets in when the cake starts to sink as soon as it is taken out of the oven. The sinking cake results in a dense and gooey center.
It might be tempting to mix on high speed or combine ingredients to save dishes or time, but don't! Mixing the cake specifically as written will help your cake turn out beautifully.
Help! All the berries sunk to the bottom of the cake! A really simple trick that will help the strawberries from sinking is to toss them in a small amount of flour before folding them into the batter. This works for any fruit or nut being added to cake batter. Easy Peasy!

Making Ahead + Storing
Can I make strawberry pound cake ahead of time? You can make the pound cake ahead of time, wrap and keep in the fridge for 1-2 days or in the freezer for 1-2 months. Add frosting and fresh berries right before serving
How to store leftover pound cake: The cake itself will keep longer than the fresh strawberry topping. Just remove the old berries and add fresh ones when you want to indulge in another slice. Store in an airtight container in the fridge for 2-4 days.
You can also freeze this recipe by wrapping in Saran wrap or foil and freezing for 1-2 months.

Trust us when you say you'll love this glaze topped pound cake filled with strawberries and white chocolate chips!
For more delicious Pound Cake recipes, check out:
Strawberry Pound Cake Recipe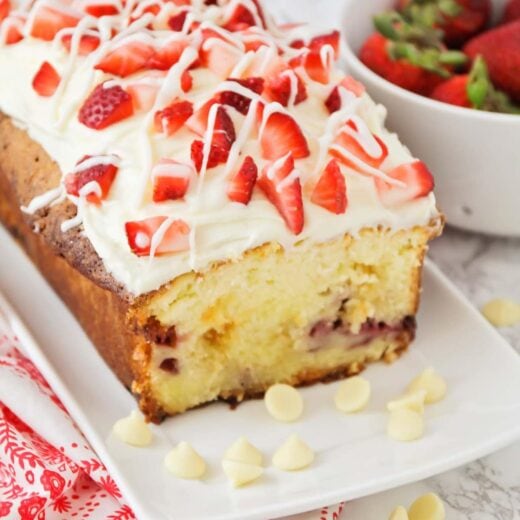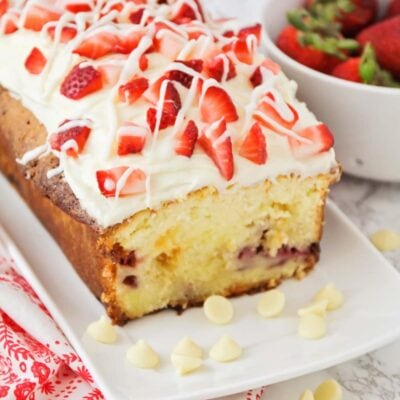 Strawberry Pound Cake, with fresh strawberries and a beautiful white glaze, will be your perfect solution for the spring and summer dessert season.
Ingredients
Cake
1 1/2

c + 3 tbsp

cake flour

sifted

1/2

tsp

baking powder

1/8

tsp

salt

1

c

fresh strawberries

diced

2/3

c

white chocolate chips

1/2

c

unsalted butter

room temperature

1 1/2

c

sugar

1/2

c

heavy whipping cream

1/2

c

mascarpone cheese

3

eggs

1

tsp

vanilla extract

2

tbsp

browned butter

flour to toss the strawberries and chocolate chips
Garnish
4-5

strawberries

diced

1

tbsp

vegetable oil

1/2

c

white chocolate chips
Instructions
Cake
Preheat the convection air oven to 325 F. If you don't have convection air oven raise the temperature to 350 F and you'll have to rotate the pan half way through the baking time. Butter and flour 8.5 x 4.5 x 3 inches loaf pan, then line it with parchment paper and set aside.

Combine cake flour with baking powder and salt, sift it three times and set aside (or, stir with a wire whisk until well combined).

In a small sauce pan, brown 2 tablespoons butter over medium heat to get nice amber color, remove the foam and set aside to cool.

Whisk eggs and vanilla, set aside.

Cream the butter on medium speed, slowly add sugar and continue mixing until smooth. Add heavy cream and mascarpone, and beat on medium speed to combine, then turn the mixer on low speed and gradually add dry ingredients alternately with eggs.

Add one tablespoon flour in chocolate chips and toss them to cover evenly. Toss diced strawberries with a handful flour to cover them completely.

Using a spatula, stir chocolate chips in the batter, then gently stir in strawberries and pour the batter into prepared pan, smooth the top and gently tap it onto working surface to remove the air bubbles.

With a butter knife, draw a line down the center of the cake and pour browned butter into the line.

Bake until the top of the cake is golden brown and a toothpick inserted in the center comes out clean (about 60 to 70 minutes). Cool the cake in the pan for 15 minutes, then remove from the pan, place on a rack, and cool completely.
Frosting
Cream together softened butter and cream cheese until smooth, slowly add in powdered sugar and mix on low speed, mix in vanilla extract. Spread on top of the cooled cake and place the cake in the fridge to set the frosting.

Garnish
In a small sauce pan over low heat, melt ½ cup white chocolate chips with 1 tablespoon vegetable oil stirring until smooth (if it's too thin, let it cool for a few minutes to set before drizzling over the cake)

Scatter diced strawberries onto the frosting and drizzle with melted chocolate (using a spoon or transfer the chocolate into small zip-lock bag, cut off the corner and pipe the chocolate over the cake). Store the cake in the fridge.