This delicious Cream Cheese pound cake recipe isn't only easy, but the taste is out of this world. It is so soft and flavorful and can be topped with any fruit or cream, making it perfect for brunch or an event.
Pound cake is one dessert that pleases almost everybody, which makes it great for showers and parties. If you like this recipe, be sure to try lemon pound cake and strawberry pound cake as well!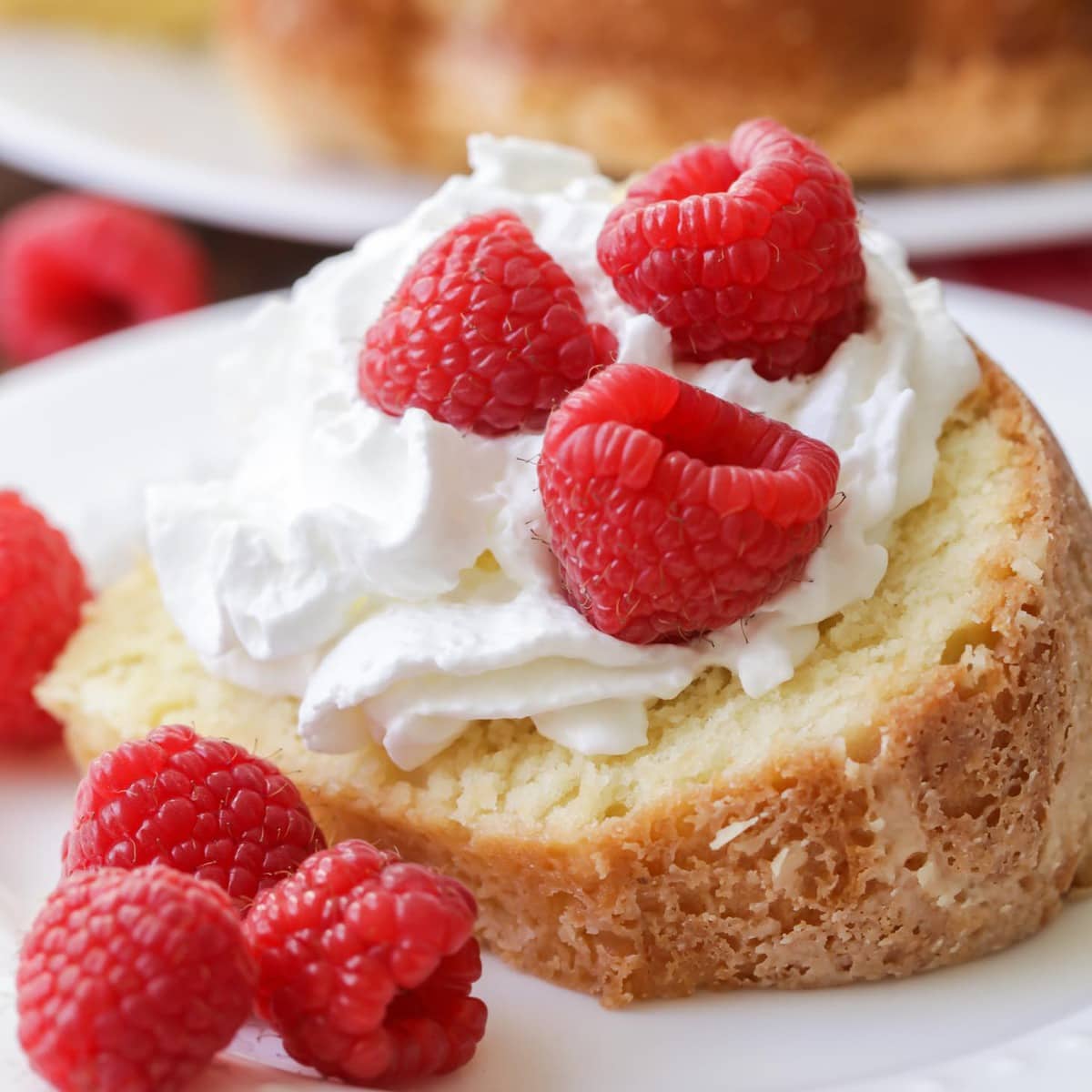 Homemade Pound Cake
Who doesn't love a good slice of pound cake? This homemade pound cake is fluffy, but also dense with incredible flavor. Top it with some whipped cream and raspberries and you've got one heavenly dessert. The picture speaks for itself…swoon!
The simple ingredients in this recipe make it easy to make and totally delicious. I mean, can you really go wrong with butter, sugar, and cream cheese?? That hint of vanilla extract takes the flavor to another level of yum. I think this cake recipe will become one of your favorites. It's definitely one of mine, and one the entire family loved.
Why is it called pound cake? Pound cake gets it name because traditionally the recipe required one pound each of the main ingredients—flour, sugar, butter, and eggs.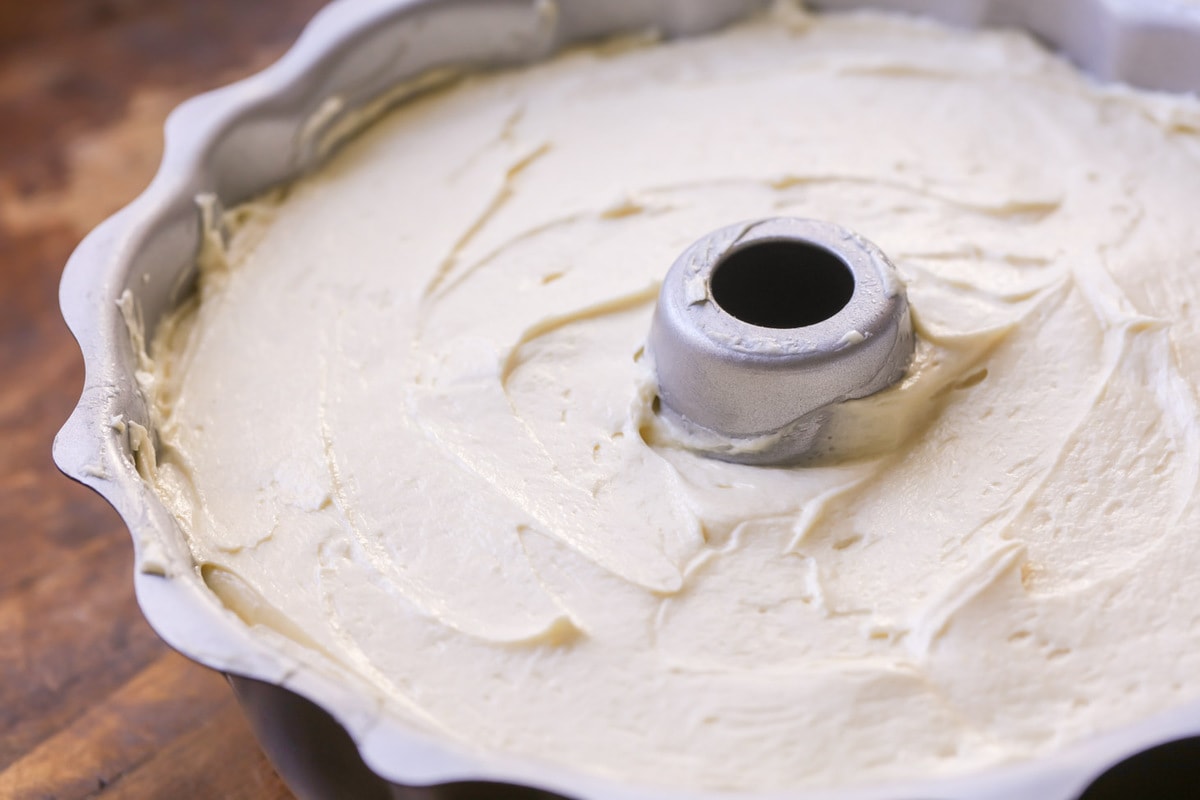 How to Make Pound Cake
You will be surprised at how easy this cake is to whip up.
PREP PAN. You'll definitely need a good bundt pan-don't forget to grease and flour it! This will help the cake to pop out perfectly clean after its baked. There is nothing worse than a cake that gets stuck in the pan, am I right?
MIX. Mix your ingredients together according to the instructions (don't shortcut the steps because the way you mix will determine the outcome of the cake), until everything is well blended. Be sure not to overmix! Then add the batter to the greased bundt pan.
BAKE. Put your bunt pan in a 325 degree oven. Take another baking dish, fill it with 2 cups of water, and set it next to the cake in the oven while it bakes. This will help the pound cake have that nice moist texture. No dry cakes here! Bake at 325° for 1 hour and 30 minutes until it's baked through.
COOL. Let it cool completely on a wire rack before slicing into it. This is the hardest part- waiting for it to cool and not being able to dig in right away! But don't worry, it's worth the wait.
Doneness Tip: Because every oven bakes a little differently you're going to want to start checking to see if the cake is done about 10 minutes before the directions call for. Use a long wooden skewer to insert. If it comes out clean it's done. If not, then bake in 5 minute increments checking with the skewer each time. When checking be careful not to jostle the cake too much.
Can I make pound cake in a bread loaf pan? Yes, you'll need 2 bread loaf pans. Grease and flour generously. Because they batter is divided you're going to want to adjust the cook time. Start checking after 45 minutes.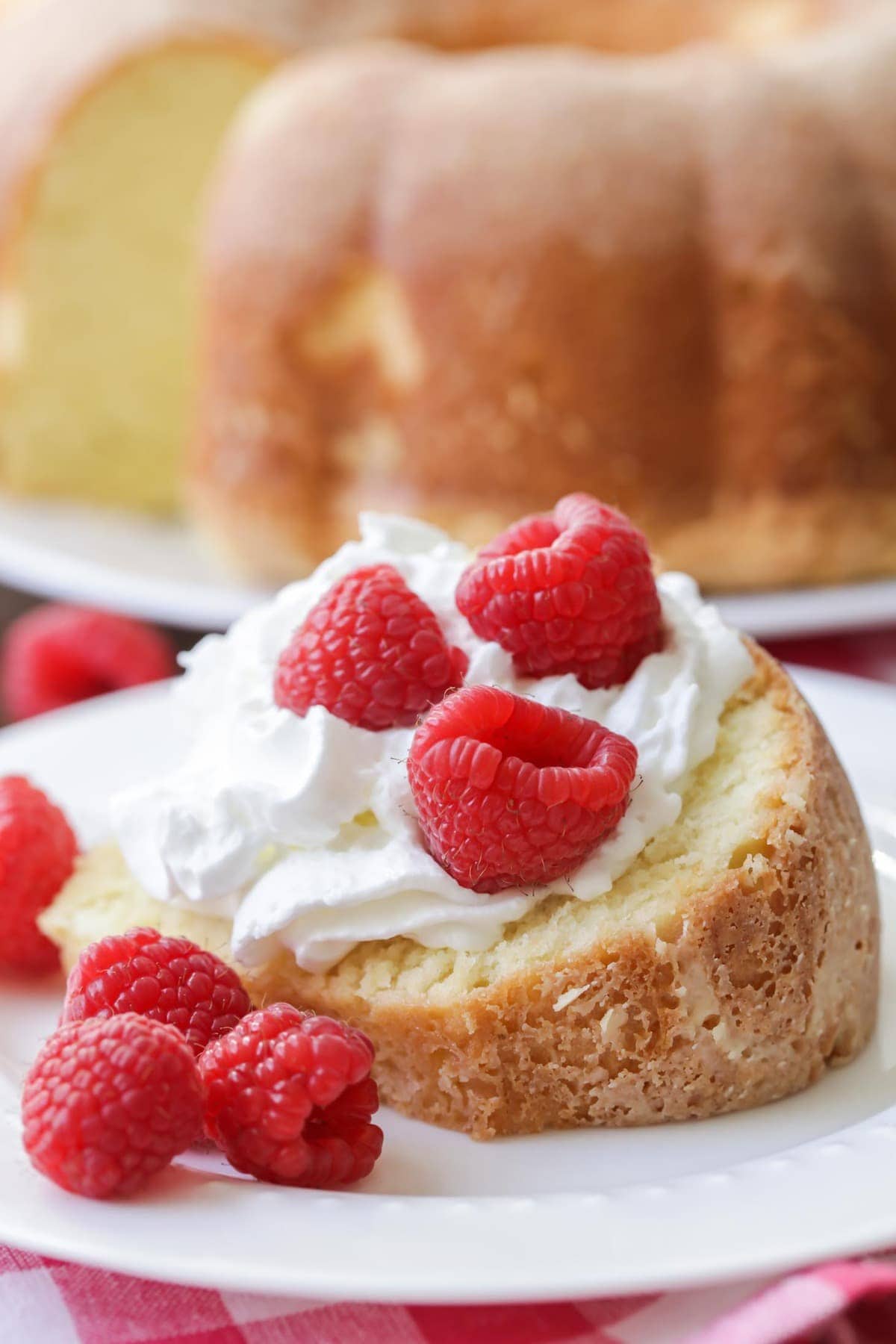 great for Storing
Storage: Let pound cake completely cool and store in an airtight container to keep it perfectly moist. Store on the counter for 3-4 days, in the fridge for 5-7 days, in the freezer up to 6 months.
Can pound cake be frozen? Yes, in fact this is perfect cake to just have in the freezer to use when company stops by or you just want a last minute sweet treat. You can either freeze as a whole cake or slice it. Wrap the cake (or each slice) with plastic wrap, then again with aluminum foil. Label and freeze for up to 6 months.
Definitely bookmark this recipe to have on hand for family dinners, get-togethers with friends, and even a simple birthday cake idea! We hope you love every bite of this homemade pound cake as much as we do.
For more pound cake recipes, check out:
Cream Cheese Pound Cake Recipe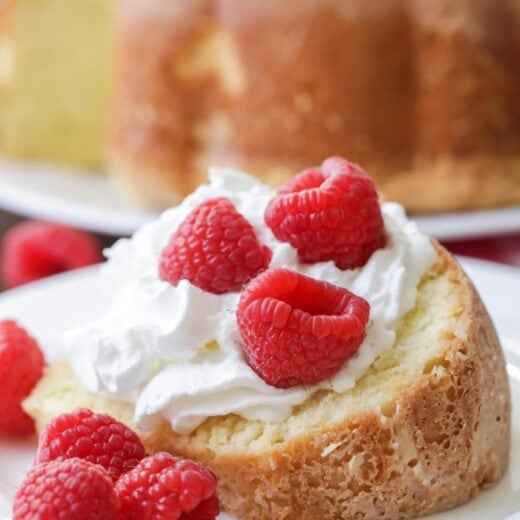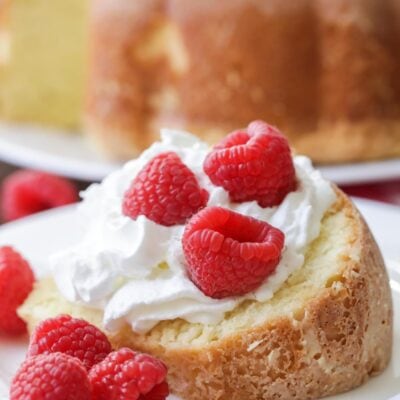 Easy Cream Cheese Pound Cake is out of this world delicious! It's soft, flavorful, and perfect topped with fruit and cream.
Instructions
In a stand mixer (or with a hand mixer), beat butter and cream cheese until creamy.

Slowly add sugar and beat together for 5 minutes.

Add eggs one at a time. Stir in vanilla and almond extract.

Sift together your flour and salt and beat into the mixture until well blended.

Pour batter into a bundt pan, greased and floured.

Add 2 cups of water to a separate baking dish and set it next to the cake as it's baking.

Bake for 1 hour and 30 minutes, until baked through.

Remove from oven to a wire rack and let cool for 15 minutes, then remove from pan and let completely cool on the wire rack.
Adapted from Genius Kitchen