This is the most delicious and moist Lemon Bundt Cake recipe! It is covered in a sweet lemon glaze and topped off with an amazing cream cheese frosting with lemon zest, making it irresistible.
Bundt cakes are a simple, yet impressive looking, cake recipe. If you're looking to get good use out of your bundt pan, try chocolate bundt cake, or lemon pound cake!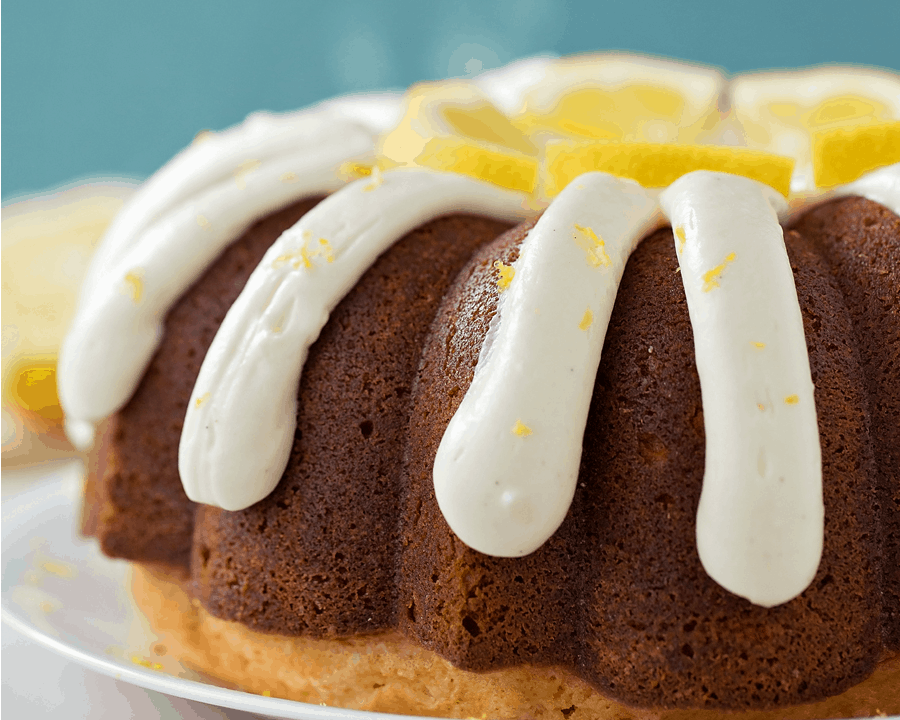 Lemon Bundt Pound Cake
Bundt cakes have always been a favorite of mine. They look beautiful and require almost no decorating skills! I've been making all sorts of bundt cakes this spring and couldn't help but make a lemon version. It's bright, zesty and has a perfect tender crumb.
You can top it with cream cheese frosting, a dusting of powdered sugar or a simple glaze. Our kids seemed pretty excited about having a bundt cake with frosting on it so we went that route and we had no regrets!
The one special piece of equipment you'll need aside from a mixer (hand or stand) is a bundt pan. I highly recommend using a standard size one. It's so versatile!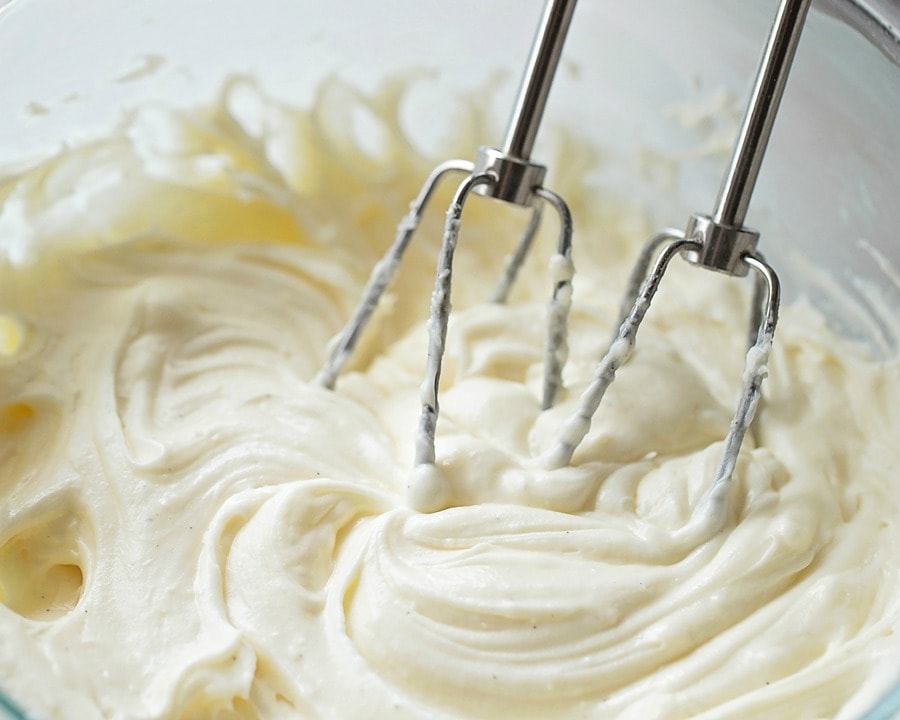 glaze + Frosting = yum
While the lemon bundt cake is cooling you'll make a simple syrup. Just mix equal parts sugar and lemon juice and pop it into the microwave. Once it's warm, whisk it together and let it dissolve, making it a syrupy glaze.
Take a toothpick and poke tiny holes all over the "crust" of the cake. This will allow the syrup to seep down into the cake. Brush or pour it over and let it soak in. This glaze makes the bread even more sweet and filled with lemon flavor.
Then mix up the frosting. Just make sure the cream cheese AND the butter are both softened. Cold ingredients will result in a clumpy frosting. If it's on the softer side you can always refrigerate it for 15-20 minutes.
Use a large zip lock bag or a large pastry bag and pipe it over the cooled cake. You don't have to do any fancy design. Trust me, I am NOT a cake decorator! Simple stripes were about all I could handle!
Why is my icing grainy? Questions like this are always a little tricky because the reasons can be vast. Here are a few common reasons it could happen:
Poor sugar quality: Use "pure sugar cane" powdered sugar and sift the sugar.

Not enough fat-be sure to use real butter not a substitute.

Not using room temperature softened butter or cream cheese

Be sure to add the powdered sugar slowly beating well between each addition.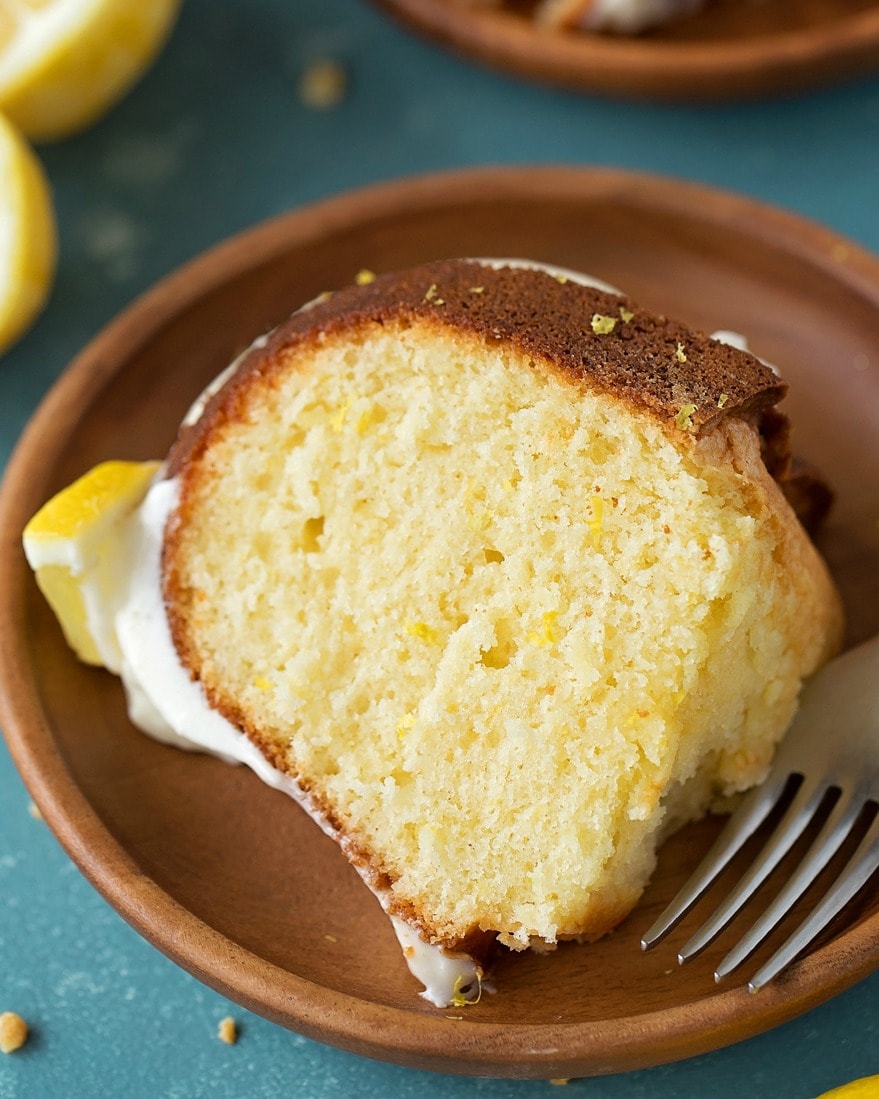 More tips and tricks:
How do I keep the cake from sticking to the bundt pan? Many bundt pans have a non stick interior. This does help the cake from sticking, but you should still spray it with cooking spray. If your pan has an intricate design, or lacks a non stick coating, you will need to prep it a little more carefully.
After spraying the entire interior with cooking spray add ¼ c flour to the pan. Move the pan around so that the flour coats the entire interior and discard excess flour. Pour in the batter and cook according to directions.
Can I make cupcakes instead? Of course! Follow the recipe to make the batter, but instead of pouring the batter into the bundt pan pour the batter into a cupcake pan.
Preheat the oven to 350°F and bake for about 25 minutes, until a toothpick inserted into the center of one comes out clean. Glaze and frost the cupcakes.
This delicious lemon cake can be stored for a day at room temperature in an airtight container. Because of the cream cheese frosting, longer storage should be done in the fridge or freezer. Keep cake covered in the fridge for 3-4 days.
To freeze unfrosted: wrap the cooled cake with plastic wrap then again with aluminum foil. If it has frosting, then flash freeze first by placing the cake whole or sliced on a baking sheet. Freeze for 2-3 hours then wrap. Once wrapped label and freeze for up to 6 months.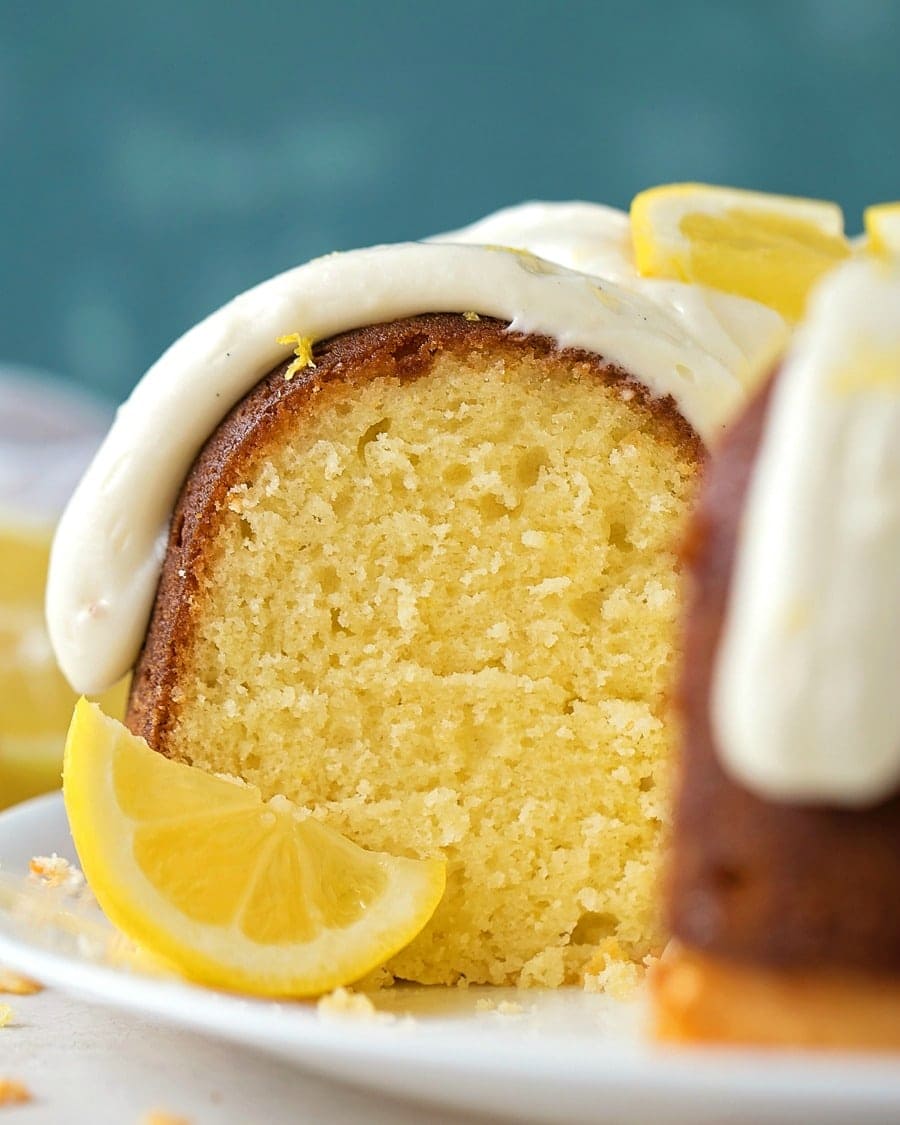 We love this bundt pound cake so much! The cake itself is delicious on it's own, but filled with a lemon glaze and topped off with cream cheese frosting makes this cake even more irresistible!
Slice this bundt cake up and serve it for any spring or summer occasion. It will be the star of the party!
For even more lemon desserts, be sure to check out:
Lemon Bundt Cake recipe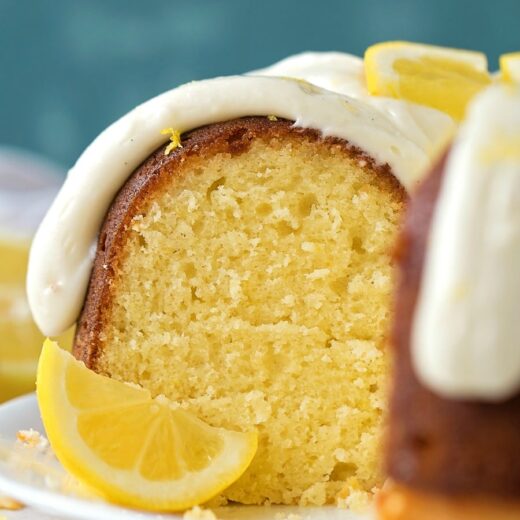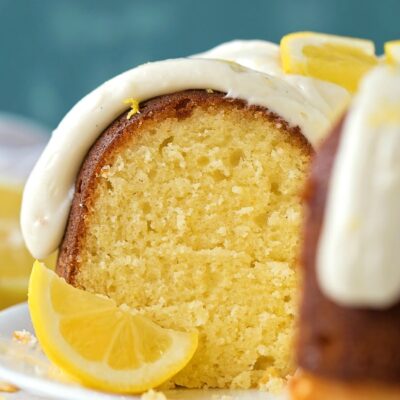 Vibrant, moist lemon bundt cake is covered with a sweet lemon glaze and thick cream cheese frosting for an irresistible summer dessert!
Ingredients
For the glaze:
1/4

cup

sugar

1/4

cup

lemon juice
Instructions
Preheat oven to 350°F. Spray a standard-size bundt pan with baking spray, and set aside.

In the bowl of a stand mixer, beat sugar, butter, salt, lemon zest, and vanilla extract until pale, about 3 minutes on medium speed.

With the mixing speed on low, add eggs one at a time until incorporated. 

With mixing speed on low, alternate adding the flour, baking powder, and sour cream, doing ⅓ of each at a time. Once all of the ingredients have been added, beat the batter for 10 seconds then stop.

Spread batter evenly into the prepared bundt pan. Place in the oven and bake for 45-55 minutes. The top will look slightly moist but should be set (not gooey or jiggly). Remove from the oven and allow to cool in the pan for 20 minutes before inverting onto a wire rack to cool completely.

Meanwhile, in a small microwave-safe bowl, combine the sugar and lemon juice. Microwave on half power for 20 seconds. Stir to dissolve sugar. Repeat if necessary but do not let the liquid simmer.

Using a toothpick, poke holes all over the crust of the bundt cake. Pour or brush the glaze over the cake, allowing it to soak in.

In the bowl of a stand mixer or a large mixing bowl with a hand mixer, beat the cream cheese and butter until smooth. Add the vanilla, salt, and powdered sugar, and mix until a thick frosting forms. 

Pipe over the cooled cake as desired.