This lemon cheesecake is smooth and creamy with a crunchy graham cracker crust and delicious lemon flavor. Then it's topped with raspberry sauce for the perfect flavor combo.
Lemon is always so light and refreshing, and this cheesecake is just that! If you enjoy this recipe, you'll like a simple frozen version—lemon icebox pie.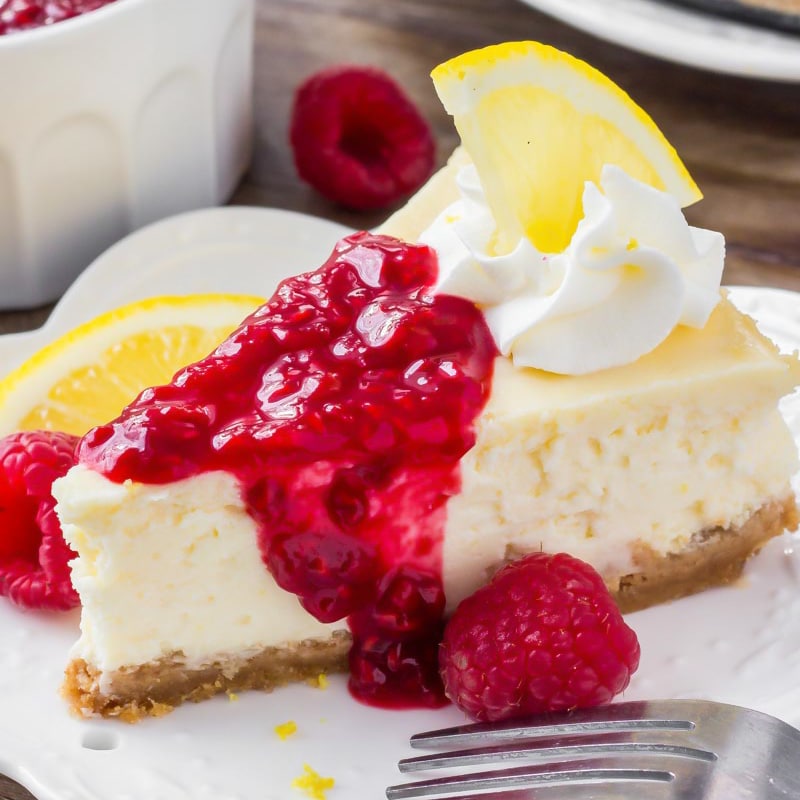 Best Lemon Cheesecake
Hi there! It's Fiona from Just So Tasty and today I'm stopping in to share this lemon cheesecake with raspberry sauce. It's smooth and creamy with a delicious lemon flavor and a crunchy graham cracker crust.
It's one of the best cheesecake recipes I've ever tried, so I'm really excited to share the recipe with you.
Now, it's no secret that I love cheesecake. I've shared my favorite no bake cheesecake and chocolate cheesecake recipes here on Lil Luna already – but I wanted to make a cheesecake that's perfect for spring. And that's exactly where the idea for this lemon cheesecake recipe came from.
The lemon flavor is bright and sunshine-y without being too tart. I find that the lemon flavor really offsets the richness of the cheesecake. Then the raspberry sauce is the perfect topping. It's sweet, juicy, and bursting with berry goodness.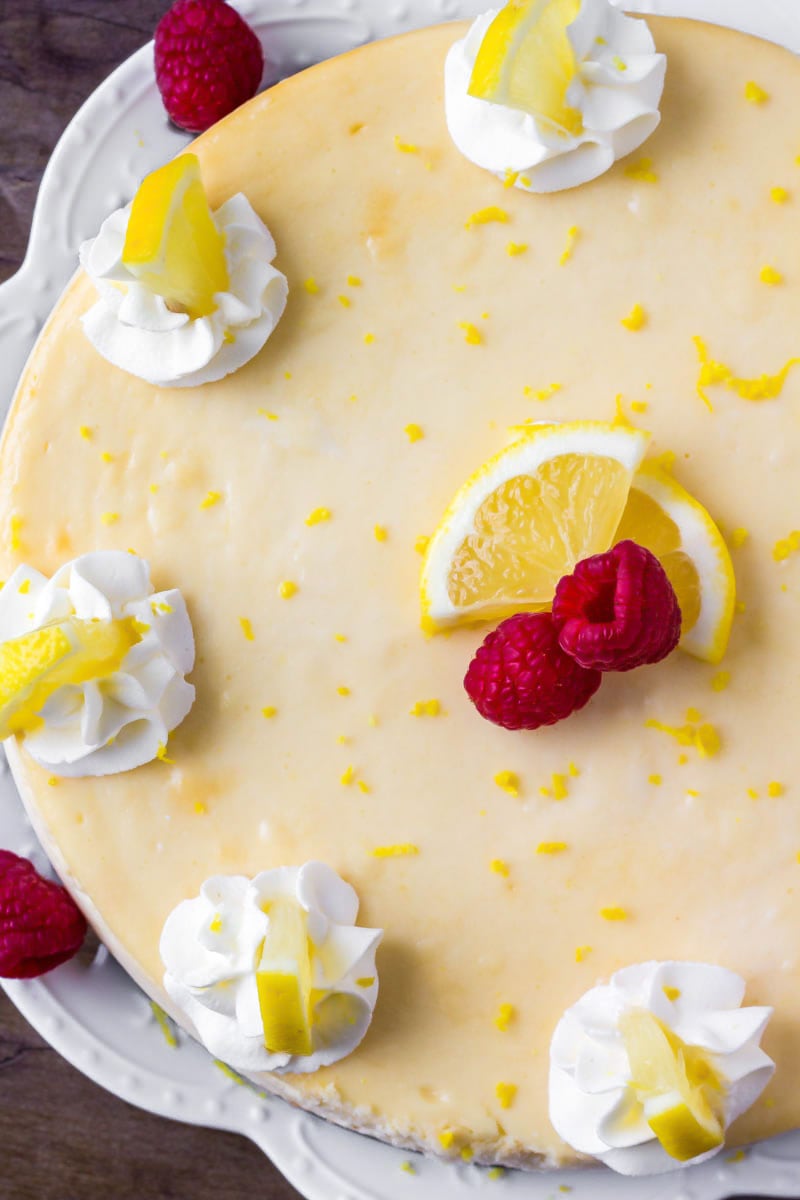 Cheesecake tips
Making cheesecake at home is actually a lot easier than you might think. But I'm including lots of tips to help you out 🙂
For this recipe, we're using lemon zest and lemon juice for the delicious lemon flavor. I used 1.5 tablespoons of lemon zest and ¼ cup of fresh lemon juice – but if you prefer a stronger lemon flavor, you could use up to ⅓ cup lemon juice.
You'll likely need 2-3 lemons, depending on the size. I don't recommend using lemon juice from a bottle however, because it can make your cheesecake too tart.
This lemon cheesecake recipe is baked using a water bath. This creates a steamy environment which helps make the cheesecake extra smooth and creamy without trying out while it bakes. Here's how you make the water bath:
Wrap the outside of the springform pan in aluminium foil so that the bottom and sides are covered. You'll do this before making the cheesecake crust. You can see above in the photo of the crust how I've wrapped the pan in aluminium foil.
Before baking – place the cheesecake pan in a larger pan – such as a large roasting pan.
Then pour about ½ to 1 inch of boiling water into the roasting pan.
Place the whole thing in the oven to bake.
The cheesecake will take about 50-60 minutes to bake and still have a little wobble in the middle when you take it out of the oven, but the top shouldn't look shiny anymore.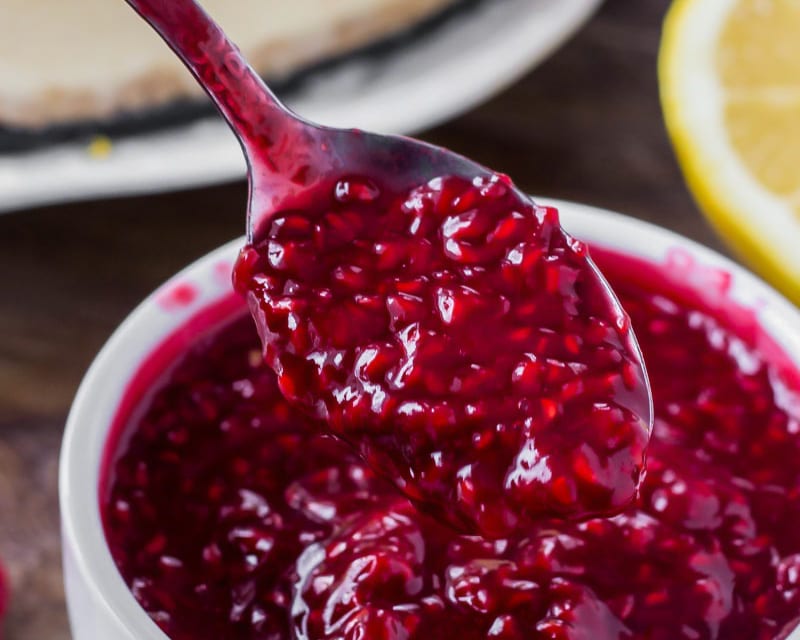 raspberry sauce for Cheesecake
We're serving the lemon cheesecake with a raspberry sauce. You can use either fresh or frozen berries for this recipe. The berries get boiled in a saucepan over low-medium heat along with water, a little sugar, cornstarch and lemon zest.
If you want to remove the seeds, place the fresh or frozen raspberries in a fine-mesh sieve. Mash the fruit with the back of a spoon to remove all the juice from the fruit.
I would suggest making the sauce ahead of time so that it will be chilled by the time the cheesecake is ready to serve. You should allow the cheesecake to sit at room temperature for 30 minutes before serving. Pour the sauce on directly after this period has passed.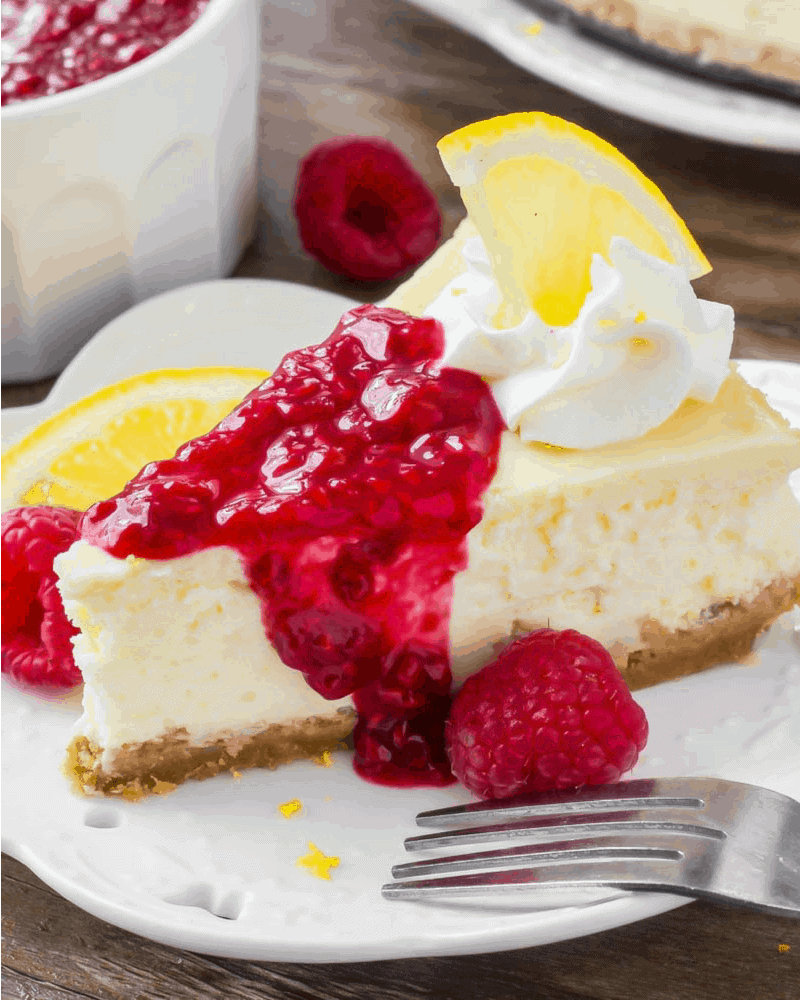 Serving and storing
You can garnish your cheesecake with a few extra things besides the raspberry sauce if you like! I opted for whipped cream, fresh raspberries, lemon zest, and little lemon slices.
To get a clean cut as you slice your cheesecake, you can use cheese wire, dental floss, or a heated knife.
Before storing it, you must allow it to cool completely. If the cheesecake is even slightly warm it will turn soggy and form condensation.
If you want to freeze cheesecake, place it on a baking pan and freeze it until firm. Then remove it from the freezer and wrap it in foil and put it in a ziploc bag before putting it back in the freezer.
To thaw a frozen cheesecake whole, leave it wrapped in the fridge overnight. If you're doing individual slices you can use the defrost button on the microwave.
We absolutely loved this lemon cheesecake with raspberry sauce because of the creamy texture, hint of lemon, and sweet raspberry coulis. And if you're looking for a dessert for your spring – then this lemon cheesecake is definitely a recipe to try.
For more cheesecake recipes, check out:
Lemon Cheesecake recipe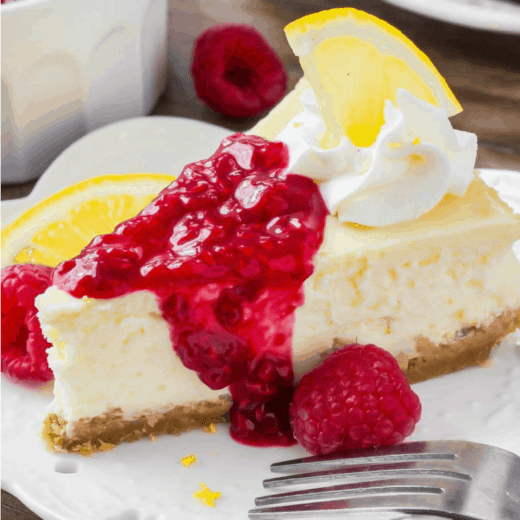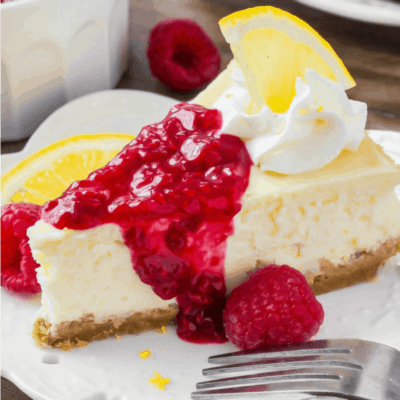 Velvety lemon cheesecake is topped with raspberry sauce for a bright flavor combination perfect for spring.
Ingredients
Graham Cracker Crust
1 1/3

cup

graham cracker crumbs

(requires about 8-12 crackers)

1

tablespoon

sugar

1/3

cup

butter, melted
Lemon Cheesecake
24

oz

cream cheese

1

cup

sugar

3

large

eggs

1 1/2

tablespoons

lemon zest

1/3

cup

lemon juice

, freshly squeezed

1/3

cup

sour cream
Raspberry Sauce
8

oz

raspberries

, fresh or frozen

1/4

cup

sugar

2

teaspoons

cornstarch

1/3

cup

water

2

teaspoons

lemon zest

, optional
Instructions
Make the Cheesecake
Preheat the oven to 350°F. 

Wrap the outside of a 9-inch springform pan with aluminium foil, ensuring that the bottom and sides are covered tightly. Lightly grease the inside with non-stick cooking spray.

To make the crust mix together the graham crumbs, sugar, and melted butter. Then press into the bottom of the pan and place in the freezer. 

In a large bowl beat together the cream cheese and sugar until very soft.

Then beat the eggs in one at a time. Then mix in the lemon zest, lemon juice, and sour cream with the mixer on low. 

Remove the crust from the freezer and place inside a large roasting pan. Pour the cheesecake batter into the springform pan on top of the crust. Then pour about ½ inch of water into the roasting pan. 

Place the whole thing in the oven and bake for 50-60 minutes or until the top is no longer shiny and there's a little wobble in the center of the cheesecake. 

Cool at room temperature for 30 minutes, then cover and refrigerate for at least 4 hours or overnight. 
Raspberry Sauce
In a small saucepan combine all the ingredients. Heat over medium-low heat while stirring. 

Allow to gently boil while stirring for 5-10 minutes as it begins to thicken. (If using frozen berries this may take longer). 

Optionally decorate the cheesecake with whipped cream, lemon slices, and lemon zest and serve with raspberry sauce.