Creamy and delicious Banana Pudding Cheesecake is a mixture of homemade vanilla pudding, graham cracker crust, and fresh cut bananas!!
If you love cheesecake you will love this rich and delicious Banana Pudding Cheesecake! It is very easy to make and I found it is best if you leave it in the refrigerator over night. For more decadent cheesecake recipes try Cherry Cheesecake Cupcakes, Jello Cheesecake, and White Chocolate Raspberry Cheesecake.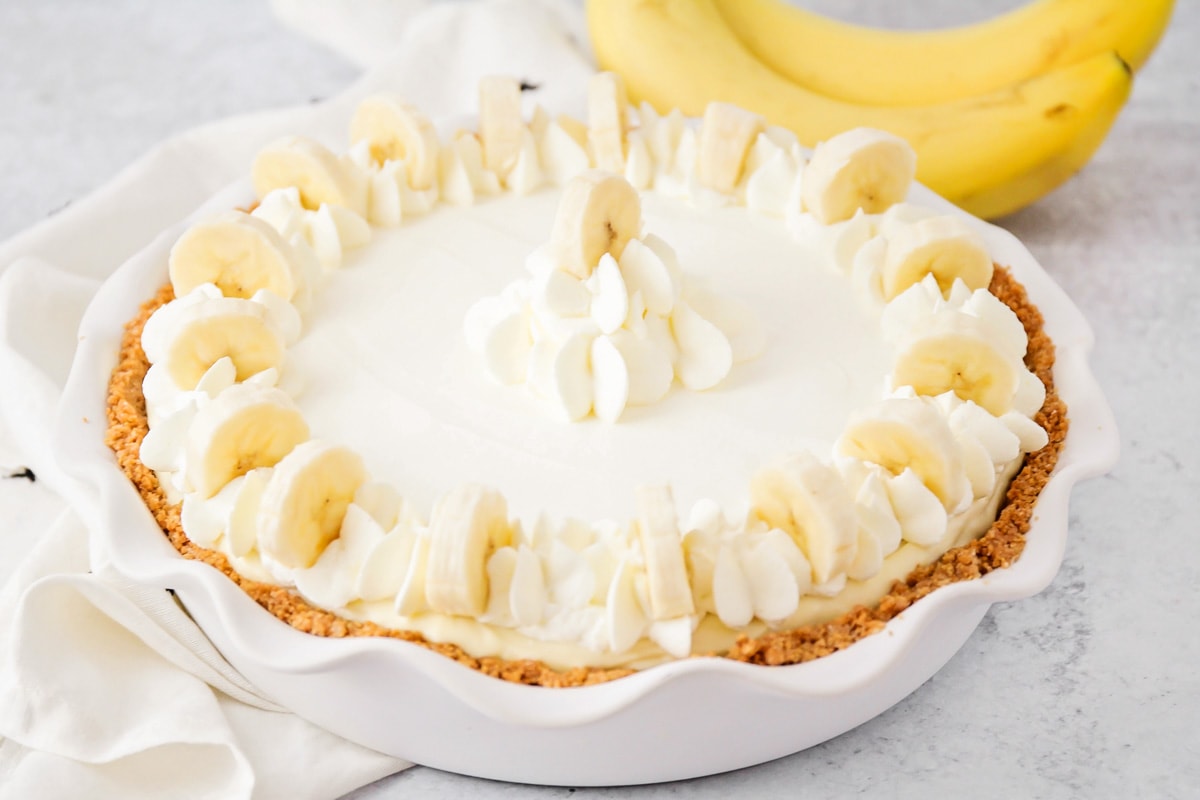 Banana + Cheesecake
If you can imagine for a moment how yummy cheesecake is, then kick it up a notch with this rich and creamy Banana Pudding Cheesecake. Cheesecake is such a tried and true favorite dessert and I have to say this Banana Pudding Cheesecake will not disappoint anyone.
The mixture of the homemade vanilla pudding, graham cracker crust, and fresh cut bananas will put you at the top of the dessert hall of fame. One slice will be all you need since it is so rich and creamy, but it will be worth every bite. If you are ever in need of a cheesecake that will be pleasing to the eyes and the stomach look no further.
Each bite will keep you coming back for more. Although it is rich it is not overly sweet and with the addition of the whipped cream on top if you are looking to please even the biggest sweet tooth, I promise this Banana Pudding Cheesecake with be just the dessert to make.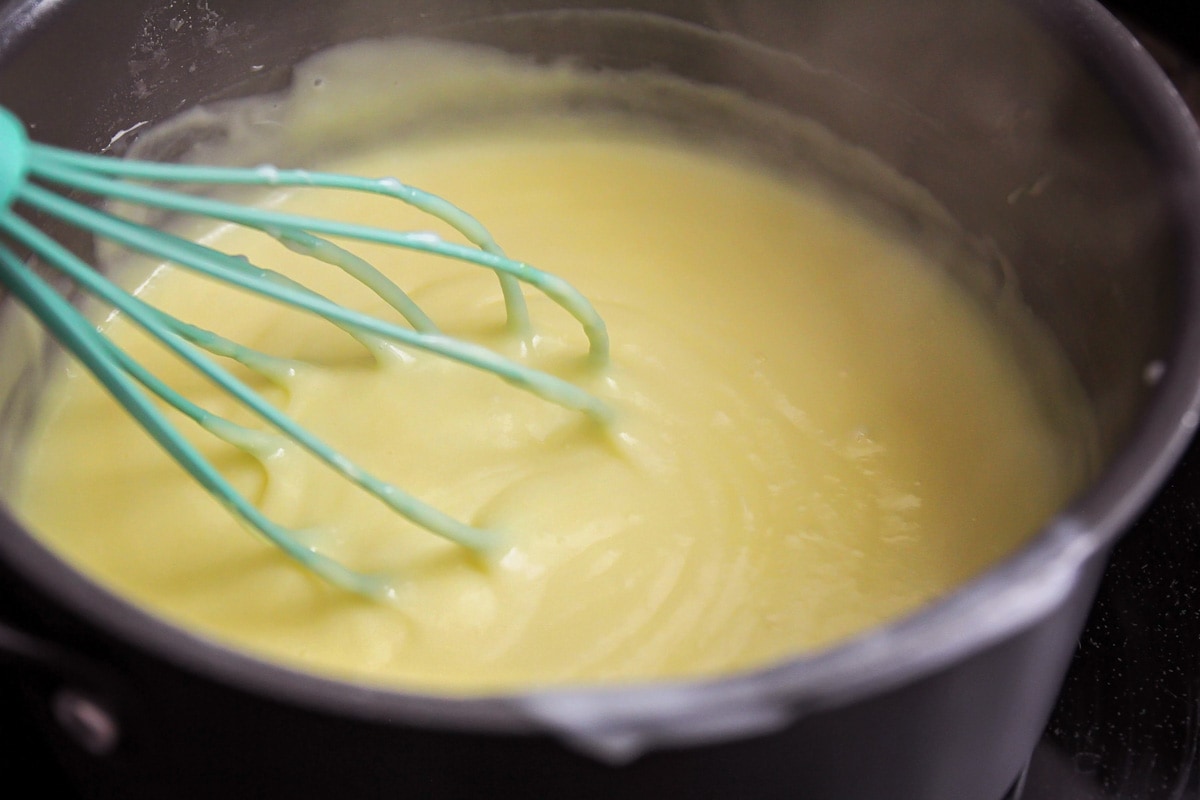 Making Banana Pudding Cheesecake
PREP. Preheat oven to 375 degrees.
GRAHAM CRACKER CRUST. In a large bowl add graham cracker crumbs and ¼ cup sugar, mix until well combined. Drizzle in melted butter and mix well. Press graham cracker mixture evenly into the bottom of a 9 inch pie plate. Bake for 7 minutes or until light brown, cool completely. (This can be done the night before).
PUDDING FILLING. In a large saucepan whisk together ⅔ cup granulated sugar with flour and salt until well combined. Slowly whisk in milk until smooth. Bring mixture to a boil while stirring over medium heat. Cook until thickened.
Slowly stir in 2 cups of thickened cooked milk mixture into the egg yolks. (This is not additional milk) Add egg yolks back to the pan and continue to stir while returning mixture to a subtle boil. Cook until thickened and the consistency of pudding. Remove from heat and stir in vanilla extract.
Beat cream cheese until smooth and creamy. Add pudding mixture to cream cheese and mix until well combined, scraping sides of bowl well.
BANANAS. Cover bottom of graham cracker crust with ⅓ banana pudding cheesecake mixture. Add sliced bananas and cover with remaining cheesecake mixture.
Enjoy!! Refrigerate cheesecake until cold or overnight. Serve with cool whip and additional sliced banana.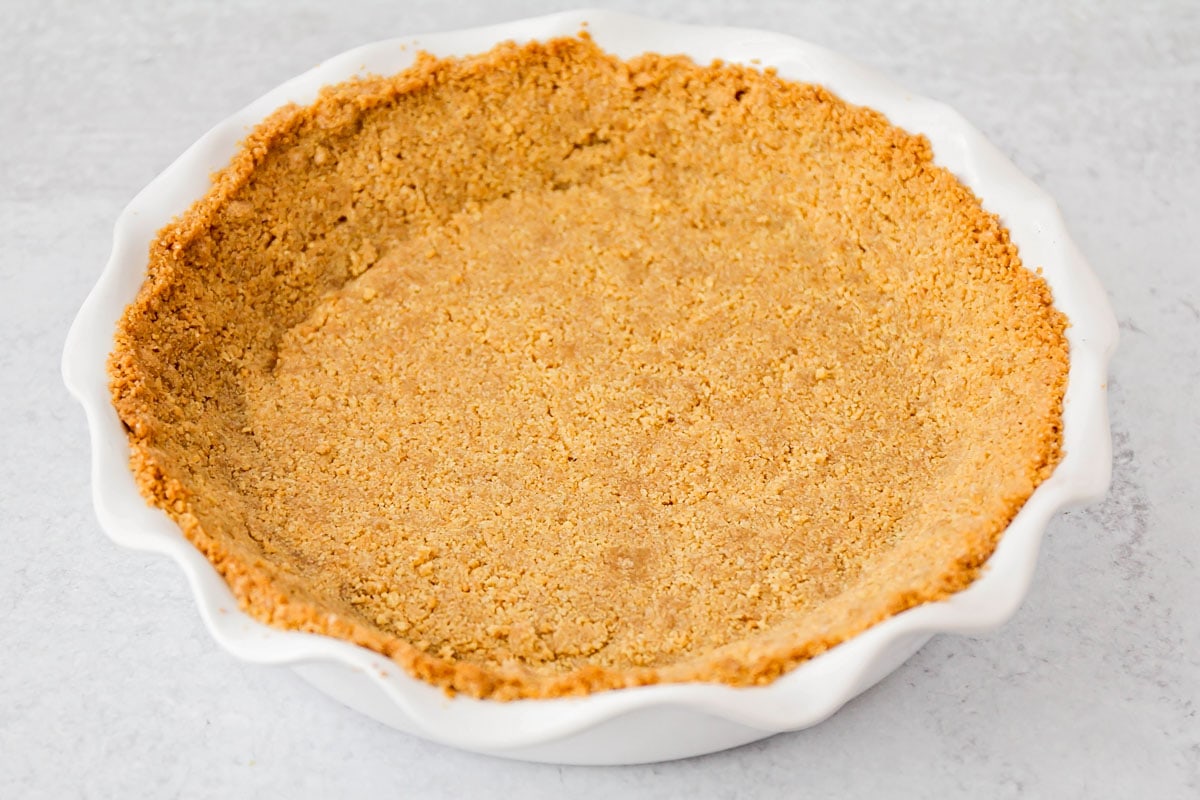 Tips + Variations
Crust: For more crust options, use vanilla wafers for the crust instead.
Pan Size: We have personally made this in a simple pie pan but if you want to slice it like a traditional cheesecake you can make it in a 9'' springform pan which will allow the bottom to pop out easily. We just don't find it necessary since it is more comparable to a pudding pie than a traditional cheesecake.
Additional toppings:
More banana slices

Vanilla wafers

Whipped cream or Cool whip

Caramel sauce

Chocolate shavings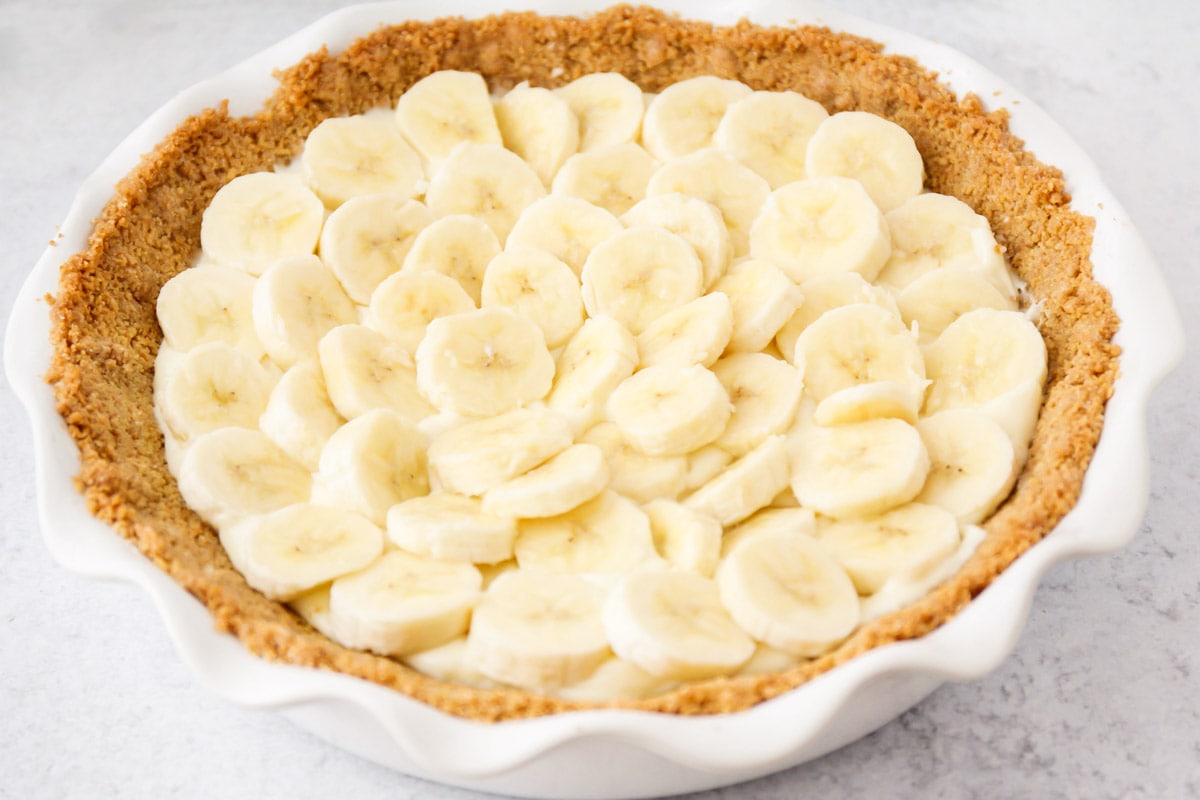 Making Ahead & SToring
This is the perfect dessert to make ahead of time. You can make it 2-3 days in advance, just cover it tightly (as airtight as possible) and store in the refrigerator. Add your toppings right before serving.
To STORE cover tightly and store in the refrigerator for up to 5 days. This banana pudding cheesecake can be frozen.
It will FREEZE well for up to 3 months. Once the cheesecake has cooled in the refrigerator, cover it tightly with plastic wrap and foil or in an airtight container and freeze. To thaw, let it sit in the refrigerator overnight. I don't suggest freezing it with any toppings, I would wait to add them until right before serving it.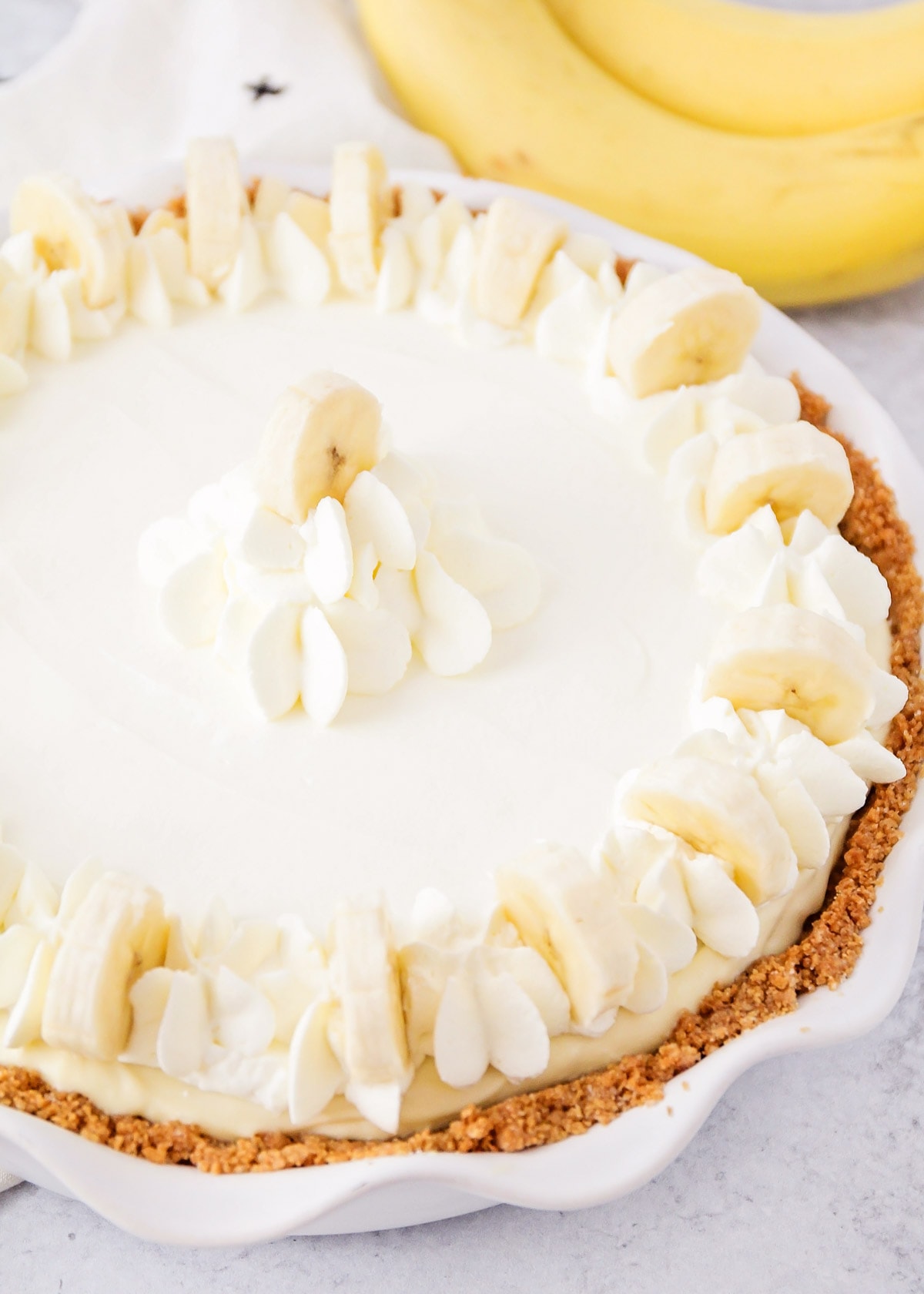 And for even more cheesecake recipes:
Cherry Cheesecake Cupcakes
Milk Chocolate Cheesecake
No Bake Snickers Cheesecake
Lemon Cheesecake
Banana Pudding Cheesecake Recipe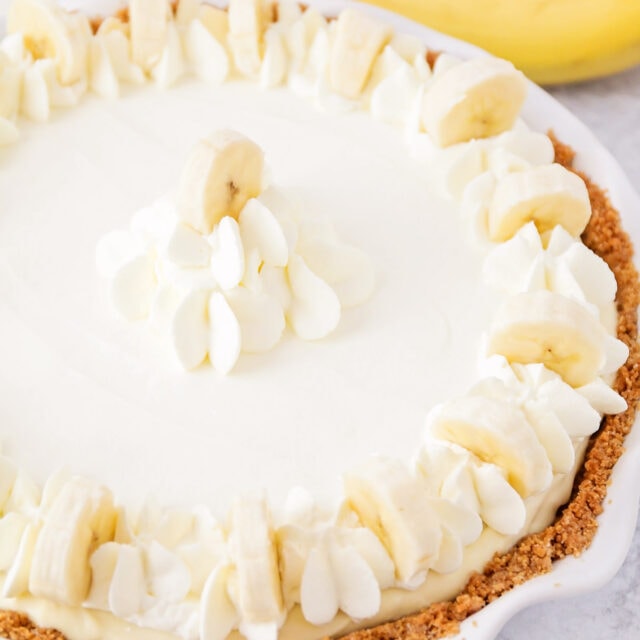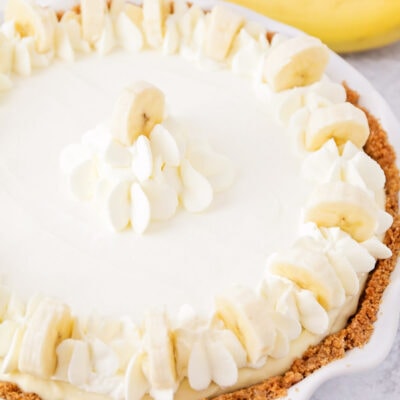 Scratch-made banana pudding cheesecake is a decadent marriage of two favorite desserts for one creamy, tasty bite!
Instructions
Preheat the oven to 375° F.

In a medium bowl, mix together the graham crackers, sugar, and butter. Press the mixture into a 9-inch pie plate in an even layer, pressing the crumbs up the sides of the pie plate. Bake for 7-8 minutes, until golden brown, then let cool completely.

While the crust is cooling, whisk together the sugar, flour, and salt in a medium saucepan. Add the milk and mix until well combined. Turn the heat to medium and cook until slightly thickened and bubbling.

Pour about ½ cup of the milk mixture into the egg yolks, and mix quickly to combine. Pour the egg yolks back into the saucepan and mix, stirring constantly, until the pudding is thickened. Remove from heat and stir in the vanilla. Let the pudding cool for 10-15 minutes, until just slightly warm.

Add the cream cheese to a medium bowl and beat until smooth. Add the pudding to the cream cheese and mix until well combined.

Pour ⅓ of the pudding mixture into the pie crust, spreading evenly. Top with the sliced bananas, then pour the remaining pudding mixture over the top. Chill in the refrigerator for at least 2 hours, until thoroughly chilled.

To serve, top with whipped cream or cool whip, and garnish with sliced bananas.