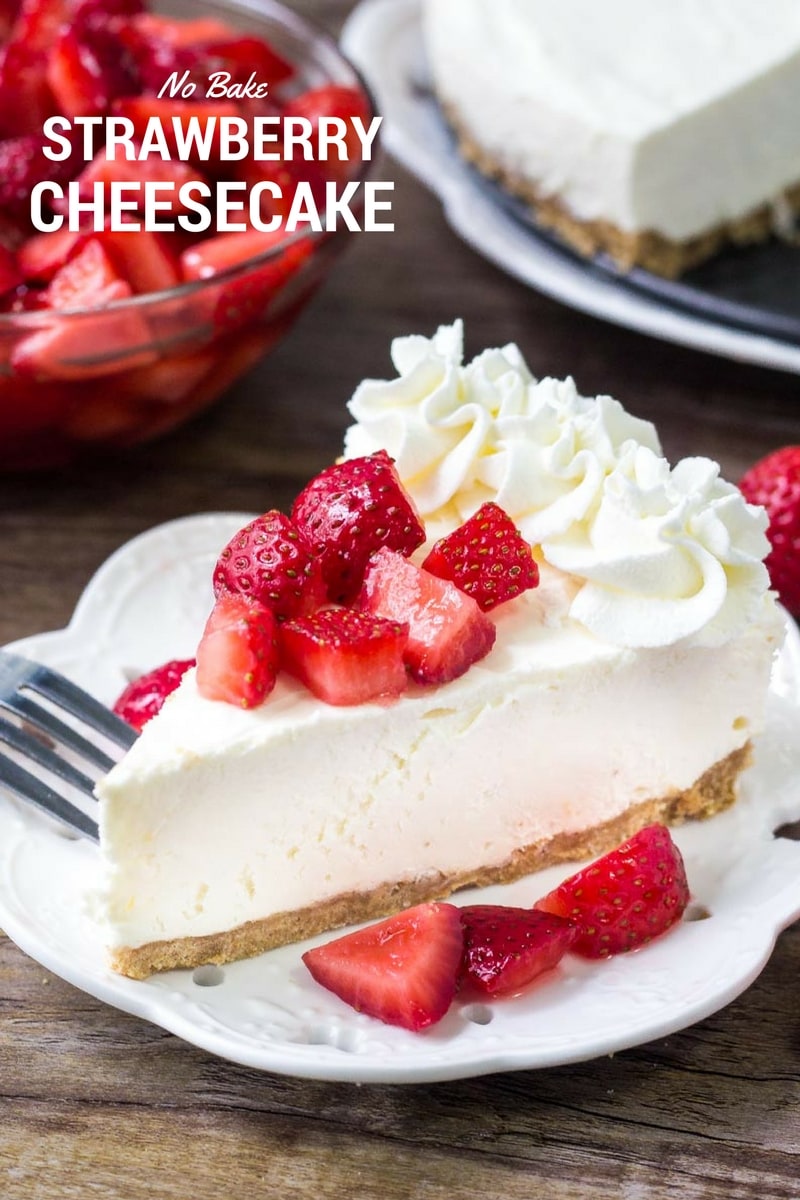 I absolutely love cheesecake, and I absolutely love strawberries. The only problem is that when the weather heats up and strawberries are in season, the last thing I want to do is turn on the oven for an hour to bake a cheesecake.
That's why I needed the perfect no bake cheesecake recipe. And today I'm sharing it with you here on Lil Luna. (Ps – It's me, Fiona from Just So Tasty)
This no bake cheesecake is creamy, tangy and everything that a cheesecake should be. It has a graham cracker crust (which might be my favorite part), classic vanilla cheesecake, and is topped with sugared strawberries. Plus, you'll love how easy the recipe is.
To start, we're making a simple graham cracker crust. We'll mix together some graham cracker crumbs, a little sugar and melted butter – then it gets pressed into the  bottom of our springform pan.
The no bake cheesecake layer is made from a combination of cream cheese, Greek yogurt and whipped topping (plus powdered sugar and flavorings). The yogurt makes the cheesecake extra smooth and creamy, then the whipped topping helps the cheesecake stay firm.
In this recipe, we're also using gelatin to set the cheesecake. This especially helps your cheesecake stay firm during hot summer months. But if you prefer to make it without gelatin that's ok (just leave out the water too). It will still work, but I recommend letting it firm up in the freezer, then dethawing in the fridge for 30 minutes to an hour before serving.
Check Out My Other Recipes
To serve, each piece is topped with fresh sugared strawberries. It's a super easy fruit topping, and makes the cheesecake perfect for summer. I also added a little whipped cream for good measure, but that's totally up to you.
I love how this cheesecake has a classic cheesecake flavor and creamy texture, but is way easier than making a baked cheesecake. The fresh strawberries give a beautiful pop of color, and it's the best no bake cheesecake recipe I've ever tried.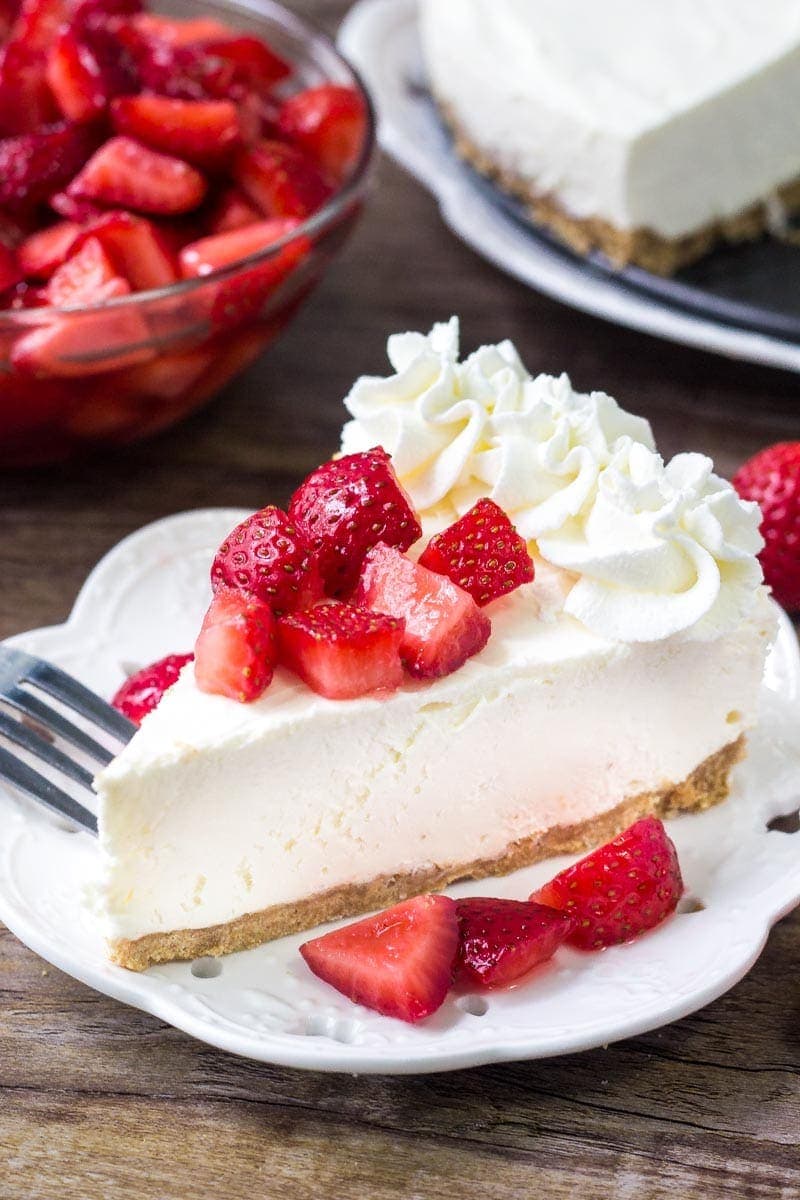 No Bake Cheesecake:
No Bake Strawberry Cheesecake
This no bake strawberry cheesecake is the perfect recipe for summer. So creamy, so easy & topped with fresh berries. Everyone goes crazy over this easy cheesecake recipe!
Ingredients
Graham Cracker Crust
1½ cup graham cracker crumbs
2 tablespoons granulated sugar
6 tablespoons melted butter
Cheesecake Layer
1 packet gelatin (about 2¼ teaspoons)
¼ cup boiling water
24 oz cream cheese, softened to room temperature
1¾ cup powdered sugar, sifted
2 teaspoons vanilla extract
2 teaspoons lemon juice, freshly squeezed
½ cup plain Greek yogurt (or sour cream)
1½ cups frozen whipped topping, thawed
Strawberry Topping
16 oz fresh strawberries
⅓ cup granulated sugar
whipping cream for serving, optional
Instructions
For the Graham Cracker Crust
Lightly grease a 9 inch springform pan with cooking spray.
In a medium bowl stir together the graham crumbs, 2 tablespoons sugar, and melted butter.
Press into the bottom of the springform pan, making a slight lip up the sides of the pan.
Place in the freezer while you make the cream cheese layer.
For the Cheesecake Layer
In a small bowl dissolve the gelatin in the boiling water and let sit while you make the filling.
In a large bowl beat the cream cheese until very soft. Then mix in the powdered sugar, vanilla extract, lemon juice, sour cream and gelatin mixture.
Turn off the mixer and gently fold in the whipped topping.
Then take the springform pan out of the freezer and spoon the cheesecake layer overtop, smoothing the top with a flat-edge knife or spatula.
Set in the fridge to chill for at least 6 hours, or overnight. You can also speed up this process by placing the cheesecake in the freezer.
For the Sugared Strawberries.
A few hours before you plan to serve the cheesecake, you can make the sugared strawberries. This brings out the juices in the strawberries.
First, hull the strawberries then cut them into quarters or eighths. Toss the strawberries with the sugar, and then place in a container in the fridge.
To serve the cheesecake, take it out of the fridge and trace the edges of the springform pan with a thin sharp knife. Then unclamp the pan and cut into pieces.
Top with whipped cream and sugared berries.
For more delicious recipes, visit Fiona over at 
Just So Tasty
.
And while you're at it, check out this other amazing treat from Fiona: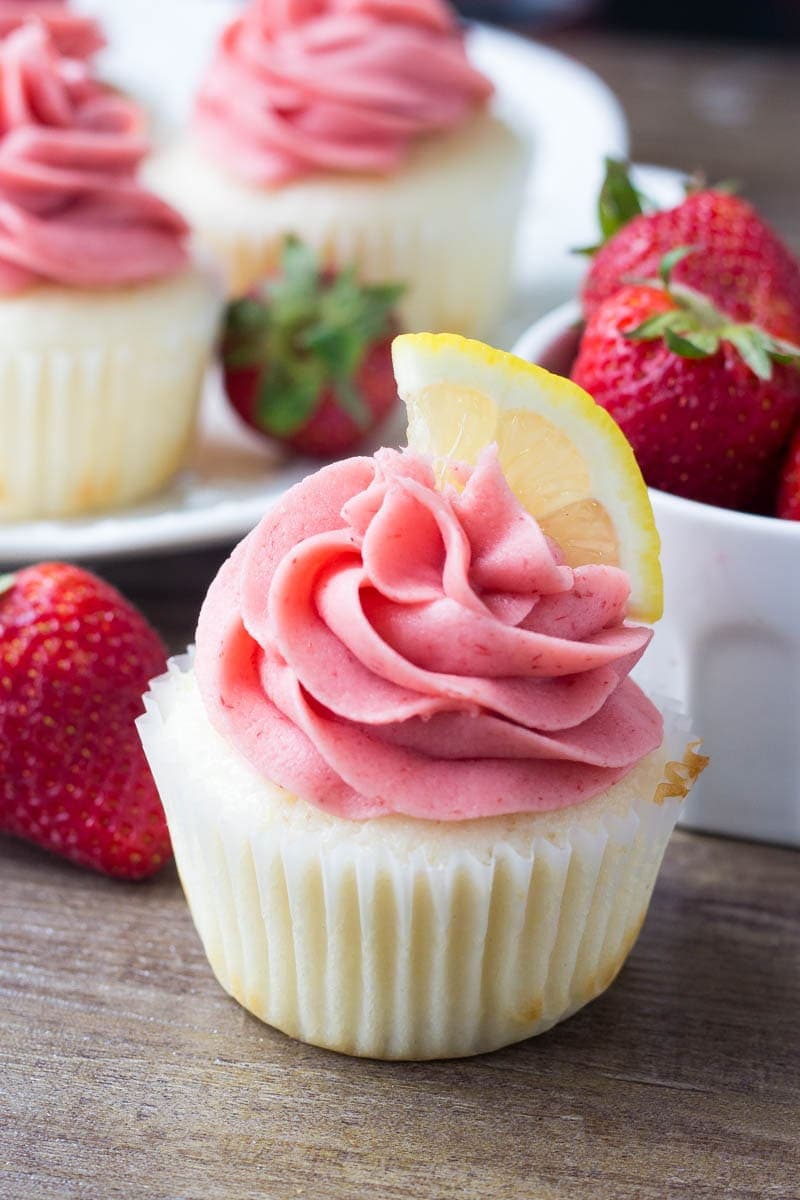 And for more awesome no-bake recipes, check out these:
ENJOY!
Need more recipes and creative ideas? Sign up and get a FREE copy of my latest ebook!