Whether you're hoping to serve something patriotic, a treat with seasonal summer fruit, or a chilled dessert, this round-up has all the best 4th of July desserts to serve at your holiday get-together!
More collections: 4th of July Recipes, 4th of July Side Dishes, 4th of July Drinks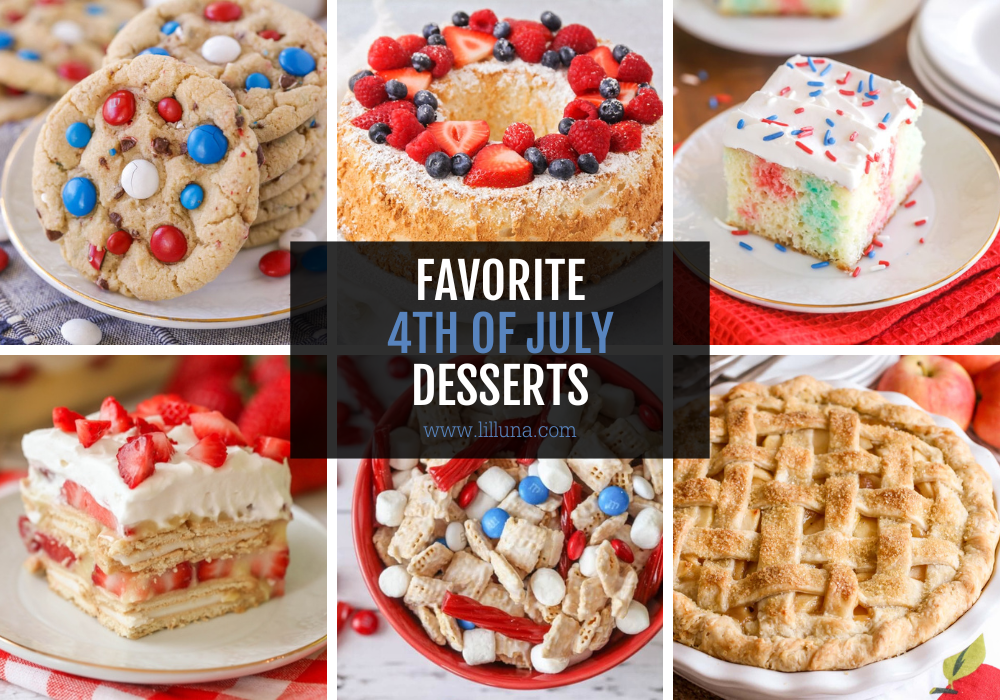 our Favorite Fourth of July Desserts
There isn't a more American dessert than Classic Apple Pie. With that said, there are so many other delicious desserts you can serve on the 4th of July to celebrate American Independence.
We have desserts using red, white, and blue colors, desserts that use summer fruits, chilled desserts perfect for a warm summer day, as well as classic desserts that can be changed up with patriotic candies or sprinkles to make them perfect for Independence Day!
Make it festive or focus on flavor. Either way, there are plenty of tasty treats to choose from!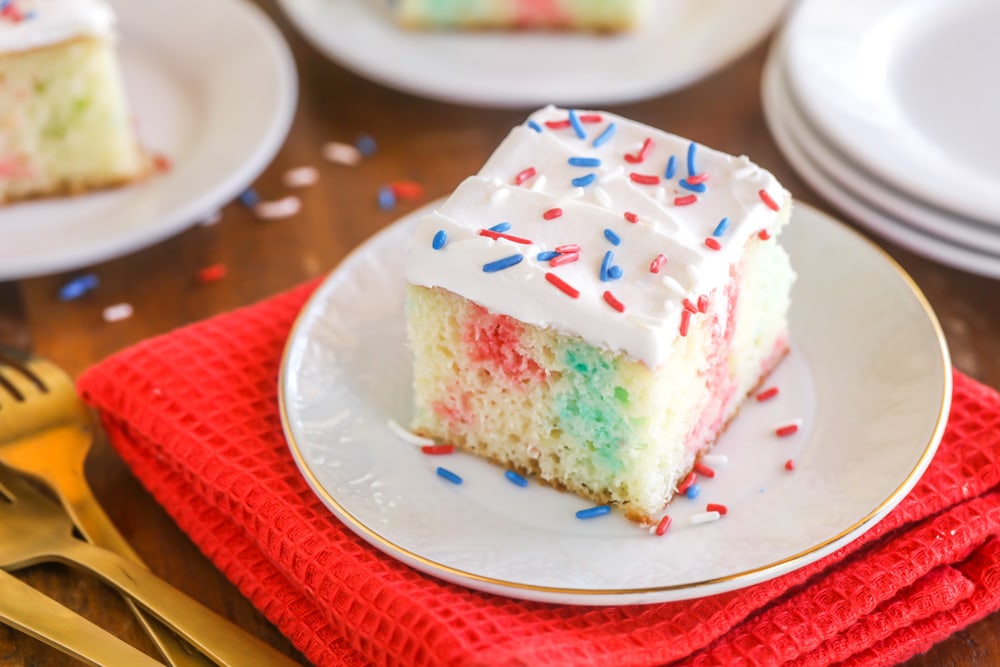 Tips for Fourth of July Desserts
How much to make. Make enough for each guest to be able to have 1-2 servings of dessert. Also, plan to have at least 2 dessert choices for every 10 guests.
Once you start adding dessert choices you will only need to make sure there's enough for people to have two dessert servings and not a piece of each dessert.
Keeping desserts cold when outside. Whether you're serving dessert at a cookout or waiting for fireworks to begin you don't want to let your perfectly prepared 4th of July treats to melt in the summer heat.
The best way to keep your dessert cold when outside is to keep it in a cooler with ice, or a block of dry ice until you're ready to serve it.

Only bring out/serve what you will eat. Keep the rest in a cooler until needed.

If you're placing the dessert out on a table one way to help keep it cold is to fill a tray/bowl with ice cubes and nestle the dessert right on top.
Little helpers. My kids love to "help" in the kitchen. I have found that making and decorating desserts is the easiest way for them to be involved.
They love mixing and pouring batter.
They can add sprinkles, fruits, and other toppings to desserts.
They love to measure ingredients and dump them into the mixing bowl.
They can wash and cut fruits.
Older kids can successfully apply frosting.
They like adding layers to parfaits, trifles, and other desserts.
See individual recipe posts for more specific tips, tricks, and storage information.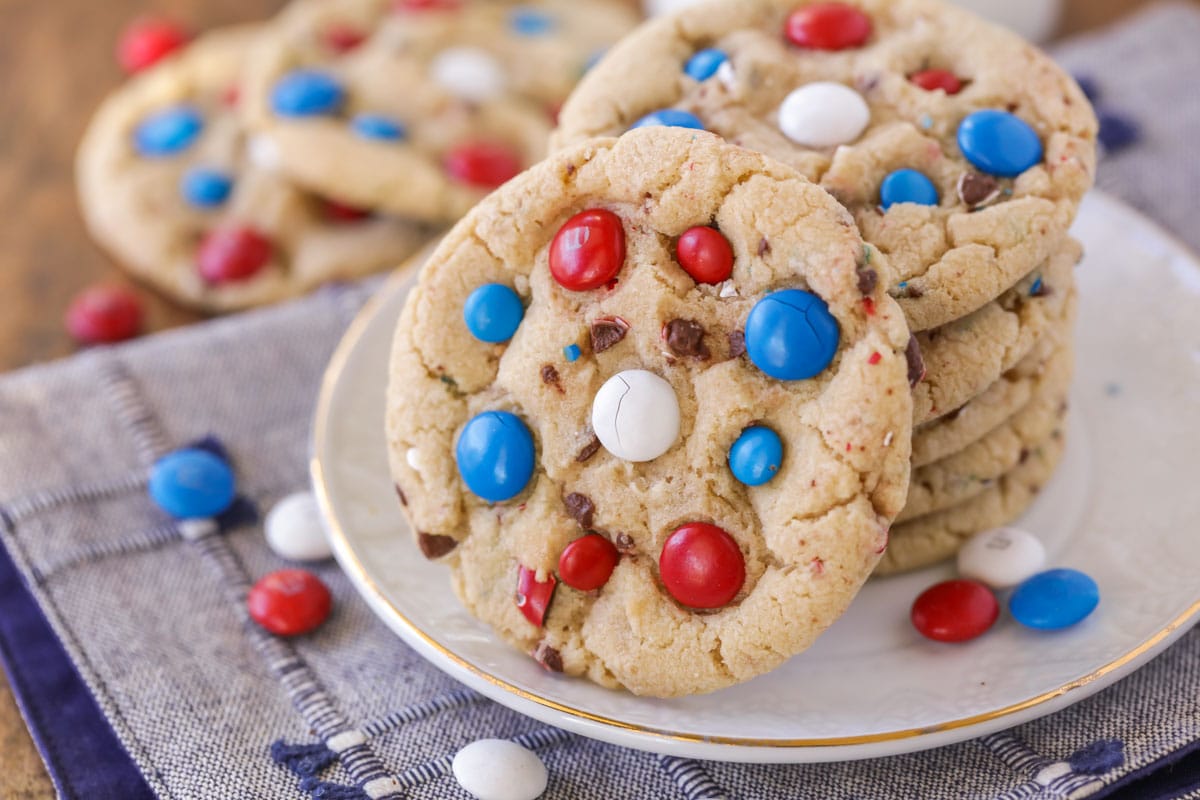 Make it Festive
Though there is a list of patriotic-colored desserts, you can easily serve other desserts on or in a patriotic-themed dish to make them more festive.
Red, white, and blue are the colors of America's birthday.
Frosting. Food coloring can make frosting and other white-based desserts 4th of July themed.
Fruit. Red, white, and blue fruits provide the colors of American Independence. I often see fresh berries arranged in the shape of an American flag on top of cakes, pies, cheesecakes, and other treats.
Here are a few common fruits in each color category:
Red: strawberry, raspberry, red grapes, or cherries
White: white melon, golden honeydew, banana, sliced apple, sliced pear, or white peaches
Blue: Blueberries, blackberries, or dark purple grapes
Other summer fruits. Though these don't fall under the red, white, and blue category, they make delicious and refreshing desserts in the summer: lemon, pineapple, and yellow peaches.
---
Patriotic Desserts
We always make sure to have at least one red, white, and blue treat at our 4th of July celebrations. All of these recipes are great for that and add that festive touch to the party!
Jello Poke Cake
Cake with Jell-O drizzles poked throughout, and topped with a smooth layer of whipped cream! This light and cool Jell-O Poke Cake recipe is always a crowd favorite.
Patriotic Trail Mix
Sweet and crunchy patriotic trail mix is filled with candy coated cereal mixed with mini marshmallows, licorice and M&Ms.
Fourth Of July Rice Krispie Treats
Delicious, simple and quick 4th of July Rice Krispie treats are always a hit, and are festive for any patriotic occasion.
Angel Food Cupcakes
Fluffy and light Angel food cupcakes are the tastiest dessert—especially with a pineapple flavored whipped topping.
Fruit Tart
Prettiest and yummiest fruit tart you will ever make! Sweet, buttery, and perfect for spring and summer parties, holidays or get togethers.
Strawberry Icebox Cake
Easy strawberry icebox cake is simple, light, and full of fresh summer berries. It'll disappear in seconds at your next get-together!
4th Of July Cookies
These 4th of July cookies are festive and delicious. They are soft, chewy, and filled with delicious crunchy bits of M&Ms.
Dessert Parfaits
Paradise parfaits are a creamy combination of delicious fluffy pudding and fresh fruit. They are simply heavenly!
Patriotic Poke Cake
This cool, light, and refreshing Jell-O poke cake is filled with red and blue Jello making it perfectly patriotic. Make for Independence Day, Memorial Day, or Labor Day and it's sure to be a hit!
Angel Food Cake
This easy angel food cake is a must-try. It's tender and light as air, with the perfect amount of sweetness, and perfect to enjoy all year long.
---
desserts with summer fruits
If you're anything like us, we LOVE enjoying fruit in the summertime, especially in desserts. These are some of our go-to's when craving fruity desserts during our summer holidays.
Fresh Strawberry Cupcakes
These fresh strawberry cupcakes are the real deal. Fresh strawberries and toasted coconut make these peak-of-the-season cupcakes SO divine!!
Dessert Kabobs
Dessert kabobs are a simple and delicious way to serve several "mini" treats at once. They are perfect for parties, BBQs, and every day!
Peach Dump Cake
3 ingredients peach dump cake is quick, simple, and utterly tasty. It is warm, gooey, and perfectly peachy!!
Cheesecake Fruit Salad
This cheesecake fruit salad is the perfect combination of creamy, light, and fresh! Fresh berries tossed in a cream cheese pudding mixture—it's the perfect side, or crepe filling!
Blueberry Dump Cake
This easy blueberry dump cake is made with only 3 ingredients! With a layer of juicy blueberry pie filling and a buttery topping, it's perfect with a scoop of vanilla ice cream.
No Bake Strawberry Shortcake
NO-BAKE strawberry shortcake has layers of cream-filled cookies, vanilla pudding, and strawberries. It's the perfect cool dessert!
Blackberry Cobbler
Sugary-crusted blackberry cobbler is sweet & irresistible, especially when served with a scoop of vanilla ice cream. Enjoy all year long!
Strawberry Sheet Cake
This strawberry sheet cake is especially tasty made with fresh pureed strawberries and topped with an amazing homemade strawberry frosting!
Triple Berry Pie
Fresh and fruity triple berry pie is easy and delicious with only 30 minutes of prep time. It's perfect all year long!
Cherry Pie
This recipe for the cherry pie is simple and elegant, but it tastes amazing. It's perfect for any special occasion or holiday!
Strawberry Pie
Strawberry pie is the perfect springtime dessert! Fresh strawberries piled high, coated in strawberry Jell-O, and placed in a buttery crust.
Fruit Pizza
A delicious sugar cookie crust with cream cheese frosting topped with your favorite fruits. This fruit pizza is definitely a family favorite.
Strawberry Shortcake Bars
A soft vanilla cake-like crust perfectly combines with a light layer of whipped cream cheese frosting. Top it off with fresh strawberries for delicious strawberry shortcake bars!
Peach Cobbler
Our FAVORITE peach dessert! This homemade peach cobbler recipe takes just a few minutes to prep and is beyond easy! Add some ice cream and cool whip to this delicious cobbler and you're set!
Best Apple Pie
There's nothing like a slice of warm apple pie served with vanilla ice cream! This recipe for homemade apple pie has proven to be the BEST apple pie recipe around. With a flaky, buttery crust made from scratch, and a gooey, sweet apple filling, this pie will not disappoint!
Pineapple Upside Down Cake
Pineapple upside-down cake is a classic dessert that is so soft and moist, filled with the perfect amount of pineapple flavor!
Easy Strawberry Shortcake
Easy strawberry shortcake is one of the easiest desserts you'll ever make!! It's light, refreshing, and perfect for summer.
Cherry Bars
With a hint of almond extract, a heavenly glaze, and cherry pie filling swirled throughout, these delicious cherry bars are the sweetest way to easily treat a crowd!
Lemon Sheet Cake
This super moist and delicious lemon sheet cake recipe topped off with a tasty lemon buttercream frosting is our new favorite dessert, and it's perfect for feeding a crowd!
Peach Crisp
With sweet juicy peaches and a cinnamon crumble topping, peach crisp is the perfect dessert with a scoop of vanilla ice cream.
Lime Sheet Cake
Perfectly moist lime cake, topped with a homemade lime buttercream frosting, and sprinkled with lime zest! Just the right balance of citrus and sweetness in this yummy sheet cake. It's easy, refreshing, and great for feeding a crowd!
Strawberry Shortcake Kabobs
Strawberry shortcake kabobs are a simple version of a classic. Fluffy white cake, pound cake, or angel food cake can be paired with strawberries and drizzled in melted vanilla candy coating!
---
chilled treats
I think we can all agree that you can't beat COLD and chilled desserts when it's hot outside!!
Well, the 4th of July is usually pretty darn hot, so here are some of our favorite cold treats that we like to enjoy on Independence Day.
Banana Pudding Poke Cake
This banana pudding poke cake has all the flavors of banana cream pie, just in cake form. With layers of banana cake, pudding, cream, bananas, and vanilla wafers, it's sure to be a hit!
Dirt Cake
Oreo dirt cake – layers of creamy, white chocolate pudding, cream cheese, cool whip, and more and topped off with Oreos!
Lemon Icebox Pie
Deliciously creamy & tangy lemon icebox pie is a classic chilled southern dessert that's perfect for summer!
Frozen Butterfinger Pie
With a chocolate Oreo crust, a homemade Butterfinger ice cream filling, fluffy whipped topping, and even more Butterfingers on top, every single bite of this pie is unbelievably delicious!
Ice Cream Sandwich Cake
Full of Oreo studded ice cream sandwiches it is cool, creamy, and refreshingly delicious. It is perfect for hot summer days!!
Oreo Ice Cream Cake
This Oreo ice cream cake makes for the perfect no-bake dessert during warm summer months. Best of all, it only takes 5 simple store-bought ingredients! No one can resist the layers of crushed Oreos, cookies and cream ice cream, hot fudge, Cool Whip, and MORE Oreos!
Dole Whip
Make Disney's Dole Whip Recipe from home with only 3 ingredients! It's cool, creamy, and filled with refreshing pineapple flavor.
Root Beer Float Ice Cream Cake
Root beer float ice cream cake is just like a cold and frosty mug of root beer and ice cream, only in cake form!!
Angel Food Ice Cream Cake
Angel Food ice cream cake is creamy, light, & refreshing, made from layers of angel food cake and your favorite ice cream flavor. A scrumptious treat chilled to frozen dessert perfection!
Strawberry Shortcake Poke Cake
This strawberry shortcake poke cake is the perfect cool and refreshing dessert. Yellow cake with strawberry gelatin poked throughout, topped with a delicious whipped topping and fresh strawberries.
Frozen Peanut Butter Pie
Frozen peanut butter pie consists of a graham cracker pretzel crust, frozen peanut butter filling, and a chocolate, pretzel, peanut butter cup topping. It's the most perfect salty and sweet combo!
Lemon Lasagna
This luscious lemon lasagna AKA Lemon Lush consists of 4 tasty layers, including a Lemon Oreo crust, cream cheese layer, lemon pudding layer and topped with whipped cream!
Chocolate Chip Cookie Delight
A delicious and cool layered dessert with a cookie base, cream cheese and pudding layer all topped off with Cool Whip and mini chocolate chips.
Blueberry Delight
Blueberry crumb delight is a delicious layered dessert recipe with a cream middle and topped with blueberries and whipped cream!
Nilla Wafer Banana Pudding
Creamy sweet banana pudding is the best dessert to bring for a party! It steals the show with its light banana flavor, thick pudding, and crunchy vanilla cookies.
---
classics that can be made patriotic
Don't forget some of these classic treats!!
All of these can easily be made patriotic by adding red, white, and blue sprinkles or candies. You can also arrange strawberries in stripes and blueberries in the corner for stars so they make an American Flag cake.
M&M Cookie Bars
These sweet and chewy M&M cookie bars will be your new favorite! They are perfectly crisp on the outside and soft on the inside.
No Bake Cheesecake Bars
No-Bake cheesecake bars are just the right amount of sweet, with a buttery graham cracker crust. Top them however you like—fruit, chocolate sauce, or caramel and sea salt!
Frosted Sugar Cookies
Our ALL-TIME favorite sugar cookie recipe!! These homemade sugar cookies are so soft and have the best, creamy frosting with hints of almond. They can't be beaten!
M&M Cookie Cake
M&M cookie cake is made from sugar cookie dough filled with M&M's and topped with some chocolate buttercream frosting. It's the perfect dessert to enjoy with friends and family.
Sugar Cookie Bars
One of everyone's favorite cookies in bar form – these soft sugar cookie bars are simple and are topped with a delicious buttercream frosting that makes this dessert irresistible.
Funfetti Cookies
Soft and chewy Funfetti cookies are quick, simple, and a kid-favorite! They are the perfect little treat to satisfy your sweet tooth.
Cookie Bars
Chocolate chip cookie bars (aka Pan Chewies) – our family's go-to Sunday Night Dessert! It's your favorite cookie in bar form served hot and perfect with ice cream.
Chocolate Sheet Cake
Our favorite chocolate sheet cake recipe. It's simple, moist, delicious, and serves a lot making it our go-to party dessert – perfect with ice cream.
Brownies With Frosting
Our favorite frosted brownie recipe. They're soft, chewy, topped with delicious frosting, and are great for holidays and get-togethers.
White Sheet Cake With Chocolate Frosting
This white sheet cake with chocolate frosting is easy to make, melts in your mouth, and is always a crowd-pleaser!
Best Chocolate Chip Cookies
Our all-time FAVORITE chocolate chip cookies recipe! These soft, chewy and delicious chocolate chip cookies are perfect for any occasion and truly knock the socks off of anyone who tries them.
M&M Cookies Recipe
Soft and chewy M&M cookies – these fun and colorful cookies are perfect all year long and easily changed up with the M&Ms you use. They're a family favorite!
---
Delicious Desserts for the 4th!
We hope you'll love this list of delicious desserts for the 4th of July as much as we do! They are sure to make your holiday get together extra special!
More Collections: Spring Desserts, Summer Desserts, Dessert Bar Recipes