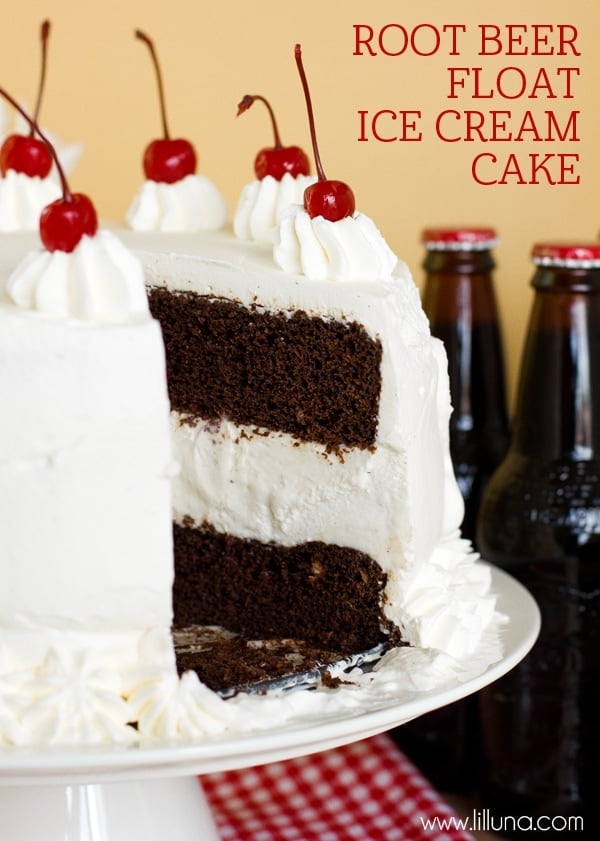 Hello Lil' Luna readers! It's me Natalie, from Life Made Simple. Today I'm sharing a special cake that's perfect for Father's Day. I've always wanted to make a cake using soda so I finally gave it a try! This root beer float ice cream cake is made from a chocolate cake, vanilla ice cream and whipped cream (plus few cherries for on top). Pretty simple right?! I started off by making a scratch chocolate cake. It's so easy and you get to use actual root beer in it! I'm not going to lie, I felt a bit like a mad scientist when I was pouring it, but it bakes up beautifully and the flavor is incredible! I added a tablespoon of root beer extract just to make sure the flavor popped.
To assemble the cake, I topped the first layer of the chocolate cake with 1.5 quarts of vanilla bean ice cream. Then I placed the second layer over top. Finally I topped it all off with a nice even coating of homemade whipped cream. I let it "set" in my freezer for a few hours and then sliced it up! What I love the most about this cake is how unique it tastes, but how effortless it is to make! If you don't have time to make homemade whipped cream you can always use store  bought cool whip… and if you're feeling adventurous you can substitute the root beer for cherry coke and the root beer extract for cherry extract.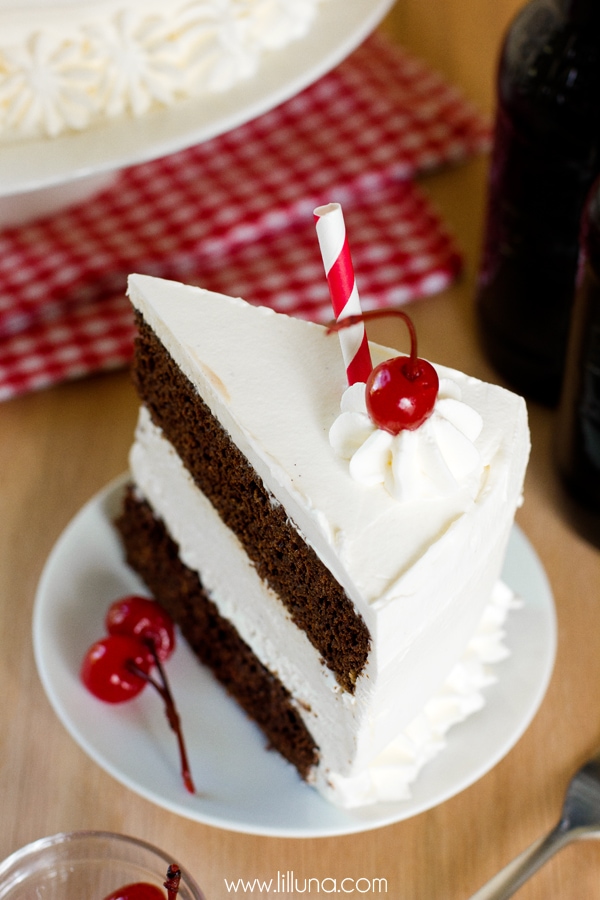 We absolutely loved this cake! It's a fun and unique treat for occasions like Father's Day, Fourth of July or a birthday. With only a handful of ingredients and a few hours to spare, you'll have a frosty treat to help you stay cool and celebrate a special day. Enjoy & happy baking!
Root Beer Float Ice Cream Cake Recipe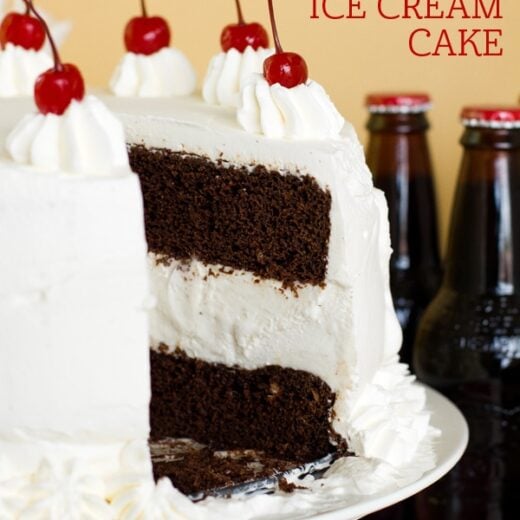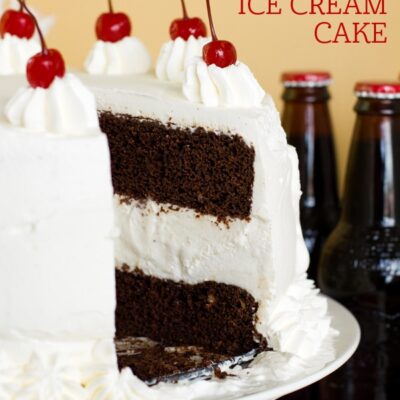 Delicious Root Beer Float Ice Cream Cake. Super moist cake made with root beer or cherry coke, heavy cream, root beer or cherry extract and layered with vanilla ice cream!

Ingredients
2

cups

all purpose flour

1

cup

natural unsweetened cocoa powder

1 1/4

cup

granulated sugar

1/2

cup

brown sugar

2

cups

root beer

or cherry coke (not diet)

1/2

cup

unsalted butter

2

eggs

1

tbsp

root beer extract

or cherry extract

1 1/2

tsp

baking soda

1

tsp

salt

1

quart

vanilla ice cream

3

cups

heavy whipping cream

2/3

cup

powdered sugar

1

tsp

vanilla extract

pinch

salt

cherries on top
Instructions
Remove the vanilla ice cream from the freezer and allow it to soften at room temperature. Line a 9"x2" cake pan with plastic wrap, making sure that you have a fair amount of overhang. Using a spatula, carefully spread the ice cream so that you have a nice even layer. Cover and place in the freezer to firm up, about 2 hours.

Meanwhile, in a saucepan set over medium heat, combine the cocoa powder, sugars, root beer and butter. Heat until the butter has melted. Remove from the heat and add the root beer extract. Allow to cool while preparing the remaining ingredients.

Preheat your oven to 325°F. Line the bottoms of 2 9"x2" cake pans with parchment paper and then lightly coat with baking spray, set aside.

In a large mixing bowl, combine slightly warm butter mixture with the eggs. Mix until the eggs are incorporated. Gradually add the flour, salt and baking soda. The batter will look slightly lumpy but that's ok.

Pour into the prepared pans and bake for 30 minutes. Remove from the oven and allow the cakes to cool in the pans for 30 minutes, then remove them and allow them to cool completely on a wire rack.

Whip the cream along with the powdered sugar, vanilla and salt until it is stiff.

To assemble the cake, place one layer of chocolate cake onto a plate, cake stand, or cake round. Place the ice cream (with plastic wrap removed) onto the top of the cake. Place the other layer on top of the ice cream. Using a spatula, frost the top and sides of the cake with the whipped cream. Garnish with cherries and freeze until you're ready to eat it ?

-This chocolate root beer cake is adapted from Baked: New Frontiers in Baking, inspired by Taste & Tell.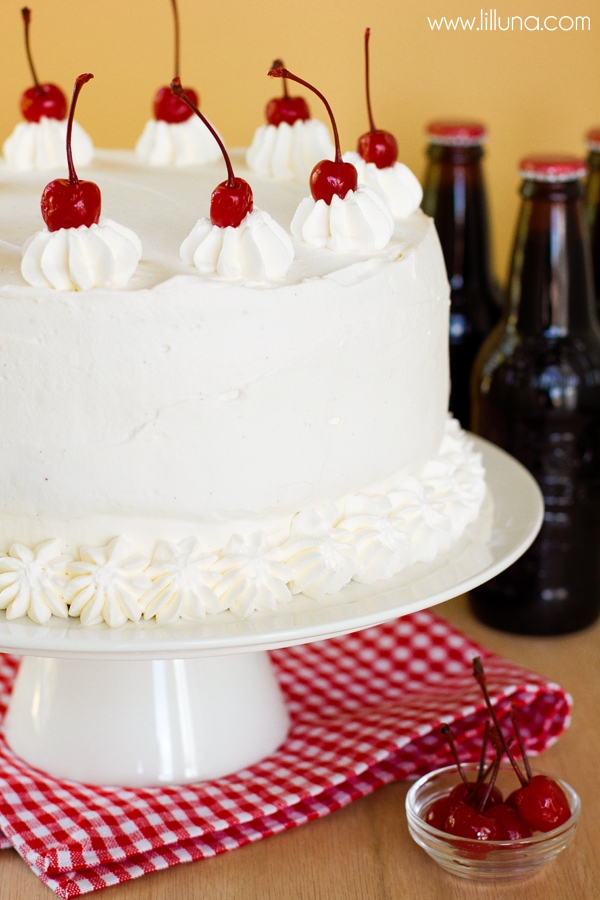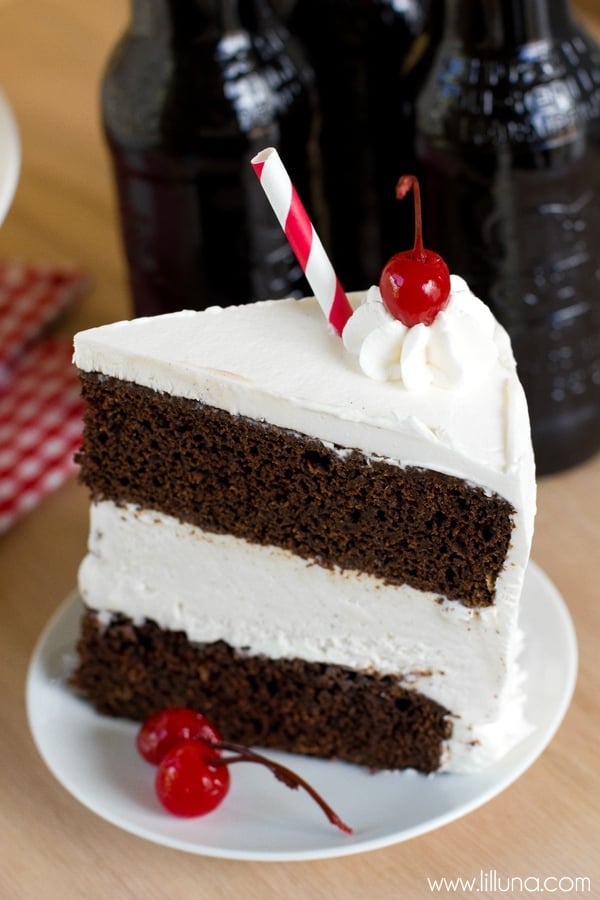 Thanks again Kristyn for having me!
You can find more recipes & craft ideas here:
Life Made Simple | Facebook | Pinterest | Twitter | Instagram
———————————
For more delicious layer cake recipes, be sure to check out: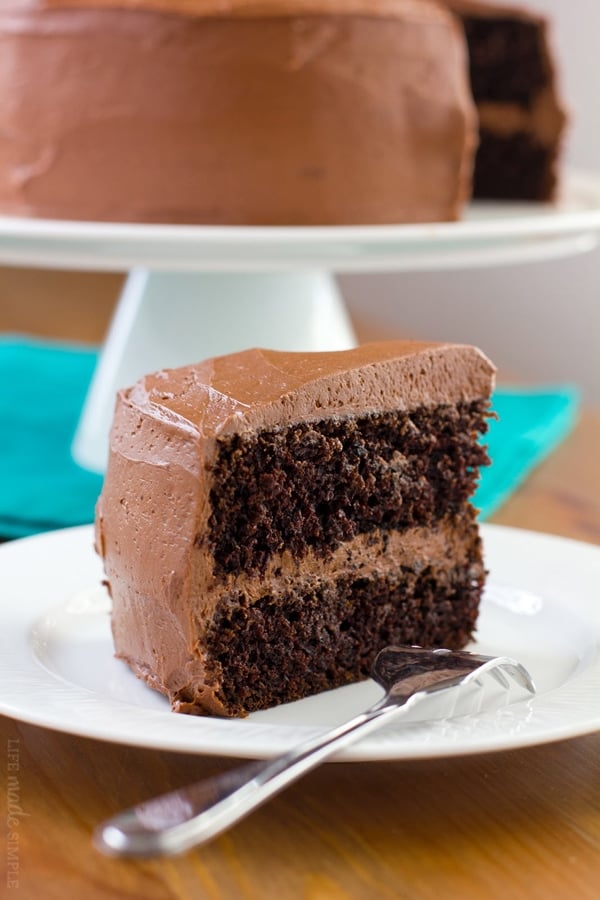 Red Velvet Cake with Vanilla Bean Cream Cheese Frosting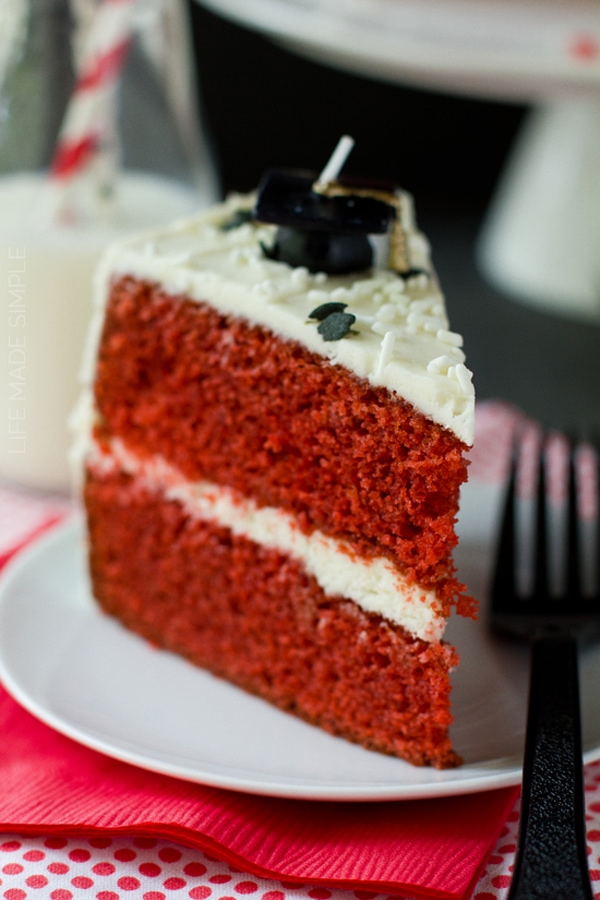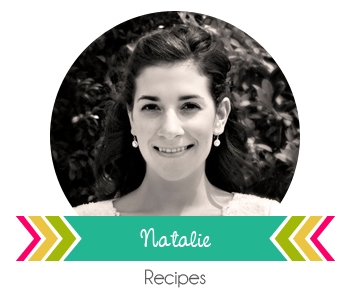 ———————————————
I'm a HUGE fan of Root Beer Floats and cannot wait to try this recipe, Natalie. I LOVE it!!
Thank you!
For more great recipes from Natalie, be sure to check out: Life Made Simple, and for more information about her go HERE.
For more yummy recipes from her, here on Lil Luna be sure to check out: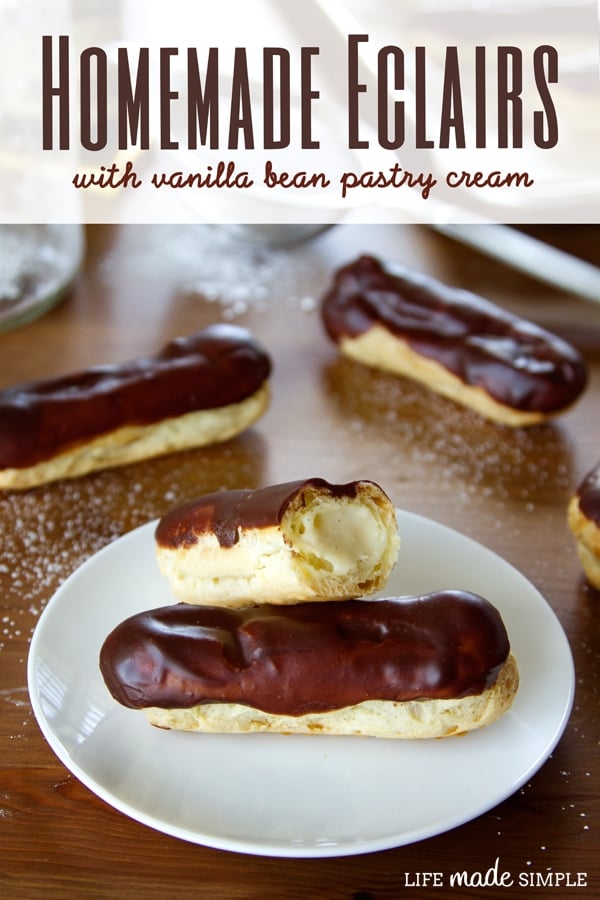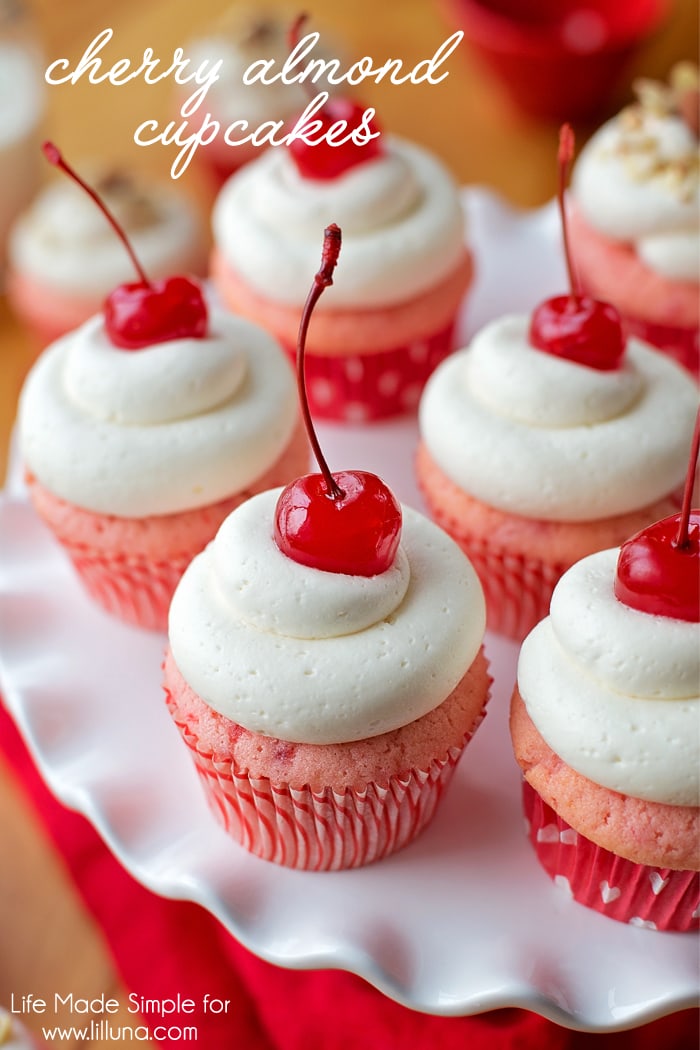 Crispy Baked Sweet Potato Fries
For all Father's Day ideas go HERE.
For all desserts go HERE.
And get weekly emails with monthly freebies by signing up for the Lil' Luna newsletter. 🙂
For even more great ideas follow me on Facebook – Pinterest – Instagram – Twitter – Periscope.
ENJOY!