These Sweet Potato Fries are so delicious and crispy. If you love sweet potatoes, you'll love these fries because they're simple, flavorful, baked in the oven, and go great on the side of pretty much any entree!
I frequently order sweet potato fries as a side dish whenever we go out to eat. They're SO tasty, especially served on the side of a burger, bbq pork sandwich, or grilled chicken!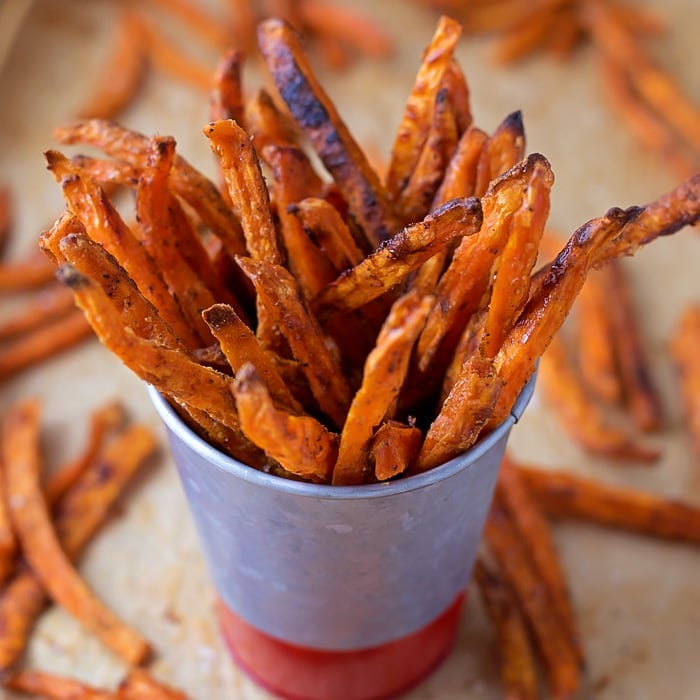 baked, but not soggy!
Hello Lil' Luna readers! It's me Natalie, from Life Made Simple. I'm back with another amazing recipe today. These sweet potato fries are some of the best homemade fries I've ever had! They're crispy & flavorful and a whole lot healthier because they're oven baked to perfection!
I fell in love with sweet potato fries just a few years ago when my husband ordered them at a restaurant. They are now my FAVORITE, and I am so happy we can make them at home now. Having said that, homemade fries that aren't fried are often hard to get nice and crisp.
Thankfully I've got a few tips and tricks for you that will help you bake these beauties to perfection. No more soggy fries!!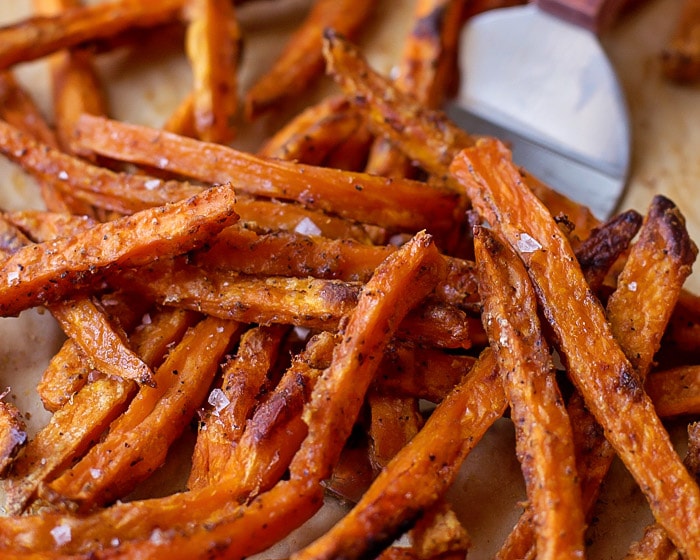 How to Make Sweet Potato Fries
This recipe is easy but does take a little bit of time. These tips though will help make sure the fries are always crispy. 😉
CUT & SOAK. First, try and make sure that your fries are all the same thickness. Once you've got them cut up, place them in a large bowl of ice cold salt water. Let them soak for at least one hour, more if you have the time.
COAT. Drain the water, toss in a ziploc bag with cornstarch and some seasonings and shake until coated.
BAKE. Then toss in a bit of oil (I used a blend of olive and vegetable), place on a hot sheet pan with a piece of parchment paper placed over top and make sure there's plenty of room for the fries to bake. Once they're in the oven turn them just once and let them go until the ends start to get crispy.
Tip: Bake in the upper third in the oven. Moving the pan away from the heat source will help them from getting burned before being thoroughly cooked.
It'll takes a little time, but be patient… I promise the results are well worth it! Let the fries cool for a few minutes and then dig in!
Other cooking methods
Can I air fry sweet potato fries? This is a great option to get a nice crispy fry. Preheat the air fryer to 400°F and lightly spray the basket with oil. Place the fries in the basket in a single layer. Fry for 8 minutes flipping them halfway.
How to grill sweet potato fries? You'll want to cut the potatoes into thick wedges and pre boil them for about 5 minutes. While the potatoes are boiling, lightly oil the grill grates and turn the grill on to medium heat. Once they've boiled, drain and pat dry. Season them and place on the grill. Grill for 8-10 minutes, turning halfway, until cooked.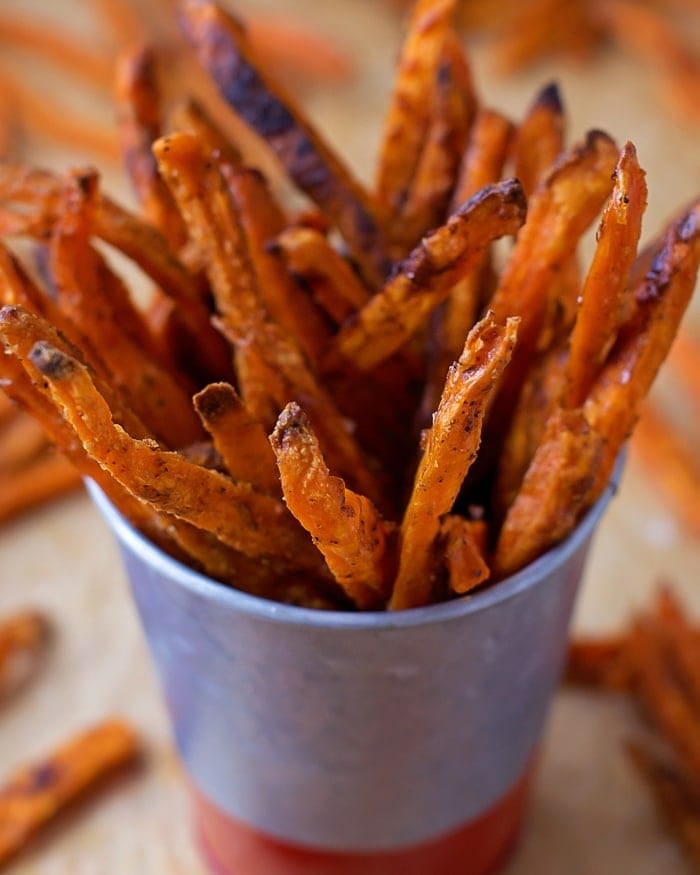 Serving and storing
Dipping sauces: Although they are absolutely delicious straight out of the oven, a dipping sauce only enhances the flavor! And the options are Endless. Of course, you can go with classic ketchup or ranch dressing. You can also mix up your own mayo based dip. Try Spicy mayo (¾ c mayo and ¼ cup sriracha) or a fry sauce (¾ c mayo with ¼ ketchup)  
Storing/Reheating. Store leftovers in an airtight container in the fridge for 4-5 days. Reheat in the oven 400 degrees F for 5-8 minutes or until hot.
Make ahead & freeze. You can easily freeze sweet potato fries to use later. Peel and cut your potatoes into fries, then blanch the fries in boiling water: Bring a pot of water to boil. Boil fries for 5-7 minutes. Drain and immediately put fries into a bowl of ice water for 3-5 minutes. Drain and pat dry. 
Next, flash freeze them. Place fries in a single layer on a cookie sheet. Put them in the freezer until they begin to harden, about an hour. Remove and place in an airtight freezer safe container for up to 12 months.
To Heat: Preheat oven to 450 degrees F and bake for 25-30 minutes toss halfway through.
These sweet potato fries are absolutely delicious, I hope you'll enjoy them as much as we we do! We really are quite obsessed and even my kids now prefer them over regular french fries – they're just that good!
For even more sweet potato recipes, be sure to check out:
Sweet Potato Fries recipe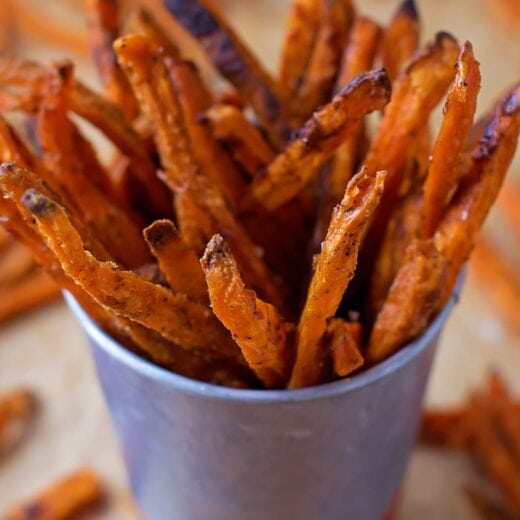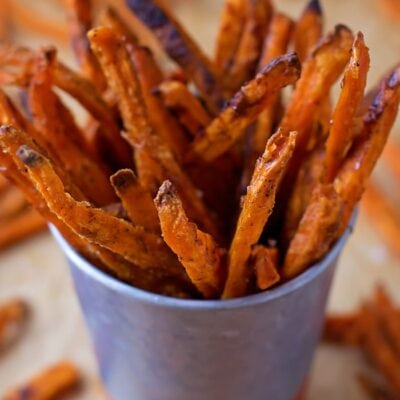 These Sweet Potato Fries are so delicious and crispy. If you love sweet potatoes, you'll love these fries because they're simple, flavorful, made in the oven and the perfect side dish to any meal.
Ingredients
3

medium sweet potatoes

peeled and cut into ¼" sticks

1

tbsp

kosher salt

divided

3

tbsp

cornstarch

2

tsp

paprika

1

tsp

garlic powder

1

tsp

ground black pepper

1/8

tsp

cayenne pepper

1/8

tsp

coriander

1/8

tsp

cumin

3

tbsp

vegetable oil

(or vegetable & olive oil blend)

sea salt flakes

optional
Instructions
Place the raw sweet potato sticks in a large bowl add enough cold water to cover the fries, then sprinkle 2 tsp. of the salt over the top. Allow to sit for 1 hour, or more time if possible.

Preheat oven to 450 degrees. Place a rimmed cookie sheet (standard size) in the oven to heat. Cut a piece of parchment paper to fit the sheet, set aside.

Drain the fries and place in a large plastic bag with the cornstarch, paprika, garlic, black pepper, cayenne pepper, coriander and cumin. Leave a little bit of air in the bag, zip and shake until evenly coated. Use the same bowl to toss the fries in the oil.

Remove the sheet from the oven, place the parchment paper over top and then carefully toss the fries on, making sure they have space in between to bake (you don't want them to steam). Bake for 20 minutes, toss, then bake for 10-15 minutes more, or until crisp and golden brown. Remove from the oven, sprinkle with sea salt and allow to cool for 5 minutes before serving. Enjoy immediately!
I am seriously SO excited to try this recipe, Natalie! It looks phenomenal!! We LOVE Sweet Potato Fries and my husband does especially. 🙂 For more great recipes from Natalie go to Life Made Simple.
ENJOY!