Hello Lil' Luna readers! It's me Natalie, from Life Made Simple. I'm back with another fall-inspired recipe today. P.S. did you catch my last one? If not, you'll definitely want to check it out here! These sweet potato fries are some of the best homemade fries I've ever had! They're crispy & flavorful and a whole lot healthier because they're oven baked to perfection!
I love sweet potato fries, how about you? However, homemade ones that aren't fried are often hard to get nice and crisp. Thankfully I've got a few tips and tricks for you that will help you bake these beauties to perfection. No more soggy fries!!
First, try and make sure that your fries are all the same thickness. Once you've got them cut up, place them in a large bowl of ice cold salt water. Let them soak for at least one hour, more if you have the time. Drain the water, toss in a ziploc bag with cornstarch and some seasonings and shake until coated. Then toss in a bit of oil (I used a blend of olive and vegetable) place on a hot sheet pan with a piece of parchment paper placed over top and make sure there's plenty of room for the fries to bake.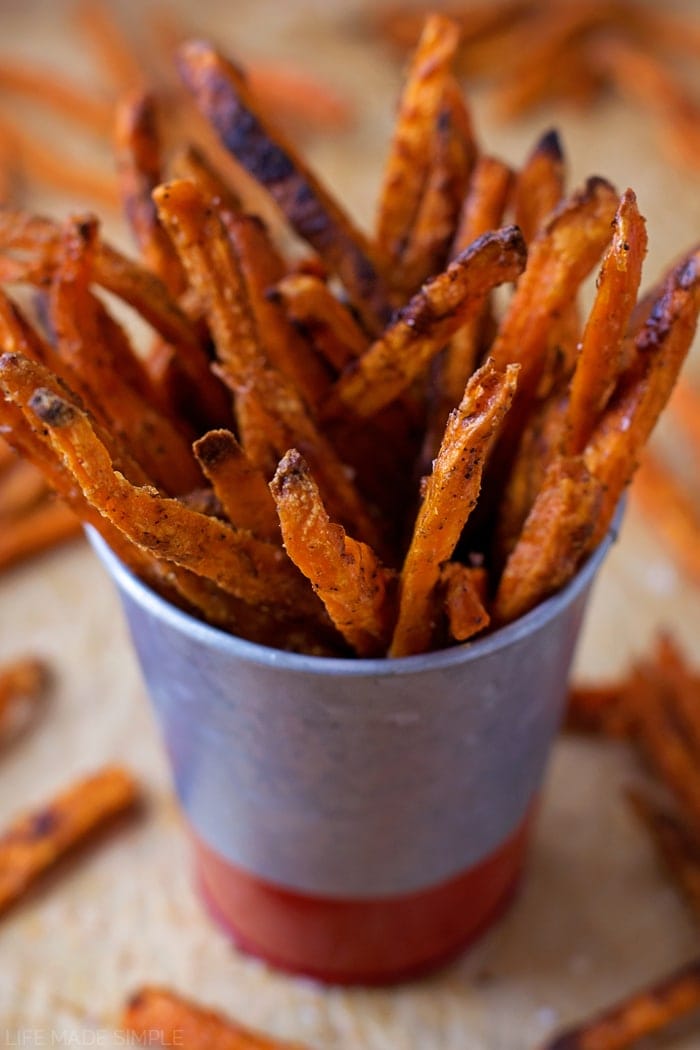 Once they're in the oven turn them just once and let them go until the ends start to get crispy. It'll takes a little time, but be patient… I promise the results are well worth it! Let the fries cool for a few minutes and then dig in! These sweet potato fries are absolutely delicious, I hope you'll enjoy them as much as we we do!
Crispy Baked Sweet Potato Fries
Ingredients
3 medium size sweet potatoes, peeled and cut into ¼" sticks
1 tbsp. kosher salt, divided
3 tbsp. cornstarch
2 tsp. paprika
1 tsp. garlic powder
1 tsp. ground black pepper
⅛ tsp. cayenne pepper
⅛ tsp. coriander
⅛ tsp. cumin
3 tbsp. vegetable oil (or vegetable & olive oil blend)
-
Sea salt flakes (optional)
Instructions
Place the raw sweet potato sticks in a large bowl add enough cold water to cover the fries, then sprinkle 2 tsp. of the salt over the top. Allow to sit for 1 hour, or more time if possible.
Preheat oven to 450 degrees. Place a rimmed cookie sheet (standard size) in the oven to heat. Cut a piece of parchment paper to fit the sheet, set aside.
Drain the fries and place in a large plastic bag with the cornstarch, paprika, garlic, black pepper, cayenne pepper, coriander and cumin. Leave a little bit of air in the bag, zip and shake until evenly coated. Use the same bowl to toss the fries in the oil.
Remove the sheet from the oven, place the parchment paper over top and then carefully toss the fries on, making sure they have space in between to bake (you don't want them to steam). Bake for 20 minutes, toss, then bake for 10-15 minutes more, or until crisp and golden brown. Remove from the oven, sprinkle with sea salt and allow to cool for 5 minutes before serving. Enjoy immediately!
Thanks again Kristyn for having me!
You can find more recipes & craft ideas here:
Life Made Simple | Facebook | Pinterest | Twitter | Instagram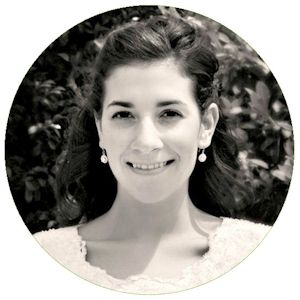 MY OTHER RECIPES
———————————————
I am seriously SO excited to try this recipe, Natalie!
It looks phenomenal!! We LOVE Sweet Potato Fries and my husband does especially. 🙂
For more great recipes from Natalie go to Life Made Simple.
YUM – I love sweet potatoes!
For all side dish recipes go HERE.
For all recipes go HERE.
For even more great ideas follow me on Facebook – Pinterest – Instagram – Twitter – Periscope.
And get weekly emails with monthly freebies by signing up for the Lil' Luna newsletter. 🙂
ENJOY!