Crispy Sweet Potato Skins are a delicious buttery parmesan crusted appetizer. Whip these up for your next party!!
Sweet potatoes are a favorite of ours- candied, baked, or stuffed, we love them all! These sweet Potato Skins are a family fav.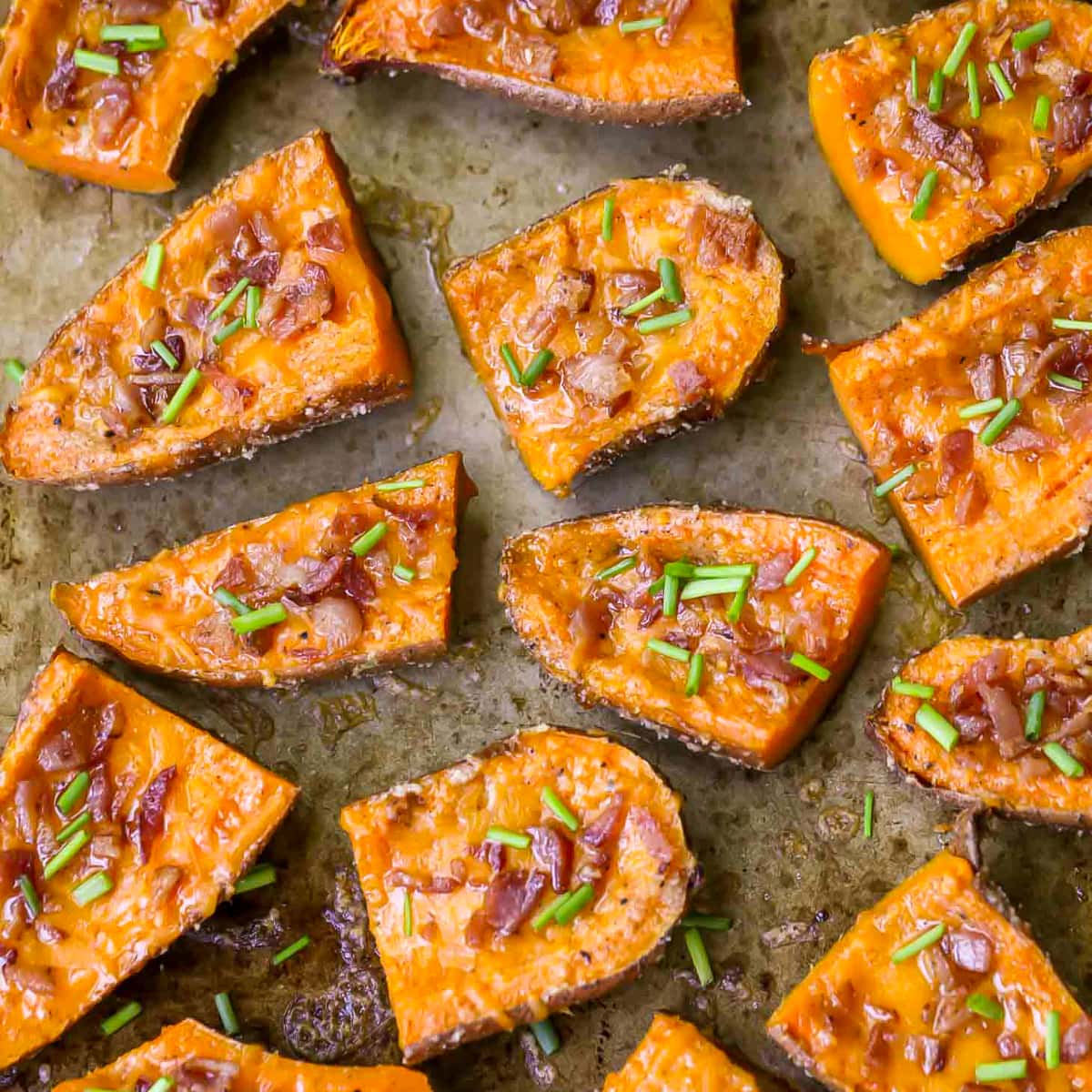 A twist on a family fav
Potato Skins are one of our favorite appetizers as well as one of our guilty pleasures when we go out to eat.
Since the hubby and I both love sweet potatoes, I thought I'd try making a Sweet Potato Skins version and the result was even better than I could imagine. They were so flavorful and addicting!! In fact, I may like them better than the regular potato skins.
The trick to making delicious skins is to make sure the skins taste as good as the rest of the potato. That is why we end up making them Parmesan crusted. It adds so much flavor to the overall recipe and anyone who tries them comments on how delicious the entire potato is.
This recipe makes the most delicious skins that will be great as a side dish or appetizer at any party!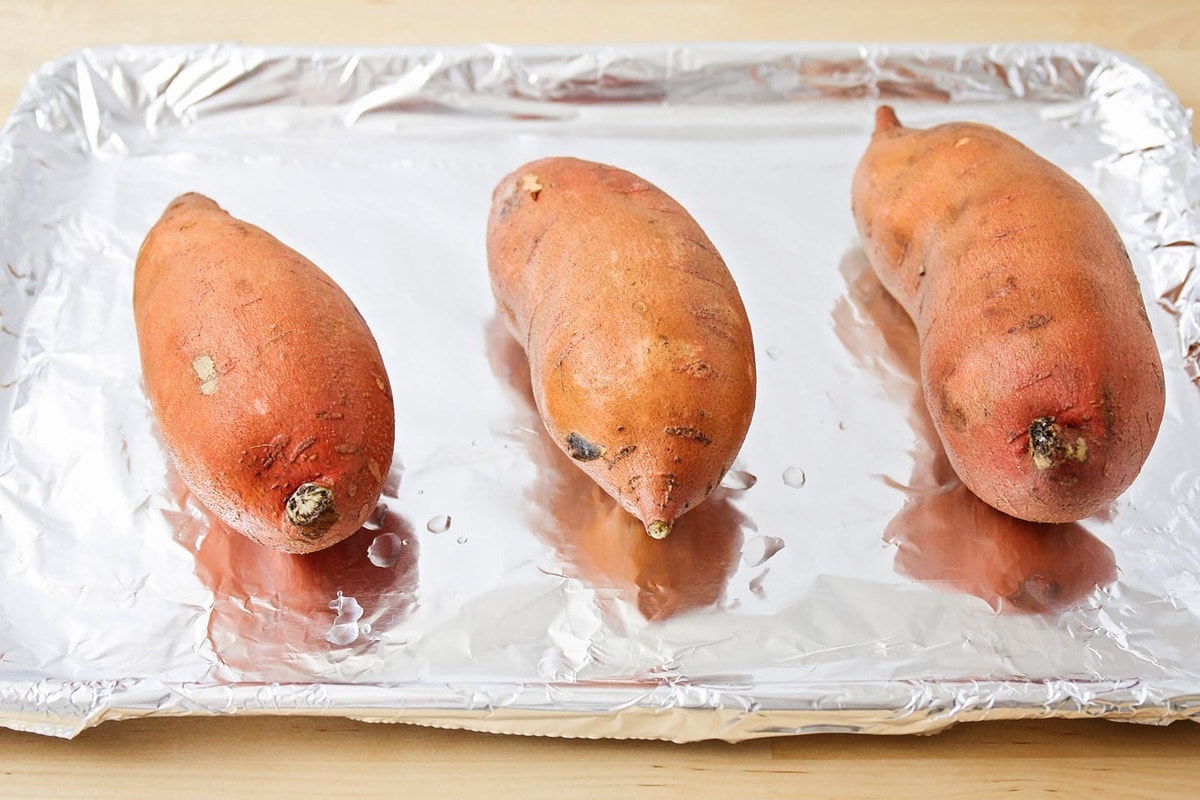 How to make sweet potato skins
PREP. Preheat oven to 400°F.
BAKE. Pierce potatoes with fork and place on foil-lined baking sheet. Bake for 45-50 minutes. Let cool completely when done. Cut potatoes lengthwise and scoop out ½ of the pulp. Place on a foil-lined baking sheet.
FILLING. In a small bowl combine oil, Parmesan cheese, salt, garlic powder, paprika and pepper. Mix well.
BAKE. Brush this mixture over the tops and bottoms of each potato skin. Bake at 400 for 15 minutes.
GARNISH + SERVE. Cut in half cross-wise. Add cheese and bacon and bake for 3-4 more minutes. Sprinkle on green onions or chives. Serve the sweet potato skins warm with ranch or sour cream.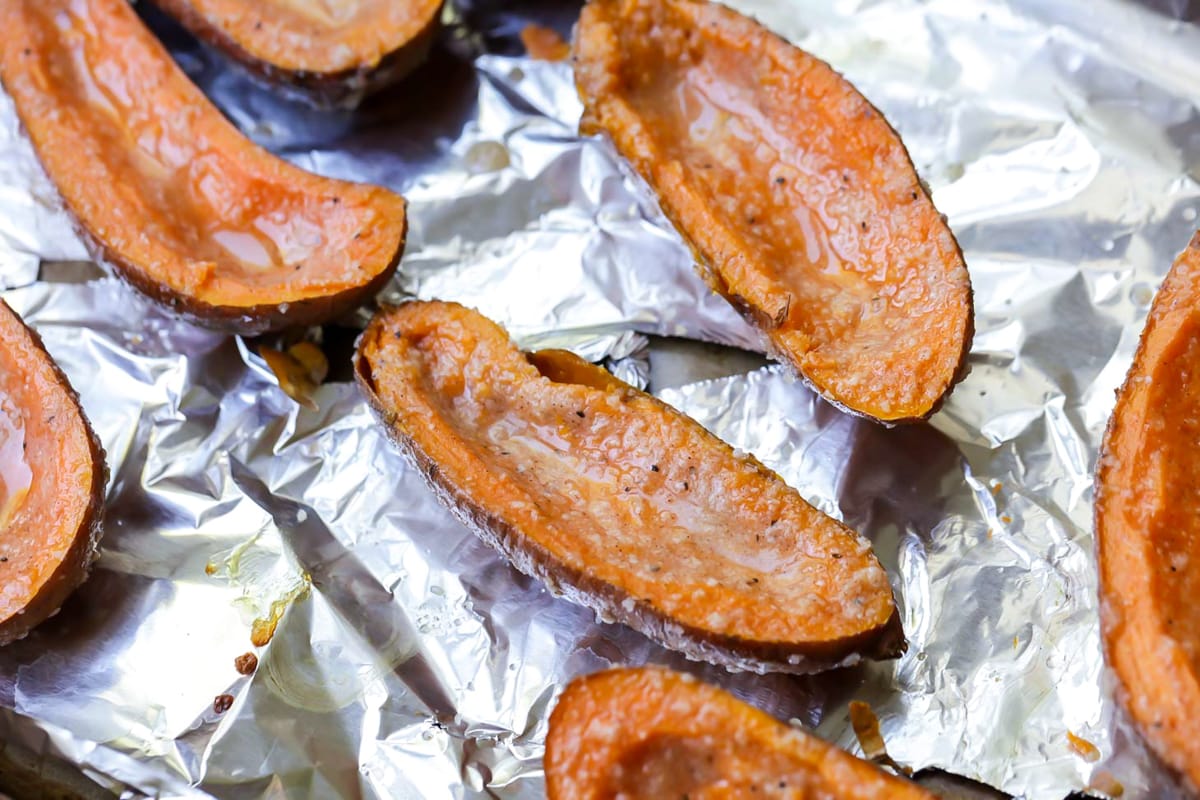 Tips + Variations
Don't discard the sweet potato pulp that you scooped out. It can be used in other delicious dishes such as:
Variations:
Sweet version: Top with marshmallow cream and brown sugar instead of cheese, bacon, and sour cream
Top with Greek yogurt instead of sour cream to make it a bit healthier

Use this easy

Bacon in the Oven

recipe to cook and crumble the bacon, or you can use premade bacon bits.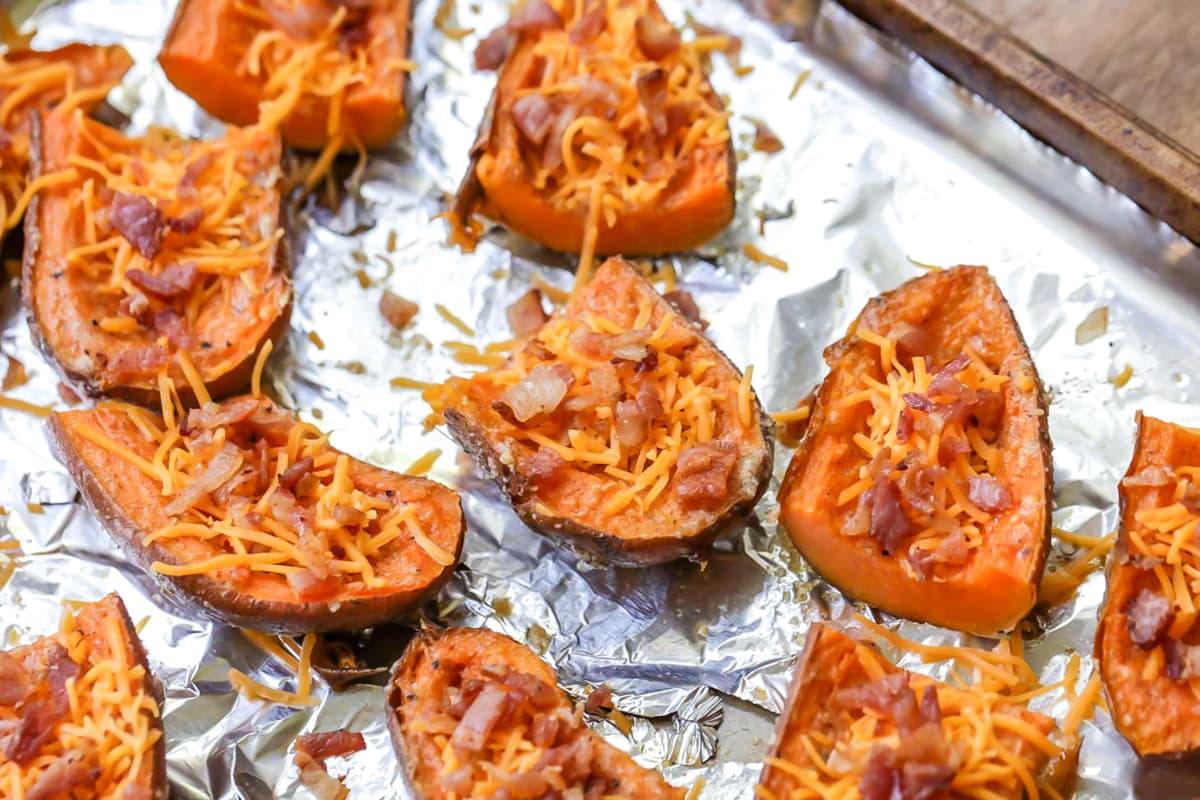 Storing Info
To FREEZE: let the sweet potato skins cool completely, and wrap them individually in pieces of foil or separate fold top sandwich bags. Place all of the potato skins in an airtight container in the freezer for up to a year.
REHEAT them in the oven or in the microwave. (Thaw, if applicable.) If you are reheating them in the oven you might want to cover them with a piece of foil to avoid them over-browning.
Whether you use the oven or the microwave make sure to heat them until they're just warmed.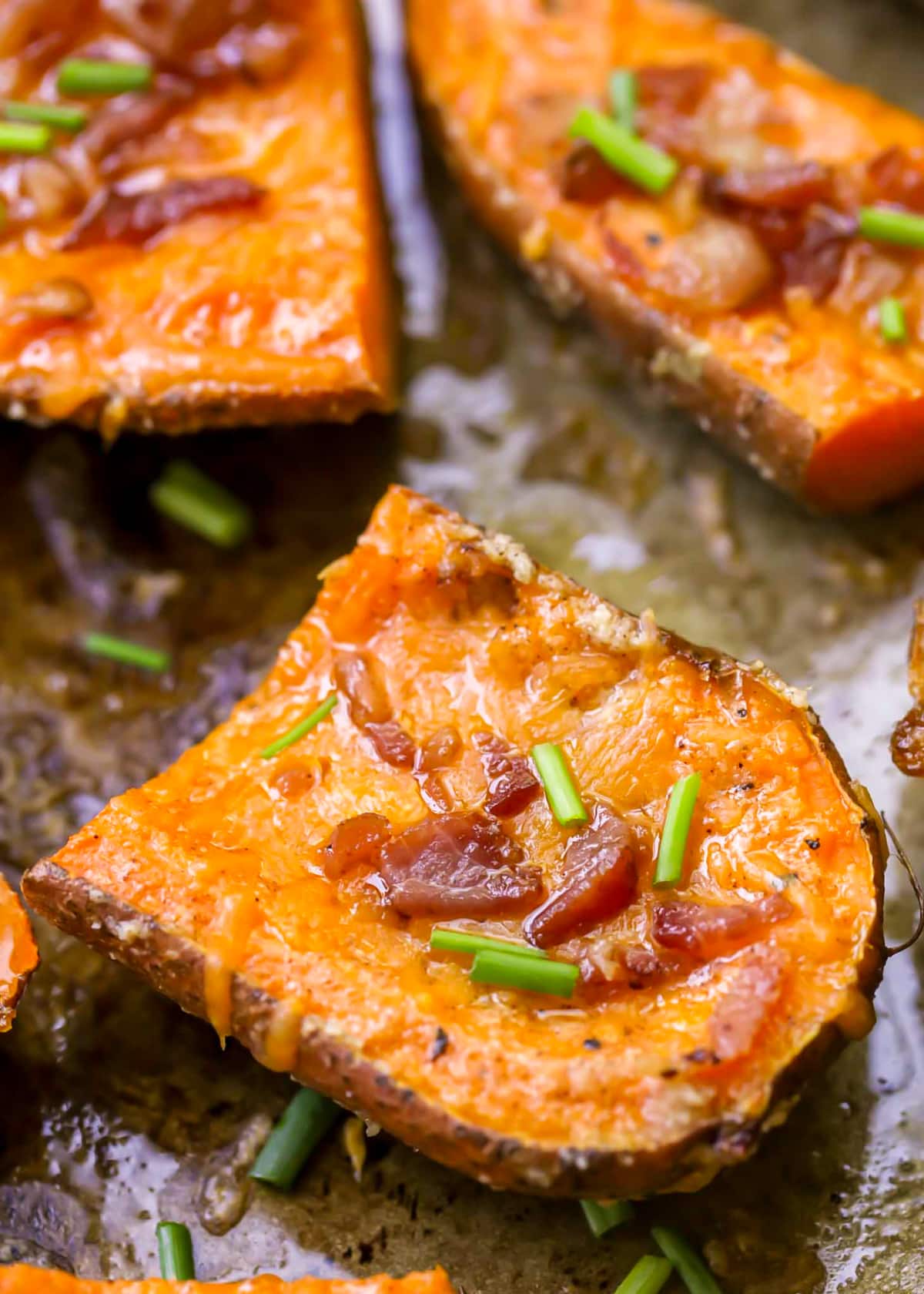 For more Appetizers, check out:
Sweet Potato Skins Recipe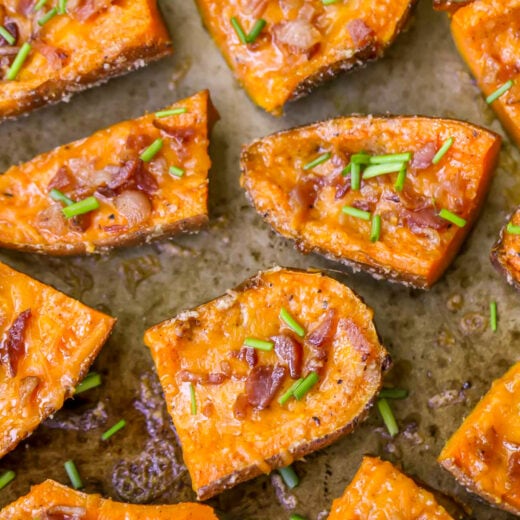 Crispy Sweet Potato Skins are a delicious buttery parmesan crusted appetizer. Whip these up for your next party!!
Ingredients
5

small

sweet potatoes

3

tbsp

vegetable oil

1

tbsp

grated parmesan cheese

1/2

tsp

salt

1/4

tsp

garlic powder

1/4

tsp

paprika

pepper

10

strips

bacon

cooked and crumbled

shredded cheddar cheese

sour cream

green onions/chives
Instructions
Pierce potatoes with fork and place on foil-lined baking sheet. Bake for 45-50 minutes. Let cool completely when done.

Cut potatoes lengthwise and scoop out ½ of the pulp. Place on a foil-lined baking sheet.

In a small bowl combine oil, Parmesan cheese, salt, garlic powder, paprika and pepper. Mix well.

Brush this mixture over the tops and bottoms of each potato skin.

Bake at 400 for 15 minutes.

Cut in half cross-wise. Add cheese and bacon and bake for 3-4 more minutes.

Sprinkle on green onions or chives. Serve warm with ranch or sour cream