Potato Skins have always been one of my favorite appetizers. The only thing about them is we've found that when we get them at restaurants either they are REALLY good or they don't have any flavor. Weird, right?! Well, I experienced this for myself several weeks ago when I was trying to make them for New Years. They were okay but unless you added a ton of salt, you couldn't really taste all the flavors. I did some more research and realized I was missing a HUGE step to make sure these guys were delicious.
The secret? Making sure the skins taste just as good as the inside. I found a recipe from Taste of Home that I tried out, and the result was night and day difference. The first ones were pretty bland and these ones were SOO flavorful. With butter, cheese, spices and more it's no surprise these Parmesan Crusted Potato Skins are delicious!! I can't wait to make these again now knowing the secret for making them super flavorful. 😉 You can also serve them with sour cream or ranch and make them even better!
Bake your potatoes first. My potatoes were smaller since I think smaller potatoes work better for tater skins. I pierced mine with a fork on one side and baked them at 400 for 45 minutes.
Once baked and cooled, cut in half and scoop out a good chunk of the potato.
Mix your melted butter, cheese and spices in a separate bowl.
Brush mixture over tops and bottoms of potato skins.
Bake for 8 minutes. Pull out and add cheese and bacon. Bake for 2 more minutes.
Seriously, these were better than the ones at the restaurants!!
Parmesan Crusted Potato Skins recipe:
Parmesan Crusted Potato Skins
Parmesan Crusted Potato Skins - the yummiest potatoes you'll ever try! This easy appetizer is filled with butter, cheese and bacon and is perfect for your next party!
Ingredients
5 small potatoes
3 Tablespoons vegetable oil
1 Tablespoon grated Parmesan cheese
½ teaspoon salt
¼ teaspoon garlic powder
¼ teaspoon paprika
pepper
10 pieces of bacon, cooked and crumbled
shredded cheddar cheese
sour cream
green onions/chives
Instructions
Preheat oven to 400.
Pierce potatoes with fork and place on foil-lined baking sheet. Bake for 45-50 minutes. Let cool completely when done.
Cut potatoes lengthwise and scoop out ⅔ of the pulp. Place on a foil-lined baking sheet.
In a small bowl combine oil, Parmesan cheese, salt, garlic powder, paprika and pepper. Mix well.
Brush this mixture over the tops and bottoms of each potato skin.
Bake at 450 for 8 minutes. Add cheese and bacon and bake for 2 more minutes.
Sprinkle on green onions or chives. Serve warm with ranch or sour cream
For another favorite potato appetizer, check out: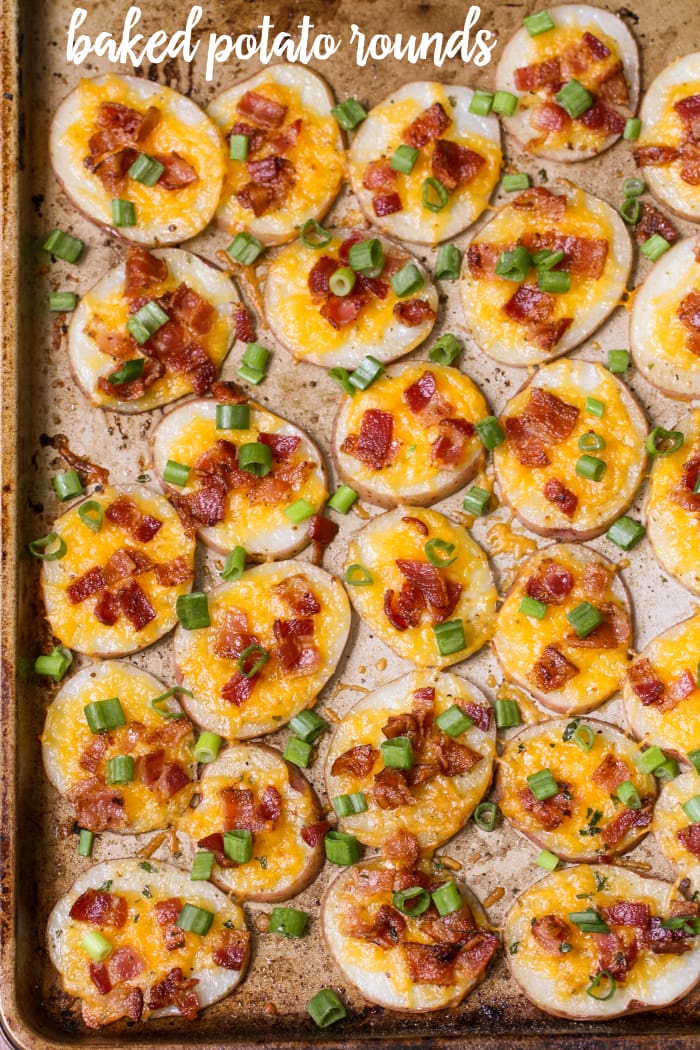 For even more great appetizers, check out:
ENJOY!