This easy potato skin appetizer is loaded with bacon & cheese and crusted with parmesan, making it the best potato skins ever!
These perfectly crispy Potato Skins are beyond flavorful, and so simple to make. They are the yummiest potatoes you'll ever try! For more potatoes try Loaded Baked Potato Rounds, Cheesy Potato Soup, and Potato Salad.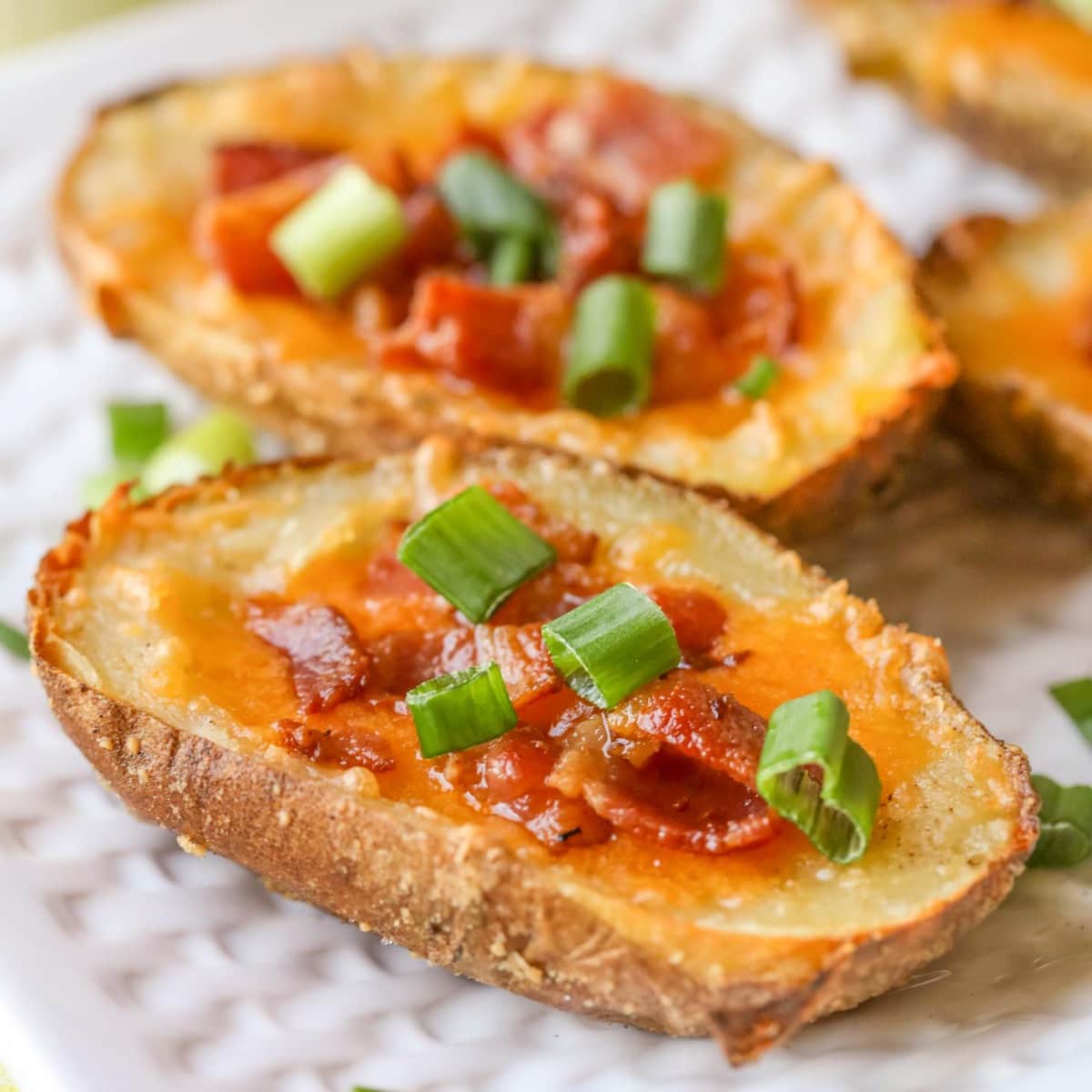 the Secret to the BEST POTATO SKINS
Potato Skins have always been one of my favorite appetizers. But, whenever I've had them at restaurants, they're either REALLY good, or really bland. I experienced this for myself when I was trying to make them as an appetizer for a New Years party.
They were okay but unless you added a ton of salt, you couldn't really taste all the flavors. I did some more research and finally realized what I was missing!
The secret? Making sure the outside is just as flavorful as the inside! After brushing on butter, parmesan cheese, spices and more, these Parmesan Crusted Potato Skins were perfectly crispy and absolutely delicious!!
This second batch of tater skins were night and day difference from the first! Easily the best potato skins I've ever tried.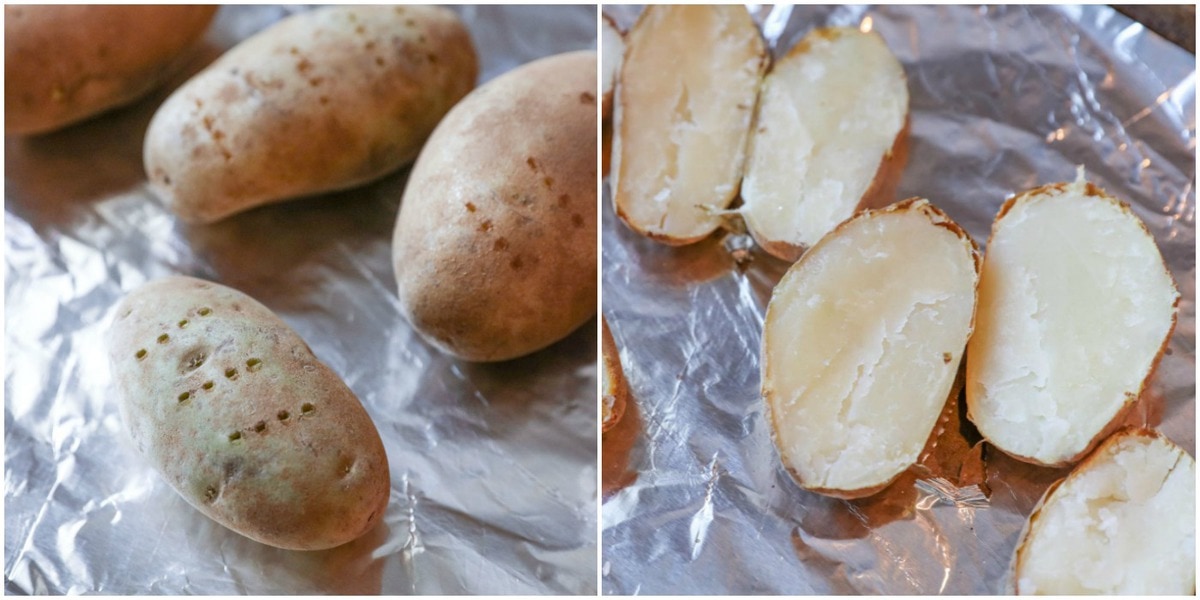 How to Make Potato Skins
BAKE. Bake your potatoes first. My potatoes were on the smaller side, which I think works better for tater skins. I pierced mine with a fork on one side and baked them at 400 for 45 minutes.
SCOOP. Once baked and cooled, cut each potato in half and scoop out the insides (tip: use a cookie scoop), leaving about ¼ inch shell of potato inside for support. (Don't throw away that potato pulp you scooped out—use it for dinner later! Add some milk, butter, and salt for some quick mashed potatoes, or use it for our favorite Baked Potato Soup!)
TOPPINGS. Mix your melted butter, parmesan and spices in a separate bowl. Brush the butter mixture over tops and bottoms of potato skins. Put back in the oven and bake for 8 minutes. Pull them out, add cheese and bacon, and bake for 2 more minutes.
We like to serve them warm with homemade ranch or sour cream. So simple!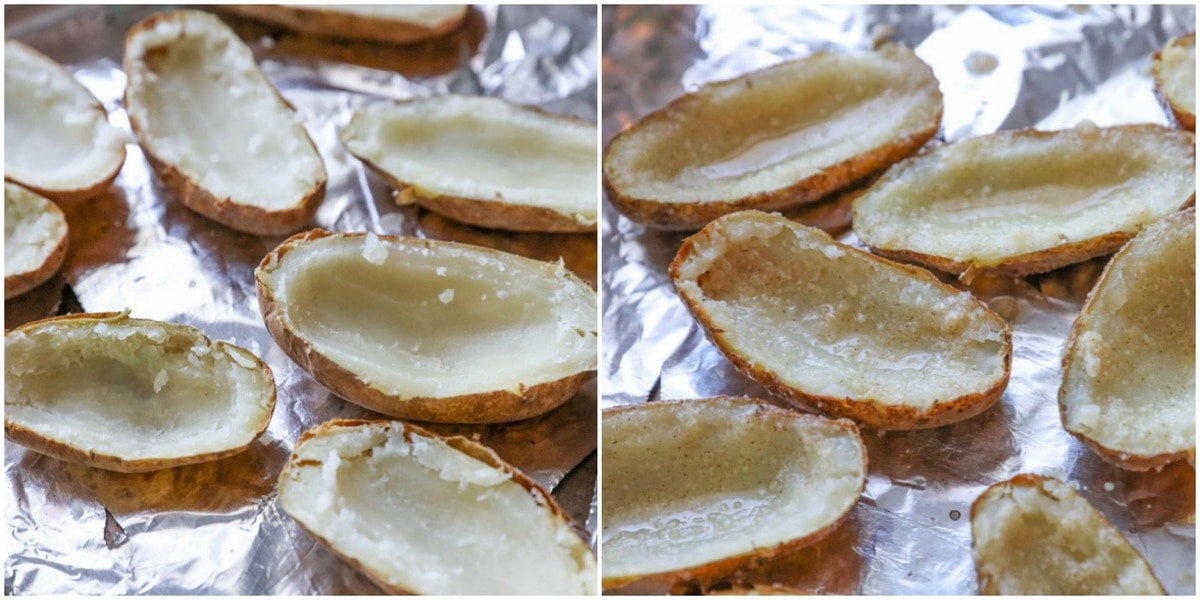 Potato Skin Toppings + Tips
If you're a fan of twice baked potatoes, you can try loading up your potato skins too. You're already halfway there with the cheese and bacon! Add some:
green onions
chives
sour cream
greek yogurt
Russet potatoes are the best for potato skins, because they're so soft and starchy. I know some people like to use red potatoes for a different flavor. If you like sweet potatoes, you should try our Sweet Potato Skins! Regardless of the type, try and use potatoes that are small to medium in size.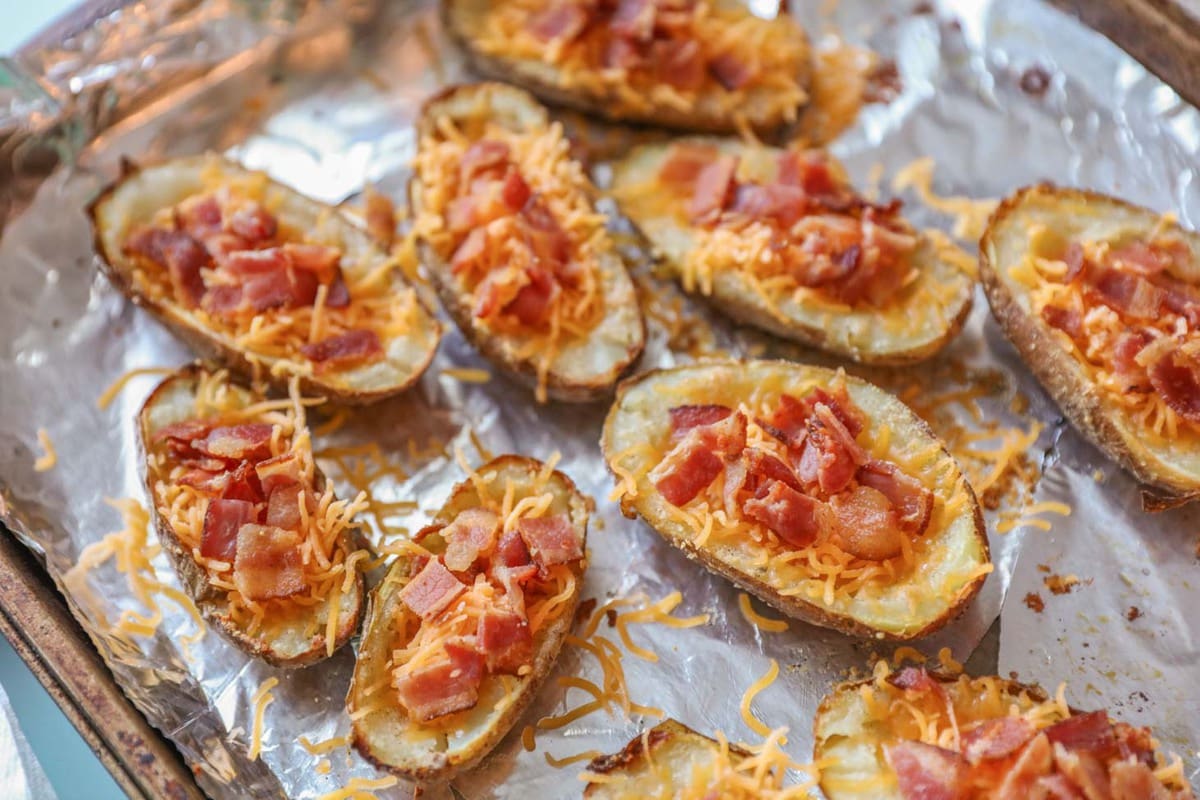 Storing Info
STORE in a container in the fridge for 3-5 days. The best way to REHEAT leftovers is to brush on a tiny bit of melted butter, and place them back in the oven at 400° until they're warmed through. Or, microwave them for a minute or two until warmed through.
Life is busy, and when you're getting ready for a big party, it's even bigger. The good news is you can actually make this potato skin appetizer in advance, FREEZE, and bake the day of the party! Bake, cool, and scoop out the potatoes like normal. Add the cheese and bacon bits, and put the baking sheet right into the freezer. Once they're frozen, transfer to another container until you need them.
TO REHEAT on the day you want to serve your baked potato skins, take them out of the freezer at least an hour in advance to bring them back to room temp (they need to be at room temp or the toppings will burn before the potatoes are heated through), then pop them in the oven at 350° until the cheese is melted (about 10 minutes or so).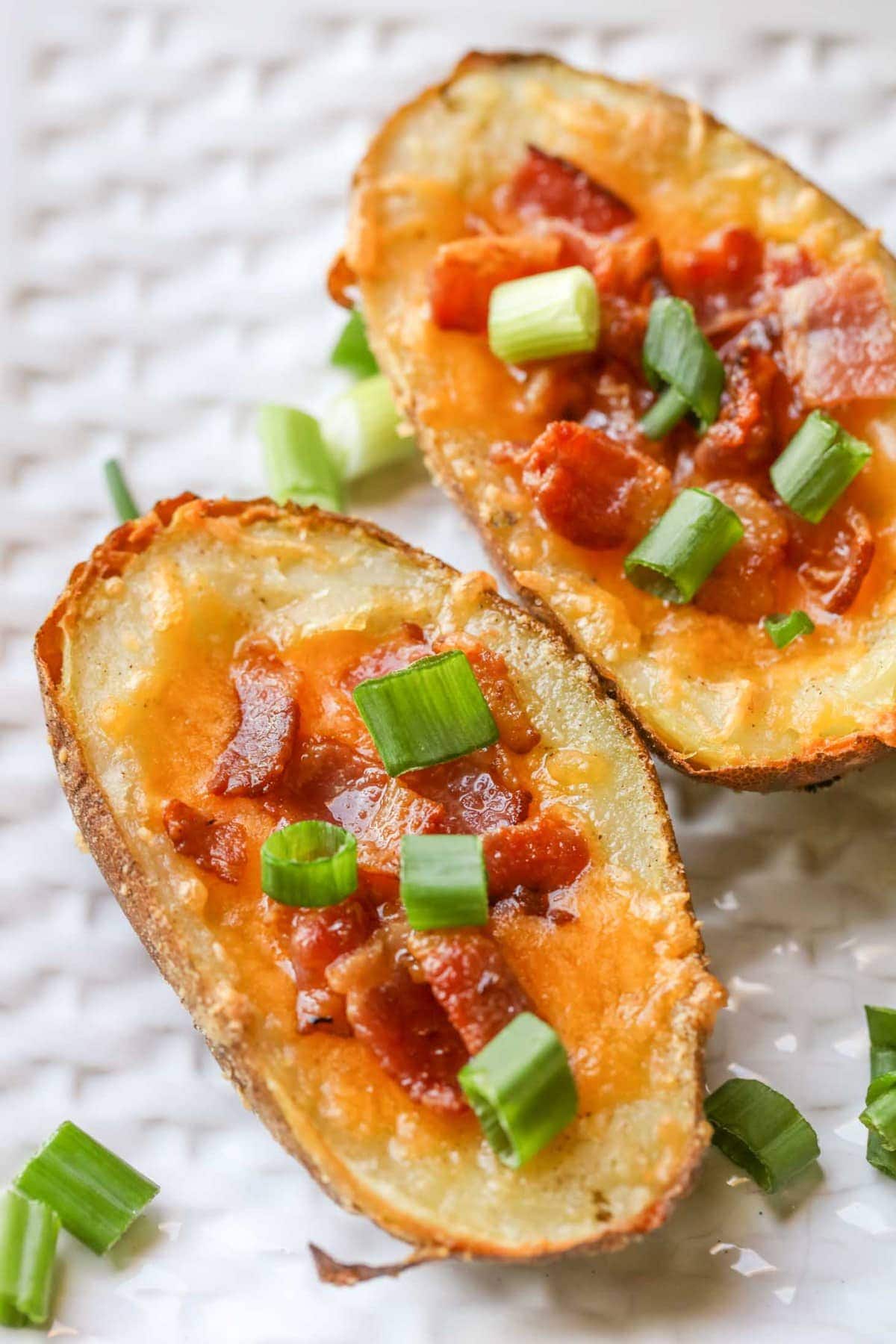 We hope you love this recipe as much as we do! They are the best way to make potato skins and are so flavorful. 🙂
For more great appetizers to serve with this recipe, try:
Parmesan Crusted Potato Skins Recipe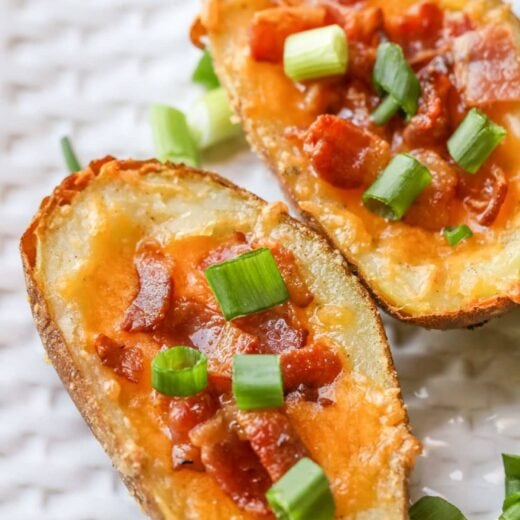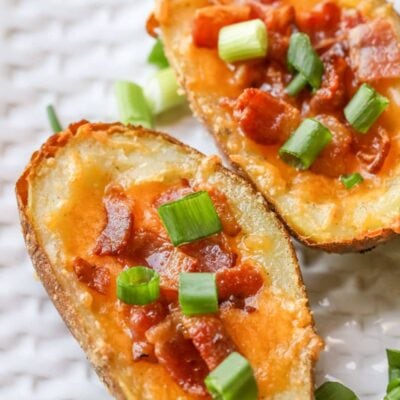 This easy potato skin appetizer is loaded with bacon & cheese and crusted with parmesan, making it the best potato skins ever!
Ingredients
5

small

potatoes

3

tbsp

vegetable oil

1

tbsp

parmesan cheese

grated

1/2

tsp

salt

1/4

tsp

garlic powder

1/4

tsp

paprika

pepper

10

pieces

bacon

cooked and crumbled

shredded cheddar cheese

sour cream

green onions/chives
Instructions
Pierce potatoes with fork and place on foil-lined baking sheet. Bake for 45-50 minutes. Let cool completely when done.

Cut potatoes lengthwise and scoop out ⅔ of the pulp. Place on a foil-lined baking sheet.

In a small bowl combine oil, Parmesan cheese, salt, garlic powder, paprika and pepper. Mix well.

Brush this mixture over the tops and bottoms of each potato skin.

Bake at 450 for 8 minutes. Add cheese and bacon and bake for 2 more minutes.

Sprinkle on green onions or chives. Serve warm with ranch or sour cream
Adapted from Taste of Home