I had never even heard of Twice Baked Potatoes until I was married. That may be odd for some since they've had them and made them for a very long time, but it's a new side dish that we absolutely love. I was surprised I hadn't had these as a child because we always had potatoes as side dishes, but we typically had mashed or regular baked potatoes. Now that we have been show how to make the BEST Twice Baked Potatoes, I have a feeling we will never want to have regular baked potatoes again. Since they are filled with sour cream, bacon and cheese, it's hard not to love this recipe.
I was excited to try this out then and was even more excited when I learned how easy they were to make. They do take a little time, since they need to be baked once, cooled, spooned out and then baked again, but I promise they are well worth it.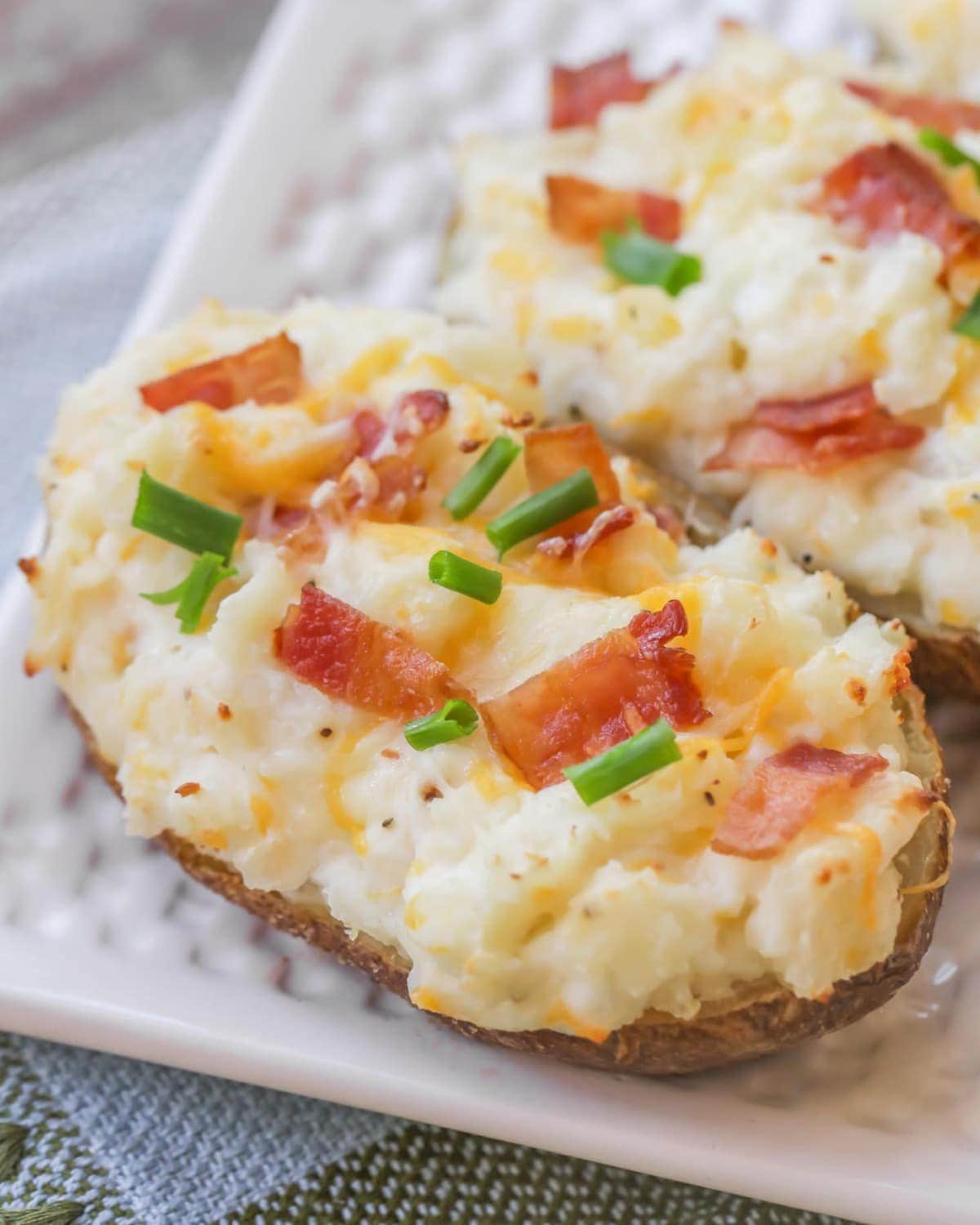 MY OTHER RECIPES
We always run out of these potatoes at functions since most people end up grabbing two. Just note that it should make a fewer than double the amount of the potatoes you cook. So if you made 10 potatoes, it will probably make about 18 (20-2). And you can add any other ingredients (like chives, etc.) depending on what you like. 🙂
For more potato recipes:
How to make Twice Baked Potatoes:
Twice Baked Potatoes
One of the best and easiest side dishes - Twice Baked Potatoes. Loaded with bacon & cheese!
Ingredients
Potatoes (I usually make about 6 – 8 for family functions which makes about 10 – 14 halved potatoes)
3 Tablespoons vegetable oil
1 Tablespoon grated Parmesan cheese
½ teaspoon salt
¼ teaspoon garlic powder
¼ teaspoon paprika
pepper
2 cups cheddar cheese
2 cups of sour cream
4-6 slices of cooked bacon (chopped up/cut up)
Salt & Pepper to Taste
Instructions
Begin by piercing your potatoes with a fork in several places. Bake potatoes for an hour at 400 degrees.
Let cool 10-15 minutes.
In a small bowl combine oil, Parmesan cheese, salt, garlic powder, paprika and pepper. Mix well.
Cut potatoes in half and spoon out most of the inside of the potatoes and place in a bowl.
Brush the oil and Parmesan mixture over the tops and bottoms of each potato skin.
Mix in 1 cup or so of cheese, sour cream (you can use more or less to your liking), cut up bacon and salt & pepper with the insides of the potatoes. Mix well.
Spoon mixture back into potato skins. You usually can fill fewer potatoes than you had if you have them filled a little higher than the skins sides (Throw away excess skins). Sprinkle potatoes with cheddar cheese.
Bake at 400 for 16-18 more minutes.
And for the casserole version of this recipe, check out: Twice Baked Potato Casserole
ENJOY!