Spicy tender pieces of chicken that make the a delicious appetizer! These Boneless Buffalo wings are simple and are great for dinner or any party!
We sure love this simple appetizer that is bite-size and delicious. For other favs check out: Classic Hot Wings and our Boneless Honey BBQ Wings.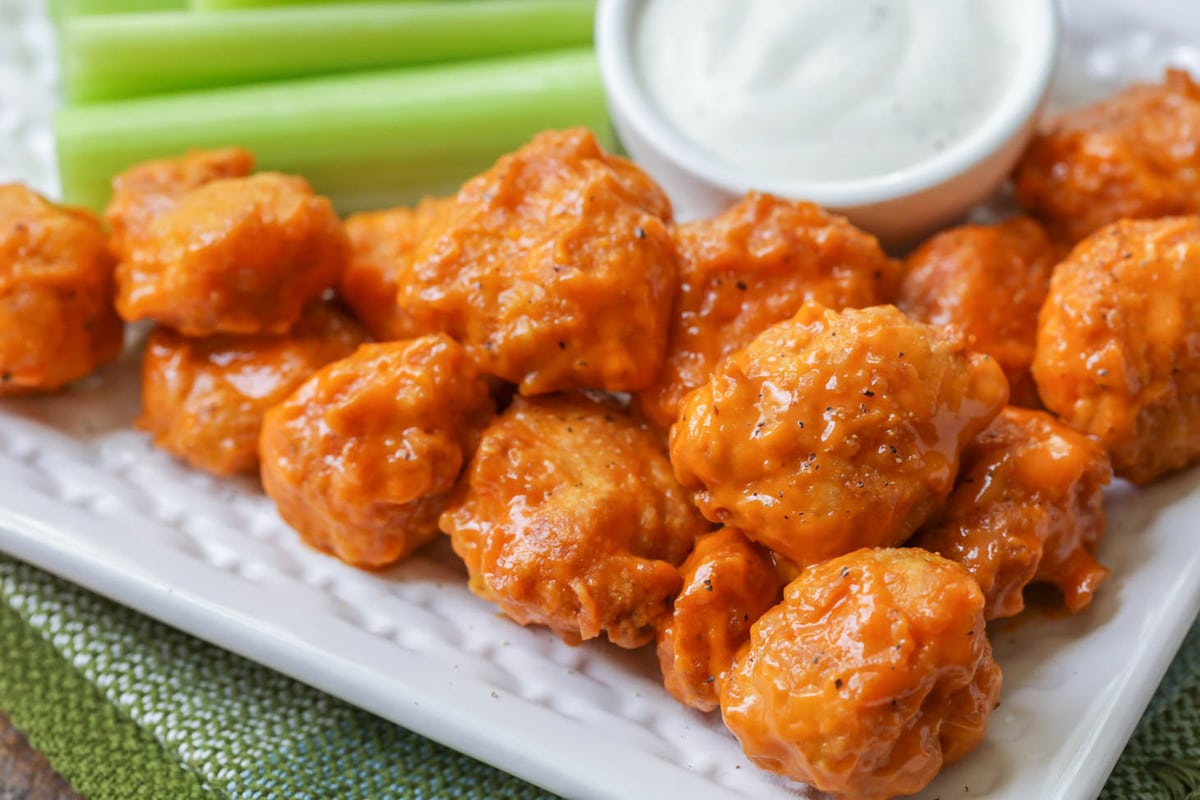 Boneless CHICKEN Wings
We love delicious appetizers and all the reasons to get together and enjoy them. It may be a holiday, a football game, or a simple party, but we love making appetizers for these events.
One we especially love is boneless buffalo wings. They are one of my favorite recipes. And about everyone else that tries them loves them too. They are the perfect size for dipping and popping right into your mouth!
Boneless = winning (although we still love the bone-in wings too!)
You will love the spicy and sweet flavor of these easy buffalo boneless wings. The ingredients are simple but come together perfectly.
Plus they are fried, and who doesn't love fried chicken? But beware – they're addicting!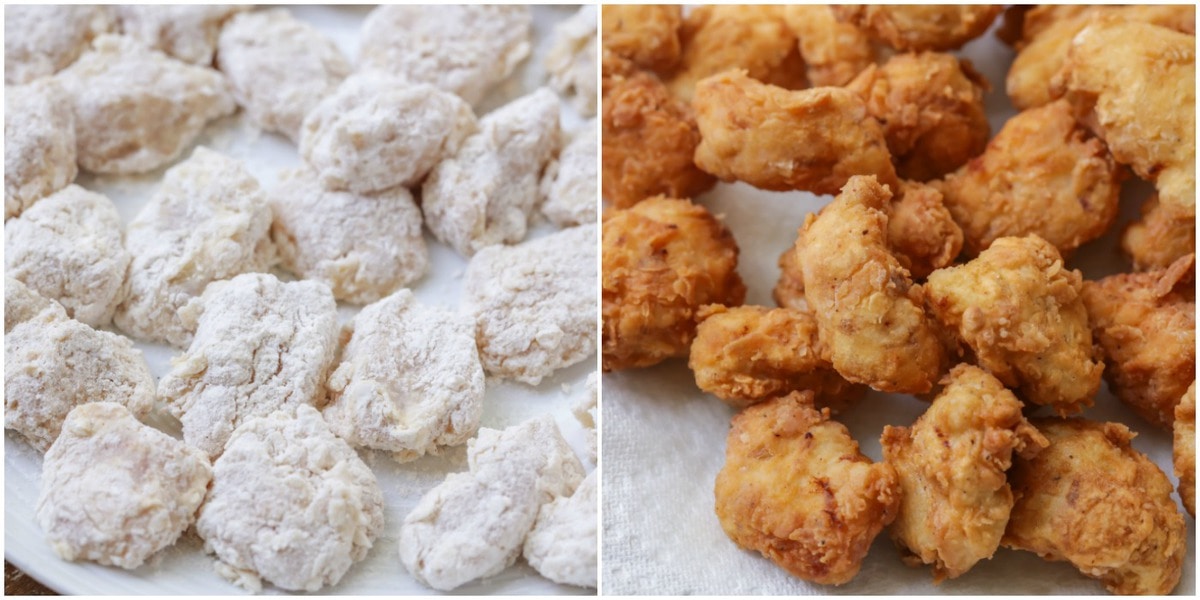 How to Make Boneless Buffalo Wings
OIL. Pour the oil into a deep fryer or large saucepan and heat it to 375 degrees.
FLOUR. While the oil is heating up, mix the flour, salt & pepper, garlic powder, and paprika in a large bowl. In another small bowl, whisk together the egg and the milk.
DIP + COAT. Dip each piece of chicken in the egg mixture to coat. Then roll each piece of chicken into the flour mixture. Repeat those steps until each piece of chicken is double coated in egg and flour.
REFRIGERATE. Put the chicken into the fridge let it sit for at least 20 minutes.
FRY. Working in batches, fry the chicken in the hot oil until each piece is browned. This should take about 5-6 minutes.
NOTE: Keep an eye on them so you don't undercook them or overcook them.
SAUCE. When the chicken is all fried, heat up the wing sauce in a skillet on the stove. Toss the chicken in the sauce to completely coat. Serve them warm with your favorite dipping sauces!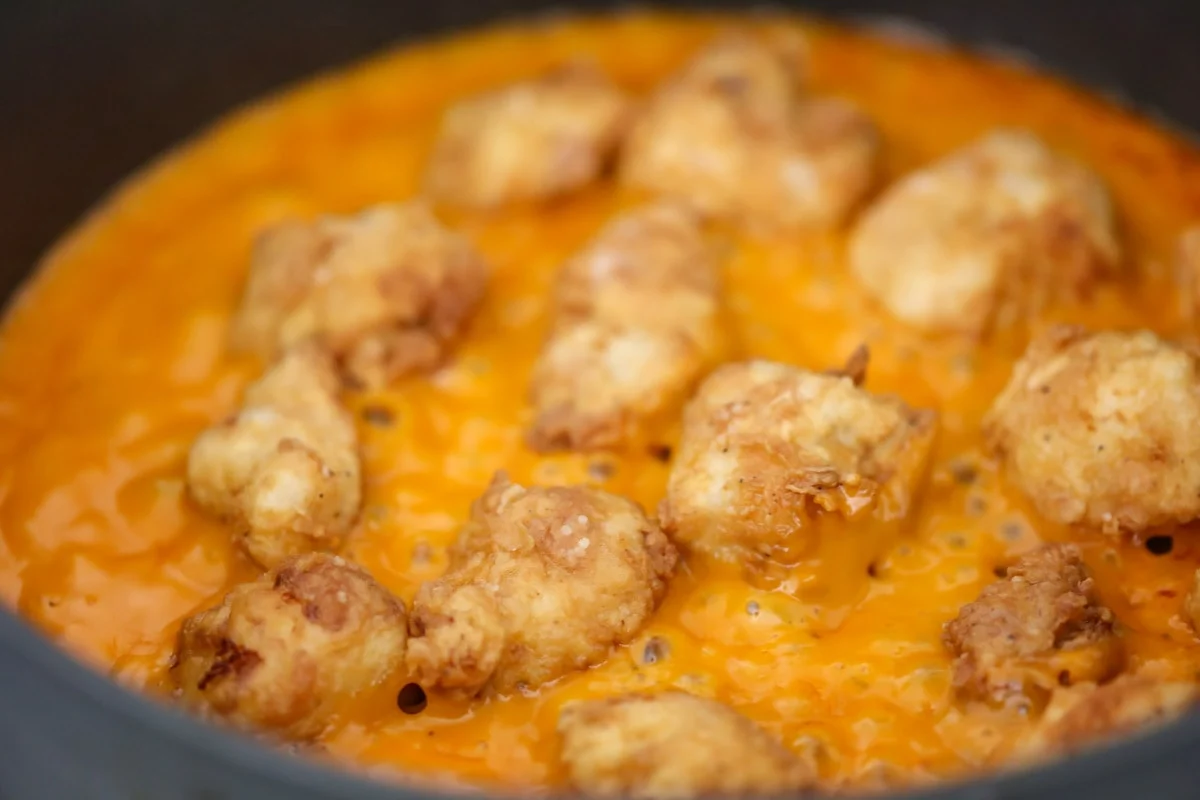 How to Bake
If you prefer to bake these boneless chicken wings in the oven instead of frying them, follow these steps!
Heat your oven to 375 degrees. Bake the chicken for 15-20 minutes or until it has an internal temperature of 165 degrees. These are definitely a healthier version of boneless buffalo wings which is a great option for people who are trying to eat healthier or can't have fried foods.
If you're bringing these to a party or making them for guests, you could make half fried and half baked. That way people can choose between the two! Both are SUPER delicious options.
Can you use different sauces to change up this recipe? Of course – just use your sauce of choice to make these how you like them.
What to serve boneless buffalo wings with? We love to serve them with homemade ranch or bleu cheese dressings along with celery and carrots.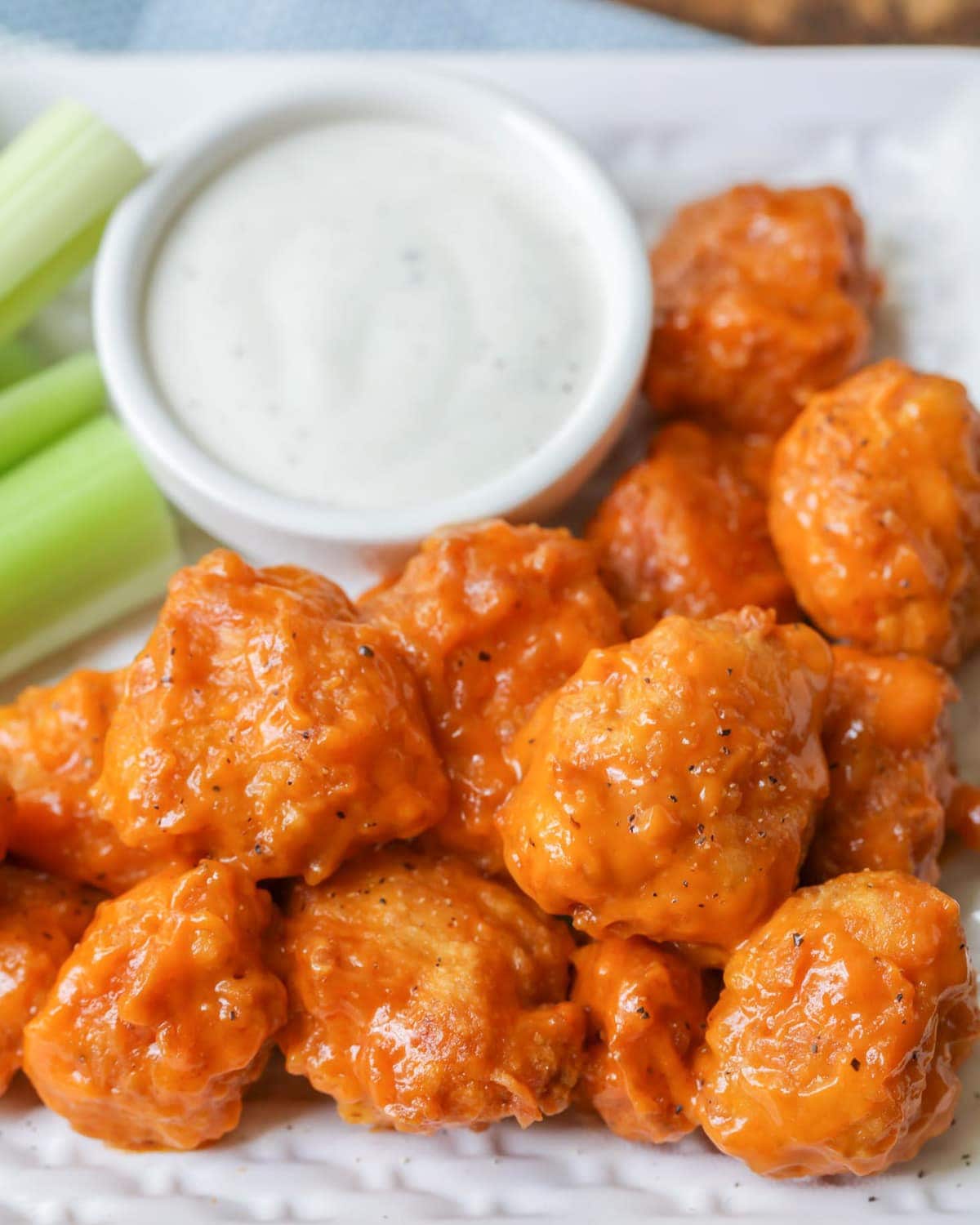 You will not be sorry you chose to make these boneless buffalo wings. They are just so perfect for any kind of party or get-together! Other wing flavors to try…
More wings recipes:
Boneless Buffalo Wings Recipe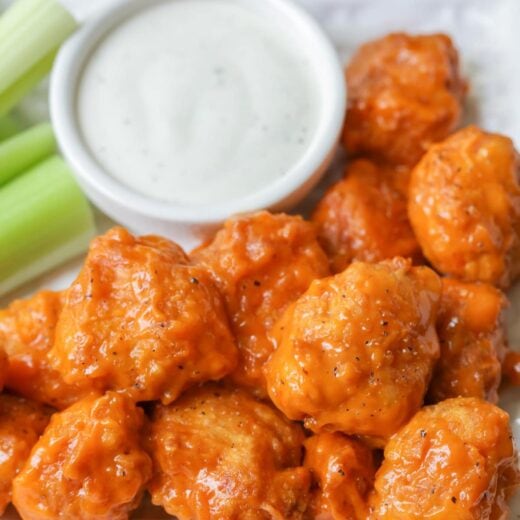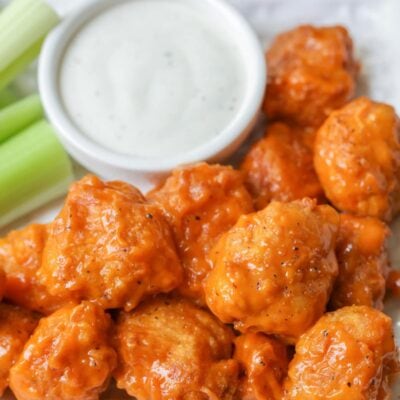 Spicy, tender Boneless Buffalo Wings are a simple and delicious crowd favorite. Serve them up for dinner or at a party!
Ingredients
2

cups

all-purpose flour

2

teaspoon

salt

1/2

teaspoon

black papper

1/4

teaspoon

garlic powder

1/2

teaspoon

paprika

1

egg

1

cup

milk

3

skinless, boneless chicken breast

cut to 1/2″ chunks

12

oz

mild buffalo wing sauce

oil for for frying
Instructions
Heat oil in a deep-fryer or large saucepan to 375°F (190°C).

In a large bowl, combine flour, salt, pepper, garlic powder, and paprika. In a small bowl, whisk together the egg and milk.

Dip and coat each piece of chicken in the egg mixture. Then roll in the flour to coat. Repeat steps so that each piece of chicken is double coated. Refrigerate breaded chicken for at least 20 minutes.

In batches, fry chicken in hot oil until browned. About 5-6 minutes.

Heat hot sauce in a skillet, add fried chicken pieces and toss to coat. Serve warm.