Every summertime potluck and outdoor party needs appetizers! This collection of BBQ Appetizers has all the options you'll need to accompany your grilled main courses.
More Collections: Finger Food Appetizers, Party Appetizers, Cold Appetizers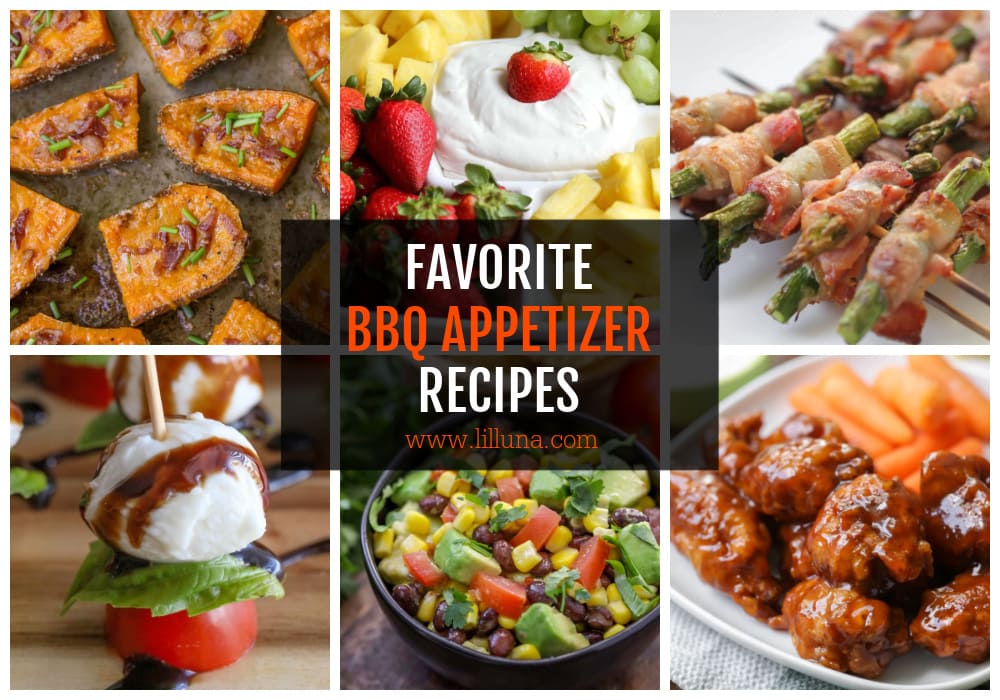 Appetizers are Made for BBQs!
Appetizers are perfect for serving on so many occasions, especially the iconic BBQ!
Dips are always an easy and popular go-to, but try mixing it up with some of our other favorites, whether they be BBQ flavored or fried!
To me, BBQ parties are synonymous with simplicity. No fancy menu here, just our favorite tried and true recipes. This includes delicious and simple appetizers.
A couple of things to consider are:
Will you be transporting the food to another location?
How feasible is it to keep them at the right temperature?
How many different appetizer dishes will you need?
How to keep fruit fresh?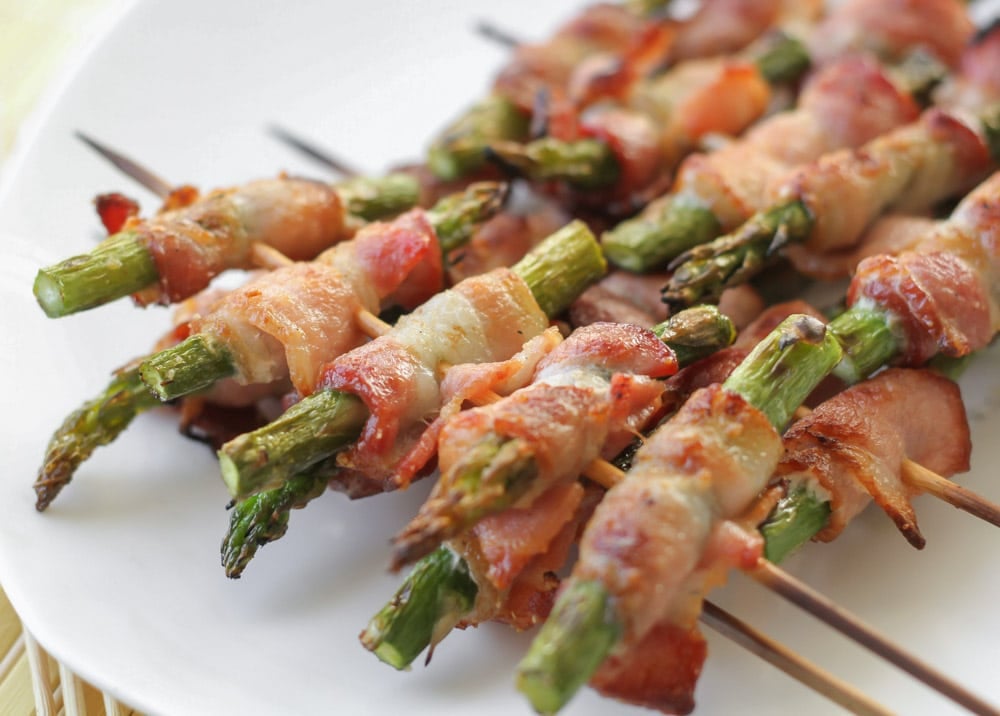 transporting appetizers
If you're hosting a backyard BBQ, then you don't need to worry so much about transporting food.
However, if you plan to meet at a park or are bringing appetizers over to a friend's house, then you'll need to figure out the best way to get your food there.
Coolers are great for transporting both warm and cold foods. Just be sure to have a separate cooler for each type.
Warm cooler. Wrap warm food in aluminum foil. Place hot rice bags or hot water bottles in the cooler to help maintain heat. Fill extra space with towels to help insulate the food. Try not to open the lid.
Cold cooler. The most traditional method is to use ice bags. The ice can then be used to cool down drinks or placed in other trays to keep food cool once they are set out. I also like to freeze water bottles to put in the cooler, then when they melt you can drink them.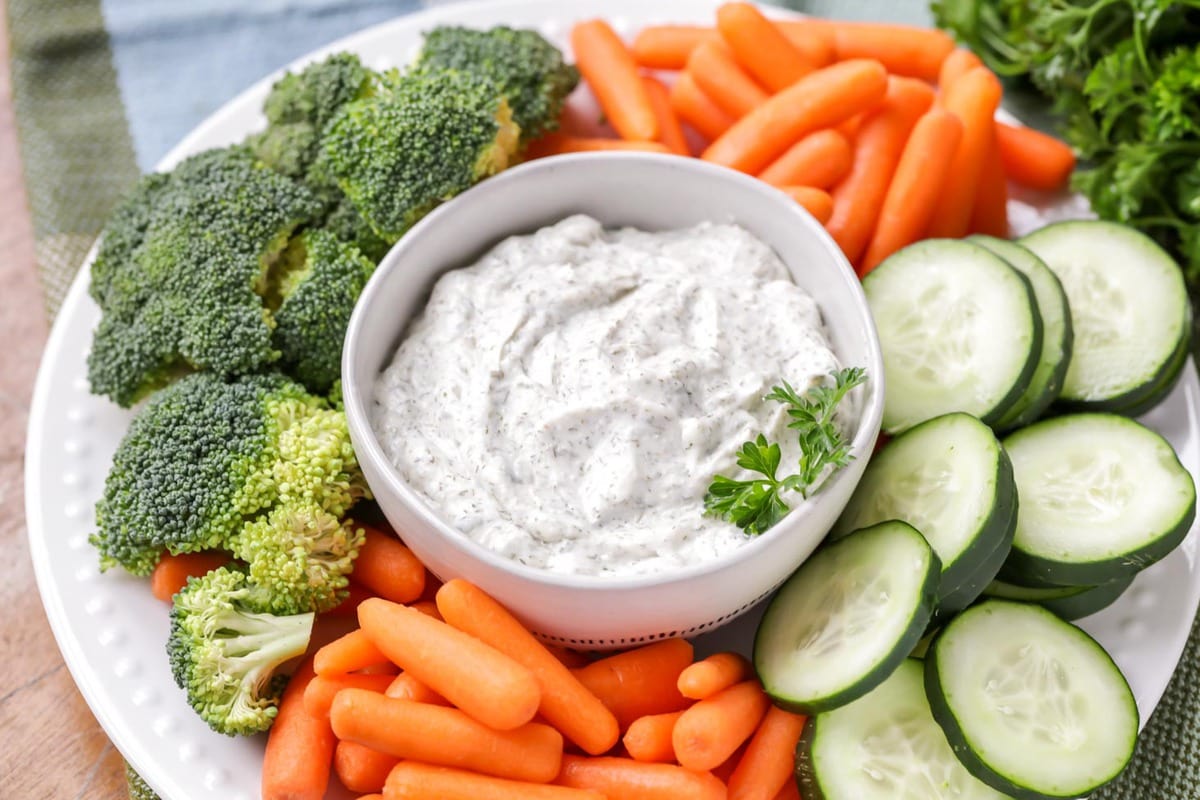 Serving tips
Keeping the food at the right temperature
Of course, you will still need to keep the food at the perfect temperature after you begin serving it.
Warm. Crock Pots are great if you have access to an outlet. Chafing dishes are another great way to keep food warm.
Cold. Fill a pan with ice cubes and place the trays of food on top. If the food is being served in a bowl, then place ice cubes at the bottom of a larger bowl and nestle a smaller bowl, with the food, inside.
Serving fruit. I've never met anyone who doesn't like fruit and so, in one form or another, it always makes it onto my menu.
Watermelon. If serving watermelon at your next cookout, check out these posts on How to Choose the Best Watermelon and the Best way to Cut a Watermelon. This melon makes a great appetizer and any leftovers can be served during the meal as well.
Keep fruit from browning. Some fruits, like apples, can't be left out for too long without starting to brown. Thankfully, there are a couple of ways to slow down the process without affecting the taste or the texture very much or at all.

The easiest way is to sprinkle on Ball's Fresh fruit powder. You can usually find this in the food storage/preservation section at the grocery store.
Another method is to combine 1 cup of water and 1 tablespoon of lemon juice in a bowl. Let the sliced fruit soak for a few minutes before patting it dry and placing it on a tray to serve.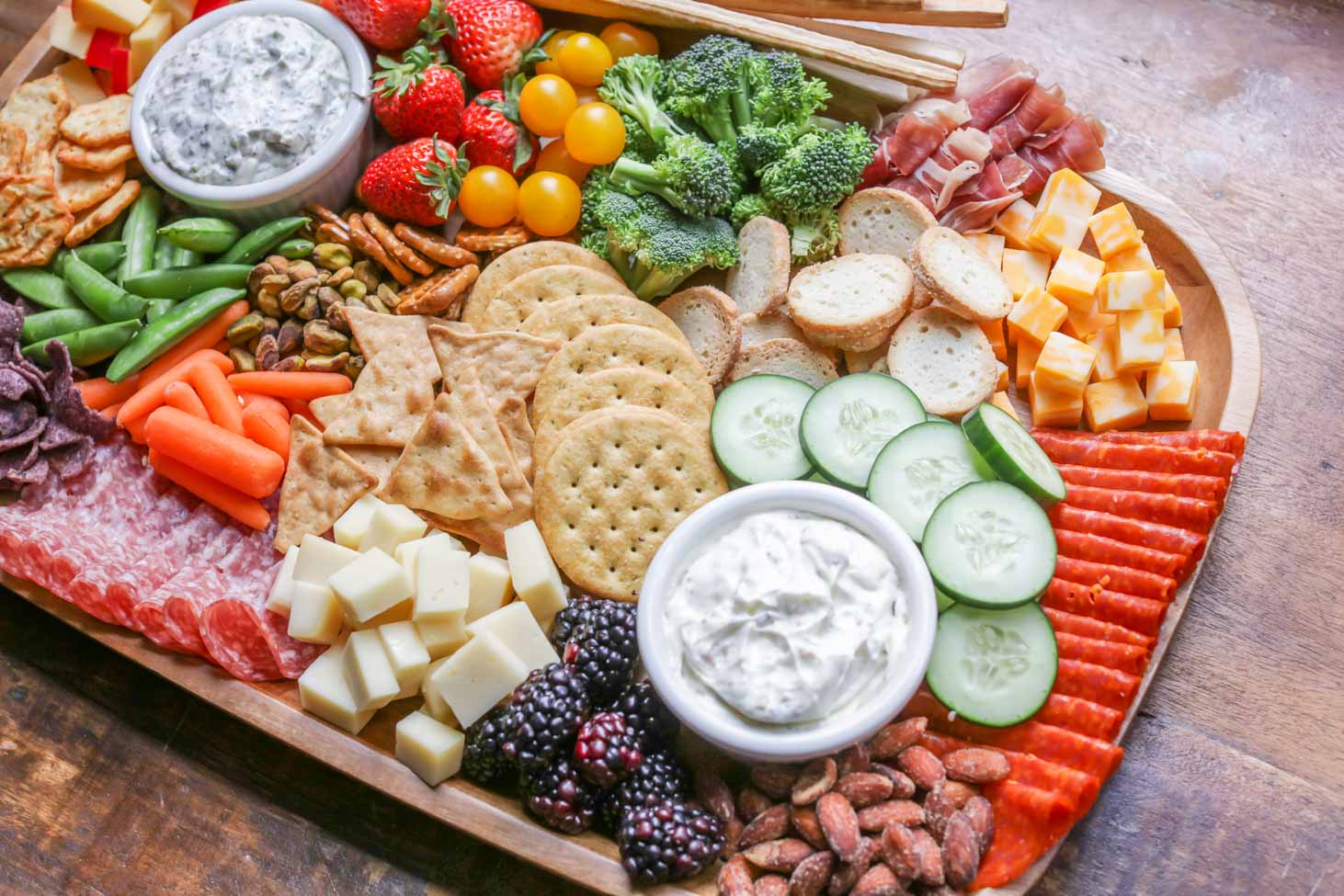 BBQ appetizer Planning Tips
I have never been to an appetizer-only BBQ. Since you'll be eating a hardy dinner with yummy sides you only need to serve enough appetizers to whet the appetites of the guests.
For 10 or fewer guests offer 2-3 different types of appetizers. Add another dish for every 5-8 more people.
Since you will be serving dinner, plan a total of 3-5 appetizers per person.
Chips and Salsa: Plan 1 qt salsa and 1 pound of chips for every 10 people.
Food that is great for dips and salsa:
Savory Dip:
Crackers
Veggies: sliced bell peppers, carrot sticks, celery sticks, broccoli florets
Shrimp
Sweet Dip:
Cookies
Sliced fruit
Cubed cake
Pretzels
---
Best BBQ Appetizers
These are some of the appetizers that we have on rotation for every BBQ we have. They include some of our most popular and best-loved!
Parmesan Crusted Potato Skins
This easy potato skin appetizer is loaded with bacon & cheese and crusted with parmesan, making it the best potato skins ever!
Grape Jelly Meatballs
Delicious 3-ingredient grape jelly meatballs. They take just minutes to prep and are the perfect dinner or appetizer for any party or get together.
Bacon Wrapped Smokies
Bacon wrapped little smokies sprinkled with brown sugar, and baked to perfection. These bacon wrapped weenies are the ultimate appetizer for any party, and always the first to disappear!
Bacon Wrapped Asparagus Skewers
This recipe is inspired by one of our favorite Disneyland foods – Bacon Wrapped Asparagus Skewers From Bengal Barbecue! These skewers only require 4 Ingredients and take less than 10 Minutes on the grill! 
Buffalo Wings
Crispy tender chicken wings tossed in the most wonderful buffalo sauce! The best party appetizer for a crowd!
Pigs In A Blanket
A yummy lunch, dinner, appetizer or snack idea for the whole family! Homemade pigs in a blanket with delicious crescent dough and a sprinkling of sesame seeds on top!
Hot Dog Nuggets
Hot dog nuggets only require TWO ingredients and make a perfect for lunch, dinner or even a party appetizer! Kids and adults alike will love these little bites.
Bacon Wrapped Dates
Sweet and savory bacon wrapped dates make a tasty appetizer. The contrasting flavors combine for the perfect bite!
Spinach Dip Bites
Spinach dip bites are crunchy, bite-size treats are cheesy and buttery, making them a great appetizer. They are a hit every time!
Ham And Cheese Sliders
Everyone loves these hot ham and cheese sliders because they're easy, cheesy and addicting! They don't take long to make, and are perfect for any get together—always a crowd pleaser!
Spinach Artichoke Cups
Cheesy spinach artichoke cups are simple to make, and packed full of delicious spinach and cheese flavor! They are baked to perfection.
Buffalo Chicken Taquitos
Serve these buffalo chicken taquitos as an easy dinner idea, or as an appetizer at your next party or get together. 
Jalapeno Poppers
Spicy fried jalapeno poppers are a classic appetizer that everyone wants! Bite into these cheesy poppers for a flavor explosion!
Zucchini Fries
Crispy air fryer zucchini will give you all the flavor and none of the guilt! This healthy version still packs the flavor punch.
---
cold bbq appetizers
Don't forget to change it up with the appetizers and bring a cold one. Here are some of the most popular cold appetizers on our site:
Greek Cucumber Cups
Simple greek cucumber cups are a light and delicious appetizer that whips up in minutes. They are a perfect low calorie snack!
Yogurt Fruit Dip
Cream cheese, cool whip, vanilla yogurt, and vanilla pudding mix blended together to make this amazing vanilla yogurt fruit dip for your favorite fruit!
Caprese Kabobs
Simple, quick and delicious caprese kabobs are a bite size take on the classic caprese salad. They take minutes to throw together and are perfect for any party or get together.
Mexican Pinwheels
Mexican pinwheels are bite-size tortilla rolls filled with a spiced cream cheese mixture. They are a party in your mouth!
Knorr Spinach Dip
Savory Knorr spinach dip is perfect for serving at parties with your favorite crackers and veggies. It's chunky and delicious!
Taco Dip Recipe
Loaded with all of your favorite taco toppings like lettuce, tomatoes, olives, cheddar cheese, and sour cream, this creamy taco flavored dip is perfect for dipping with tortilla chips.
Deviled Eggs
Nothing better than a smooth deviled egg appetizer! You'll be surprised with how easy these are to make. Tons of flavor, super delicious and perfect for parties and holidays.
Chocolate Chip Dip
Chocolate chip dip is a simple dessert dip filled with mini chocolate chips that tastes like cookie dough! It's perfectly dippable.
Bruschetta Caprese
Toasted bread rounds are topped with a mixture of juicy tomatoes, ripe avocado, and fresh mozzarella to make this bruschetta caprese.
Cream Cheese Fruit Dip
This cheesecake fruit dip is one of the best fruit dip recipes you will ever try! It takes just 5 simple ingredients – cream cheese, vanilla, sugar, marshmallow fluff, and cool whip – and ALWAYS vanishes in minutes! Definitely a crowd favorite!
Charcuterie Board
We all love to graze during holidays and parties, and what better way to do it than with a Charcuterie board?! Customize with all your favorite meats, cheeses, crackers, veggies, fruits and dips!
Veggie Cup Appetizers
Quick and easy veggie cup appetizers – filled with dressing and veggies such as bell pepper, carrot and tomato, this mess-free snack is great for so many occasions.
Avocado Lime Ranch Dip
It only takes a small handful of ingredients and a few minutes to whip up some creamy and delicious avocado lime ranch dip! Filled with cilantro, lime juice, and avocado, this ranch dip is perfect for dipping chips or topping Mexican dishes!
Jalapeno Popper Dip
Jalapeño popper dip is packed with 4 kinds of cheese, just enough spicy Jalapeños to give it a kick, and a golden crispy topping. This dip is sure to be a hit at your next party!
Dill Vegetable Dip
The perfect go-to veggie dip for parties and snacking. Use it for vegetables, chips, or whatever you feel like! Even if you don't like dill pickles, you'll love this dill vegetable dip.
Fruit Kabobs
Colorful fruit kabobs are the best appetizer or side for any occasion! Load up your favorite fruits and get snacking.
---
salsa
Dips and salsas are always popular at BBQs. They are easy to serve, eat, and share! I've rounded up all of my best and most dippable salsas and dips.
Classic Red Salsa
Our favorite homemade salsa is always a hit, but it's also fun to provide salsa with a twist.
Cucumber Salsa
Crisp and light cucumber salsa is delicious with tortilla chips or on top of tacos. It is best when freshly made and chilled.
Salsa Verde
Sweet Salsa Verde – a delicious salsa recipe that is sweet and takes just minutes to make. Ingredients include tomatillos, jalapenos, sugar, & cilantro.
Strawberry Salsa
You can't go a summer without eating this sweet and spicy strawberry salsa! The flavors are so unique. Grab some cinnamon and sugar chips or your favorite tortilla chips and dig in!
Peach Salsa
Fresh peach salsa is delicious with chips, on top of fish or pork, or spooned over tacos! You'll love the flavor combinations in this recipe!
Black Bean And Corn Salsa
This black bean and corn salsa is one of our favorite dips and appetizers. It's great with any Mexican dish or served with tortilla chips!!
Tomatillo Salsa
Easy tomatillo salsa is spicy and delicious! It's great with tortilla chips or as a sauce on top of your favorite Mexican dishes!
Corn Salsa
Savory corn salsa has a little kick of spice! There are so many yummy uses for this delicious and simple salsa.
Chili's Salsa
The restaurant salsa you know and love, made at home anytime you like! This Chili's Salsa copycat recipe is literally made in minutes with the help of a blender.
Mango Salsa
This sweet and savory mango salsa is perfect with chips or any Mexican meal. It's filled with sweet pineapple, cilantro, mangoes, onion, cilantro and jalapenos making it full of flavor and simple to make.
Pineapple Salsa
Sweet and spicy pineapple salsa that you won't be able to stop snacking on. Eat it with your favorite tortilla chips and share with friends and family!
Guacamole
Spicy, chunky simple guacamole is so easy and addicting, it's sure to be a crowd pleaser! You won't be able to stop eating it. 
---
BBQ Flavored
There's nothing wrong in including BBQ-flavored appetizers at your BBQ. Here are some of our favs that have that sweet and tangy flavor.
Barbecue Pineapple Meatballs
Easy barbecue pineapple meatballs are perfect as an appetizer for parties and get togethers or a delicious side dish for dinner.
Barbecue Chicken French Bread
Delicious barbecue chicken french bread is loaded with chicken, cilantro, cheese, avocados and ranch dressing. It is a quick & easy favorite!
BBQ Bacon Wrapped Chicken Bites
BBQ bacon wrapped chicken bites are simple, quick , and delicious. Chicken smothered in barbecue sauce and wrapped in bacon make for a popular appetizer at any gathering!
BBQ Chicken Pizza
With barbecue sauce, mozzarella cheese, chicken, bacon, and cilantro, this barbecue chicken pizza will be a new family favorite. Best of all, it's made in less than 20 minutes!
Boneless Honey BBQ Wings
Delicious homemade boneless chicken wings, double breaded, baked to a crispy perfection, then smothered in sweet and tangy honey bbq sauce. This boneless honey BBQ wings recipe makes for the perfect game day appetizer, or weekend dinner item! 
---
Potluck Perfect Appetizers
These are some of our favorite appetizers to serve at our family potlucks and cookouts. You can't go wrong no matter which recipes you choose! Be sure to check out all of our Appetizer Recipes.
For more collections, see: Easy Appetizers, Appetizer Dips, Healthy Appetizers