Cream Cheese Green Chili Dip is one of our favorite appetizers. It is is delicious and takes just 1 minute to make!!
We are always looking for simple and delicious appetizers and dips for parties. This one fits the bill along with our 7 Layer Bean Dip, Crockpot Buffalo Dip, and Spinach Artichoke Dip that are all party perfect!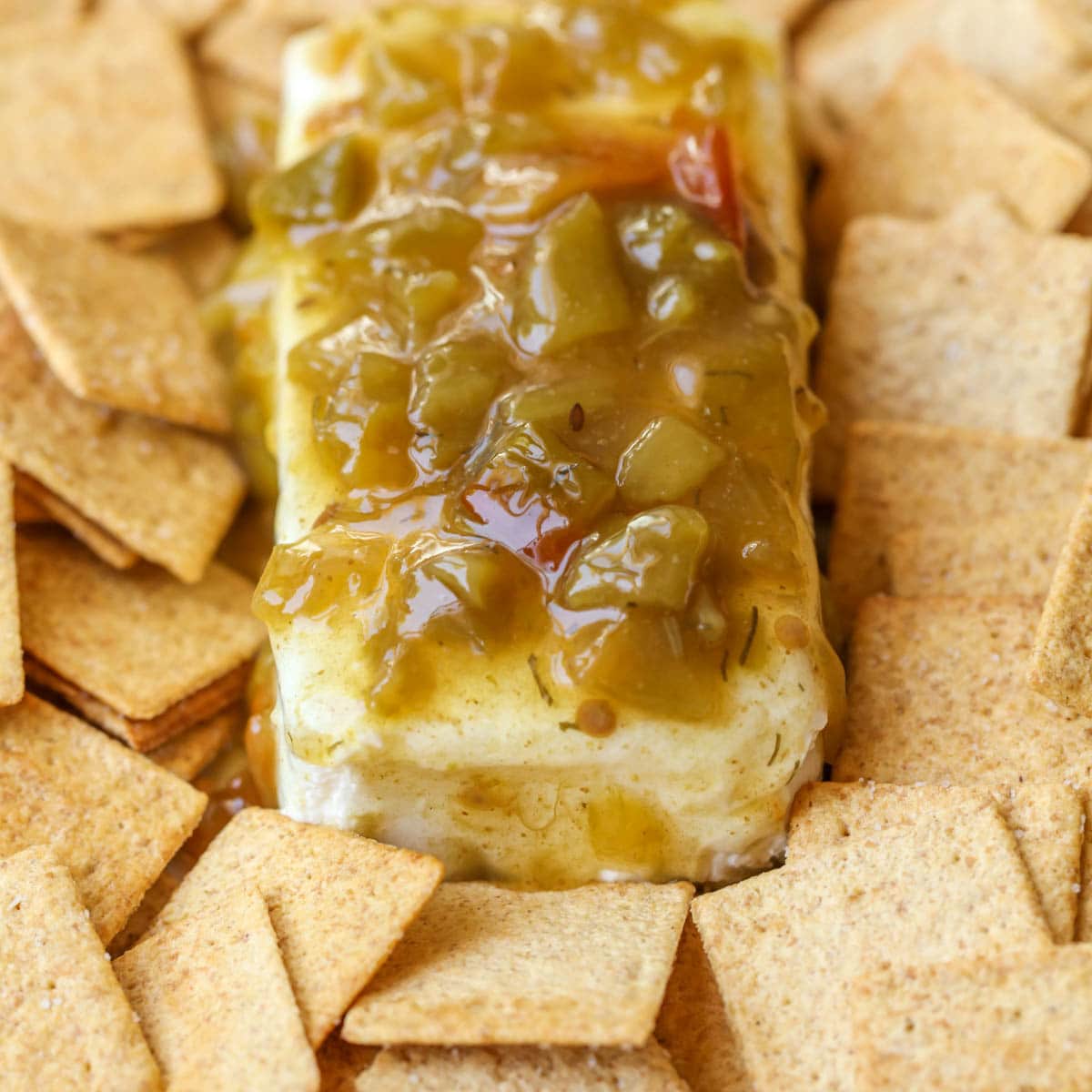 made in 1 minute!
One of the recipes that has become an essential at many family gatherings is this Cream Cheese Green Chili Dip. We have it at so many family functions because it's delicious and seriously takes one minute to make (and I'm not exaggerating!)
I admit I had my reservations when I first saw this appetizer, but it's definitely become one of my favorites, and especially because it's so simple!
I have two favorite sauces that you can buy to pour over the cream cheese. One is at AJ's Fine Foods and is called Cannon's Sweet Hots. The other is the pepper jelly from Trader Joe's.
Both are great, and I'm sure there are other options at your favorite store, or you can make a sweet salsa verde, tomatillo salsa or homemade pepper/jalapeno jelly instead.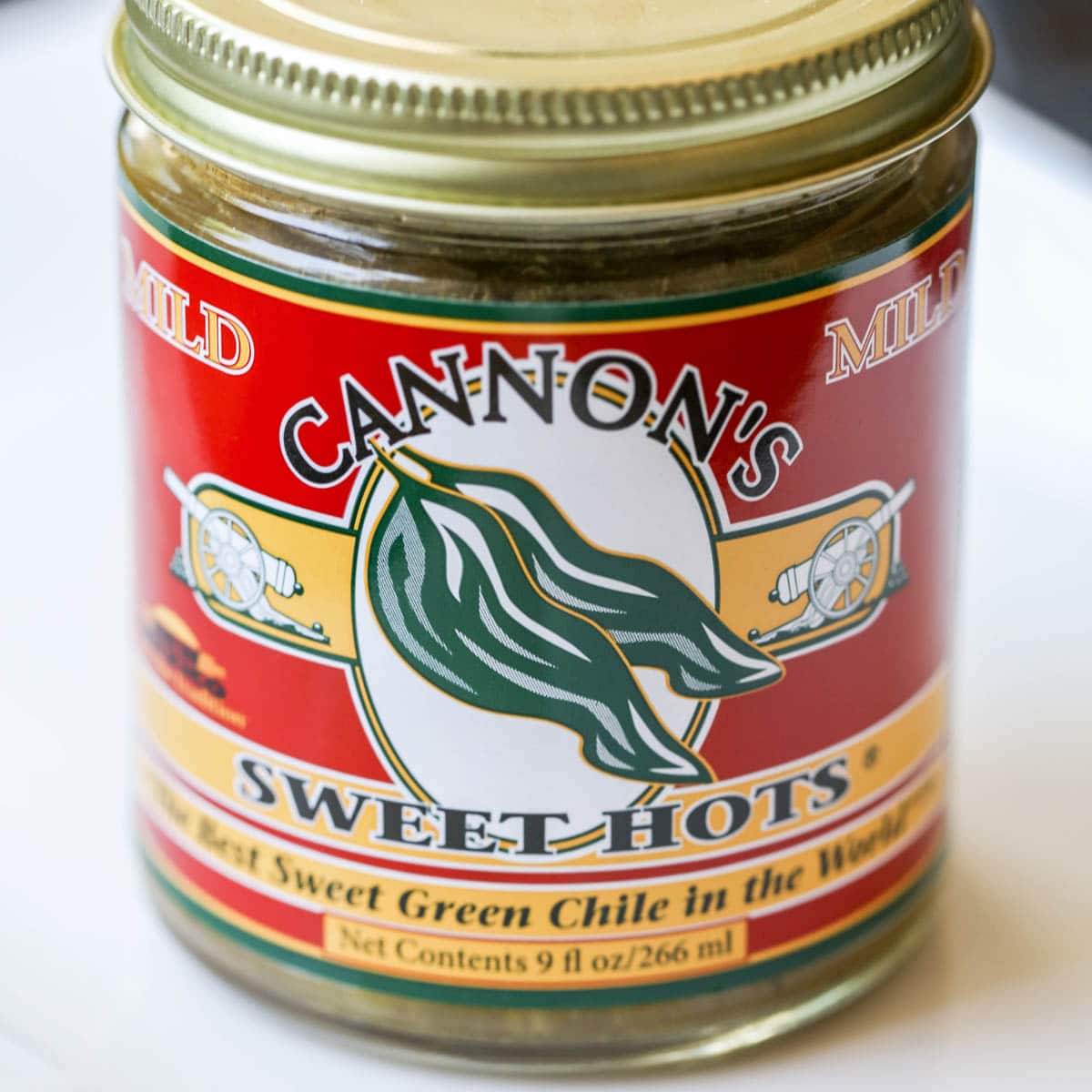 Made in a jiffy!
It really takes just a minute to throw together…
CREAM CHEESE. Place cream cheese block on plate.
GREEN CHILE. Pour green chile sauce over cream cheese (right before serving)
SERVE!! Serve with crackers or chips. ENJOY!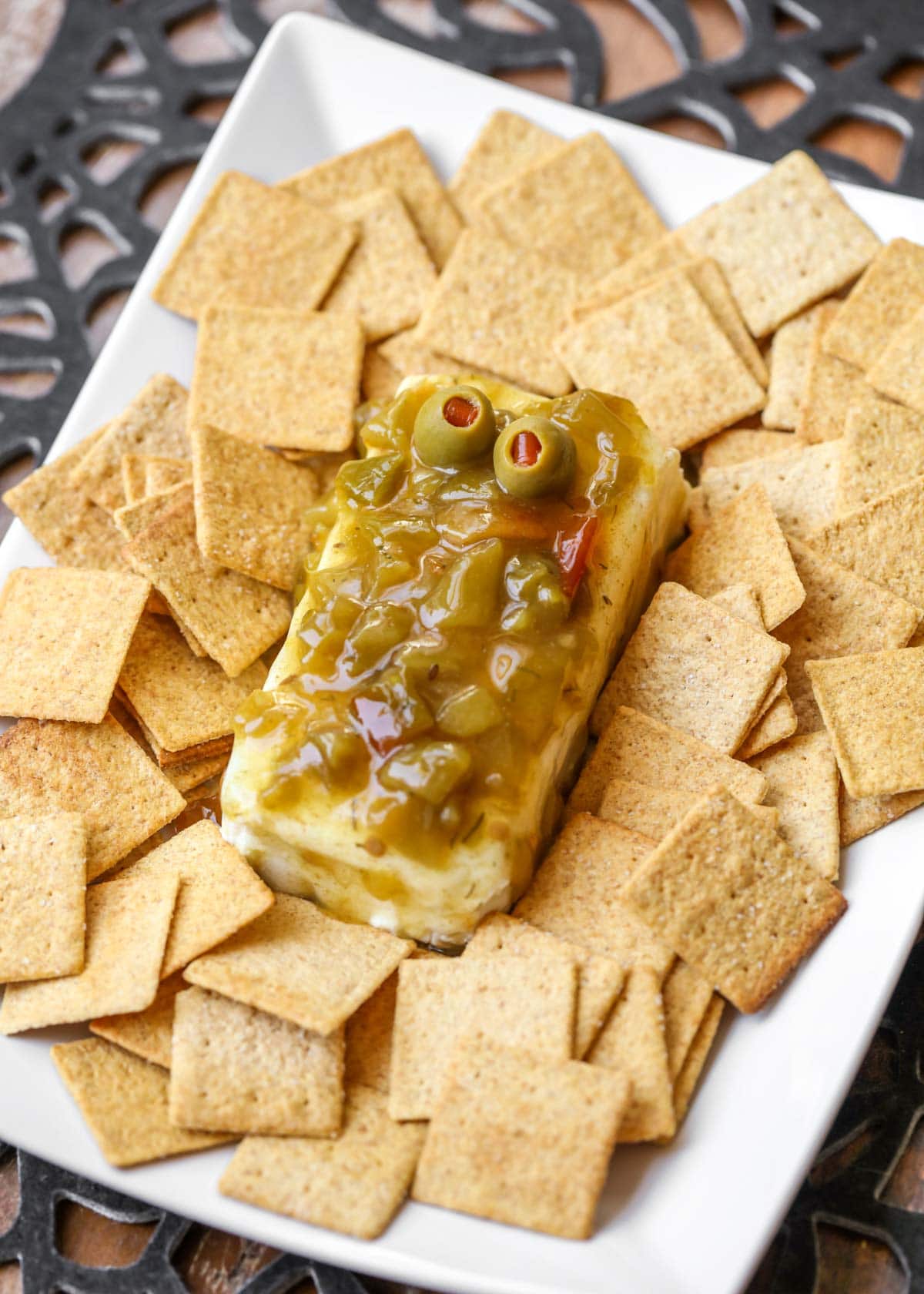 Tips + Variations
We love to make this around Halloween and add some green olives for eyes to make it look a little creepy.
Another way that you can serve this is to mix the softened cream cheese with the green chili sauce. Serve in a bowl. This also makes it easier to add some spices should you choose to do so. Some additional flavors include garlic salt or turn up the heat with some chili pepper.
Dipping Suggestions:
Crackers Ritz, Wheat Thins, Triscuits
Pretzels hard or

soft

Chips like tortilla chips, corn chips, Fritos
Veggies such as peppers, celery and carrots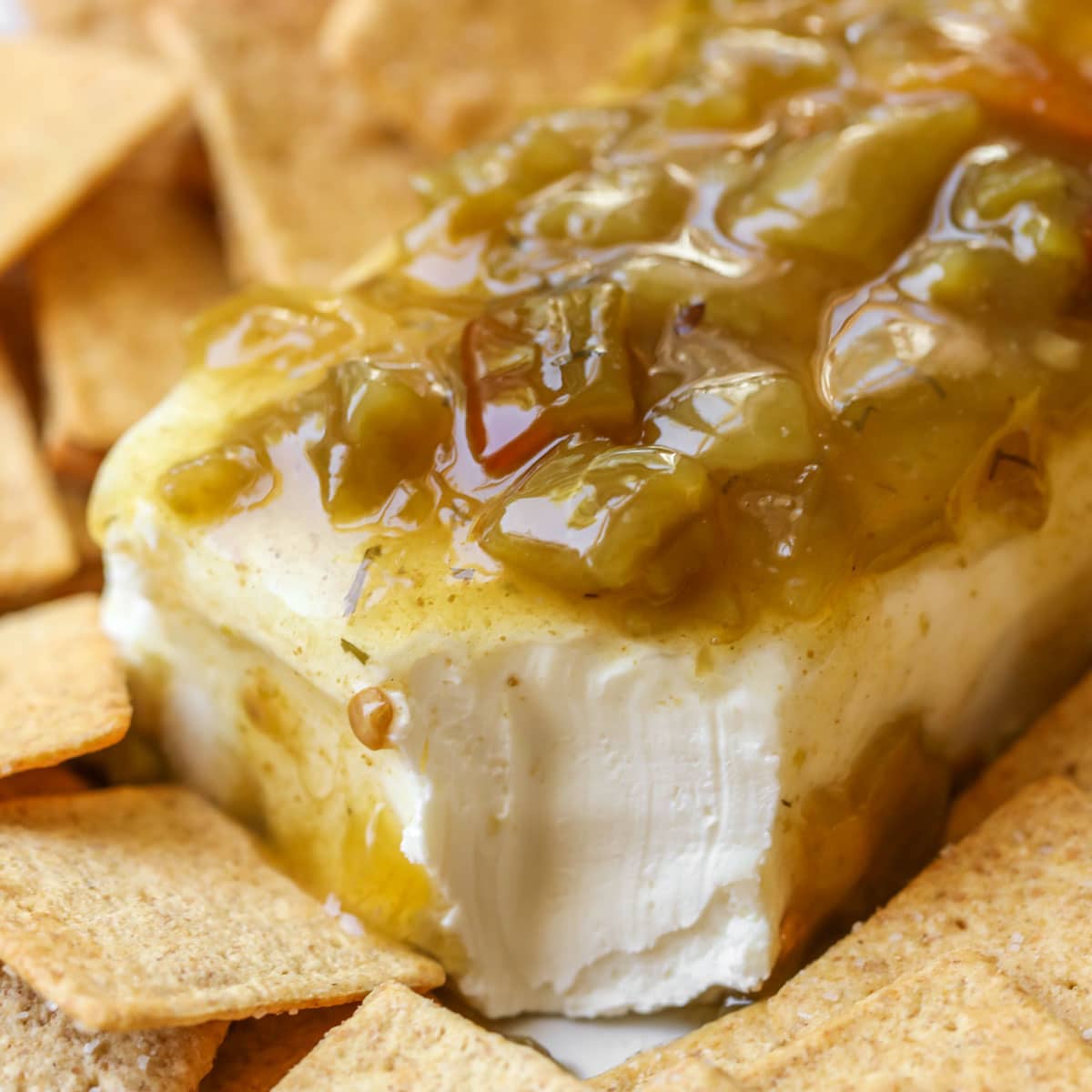 Storing Info
STORE leftover cream cheese along with any of the green chili sauce into an airtight container. Store it in the fridge for 4-5 days.  
Trust me – this is so good and simple you won't have leftovers. 😉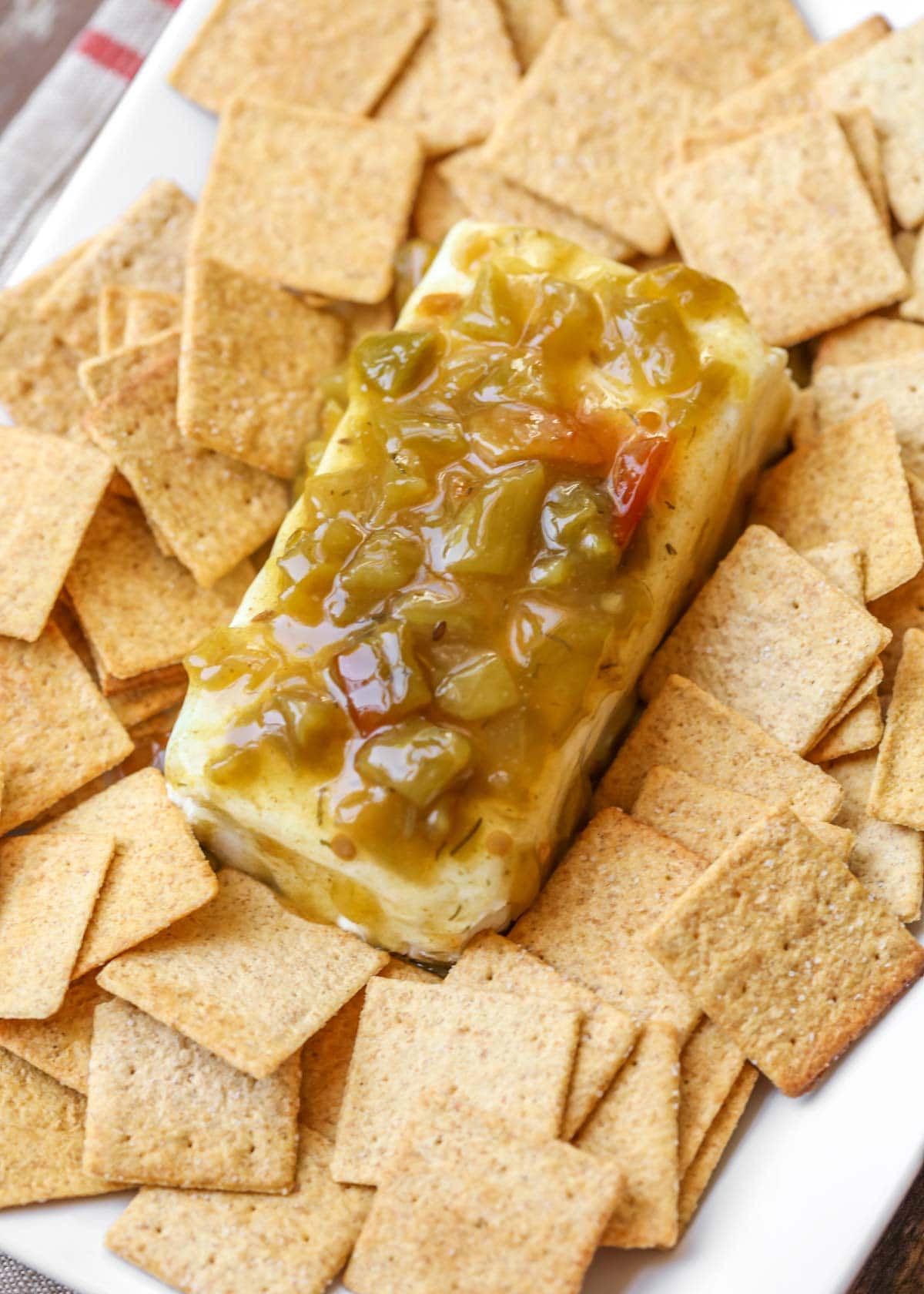 For more great creepy Halloween recipes, check out: