A Puking Pumpkin with guacamole is SO easy to make and tastes delicious. It is perfect for any Halloween celebration!
Good dips like French Onion Dip, Apple Brickle Dip, and Pumpkin Dip are a MUST at any Halloween party, and this Puking Pumpkin Guacamole fits right in! It's not only an eye-catcher, but tastes SO good!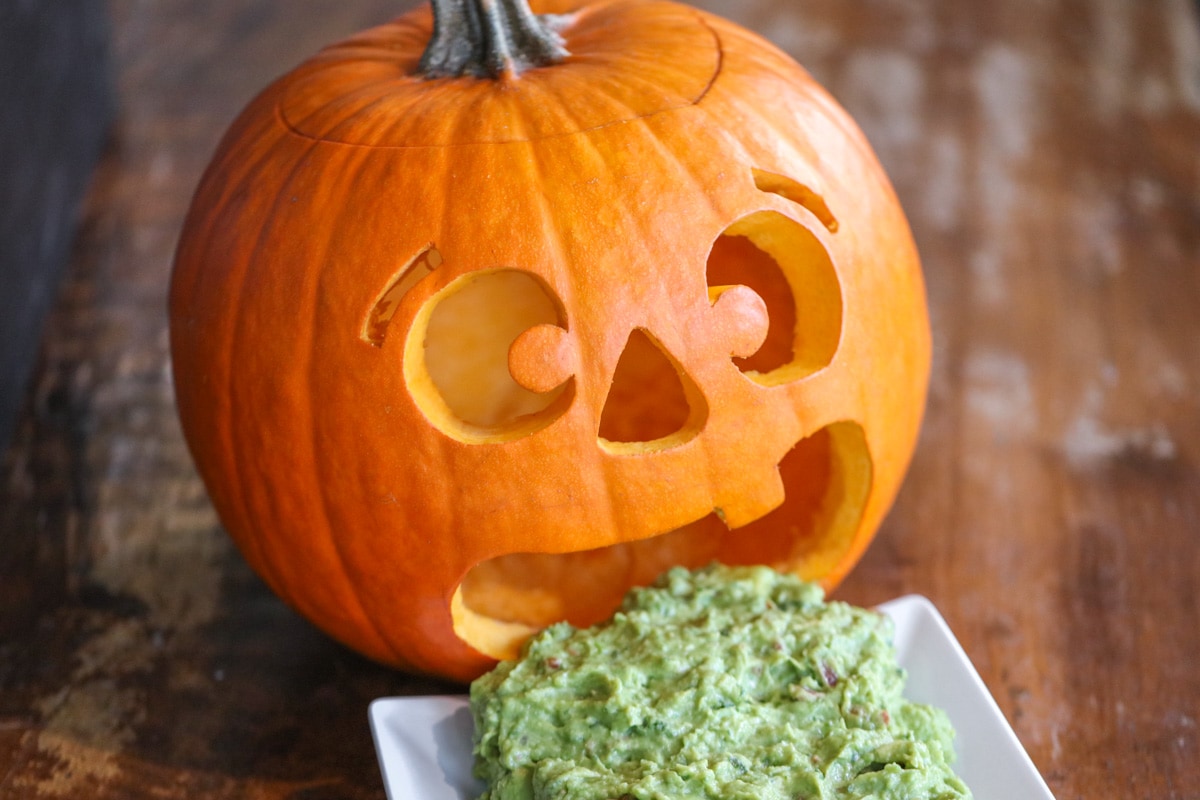 A barfing pumpkin!
I've blogged about Avocados several times because I LOVE them, especially in guacamole. When I saw this super fun idea on Pinterest from My Foods Looks Funny , I knew I had to do it myself.
We ended up making this for a family reunion we had this weekend, and it was a hit!! The Puking Pumpkin guacamole was great and was gone in no time!!
While this guacamole is perfect for any time, we wanted to jazz it up a bit for Halloween.
I simply positioned the plate of guacamole at the "mouth" of the carved pumpkin to give the affect of a barfing pumpkin! Maybe a little gross, but just perfect for Halloween, right?!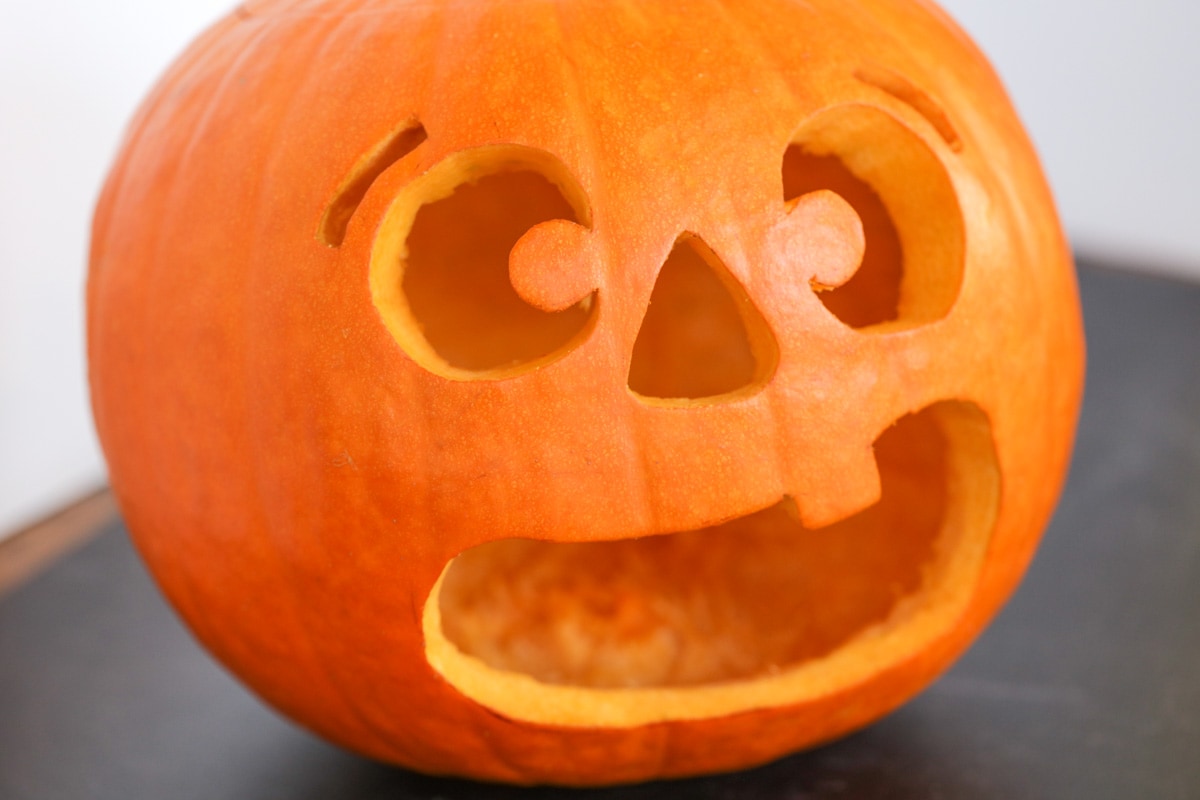 Making HAlloween Guacamole
MASH + MIX! Mash avocados. Fold in all other ingredients. Mix well. Refrigerate until ready to serve.
How to Choose a Pumpkin:
The best pumpkins to carve include Autumn Gold, Harvest Moon, Captain Jack, Howden, and Jack-O-Lantern pumpkins
Look for pumpkins that have a deep orange color all over.
You want a smooth surface free of bruises.
Choose a pumpkin with a flat bottom so that it will stabilize it and keep it from rolling. Be sure the bottom is firm and not mushy
A ripe pumpkin will sound hollow when you knock on it with your knuckles.
Larger pumpkins will have more room for a design and are easier to carve.
Don't pick it up or carry it from the stem.
Pumpkin Carving Tips
Since you're most likely using this fun recipe for a party or gathering you don't want to be spending valuable time carving your pumpkin instead of making other party preparations. Use the following tips to help carve this in advance and keep it looking fresh:
Once the "pumpkin guts" have been removed go ahead and scrape off some of the wall. Thinning the wall will make carving a bit easier.

Sketch your design, even easy ones, then transfer it to the pumpkin before you start cutting.

Once the pumpkin has been gutted submerge the pumpkin in a solution of 1 teaspoon bleach:1 gallon of water. Allow it to completely dry and then rub the pumpkin, inside and out, with vegetable oil or petroleum jelly to prevent shriveling. Apply more oil/jelly when needed.

Place the pumpkin in a grocery bag and refrigerate when you're not using it.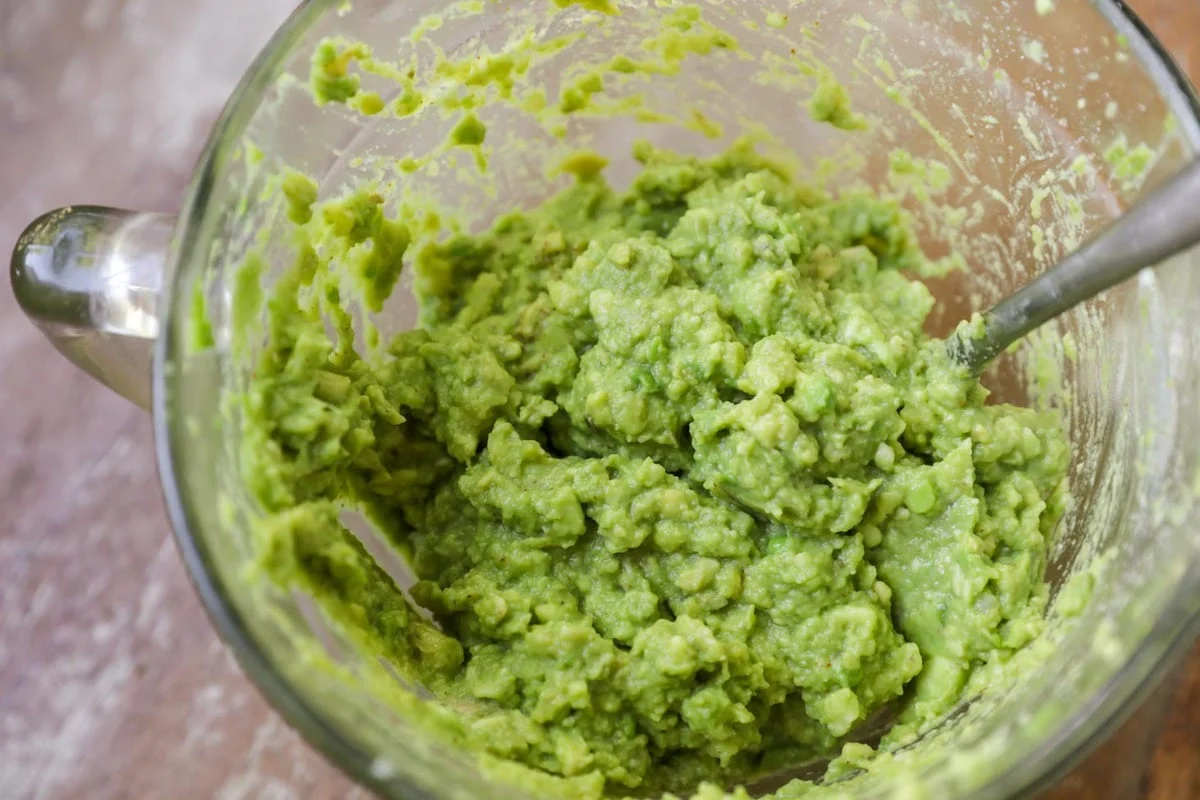 Recipe Tips
Tabasco. We used green Tabasco instead of normal Tabasco. The normal red sauce is pretty mild compared to other hot sauces. The green tabasco is known to have a more interesting and deeper flavor, plus it matches the color of the guacamole!
Tortilla Chips. We love to serve this with a classic corn tortilla chips, but you could also use Fritos or dried vegetable chips like beets. Whatever you think will taste best with a spicy and creamy dip!
Guacamole tips:
Lime Juice: One lime can produce about 2 tablespoons of juice.
Hot Jalapeño Peppers: Some peppers are pretty hot and can irritate your skin so have some gloves handy to wear while you chop them up. Avoid touching your face and definitely avoid your eyes. If you want to remove heat from the pepper, slice the pepper in half lengthwise. Scrape out the pith (the white part on the inside) and well as all the seeds. If you like a little heat, leave some of the pith and seeds.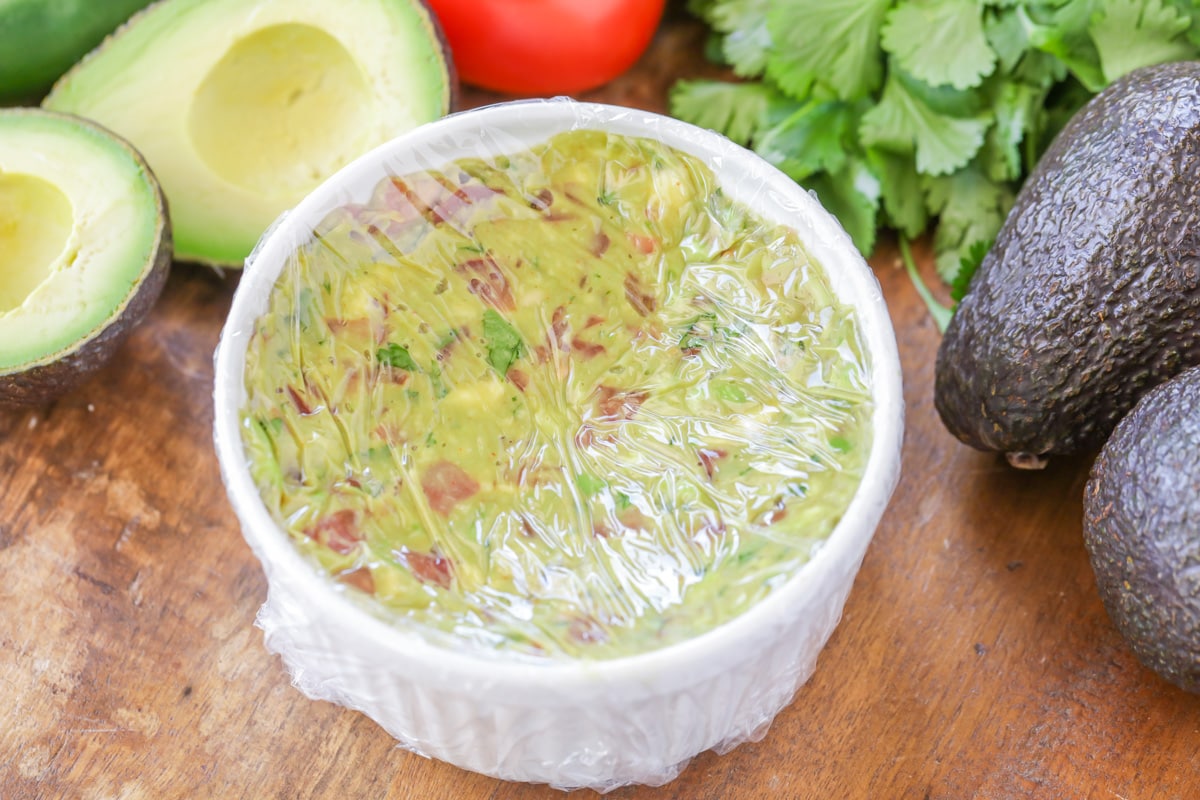 Storing Tips
A big key to STORING guacamole is how to keep it from turning brown. These tips work for me:
Use fresh barely ripe avocados. They'll last longer when stored.

Once the guac has been mixed up, press it into a bowl be sure that the top is level and smooth. Place a piece of plastic wrap directly on top of the guacamole.* Then press the edges of the plastic along the sides of the bowl. This will help keep any air from touching the guacamole. Cover the container with a lid.

Keep in the fridge for up to 2 days.
Note: some people like to add a thin layer of water, lime juice or sour cream on top of the guacamole before placing the plastic wrap on top. Pour off excess liquid or scrape off cream before serving.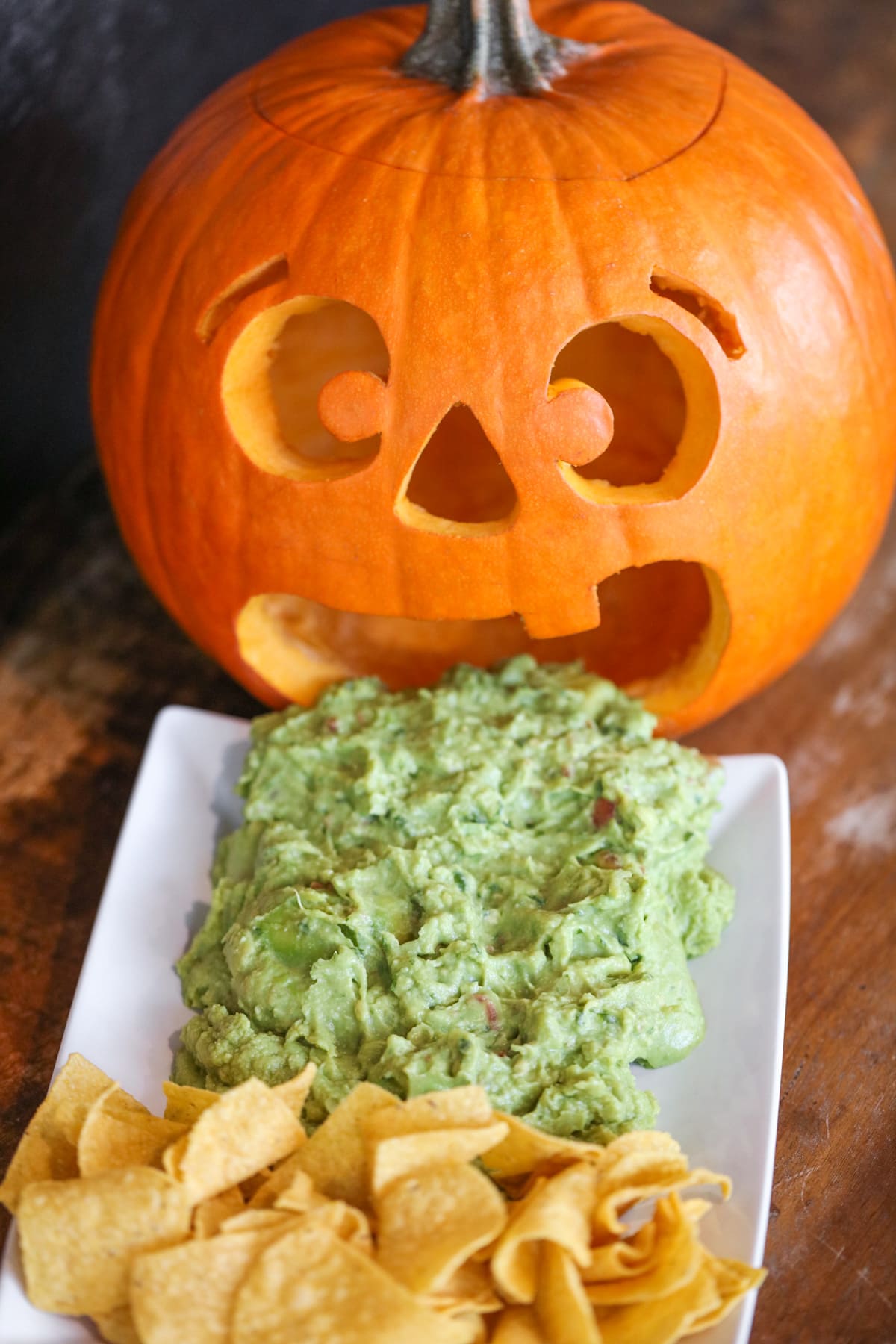 For more Halloween Recipes check out: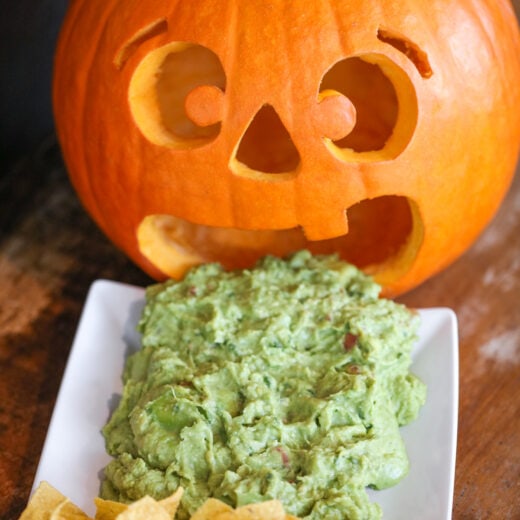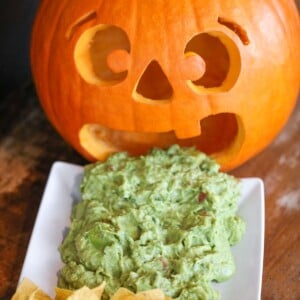 Puking Pumpkin Recipe
A Puking Pumpkin with guacamole is SO easy to make and tastes delicious. It is perfect for any Halloween celebration!
Ingredients
3

avocados

1/2

cup

red onion

chopped

1

large

tomato

sliced

1

tsp

minced garlic

1/2

bunch

cilantro

chopped

1

jalapeno

finely chopped

1

lime's juice

1 – 4

shakes

Green Tabasco sauce

salt and pepper to taste

to taste
Instructions
Fold in all other ingredients. Mix well. Refrigerate until ready to serve.
Nutrition
Calories:
169
kcal
,
Carbohydrates:
10
g
,
Protein:
2
g
,
Fat:
14
g
,
Saturated Fat:
2
g
,
Sodium:
8
mg
,
Potassium:
517
mg
,
Fiber:
7
g
,
Sugar:
1
g
,
Vitamin A:
255
IU
,
Vitamin C:
16.3
mg
,
Calcium:
15
mg
,
Iron:
0.6
mg
Nutrition information is automatically calculated, so should only be used as an approximation.
Making this recipe? Tag us!
Share it with us on Instagram using the hashtag #lilluna, so we can see what you're creating in the kitchen!