Fun & festive lime flavored witches brew uses only a few ingredients and takes minutes to make!! It is perfect for any party or celebration.
Jazz this witches brew up with fun straws and spooky gummies for your Halloween parties and get togethers! Halloween Punch, Slushy Punch, and Ghoul Aid are also must make drinks that are sure to be crowd pleasers!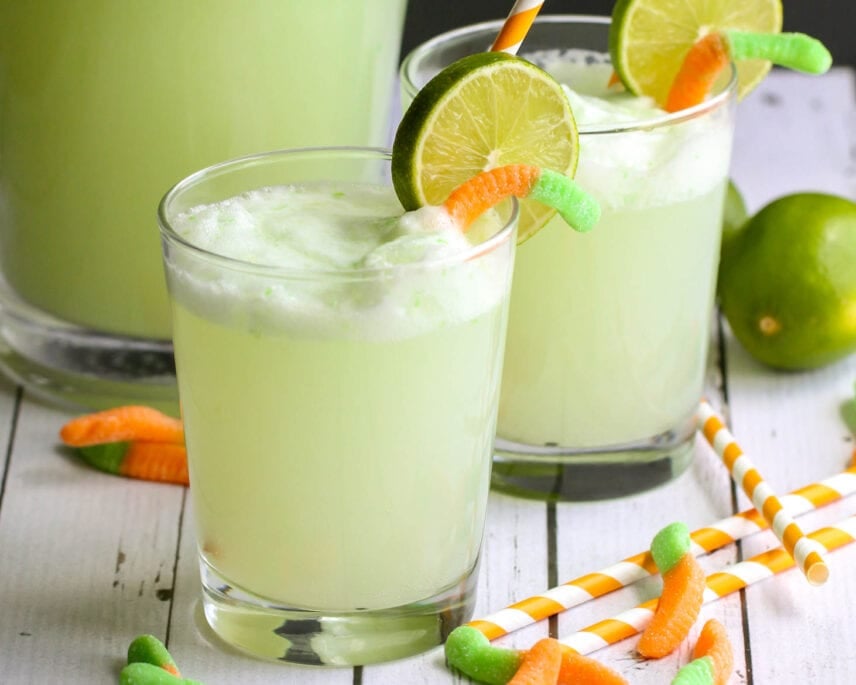 A Halloween party must-have!
My kids are obsessed with Halloween drinks!
I think it may be because I made a few Halloween drink recipes last year and they LOVED them! I admit they were pretty fun, so I decided I would try a few new recipes this year.
You may have seen the Halloween Hot Cocoa we've made that was a HUGE hit. The next one I'm sharing with you today is one I tried for family night a few weeks back. We call it Witches Brew!
The hubby was incredibly excited because it has a LIME flavor to it, which is one of his favorites (the whole family loves it, in fact!) It was very refreshing and literally took a minute to throw together.
We also liked that it was a dessert as much as it was a drink. It would be perfect for any party or get together and isn't limited to just Halloween.
I jazzed things up a bit with some Halloween straws and added some Gummy Eye Balls. You could even use gummy worms to hang half out of the cups to make this the perfect Witches Brew at your next Halloween party!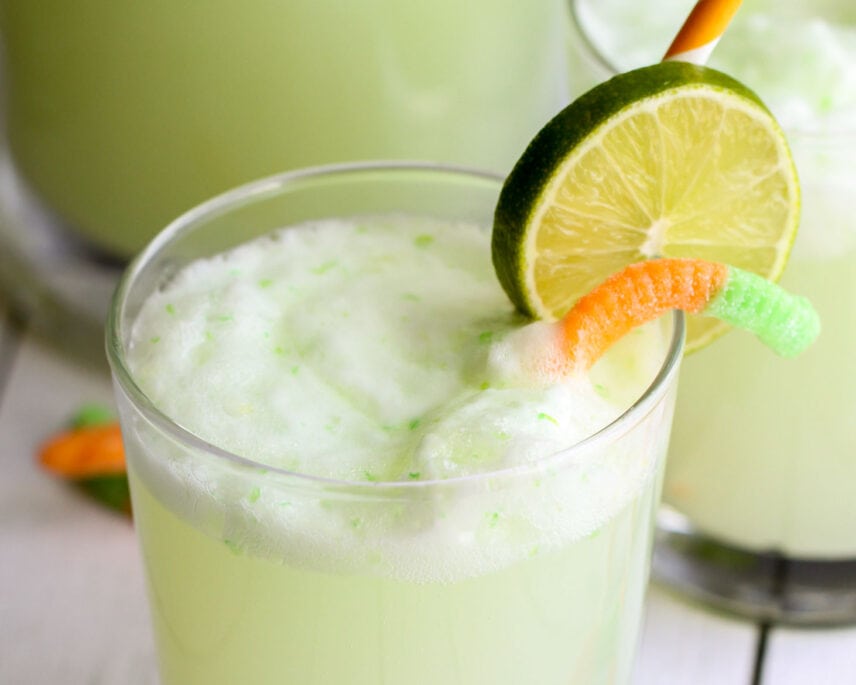 Making witches brew
The best part of this recipe is that it only requires THREE main ingredients. Yep, that's right!
lime sherbet
Ginger Ale (or 7 UP/Sprite)
Pineapple juice
If you want it more green and a little more festive, grab some green food coloring, gummy worms and limes. 😉
MIX + ENJOY. All you do is throw everything in a punch bowl right before serving, and you're good to go!
It doesn't get any easier or faster than that!
Of course, you can always go the extra mile and scoop individual servings into cups with decorative straws and gummies. Or you can just prep the cups and let people scoop the punch themselves. Either way, party guests will love this festive witches brew punch!
Tips, Variations + Storing Info
To make your witches brew smoky is actually pretty easy. You'll need some dry ice and a couple of non glass bowls. Before I list the steps on how to get the dry ice smoking I need to give a little info about the bowls. First be sure the bowls are not glass as the COLD dry ice might crack it. Second, one of the bowls needs to be small enough to fit inside the other bowl along with a few pieces of dry ice. Now onto the directions:
Break the dry ice into pieces using a hammer or other tool. Wear gloves and do not let your skin touch the dry ice.

Place a few pieces of dry ice in the bottom of the larger bowl.

Nestle the smaller bowl on top of the dry ice.

Add warm-hot water to the larger bowl. The dry ice will start smoking.

When you need more smoke add more small pieces of dry ice and hot water to the large bowl.

Be very careful that no dry ice lands in the punch. It could cause harm if swallowed.

Store extra dry ice in a cooler nearby or, if you can, under the punch table.
Other fun ideas to dress it up:
Fill a rubber glove with water and freeze it. Once the punch is cold add the rubber glove to the punch bowl and you'll have a floating hand keeping things cool.
Serve the punch from a black cauldron. This is especially fun when you use dry ice.
Add maraschino cherries to the punch
Purchase some eyeball ping pong type balls and let them float on top of the punch.
It would be super easy to do an Orange version (Orange sherbet and orange concentrate) for another Halloween version. You could even serve it in clear cups and draw Pumpkin faces on the outside. Just an idea. 😉
You are not going to want to make this punch too far ahead of time as the soda may go flat and sherbet may melt. However, you can mix the frozen limeade and soda about an hour before serving, then add the sherbet right before serving.
STORE any leftovers in the fridge. The carbonation will diminish, but it will still be safe and delicious to drink.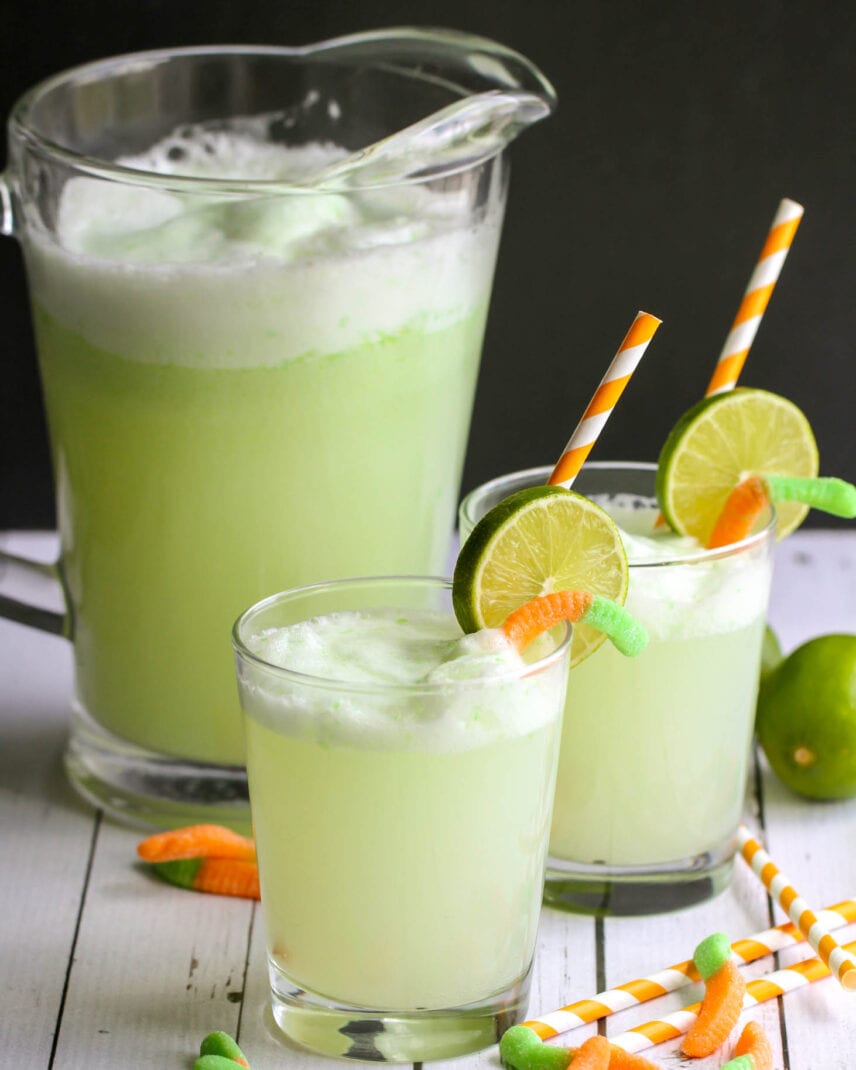 For more great festive drinks check out:
Witches Brew Recipe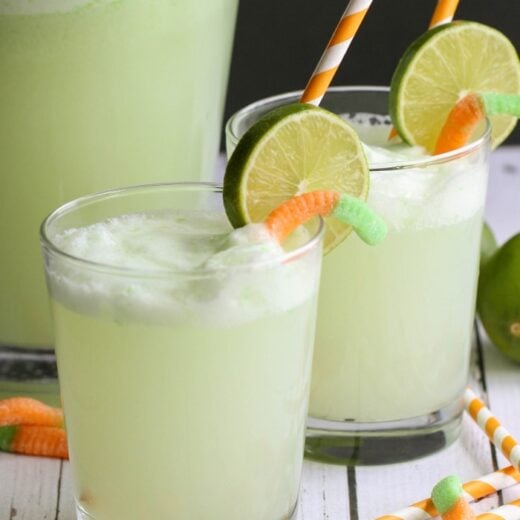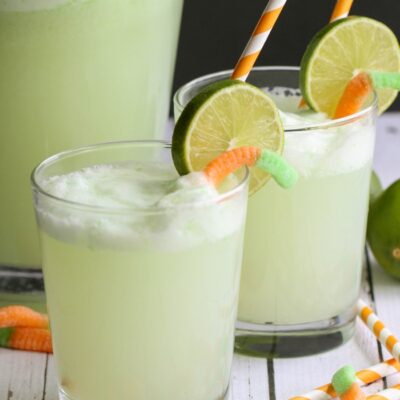 Witch's Potion Drink recipe – a chilled Lime and Pineapple mixture that is bubble and perfect for your next Halloween party! 
Ingredients
1

(2-liter) bottle

ginger ale (or Sprite)

chilled

1

cup

pineapple juice

green food coloring

optional

1

quart

lime sherbet

sliced limes

for garnish

gummy worms

for garnish
Instructions
Combine ginger ale and pineapple juice in a pitcher or punch bowl. Add food coloring, if desired.

Spoon sherbet in right before serving and slowly mix; it will start foaming.

Garnish with fresh limes and gummy worms.