No halloween party is complete without some fun and festive Halloween drinks! All of the recipes in this collection are drinks both kids and adults can enjoy—including punches, milkshakes, and even hot chocolate!
Don't forget to check our our Halloween appetizers and Halloween desserts too – especially if you're throwing a party!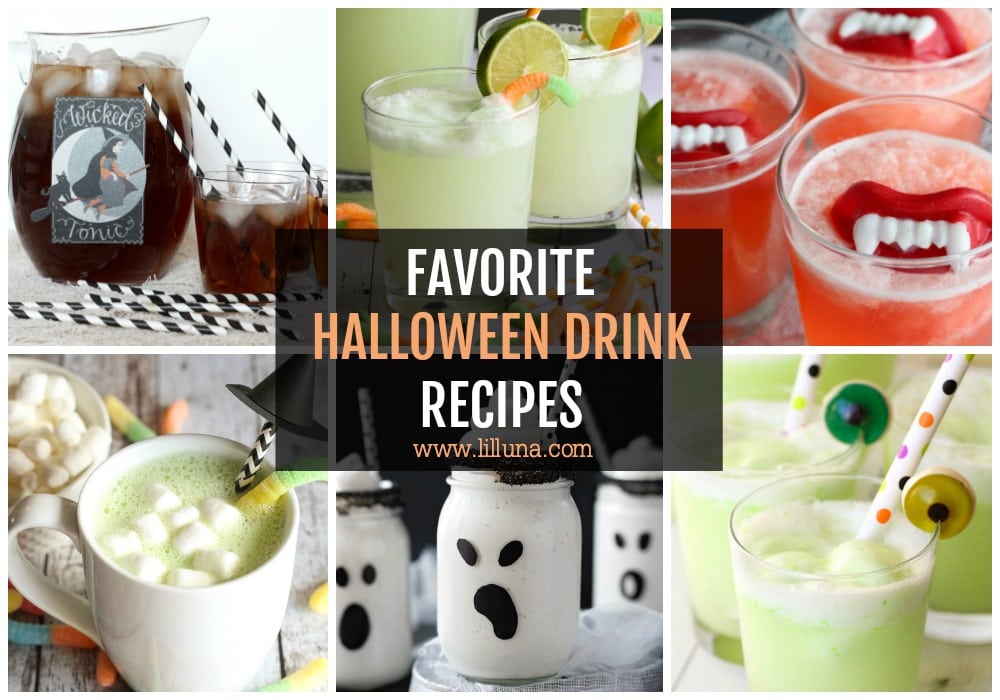 Fun Halloween Drink for kids + Adults
If you're planning a Halloween party, you've  probably got decorations and food galore. Make sure you round out your party with one of these delicious Halloween drinks!
I have several tips for Halloween drinks, as well as a list of our favorite recipes that we love to use for our parties. You can always dress up the punch bowl, the individual cups, or add accessories to the drink itself! It's just another fun way to carry out the theme in every little detail at your party. 😉
All of these drinks are also non-alcoholic, which means even the littlest of ghosts and goblins can enjoy them!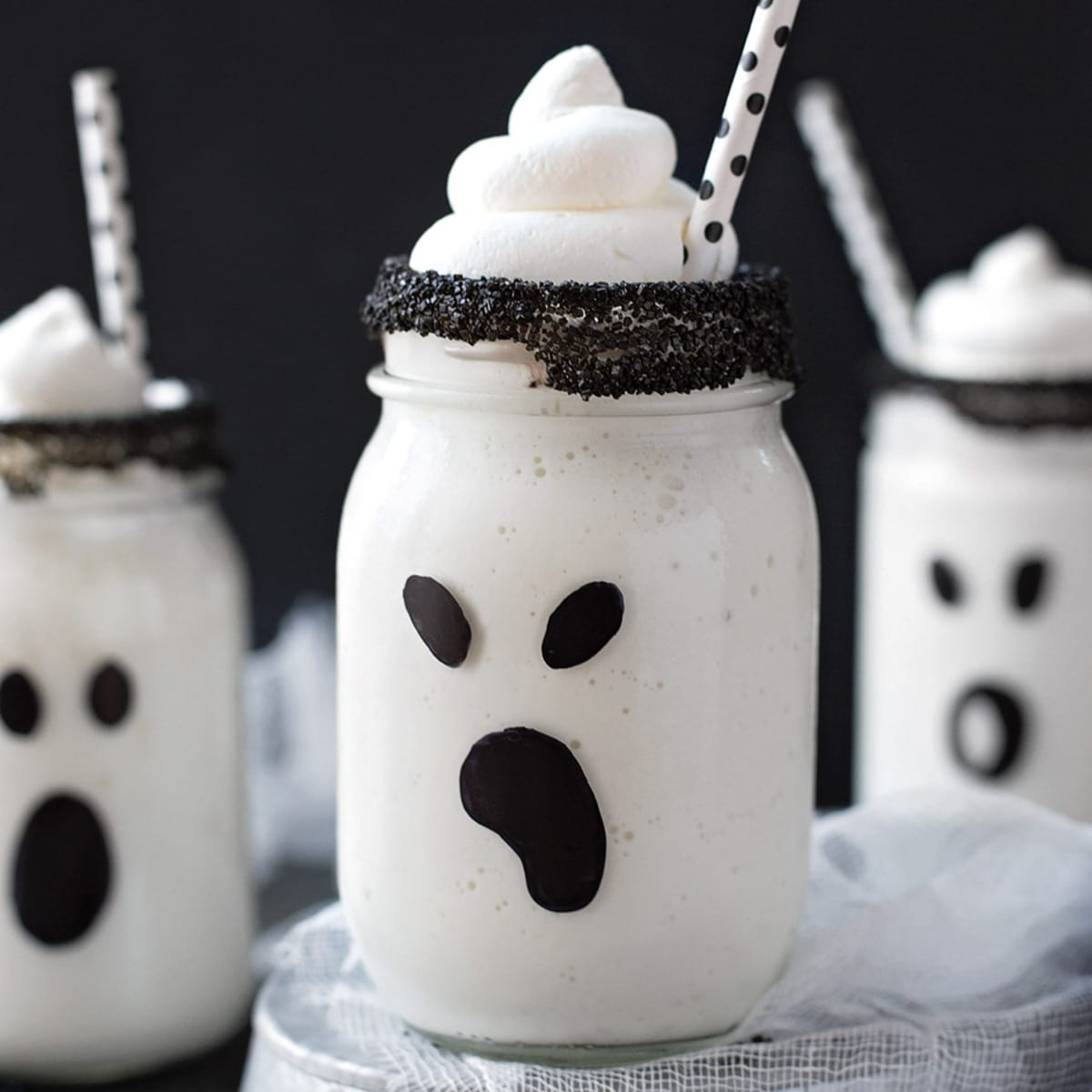 Ways to make drinks fun and festive:
Punch Bowl ideas:
Clear punch bowls are fun to show off funky colors or floating eyeballs.
Use a bowl shaped like a witches cauldron.
Any large Halloween themed bowl works too. Your local craft store or online stores have some really amazing bowls.
Drink Cup ideas:
Simple clear plastic cups: Again, clear cups will showcase any spooky additions, such as eyeballs, you have floating in the drink.
Use drink beakers (that look like the ones scientists use).
Fancy cocktail glasses are always fun.
Glass Milk Containers: these are especially fun if you draw Jack-o-Lantern or Ghost faces on them. (Note: marker can be removed using a magic eraser.)
Like the bowls, you can find some really cool Halloween glasses and goblets at craft stores or online stores.
Drink accessories:
Halloween colored straws – you can even slide a Halloween Peep marshmallow on each straw.
Use a glow stick to help stir your "potion". Small glow sticks work great for cups and larger, fat glow sticks can work to stir the punch bowl.
Fasten a plastic spider or drape gummy worms over the rim of the cup or punch bowl
Add floaters like eyeballs, vampire teeth, plastic spiders. Make sure they're large and obvious enough that someone doesn't accidentally swallow one and choke.
Fill a clear glove with water, fasten it closed and freeze it. Once frozen you can have it floating around in the punch bowl to help keep it cool.
Fun labels to make your soda Halloween Ready: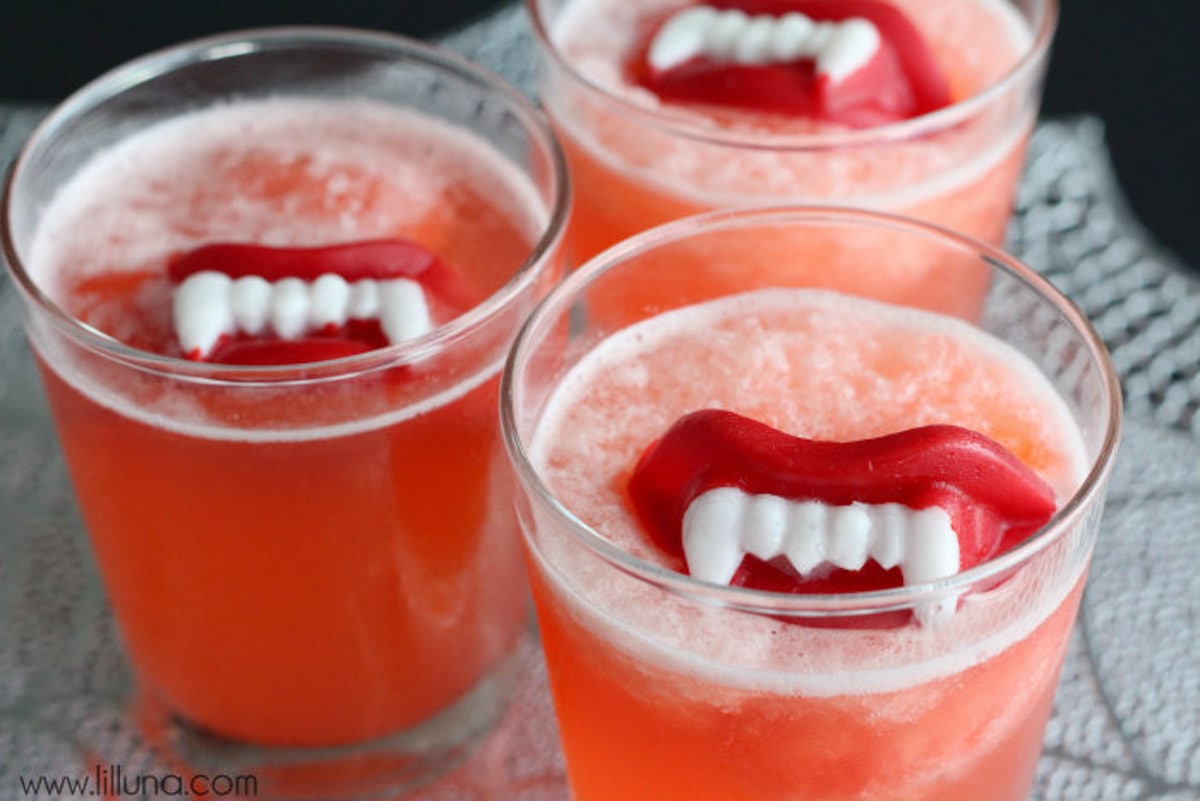 "Bubble, Bubble Toil and Trouble"
Ever wonder how people get that smokey potion effect? Dry Ice! Dry ice is solid form of carbon  dioxide so when it melts it returns to its gaseous state. Be cautious when handling dry ice. It is extremely cold and can burn your skin. Also, dry ice should never be eaten or swallowed.
So how do you use dry ice to make your punch bowl smokey? I like to use the two bowl method:
Find a smaller punch bowl that will fit inside the larger decorative bowl.
Add 2-3 inches of water to the larger bowl and place the smaller bowl inside.
Pour the punch into the smaller  bowl.
when the party starts use tongs to add chucks of dry ice to the water in the larger bowl. It will immediately start to smoke.
Add more water and dry ice as needed.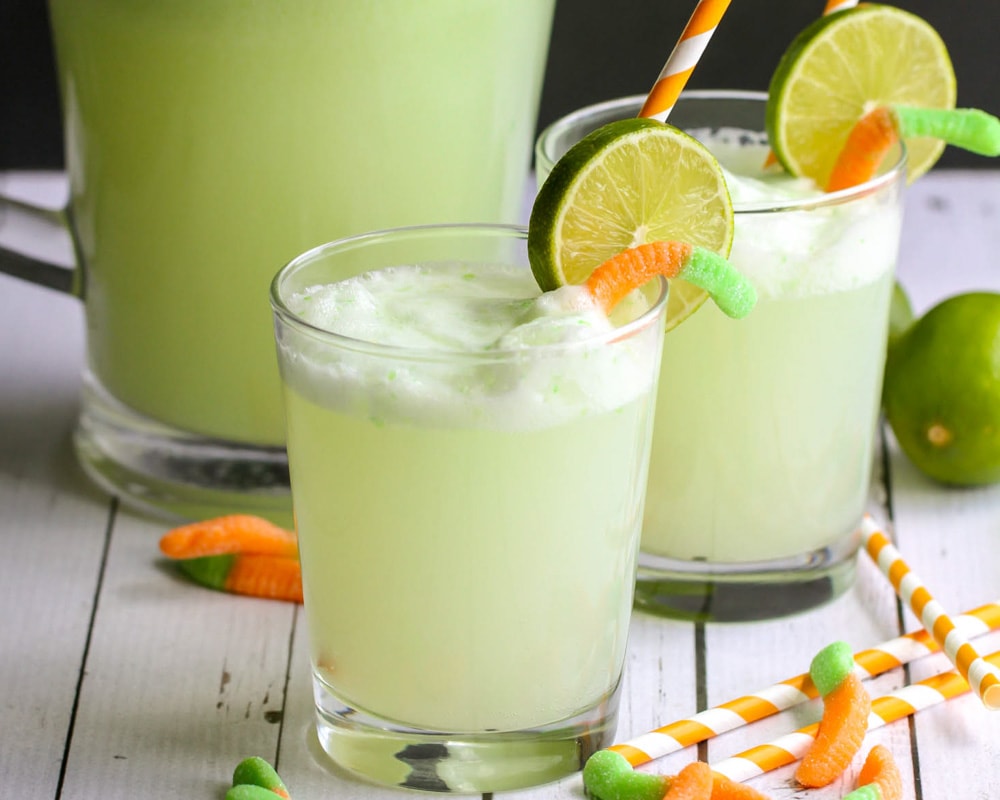 Halloween Drinks
Most of these recipes make several servings, which is perfect for punch bowls at parties. We particularly love this Witch's Potion. Some of them are less servings, and are better for a fun drink on a whim during the Halloween season, but can easily be doubled to work for a larger crowd. All of these Halloween drinks are kid-friendly, but kids and adults alike will enjoy them!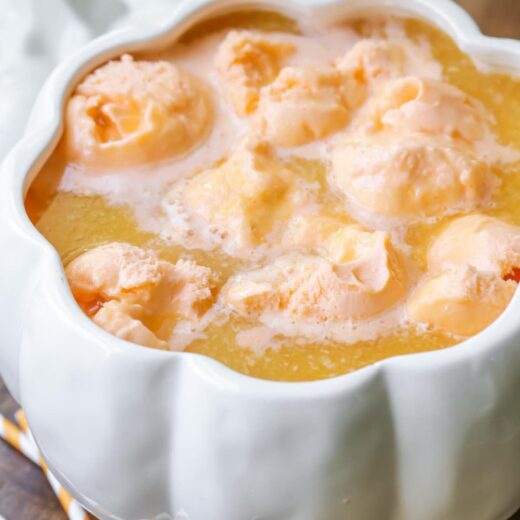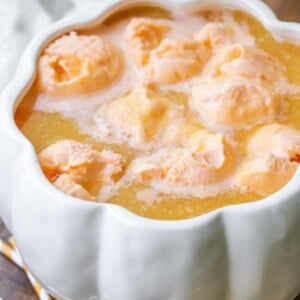 Drinks
Easy Halloween Punch Recipe
This sweet & fizzy orange sherbet punch is one of our all-time favorite Halloween drinks!! It is a perfectly festive Halloween punch!
Check out this recipe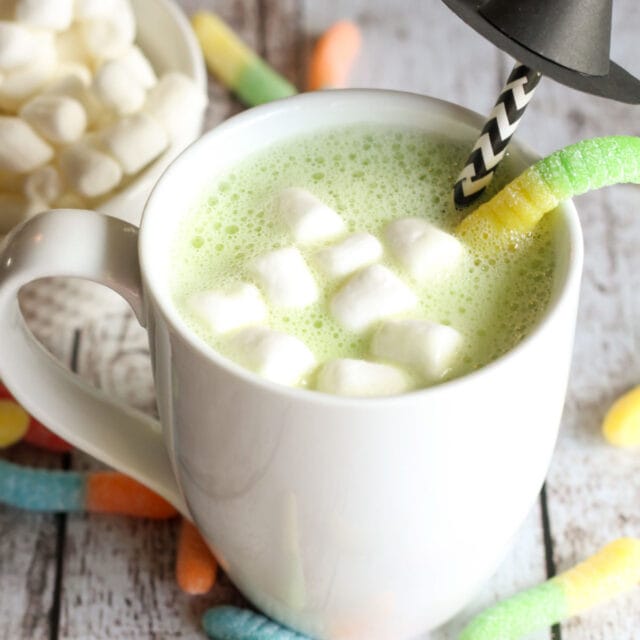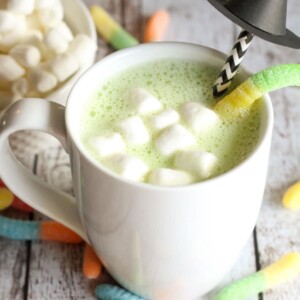 Drinks
Halloween Hot Chocolate Recipe
Ghoulishly green White Chocolate Halloween Hot Cocoa is so delicious and perfect for a Halloween party or celebration! 
Check out this recipe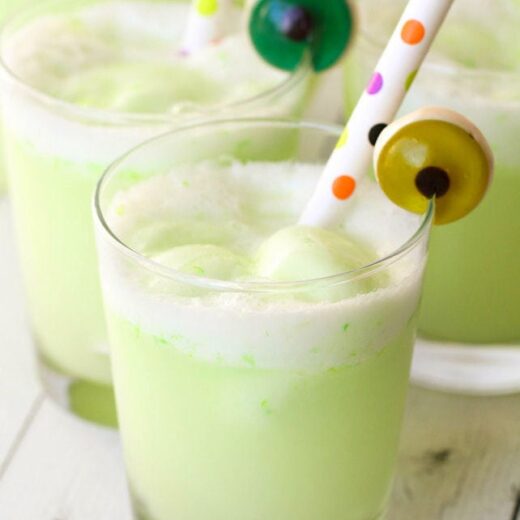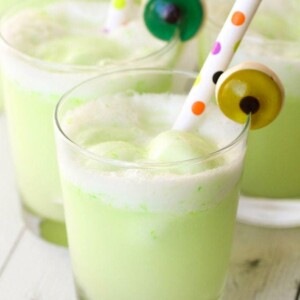 Drinks
Witches Brew Recipe
Fun & festive lime flavored withes brew uses only THREE ingredients and takes minutes to make!! It is perfect for any party or celebration.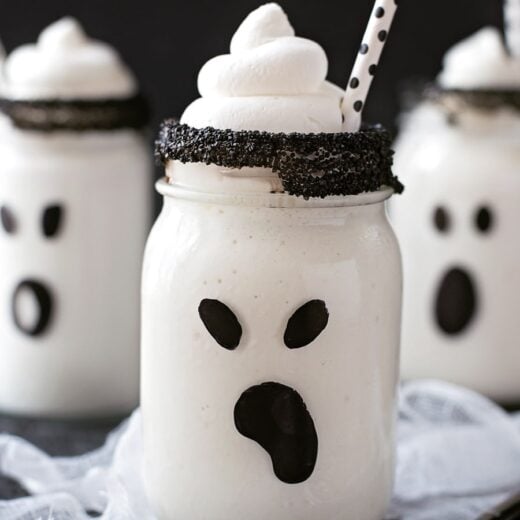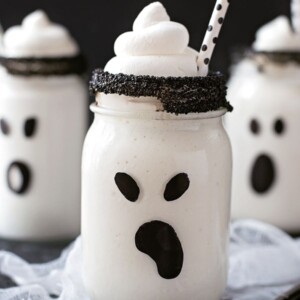 Drinks
Boo-nilla Ghost Milkshakes Recipe
Boo-nilla Ghost Milkshakes are delicious vanilla treats turned into adorable ghosts that are perfect for Halloween!
Check out this recipe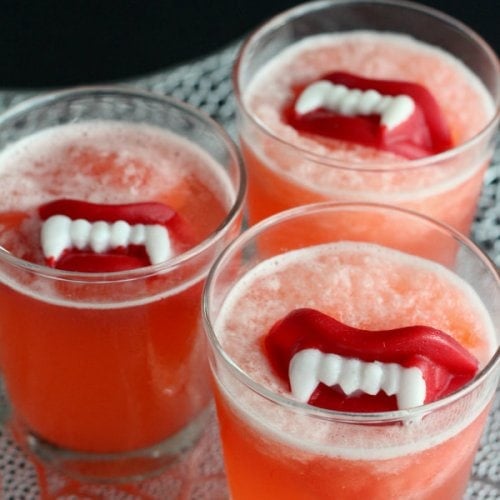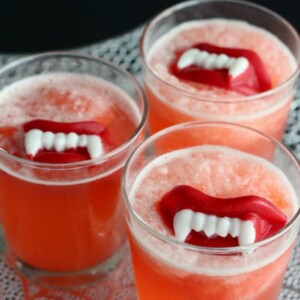 Drinks
Slushy Punch Recipe
Slushy punch is fruity and fizzy and perfect for any occasion. Adding wax fangs make it a Halloween must!
Check out this recipe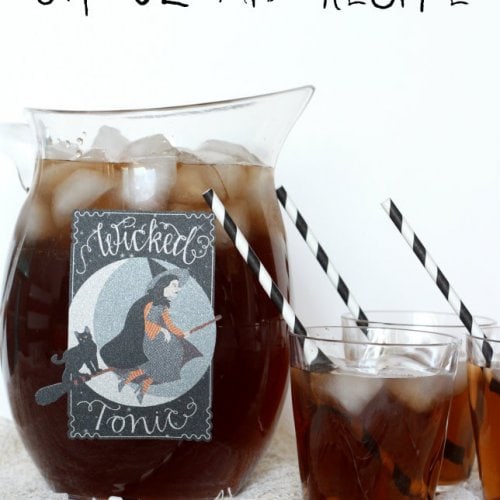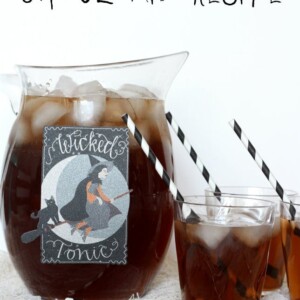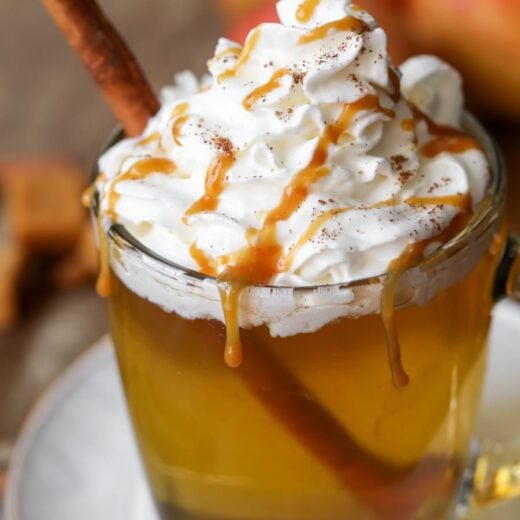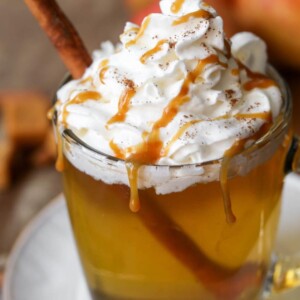 Drinks
Caramel Apple Cider Recipe
All the best fall flavors come together in this hot Caramel Apple Cider. It tastes just like Starbuck's Caramel Apple Spice!
Check out this recipe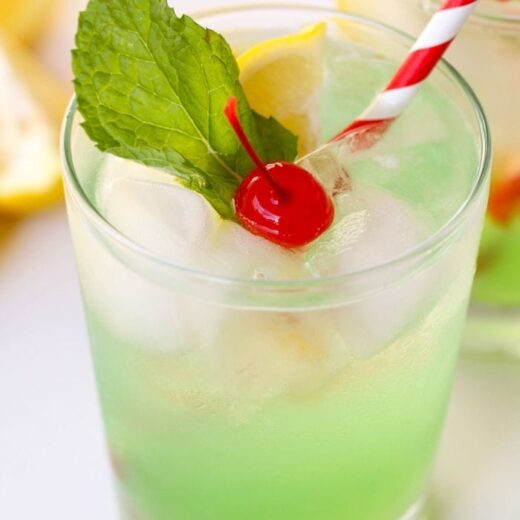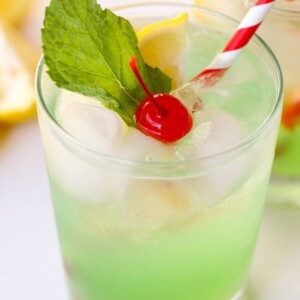 Drinks
Mint Julep Recipe (Non-Alcoholic)
Disneyland's Copycat Mint Julep recipe - a non-alcoholic drink that is refreshing and DELICIOUS!! Made with lemonade concentrate, creme de menthe syrup, lime juice, sugar, and club soda - topped with mint leaves and cherries!

Check out this recipe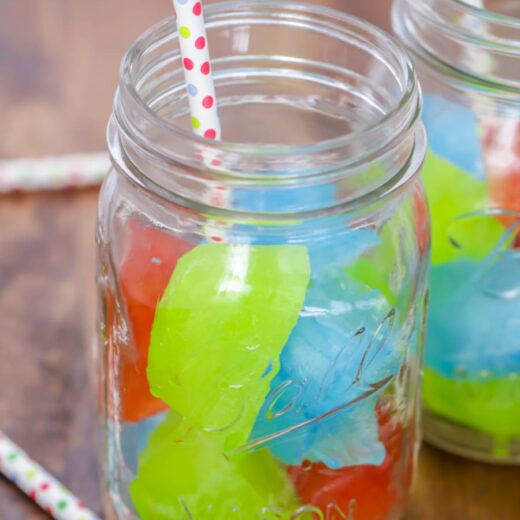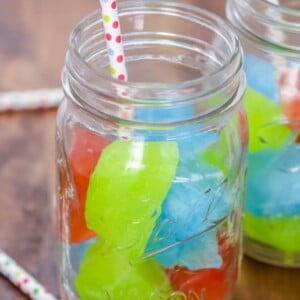 Drinks
Kool Aid Ice Recipe
Simple & Tasty Kool Aid Ice is perfectly festive for the kids to enjoy at parties or to make any day magical!!
Total Time:
3
hours
5
minutes
Check out this recipe
Skinny Smashed Pumpkin Smoothie
One of my favorite fall drinks made at home! This skinny smashed pumpkin smoothie is light, creamy and perfectly spiced. Pumpkin has never tasted so good!
Check out this recipe
We hope you enjoy all of these delicious and festive Halloween drinks. Let us know which one if your favorite!
MORE COLLECTIONS: Halloween, Halloween Desserts, Halloween Appetizers, Halloween Snacks, Halloween Cookies