Shirley Temple drink is perfect for year round enjoyment! It's sweetness and pretty red color make it a great party drink.
A Shirley Temple is a non-alcoholic mixed drink traditionally made with ginger ale and a splash of grenadine, garnished with a maraschino cherry. It is completely appropriate for kids, but also a great option for adults. For more delish drinks try Copycat Orange Julius, Mint Julep (non-alcoholic), and Copycat Sonic Cherry Limeade.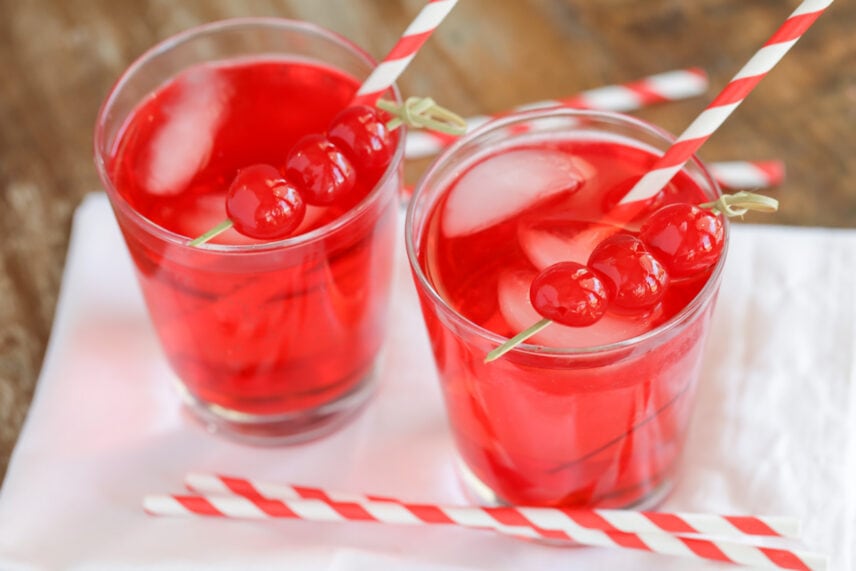 A Drink for Kids and Adults Alike!
These perfectly festive drink can be enjoyed by both kids and adults! It is free from both caffeine and alcohol, making it a go-to for all ages.
A main ingredient, and the reason for it's fun color is grenadine. Grenadine is a commonly used, non-alcoholic bar syrup, characterized by a flavor that is both tart and sweet, and by a deep red color. It is traditionally made from pomegranate.
I always felt so fancy as a kid when I would have a Shirley Temple. The cherry and classic skinny red straw just felt so grown up. Can I be honest? I still love it!! There is just something so nostalgic and fun that I will never grow out of!
What is a Dirty Shirley? Taking a regular shirley temple and adding your choice of liquor makes it a "Dirty Shirley"
What is a Roy Rogers? You prepare the drink the same as a shirley temple, but you use a carbonated cola drink such as Coke or Cherry Coke instead of Ginger Ale.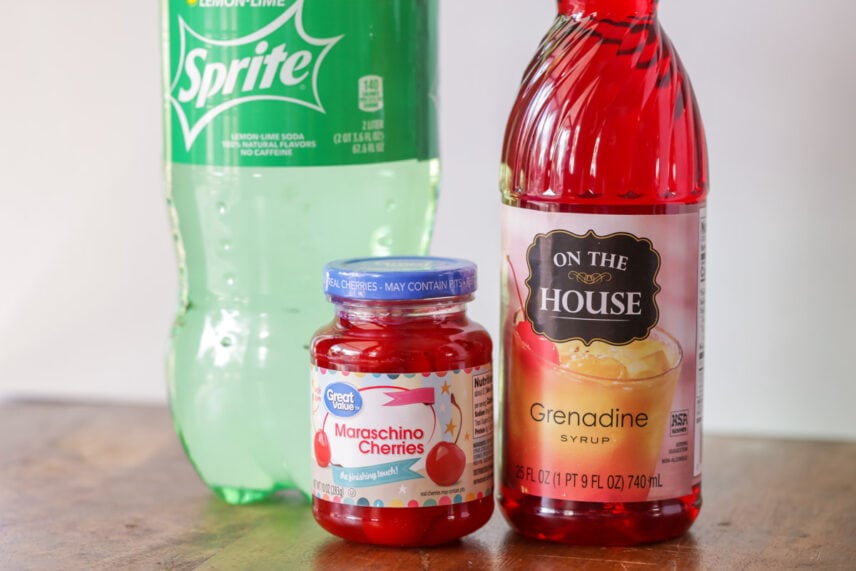 How to make a shirley temple
MIX ingredients into single glass, including ice.
GARNISH. Add a cherry or two for garnish.
To Make an Individual Serving:
1 cup 7UP/Sprite
2-3 tbsp grenadine syrup
ice
Maraschino cherries, for garnish
Presentation:
Have some fun presenting this drink.
You can use cocktail glasses like pina colada glasses or hurricane glasses. Of course since children are often drinking this you may want to opt for clear plastic drink cups.
You can simply place the cherry on top of the drink, but you can also put 2-3 on a little wooden skewer.
Add pieces of chewy candy to a wooden skewer: gum drops, gummy ribbons, sour gummies and more. Be sure that when you put the skewer in the drink that it is long enough to hold the candies out of the liquid.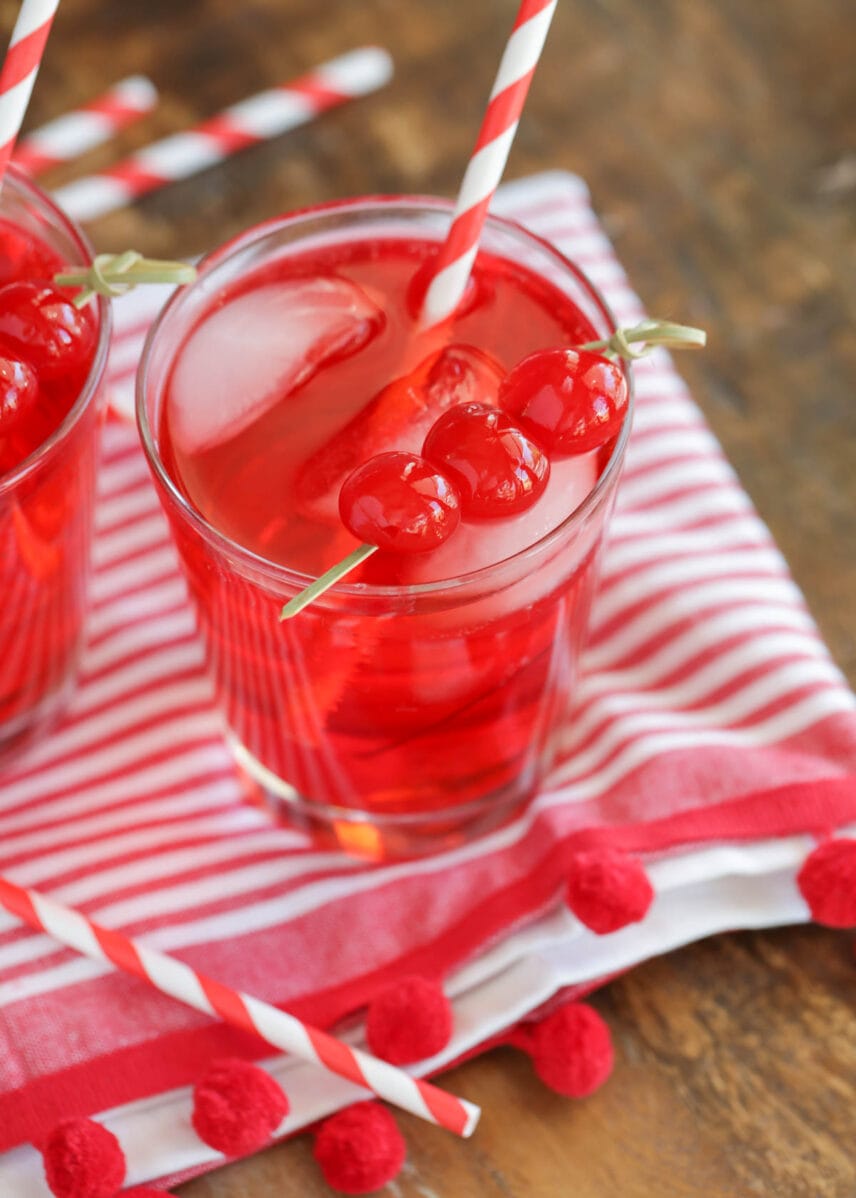 Leftovers
Leftovers: If you have leftover drink mix you can store it in a few ways:
Simply place the mixture in the fridge to be used later. The carbonation will decrease over time, but you can add a little soda so revive it a bit
Pour the mixture into a popsicle mold (add a cherry or two as well) and freeze it
Make a Shirley Temple Slushy: Place the mixture in a freezer safe container. Freeze until it starts to solidify then use a spoon to mix it. Put it back into the freezer and mix it up every 30 minutes until it reaches a slushy consistency.
For more delicious drinks, try:
More Collections: Non Alcoholic Drink Recipes
Shirley Temple Recipe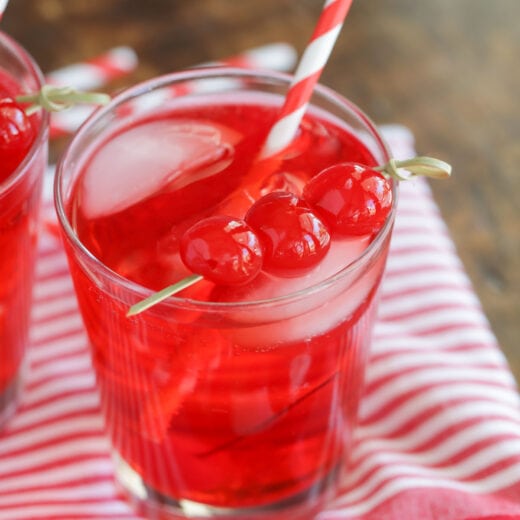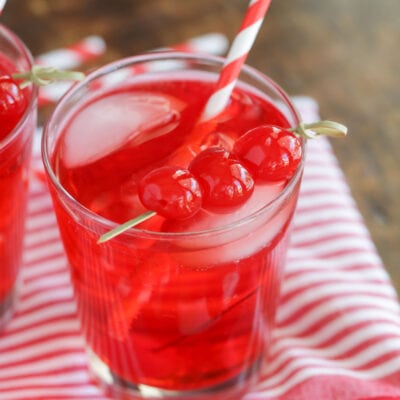 Shirley Temple drink is perfect for year round enjoyment! It's sweetness and pretty red color make it a great party drink.
Ingredients
1

(2-liter) bottle

Sprite or 7UP

1⅓

cup

grenadine syrup

ice

maraschino cherries for garnish
Instructions
Add the Sprite to a punch bowl or beverage dispenser.

Mix in the grenadine syrup. Add Ice.

You can mix a few cherries directly into the punch and/or have them in a separate bowl to add after pouring the drink into a glass.