This collection of Halloween Snacks includes both healthy and sweet treats! They're great for after school snacks, game night munching, or entertaining company during the Halloween season.
More collections: Halloween Appetizers, Halloween Cookies, Halloween Drinks, Halloween Dinner Ideas
Fun and Festive Snacks
During this time of year, we love to get festive with our food! Whether it's snacks, drinks, or desserts, we have all kinds of spooky Halloween Snack ideas!
As soon as my kids get home from school, they head to the kitchen for some snacks. Sometimes I have the traditional treat, like a chocolate chip cookie, and other times I have a more healthy snack, like these delicious energy bites.
When a holiday rolls around, my kids think it's so fun to have themed treats. I know your kids and guests will love these Halloween Snacks just as much as mine do!!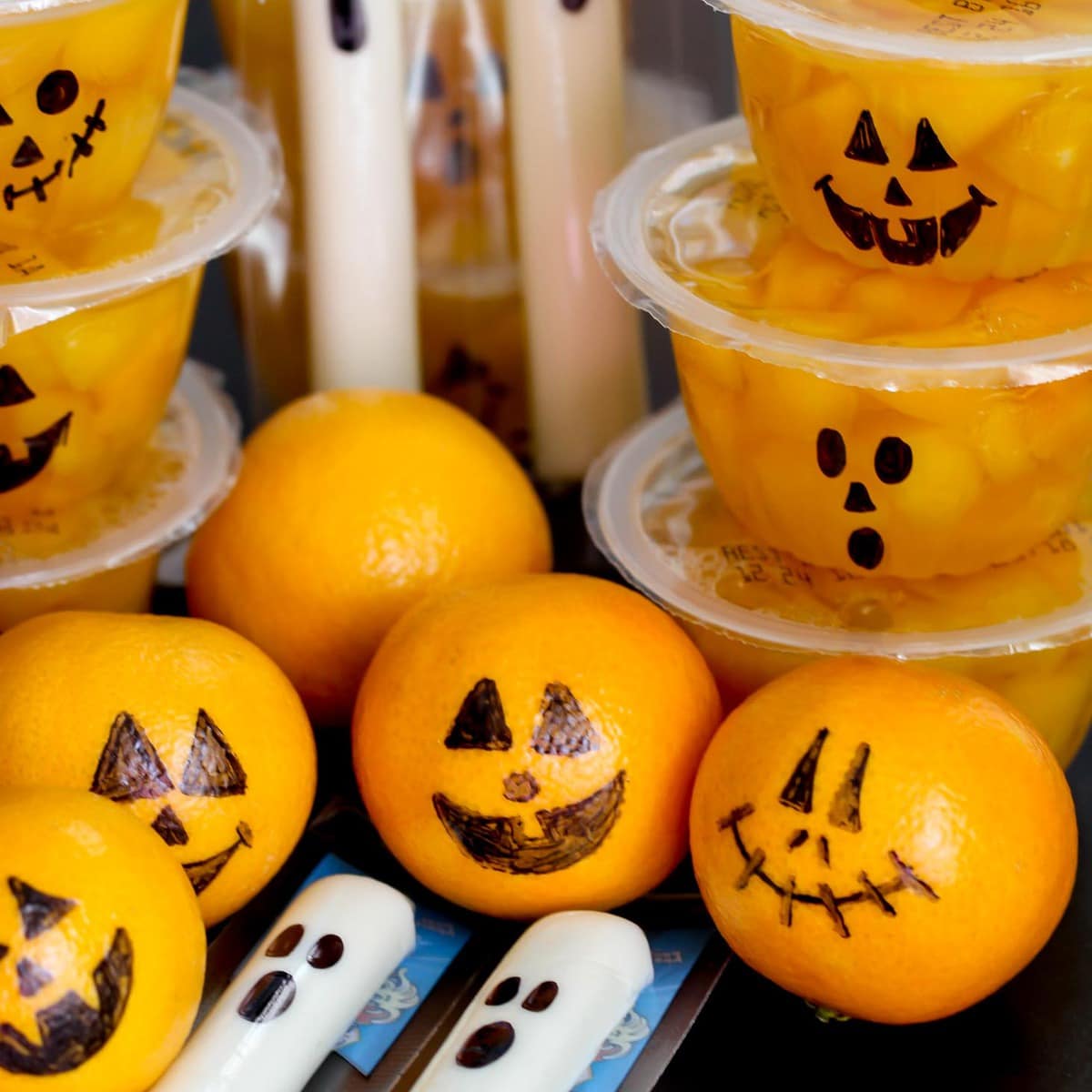 Tips for dressing up any snack!
If you don't have time to make a Halloween specific snack, quickly turn any food into spooky food! My favorite way is to add candy eyes or drawn faces as a decoration to just about anything you have on hand. It's a cute trick that magically turns into a spooky Halloween treat. A jack-o-lantern or ghosts are two classics that add quite the cute twist.
More additions to add to your traditional snack recipes include:
orange, brown and yellow M&Ms or Reeses Pieces
Halloween themed sprinkles
candy corn or pumpkins
plastic Halloween toys like eyeballs or spiders (be sure they are big enough that they aren't accidentally eaten)
Serving container. Another fun and easy way to dress up a snack is the serving container. Buy Halloween themed plastic or paper bags, as well as bowls and plates.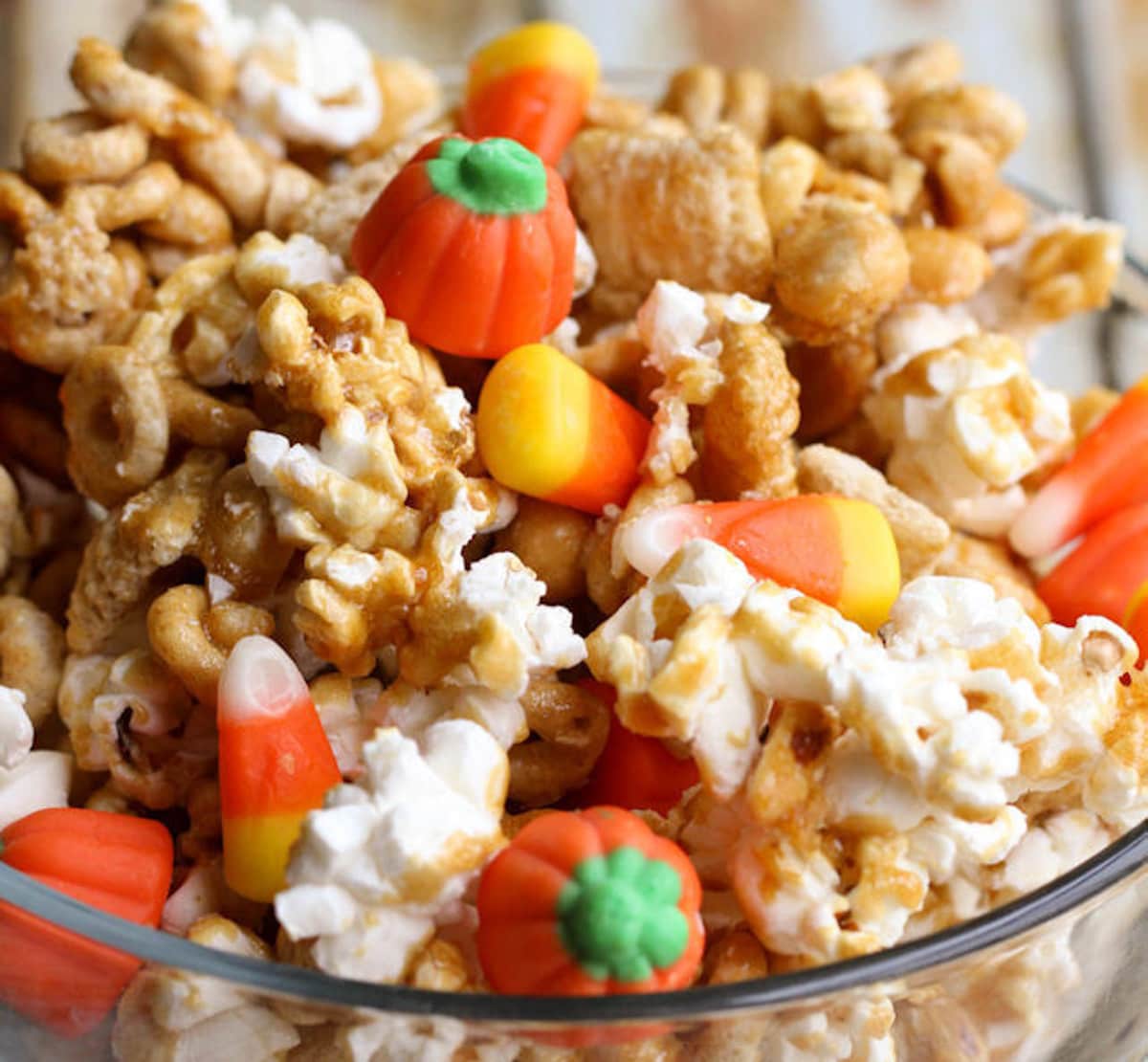 Party perfect
The best snacks to take to a party are ones that can be made ahead of time, transport easily, and are easy to serve – like Caramel Popcorn. Save the more involved snacks, like Mummy Hot Dogs, to serve at home. Creating some kid-friendly Halloween cocktails would also make for a fun addition.
Snack Table. Amp up the Halloween theme with a decked out snack table. Use cauldrons and plastic jack-o-lanterns as bowls for serving snacks. Find Halloween themed bowls and platters. Use tiered trays to display snacks, and add some height to the table. Include some fun Halloween Décor Items around the table as well!
Kid Crafts. Although adults will enjoy all of these recipes, snacks are typically served to children. If you're hosting an event and need some fun activities, check out the following fabulous, kid-friendly ideas:
---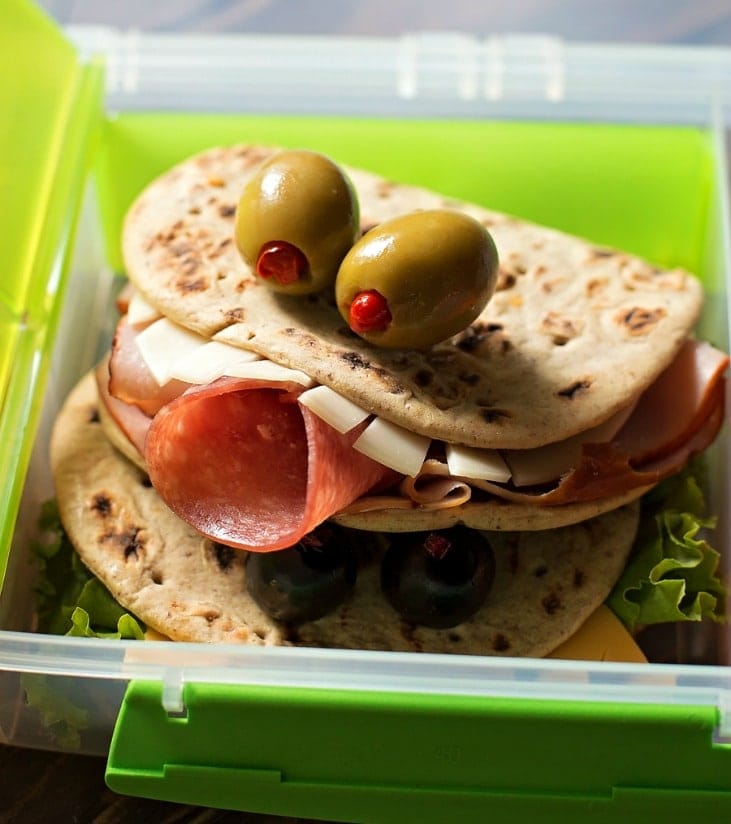 Halloween Snack Ideas
Because there's so much candy and sweets going around this time of year, it's nice to have a break from all of the sugar. It's easy to bake up a themed cake or cupcakes, but I've included a few easy Halloween Snacks that are on the healthier side.
Don't worry, along with savory, I've included some of our favorite spooky sweet treats to enjoy!
Flatout Monster Sandwiches – Fun and delicious Flatout Monster sandwiches filled with your favorite meats, cheese and veggies are a hit with the entire family!!
Healthy Halloween Snacks – With just a black sharpie, you can turn string cheese, clementines, and fruit cups into cute and festive healthy Halloween snacks. They're so easy!!
Pumpkin Quesadilla – Spooky, cute, kid-friendly pumpkin quesadilla take minutes to make and is perfect for Halloween or any night in October!
Pumpkin Guacamole – A Puking Pumpkin with guacamole is SO easy to make and tastes delicious served with tortilla chips. It is perfect for any Halloween celebration!
Halloween Flatbread Pizza – Halloween Flatbread Pizza is EASY, kid-friendly, and perfect for Halloween! They take 10 minutes to make and are completely customizable!! I love to slice black olives for eyes.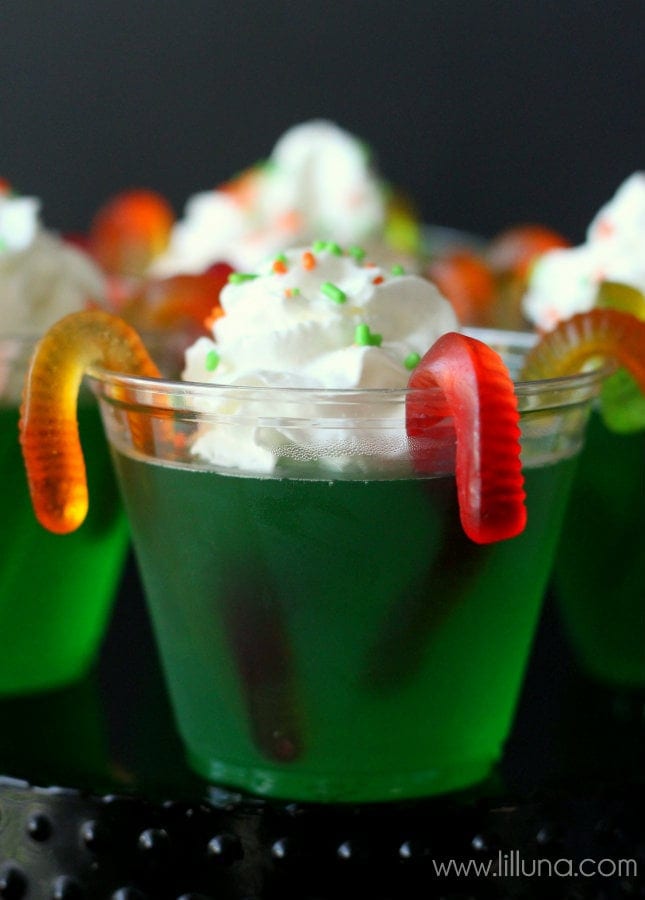 Gummy Worm Jello Cups – FUN and festive gummy worm Jello cups are a creepy, creative and yummy treat perfect for Halloween. SO easy and kids love them!!
Monster Suckers – These cute green monster suckers taste like apple and look simply ghoulish! They are easy to make and are sure to be a crowd-pleaser.
Frankenstein Rice Krispie Treats – Frankenstein Rice Krispie Treats are fun, festive and adorable treats. They are perfect for Halloween parties and a hit with the kids!
Pumpkin Oreos – These cute and festive Candy Coated Pumpkin Oreos are a great treat for all Halloween parties and get-togethers.
Black Candy Apples – Dark coated Blackout Candy Apples are the perfect fall and Halloween treat. They come together in only 15 minutes!!
Halloween Puppy Chow – Yummy black and white Halloween Puppy Chow is chocolatey and crunchy with pops of peanut butter & chewy candy corn that everyone will love!!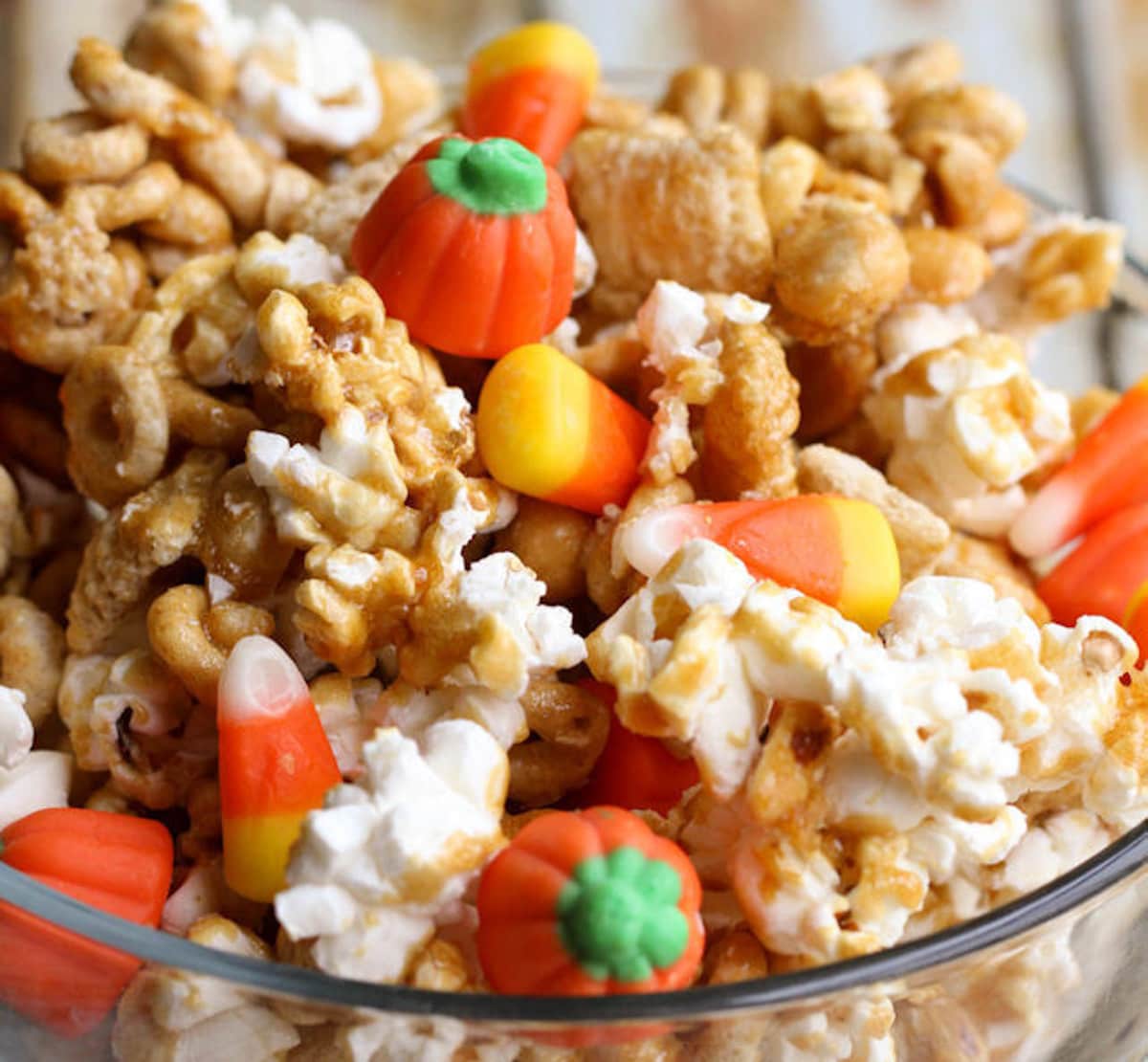 Pumpkin Snack Mix – Delicious Pumpkin Snack Mix has popcorn, peanuts, cheerios, chex, candy corn, and mallow pumpkins. It's perfect for fall!
Skeleton Pudding Cups – Chocolatey Skeleton pudding cups are SO simple and tasty. They take minutes to make and are perfect for any Halloween party!!
Monster Rice Krispie Treats – Fun and festive Halloween Rice Krispie Treats are perfect for party treats and favors. They're beyond simple to make, and the kids can help!
Candy Corn Rice Krispie Treats – Chewy Candy Corn Rice Krispie Treats are perfect for fall! With just orange food coloring and candy melts create cute masterpieces!
Melted Witch Bark – Simple sweet Melted Witch Bark is SO cute and festive. It's perfect for a party activity and tastes yummy!
Mummy Cookies – Not so creepy Mummy Cookies are a simple, delicious, and cute treat idea for Halloween!
---
the complete list
Here are the picture cards for all of the fun and easy Halloween Snacks listed above.
These yummy treats are sure to be the hit of any Halloween party or afterschool snack session! You're sure to get rave reviews!
---
More Collections: Halloween, Halloween Appetizers, Halloween Cookies, Halloween Dinner Ideas