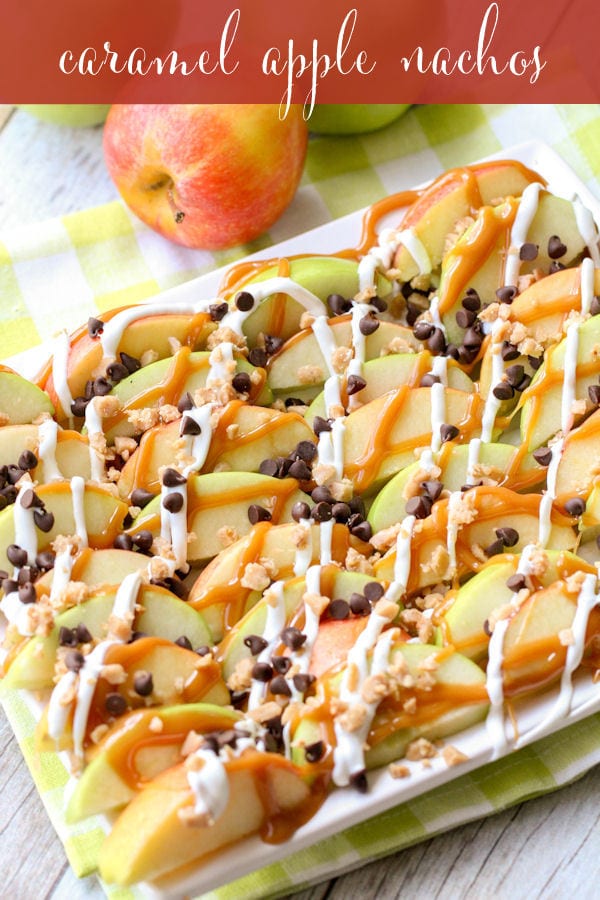 Hello – it's me, Lily! Last week I mentioned that we made a yummy treat for movie night. They were Caramel Apple Nachos. They were DELICIOUS!! We never had them before but we've had Caramel Apples, but not as nachos!! Mom said we could put on some of our favorite treats, so we put on caramel, white chocolate, mini chocolate chips and toffee bits!! We ate the whole thing in just like 10 minutes!! They were a little messy so I helped my little sister, Evie, eat them. 🙂
If you like Caramel Apples, then you will love this recipe. My mom said it's much easier to make than Caramel Apples! I think so too!!
 THE GAME PLAN: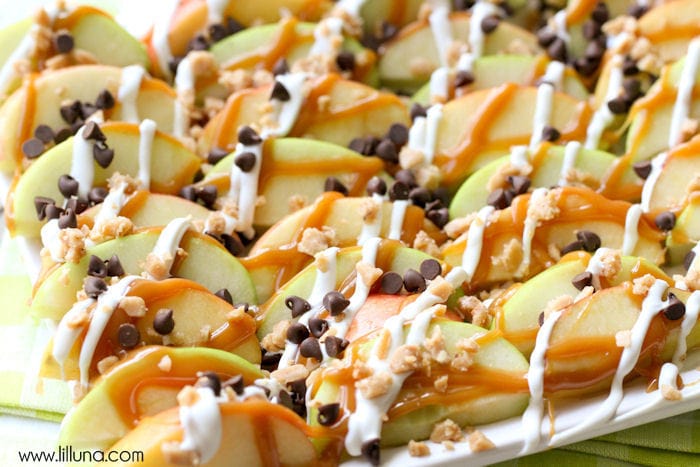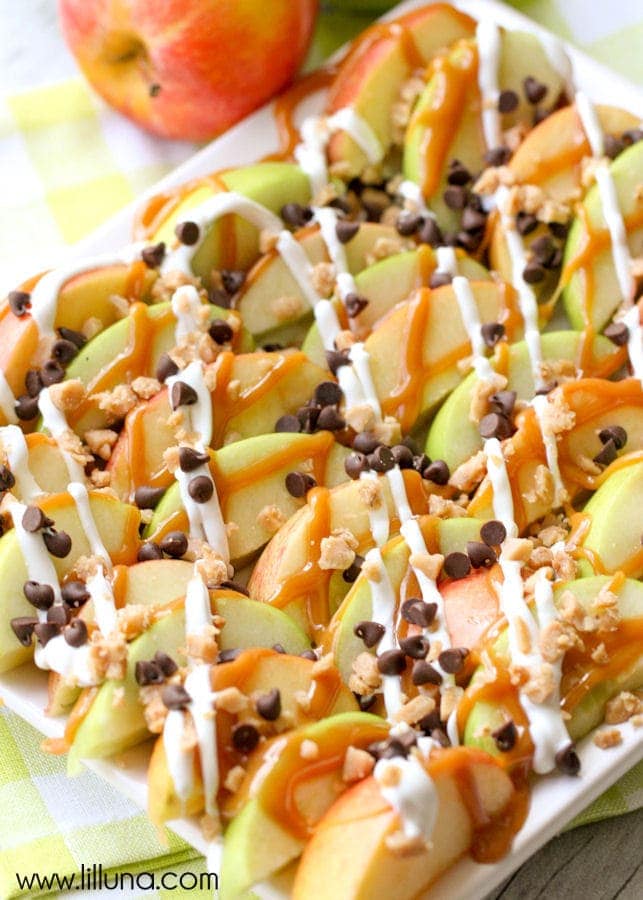 MY OTHER RECIPES
I wish I had some right now!!
Here is our recipe for Caramel Apple Nachos:

Caramel Apple Nachos
Delicious Caramel Apple Nachos - a quick and delicious treat perfect for movie night or your next party. Recipe includes apples, caramel, vanilla candy coating, mini chocolate chips, and heath toffee bits.
Ingredients
3-4 gala apples
3-4 granny smith apples
½ package Kraft Caramels (unwrapped) (or Ice Cream Caramel Topping)
1 TB water
white chocolate (vanilla) candy coating
mini chocolate chips
Heath toffee bits
Instructions
Place heath bits and mini chips into separate bowls. It's important to have these all ready so they can be sprinkled on as soon as the caramel and white chocolate are on.
Cut a ziploc bag at the corner. This will be for the white chocolate for you to drizzle on.
Cut your apples right before working on candy coating and caramel so they do not brown. Place on your prepared dish.
Unwrap caramels and place in small pot with 1 TB water. Heat on low-medium temp until melted. (Or if you opt to use Ice Cream Caramel Topping skip this step).
At the same time, melt white chocolate by placing candy coating in a small pot on low heat and stirring constantly until melted and smooth. Place in ziploc bag with cut corner as soon as it's done.
Drizzle white chocolate and caramel on as soon as they are melted and smooth. Sprinkle toppings (toffee bits and mini chips) on immediately.
Serve immediately.
I think we need to make this EVERY family night. My dad was out of town when we made this, so I'm excited to make it again for him. I think he'll love it because he likes caramel apples just like mom!
I hope you like this recipe. Like I said, it's really easy. And I think you'll really like it! I hope you can come back again soon for more yummy treats from me.
Love, Lily
BEHIND THE SCENES AT LILLUNA.COM: