The creamiest and most delicious Caramel Apple Dip you'll ever find. Just a few ingredients are required, but dark brown sugar and sweetened condensed milk make this recipe a crowd pleaser at any get together.
If you're craving the flavors of Caramel Apples, but want to avoid the hassle, this recipe will do the trick in the form of a simple dip! If you like this recipe, try our Caramel Apple Nachos!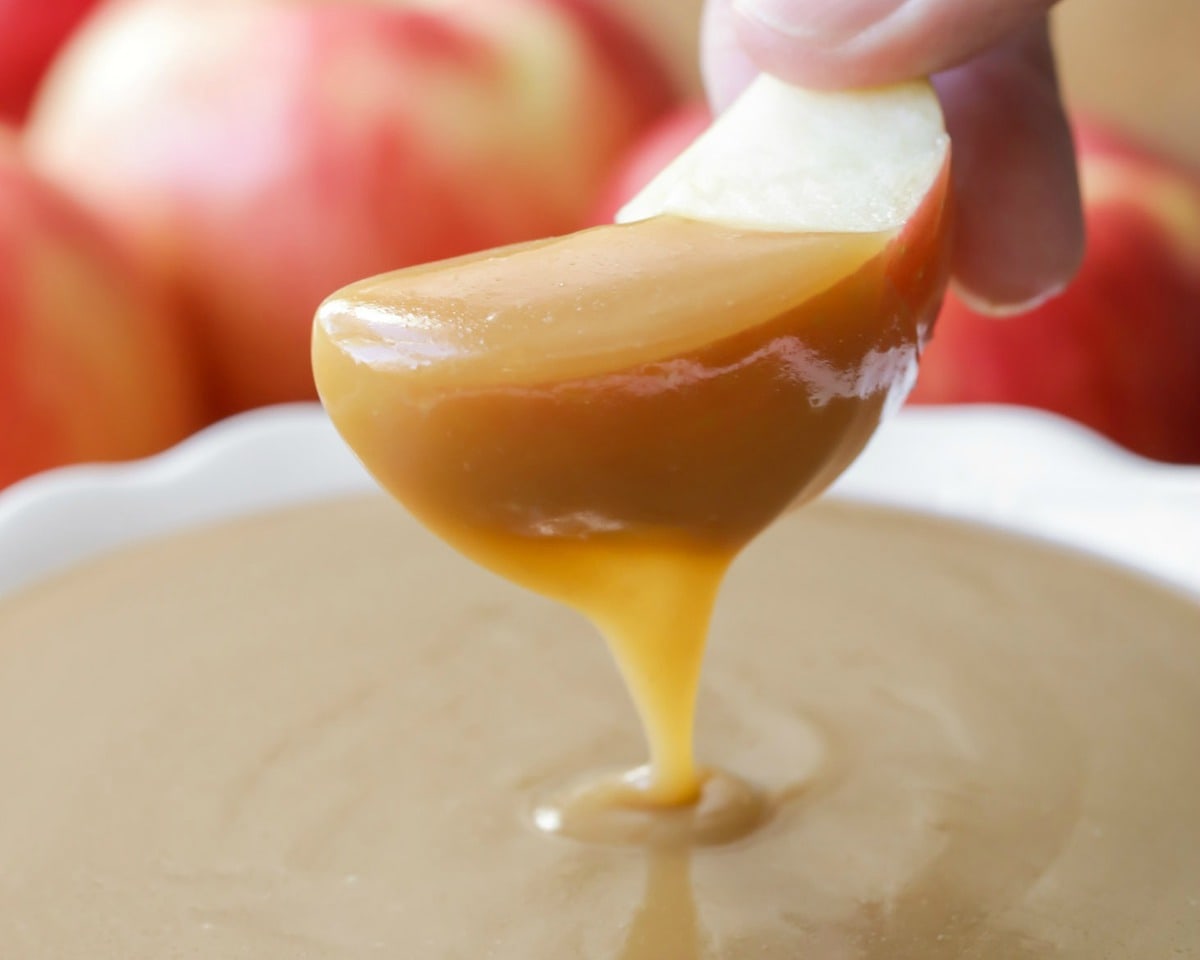 The best Caramel Dip!
I always like to have appetizer ideas on hand for last minute get-togethers/girl's nights/etc. This caramel dip happens to be one of these! It's always a hit every time I make it.
I have had my fair share of caramel dip recipes and this one is my favorite – BY FAR! It is literally so delicious and so addicting!!
Dipping apples into this caramel is my favorite, but you could basically dip any food into it. Here are some of our favorites to dip:
Pretzels
strawberries
bananas
pound cake
marshmallows
The list goes on and on!
Scroll up and take a look at that picture. Smooth as butter! Use this dip for an after school snack for your kids. Nothing like a little caramel dip to get your kids talking about their day and what they learned at school. Works every time.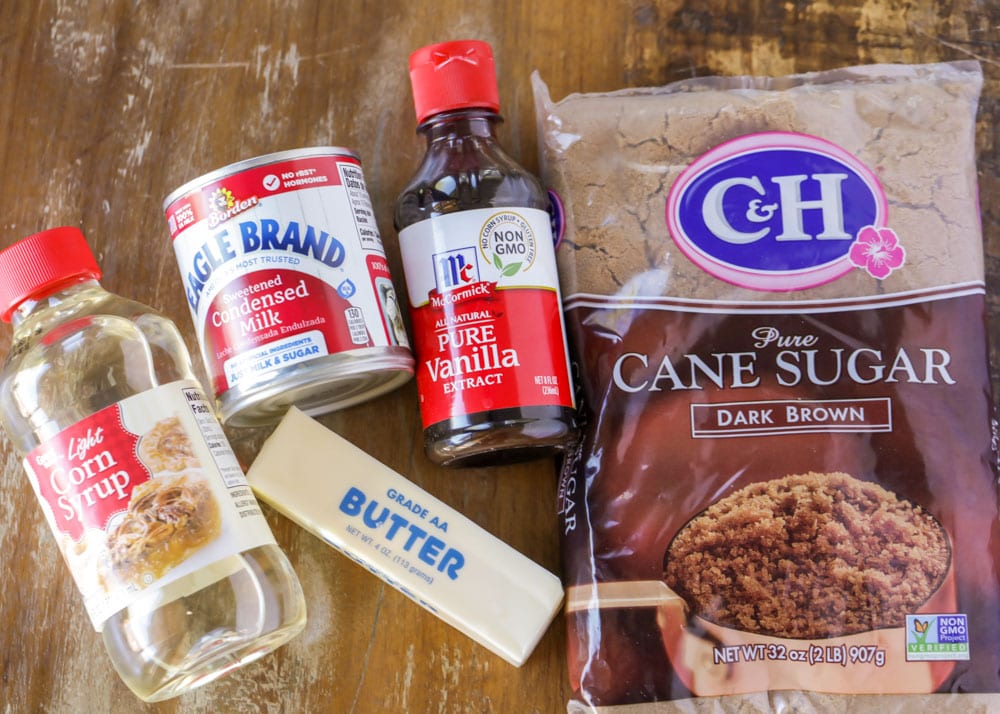 How to Make Caramel apple dip
This recipe does call for dark brown sugar, which we don't always have on hand. You can definitely use light brown sugar, but we highly recommend using the dark. It's what makes the dip sinfully delicious since it has more molasses in it.
Once you have your dark brown sugar, the rest is easy. Less than 10 minutes and you'll be enjoying the creamiest, thickest, and best caramel dip you've every tried. It takes just two simple steps…
Melt your butter in a small pot and add the remaining ingredients.
Stir constantly until the sugar is dissolved and you're set!! Serve it warm as a dip knowing everyone will go nuts over it.
Store. Remember to save any extra in the refrigerator. This caramel dip will stay good for up to 1 week!
This recipe will feed about 10 people. Double the recipe if you need it to feed a crowd or more. I'm also never mad about caramel leftovers. More is more in this situation. 😉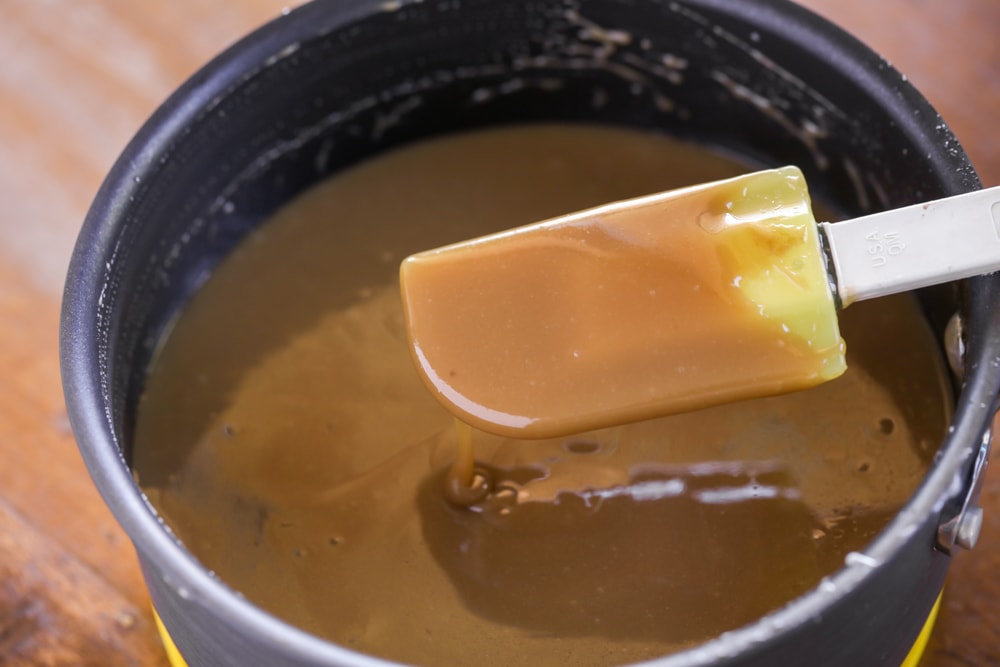 MORE recipe Tips
Keep your apples from browning: The only negative aspect to apple dip is that when you set out apples they can turn an unappealing brown color. They are still perfectly good to eat, but kids especially are turned off by the browning. Thankfully, there are a few things you can do to help keep that from happening.
Cut the apples with a sharp knife which leaves less damage to the apple cells.

Use Fresh Fruit: This is an ascorbic acid/Vitamin C product that can be found in the canning section at the market. In my opinion, this works the best.

Lemon juice or any juice containing citric acid. Simply brush or dip the fruit with the juice. Be aware that whatever flavor juice you use will affect the taste of the apple.

Soak in ginger ale

Use tart apples as they have a higher acidic level
Not just a dip: You can use this recipe as a caramel topping instead. Serve over apple pie, ice cream, oatmeal, yogurt or even hot chocolate.
Recipe Notes:
We use light corn syrup NOT high fructose corn syrup.

Remember to stir constantly, and get the caramel off the bottom, so that it doesn't burn.

Don't overcook or it will thicken and harden making it difficult to dip your sliced apples in.

Use a few drops of lemon juice to help prevent sugar crystals
Cut up some super juicy apples- any kind will do- and start dipping! You probably won't be able to stop dipping because you're going to fall in love with this caramel.
Trying to think of all the excuses so I can eat this for 3 meals a day… LOL!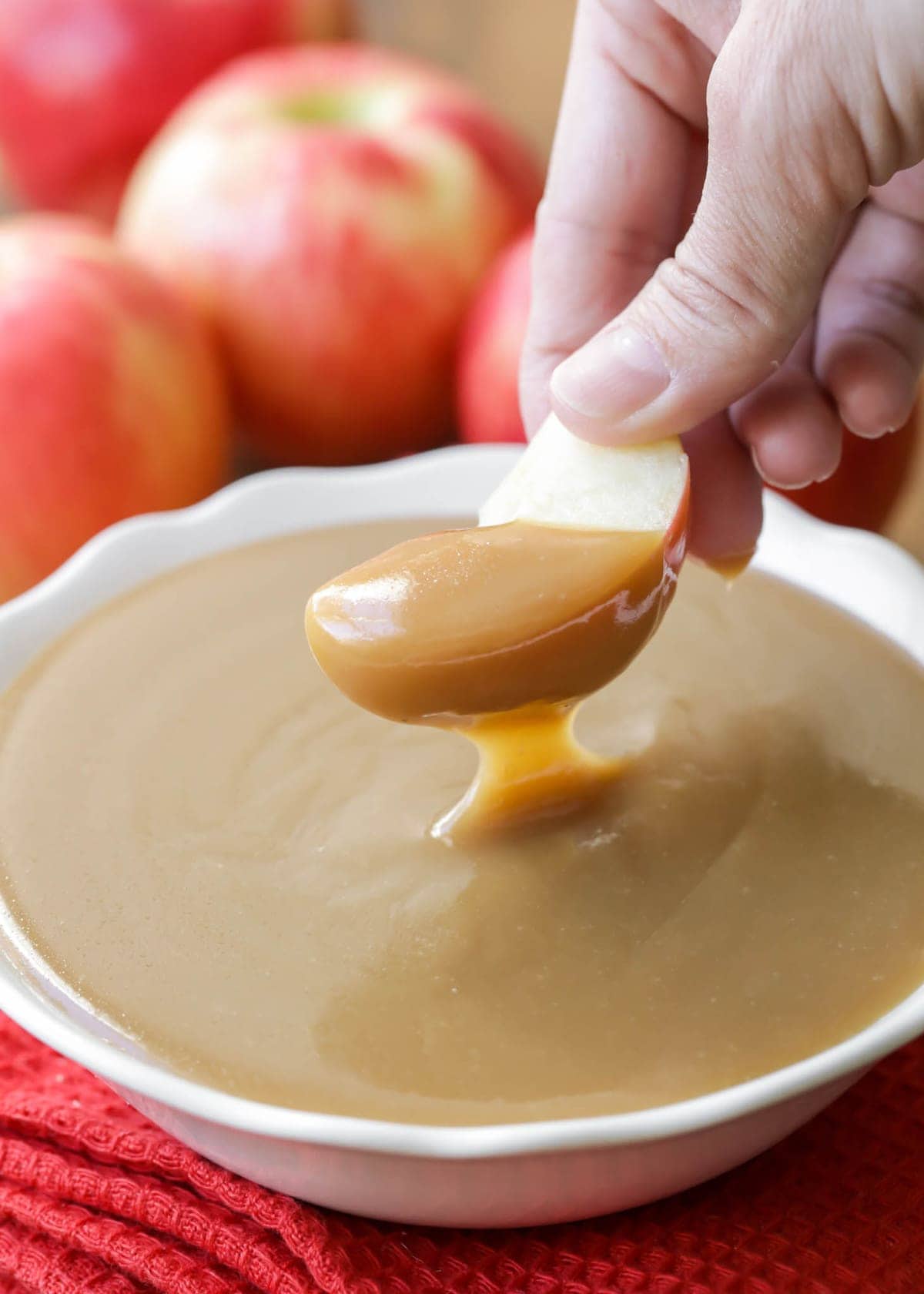 For more fruit dips, check out:
Caramel Apple Dip Recipe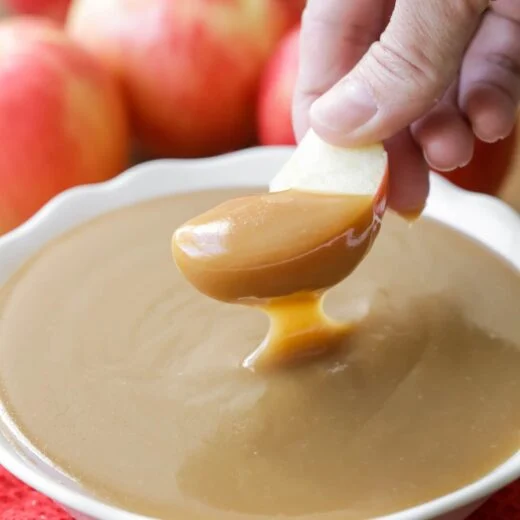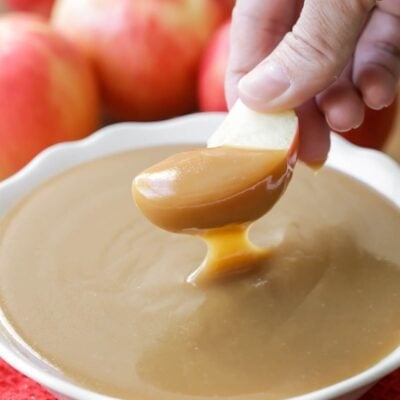 The creamiest and most delicious Caramel Apple Dip you'll ever find. Just a few ingredients are required, but dark brown sugar and sweetened condensed milk make this recipe out of this world and a crowd pleaser at any get together.

Ingredients
½

cup

unsalted butter

2

cups

packed dark brown sugar

1

(14-ounce) can

sweetened condensed milk

1

cup

light corn syrup

2

tablespoons

water

1

teaspoon

vanilla extract

sliced apples

for serving
Instructions
Melt butter in a small saucepan over medium heat.

Add all remaining ingredients and cook, stirring constantly, until sugar is dissolved, 6–7 minutes.

Remove from the heat and let cool before serving. Serve with apples or any other desired dippers.
Notes
Make Ahead: This dip can be made up to 1 week in advance. Store in an airtight container in the refrigerator. What to Dip? Apples are our favorite, but pretzels, strawberries, bananas, pound cake or marshmallows are also great dippers.