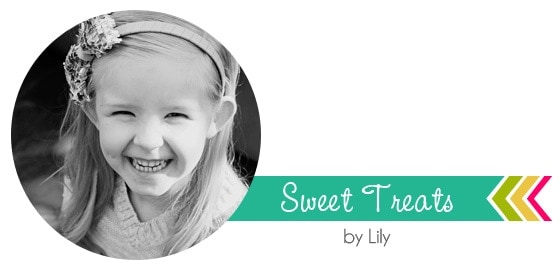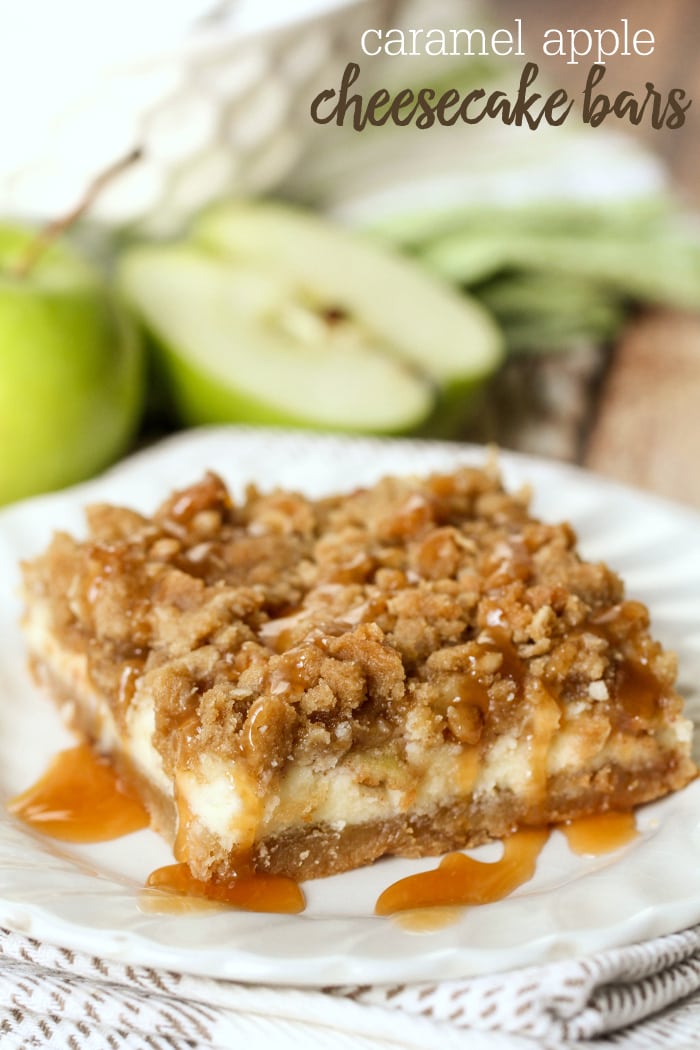 Hellllllllllllllo!!
Are you having a great weekend? I don't know what we're doing for Labor Day yet, but I hope it's something fun! I did do something fun last night. I went to a birthday party at a Roller Skating Rink – for the first time!! It only took me 5 minutes to get the hang of it. The lights changed and there was music which made it awesome. And guess what?! It's hard to go to the bathroom with roller skates on it. Don't try it, because I experienced it! 😉
You know what else is fun?! Getting ready for fall and for Halloween. My mom is crazy and decorated for Halloween this week. But that's okay because I love Halloween. We actually started getting ready for fall this summer. We made lots of fall recipes when there was no school to be all set for fall. One of my favorites is the recipe we are sharing today – Caramel Apple Cheesecake Bars. I LOVE caramel and I LOVE apple and I LOVE cheesecake which means I LOVED this recipe!! My mom didn't let me eat it with ice cream, but I think it would be awesome with ice cream.
If you want a delicious, fall treat these Caramel Apple Cheesecake Bars are a good one to try!!

Caramel Apple Cheesecake Bars
Ingredients
1 cups flour
½ cup brown sugar
1 cup butter, softened
2 - 8 oz. packages cream cheese, softened
½ cup sugar
2 eggs
1 tsp. vanilla
3-4 granny smith apples, peeled, cored and chopped
2 TB sugar
½ tsp. cinnamon
½ tsp nutmeg
Streusel
1 cup brown sugar
1 cup flour
½ cup quick oats
½ cup butter, softened
Instructions
Preheat oven to 350.
In a medium bowl, combine flour and brown sugar. Cut butter in and mix until crumbly. Press into a greased 13x9 pan. Bake for 15 minutes.
In another bowl, beat cream cheese and sugar until well combined. Add eggs and vanilla and beat until blended. Pour this over the warm crust.
In another bowl, combine chopped apples, 2 TB sugar, cinnamon and nutmeg. Spoon over cream cheese mixture.
Make streusel by combining brown sugar, flour, quick oat and butter. Mix with hands until crumbly and sprinkle over the apples.
Bake for 28 - 32 minutes.
Drizzle with caramel or add ice cream for an better fall treat.
Recipe adapted from Food Network. 
I didn't have mine with ice cream but will next time!! YUMMY!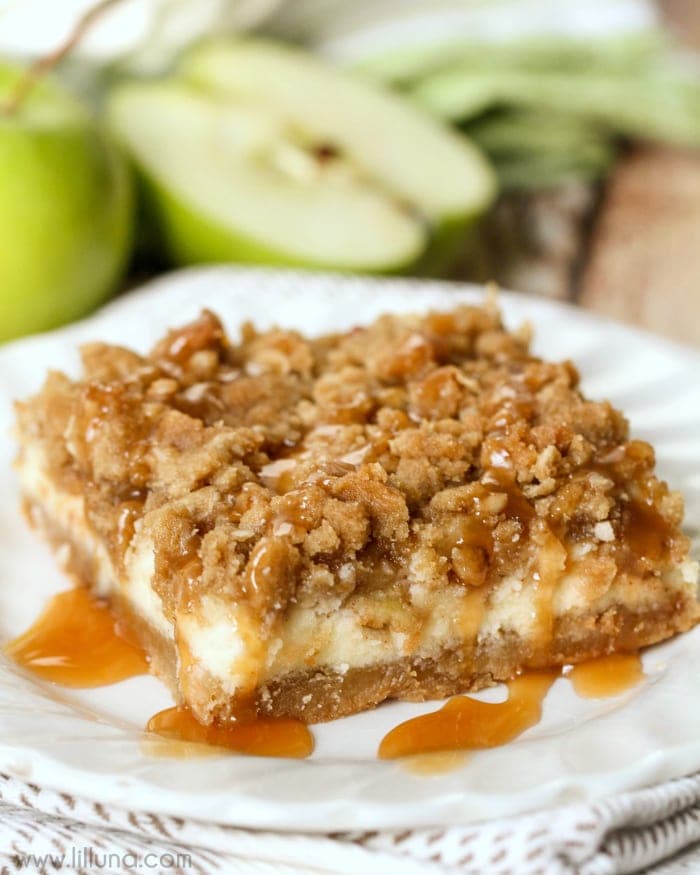 Hope you have a great Labor Day and that you like these Caramel Apple Cheesecake Bars.
I hope you can come back again soon for more yummy treats from me.
Love, Lily
———————————————–
If you like this recipe, you'll like these Caramel Apple recipes…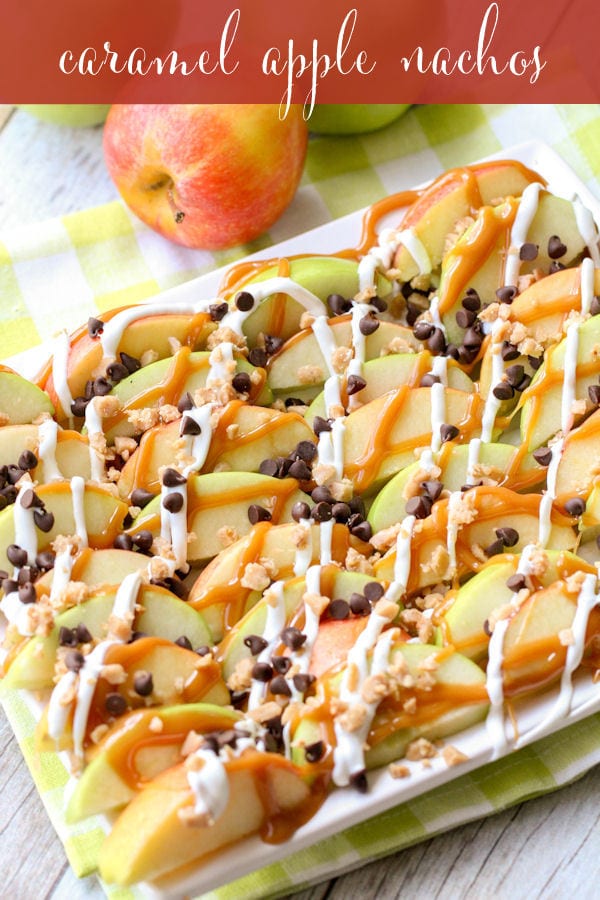 Snickers and Caramel Apple Dip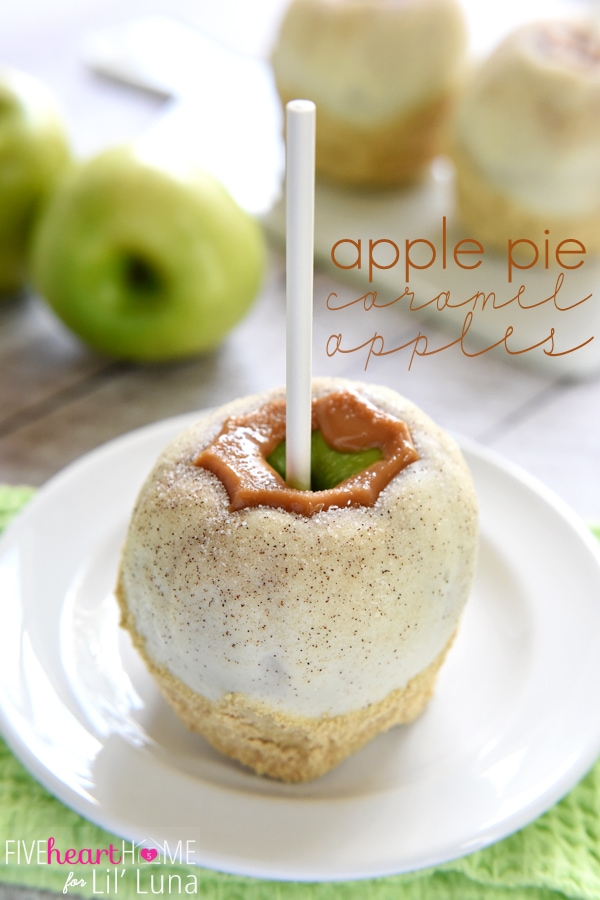 For all treats by Lily go HERE.
For all desserts go HERE.
And get weekly emails with monthly freebies by signing up for the Lil' Luna newsletter. 🙂
For even more great ideas follow me on Facebook – Pinterest – Instagram – Twitter – Periscope – Snapchat.
Don't miss a thing – Sign up for the Lil' Luna Newsletter today!
ENJOY!!