Why not spoil the men in our lives that we love with an amazing meal?! These Father's Day dinner ideas will help you do just that.
More Collections: Crockpot Dinner Ideas, Easy Dinner Ideas, Summer Dinner Ideas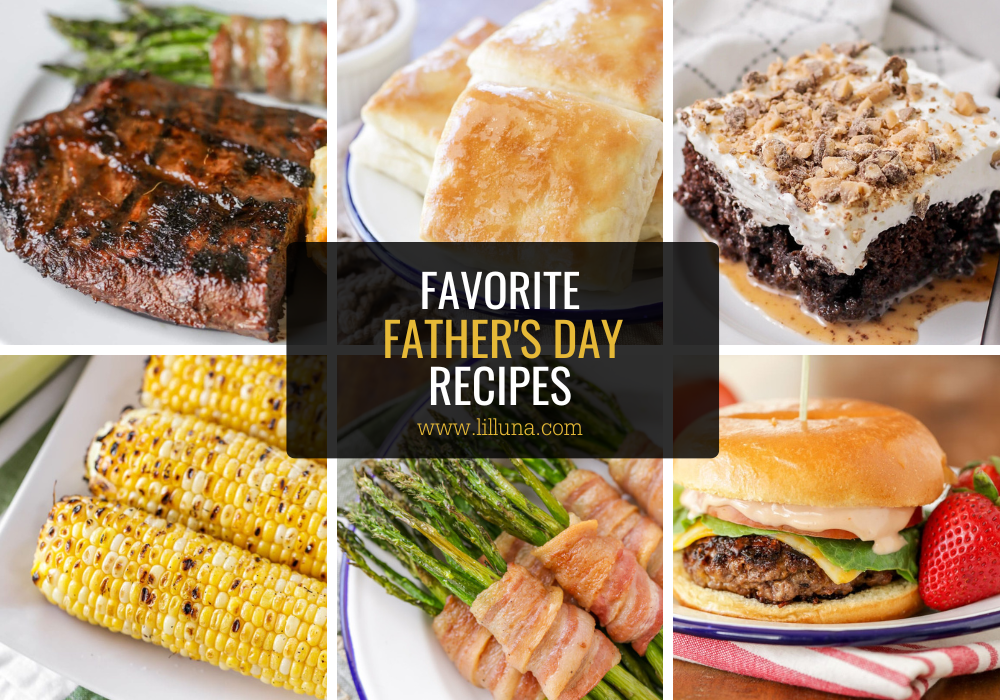 Celebrate Dad with a Meal!
I once saw the headline "The Power of a Father's Influence is Immeasurable". I have to agree! The wonderful fathers and father figures in our lives should receive our gratitude year-round, especially on the 3rd Sunday in June.
I love celebrating Father's Day and making sure my dad and husband are recognized and appreciated for all that they do and for being the best father around.
One of the ways we celebrate is with a delicious homemade meal on this special occasion!
Whether your dad is a meat and potatoes kind of guy or loves a loaded salad or a pizza with lots of toppings, there are plenty of yummy ideas to add to your father's day menu. To top off the meal, we also have delicious dessert recipes he's sure to love.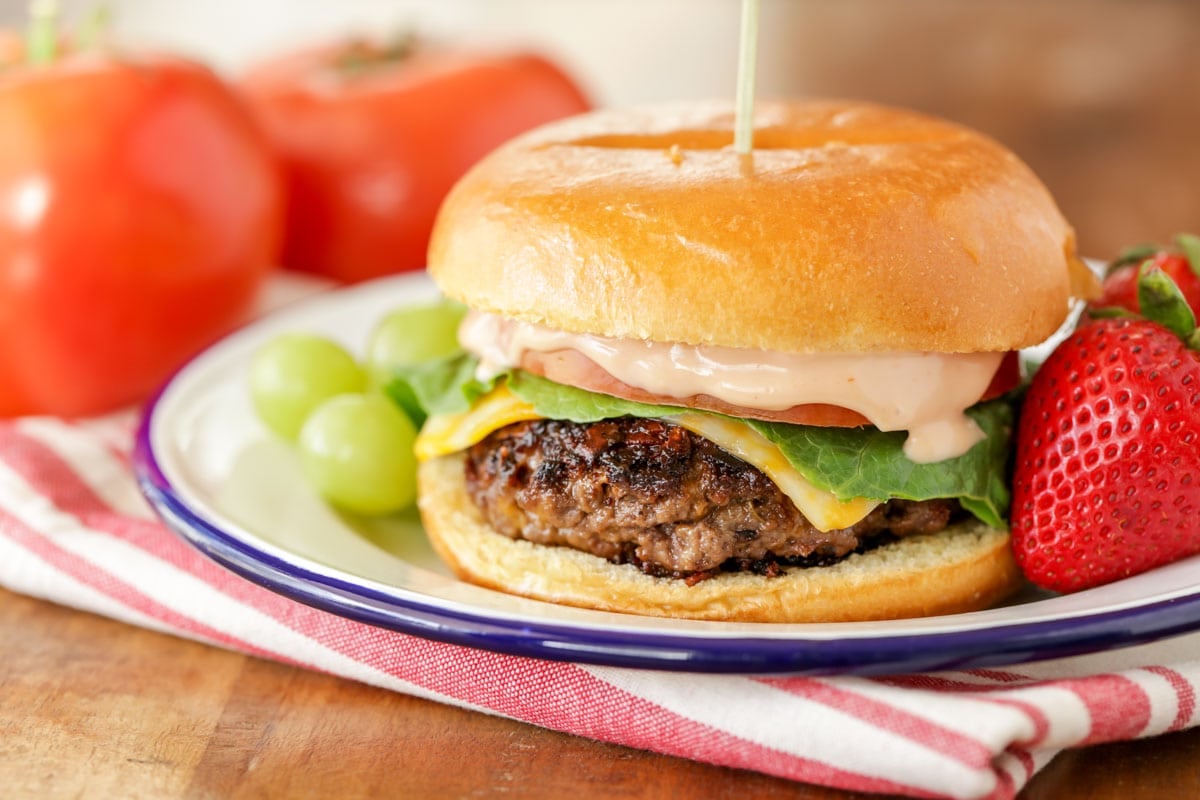 Making Father's Day Fun
Aside from spoiling them with a few gifts, like these 100+ Father's Day Gift Ideas or 100+ Father's Day gifts from Amazon, making dinner for DAD is at the top of my celebration list.
To go all out, use your dad's favorite hobby as a theme for the meal.
Crown him "King for the Day" and turn his seat at the table into a throne.
Have kids help cook dinner. Younger kids can help wash produce, pour, and stir. Older kids can help peel and cut produce. They can measure and follow simple recipes. Teens 12+ should be able to cook on the stove and in the oven.
Have the kids fill out a "How well do you know dad" questionnaire. The winner gets a special treat.
Share your favorite memories of dad.
Plan to do dad's favorite activity- go fishing, have a video game competition, go to a car show, go bird watching, play his favorite board game.
Serve him breakfast in bed.
Begin a memory book. Ask questions about his childhood and record the answers. Continue to ask new questions each week and present him with a completed book the next year.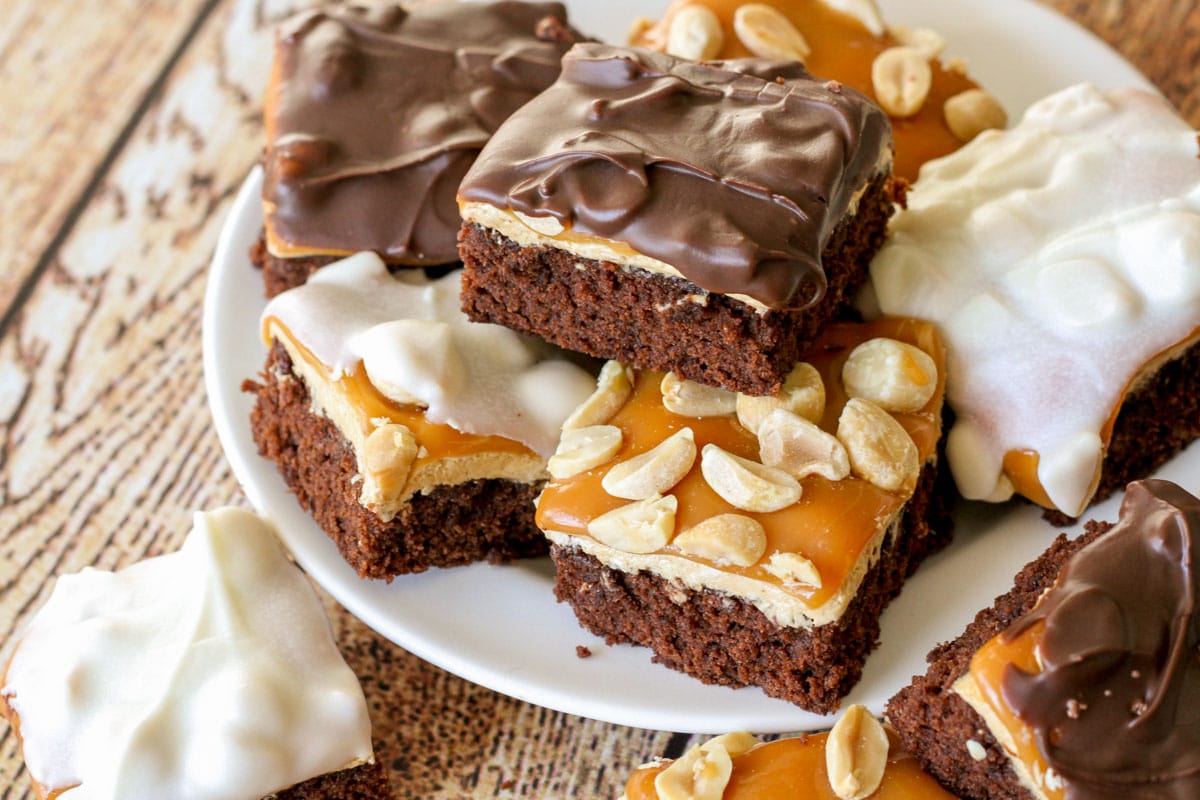 Menu Plan
Whether you're planning a small dinner for dad or hosting a large gathering, planning your father's day dinner menu a couple of weeks ahead of time helps:
Watch for sales.
Make any new recipes ahead of time to work out any kinks.
Allow friends and family to bring a dish.
Include dishes that can be made ahead of time.
Make sure you have enough time and space to cook everything. Tip: Using a crock pot helps free up the oven and stovetop space.
How much to serve
These general guidelines will help ensure you have enough food!
Pasta. 16 oz of pasta can serve about 6-8 guests. If it also includes veggies or protein it can serve about 8-10 guests.
Meats. Plan to serve 8-12 oz per person for any meat main dish including beef, chicken, or pork.
Side dishes. In general, plan about 6 oz of potatoes, 4 oz of veggies, and 1½ rolls per person. For every 5-8 people attending add another dish to the menu.
Dessert. Plan to have enough dessert for people to have 1½ servings.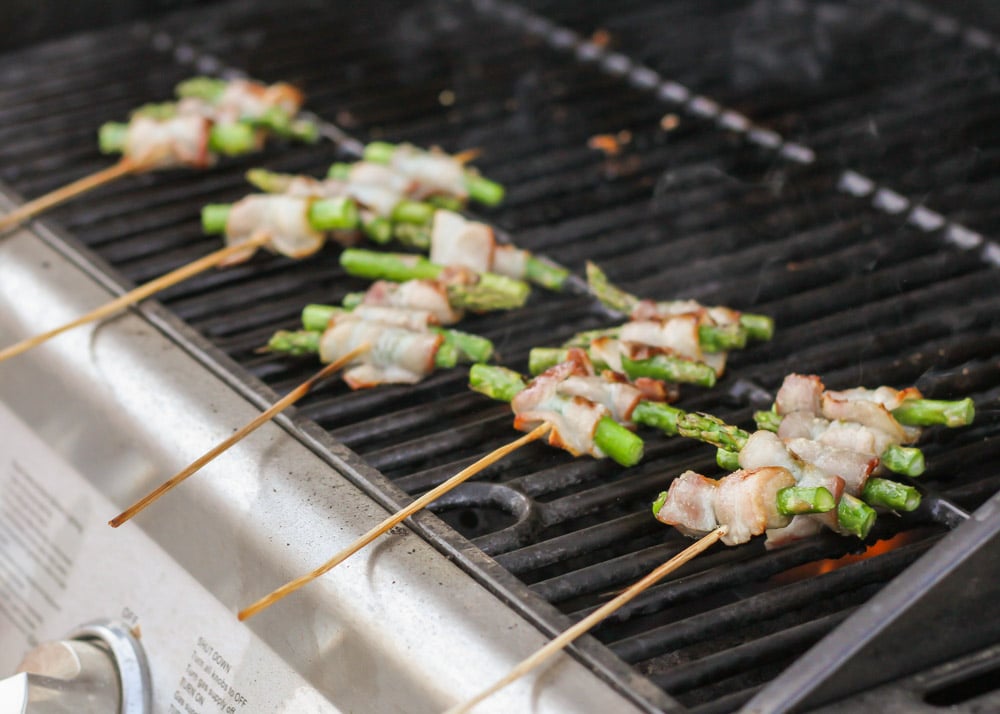 Grilling Tips
A backyard barbecue is a common way we celebrate Father's day. Some dads love to grill but may appreciate a break from the duty.
Here are a few tips to help you step in:
Take the meat out of the fridge 20-30 minutes before grilling.
It's helpful to have a grill large enough that you can adjust the temperature on different sections.
Create a chart that lays out what item will be grilled in what section, as well as how long each piece of meat will need to cook. Do not overlap the different types of food before or during grilling.
Clean the grates and apply a thin layer of oil to help keep food from sticking to the grill grates.
Use a meat thermometer to test the doneness of each type of meat. (Be sure to clean it off with soapy water in between uses.)
It can be tempting to poke, prod and flip the meat, but don't. You should only flip it once. By doing so you allow each side to heat up enough to start forming a nice caramelized crust.
Grilling vegetables takes a fraction of the time as the meat. Since meat needs to rest once it is done cooking, this is a perfect time to reduce the heat and grill up your veggies.
If you add barbecue sauce or other flavorful sauces too early, it just tends to char. Allow your meat to cook almost completely before coating it with the sauce.
Allow meat to rest for a few minutes before cutting.
Have a box of baking soda on hand in case of a grill fire.
---
BEST FATHER'S DAY DINNERS
Here are plenty of options to please every guy you love. These Father's Day dinner ideas are sure to hit the spot! From steak to burgers, pasta, or seafood, we've got you covered.
Ritz Cracker Chicken
Crispy cheddar chicken is coated in sour cream, cheddar cheese, and ritz cracker crumbs and baked to crispy perfection. Top it with a creamy sauce, and it's to die for!
Steak Marinade
This is our all-time favorite steak marinade! It requires only four ingredients, and makes our steak taste SO amazing! Everyone always asks for this easy steak marinade recipe because it's just that good!!
Sweet Pork Barbacoa
Sweet pork barbacoa is the best slow cooker pulled pork recipe you will ever try. Better than Cafe Rio—you better make a double batch!
Easy Baked Salmon
Bake a delicious and healthy pan of salmon for the whole family! Flavored with lemon, garlic, and parsley for a tasty dinner everyone will enjoy.
Chicken Alfredo
Cheesy chicken Alfredo pasta is a go-to dinner meal in our house. Creamy sauce mixed in with fettuccine pasta and sautéed chicken. A one-pot meal that the whole family will enjoy!
Dr. Pepper Ribs
Pork ribs cooked in Dr. Pepper, grilled to perfection, and smothered in BBQ Sauce. These Dr. Pepper ribs are fall off the bone delicious!
Carne Asada
Carne Asada is the perfect Mexican flavored meat to add to tacos, burritos, salads, or quesadillas. It's tender, flavorful, and juicy.
Ranch Burgers
These ranch burgers make the BEST homemade hamburgers!! This easy burger recipe is complete with the most delicious secret sauce that compliments the ranch burger perfectly!
Crack Chicken
Crack chicken in a crock pot is simple and tasty. Everyone is sure to love this creamy, cheesy chicken dish.
Steak And Tortellini Salad
Delish steak and tortellini salad is hearty and refreshing. Tortellini, sirloin & romaine in a creamy pesto dressing is a must-have!
Crock Pot Brisket
Juicy and delicious meat, easily made in your slow cooker! This crock pot brisket is so tender it just falls apart.
Chicken Stroganoff
This homemade chicken stroganoff is perfect for dinner any night of the week. Its full of flavor and is made from start to finish in under 40 minutes!
French Dip Sandwich
These low-maintenance French dip sandwiches are made with hearty beef and melted provolone cheese on a buttery toasted bun, and dipped in au jus!
Smothered Pork Chops
This creamy lemon & thyme smothered pork chops recipe always gets rave reviews. It's flavorful and ready in 35 minutes or less.
Pot Roast Recipe
This crock pot roast recipe is one of our favorite Sunday dinners. It takes only 3 minutes of prep time and then the slow cooker does the rest! The chuck roast ends up being SO tender and full of flavor from the brown gravy, Italian, and ranch dressing mix!
Garlic Prime Rib
Perfect prime rib, seasoned with garlic and cooked in the oven. A secret trick will give you the most tender and juicy meat you've ever made!
Honey BBQ Chicken Wings
Honey BBQ boneless wings are double-breaded and baked to crispy perfection. They make a perfect game-day appetizer or weekend dinner!
Skillet Lasagna
Skillet lasagna is a comforting and cheesy one-pot meal. It takes just 30 minutes and is perfect for dinner any night of the week!
Sausage Alfredo
Creamy sausage Alfredo packed with smoky sausage is a family favorite. This delicious meal is on the table in only 30 minutes!!
---
Easy Father's Day Sides
These side dishes are simple and delicious, perfect for serving up for that special guy in your life!
Chicken Pasta Salad
Creamy chicken pasta salad is quick, easy, and SO tasty. It is packed with hearty ingredients like pasta, chicken, avocado, tomato, bell peppers, and cheese. It makes for a filling side or main dish!
Crock Pot Mac And Cheese
Everyone loves a good slow cooker recipe, and this crock pot mac and cheese is so simple, cheesy, and delicious. With loads of cheese, butter, and sour cream it's hard not to love this creamy macaroni and cheese recipe.
Grilled Corn on the Cob
Using the grill is one of our new favorite ways to cook corn! Grilled corn on the cob will be your go-to side dish this summer.
Easy Twice Baked Potatoes
After having these twice baked potatoes, you'll never want regular baked potatoes again! These super easy potatoes are loaded with sour cream, cheese, bacon, and seasonings! For being such a delicious side, they are SO simple!
Homemade Potato Salad
Our all-time favorite potato salad – it's simple, flavorful, and filled with chunks of potatoes, eggs and olives! It's the perfect addition to any BBQ or picnic and is so creamy and tasty, it will wow everyone who tries it.
Bacon Wrapped Asparagus
Bacon wrapped asparagus is a smoky and savory side dish. It is crispy, delicious, and takes about 20 minutes to prepare!
Wedge Salad
This fresh wedge salad is a classic. It's crisp and refreshing, smothered in creamy dressing and topped with crumbles of cheese and bacon.
Creamed Corn
A smooth and creamy side dish filled with cream, butter and cheese. Anyone who likes corn will love this recipe! This creamed corn is also a perfect side dish for holiday meals.
Best Mashed Potatoes
My FAVORITE mashed potatoes recipe! These buttery smooth mashed potatoes are our Go-To potato side dish recipe for every dinner and holiday get together.
Green Bean Bundles
These green bean bundles make for the ultimate side dish. Bacon wrapped green beans drizzled in butter, brown sugar, and garlic salt – the flavor can't be beat!!
Copycat Texas Roadhouse Rolls
Copycat Texas Roadhouse Rolls are so soft they melt in your mouth!! They are huge, buttery, and SO good!
Funeral Potatoes
Cheesy and delicious Funeral potatoes (aka Cheesy potatoes, Party Potatoes). This simple casserole is a potato lover's dream. With cheese, sour cream, butter, cream of chicken, and born, these potatoes are perfect for any meal or holiday.
Oven Roasted Vegetables
Simple, flavorful, and healthy roasted vegetables that take less than 10 minutes of prep work! Nothing beats yummy veggies roasted in the oven!
Parmesan Potatoes
Simple and delicious baked parmesan potatoes are the perfect side dish, made from cubed potatoes coated in parmesan and a few simple seasonings.
Cheesy Garlic Bread
This is by far our favorite garlic bread recipe. It takes minutes to put together and is SO cheesy and delicious. It's the perfect side dish for any meal, but especially for pasta and Italian dishes!
Brown Sugar Glazed Carrots
If you need a go-to side dish, these brown sugar glazed carrots are perfect for you! The tastiest candied carrots recipe!! Even better, it takes less than 10 minutes to make and only requires 4 ingredients!
Potato Wedges
Crunchy potato wedges are perfectly seasoned and garnished with parmesan. You won't be able to stop at one!
---
father's day desserts
Whether decadent chocolate or bright and summery fruit desserts, there is something the entire family will love. Enjoy celebrating those special men in your life!
No Bake Oreo Cheesecake
Everyone's favorite cookie is the star of this show! No bake Oreo cheesecake is a cool and creamy dessert with a crisp Oreo crust and a rich cookie-filled cheesecake base. It comes together in 15 minutes, no oven is required!
German Chocolate Cake
Homemade German Chocolate Cake is always a favorite. Two layers of tender chocolate cake topped with a decadent coconut pecan frosting. What's not to love?
Reese's Brownies
Reese's brownies have a fudgy brownie base topped with creamy peanut butter butter cream. You can't go wrong with this decadent dessert!!
Chocolate Cream Pie
This chocolate cream pie has two types of chocolate in a creamy pudding, topped with whipped cream and chocolate curls!!
Snickers Brownie Bites
Chewy & delicious Snickers brownie bites are filled with brownie, nougat, caramel, and peanuts and topped with chocolate!
Better Than Anything Cake
Quick and easy better than anything cake is a sweet cake filled with caramel and topped with cool whip and toffee bits!
Pizookie
The original Pizookie cookie pie is utterly irresistible. Ooey, gooey and Warm cookie topped with vanilla ice cream makes a perfect dessert.
Chocolate Chip Cookie Delight
A delicious and cool layered dessert with a cookie base, cream cheese and pudding layer all topped off with Cool Whip and mini chocolate chips.
Churro Cheesecake Bars
Flaky & delicious churro cheesecake bars are covered in cinnamon and sugar filled with a sweet cream cheese layer.
Chocolate Cheesecake
An Oreo crust, milk chocolate cheesecake layer, and rich chocolate ganache topping combine to make this decadent dessert made for the ultimate choco-holic.
Frozen Peanut Butter Pie
Frozen peanut butter pie consists of a graham cracker pretzel crust, frozen peanut butter filling, and a chocolate, pretzel, peanut butter cup topping. It's the most perfect salty and sweet combo!
Peach Cobbler
Our FAVORITE peach dessert! This homemade peach cobbler recipe takes just a few minutes to prep and is beyond easy! Add some ice cream and cool whip to this delicious cobbler and you're set!
Cheesecake Chimichanga
Crispy on the outside, with a sweet + tangy filling, cheesecake chimichanga bake up in minutes for a perfectly satisfying treat!
Lemon Bundt Cake
This is the most delicious and moist lemon bundt cake recipe! It is covered in a sweet lemon glaze and topped off with an amazing cream cheese frosting with lemon zest, making it irresistible.
Chocolate Lava Cake
Deliciously decadent chocolate lava cakes are perfect for company or a date night in. These chocolatey cakes are made in just 30 minutes!!
Chocolate Tres Leches Cake
Chocolate Tres Leches Cake is a chocolate twist on a classic Mexican dessert. This chilled treat is rich and decadent!
---
Favorite Father's Day recipes
We hope you enjoy this collection of some of our favorite Father's Day dinner Ideas – they're sure to make dad feel extra special! Best of all they are as easy as they are delicious and are sure to be recipes you'll want to make all year long!
More Collections: Brunch Recipes, Dessert Bar Recipes, Beef Dinner Ideas