This Mud Pie only takes a few minutes to make, but it is simply divine. With a cookie crumb crust, creamy ice cream, hot fudge, and whipped cream, it is a perfect summer dessert!
There are two things I love about this dessert: the fact that it's chocolatey, and it's cold and refreshing. Perfect on a hot summer day! It reminds me of Oreo Ice Cream Cake, and Frozen Peanut Butter Pie—both some of my favorite frozen chocolate desserts!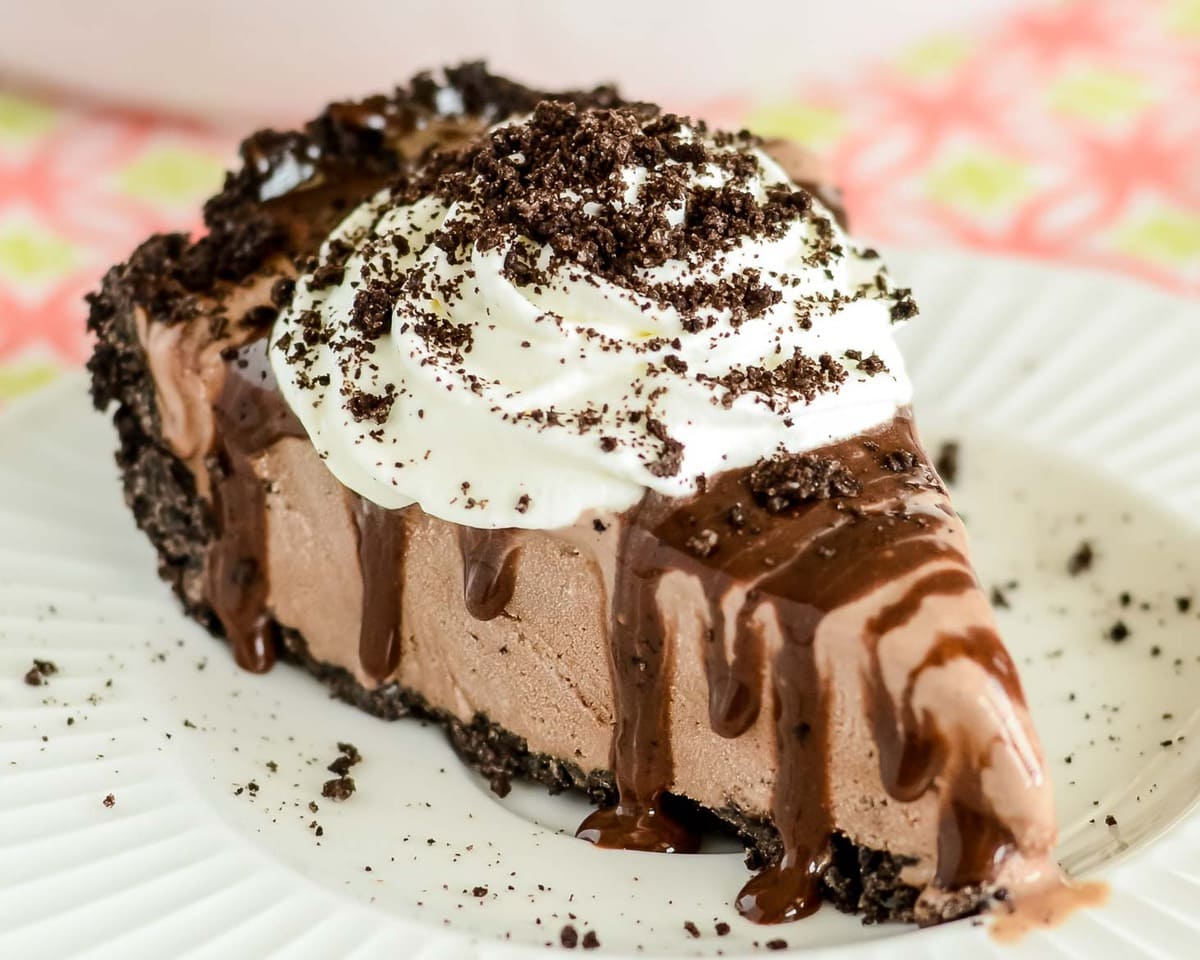 Who loves Chocolate?!
Sometimes the easiest desserts are the best, and that is definitely the case with this tasty pie. And because it's frozen, you can make it ahead of time, so it is perfect for any occasion!
Traditional Mud Pie calls for coffee ice cream, but you can use any flavor you like. This recipe also calls for chocolate, usually in the crust and in the topping, so it's perfect for chocolate lovers.
I made mine with chocolate malt ice cream, and it was sensational. I've also made it with cookies and cream ice cream. Feel free to get creative and to customize it with your favorite ice cream.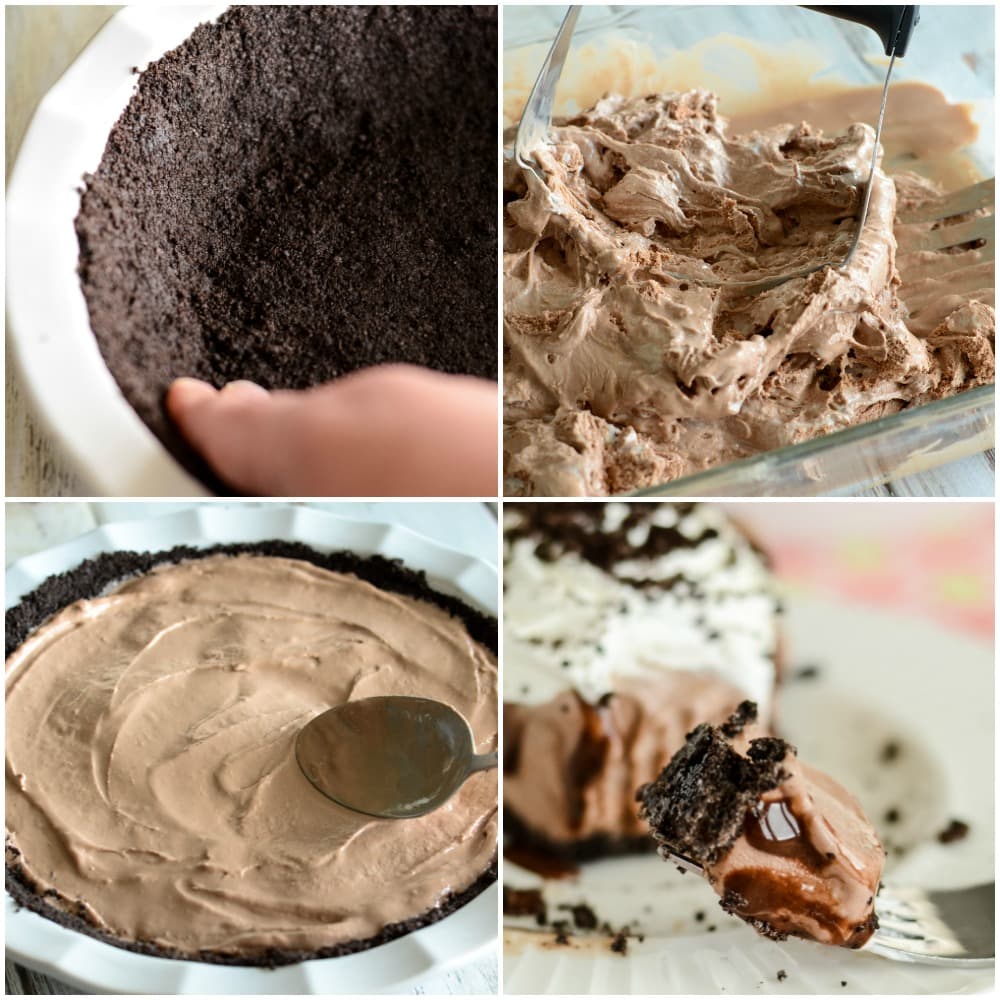 How to Make Mud Pie
CRUST. Desserts don't get much easier than this recipe. You start with a chocolate cookie crumb crust. I like to make my own by combining Oreo crumbs and butter and pressing them into a pie pan.
BAKE. I just use my fingers, but you can use a drinking glass or measuring cup to press the crumbs firmly against the sides of the pan. Bake for 8-10 minutes.
ICE CREAM. After your crust has baked and cooled completely, place it in the freezer for a few minutes. Take out your ice cream and let it soften a bit. I like to scoop mine into a cake pan and use a pastry cutter or potato masher to mix it up till it is nice and soft. Spread it into your crust with the back of spoon.
FREEZE. Cover the pie with plastic wrap and place it in the freezer. Let it freeze for at least four hours, but overnight is better. When you are ready to serve, drizzle the pie with chocolate sauce. You can use store bought, but I used my simple homemade hot fudge sauce recipe. Garnish with whipped cream and crushed Oreo crumbs.
TOPPING. You can spread the whipped cream over the entire pie after you drizzle it with chocolate sauce, but I like to add the sauce, whipped cream, and cookie crumbs to each individual slice. I just think it's prettier that way.
But trust me, know matter how you serve up this pie, your guests will be in heaven. Every bite is sinfully delicious. The creamy ice cream with the crunch of the chocolate crust is a perfect flavor and texture combination. Everyone loves this frozen treat!
Variations
A mud pie, by nature, is a chocolatey dessert. However, you can always switch up the crust, ice cream, or toppings to make it any flavor you like! Here are some ideas.
Ice Cream Flavors:
Vanilla

Strawberry

Cookie dough

Mint

Oreo
Crust Options:
Regular or Chocolate Graham Crackers

Golden Oreos or Mint Oreos

Sandies cookies
Toppings: (Match the toppings with the ice cream flavor you pick!)
Fruit 

Chopped candy bars: Kit Kat, Reeses, Snickers, Butterfinger, Almond Hershey Bar, Toffee Bar

Sprinkles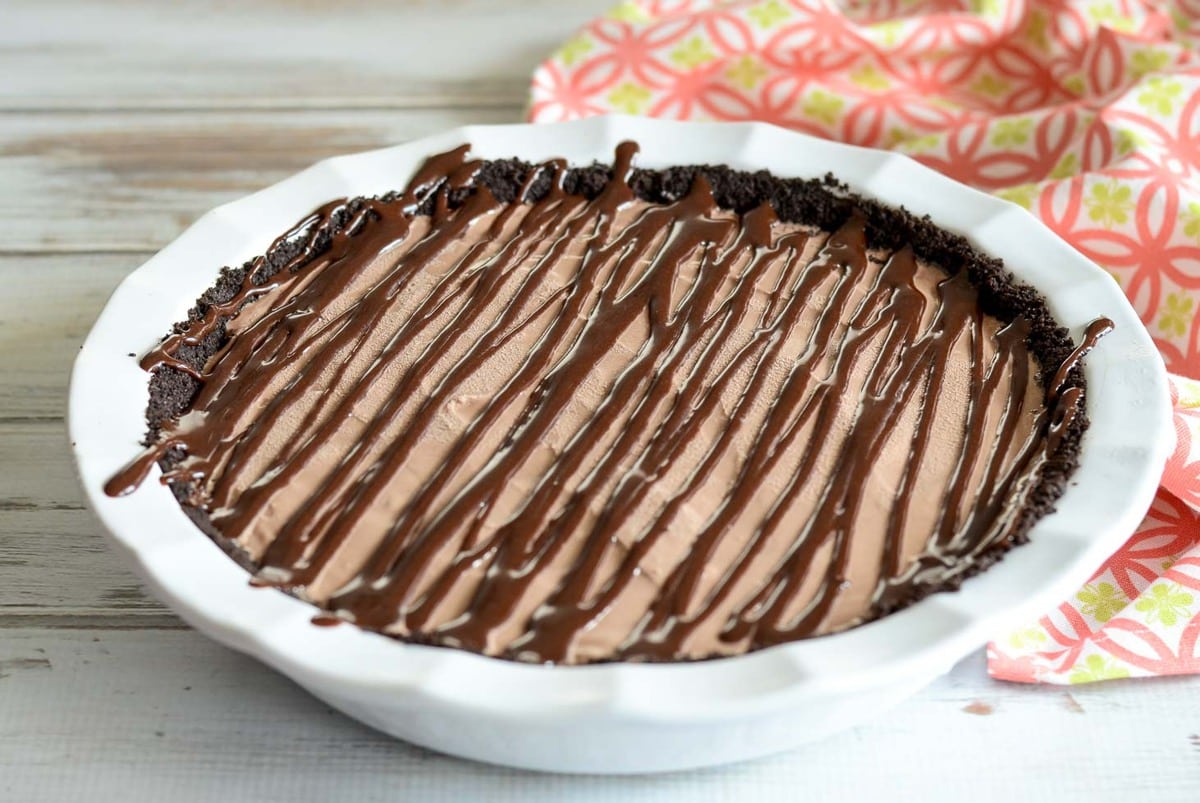 Topping and Storing
Additional Toppings: Of course, you are never limited when it comes to toppings. You can completely make it your own! Here are more suggestions of toppings you might include on your classic mud pie.
Mini Chocolate Chips
Chocolate Shavings
Mini Marshmallows
Nuts
Caramel Sauce
Storing: Because the base of this Oreo mud pie is ice cream, you will need to keep this stored in the freezer. Cover with plastic wrap or tinfoil before freezing. Take it out a few minutes before serving to let it soften a bit.
How long will mud pie keep? If you're not planning on consuming the entire pie at once, I recommend only putting toppings on each slice, because the pie will keep best without any toppings. Stored properly, the pie can be kept in the freezer for 4-6 months.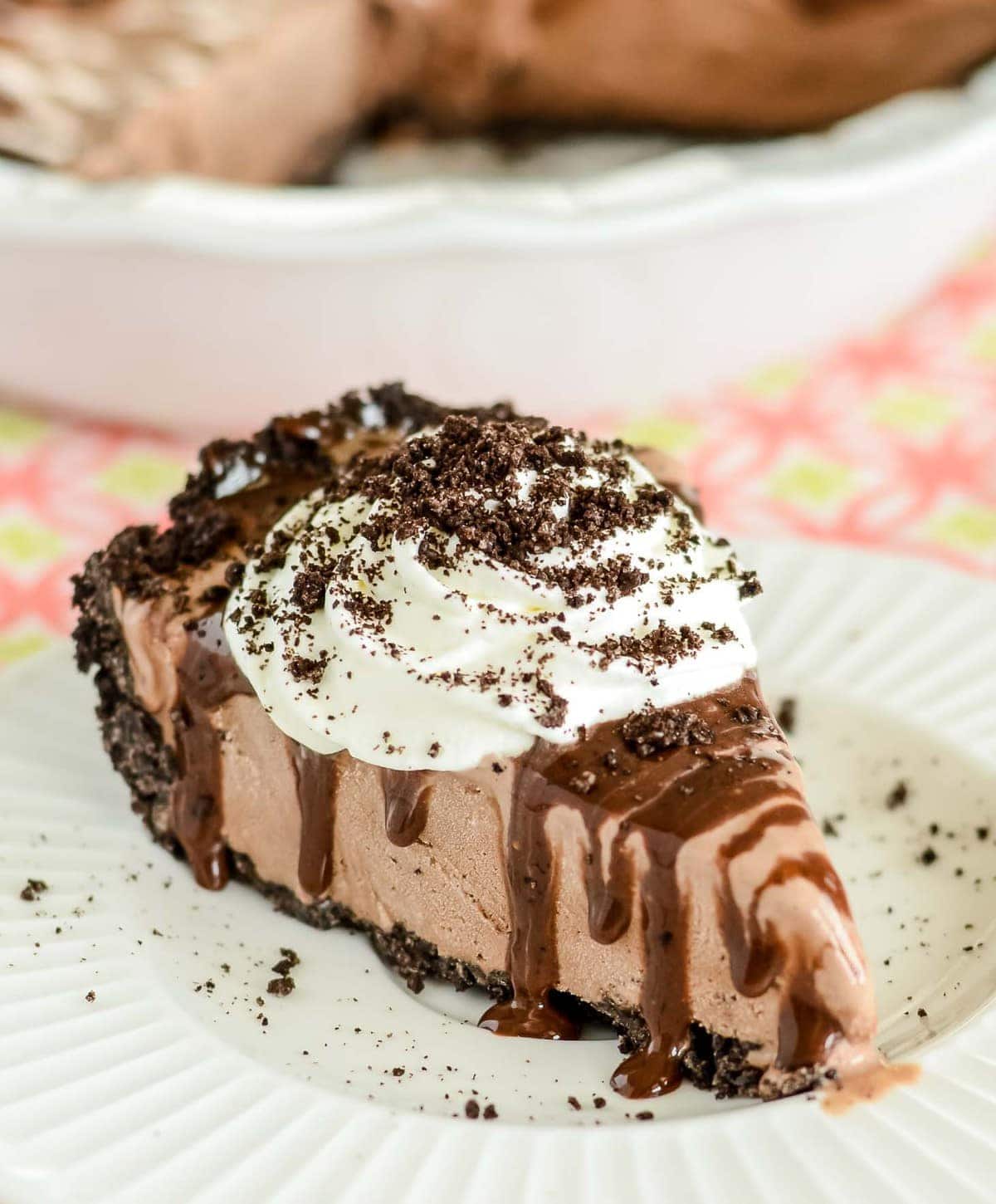 For more tasty frozen treats, check out:
Mud Pie Recipe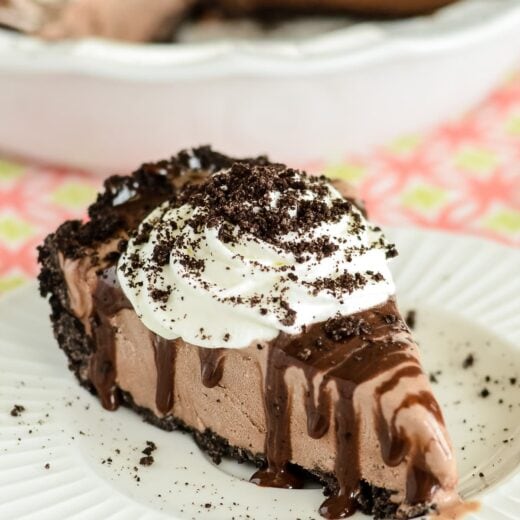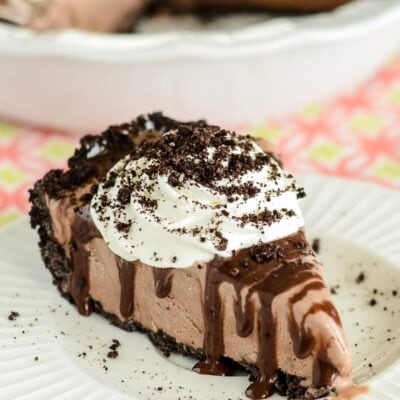 This Mud Pie only takes a few minutes to make, but it is simply divine. With a cookie crumb crust, creamy ice cream, hot fudge, and whipped cream, it is a perfect summer dessert!
Ingredients
Crust
24

Oreo cookies

1/4

cup

butter, melted
Pie
1/2

gallon

ice cream (chocolate or coffee)

1/3

cup

chocolate sauce

1/2

cup

heavy whipping cream

2

Tbsp

powdered sugar

1/2

tsp

vanilla extract

4

Oreo cookies, crushed (optional)
Instructions
For crust, preheat oven to 350°.

Finely crush Oreo cookies in a food processor. Add the melted butter and mix till well combined. Press into the bottom and up the sides of a 9" pie pan.

Bake crust for 8-10 minutes. Cool completely, then place in the freezer

Scoop ice cream into a cake pan or bowl, chop and stir till smooth. Spread into the crumb crust. Cover and freeze for several hours.

When ready to serve, beat whipping cream in a small bowl till soft peaks form. Beat in powdered sugar and vanilla.

Drizzle pie with chocolate sauce, then top with whipped cream and additional cookie crumbs if desired.