Hey, it's me Lily again! Guess where I am?! I'm in our new house in Arizona. We are already unpacking all the boxes!! I kinda miss Texas already. BUT, I get to play with my cousins and my grandmas, grandpas, aunts, uncles and second cousins. I'm really super duper, extra shmooper pooper excited to be back by my family. Since it's so hot in Arizona, we are always looking for things to help cool us down, and today's recipe will really help.
The recipe is for Oreo Ice Cream Cake. It's really good and easy to make. If you've tried our Dirt Cake and love Oreos, then I think you'll love this one too. The recipe reminded me of the Dirt cake with all the Oreos, which made it really familiar and really yummy…. and perfect to keep us cool in the hot Arizona heat.
Step by step photos…
MY OTHER RECIPES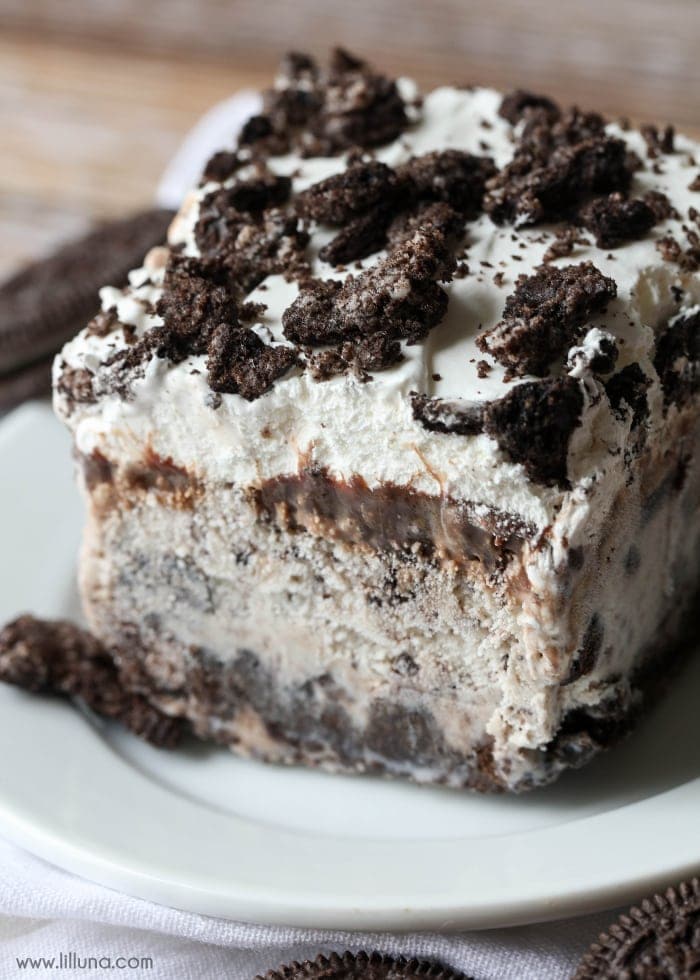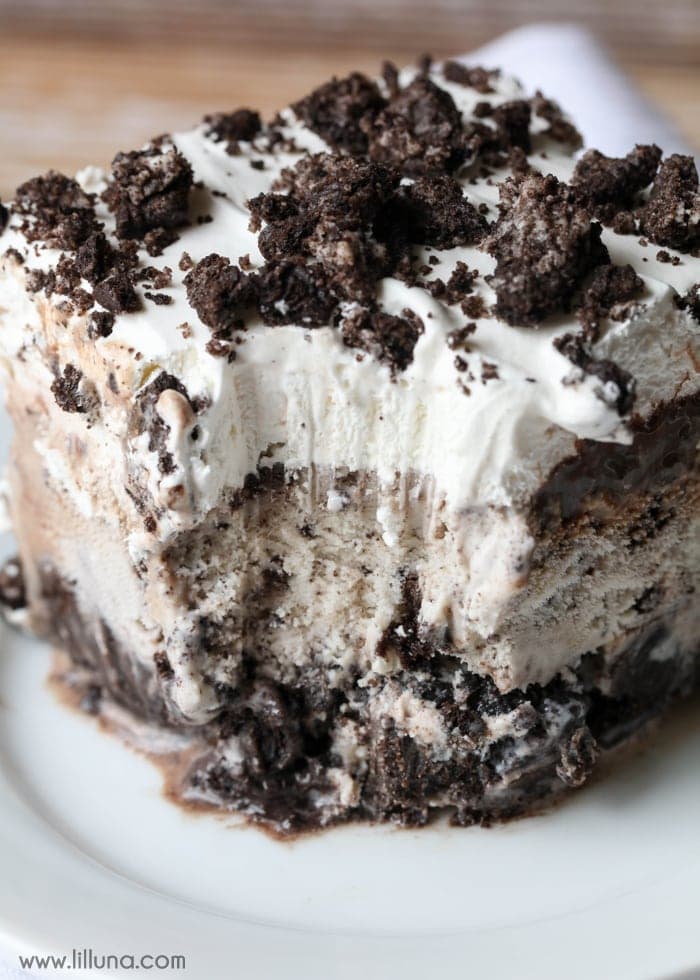 My mom says you really can't go wrong with a good Ice Cream Cake, and she's right. This cake is great too because it can be changed up with your favorite ice cream. I think we will try Mint Chocolate Chip next time. 🙂 We've always loved ice cream cakes and think you'll love this yummy treat too. 😉
Oreo Ice Cream Cake:
Oreo Ice Cream Cake
OREO Ice Cream Cake - layers of Oreos, Cookies and Cream Ice Cream, Hot Fudge, Cool Whip and chopped Oreos - a simple and delicious dessert!
Ingredients
1 package Oreos, crushed and divided
¼ cup butter, melted
1 gallon Cookies and Cream Ice Cream, softened
1 - 16 oz. jar hot fudge, warmed
1 - 8 oz. carton whipped topping, thawed
Instructions
Add crushed cookie crumbs to a bowl reserving ½ cup for the top. Add butter and mix well. Press into a greased 9x13 pan.
Spread softened ice cream over crust and freeze for 2 hours.
Drizzle warm fudge over ice cream and freeze for 1 hour.
Add whipped topping and sprinkle with reserve Oreos and freeze for 2 hours. Remove from freezer and let it set out for 15 minutes before serving. ENJOY!
Recipe adapted from Taste of Home.
For more yummy Oreo recipes, check out:
And for more cookies and cream treats, check out:
Love, Lily
BEHIND THE SCENES AT LILLUNA.COM:
My sister, Evie, really wanted to be in the picture!