YUMMY Mint Oreo Ice Cream Shakes are a quick, easy and delicious treat! Whip up these sweet treats in only minutes.
Chocolate, mint, & Oreo's all together, you can't go wrong with this Mint Oreo Shake! Funfetti Cake Batter Milkshake, Red Velvet Milkshake, and Pudding Milkshake are some more of our favorite cool treats.
Perfect green treat!
I wanted to share another quick dessert that could be make for St. Patrick's Day today. Since we're HUGE Mint fans at our home, I knew exactly what to do – Mint Oreo Ice Cream Shakes!!
Of course, these were a huge hit with the family, and they're already asking me to make them again. I think we'll be doing that this week because they were so quick and easy to do it's hard not to want to make them.
If you're looking for a fun sweet treat to make for your family on the 17th, be sure to check out this next recipe. You can also be sure to embellish them with green sprinkles and whipped cream to make them extra festive. YUMMY!!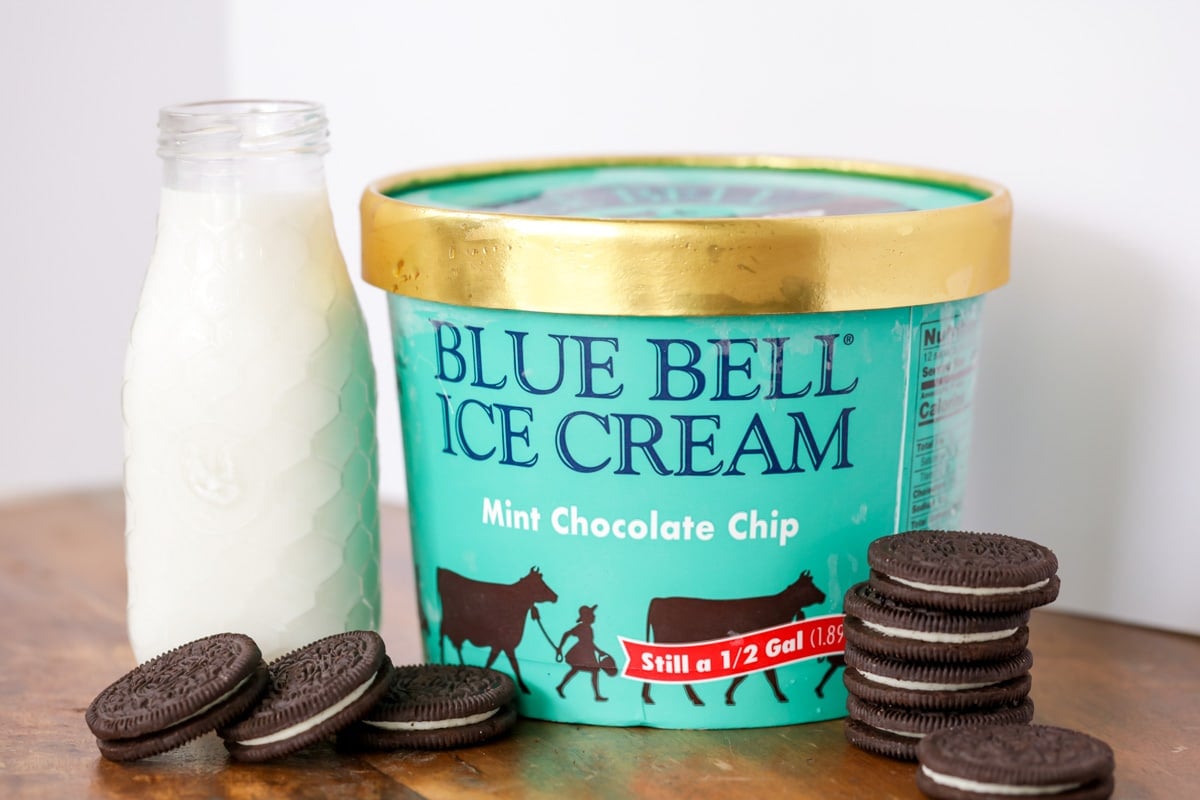 Easy mint Oreo shakes
BLEND. Add ice cream, milk and Oreos to your blender. Mix until well blended.
SERVE. Top with whipped cream and crushed Oreos if desired.
Topping Suggestions: 
whipped cream
sprinkles
crushed Oreos
chocolate syrup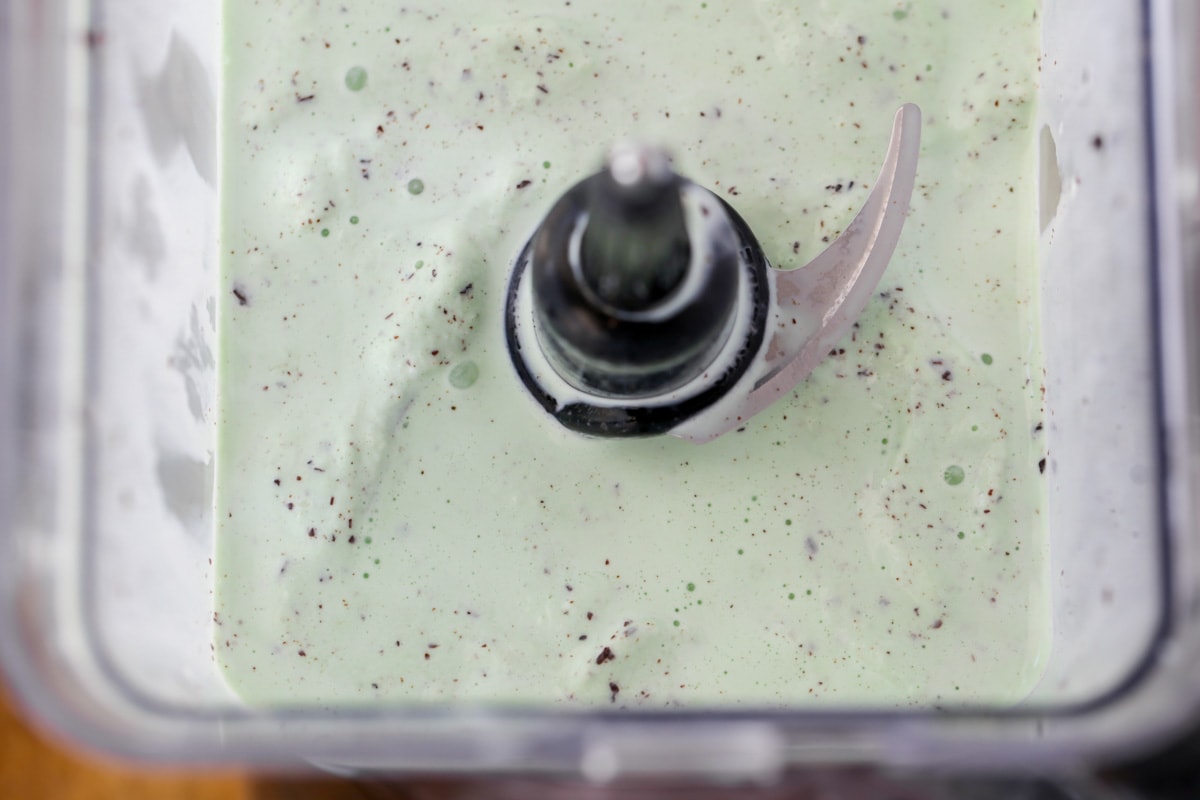 Tips, Variations + Storing Info
Make a milkshake without a blender: If you don't have a blender then you are still in luck. There are a couple different ways you can still make this delicious shake without it. 
Add all the ingredients (except the ice) to a bowl and mix it all with a hand mixer

or

with a whisk.Be sure to crush up the Oreos first and add a little extra milk, if needed, so it blends together easily.

 

Make it with a glass that has a tight fitting lid. Just add all the ingredients to the glass (except ice and crushing the Oreos first) and screw the lid on tight. Then shake vigorously until it is mixed well. Stir in crushed Oreos. 
Color: Blending the Oreos together with the ice cream does give a grey tinted hue. If you would rather, you can blend everything up without the Oreos. Chop the Oreos with a food processor then, gently fold the Oreos into the shake using a plastic spatula. 
Make Oreo shake without ice cream: Taking the ice cream out of the recipe can alter the taste and texture of the shake. A good alternative would be to use Mint Frozen Yogurt. There are also several brands of dairy free mint ice creams as well. 
If for some reason you cannot find mint flavor, you can use mint Oreos and add a drop or two of mint extract to get a more minty flavor.
Milk: Whole milk will help the shake be more creamy but any percentage will work. If you can't have milk you can use unsweetened almond milk, cashew or coconut milk .
Tips and Tricks:
Let the ice cream soften for 5-10 minutes (let it sit on the counter) so it is easy to scoop out.

If you need your milkshake to stay thick for longer then place the cup or glass it is in into the freezer for 10-15 minutes before serving. 

To crush your Oreos before making the shake, put them into a Ziploc bag and seal it tightly. Then crush them with a rolling pin until desired texture. 
STORE leftovers short term covered in the fridge. For longer storage you'll need to freeze it. When you want to eat it let it thaw a bit and then re-blend. 
My favorite way to store leftovers is to make it into ice cream popsicles. The kids love it too.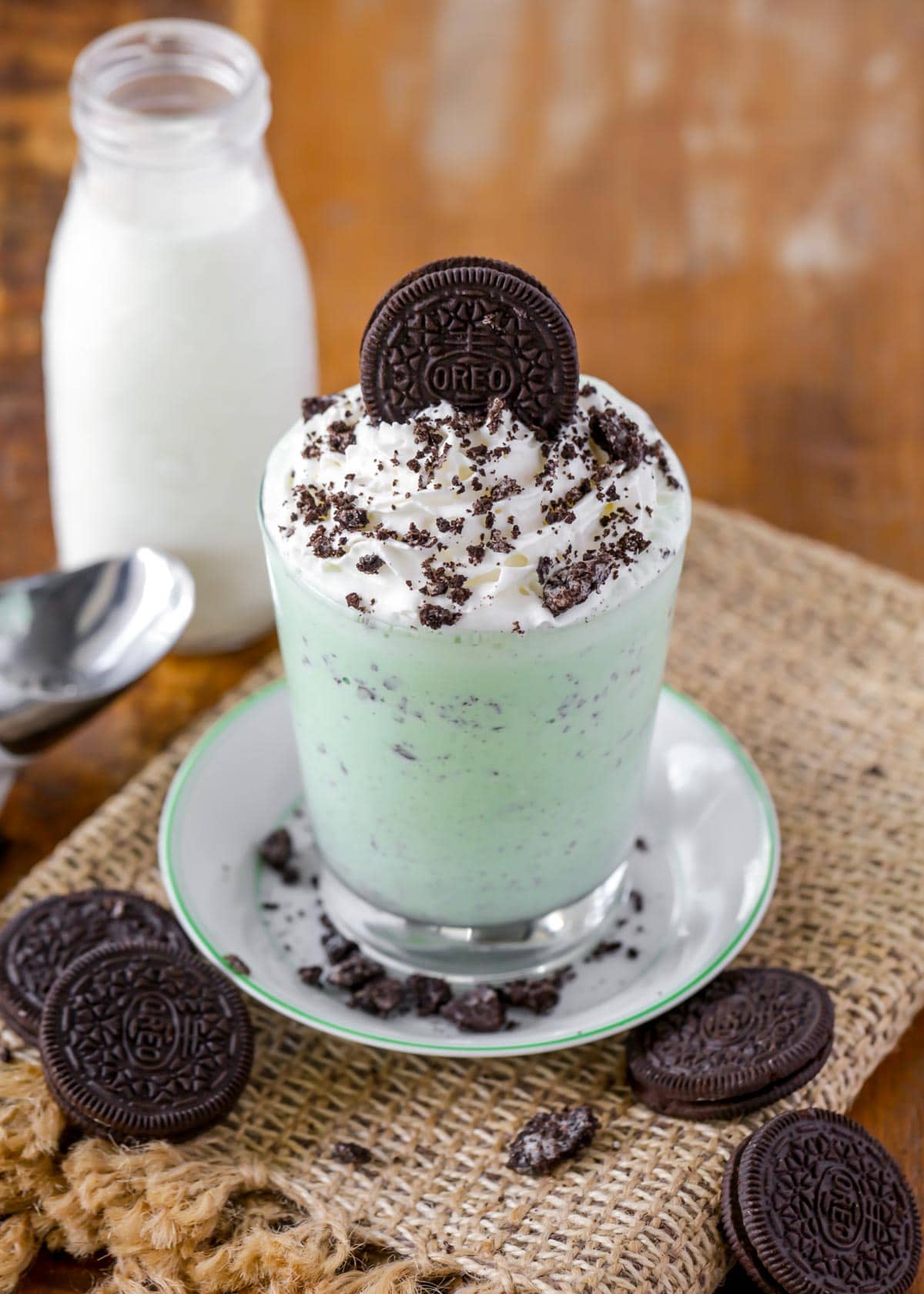 For more St. Patrick's Day desserts, be sure to check these out:
Mint Milkshake Recipe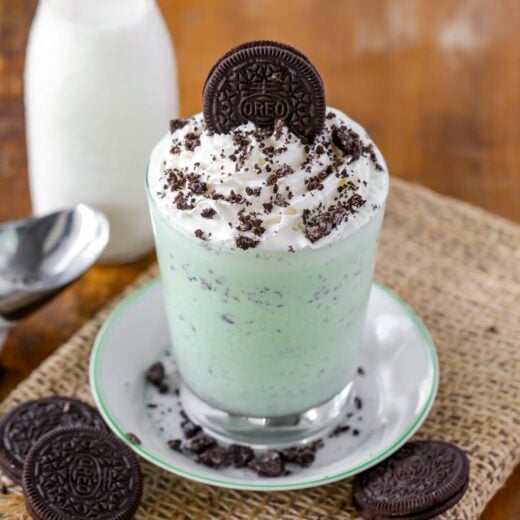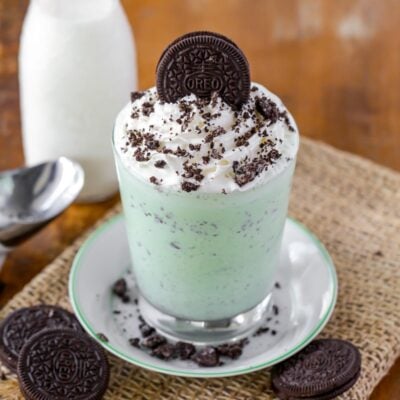 The combination of mint chocolate chip ice cream and Oreos makes this Mint Milkshake a delicious treat! Whip it up in only minutes.
Ingredients
4

cups

Mint Chocolate Chip Ice Cream

1 1/3

cups

milk

16

Oreos

whipped cream
Instructions
Add ice cream, milk and Oreos to your blender. Mix until well blended.

Top with whipped cream and crushed Oreos if desired.