Oreo Dirt Cake has layers of white chocolate pudding, cream cheese, whipped cream, Crushed Oreos, and more. This delicious and addicting dessert is cool, creamy, and perfect for Oreo lovers.
Our family makes this dirt cake recipe year round, but especially in the summer because it's a cool and refreshing dessert. If you like this, you'll definitely love Oreo No Bake Cheesecake, or Oreo Ice Cream Cake, also some summer favorites!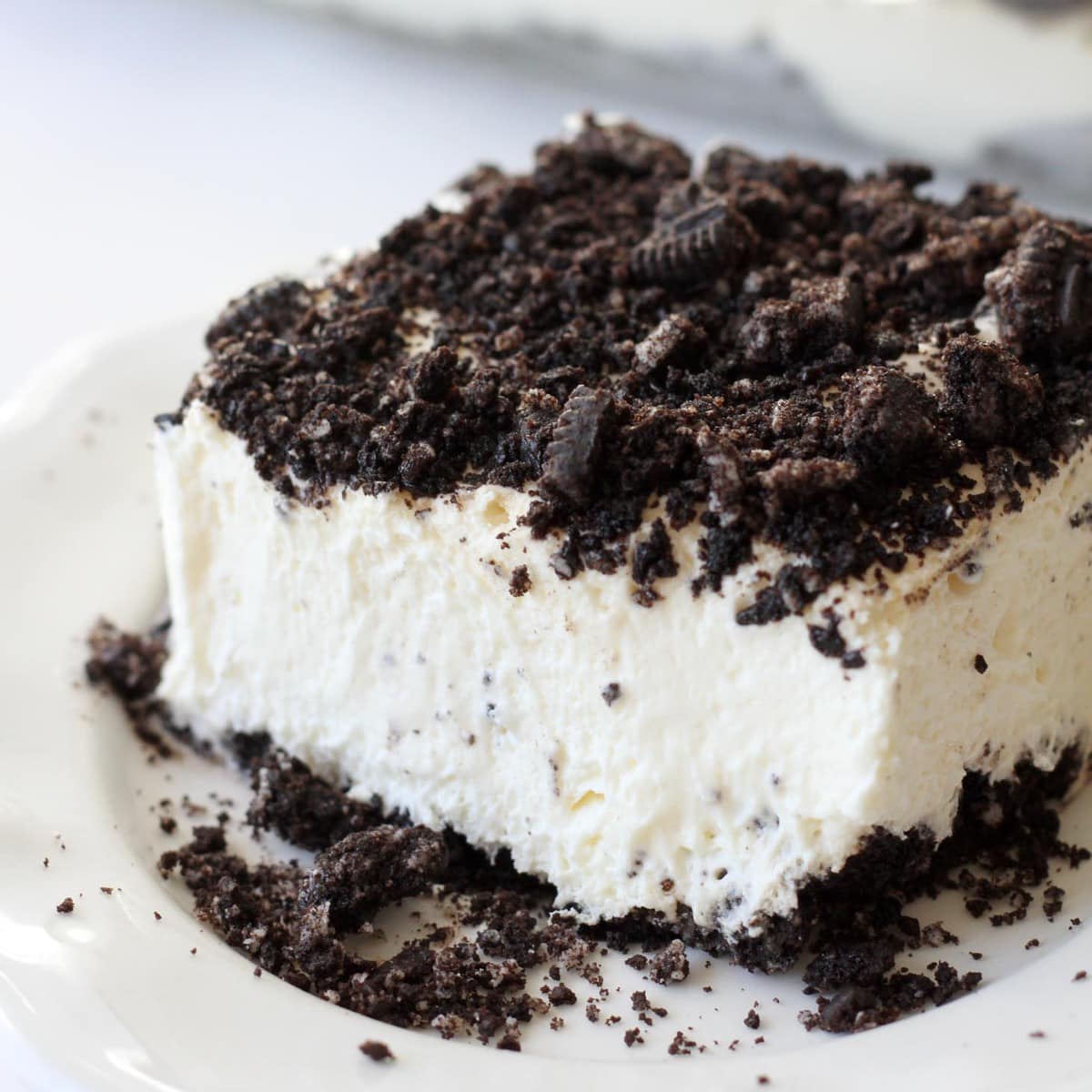 Long time family favorite
I know I've shared this before, but I love OREOS. I'm not a fan of eating them by themselves, but they are probably my favorite ingredient to add to dessert recipes. They make everything so yummy!! They also make today's recipe a family favorite that we've made ever since I was little – it's called Kansas City Dirt Cake.
I'm not sure where we found the original recipe, but it's one we've been making for family get togethers for as long as I can remember, and it's one we still make all the time for holidays and special occasions.
Yes, this is called Dirt Cake, but for some reason when we first got the recipe it was called Kansas City Dirt Cake. I was told that's because Kansas City is made up of a lot of dirt—but no matter the reason, this cake is amazing. Everyone loves it!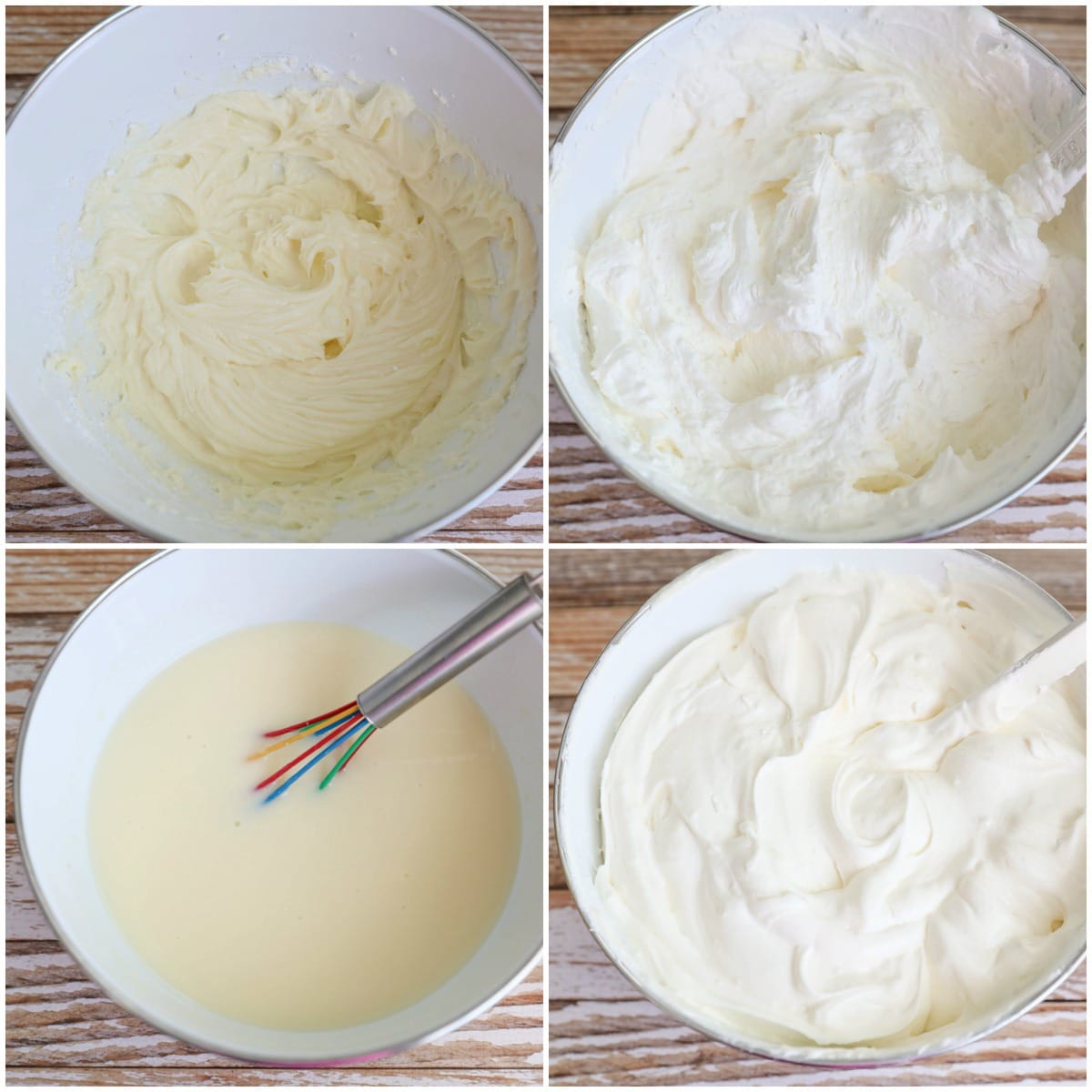 How to Make Dirt Cake
From start to finish, this cake only takes about 15 minutes to make. It does need to set up in the fridge for a few hours, but it takes little work and the result is amazing.
PUDDING. Begin by making your creamy, pudding mixture. To make this, cream your cream cheese and butter until smooth. Mix in the powdered sugar with a hand mixer and fold in whipped topping. Set this aside.
In another bowl, make pudding by mixing milk, pudding mix and vanilla. Let this set up for a few minutes and then pour into the cream cheese mixture. Use your hand mixer to mix well. Set aside.
OREOS. Then, crush all the Oreos by putting them in a food processor or Ziploc bag and crushing with hands, rolling pin, or the bottom of a cup. Pour about 2/3 of the Oreos into the bottom of a 9×13 pan.
LAYER. Pour the cream cheese/pudding mixture over the Oreos. Then top with remaining crushed Oreos.
CHILL. Place in fridge and let set for a few hours before serving.
Tips for crushing Oreos: Crush the entire cookie—do not remove the filling. You can crush your oreos in a blender or food processor if you want them to be super fine. Crushing the Oreos in a ziploc bag will give you both small and chunky pieces (we prefer it this way!).
Can I use different pudding flavors? Yes! The recipe calls for white chocolate pudding or vanilla, but I've also used cream cheese pudding and chocolate pudding and gotten good results. If you're feeling adventurous you can try using a different flavor.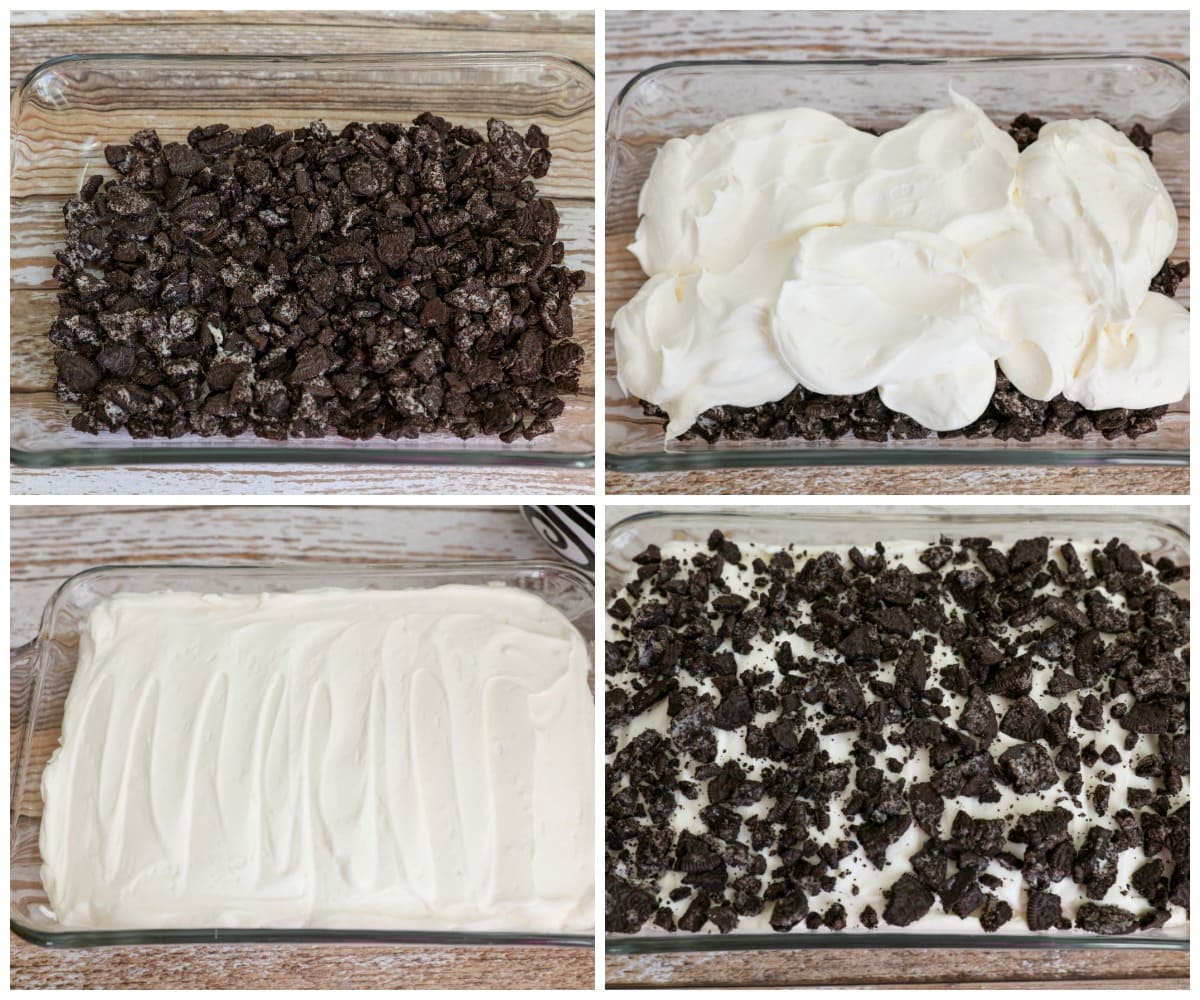 Tips and Troubleshooting
Can Dirt Cake be made ahead of time? We almost always make this dessert ahead of time. We typically make this the morning of, but you can also make this up to 24 hours in advance. If possible, we recommend placing the crushed Oreos on top right before serving because those can get a little soft with the moisture of the cake.
How to store dirt cake? Dirt Cake is best stored when covered tightly with Saran Wrap or foil and placed in the fridge for up to 3 days. We love to have this cake for leftovers, but admit we rarely have them. It's just so good!
Why did my dirt cake come out soupy? This dessert should be able to hold its shape and have a fluffy creamy texture. If yours turned out soupy there are few things to check and try:
You must make sure you bought INSTANT pudding mix the pudding and milk until it takes on a creamy pudding consistency. Refrigerate for 5-10 minutes before combining it with the other ingredients

Use chilled metal bowls to mix and fold the ingredients in

Use whole milk

FOLD do not Mix: When you add the whip cream to the cream cheese mix and then again when you add the pudding make sure you are gently folding the ingredients together.

Make sure your butter is not too soft and definitely not melted

Chill for at least 2 hours before serving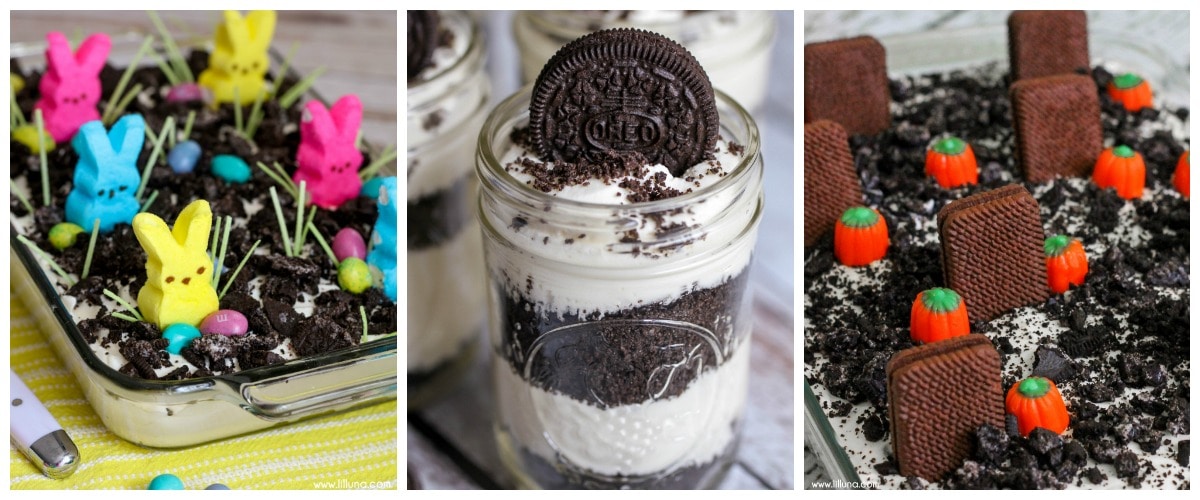 More dirt cake recipes
This recipe happens to be one of our favorites to change up for seasons and holidays. In fact, with so many OREO varieties, it's easy to change up with your favorite cookie variations (the Peppermint Oreo is great for Christmas!)
We now have an Easter Dirt Cake and Graveyard Dirt Cake that are holiday favorites. We also like to make parfait versions of this recipe to make fancy single-servings for parties.
The other classic version is to make this recipe but with chocolate pudding and to serve it in cups (you can even put these cups in mini terra cotta pots) and have gummy worms sticking out.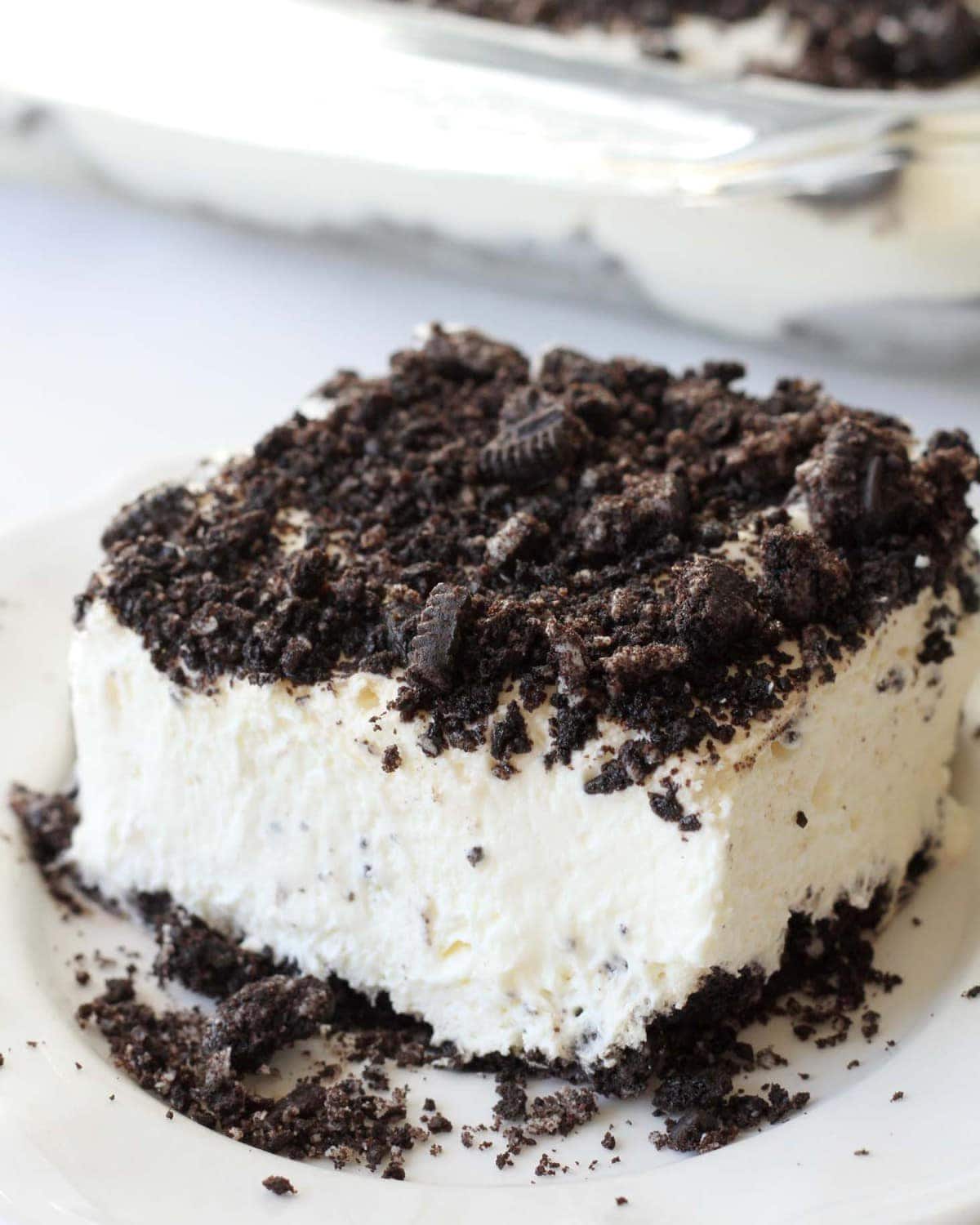 I seriously LOVE this recipe and have loved it since I can remember. Hope you like this Oreo treat just as much as my family. 🙂
For more Oreo desserts, check out:
Dirt Cake Recipe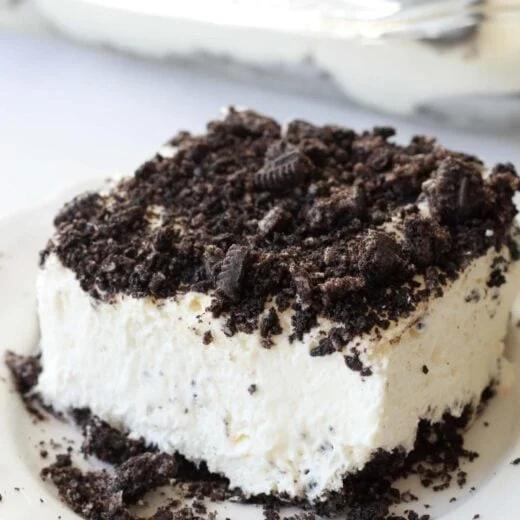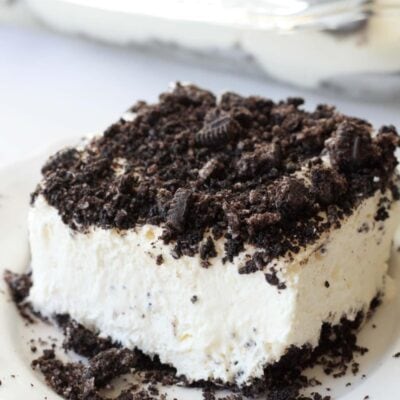 Oreo Dirt Cake - layers of creamy, white chocolate pudding, cream cheese, cool whip and more and topped off with Oreos!

Ingredients
1

package

Oreos

8

oz

cream cheese

softened

1/2

cup

Margarine

or butter

1

cup

powdered sugar

16

oz

cool whip

2

boxes

INSTANT White chocolate or vanilla pudding

3.3 oz box size

3

cups

milk

1

tsp

vanilla extract
Instructions
Crush ⅔ package of Oreos and place in the bottom of a 9x13 pan. Set aside.

Mix cream cheese and margarine (or butter) until smooth. Mix in powdered sugar and fold in whipped topping. Set aside.

In a separate bowl mix pudding, milk and vanilla. Fold this mixture in with the cream cheese mixture.

Pour over crumb mixture.

Sprinkle with the reserve crushed Oreos. Let set for a few hours and keep refrigerated until ready to serve.