No bake Oreo Pudding Pie is a quick and easy dessert perfect for any time of the year. It comes together in 15 minutes!!
Oreo pudding pie as an Oreo crust, a delicious cream cheese layer and a white chocolate pudding layer topped with crushed Oreos and whipped cream. You really can't go wrong! For more Oreo try Mint Oreo Ice Cream Shakes, Oreo Pudding Poke Cake, and Oreo Peanut Butter Delight.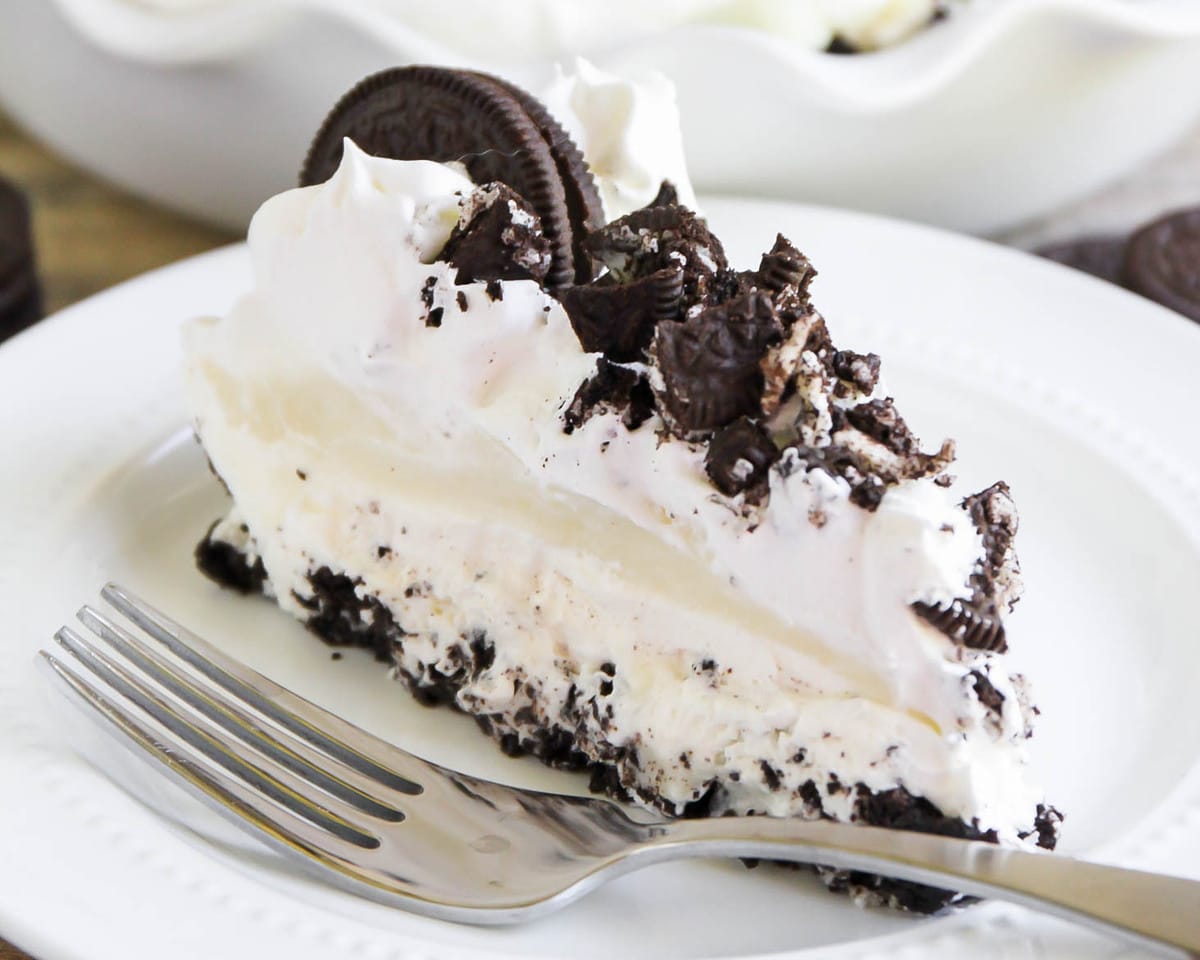 No Bake Oreo Pie
Awhile back we had some friends over and I wanted to come up with something new. I put a few things together and was so happy with the result. I'm calling this one: OREO PUDDING PIE!
I've never been a huge fan of the fruity pies but have always loved the chocolate versions. Since we tend to throw Oreos into many of our desserts, I knew an Oreo Pie would be great, and I'm happy to report that it was! Not only is it perfect all year long for any occasion, but it's also great for holidays like Thanksgiving to offer a greater variety than the typical Pumpkin, Apple and Pecan pies.
When I first made this recipe there was no such thing as Oreo pudding, but there now is, so next time we make it we will make Oreo pudding instead of the white chocolate/vanilla pudding layer. It will no doubt add even more delicious Oreo flavor to this treat.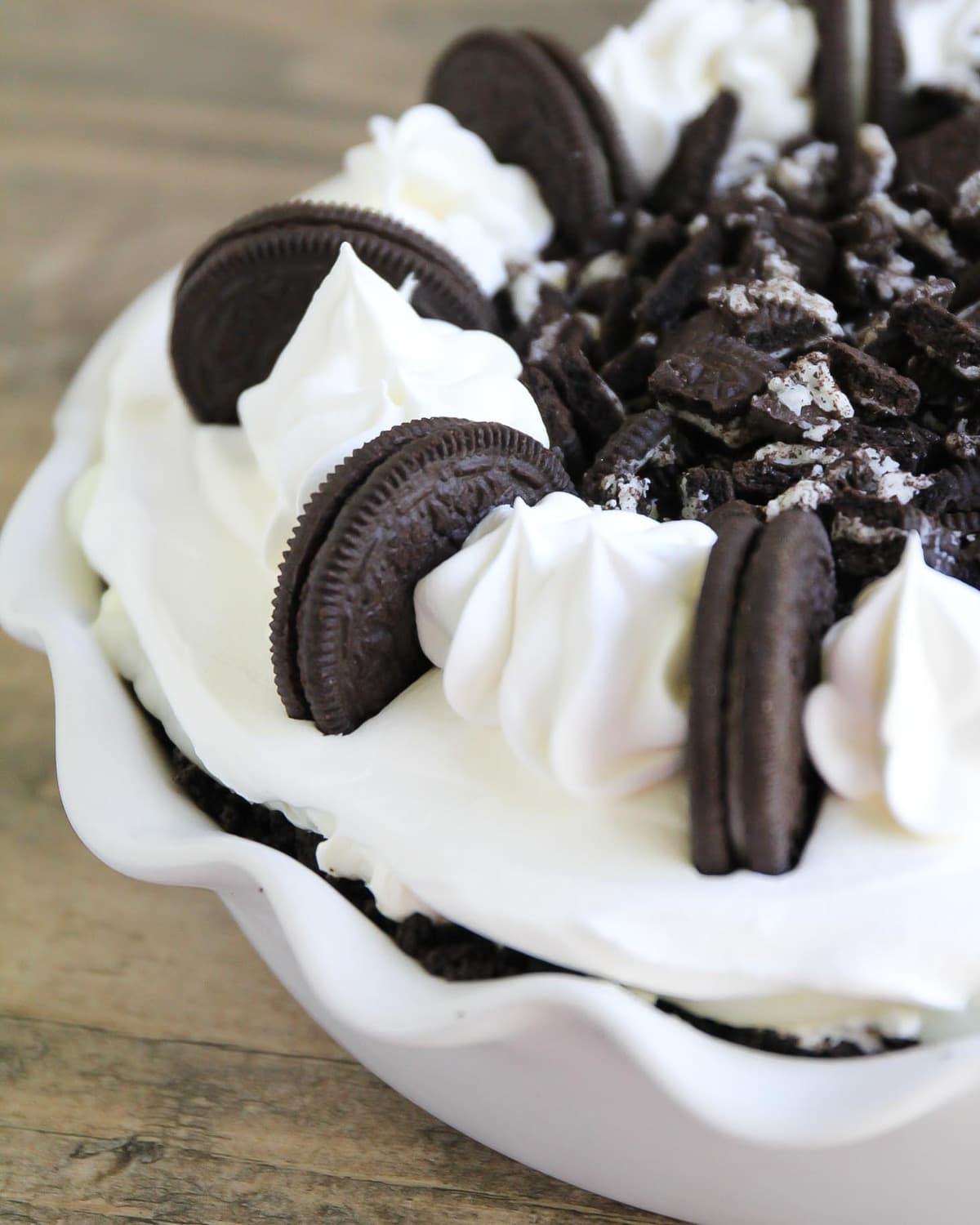 How to make Pudding Pie
OREO CRUST. This pie all begins with the Oreo crust. You can buy these pre-made at the store or you can make a homemade version.
CREAM CHEESE. From there you mix your cream cheese, butter, powdered sugar and part of the whipped cream. Layer this on top of your Oreo crust and then make the pudding of your choice.
PUDDING. We typically use vanilla or the white chocolate version (regular chocolate works great!) but now with the new Oreo pudding, any version would be great.
WHIPPED CREAM. Top your pudding pie with whipped cream and Oreos and you have a delicious pie that is so creamy and flavorful.
Tip. Put the Oreos in a Ziploc bag and hit it/roll over it with a rolling pin it will get it all crushed and ready to pour over the pie.
Recipe tips + SToring info
Variations
To make that much whipped cream combine ½ cup heavy whipping cream with ¼ cup powdered sugar, and ¼ teaspoon vanilla extract. This should yield a cup of homemade whipped cream. If you think this isn't the right texture feel free to add more powdered sugar to thicken it.
Alongside crushed Oreos you can top it with a chocolate syrup drizzle or more whipped cream.
Use an 8×8 or 9×9 pan to get square slices instead of traditional pie slices
Pipe the cool whip on for a cool effect!
STORE it refrigerated and covered all the time. Pudding pies don't last super long, so I wouldn't guess more than a week. f you want to make it a day or two ahead of time that should be fine. I wouldn't suggest longer than that or you risk the crust getting soggy under the pudding filling.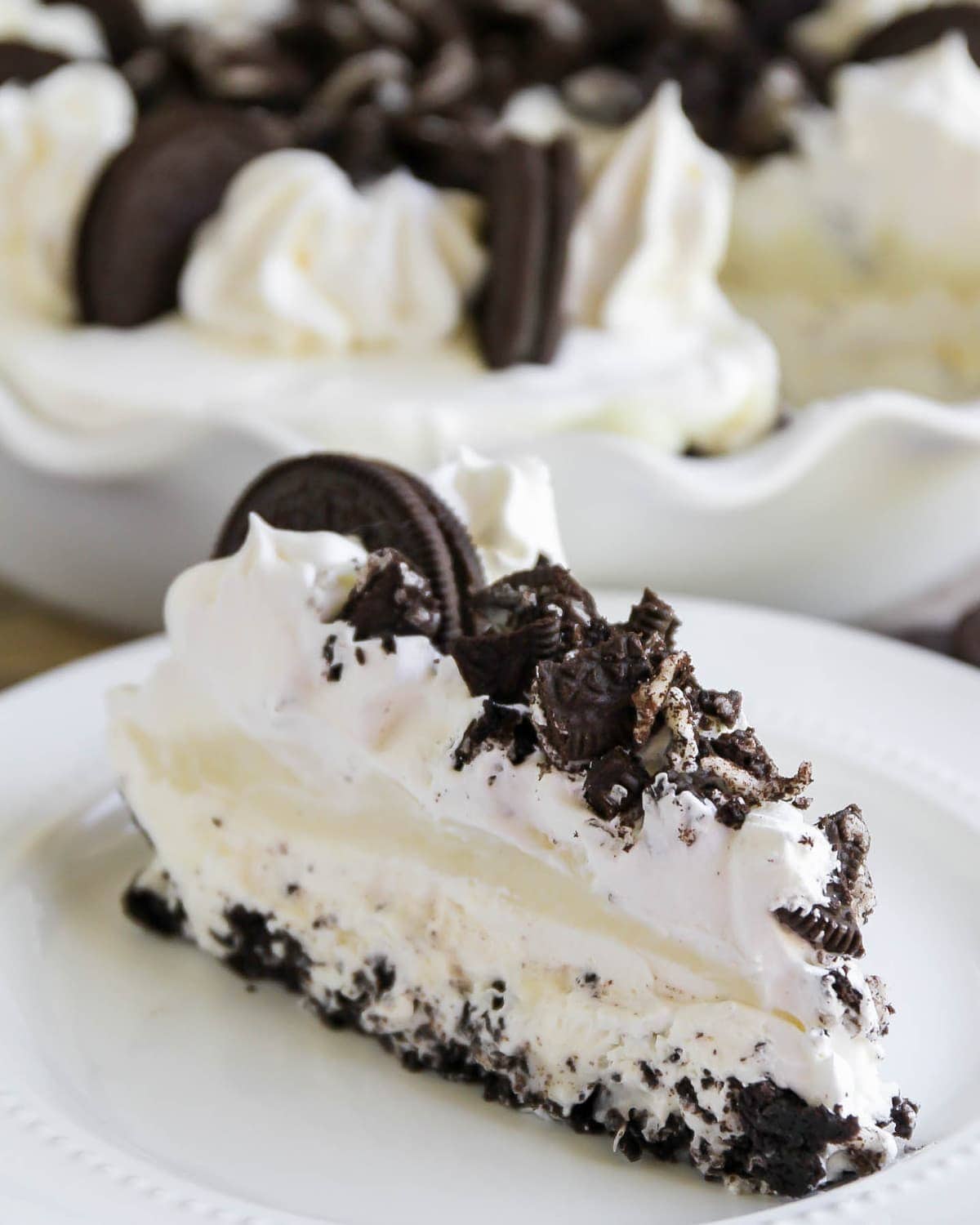 For even more Oreo desserts, be sure to check out:
Oreo Pudding Pie Recipe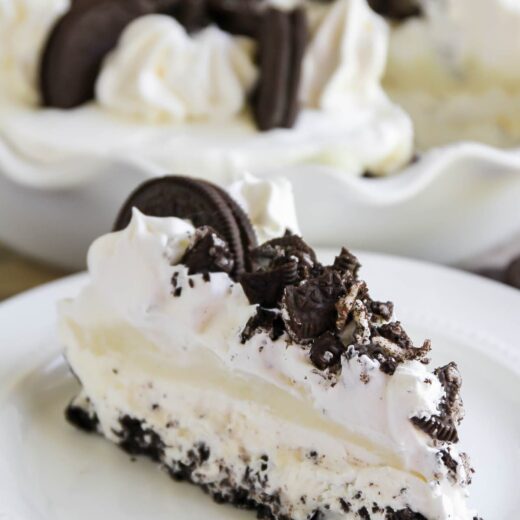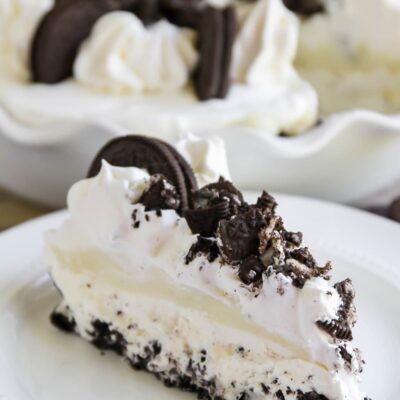 No bake Oreo Pudding Pie is a quick and easy dessert perfect for any time of the year. It comes together in 15 minutes!!
Ingredients
1

Oreo Crust

1

sleeve Oreo cookies

crushed

1

8 oz.

cream cheese bar

1/2

cup

butter

1

cup

powdered sugar

1

tub cool whip or homemade whipped cream

1

3 oz

pudding box

white chocolate, vanilla, Oreo

1 1/2

cups

milk
Instructions
Mix cream cheese and butter until smooth.

Mix in powdered sugar and fold in ⅓ tub cool whip. Pour over Oreo crust. Set aside.

Make pudding by mixing the milk and pudding mix together. Pour over first layer.

Pour remaining cool whip over the top. Sprinkle crushed Oreos over the pie. Refrigerate for one hour or until ready to serve.