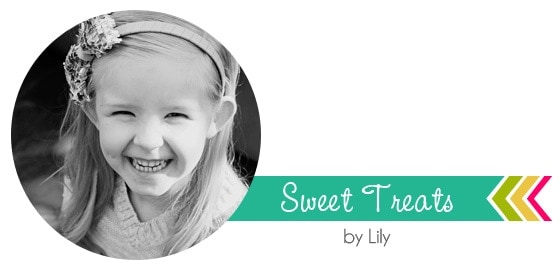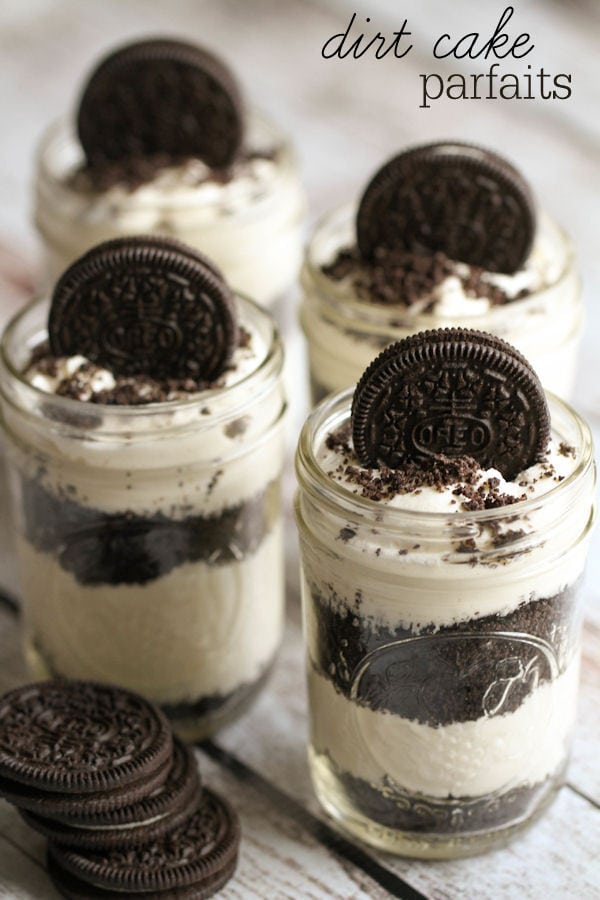 Hi, it's me – Lily! AGAIN!
I hope you had a great day today.
I LOOOOVE the weekends. Saturday is my favorite day because my mom and dad let me and my brother play the Wii on Saturdays if we get our chores done. It's also a day we get to go on family adventures. I'm not sure what we are doing tomorrow but I'm sure it will be something fun.
I'm actually writing this post beforehand, so it's Friday night and we're getting ready to have Movie Night!! I want to watch Earth to Echo, but my mom has to see if it's at Redbox. 😉
So, have you been making my recipes? I have another one for you today.
One of our favorite treats is Dirt Cake. My mom and I thought it would be fun to make a parfait version of it. We made two versions. A regular Dirt Cake Parfait and a Valentines Dirt Cake Parfait. I had the Valentine's version because it was pink, and I LOOOVE Valentine's. They're practically the same but one is white and one is pink. 🙂
Here is the Valentine's version: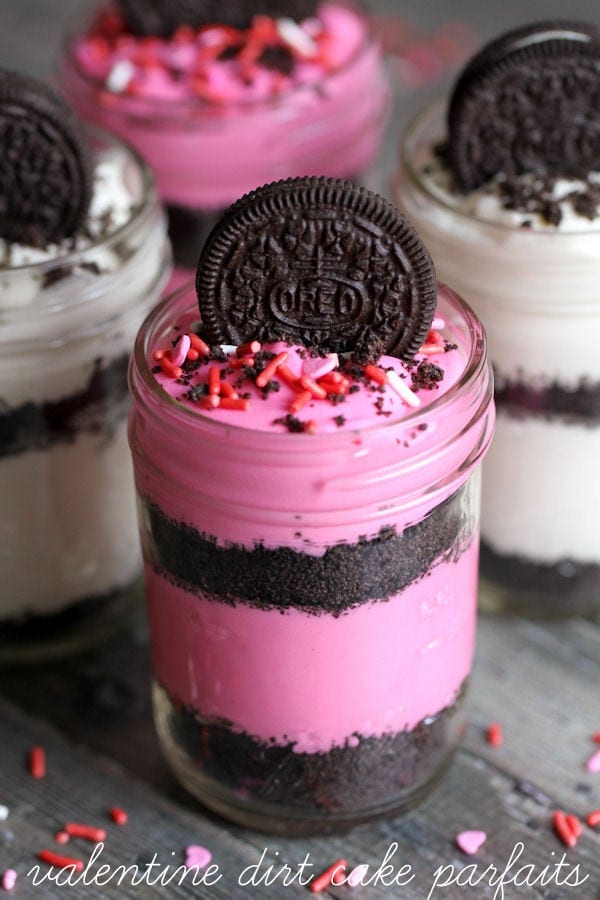 The cream part is my favorite! I really think you'll like this.
Here is the recipe:

Dirt Cake Parfaits
Ingredients
½ - 8 oz cream cheese bar, softened
¼ c. butter softened
½ cup powdered sugar
1 - 8 oz. container of cool whip
1 box instant white chocolate pudding mix (vanilla works too)
1½ cups milk
2 sleeves of Oreos
Extra Oreos for garnish
Instructions
Begin by smashing up Oreos. I put mine in my food processor and blended until they were crumbs. Set aside.
Mix cream cheese, butter, and powdered sugar with mixer in a medium bowl. Fold in cool whip until well blended. In a separate bowl mix pudding mix and milk with a whisk. Once combined well, add pudding to cream cheese mixture.
Place a few tablespoons of oreo crumbs in your cup or small jar. Add some of the creamy mixture (I do this by adding the creamy mixture to a gallon bag and cutting off the corner so it goes in the jar more easily.) Bang down on a wash cloth on the table to get all bubbles out. Add a few more tablespoons of oreo Crumbs. Top off with some more cream mixture and sprinkle on a few more crumbs. Top off with a whole Oreo on top.
Refrigerate until ready to serve.
 NOTE FROM MY MOM:
We used small jars because we thought they would look really pretty, but if serving to little kids I suggest using clear plastic cups. The jars are also larger and can only get about 6-7 of them with this recipe. Using the smaller plastic cups will allow you to make more. 😉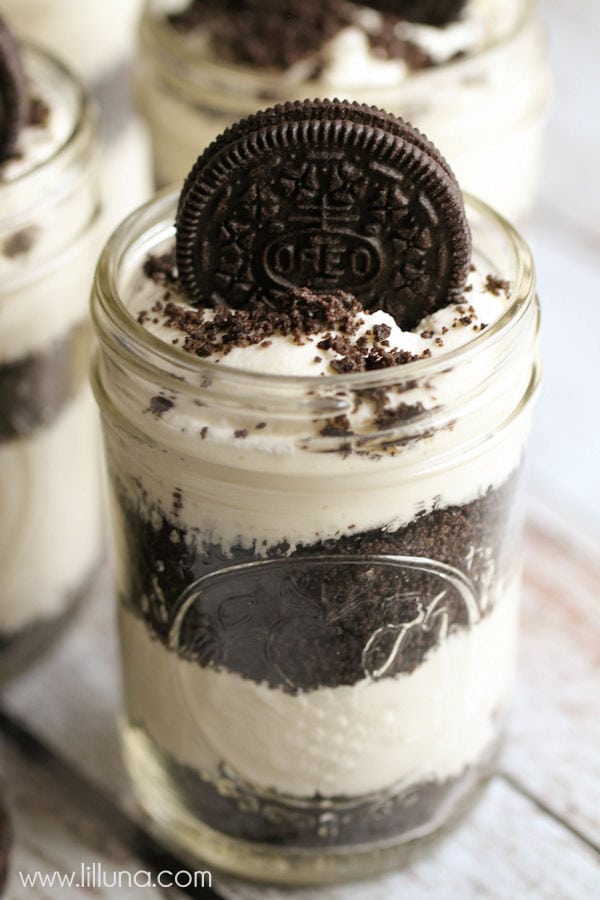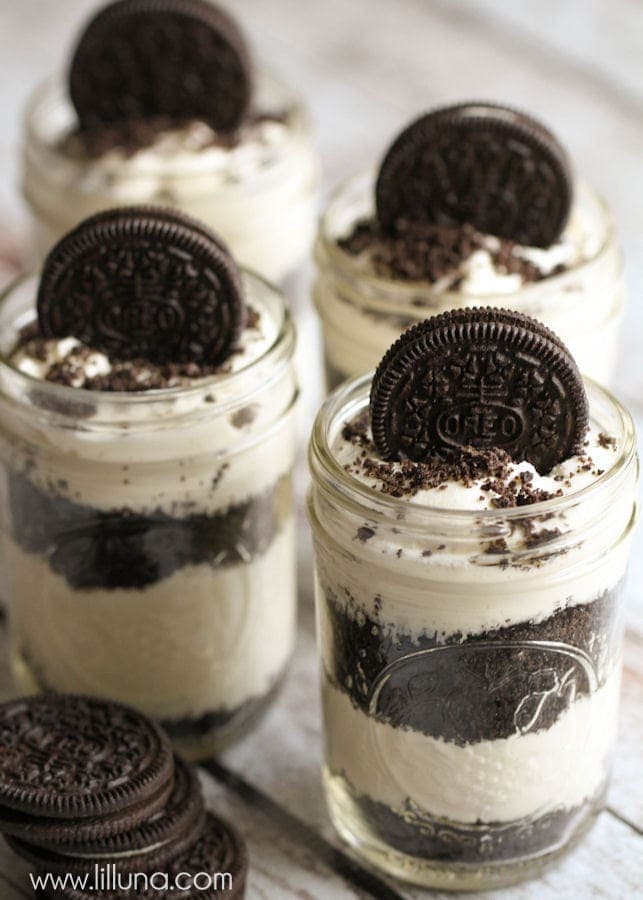 To make the Valentine's version we just added pink food coloring to the cream mixture.
We then topped it off with Valentine's sprinkles!
Here are some pictures: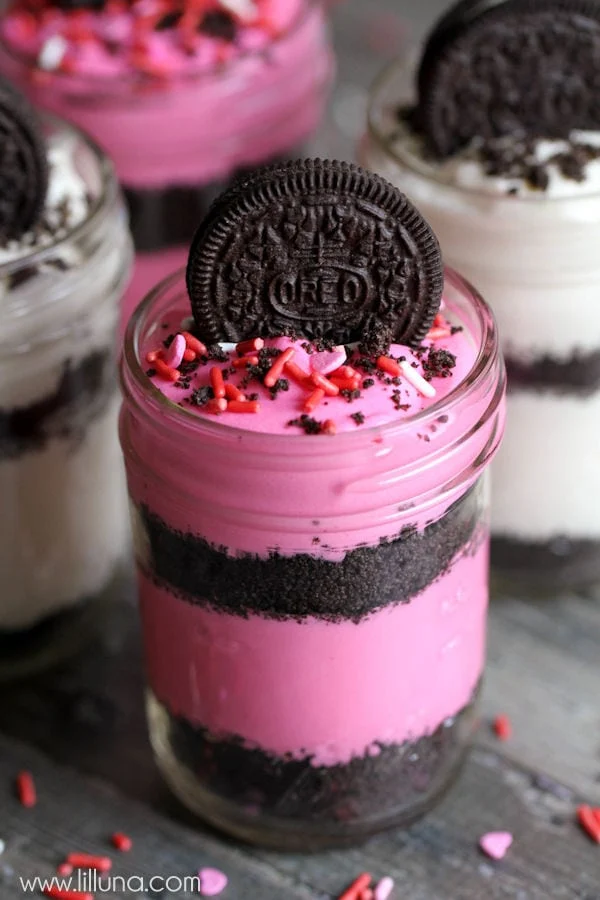 Don't they look YUMMY!?!
I hope you can come back again soon for more yummy treats from me.
Love, Lily
————————————–
For more Oreo treats, check out: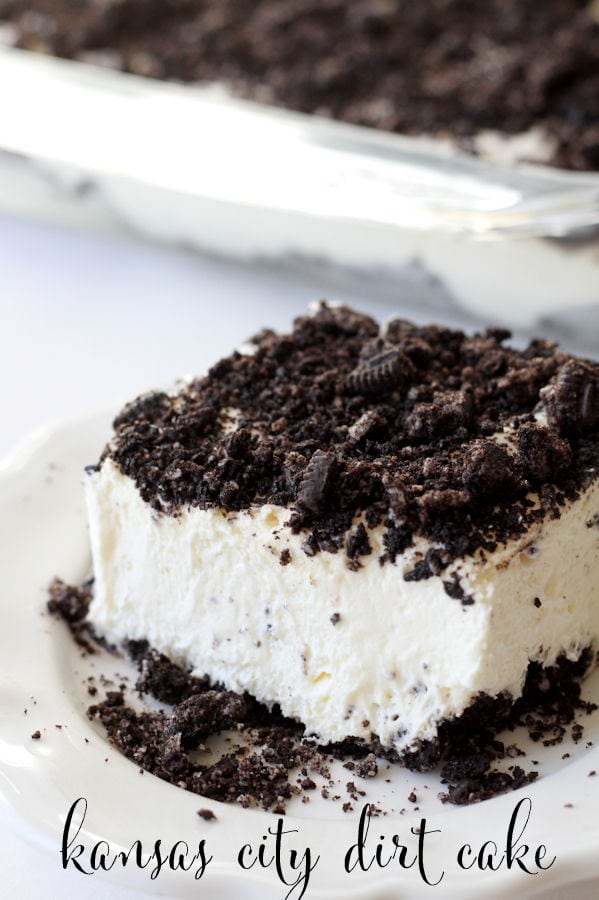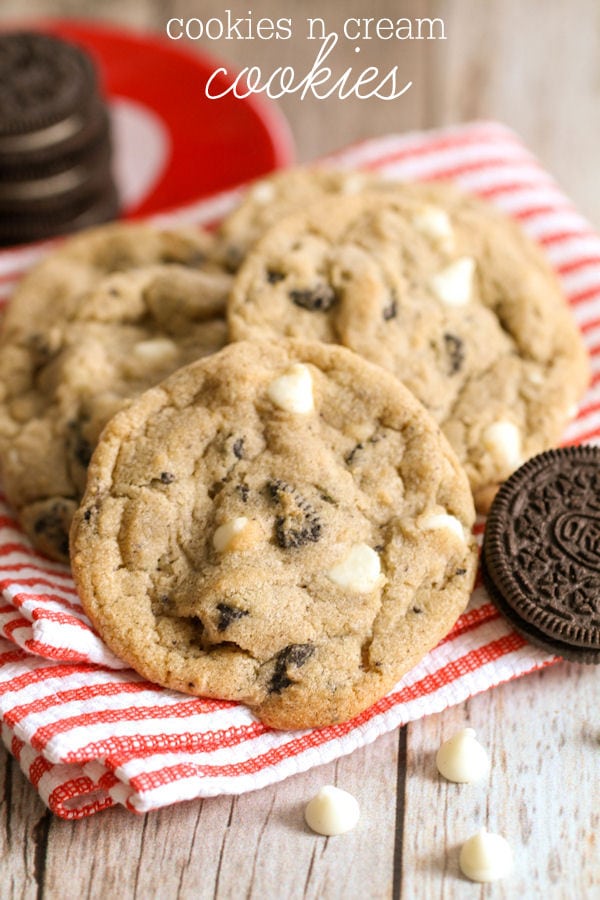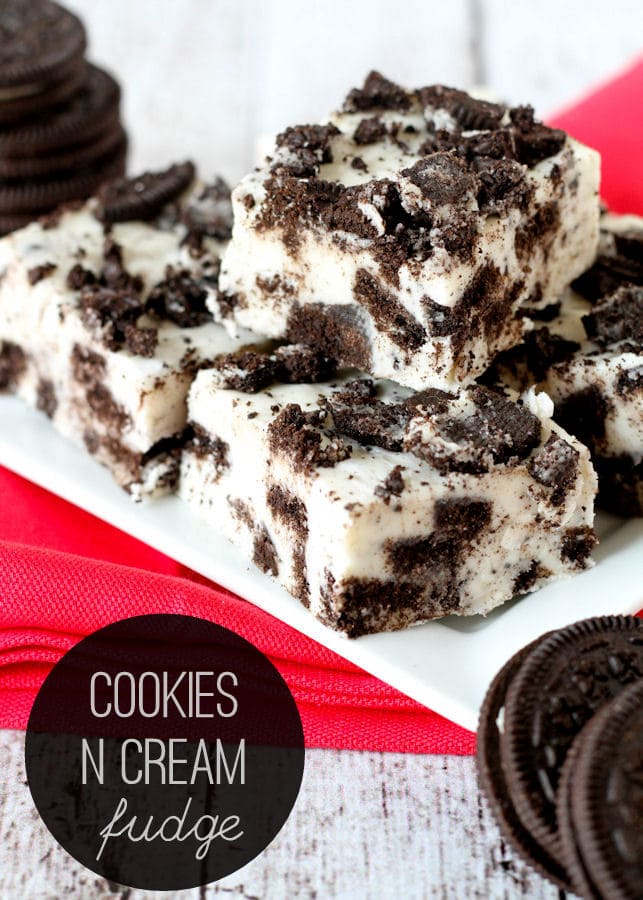 I LOVE OREOS!!!
For all recipes from me go HERE.
For all desserts go HERE.
And get weekly emails with monthly freebies by signing up for the Lil' Luna newsletter. 🙂
For even more great ideas follow me on Facebook – Pinterest – Instagram – Twitter – Periscope – Snapchat.
Don't miss a thing – Sign up for the Lil' Luna Newsletter today!
ENJOY!
BEHIND THE SCENES: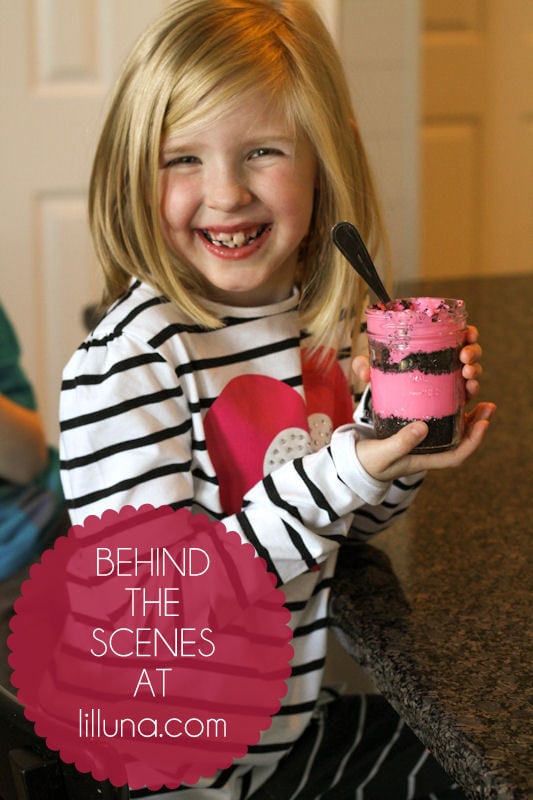 Told you I had the Valentine's version!! It was so good!!