During the summertime, we love making fruity, frozen, and no-bake desserts! This collection of summer desserts includes all of our favorites!
More Collections: Summer Drink Recipes, Summer Dinner Recipes, Summer Salads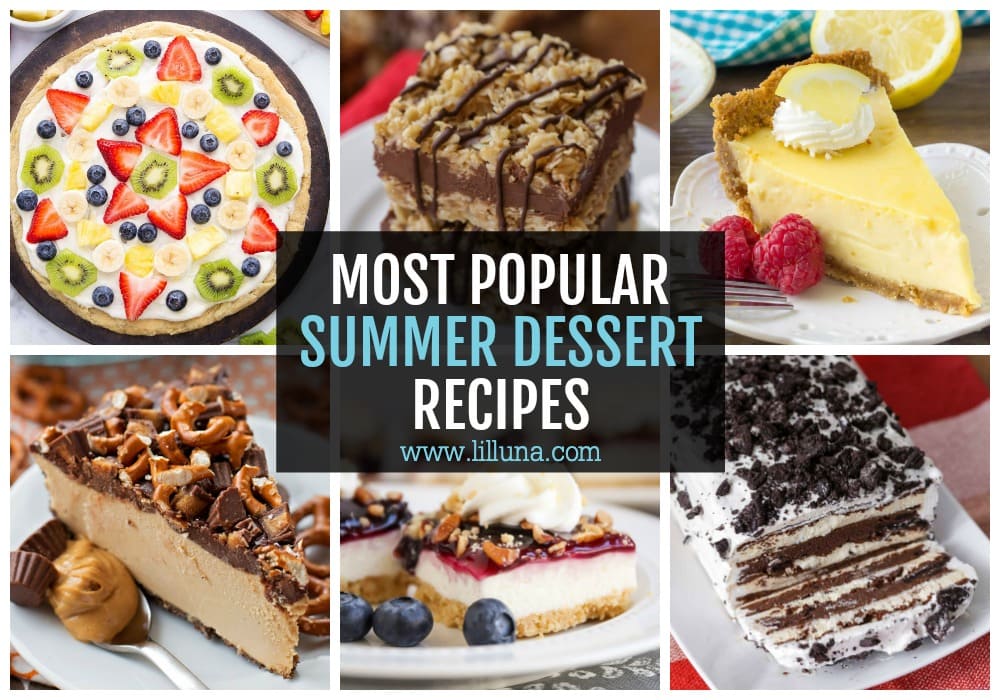 Tips for Summer Dessert recipes
In the fall and winter, I love making warm and comforting chocolate, pumpkin, and apple desserts, but in the spring and summer, I love all things cold and fruity.
No-bake recipes are another bonus during the hot summer months to keep the heat out of the kitchen.
I've combed through my site to share some of my favorites from each category—fruity, cold, and no-bake. I'm sure you'll find several easy summer desserts that will become your favorites as well!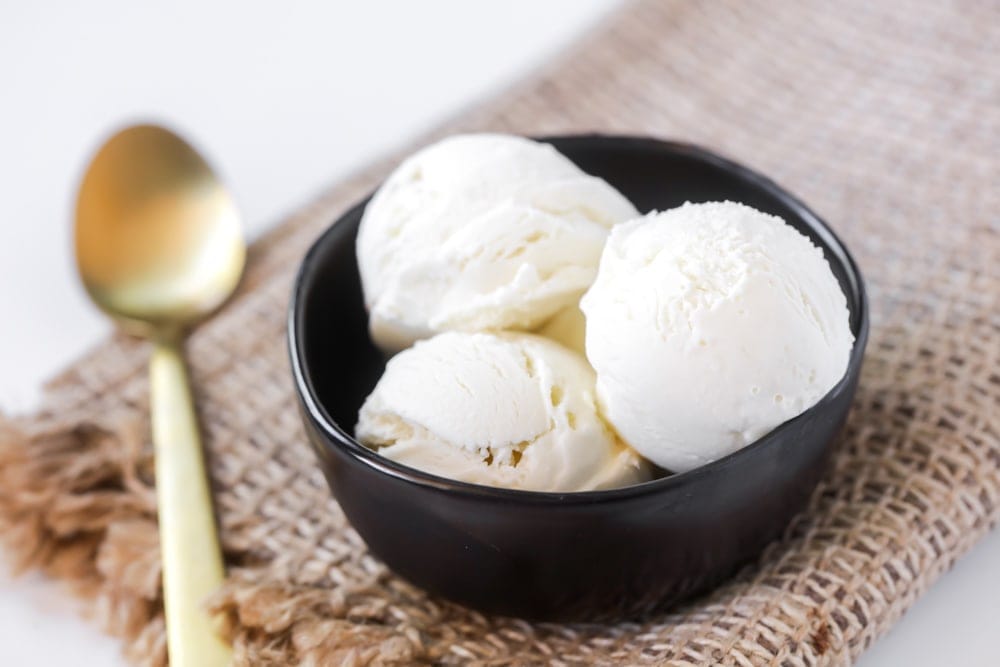 Dessert Toppings
Fruit is not the only element to create your favorite summer dessert recipes.
Here's a list of ideas and recipes to send your desserts over the top!
Summer produce. Whether you're making a delicious cobbler, filling yummy pies, or want to top a Pound Cake with fresh berries, using your favorite summer fruits is delicious, easy, and cost-effective.
Some favorite fruits include:
mango, orange, peaches, lemon, nectarines, kiwi, banana, melons, cherries, or rhubarb
Berries: strawberry, raspberry, or blueberry
zucchini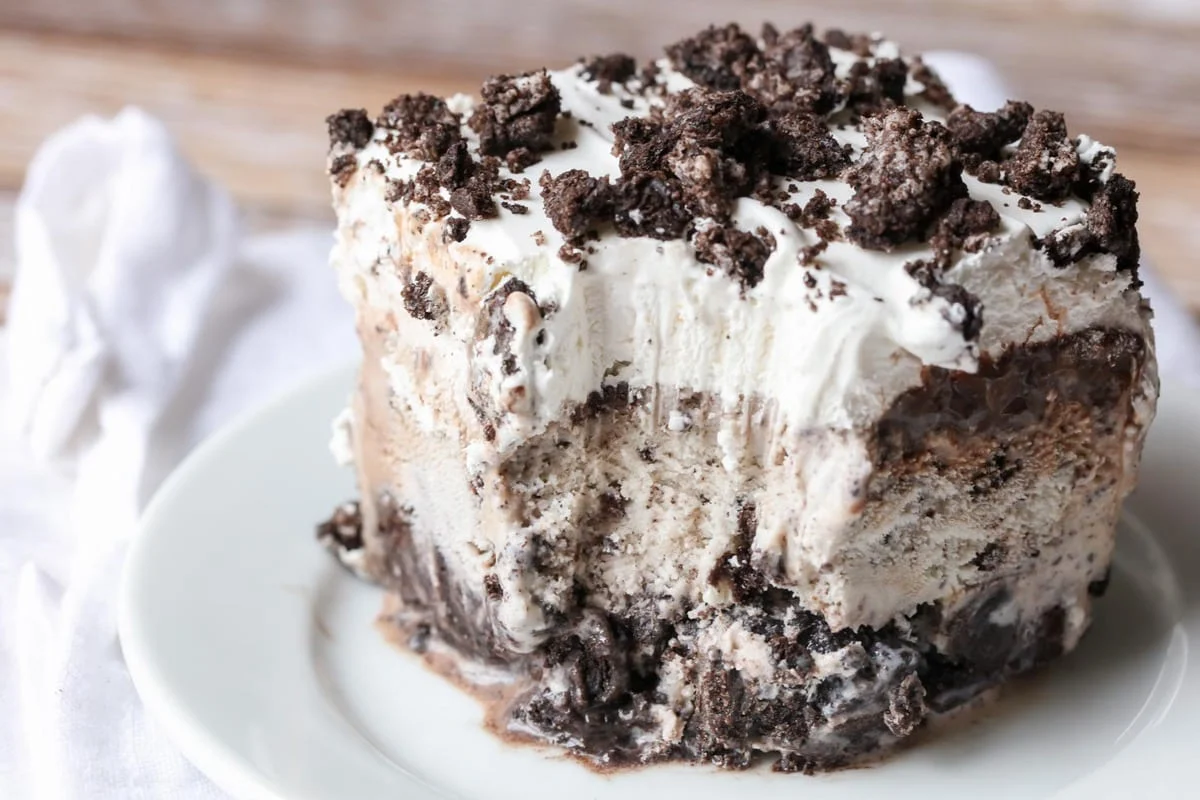 Keeping desserts cold
The best way to keep easy summer desserts cold when outside is

to keep them in a cooler with ice, or a block of dry ice until you're ready to serve them

.

Only bring out/serve what you will eat. Keep the rest in a cooler until needed.

If you're placing the dessert out on a table one way to help keep it cold is to fill a tray/bowl with ice cubes and nestle the dessert right on top.
See individual recipe posts for more specific tips, tricks, and storage information.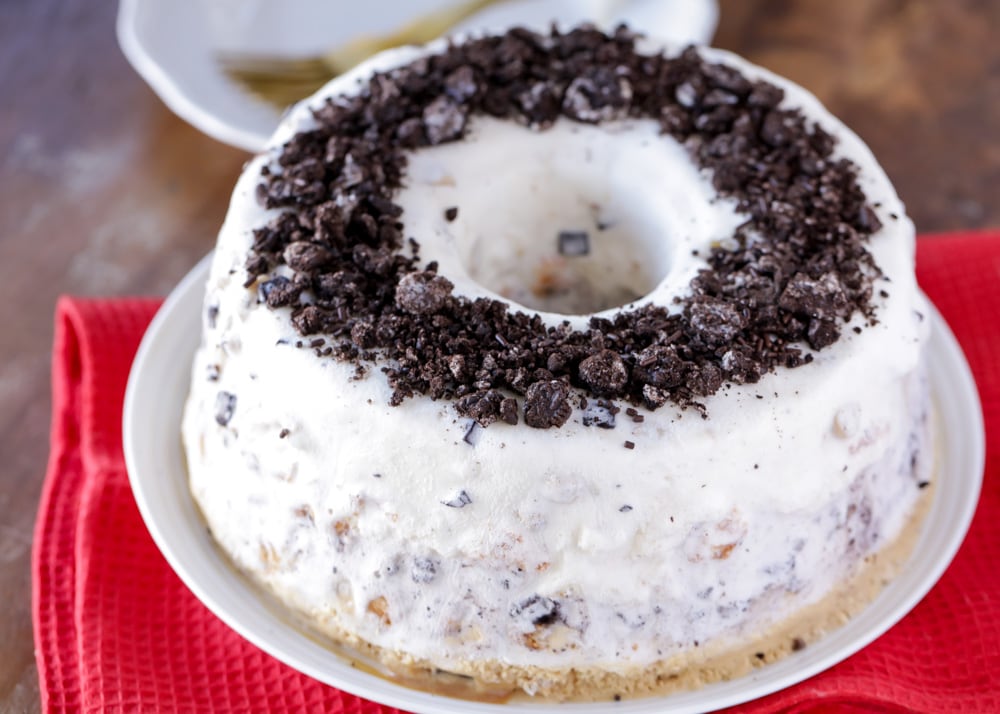 Transporting Desserts
Like other times of the year summertime parties happen all season long. Sometimes it can be tricky to transport a dessert to another location, especially when it's a cold dessert.
Here are a few tips that will hopefully, help make it easier:
Many desserts have specifically designed carriers, like cupcakes and cake carriers. Often you can use pans, boxes, and bins that you already have to protect the dessert. 
Keep them at the right temperature. Use a cooler packed with heating pads or ice packs depending on what type of dessert you have.
Be sure to set them on the floor where they cannot tumble off the seat. If you have a yoga or other non-stick mat, place it on the floor to help keep them from sliding around or place a blanket or towel around the container to keep it snugly in place.
If the dessert is one that needs to be kept in the freezer, use dry ice in a cooler to keep it frozen.
---
No Bake Summer Desserts
What's not to like about a no-bake treat?! You don't have to heat up the kitchen with a hot oven and you can still have delicious summertime desserts.
From bars to sweet strawberry shortcakes, you'll be able to find some summer dessert ideas to satisfy your sweet tooth. 
No Bake Chocolate Oat Bars
Simple and delicious no-bake chocolate oat bars are a great dessert to enjoy any time of year without heating up the house!
No Bake Cheesecake
This NO BAKE cheesecake is the perfect recipe for summer. With a delicious graham cracker crust and a creamy vanilla cream cheese mixture, you can top it with anything – like these sugared strawberries! Everyone goes crazy over this easy no bake cheesecake recipe!
No Bake Cheesecake Bars
No-bake cheesecake bars are just the right amount of sweetness, with a buttery graham cracker crust. Top them however you like—fruit, chocolate sauce, or caramel and sea salt!
Easy Strawberry Shortcake
Easy strawberry shortcake is one of the easiest desserts you'll ever make!! It's light, refreshing and perfect for summer.
No Bake Strawberry Shortcake
NO-BAKE strawberry shortcake has layers of cream-filled cookies, vanilla pudding, and strawberries. It's the perfect cool dessert!
No Bake Oreo Cheesecake
Everyone's favorite cookie is the star of this show! No bake Oreo cheesecake is a cool and creamy dessert with a crisp Oreo crust and a rich cookie-filled cheesecake base. It comes together in 15 minutes, no oven is required!
No Bake Chocolate Cheesecake
Easy, no bake chocolate cheesecake bars are deliciously creamy with a crunchy Oreo cookie crust. They only take 15 minutes to make!!
No Bake Snickers Cheesecake
Snickers cheesecake is a no-bake dream. It is cool and refreshing with the perfect amount of rich chocolate and peanut flavor!
Peanut Butter No Bake Cookies
Peanut butter no bake cookies combine two cookie classics – no bake cookies + peanut butter cookies. The combo of the two makes a delicious, simple cookie recipe that is perfect for anyone who loves peanut butter treats.
Dessert Kabobs
Dessert kabobs are a simple and delicious way to serve several "mini" treats at once. They are perfect for parties, BBQs, and every day!
No Bake Cookies Recipe
Quick, simple, and yummy NO BAKE cookies – one of our favorite cookie recipes! Made with cocoa powder, peanut butter, vanilla, and quick oats – These quick cookies will become a go-to treat.
---
SUMMER FRUIT DESSERTS
Some of my favorite Arizona summer fruits include peaches and strawberries. Some other delicious summer-season fruits include blueberries, blackberries, apricots, and cherries.
Though you may be able to find these fruits during other months of the year when you buy in season you get them at their best. They are farm fresh and buying in season means you're spending less.
Blueberry Delight
Blueberry crumb delight is a delicious layered dessert recipe with a cream middle and topped with blueberries and whipped cream!
Peach crumb Bars
Peach crumb bars are one of our favorite summer treats! They're made from a buttery crust layered with juicy peaches and a crumbly topping.
Triple Berry Pie
Fresh and fruity triple berry pie is easy and delicious with only 30 minutes prep time. It's perfect all year long!
Pineapple Upside Down Cake
Pineapple upside-down cake is a classic dessert that is so soft and moist, filled with the perfect amount of pineapple flavor!
Strawberry Pie
Strawberry pie is the perfect springtime dessert! Fresh strawberries piled high, coated in strawberry Jell-O, and placed in a buttery crust.
Lemon Bars
These classic lemon bars are simple, delicious, and sweet, with just the right amount of tart! Add a bit of powdered sugar, and these easy lemon bars are irresistible!
Fresh Peach Cobbler
Vibrant fresh peach cobbler served with vanilla ice cream is one of our most popular treats. It's the perfect summertime dessert.

Berry Buttercream Frosting
This delicious berry buttercream frosting is homemade with strawberries, blueberries, and blackberries.
Peach Pie
A delicious homemade pie with a fresh peach filling and flaky crust! Serve this peach pie with a scoop of vanilla ice cream for a mouth-watering dessert.
dessert Parfaits
A dessert parfait is a creamy combination of delicious fluffy pudding and fresh fruit. They are simply heavenly and gluten-free!
Fruit Pizza Recipe
The BEST fruit pizza recipe ever! A super soft cookie dough with a pineapple cream cheese frosting topped with your favorite fruit!
Fruit Tart
Prettiest and yummiest fruit tart you will ever make! Sweet, buttery, and perfect for spring and summer parties, holidays or get-togethers.
Key Lime Cake
This super easy key lime cake is bursting with fresh lime flavor and topped with whipped cream. It's a delicious summer cake recipe, and if you love key lime pie – then definitely give this recipe a try.
Strawberry Cupcakes
These fresh strawberry cupcakes are the real deal. Fresh strawberries and toasted coconut make these peak-of-the-season cupcakes SO divine!!
Strawberry Shortcake Bars
Simple, light and refreshing strawberry shortcake bars are a perfect summertime dessert. This is a seasonal favorite, and one tempting treat!
Banana Cupcakes
These banana cupcakes are so SOFT and have a delectable hint of cinnamon. They are also topped with a delicious cinnamon cream cheese frosting, making them irresistible in every way!
Cherry Pie
This recipe for cherry pie is simple and elegant, but it tastes amazing. It's perfect for any special occasion or holiday!
Strawberry Sheet Cake
This strawberry sheet cake is especially tasty made with fresh pureed strawberries and topped with an amazing homemade strawberry frosting!
Lemon Sheet Cake
This super moist and delicious lemon sheet cake recipe topped off with a tasty lemon buttercream frosting is our new favorite dessert, and it's perfect for feeding a crowd!
Brownies And Cream Fruit Trifle
Chocolatey brownies and cream fruit trifle is utterly decadent. It's a perfectly easy and stunning dessert to share!!
Lemon Buttermilk Cake
Lemon cake is baked with a lemon zest and topped with a delicious lemony glaze. It is refreshing with the perfect amount of sweetness!
Strawberries And Cream Angel Food Cake
Strawberries and cream angel food cake – a sweet and delicious dessert filled with a creamy layer and topped with strawberries. It's so simple and so delicious!
---
COLD SUMMER DESSERTS
Chilled desserts. There are just a few weeks in the dead of summer when the heat of the day continues even when the sun has gone down. On these days, a cold treat is a must if you want to venture outside.
Whether you're swimming by the pool or having an evening chat on the patio, these desserts will hit the spot.
Jello Poke Cake
Cake with Jell-O drizzles poked throughout, and topped with a smooth layer of whipped cream! this light and cool Jell-O poke cake recipe is always a crowd favorite.
Frozen Peanut Butter Pie
Frozen peanut butter pie consists of a graham cracker pretzel crust, frozen peanut butter filling, and a chocolate, pretzel, peanut butter cup topping. It's the perfect salty and sweet combo!
strawberry Icebox Cake
Strawberry icebox cake is simple, light, and full of fresh summer berries. It'll disappear in seconds at your next get-together!
Lemon Icebox Pie
Deliciously creamy & tangy lemon icebox pie is a classic chilled Southern dessert that's perfect for summer!
Ice Cream Sandwich Cake
Oreo studded ice cream sandwich cake is cool, creamy and refreshingly delicious. It is perfect for hot summer days!!
Sand Pudding Cups
Crumbly and creamy sand pudding cups are a tasty beach inspired treat the kids and adults will both enjoy. Enjoy a quick and easy sandy escape perfect for sharing!!
Oreo Ice Cream Cake
This Oreo ice cream cake makes for the perfect no bake dessert during warm summer months. Best of all, it only takes 5 simple store bought ingredients! No one can resist the layers of crushed Oreos, cookies and cream ice cream, hot fudge, Cool Whip, and MORE Oreos!
Lemon Lasagna
This luscious lemon lasagna AKA Lemon Lush consists of 4 tasty layers, including a Lemon Oreo crust, cream cheese layer, lemon pudding layer and topped with whipped cream!
Brownie Delight
Brownie delight is a delicious 4-layer dessert that is cool, creamy and chocolate-y. It is deliciously refreshing!
nilla wafer Banana Pudding recipe
Creamy sweet banana pudding is the best dessert to bring for a party! It steals the show with its light banana flavor, thick pudding, and crunchy vanilla cookies.
Oreo Pudding Pie
No bake Oreo pudding pie is a quick and easy dessert perfect for any time of the year. It comes together in 15 minutes!!
Cream Puff Cake Recipe
The BEST cream puff cake ever!! A cake version of the popular cream puff, it has a puffy crust, pudding and whipped cream layers and often drizzled in chocolate.
---
Sweet Summer Desserts
We hope you enjoy this collection of some of our favorite summer desserts. When it's warm outside we especially love to make no bake treats and satisfy our sweet tooth with some yummy chilled desserts!
More Collections: Cheesecake Recipes, Cakes With Fruit, Memorial Day Desserts