Don't miss a thing – Sign up for the Lil' Luna Newsletter today!

GUYS! Am I the only one who has never heard of Buckeyes?? So glad my sister introduced them to me because they are a new favorite!
When I saw these Easy Buckeyes on the menu for our baking day, I had no idea what they were. I quickly realized how sad my life has been without these delicious, melt in your mouth peanut butter and chocolate treats. To make things even better, they are crazy simple to make. All you need to do is mix the ingredients together, freeze, then dip in melted chocolate. Easy right? That's why we named these Easy Buckeyes. If you've never had them before, you need to add them to your to do list. I know you won't regret it!
MY OTHER RECIPES
If you love peanut butter and chocolate (who doesn't?), then these won't last long in your home. Next time, we are going to try dipping them in white chocolate! 😀
Here is the printable recipe:

Easy Buckeyes
Ingredients
1½ cups peanut butter
1 cup butter, softened
½ tsp vanilla extract
6 cups powder sugar
4 cups semisweet chocolate chips
Instructions
Mix together your peanut butter, softened butter, vanilla and powdered sugar, in a large bowl. Roll into 1" balls and place on a cookie sheet, lined with wax paper. Press a toothpick into the top of each ball and chill in freezer for a minimum of 30 minutes, or until firm.
Just before removing from freezer, melt chocolate chips in a small sauce pan over lowest heat. Stir frequently until smooth.
Using your toothpick, dip each frozen peanut butter ball in chocolate, leaving a small portion of peanut butter showing at the top. Place on cookie sheet and remove toothpick. You may smooth over the hole left from the toothpick with your fingertip. Refrigerate until ready to serve.
Adapted from allrecipes.com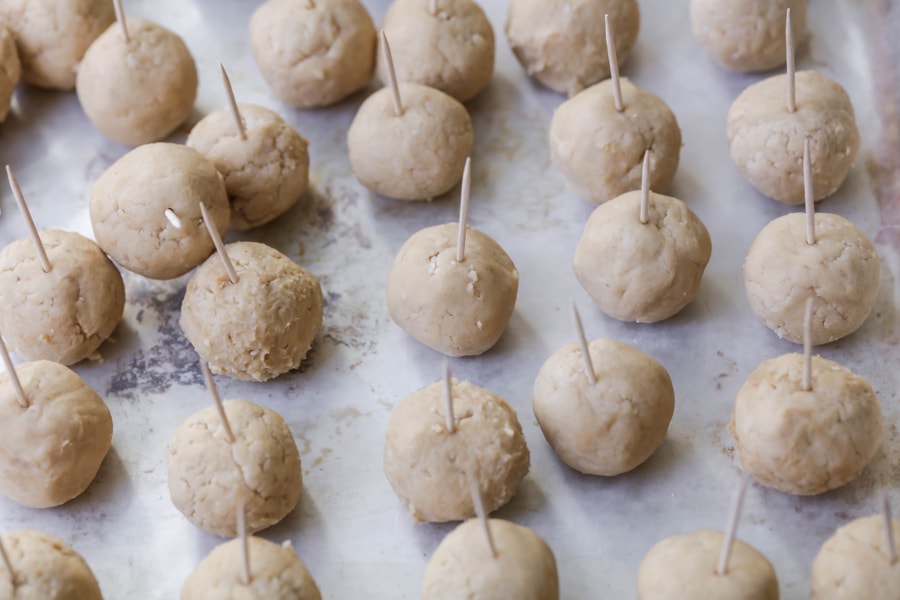 Freeze….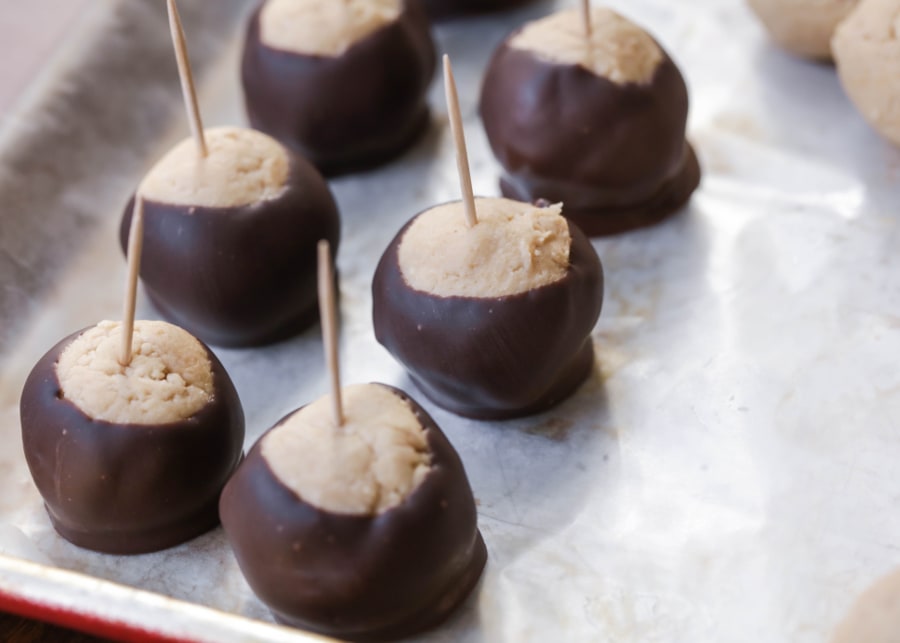 Dip in chocolate and let set!
YAY for Buckeyes!!
DIFFICULTY: super easy
HOW MANY DOES IT FEED: makes about 30
ANY CHANGES MADE: none
ANY SUGGESTIONS FOR NEXT TIME: none
If you're still looking for peanut butter + chocolate recipes to satisfy your fix, here are some more of our faves!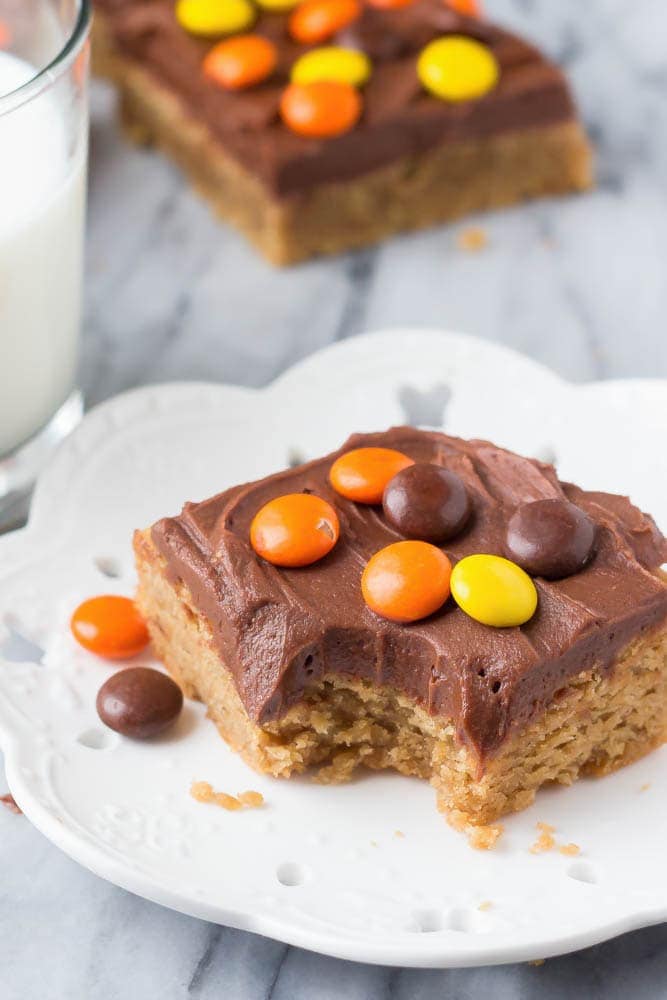 Peanut Butter Cookie Bars with Chocolate Frosting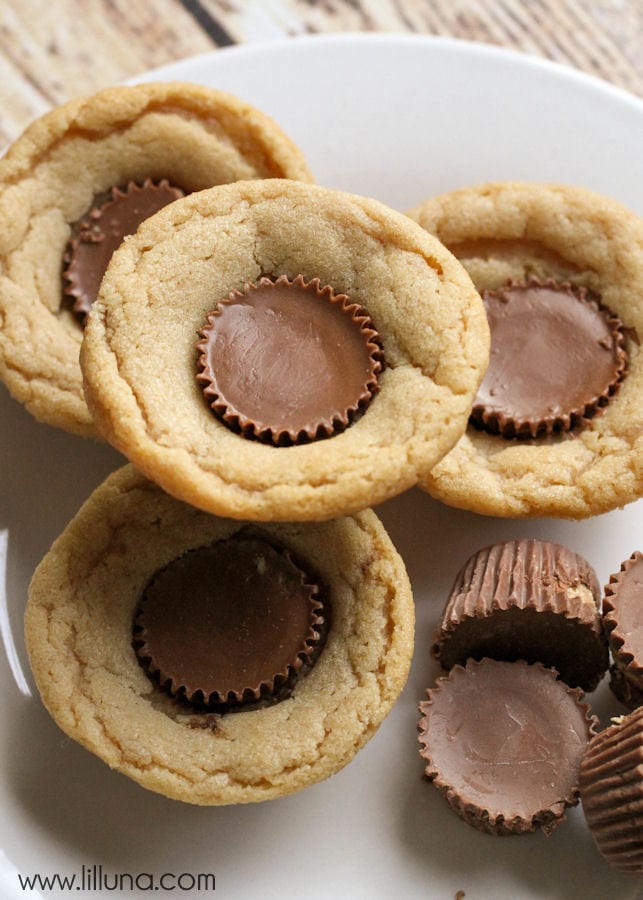 For all dessert recipes go HERE.
For all recipes go HERE.
For even more great ideas follow Kristyn on Facebook – Pinterest – Instagram – Twitter – Periscope – Snapchat.
ENJOY!!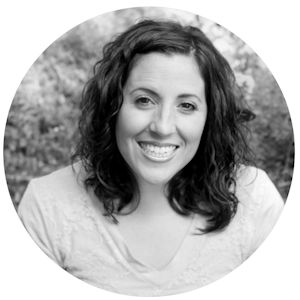 BEHIND THE SCENES AT LILLUNA.COM:
Mel was being sneaky… but I don't blame her! They were good!