This recipe for cherry pie is simple and elegant, but it tastes amazing. It's perfect for any special occasion or holiday!
Fruit pies are a great treat any time of year, but I especially love them when fruit is at its peak season. Whether it's apple pie, triple berry pie, or this cherry pie, they really do make the perfect dessert!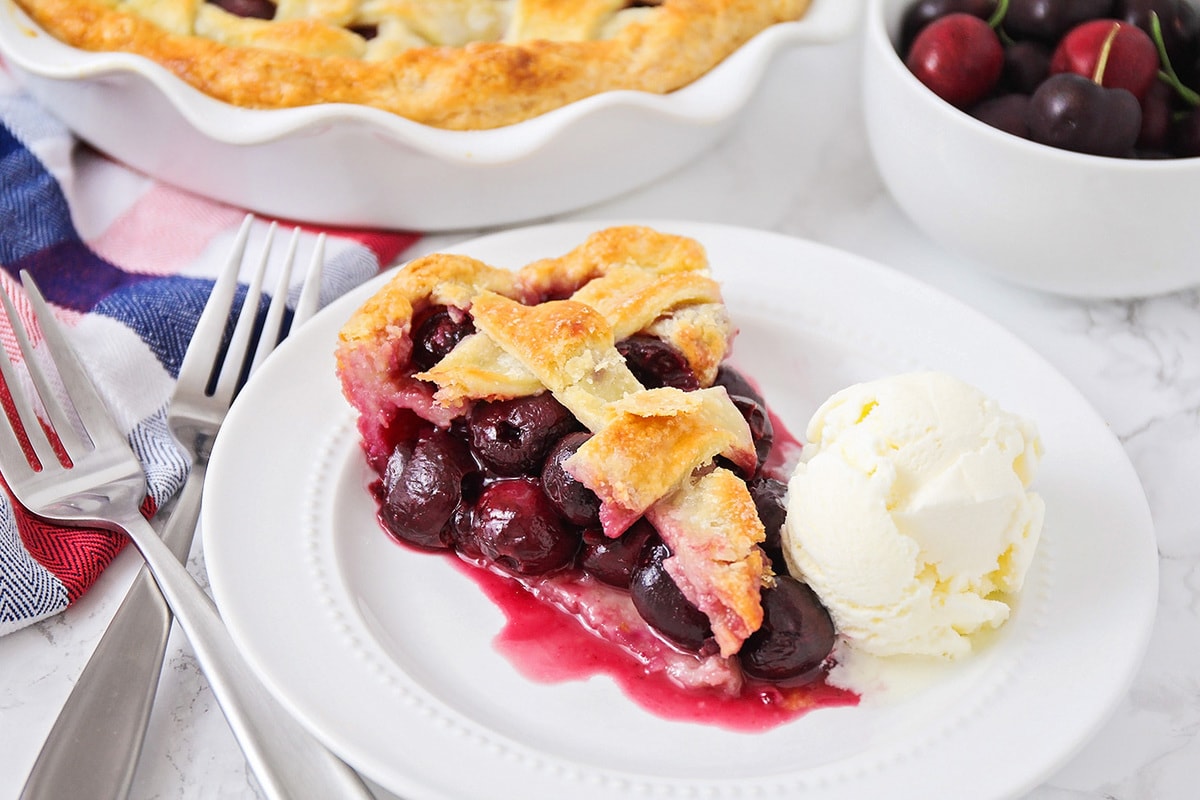 the best homemade cherry pie!
Hello again! It's Alicia from The Baker Upstairs, and I have a completely delicious pie recipe to share with you today. I've always loved eating pie, but in the past I've been intimidated by actually baking it.
A few years ago, I decided it was time to actually master this pie baking thing, and to my surprise, making a good pie is actually much easier than I thought it would be.
The elements of pie are actually pretty simple, and that's why it's important to start with good ingredients. Using the freshest, ripest, sweetest fruit you can find will make a huge difference in the finished pie.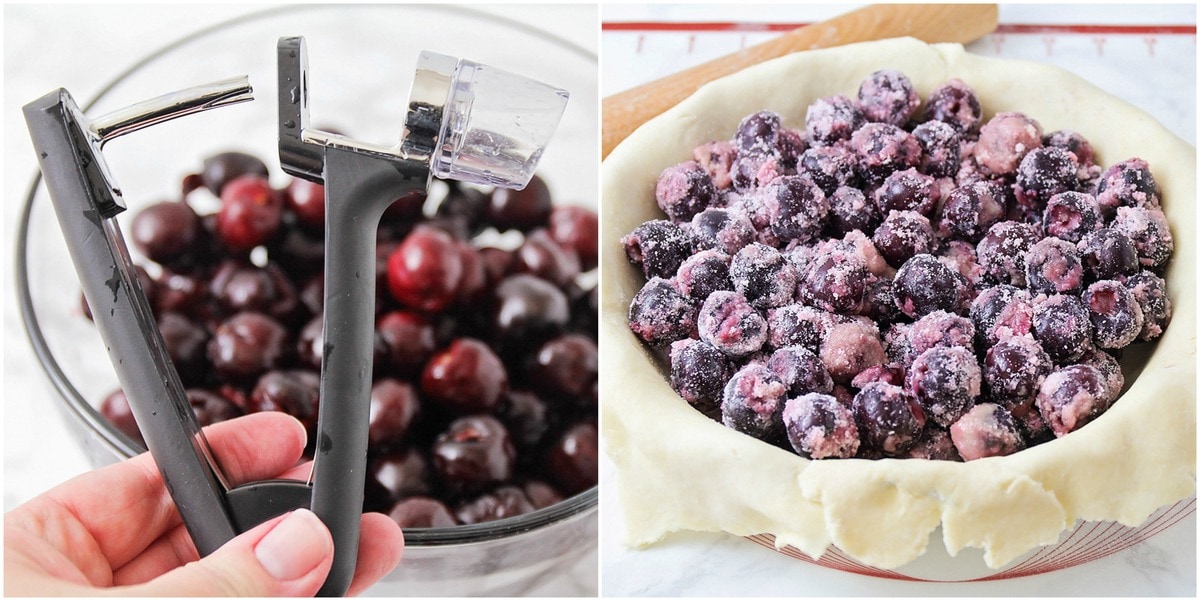 how to make cherry pie
CHERRIES.The most time-consuming part about making cherry pie is pitting all of the cherries, but once you get into a groove, it goes pretty smoothly. Tip:I have this oxo cherry pitter to make things a little easier, but you can also push out the pits using a chopstick instead. Be prepared to have purple-stained fingers and hands from all the cherry juice!
Taste the cherries: If you start with very sweet cherries then mix in sugar you may end up with a too sweet dessert. The opposite is also true. If your cherries are bitter your pie may not be sweet enough. To fix this: For tart cherries add 1-2 more tbsp sugar. For sweet cherries add 1 tsp of lemon juice.
CRUST. As far as the crust goes, I like to use this excellent homemade pie crust recipe for a flavorful, flaky crust. But if you're running short on time, a refrigerated pie crust is a good substitute. Press the bottom crust into your pie dish, then add your cherry filling. To make the filling, you'll toss the cherries together with corn starch, sugar, vanilla, and a pinch of salt.
BAKE. Before baking, brush the pie with a simple egg wash, then sprinkle the pie with sugar. I usually bake my pie on a baking sheet just in case any of the filling bubbles out. The pie is done when the crust is golden brown, and the filling is thick and bubbling.
COOL. Let it cool completely before serving, so the filling can thicken as the pie cools.
SERVE. This cherry pie is absolutely delicious with whipped cream or ice cream on the side.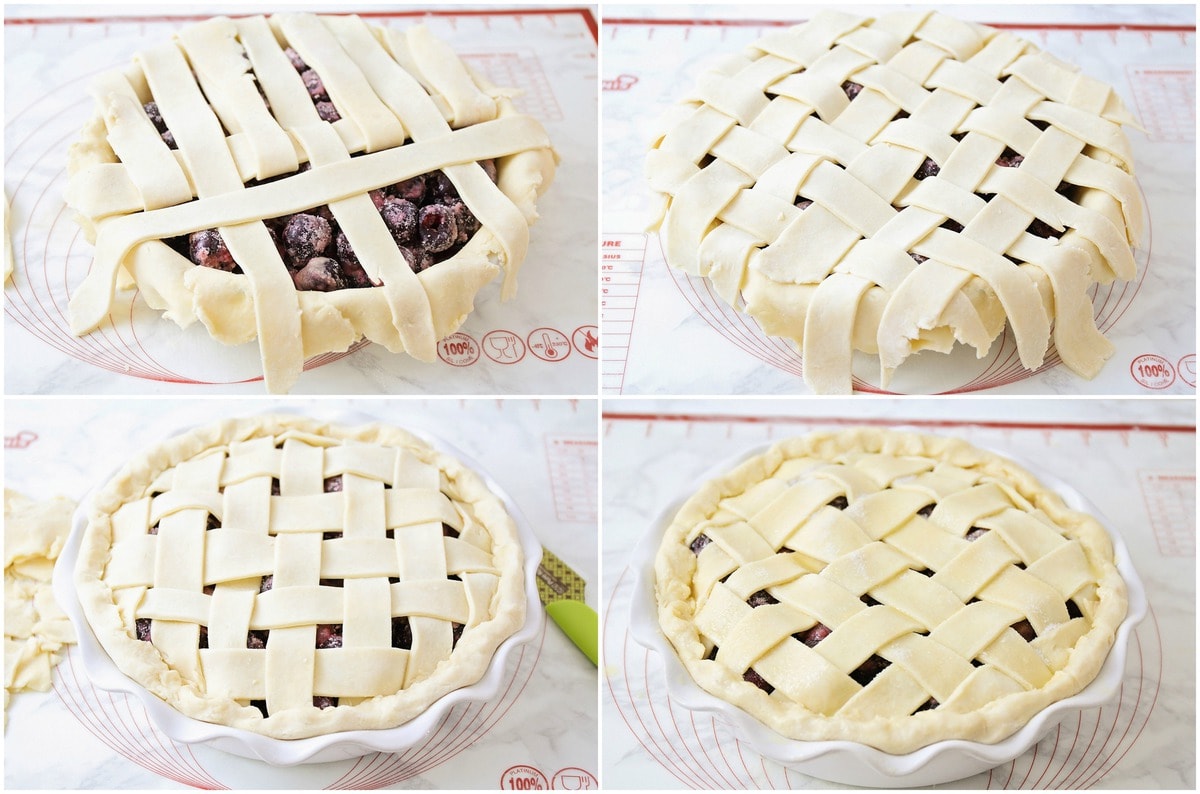 Lattice Crust
I love to use a lattice crust for fruit pies, so the pretty fruit filling can show through the top crust. If you haven't made a lattice before, it's actually much easier than you might think. Here is the process:
You'll cut the top crust into strips, then lay half of them vertically across the pie, spacing about ¼ inch apart.

Next, you'll fold back every other strip onto itself, and lay a strip of crust horizontally across the pie. Repeat the process, alternating which strips you fold back, until the entire pie is covered in a lattice pattern.

After the whole crust is covered, cut off the excess from around the edges with a sharp knife. I've found that a paring knife is easiest to maneuver around the pie dish.

Pinch the bottom crust and the top crust together, all around the pie, to seal in the filling. If you want the pie to be a little more decorative, you can use a fork to crimp the edges, or use your fingers to make a scalloped design around the edges.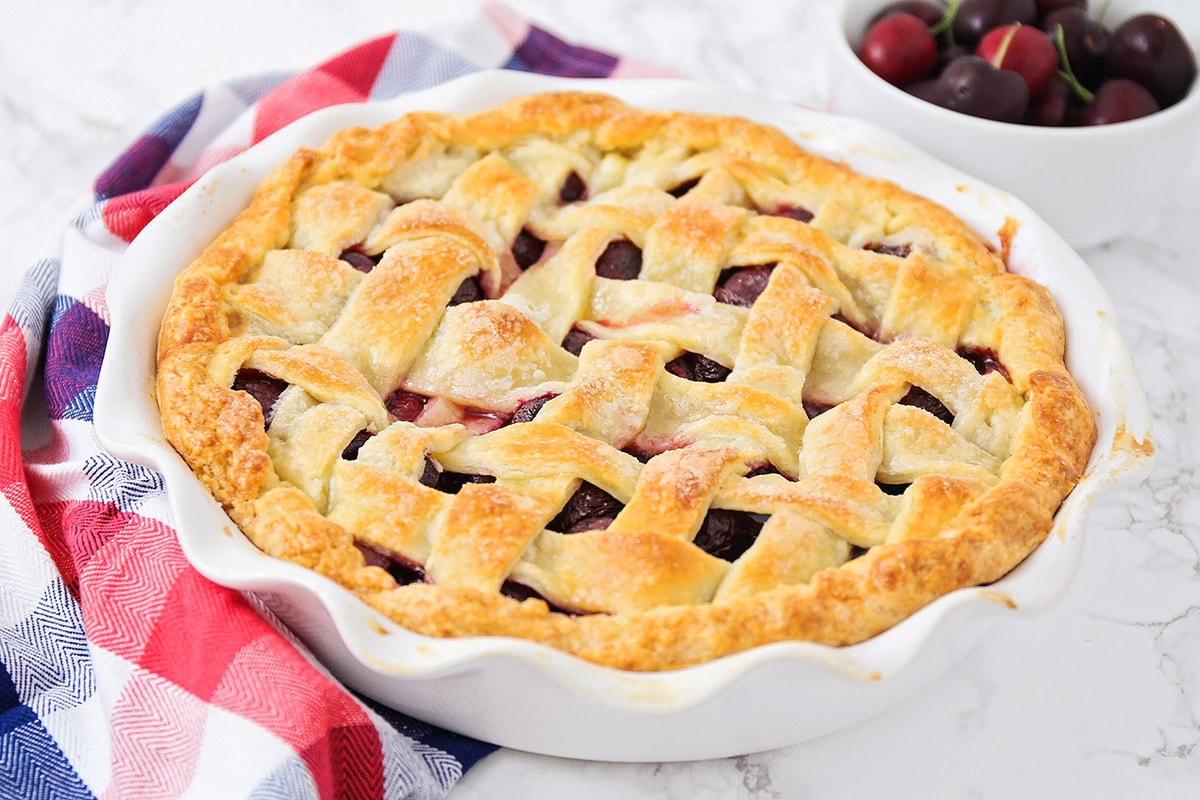 More tips and tricks:
Chill the pie for 30 minutes or longer before putting it in the preheated oven.

Be careful to not over work your pie crust. Overworking will activate the gluten even more leading to a hard dense crust.

Use chilled butter and ice cold water. Some people even chill their flour! 

Bake the pie on top of a sheet pan. This will catch any of the juices that may bubble over and save you from a smoky messy oven.

Use a pie shield, or make your own with foil. This will help when the crust is ready but the pie is still cooking.
Storage
Pantry: (room temperature) cover and store for 1-2 days.
Fridge: cover loosely with foil and store in the fridge for 4-5 days.
Freezer: Once the pie has cooled Wrap tightly with plastic wrap then again with aluminum foil. Label and store in the freezer for 4-6 months.
To freeze an Unbaked pie: wrap with plastic then again with foil. Freeze for up to 3 months. When you are ready to bake do not thaw. Place the pie directly into an oven preheated to 425°F and bake for 15 minutes. Reduce the heat and bake according to recipe directions.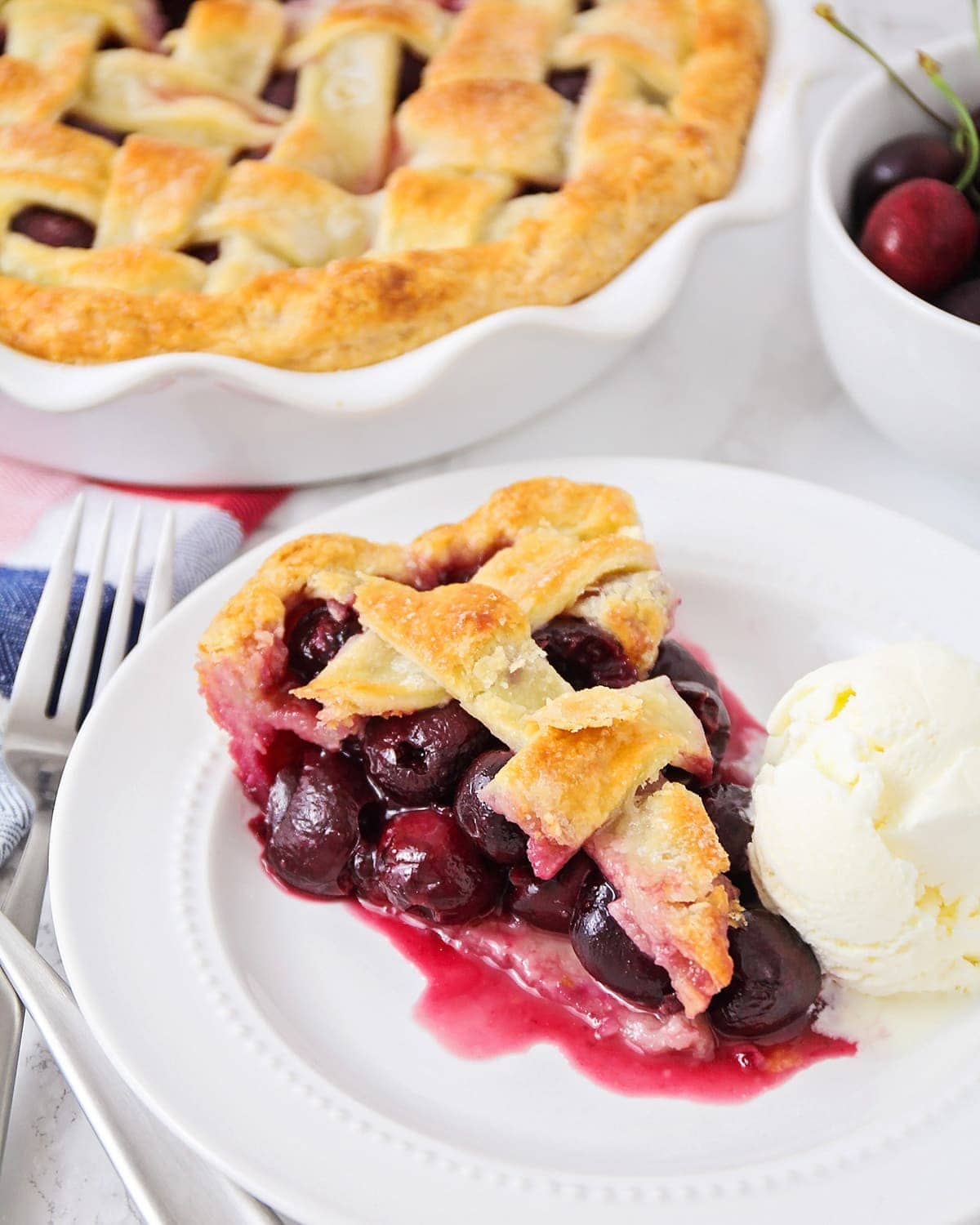 I love the juicy sweet cherries and the buttery, flaky crust together. The finished pie is so pretty and impressive, but it really doesn't take a lot of effort to make.
If you're scared of baking pie like I was, have no fear! This easy cherry pie recipe will have you feeling like a pro!
For more cherry recipes, try:
Cherry Pie Recipe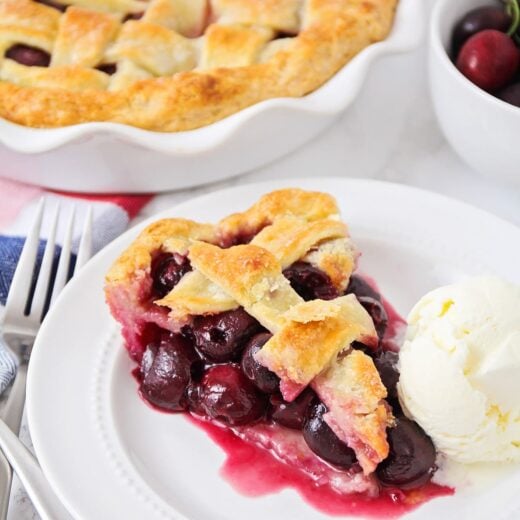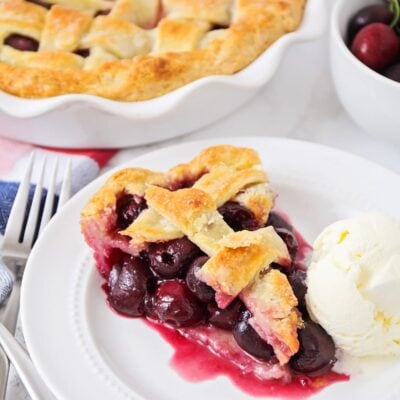 This recipe for cherry pie is simple and elegant, but it tastes amazing. It's perfect for any special occasion or holiday!
Ingredients
2

refrigerated pie crusts

2

pounds

fresh sweet cherries

pitted

1/4

cup

corn starch

3/4

cup

sugar

1

teaspoon

vanilla extract

pinch

salt

1

egg yolk

1

tablespoon

water
Instructions
Preheat the oven to 400.

In a medium bowl, mix together the cherries, corn starch, sugar, vanilla, and salt, until the cherries are coated with the corn starch mixture.

Gently press the bottom pie crust into a pie dish, making sure that it is pressed against the edges and bottom with no gaps or air bubbles. Pour the cherry mixture into the bottom crust.

Roll out the top crust and cut into one inch wide strips using a pizza cutter or a sharp knife. Lay half of the strips across the pie, spacing about ¼ inch apart. Fold every other strip back on itself, then lay one of the remaining strips across the middle of the pie, perpendicular to the previous strips. Fold the strips back down over the new strip, Repeat, alternating which strips are folded back on themselves, until the top of the pie is covered in a lattice pattern.

Cut off the excess crust using a sharp knife. Pinch the bottom crust and top crust together to seal.

In a small bowl, whisk together the egg yolk and water. Brush the egg wash over the top of the pie, and sprinkle with additional sugar if desired.

Bake 55-60 minutes, or until the filling is bubbling hard and the pie crust is golden brown. Let cool to nearly room temperature before slicing and serving.